Halloween Bark is the easiest of Halloween dessert ideas. No baking required and a minimal amount of hands-on time, what isn't there to like?
Halloween Bark
Truth be told, I'm not a Halloween person. It just isn't my thing. When I was younger, sure. In elementary school I lived in Colorado.
My mother was the queen of creative, homemade Halloween costumes. The key living there was that your costume needed to fit or incorporate a snowsuit as well.
Through the years my excitement about Halloween has faded. I don't decorate past a pumpkin on the front step. Every once and awhile we will get crazy and actually carve the pumpkin.
Fast forward several years… and I am still not excited about Halloween, but my kids, they go BONKERS for it! So here I am trying to come up with new Halloween treats.
Cute Halloween Treats
And I am certianly not into the ghouls, ghosts and goblins of Halloween. While my sister is hosting an Exorcism dinner party tonight, I'm over here looking to find the cutest costume for my new daughter.
Blood, guts and gore is not my bag.
Halloween Bark, however, is! Bark is good for any holiday. I've never quite understood why people reserve it for Christmas.
PRO TIP: Almond bark and white chocolate are not the same thing, but can be used interchangeably.
Easy and no bake with a vast array of options for toppings, bark is perfect for using up bits and pieces of leftover candy, dried fruit and nuts.
Sweet & Salty
For Halloween Bark, any bark really, I like sweet and salty. Pretzels provide the crunch and the salty flavor I am looking for. Harvest Mix candy corn is something I look forward to all year.
Really, I like the mellowcreme pumpkins, but the mix with different colors and flavors works best for festive Halloween Bark.
Any will do, really. You can even make bark from chopped up leftover Halloween Candy . Snickers, Rolos and M&M's are my favorite.
So Salty…
If you really enjoy salt with your sweet, add a sprinkling of fleur de sel, my favorite dessert salt.
What is fleur de sel? Also known as flor de sal, it is a salt that forms on the surface of seawater as it evaporates. Farmers literally dry salt water and wait for the crust, scrape it up and bottle it for a pretty penny.
This might make for the fanciest chocolate bark you've even eaten.
In just 10 minutes I have Halloween Bark! Perfect for packing Halloween goodie bags, serving at Halloween parties or munching on at home.
White Chocolate
I like white chocolate because of the contrast to other candy. However, if you'd prefer milk chocolate or even dark chocolate, be my guest!
White chocolate isn't actually really even chocolate if we are getting technical….
Tools:
Candy Melts– Always be guaranteed the perfect consistency and a smooth melting chocolate.
Offset Spatula – The best way to spread melted chocolate and frosting!
Double Boiler– A kitchen essential, use a double boiler to make velvety melted chocolate, superb sauces and more!
Plastic Pastry Bags– I keep these around for the perfect chocolate drizzle, to artistically plate sauces and for tiny details on baked goods.
More Halloween desserts you'll love: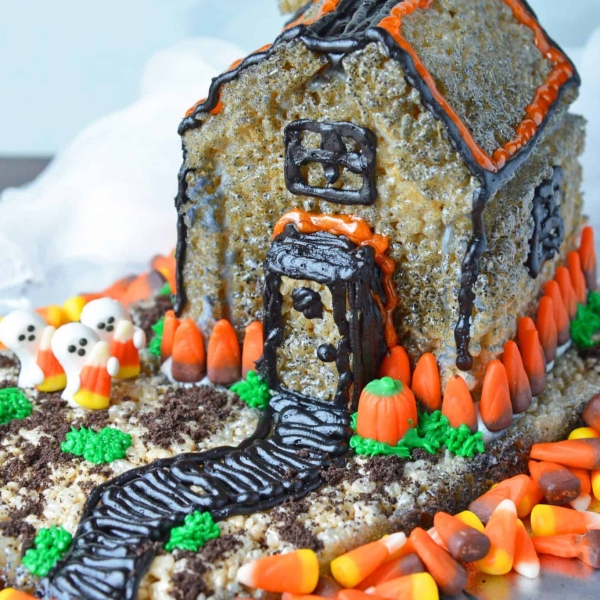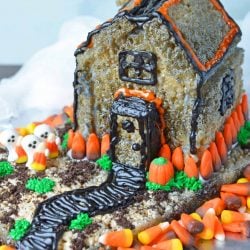 Rice Krispie Treat Haunted House
With this Rice Krispie Treat house template, you can make an adorable haunted house to display and then eat. Similar to a gingerbread house, this is part Halloween craft and party Halloween dessert. Fun and easy!
See The Recipe!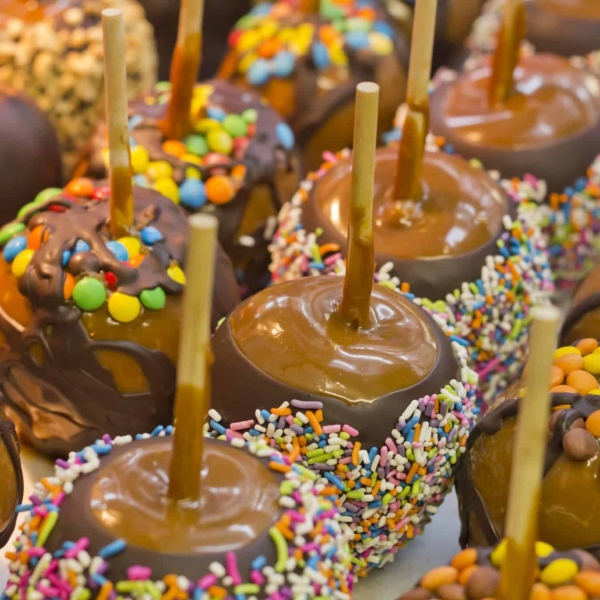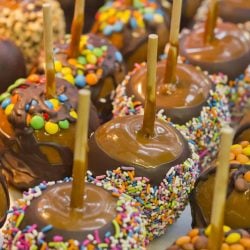 Classic Caramel Apples
Classic Caramel Apples recipe with 20+ ideas to roll them in. Perfect for fall parties or a Halloween treat!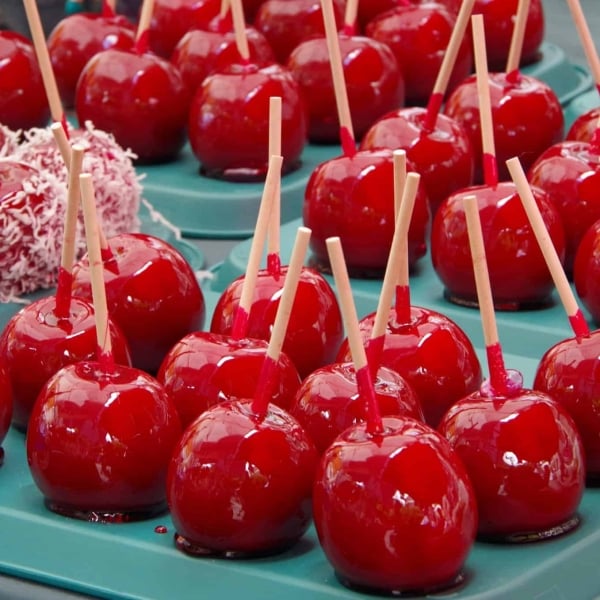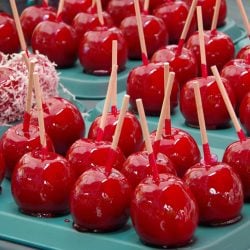 Candied Apples
The classic candied apple is a beautifully colorful, glassy red apple. A lollipop candy coating with lush and slightly sour crunchy apple inside.
See The Recipe!
Halloween Bark
Halloween Bark is a sweet and salty bark. The easiest no bake, make ahead and in large quantities Halloween dessert out there!
Equipment
Heat Resistant Rubber Spatula
Instructions
Use either a double boiler or saucepan with heat proof bowl. Fill bottom pan with 2 inches of water and place over medium-high heat.

While heating, place white candy melts (or shortening and white chocolate chips) in the top pan and place over water pan. Stir every minute.

While chocolate is melting, place a large sheet of parchment paper on a cookie sheet. Lightly coat with butter flavored cooking spray.

Continue to melt chocolate, as it starts to get really melty, stir continuously until smooth.

Spread chocolate over parchment paper using an offset spatula.

Quickly top with Harvest Mix candy corn and broken pretzels, gently pressing down into chocolate to secure.

Melt milk chocolate in a plastic bag or plastic pastry bag, drizzle on top.

Place in the refrigerator for 5-10 minutes, or until set. Remove and roughly cut with a large knife. Do not worry about cutting in nice clean squares, bark is best in rough, uneven pieces.

Store in an airtight container at room temperature.

If you've tried this recipe, come back and let us know how it was!
Nutrition
Calories:
293
kcal
,
Carbohydrates:
51
g
,
Fat:
9
g
,
Saturated Fat:
7
g
,
Sodium:
189
mg
,
Potassium:
30
mg
,
Sugar:
43
g
,
Calcium:
3
mg
,
Iron:
0.5
mg