I won't lie. I'm not of "southern heritage" and I know the art of preparing grits is a sacred process in many parts of the south. I'm not here to say I am the Creamy Cheddar Grits queen or that I have a new technique or that THIS is the only way to prepare them.
Creamy Cheddar Grits are the perfect addition to any breakfast, lunch or dinner. Make the perfect consistency and taste every time!
What I will say is that Ms. Ina Garten has a darn good recipe for creamy cheddar grits and I've adapted it. So any criticisms or compliments should be ushered in her direction. Wink, wink.
Without fail, every time I make creamy cheddar grits, my husband will walk into the room to ask me "how I like my grits, creamy or al dente". He has that ridiculous ability to remember every line from every movie there ever was, but not what time I told him we have dinner reservations on Friday.
This one is from My Cousin Vinny, a cult classic that can be found on some third rate television station every weekend. I will say, it makes me smile no matter how many times he says it.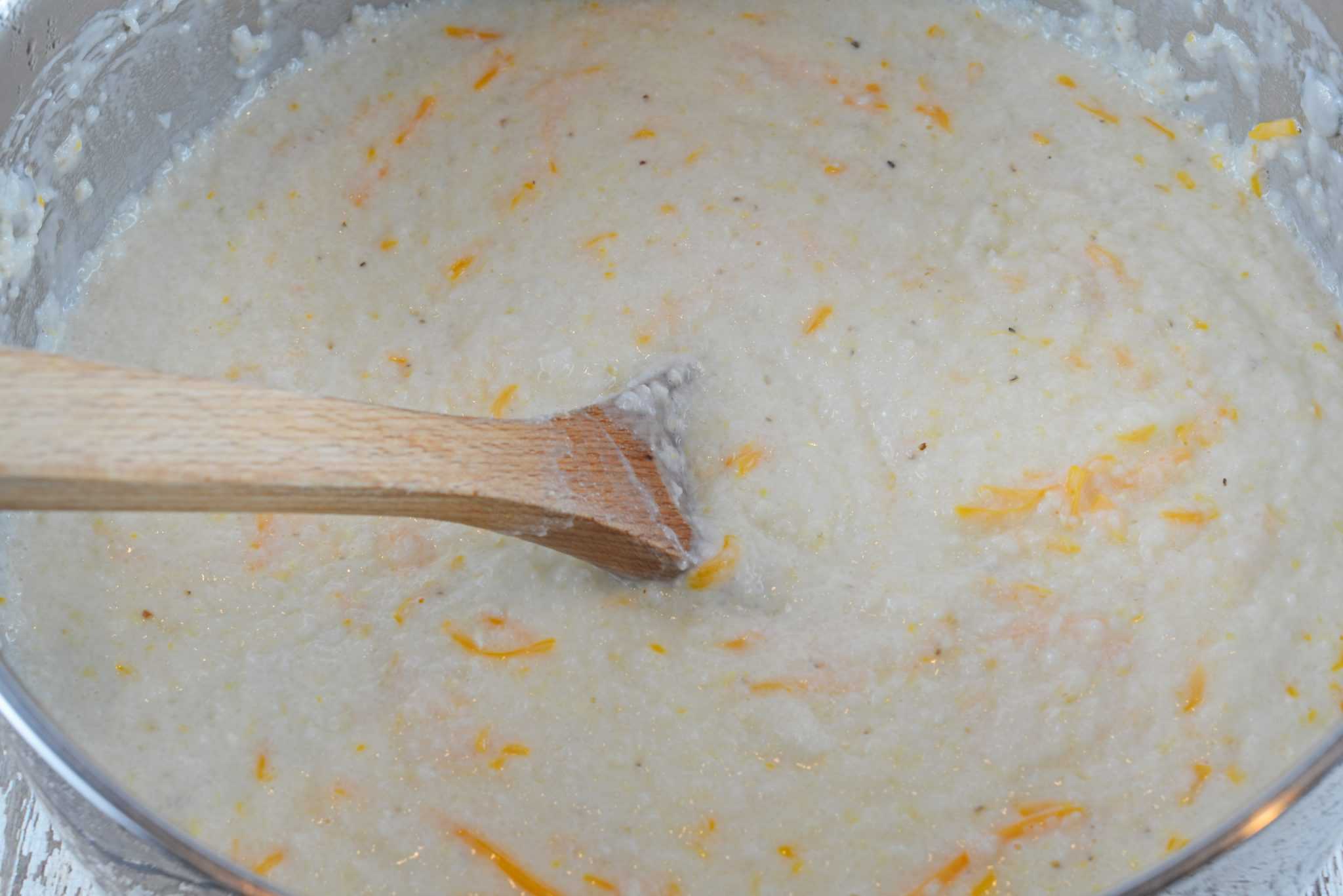 So back to the important stuff, how do you like your grits? The truth is, I want my grits to be both creamy and a little al dente. I like the richness of cream and cheese, but I also want to taste the gritty texture of the corn to remind me these are indeed grits and not mashed potatoes.
Or rice. Our nephew once grew very irritated with us insisting that grits were "cheesy rice" at a Waffle House when he was four.
Creamy Cheddar Grits are also super simple to make your own. Switch out the type of cheese to change the flavor profile or stir in some other lovely ingredients, like roasted red peppers, tomatoes, bacon, scallions or even jalapenos.
Serve for any meal of the day, breakfast, lunch or dinner and as a side or the base of a fabulous shrimp and grits, like my Southwestern Shrimp and Grits.
If you like my Creamy Cheddar Grits, here are a few more southern inspired recipes you might enjoy.
Creamy Cheddar Grits
Creamy Cheddar Grits are the perfect addition to any breakfast, lunch or dinner. Make the perfect consistency and taste every time!
Course:
Breakfast, Side Dish
Keyword:
cheddar grits, creamy grits
Ingredients
2

teaspoons

kosher salt

1

cup

fine quick-cooking grits

not instant

1 1/4

cups

half and half

2

tablespoons

unsalted butter

1 1/2

cups

sharp cheddar cheese

grated

1/2

teaspoon

freshly ground black pepper

1/2

cup

chopped scallions

for garnish

sharp cheddar cheese

for garnish
Instructions
Bring 4 cups of water to a boil in a large, heavy bottom saucepan.

Add Kosher salt and then slowly add quick cooking grits, stirring constantly. Reduce the heat to low and simmer, stirring occasionally, until the grits thicken, approximately 5 to 7 minutes.

Add half-and-half and butter to the grits, stir. The mixture will thicken as it cooks. Bring back up to a low simmer.

Cover the pot and reduce the heat to low for 30-45 minutes, stirring occasionally.

Take the saucepan off the heat and fold in sharp Cheddar cheese.

Garnish with additional grated cheddar cheese and scallions.

If you've tried this recipe, come back and let us know how it was!
Nutrition Facts
Creamy Cheddar Grits
Amount Per Serving
Calories 309
Calories from Fat 171
% Daily Value*
Total Fat 19g 29%
Cholesterol 58mg 19%
Sodium 972mg 41%
Potassium 128mg 4%
Total Carbohydrates 23g 8%
Protein 10g 20%
* Percent Daily Values are based on a 2000 calorie diet.