This recipe originally appeared on Real Housemoms, where I am a contributor.
Classic Stuffed Peppers are a timeless family recipe. Made with ground beef, spices and rice, they are a filling one-dish meal that comes together in less than 30 minutes and can even be made ahead.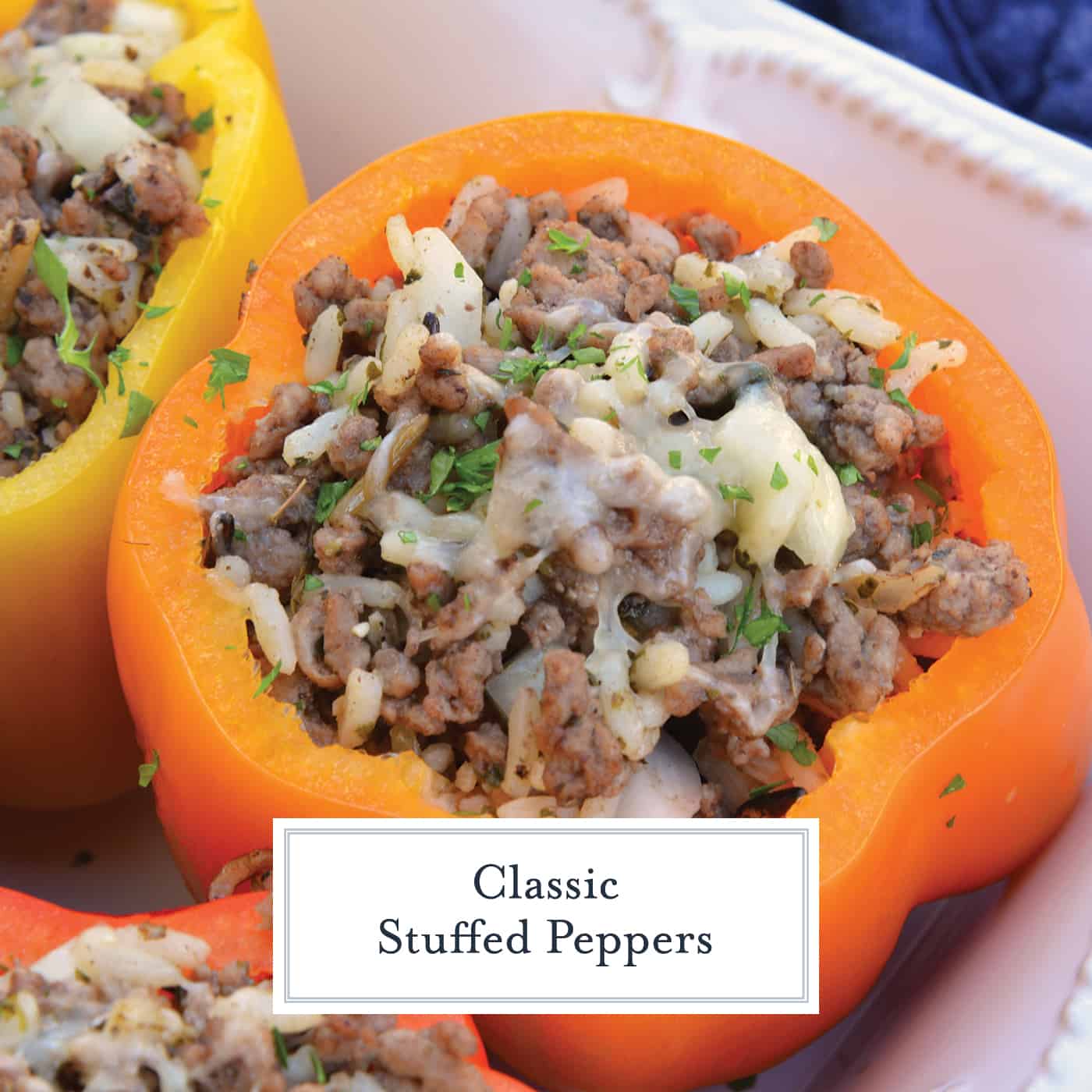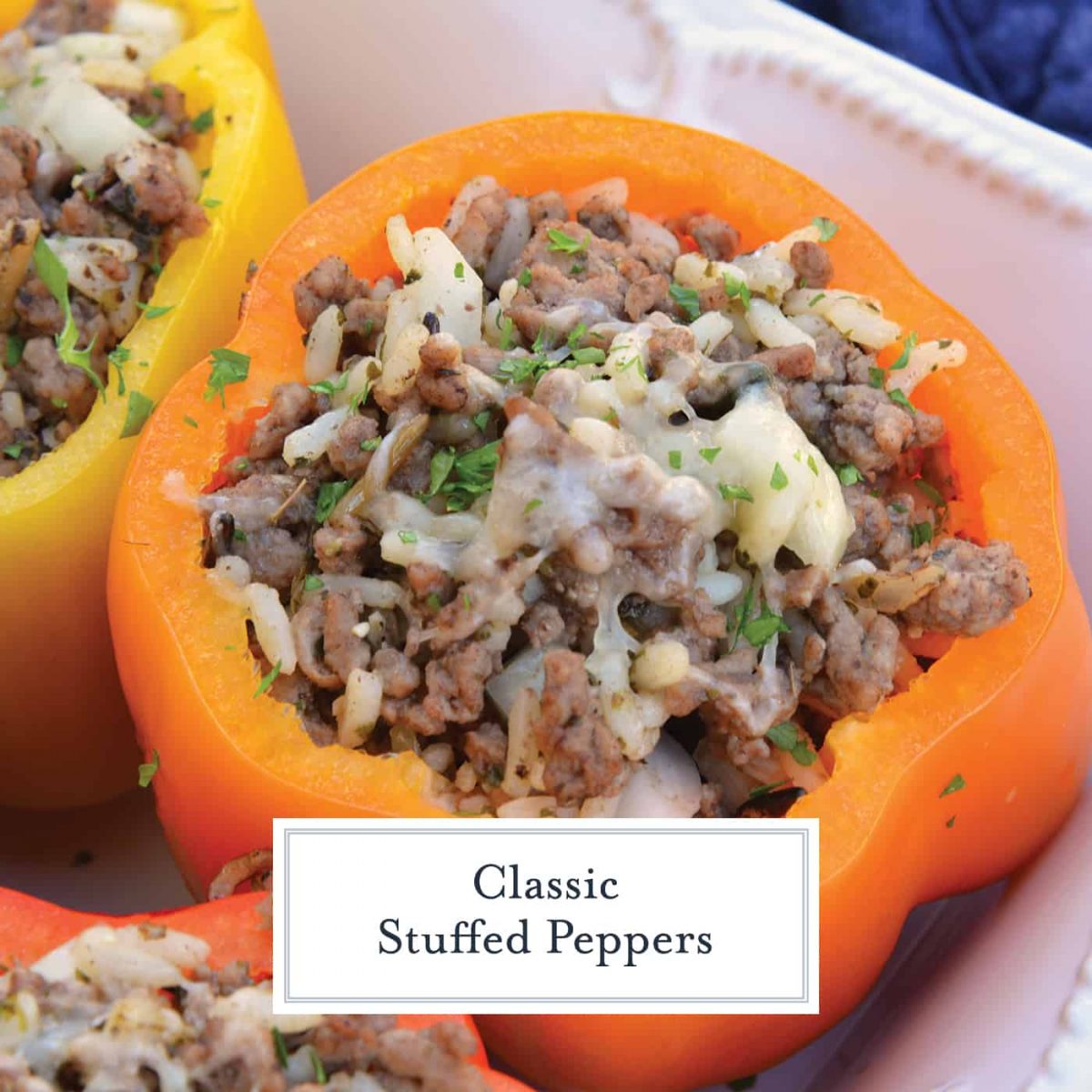 Classic Stuffed Peppers are bell peppers stuffed with ground beef, rice, cheese and spices. A timeless meal ready in 30 minutes and easily made ahead.
Stuffed Bell Peppers are part of my All-American recipe repertoire. You know, the ones that date back until …. Who knows when.
Dishes like meatloaf, chili and chicken cutlets. You can picture the 1950's housewife in her pearls and petticoats proudly displaying the multicolored dish from the front door while serving her husband his coming home cocktail.
Perhaps an old fashioned? Pun intended…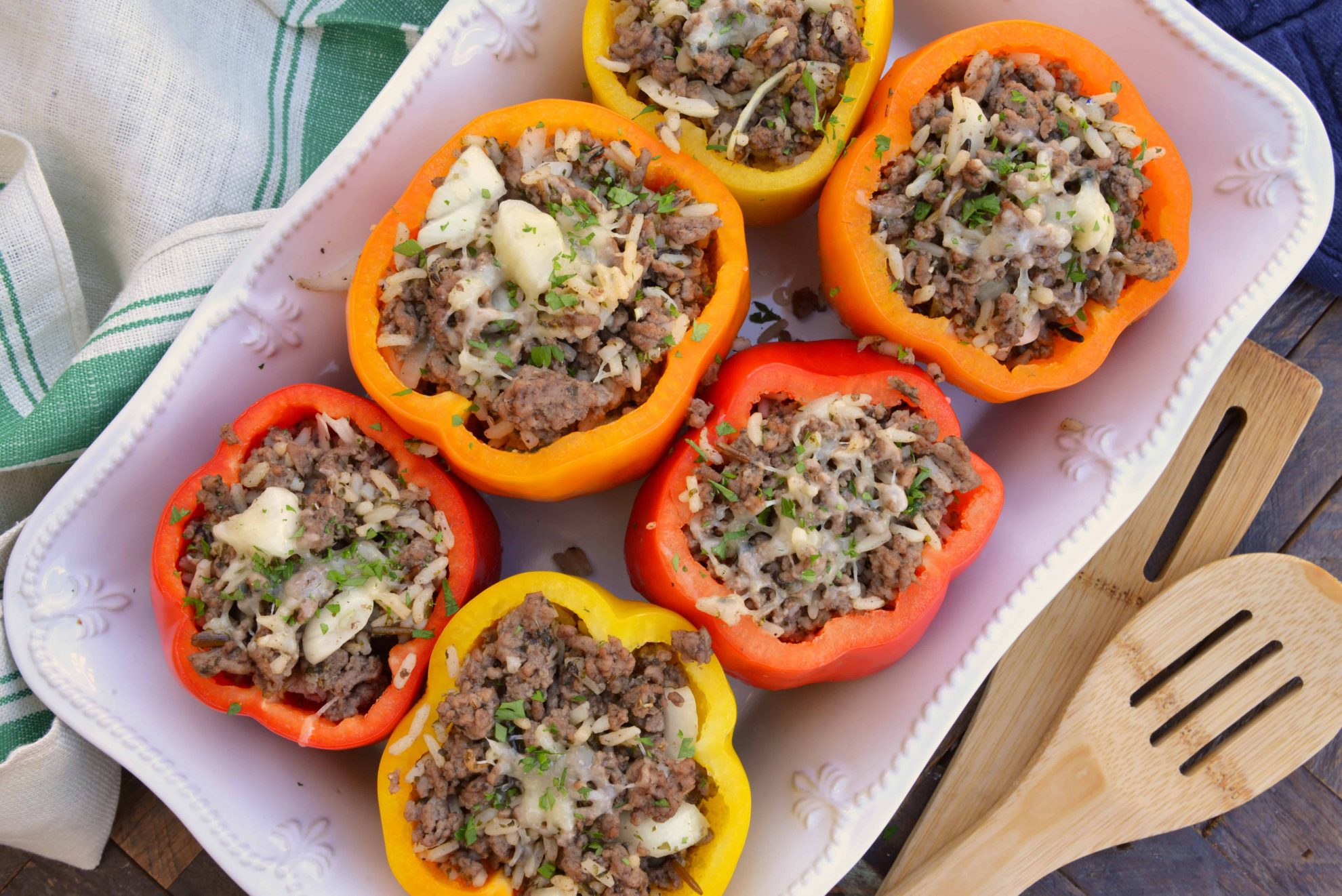 These are the dishes that have passed the test of time and remain relevant today. Although stuffed peppers have undergone many fun and exciting variations, it is necessary to know the basic bell pepper recipe before you add any of those fun ideas.
This is a classic stuffed peppers recipe, so feel free to put your own spin on them. One of the best things about this recipe is that you basically can't hurt it or mess it up. Seriously, it would take some pretty serious bad-cooking-expertise to do so.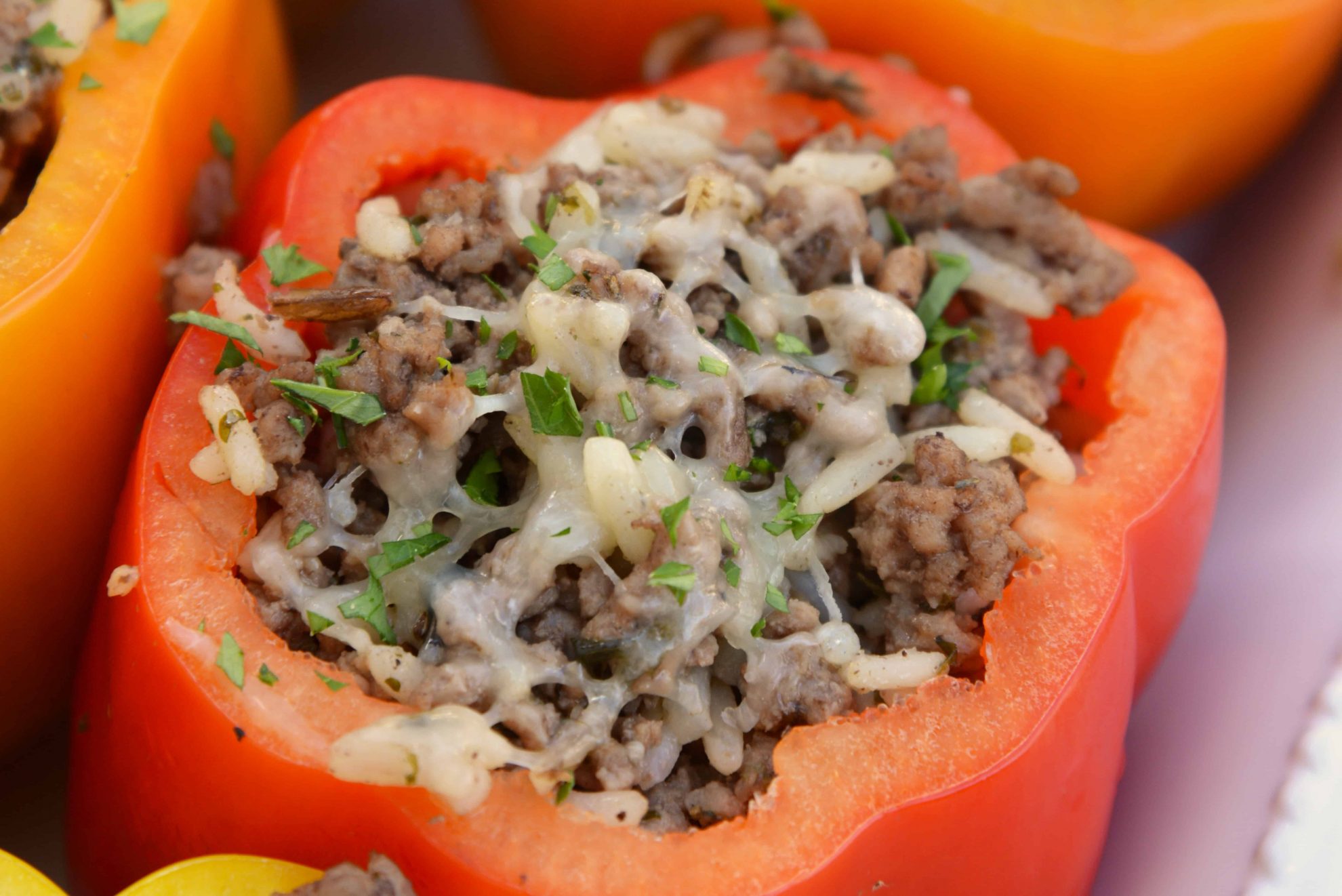 Add odds and ends of vegetables leftover in the fridge. Top them with your favorite cheese or fresh herbs. Heck, even toss more cheese into the ground beef mixture!
Like them spicy? Add jalapenos, cayenne pepper or hot sauce. You can even add ground sausage or bacon.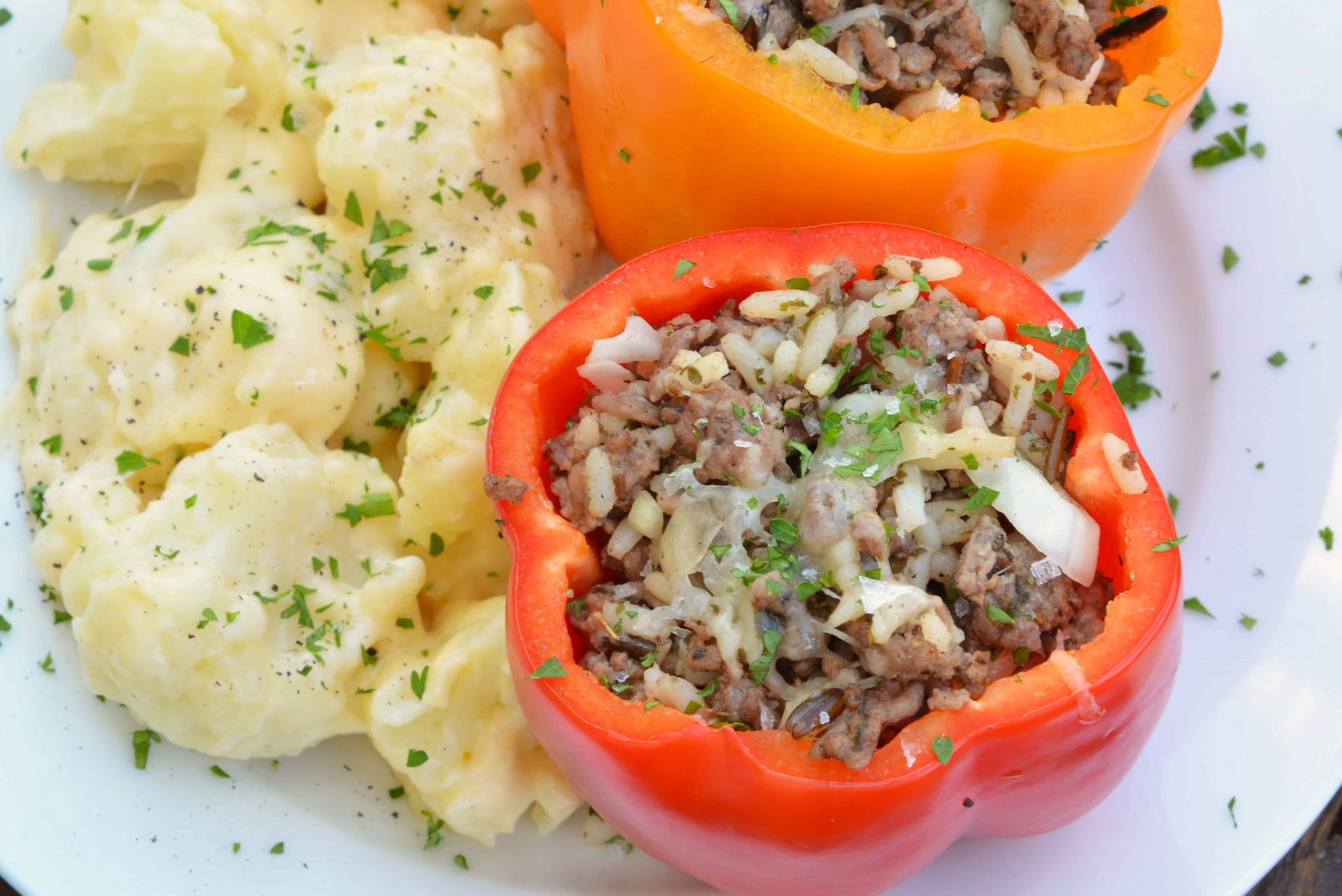 I like to serve mine with a side of marinara sauce or even salsa to sneak in more veggies and flavor.
You can use colorful bell peppers, but sometimes these can get pricey so feel free to use green bell peppers, which are typically cheaper.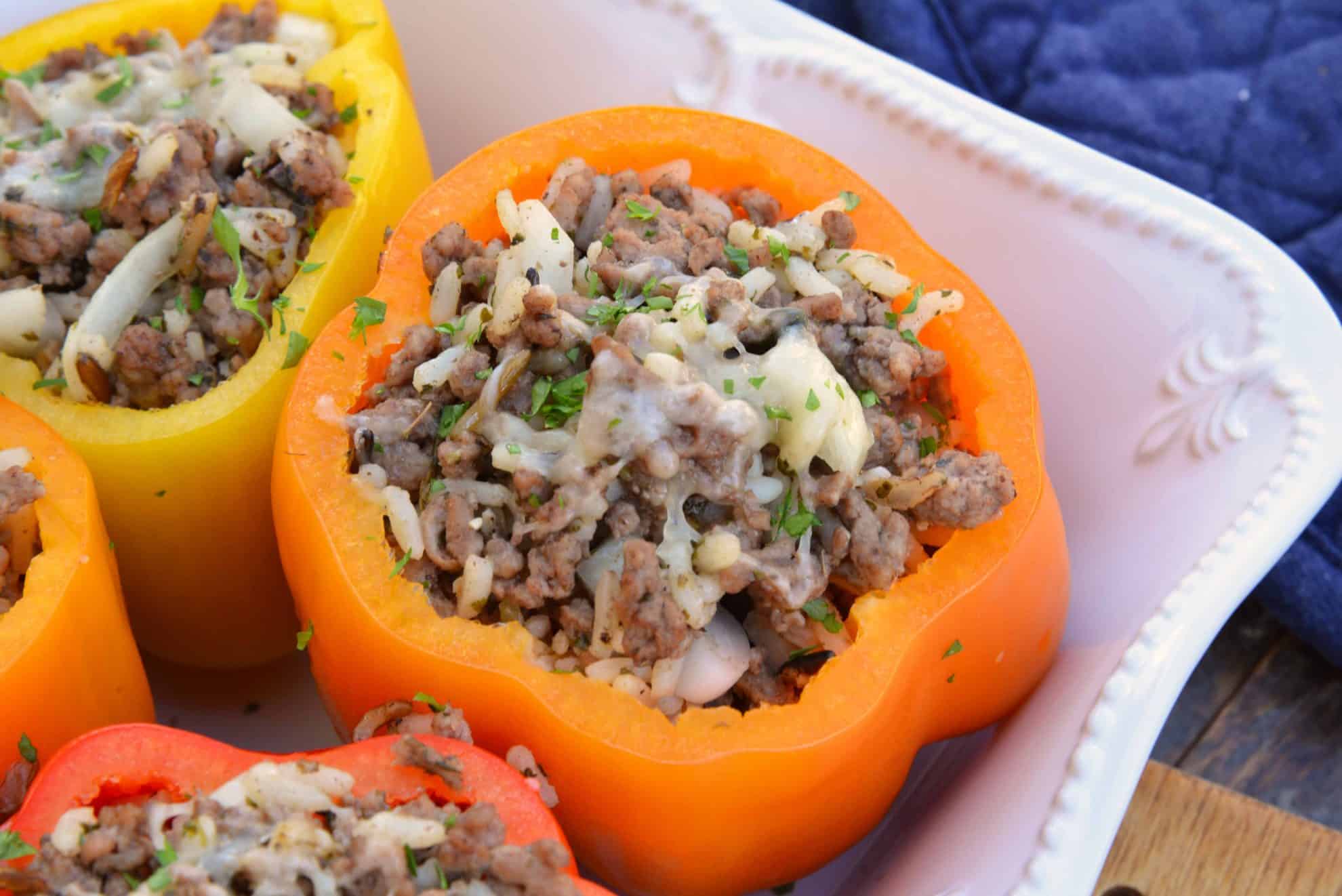 Here are some commonly asked questions about stuffed peppers:
Are stuffed peppers healthy? Stuffed peppers can be healthy depending on what type of meat you are using. If you are using ground beef, try using a lean mixture or use ground turkey instead. Also sub white rice for brown rice.
Are stuffed peppers gluten free? If you just use rice, yes, stuffed peppers are gluten-free!
Can stuffed peppers be frozen? Sure! I would go ahead and assemble them and then wrap them super tight in plastic wrap and aluminum foil so there is very little air. Keep frozen for up to 3 months. Allow to defrost or cook frozen for approximately 15 minutes longer.
Can you make stuffed peppers in the slow cooker? You can, but for this type of recipe, it doesn't save you any time and cooking them in the slow cooker will actually make your bell peppers a little soggy. In this case, it is faster and more tasty to make them in the oven.
Can you grill stuffed peppers? Yes! And they have a whole new flavor when you do.. more smokey. Simply place them on the grill, sitting upright or in a grill basket, and close the lid until they start to soften and cheese melts. I recommend using indirect heat.
Can you make stuffed peppers vegetarian? Sure! Just omit the meat. I would suggest adding in more "meaty" vegetables like diced eggplant or squash.
If you liked this recipe, check these out: