This video was part of a Facebook LIVE segment, make sure to follow us for more every other Wednesday night at 8:00 p.m.!
Creamy Jalapeno Stuffed Mushrooms are the perfect party appetizer! A make ahead appetizer recipe that the whole family will enjoy.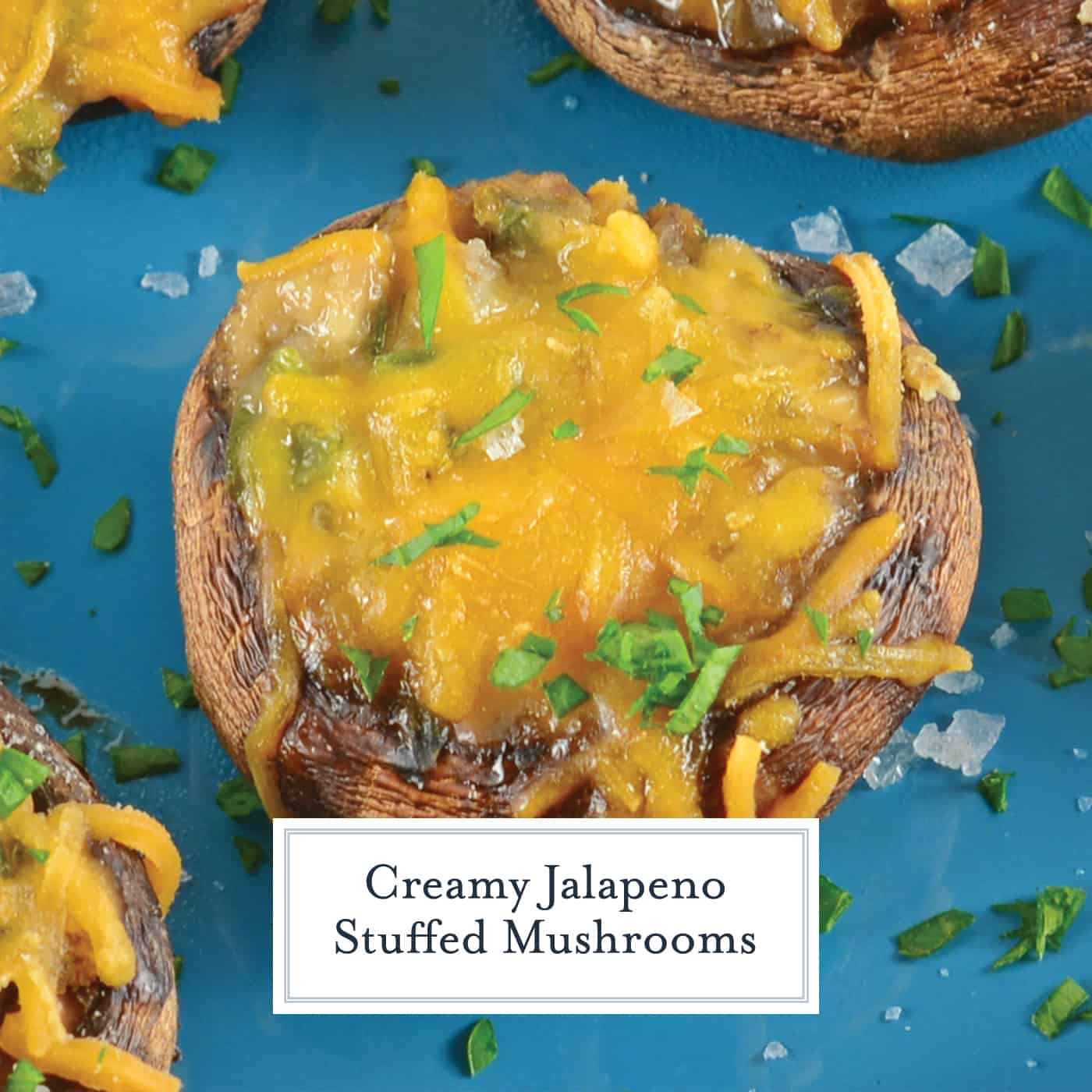 Creamy Jalapeno Stuffed Mushrooms are an easy jalapeno popper make ahead recipe using cream cheese and fresh jalapenos.
You might see recipes similar to Creamy Jalapeno Stuffed Mushrooms called Jalapeno Popper Stuffed Mushrooms, but in all honesty, the whole jalapeno popper movement is getting a little stale.
Don't get me wrong, I'm all for jalapenos and cheese on just about anything and am totally guilty of having my own line of jalapeno popper recipes, but I wanted to switch it up a little.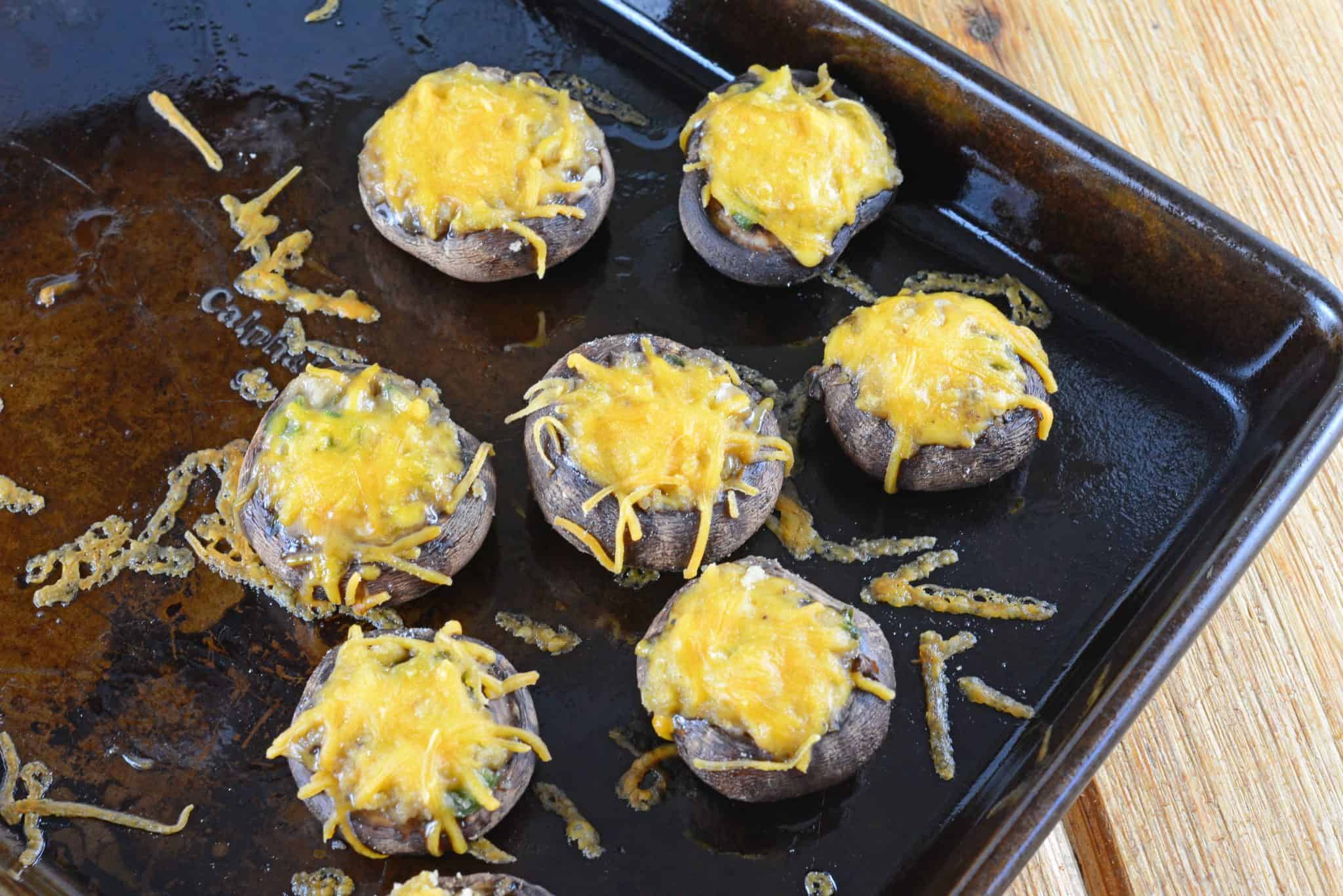 Creamy Jalapeno Stuffed Mushrooms blend cream cheese with cheddar and use real jalapenos instead of jarred or pickled. I prefer using whole fresh jalapenos because they are spicer and I can control the heat.
Heat will even vary from jalapeno to jalapeno, so your best bet is to purchase several jalapenos and taste test for spiciness. They are pretty cheap and you can use the remainder in other creations.
Also, removing seeds will reduce the heat. If you are looking for a super spicy jalapeno popper recipe, then use a spicier pepper. Look for habanero, serrano or arbol.
Likewise, if you want a milder pepper, pick a poblano or sweet pepper. Cooking or pickling your peppers will also mute the heat.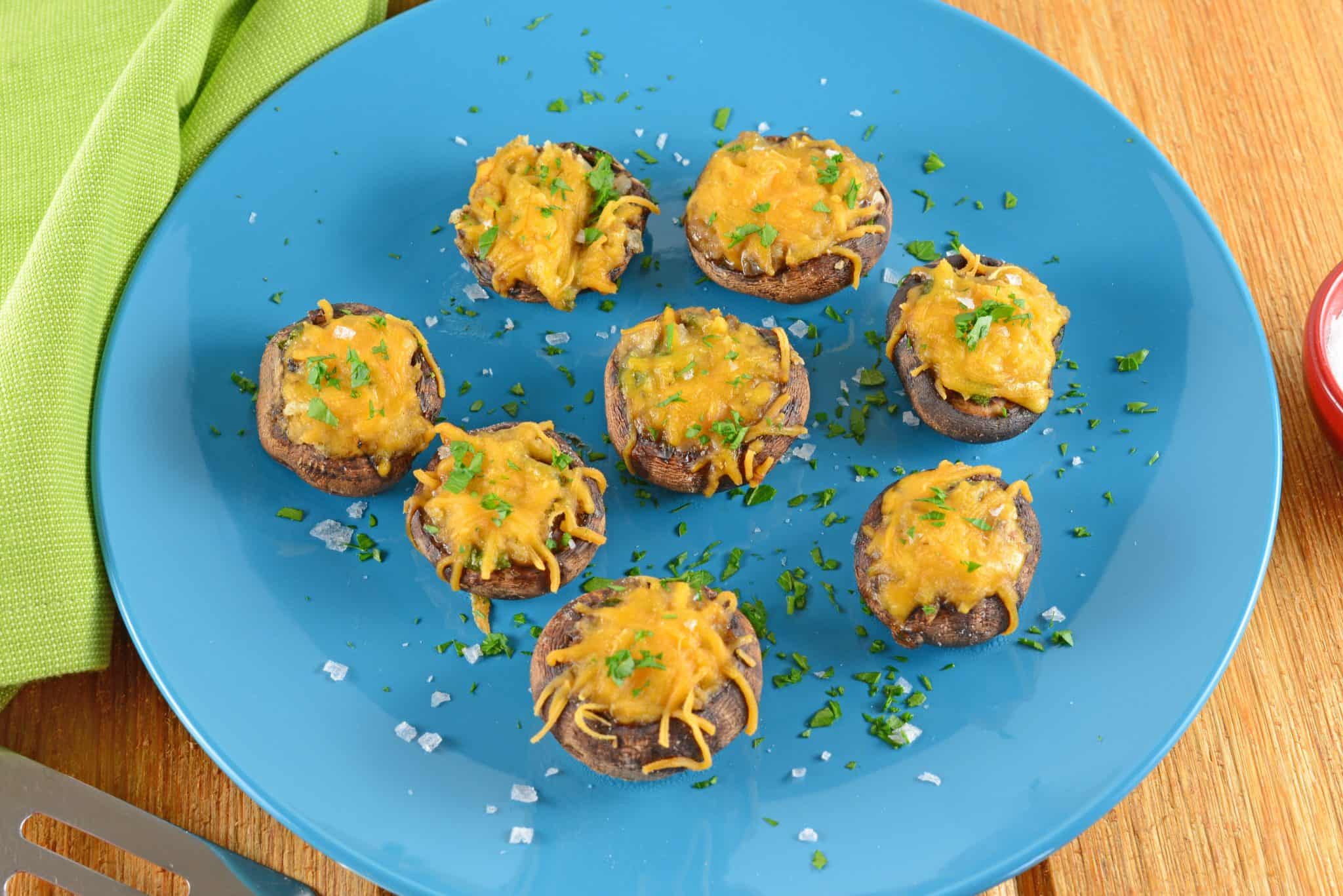 Cheddar cheese can also be substituted for pepper jack or a habanero laced monterey jack. Another option is to top them off with crumbled bacon.
Bacon makes everything better, but it is also nice to have a vegetarian option. This recipe is really perfect for customizing to your audience!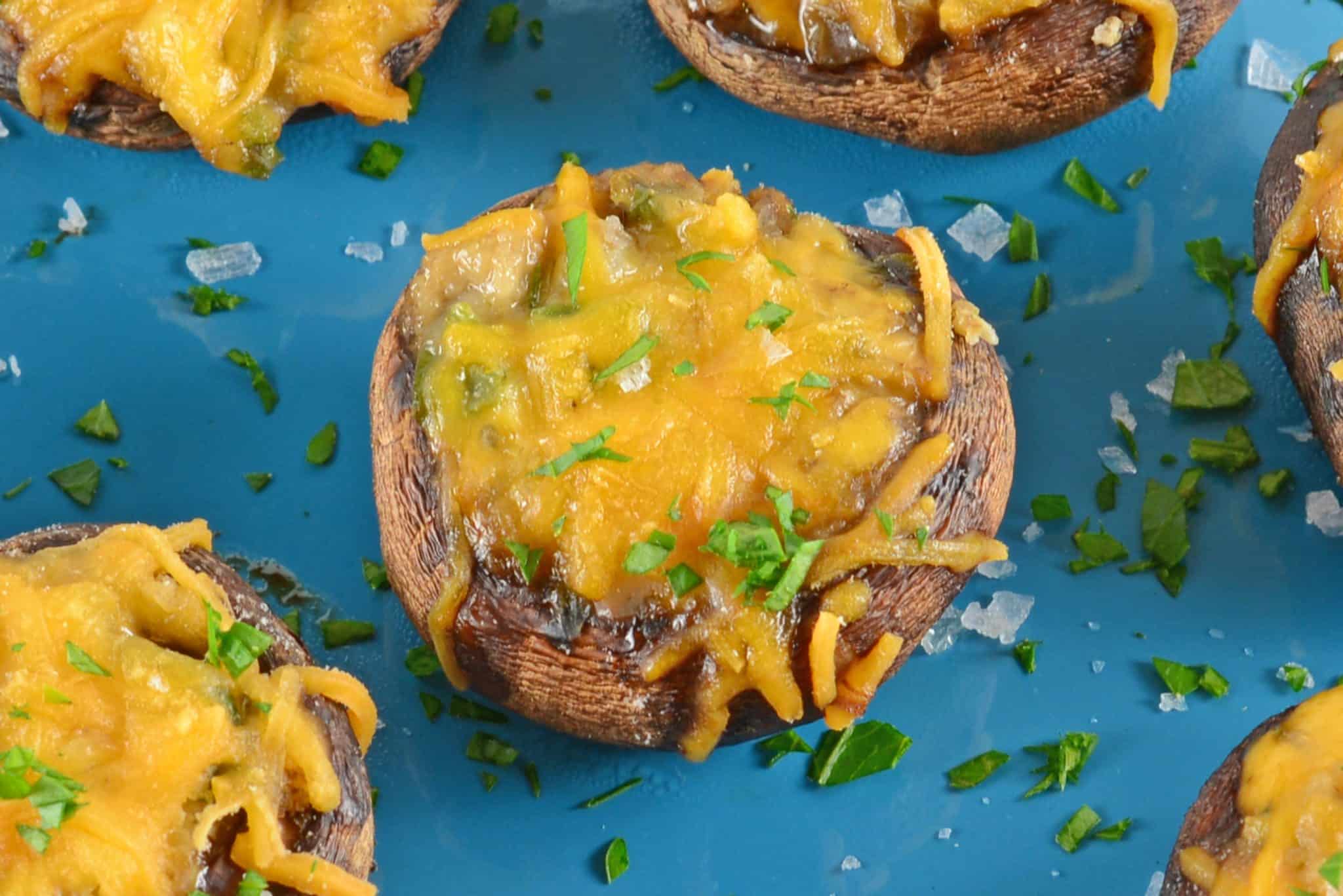 Tools for making Creamy Jalapeno Stuffed Mushrooms:
Wood cutting board – wood won't dull your knives like plastic and if treated properly, has natural antimicrobial properties.
Good knife – Global is my favorite! They are worth the price, I promise. I am kind of obsessed with them and store them tucked away so no one else can use them. Including hubby. Hands off my good stuff!
Cheese Grater– While it is super easy to buy pre-shredded cheese, it can dry out and is tossed in a starchy mix to prevent it from clumping. This results in a less melty cheese. Do yourself a favor and save money and get a better melt by buying a brick and grating as you go.
If you like this recipe, you'll love these other easy recipe ideas: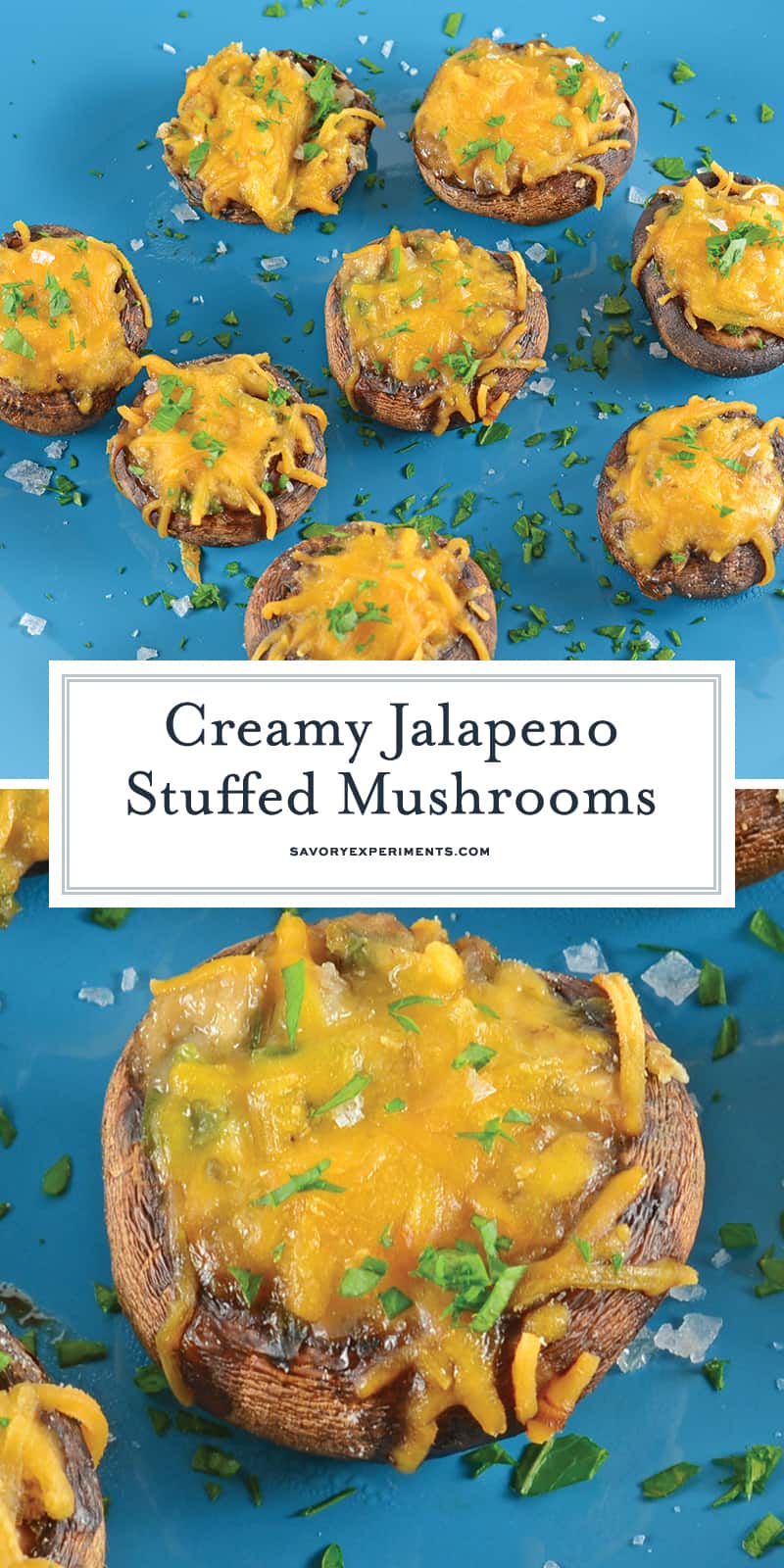 ---
---
Creamy Jalapeno Stuffed Mushrooms
Creamy Jalapeno Stuffed Mushrooms are an easy jalapeno popper make ahead recipe using cream cheese and fresh jalapenos. The perfect party appetizer!
Instructions
Preheat oven to 400 degrees.

In a medium bowl, combine softened cream cheese, 1/2 cup shredded cheddar cheese, minced jalapeno, fine sea salt and freshly ground black pepper. Press remaining shredded cheddar cheese in the tops.

Place on baking sheet and bake for 15-20 minutes, or until cheese is fully melted.

Garnish with chopped parsley and serve!

If you've tried this recipe, come back and let us know how they were!
Nutrition
Calories:
46
kcal
|
Carbohydrates:
1
g
|
Protein:
2
g
|
Fat:
3
g
|
Saturated Fat:
2
g
|
Cholesterol:
12
mg
|
Sodium:
83
mg
|
Potassium:
76
mg
|
Vitamin A:
155
IU
|
Vitamin C:
1.5
mg
|
Calcium:
47
mg
|
Iron:
0.2
mg