Does your family partake in meatless Monday? These Spinach Stuffed Mushrooms are so tasty and filling that you won't miss the meat at all!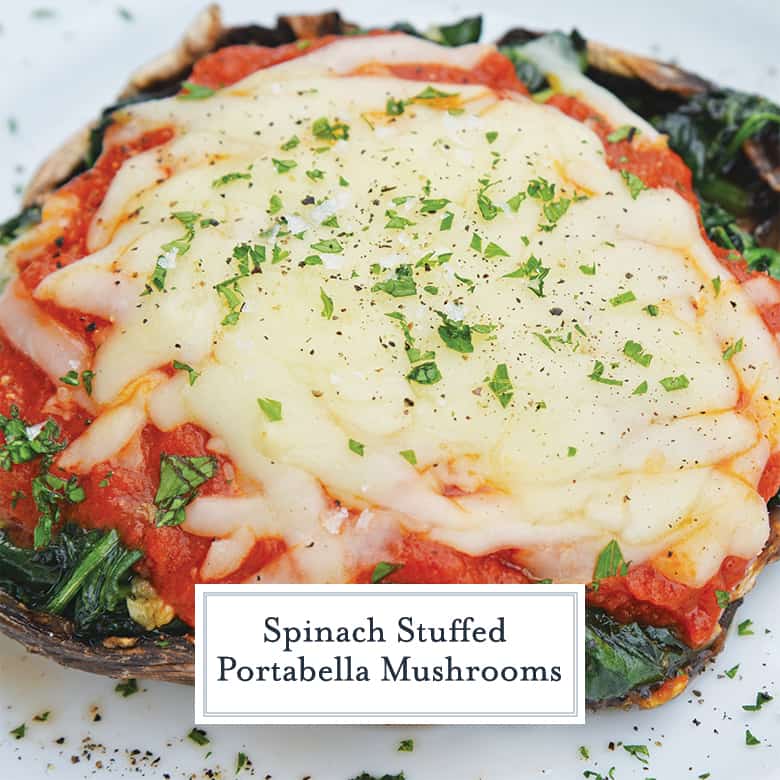 Whether you need a meatless dinner idea or just love mushrooms, these Spinach Stuffed Mushrooms are for you! Great for simple weeknight meal option.
We are huge fans of mushrooms around here. And if you've been following along for any amount of time, you've seen some of my favorite mushroom recipes:
These easy Spinach Stuffed Mushrooms are my newest favorite! I used portabella mushrooms for this recipe because they're quite large and hold a lot of stuffing (and you can't go wrong with more stuffing- right??)
If I were to tell you they really do taste like biting into a juicy steak, would you believe me?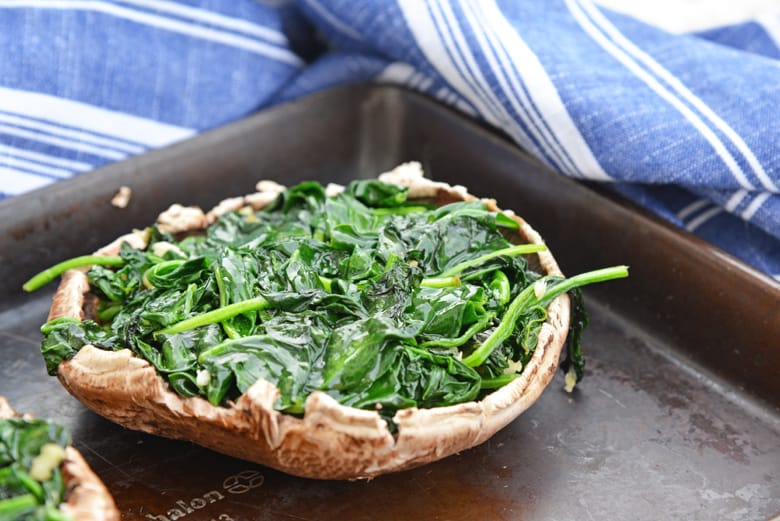 You should! I'm a total carnivore, but our family likes to experiment with meatless Monday recipes and find creative ways to add more vegetables to our meals.
PRO TIP: Using a low moisture mozzarella will reduce the amount of liquid and make your mushrooms cheesier!
Portabella Mushrooms, whether stuffed or diced, offer the same texture as meat making them ideal for vegetarian dishes.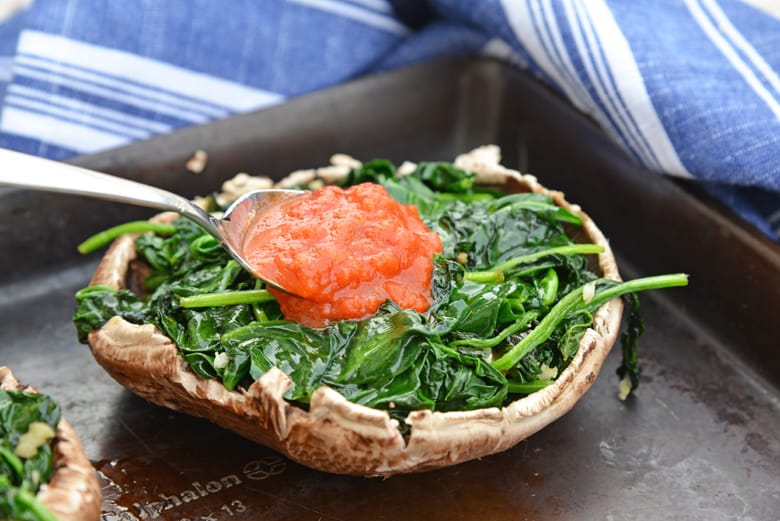 Spinach Stuffed Portabella Mushrooms are super easy to make! Start by sauteing the onions and garlic in a large skillet with olive oil. You want them to be soft and fragrant.
Next add in the spinach and cook until it is fully wilted. Once wilted, add in the salt and pepper.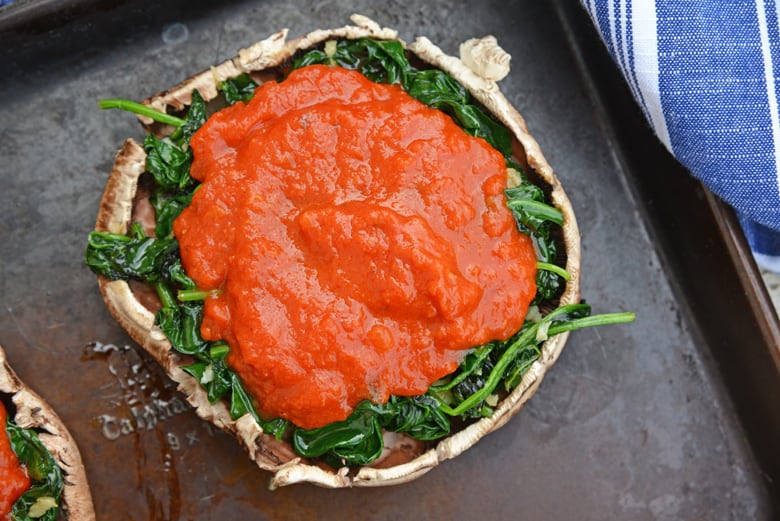 Separate this mixture evenly into the portabella mushroom cups. Next you top those with marinara and some shredded mozzarella cheese.
Bake the Spinach Stuffed Mushrooms for about 15 minutes, and then allow them to rest for a few minutes before eating. And there you have it! Dinner is served.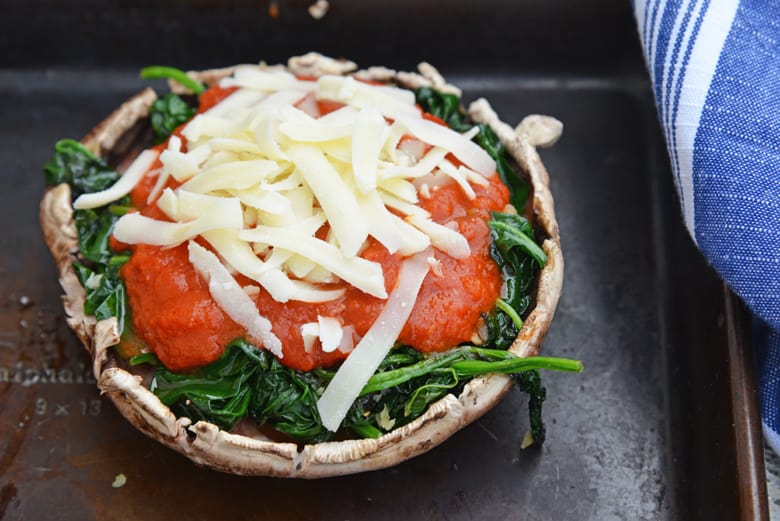 Now that we've discussed these Spinach Stuffed Mushrooms, we need to answer a serious question: is it "portabella" or "portobello"? The answer is BOTH.
Both are acceptable terms and refer to the same mushroom, a descendant of the cremini mushrooms, but oversized. I tend to waffle back and forth with which spelling I use. I should really just pick one and stick with it. LOL.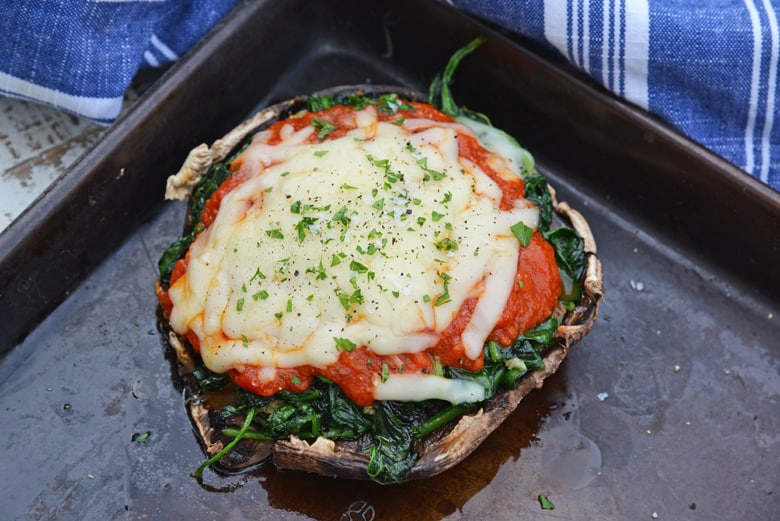 But whether you say portabella or portobello, these Spinach Stuffed Mushrooms are sure to be a favorite for your family!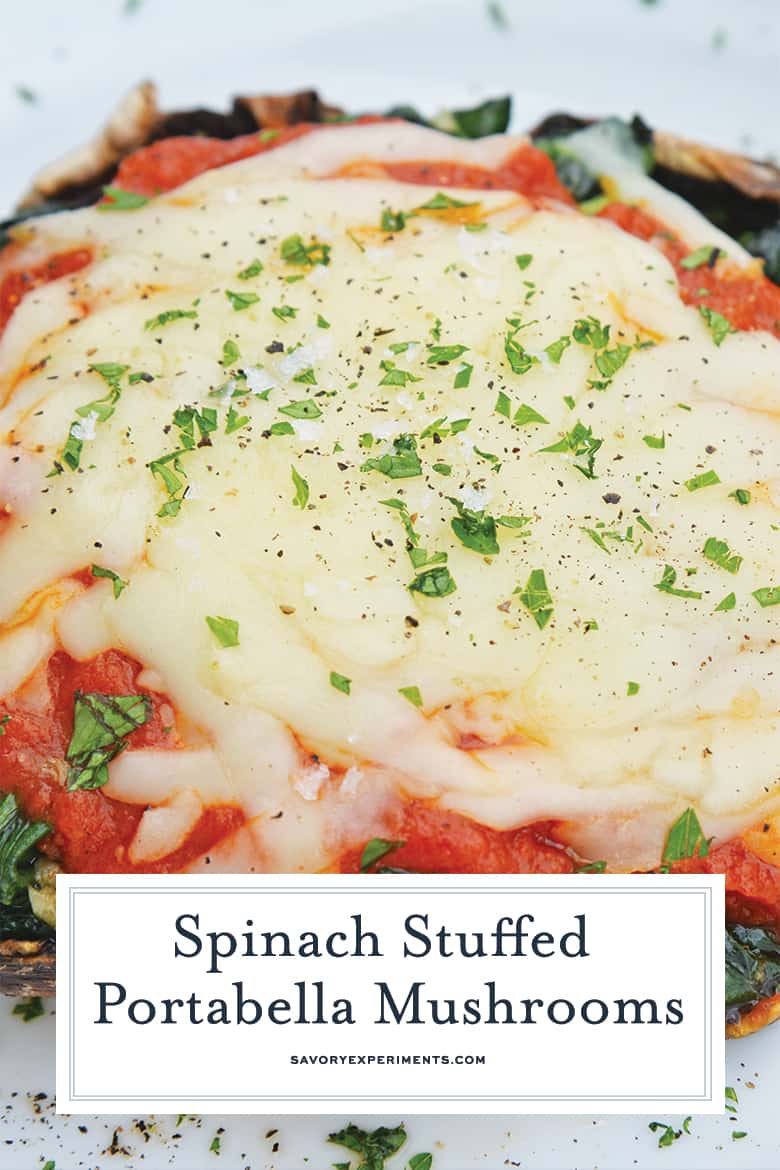 More Meatless Monday recipes: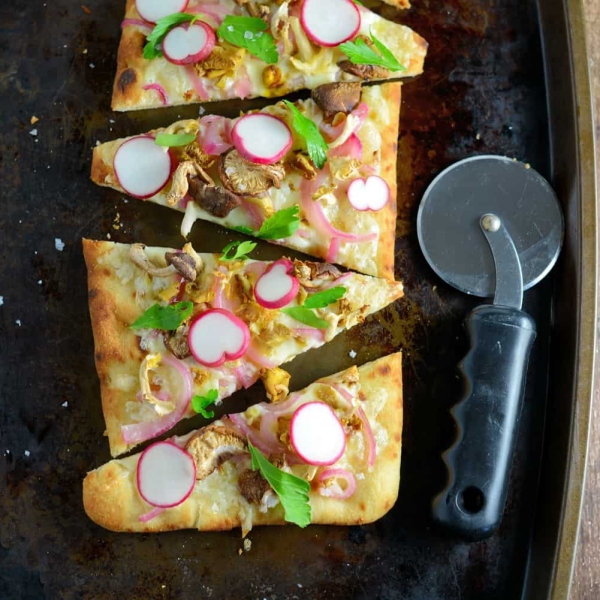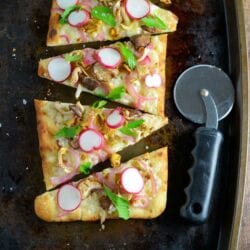 My favorite sides to serve with this recipe: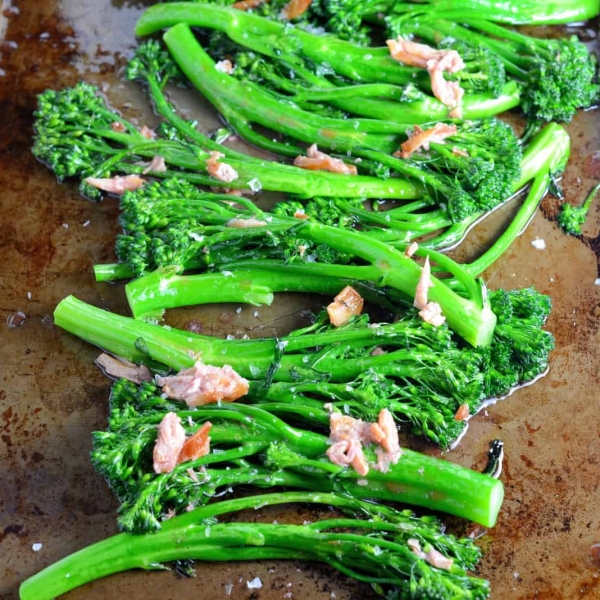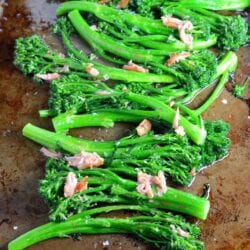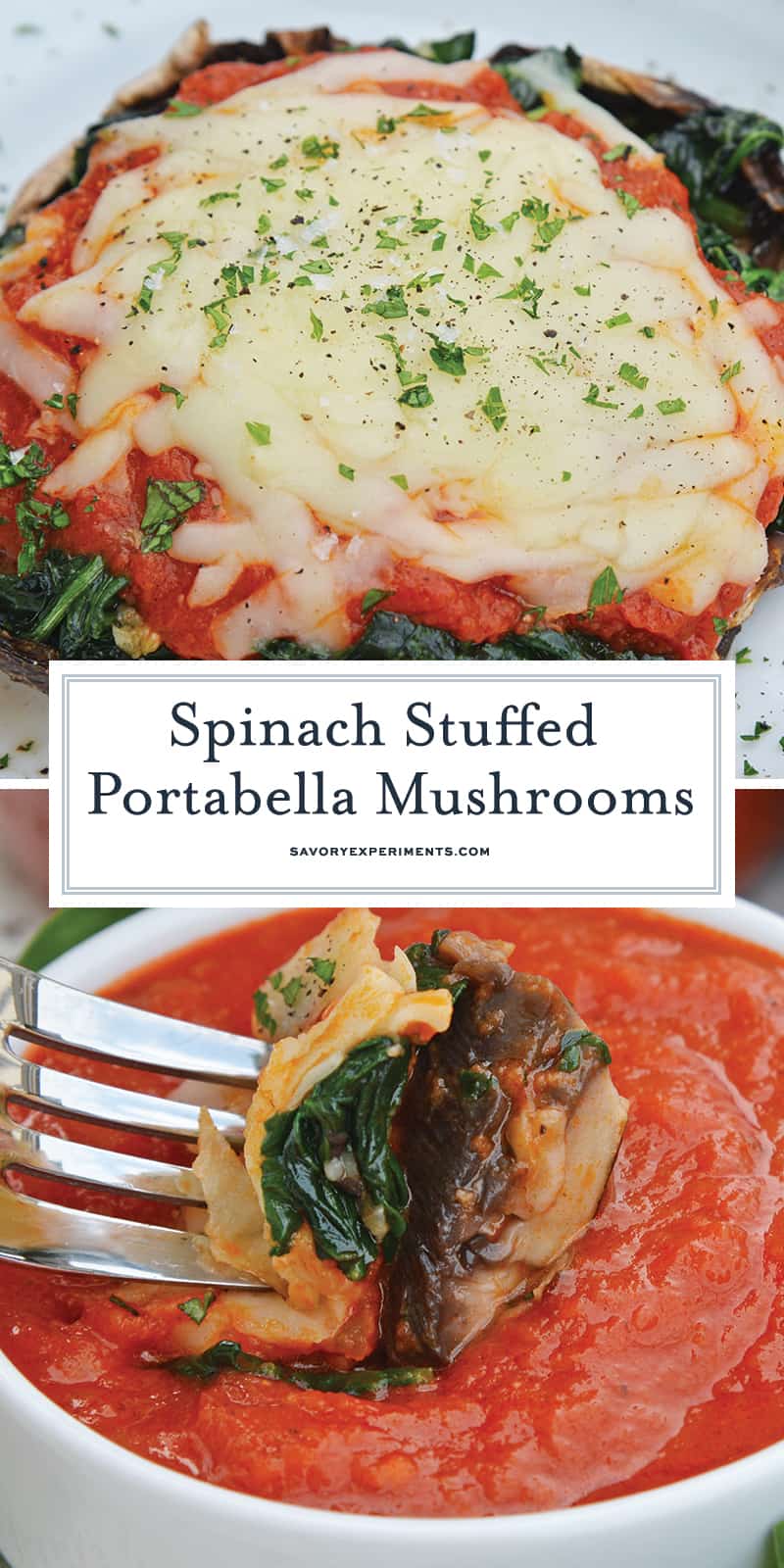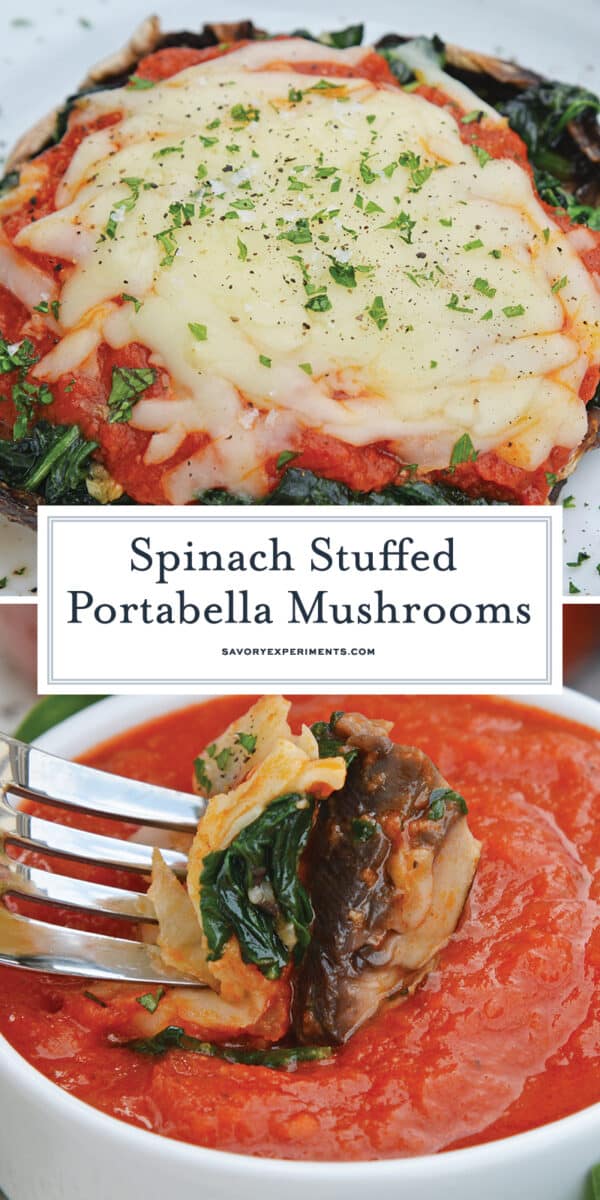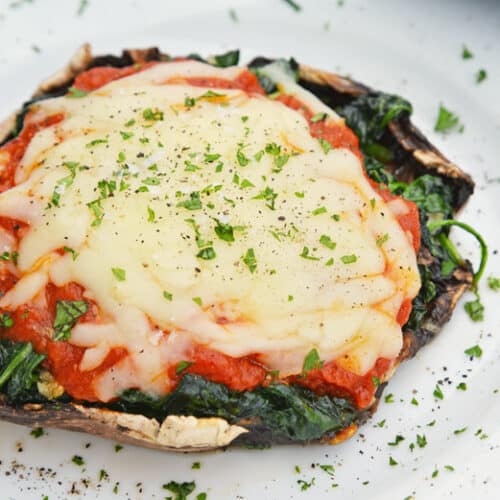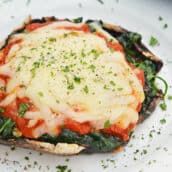 Spinach Stuffed Mushrooms
Does you partake in meatless Monday? These EASY Spinach Stuffed Mushrooms are so tasty and filling that you won't miss the meat at all! The BEST appetizer!
Instructions
Preheat oven to 350 degrees. Line a rimmed baking sheet with parchment paper or aluminum foil. Place portabella caps on baking sheet.

In a large skillet, heat olive oil and add garlic and onion. Saute for 3-4 minutes or until starting to soften and fragrant.

Add spinach. Use tongs to toss until fully wilted. Add fine sea salt and fresh ground black pepper.

Equally divide spinach stuffing mix in each portabella cap. Top with marinara sauce and shredded mozzarella cheese.

Bake for 15 minutes.

Remove and allow to rest for 3-4 minutes. Serve with additional marinara sauce, if desired.

If you've tried this recipe, come back and let us know how it was!
Nutrition
Calories:
131
kcal
,
Carbohydrates:
11
g
,
Protein:
9
g
,
Fat:
7
g
,
Saturated Fat:
2
g
,
Cholesterol:
8
mg
,
Sodium:
779
mg
,
Potassium:
996
mg
,
Fiber:
4
g
,
Sugar:
5
g
,
Vitamin A:
8326
IU
,
Vitamin C:
29
mg
,
Calcium:
201
mg
,
Iron:
3
mg