Bacon cheese fries are probably one of the best appetizers, sides or munchies out there. Truth be told, I eat them for a whole meal. But do you know what makes them better? Ranch! Queue the Ranch Bacon Cheese Fries!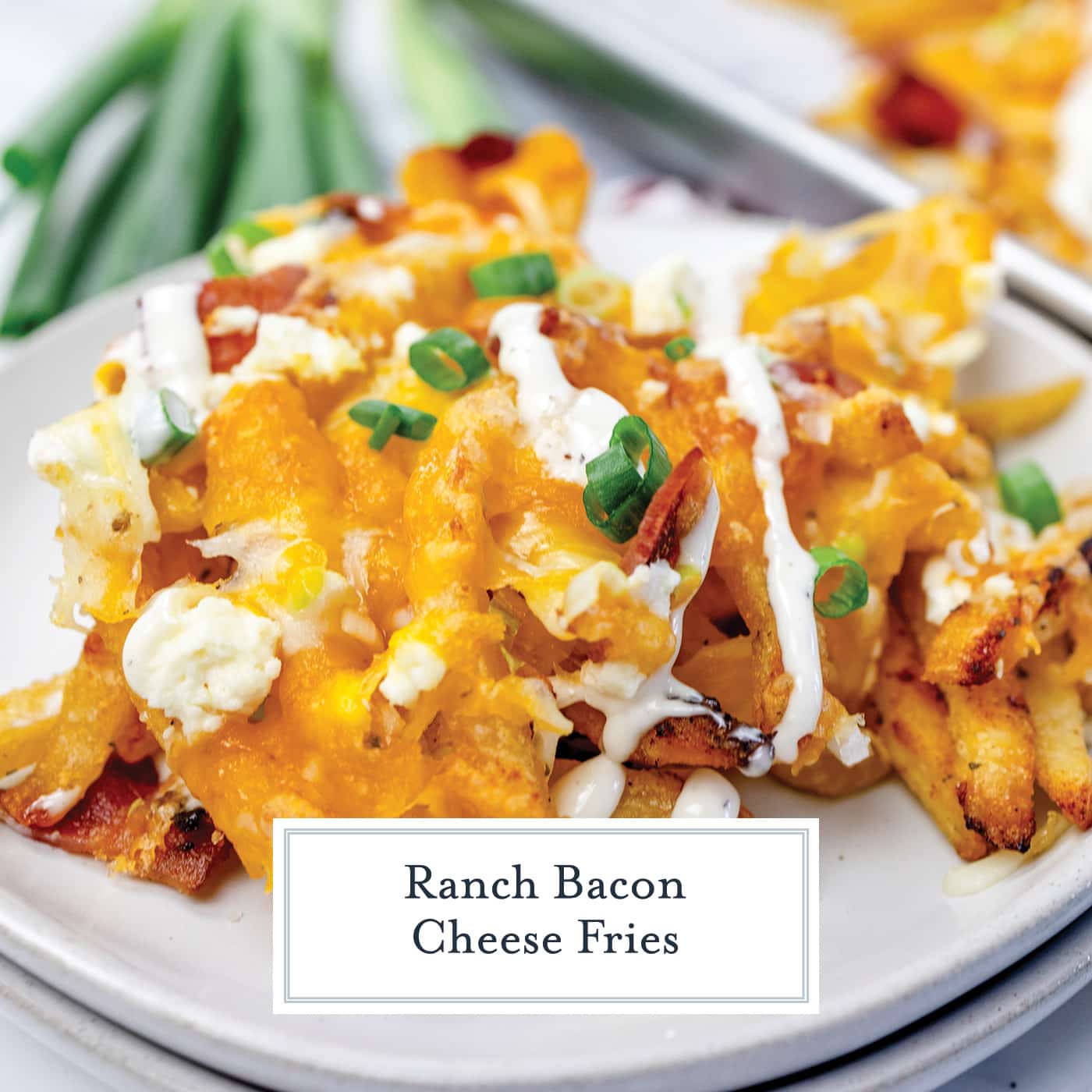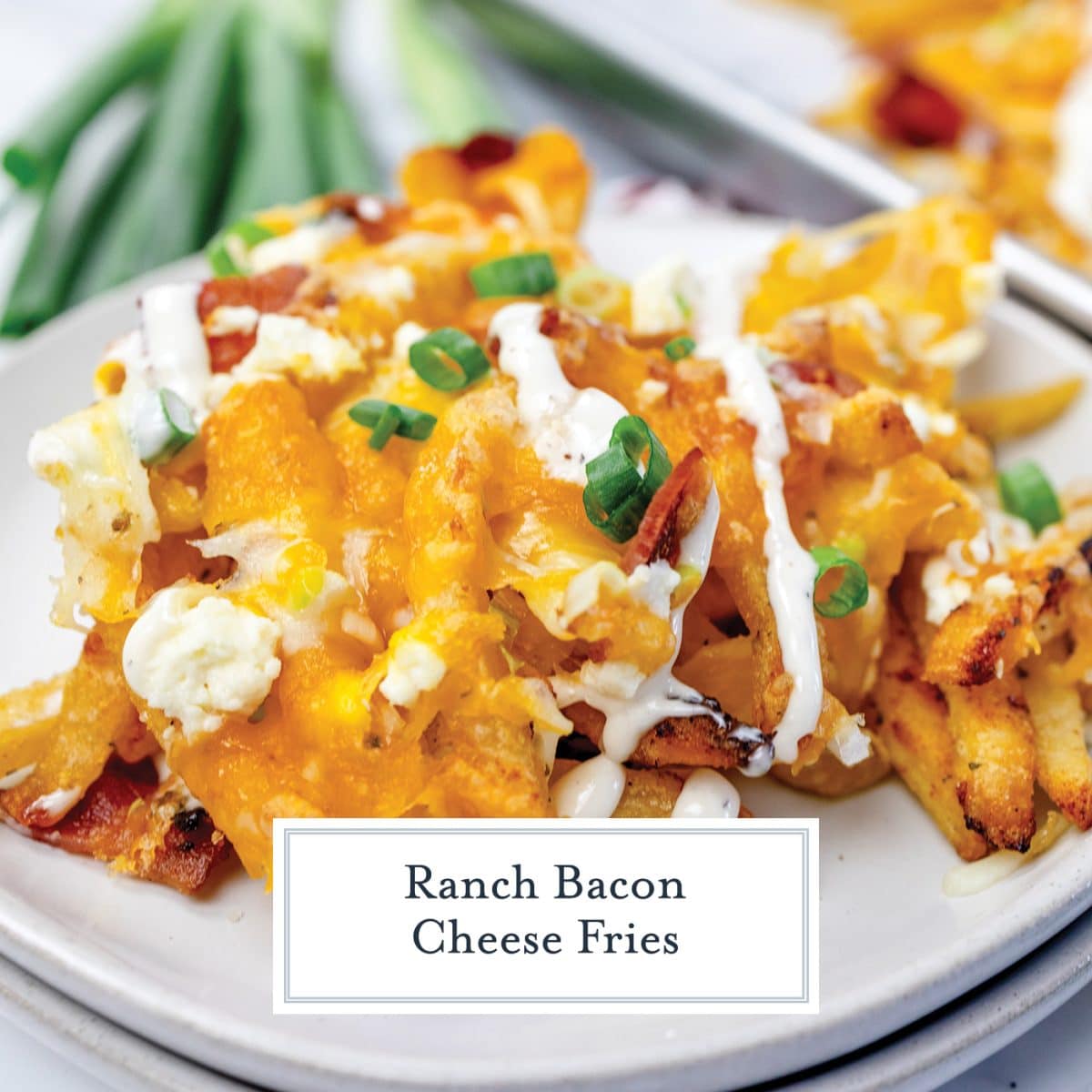 Cheesy bacon fries are perfect for game day, party food, as an appetizer, a side dish or just a quick snack. Crispy French fries topped with a gooey cheese, fresh crunchy onions and salty bacon.
This sounds like a simple concept, but making cheese fries is partially an art, but also personal preference. Here me out…
I don't like the fake cheese sauce. You know, the liquid cheese sauce that comes in a plastic bag, doesn't need to be refrigerated and never solidifies. Nope, I would an awesome cheese pull because freshly shredded cheese is heated up perfectly.
This recipe also uses double ranch. Dry ranch seasoning on the frozen fries to season while baking and then actual ranch dressing for dipping or drizzling.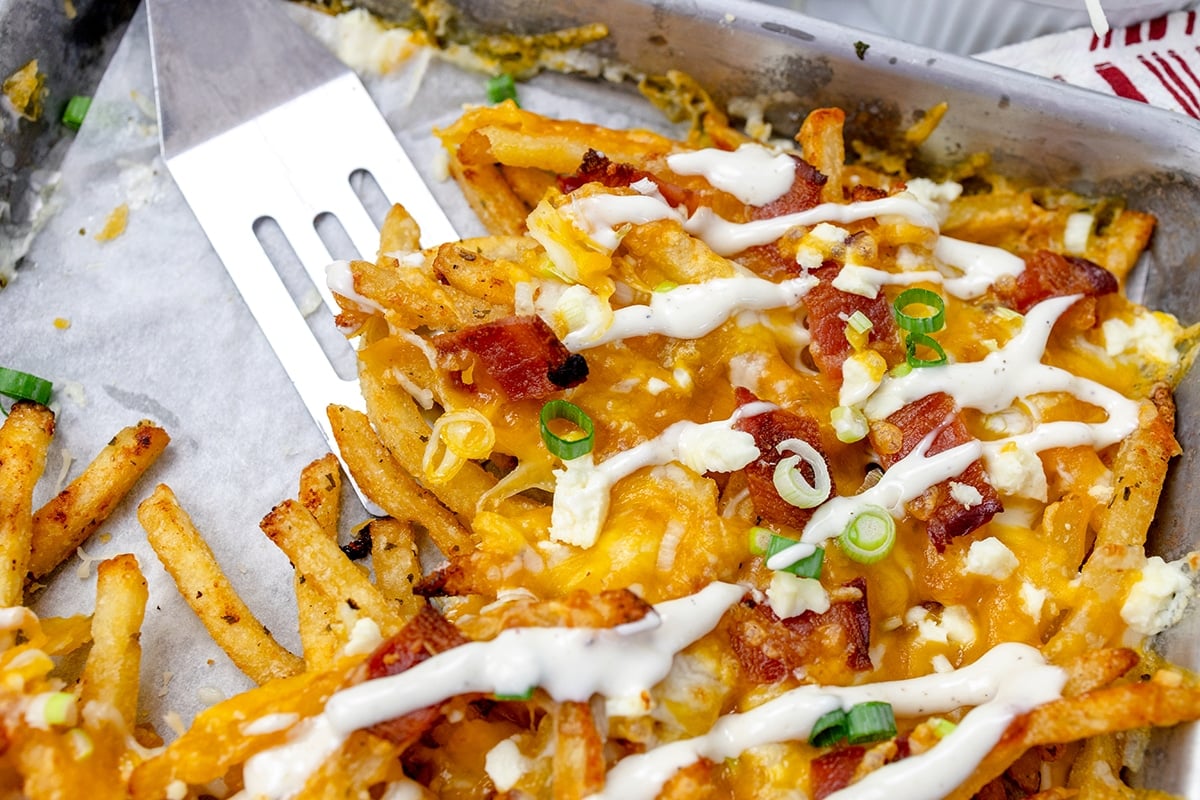 Ranch Bacon Cheese Fries Ingredients
The ingredient list is fairly short and easily varied, so don't feel like you need to stick to
Frozen French fries- I like using a classic fry, but you can also do showstring, steak fries crinkle cut. Waffle fries, even hash brown, really anything. Whatever you do, make sure you have crispy fries.
Dry ranch seasoning- make your own or grab a packet of seasoning at the grocery store.
Freshly shredded cheese– sharp cheddar, mozzarella and feta cheeses. Swap any of your favorite cheeses out, but using a variety is what makes this cheese fry recipe the best. Try to use freshly shredded cheese instead of bagged shredded cheese which is often tossed in some sort of starch to prevent clumping.
Green onions- also known as scallions, also feel free to use chives.
Crispy Bacon- cooked and crumbled or grab bacon bits at the store.
Ranch dressing- for topping or dipping. If your whole crew loves ranch, feel free to drizzle, but if they are going sit the ranch will make them a little soggy.
Other variations of these loaded fries include shredded chicken, sour cream, jalapeno peppers and hot sauce.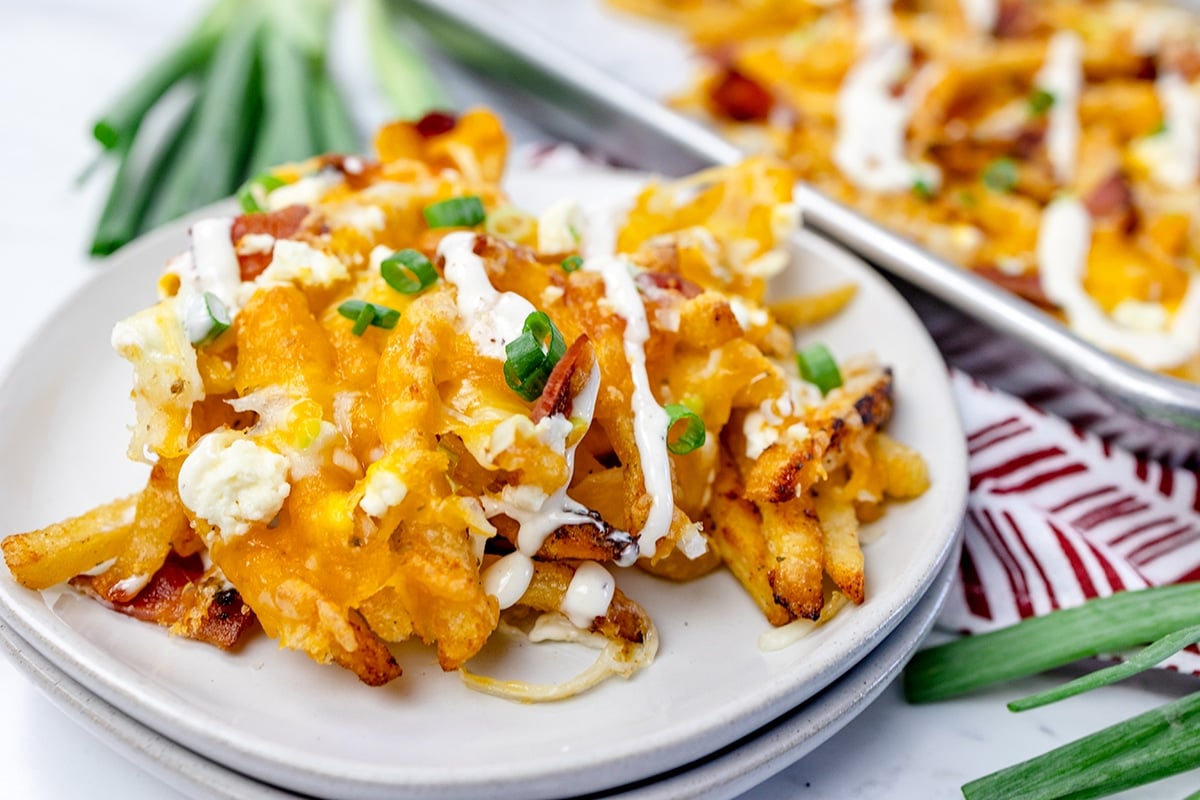 How to Make Ranch Bacon Cheese Fries
Easy to make, but there are a couple of things to keep in mind to make sure you get the best cheese fries.
Prepare oven and pan. Go ahead and preheat the oven according to the package directions of the fries you are using. This will vary by brand and type. Also prep a rimmed baking sheet with either cooking spray, parchment or aluminum foil. All that cheese baked onto a tray will be hard to clean up, so this prevents sticking and makes clean up easy. Also feel free to make then in the air fryer, but then you'll need to transfer them to a baking sheet to melt the cheese at the end.
Toss fries. Place the frozen fries in a large bowl and toss with dry ranch seasoning. The small amount of moisture on the frozen fries will be enough to hold the powder. Toss well to evenly coat.
Bake fries. Place fries onto a baking sheet in a single layer. Cook the fries according to package directions, flipping at least once so they are golden brown.
Sprinkle with toppings. When fully cooked, take your fries out of the oven and sprinkle with the cheeses, bacon crumbles and green onions. I love uses a variety of cheese for flavor, color and even texture. Adding a cheese like feta gives them more sophistication that is unexpected. Yep, I just called cheesy fries sophisticated.
Drizzle with ranch. Choose to drizzle with ranch dressing or just serve it on the side for dipping. In all honesty, the dry ranch mix will give them plenty of flavor.

Dipping Sauce
While we suggest ranch as a side, there are plenty of other options for dipping, or none at all!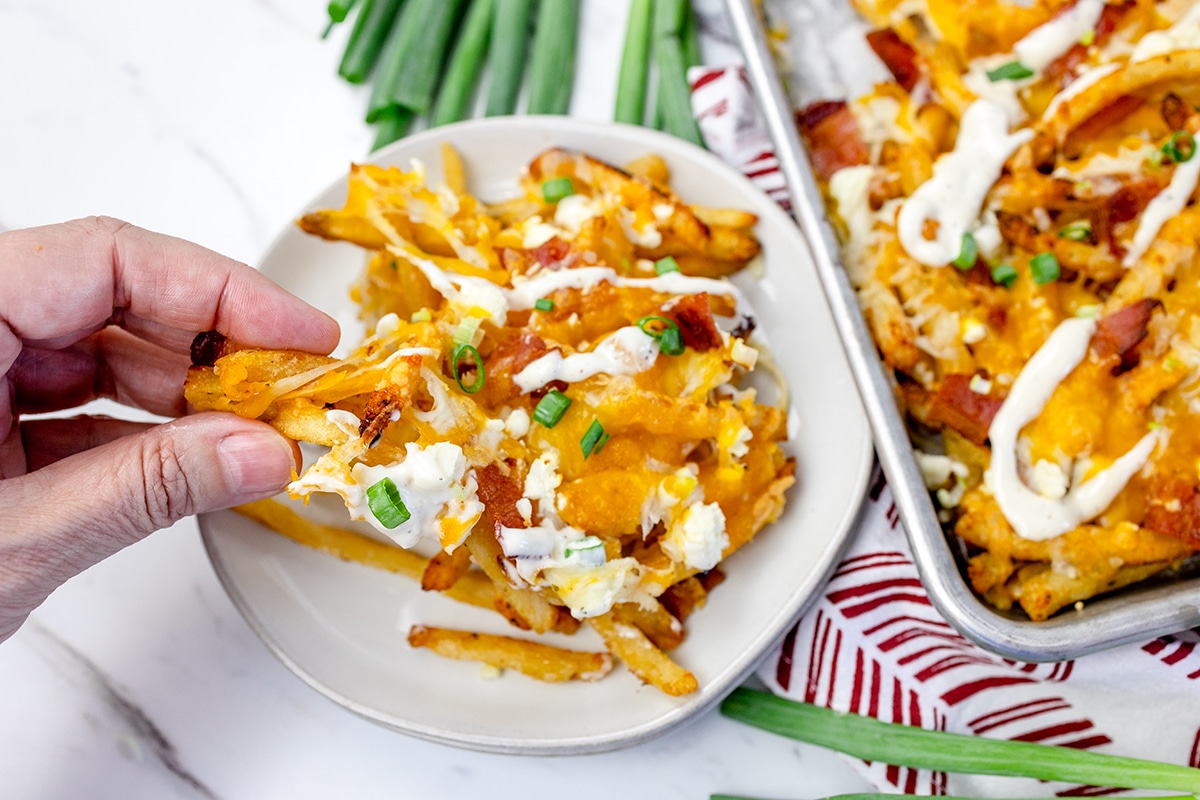 Make Ahead & Storage
Make Ahead: If I'm being honest- fries really aren't great when made ahead of time. I highly suggest you make them when you are ready to eat them. But this is such as an easy recipe, it shouldn't take you much time to whip up a fresh batch.
Storage: If you do happen to have leftovers, store them in an airtight container for up to 5 days in the fridge. Reheat in the oven on 300°F for 5 minutes.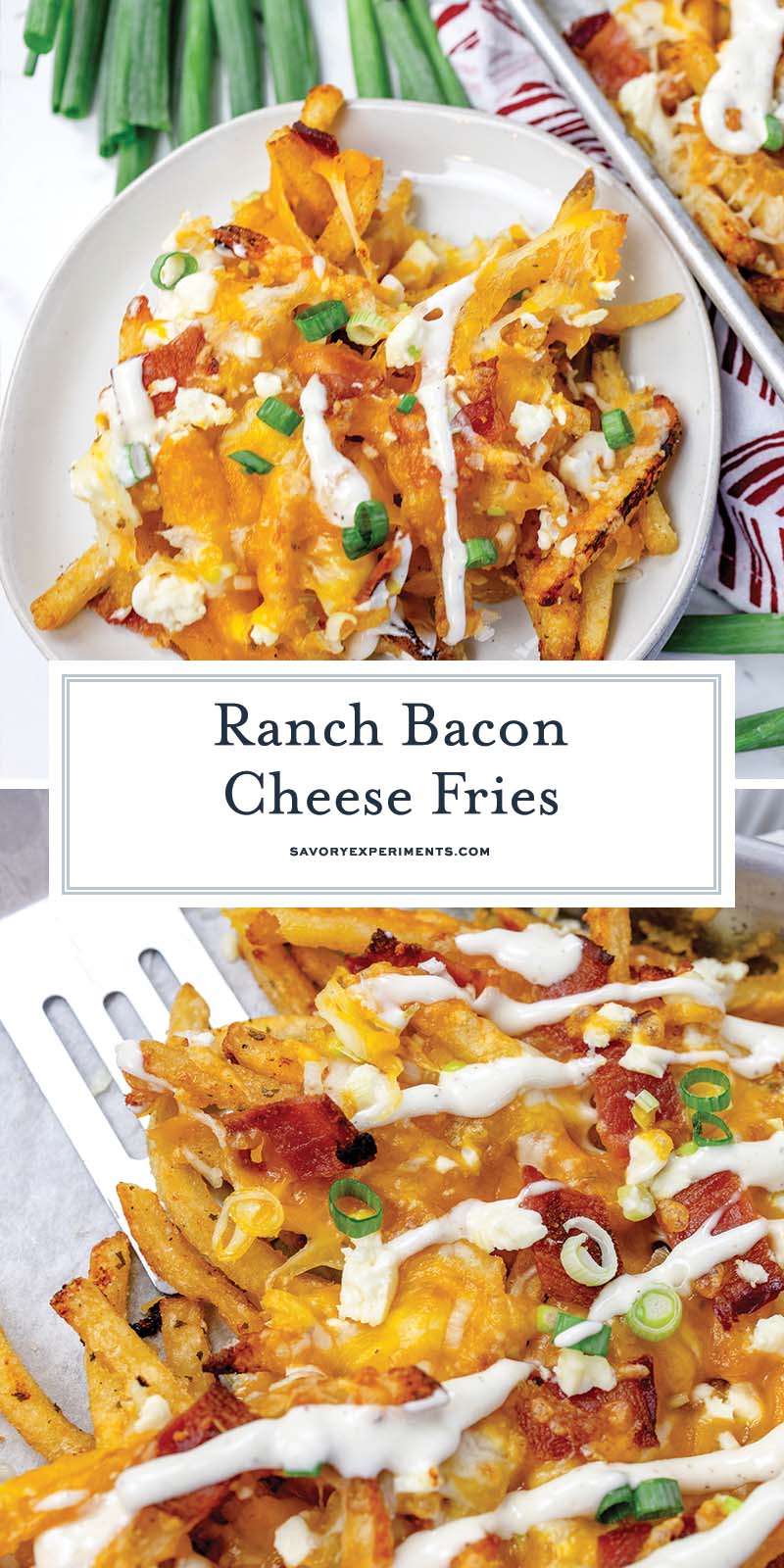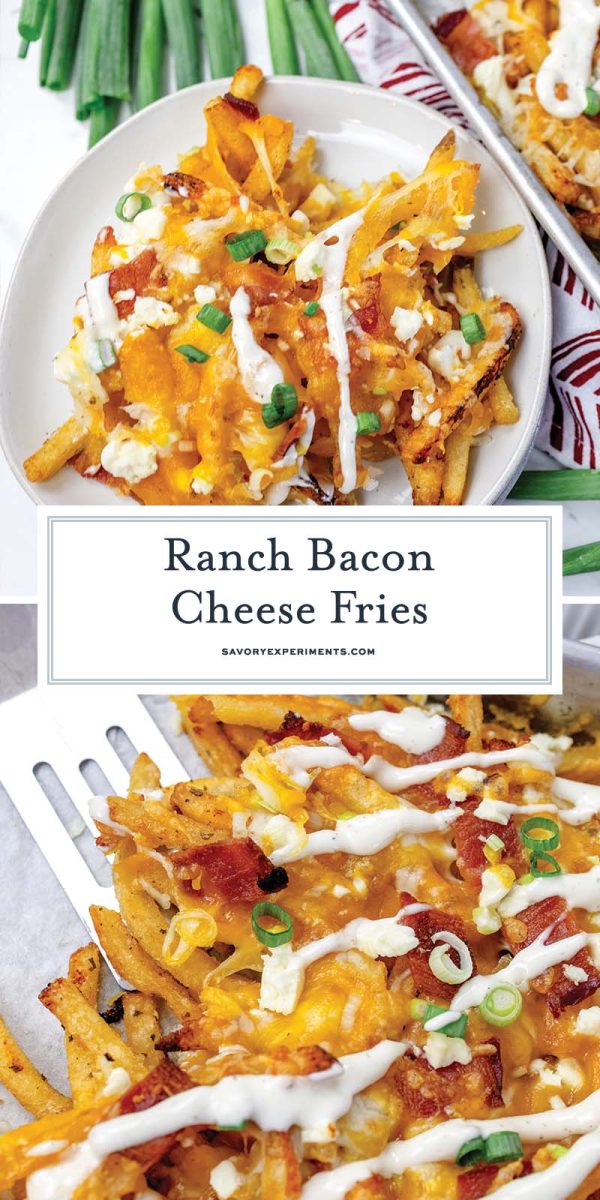 More French Fry Recipes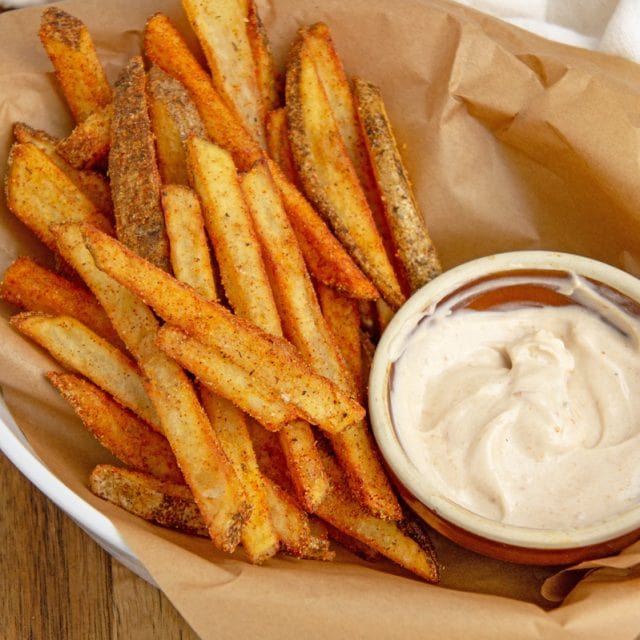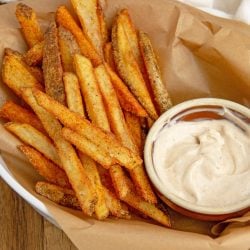 Cajun Fries
A batch of homemade Cajun Fries are just the ticket to satisfy that crispy, potato craving. Steps for both traditional fried and baked fries included!
View this recipe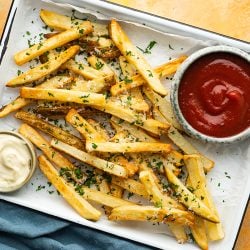 Air Fryer French Fries
Use this Air Fryer French Fries recipe to make perfect crispy french fries at home! This simple recipe requires just 3 ingredients.
View this recipe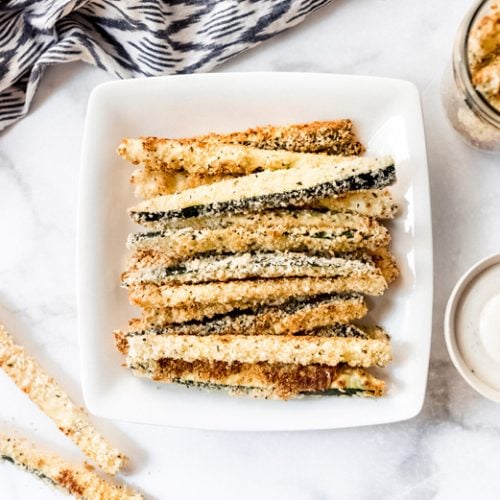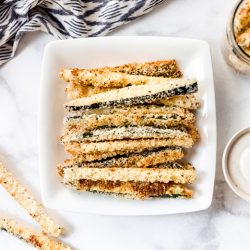 Baked Zucchini Fries
These crispy on the outside, soft on the inside Baked Zucchini Fries are perfect for dipping in all the things! This is one of our favorite ways of using the overabundance of zucchini.
View this recipe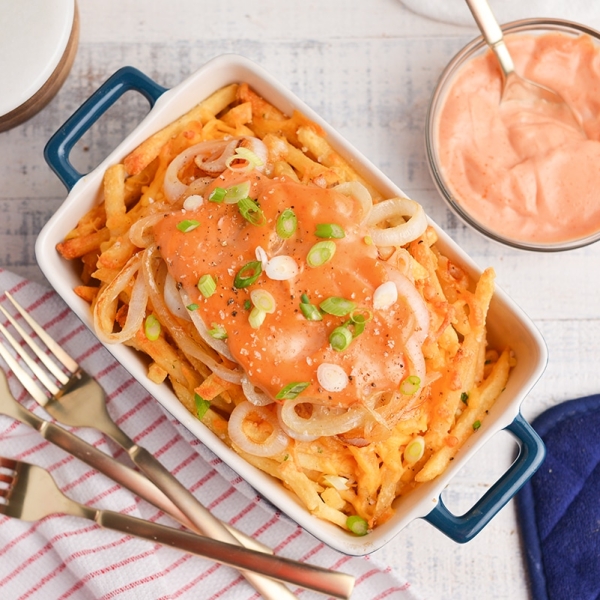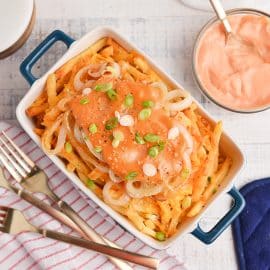 Copycat In-N-Out Burger Animal Style Fries
Now you can enjoy Copycat In-N-Out Burger Animal Style Fries at home! Using a simple fry sauce, crispy fries, American cheese and fried onions.
View this recipe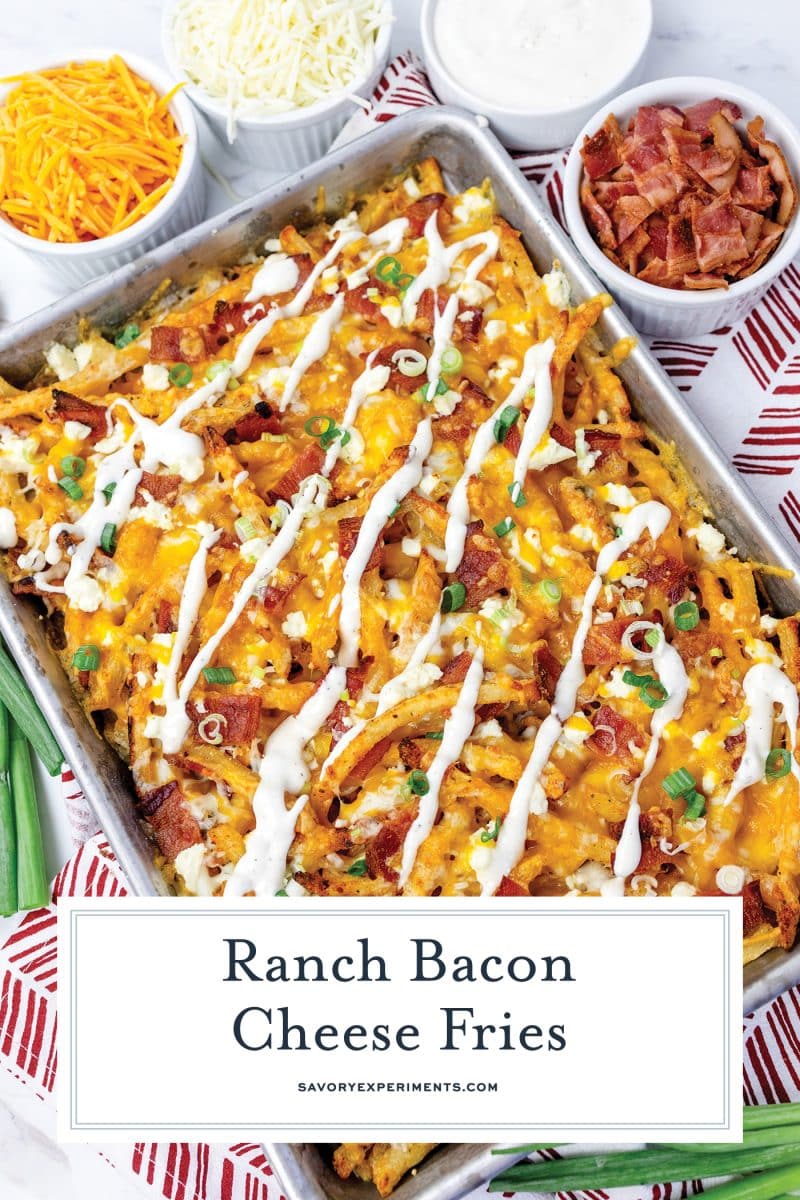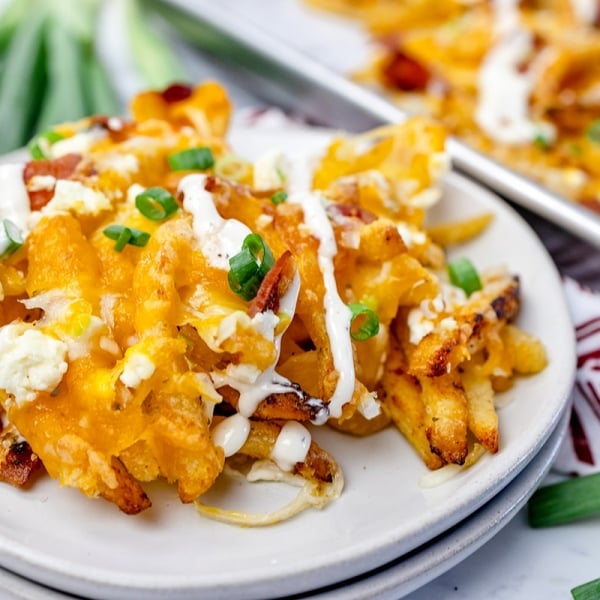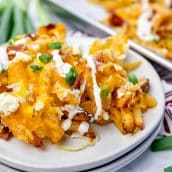 Ranch Bacon Cheese Fries
Crispy fries tossed with Ranch seasoning topped with a trio of freshly shredded cheese, crumbled bacon and scallions. Serve Ranch sauce on the side or drizzling on top.
Instructions
Preheat oven according to package directions. Coat baking sheet with cooking spray or line with parchment paper.

Place the fries in a large bowl and sprinkle with the ranch seasoning (you can add more to taste) and toss until the fries are coated in the seasoning.

Place the fries in an even layer on a baking sheet and cook according to package instructions.

Remove from the oven and evenly distribute the cheeses, onion, and bacon and broil on high for about 5 minutes until the cheese is melted.

Remove from the oven and drizzle and serve ranch dressing on the side.

If you've tried this recipe, please leave a comment or rating!
Nutrition
Calories:
391
kcal
,
Carbohydrates:
36
g
,
Protein:
9
g
,
Fat:
24
g
,
Saturated Fat:
9
g
,
Polyunsaturated Fat:
2
g
,
Monounsaturated Fat:
12
g
,
Trans Fat:
1
g
,
Cholesterol:
25
mg
,
Sodium:
949
mg
,
Potassium:
523
mg
,
Fiber:
5
g
,
Sugar:
1
g
,
Vitamin A:
159
IU
,
Vitamin C:
7
mg
,
Calcium:
143
mg
,
Iron:
2
mg