Chocolate Mousse Pastry Cups were a happy accident. I never intended to make them, but hate having any food go to waste. I was actually trying to make and photograph my Antipasto Salad Cups and had sent hubby to the store with a list.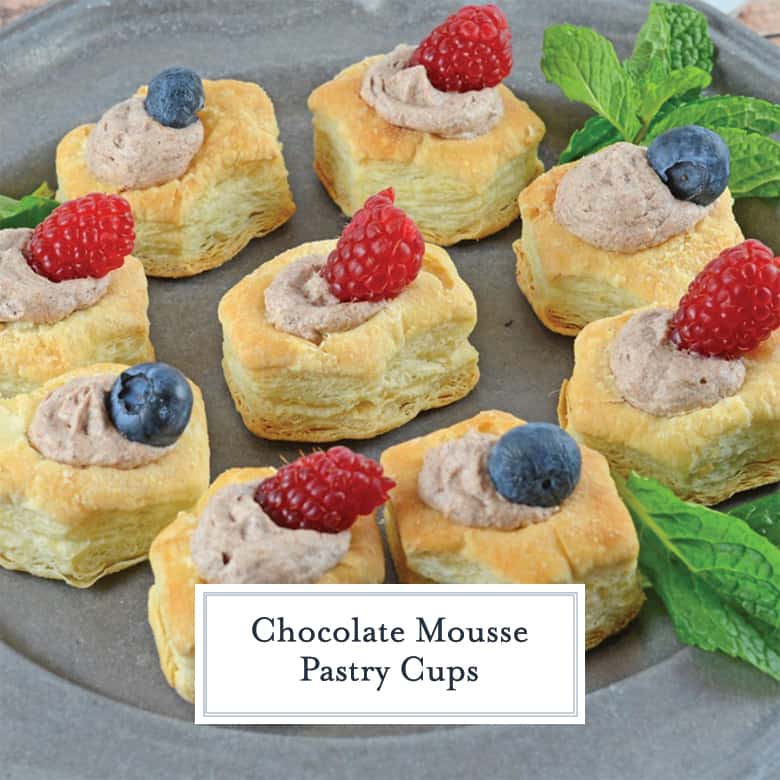 Chocolate Mousse Pastry Cups are a simple and easy dessert recipe perfect for making ahead. Ideal for dinner parties, birthday treats, or Valentine's Day dessert!
Like several other happy accidents (read why I made Mashed Potato Cups), hubby is to blame… or to thank depending on how you see it. Actually, if I am being honest, this one was my fault. I sent him to the store with a list, one of the items being "puff pastry cups."
He got what he thought were puff pastry cups, but apparently "cups" are the tiny, bite-sized version.
Had I written "shells" on the list, the large, multiple bite puff pastry gems would have been mine to enjoy and sadly, this recipe would not have come to fruition.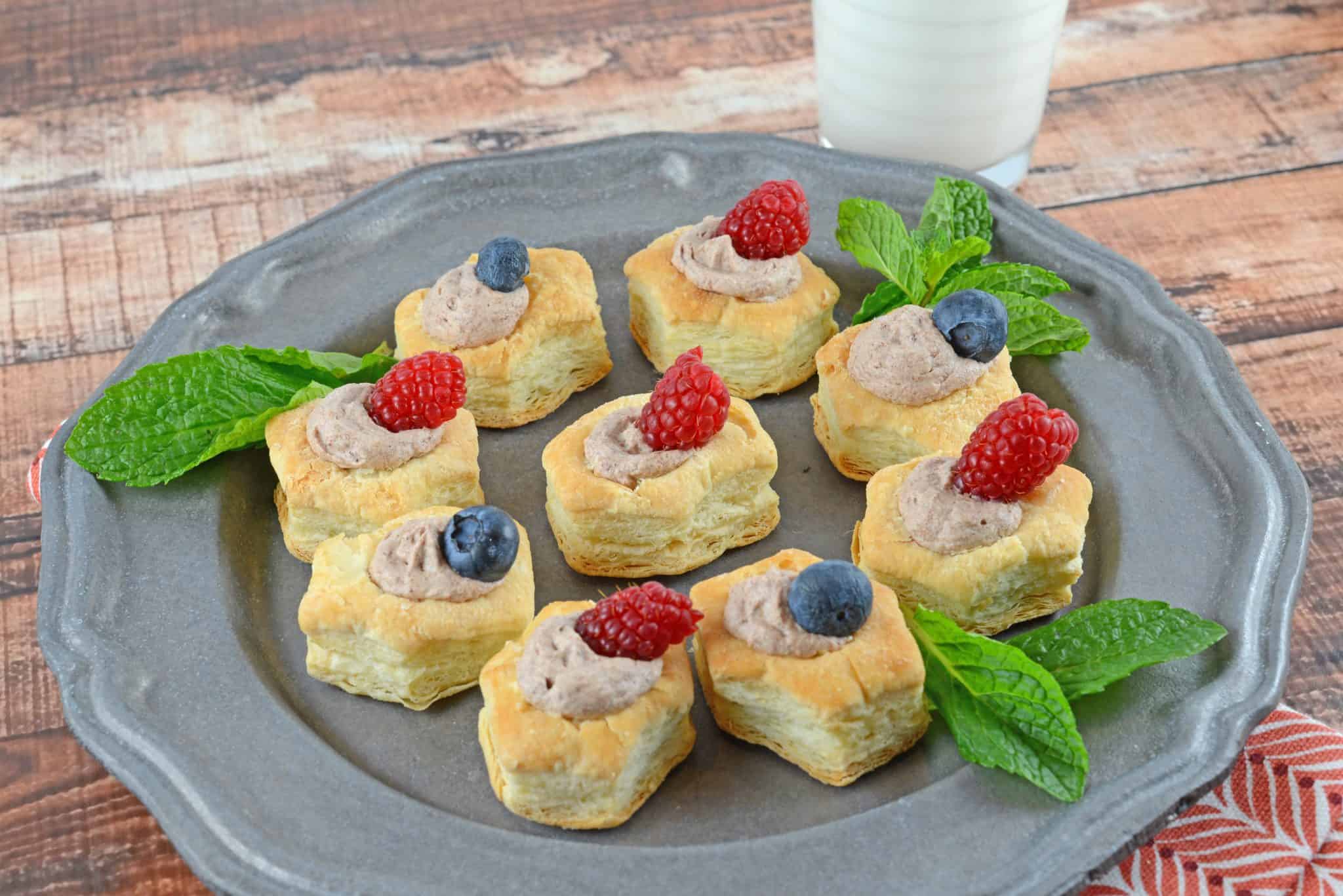 I hadn't worked with puff pastry in a while. When I took them out the box, I thought I could salvage things; thinking they would bake up to a much bigger size.
Well, they didn't. And they certainly were large enough to fit my chopped up antipasto.
So I needed something else to make, fast and with ingredients already in my kitchen. The beauty of puff pastry cups or shells is their ability to go sweet or savory depending on the recipe or simply your mood.
After some quick recon in the pantry and the fridge, I found I had some raspberries leftover from making fresh raspberry sauce and cream from paprika chicken. Mix those two things together and now I had a whole new dessert: Chocolate Mousse Pastry Cups!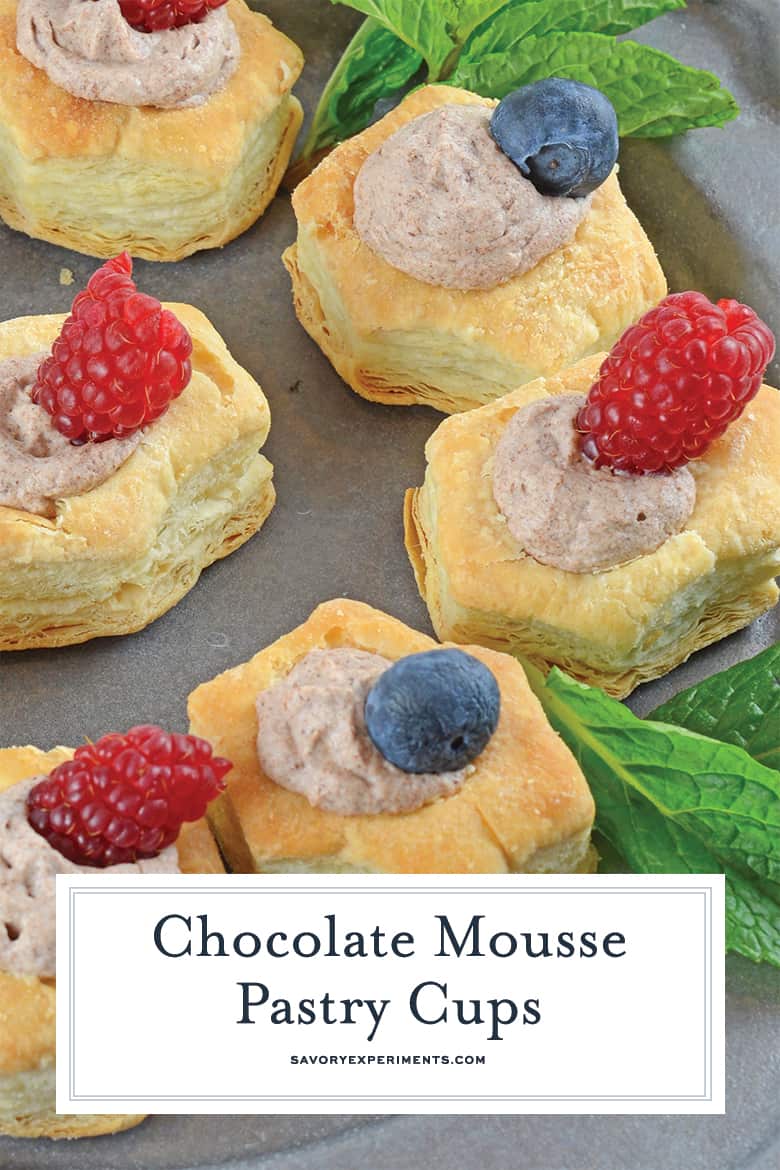 The beauty of mousse aside from its heavenly texture is the ease at which you can make some for yourself. When you whip the cream, you are incorporating tiny little air bubbles to it.
As those air bubbles begin to multiply, you get little pockets in the cream. The result is a light and airy texture in a flash.
If you don't have chocolate lying around in your pantry, you could easily flavor this with pureed fruit or even melted butterscotch chips. The sky is the limit!
Simple, tasty and super easy to make, they became my new go-to for every event. Book club? Yes! Valentine's Day treats? Of course! Dinner party? Better believe they are a crowd pleaser!
I like to pair mine with homemade Vanilla Bean Ice Cream, but it is by no means a necessity. They are delicious all on their own. Enjoy and if you need more dessert ideas, scroll down for mouthwatering dessert recipes!
I like serving mine for Valentine's Day, here are a few more desserts that you might enjoy: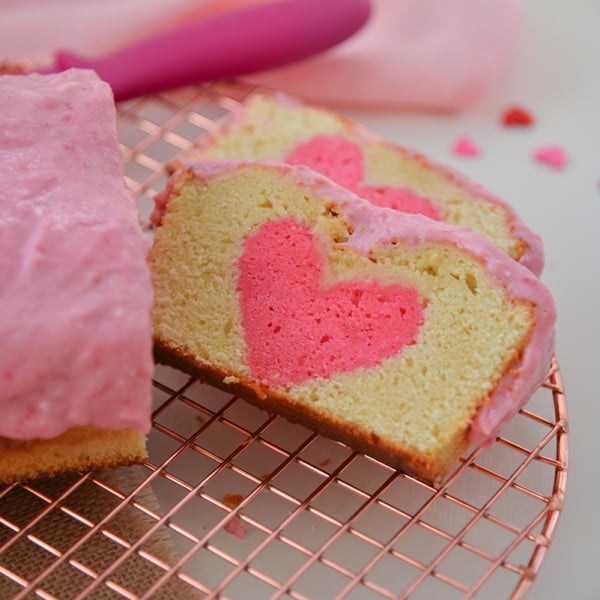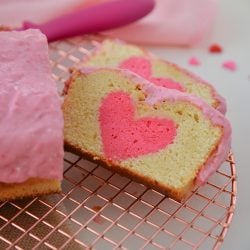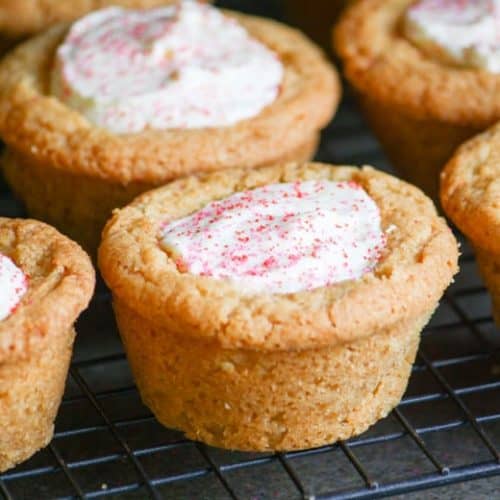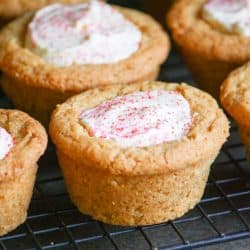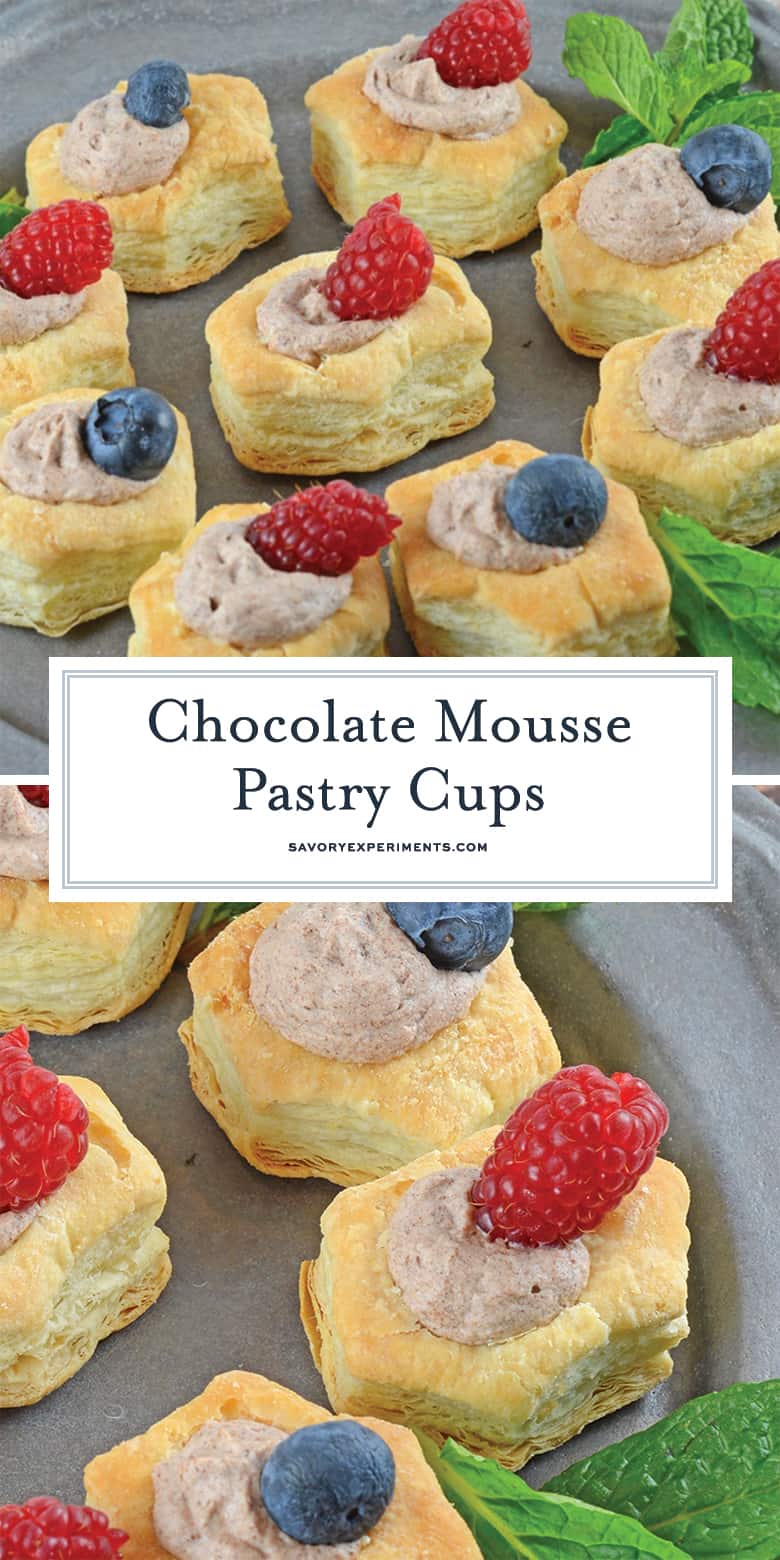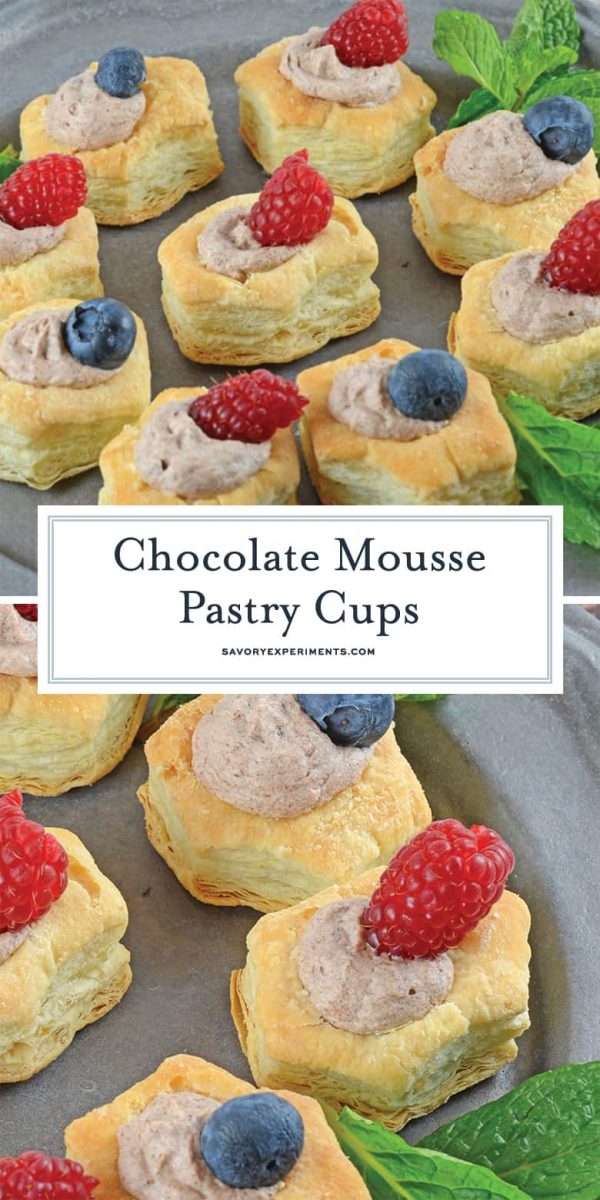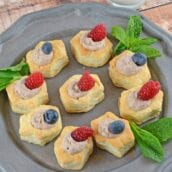 Chocolate Mousse Pastry Cups
Chocolate Mousse Pastry Cups are a simple and easy dessert recipe perfect for making ahead. Ideal for dinner parties, birthday treats and Valentine's day dessert!
Instructions
In the bowl of a stand mixer with whisk attachment in a medium mixing bowl with electric hand mixer, beat heavy cream with powdered sugar and vanilla. Whip until stiff peaks form.

Fold in melted chocolate quickly so it doesn't solidify or ruin the consistency of your whipped cream.

Spoon or pipe mousse into cooled puff pastry cups.

Garnish with fresh fruit, additional powdered sugar and/or mint leaves.

Refrigerate until ready to serve.
Nutrition
Calories:
348
kcal
,
Carbohydrates:
26
g
,
Protein:
4
g
,
Fat:
25
g
,
Saturated Fat:
8
g
,
Cholesterol:
20
mg
,
Sodium:
123
mg
,
Potassium:
66
mg
,
Fiber:
1
g
,
Sugar:
4
g
,
Vitamin A:
220
IU
,
Vitamin C:
0.1
mg
,
Calcium:
17
mg
,
Iron:
1.5
mg