Cream Cheese Candy or Merriments, some people call them baby shower mints, bridal mints or even Christmas mints. I remember them as a kid being such a treat, although my family didn't use any flavorings. I'd pop one in my mouth and allow it to fade away.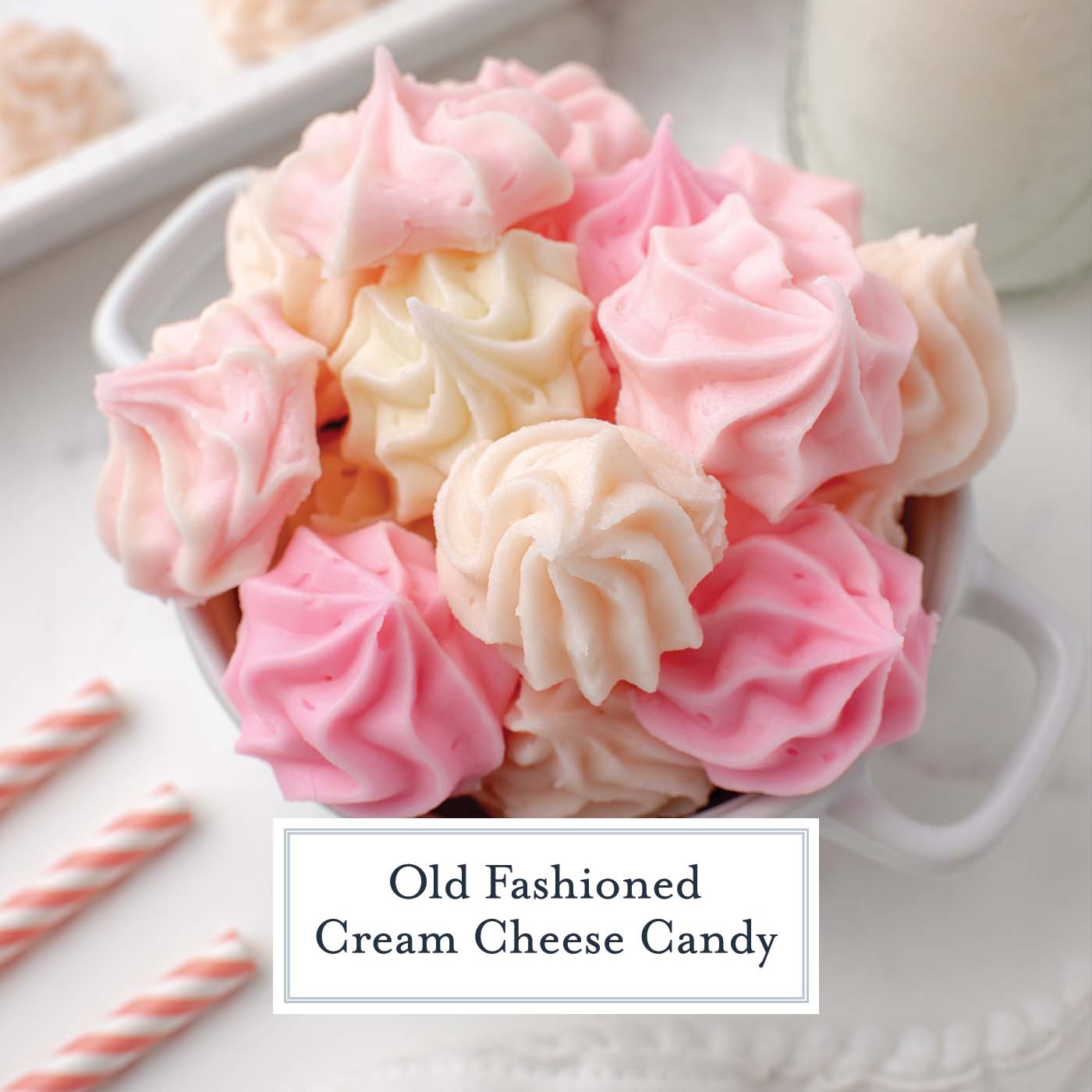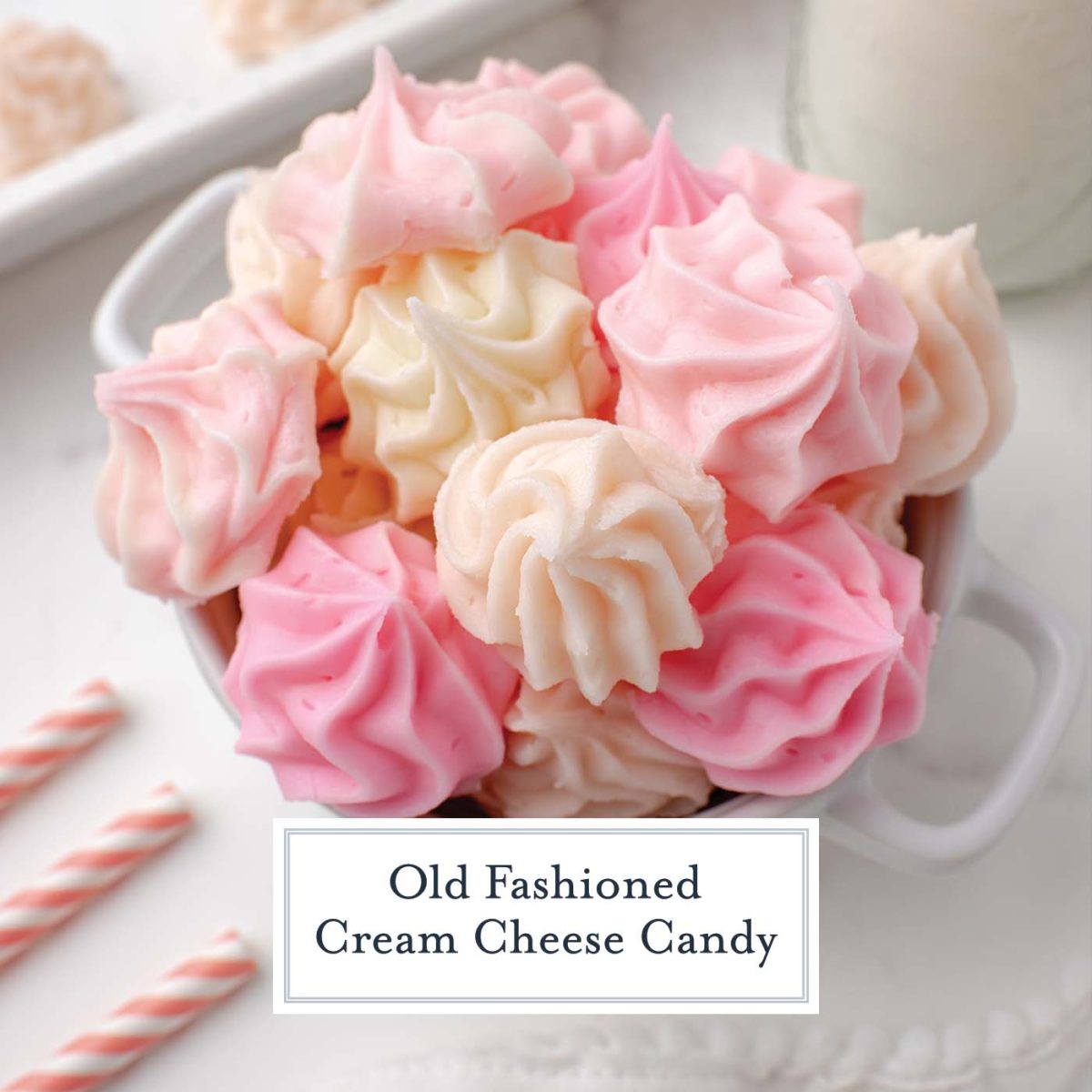 Back then I didn't even realize that these little star-shaped candies were homemade and not some processed stuff in a bag. Like hardened cream cheese frosting that melts away. While I like to add them to cookie trays and platters for parties, they can also be used to decorate cupcakes, cakes and other baked goods.
What is Cream Cheese Candy?
Cream Cheese Candy is basically just hardened cream cheese frosting, making it socially acceptable to nosh on just frosting with no cake. Since cream cheese frosting is hands-down my favorite (odd considering I don't really care for straight cream cheese), these candies right up my alley!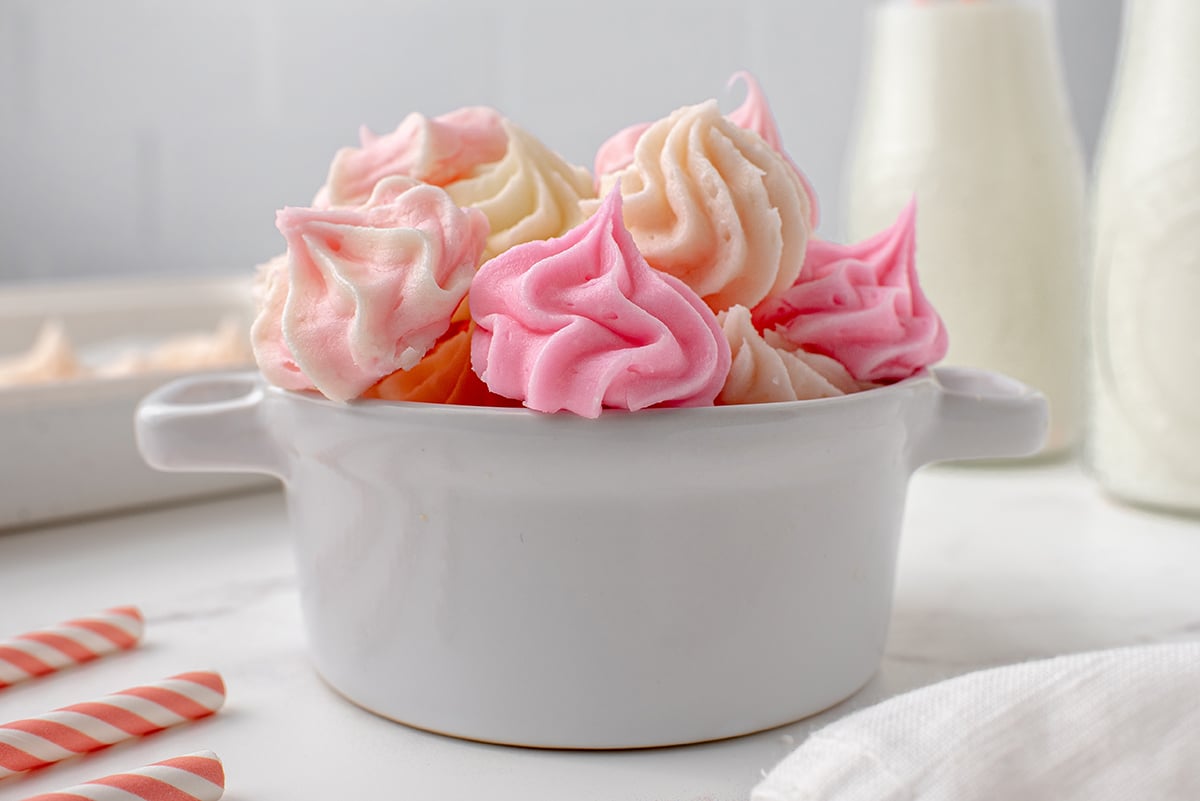 The best bonus of all? Creamy Cheese Candy is 4 ingredient, no-bake and no-cook dessert recipe. LIterally 10 minutes hands-on and then just let them harden.
They can be made ahead of time and are perfect for transporting easily. You can even ship them! And they are freezer friendly!
What You'll Need
Luckily, your shopping list is short.
Cream Cheese– I do like using full fat because it has the richest flavor. Having room temperature cream cheese is key to making smooth and creamy candy.
Vanilla Extract– The traditional flavor is mint, and you can feel free to swap it out, but I find it to be too overpowering. If you do, make sure to get peppermint and just mint, which is spearmint. Almond extract is another good choice!
Powdered sugar– Used to thicken the mixture, add sweetness and is also what makes them melt-in-your-mouth.
Heavy Cream– The amount of cream you'll need is going to be dependent on the cream cheese- some brands have more water content and moisture than others. Add sparingly.
Food Coloring- This is optional, although most folks like to color the blends for party or holiday themes. Aim for gel food coloring so it doesn't further thin out the mixture. As always, red food coloring can give a funky aftertaste (even the no-taste kind) so be mindful and use just a tiny bit.
While the candy dough is tacky, you can also adorn it with sprinkles. If they don't stick, mist them lightly with water to stick.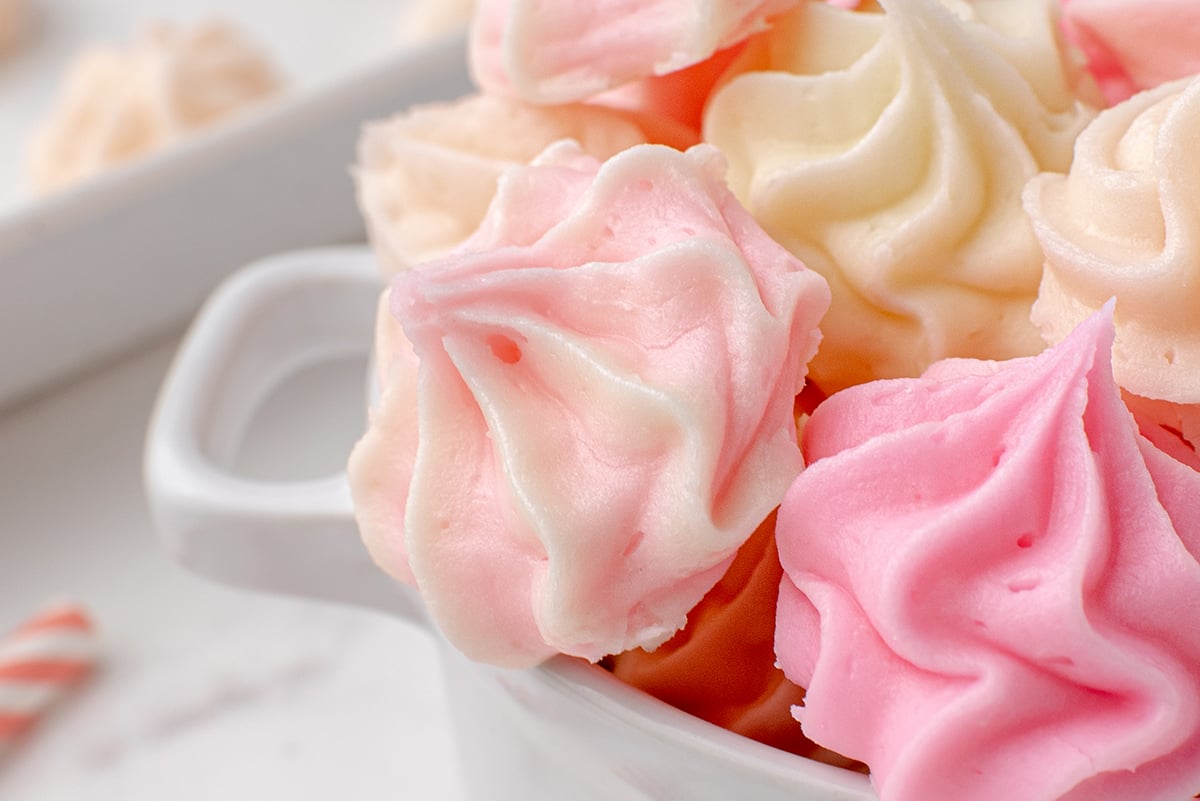 Special Equipment
How to Make Cream Cheese Candy
Beat the cream cheese until it is smooth. Add the vanilla and powdered sugar.
Asses the thickness of the candy batter. If it holds a form without falling, it doesn't need any cream. However, if it is so hard, that it is crumbly, then it needs a touch of cream. Adding slowly and sparingly until it is soft, shiny and holds its form.
Immediately form the candy or it will start to harden. Prepare a cookie sheet with parchment or wax paper to use while the candy dries.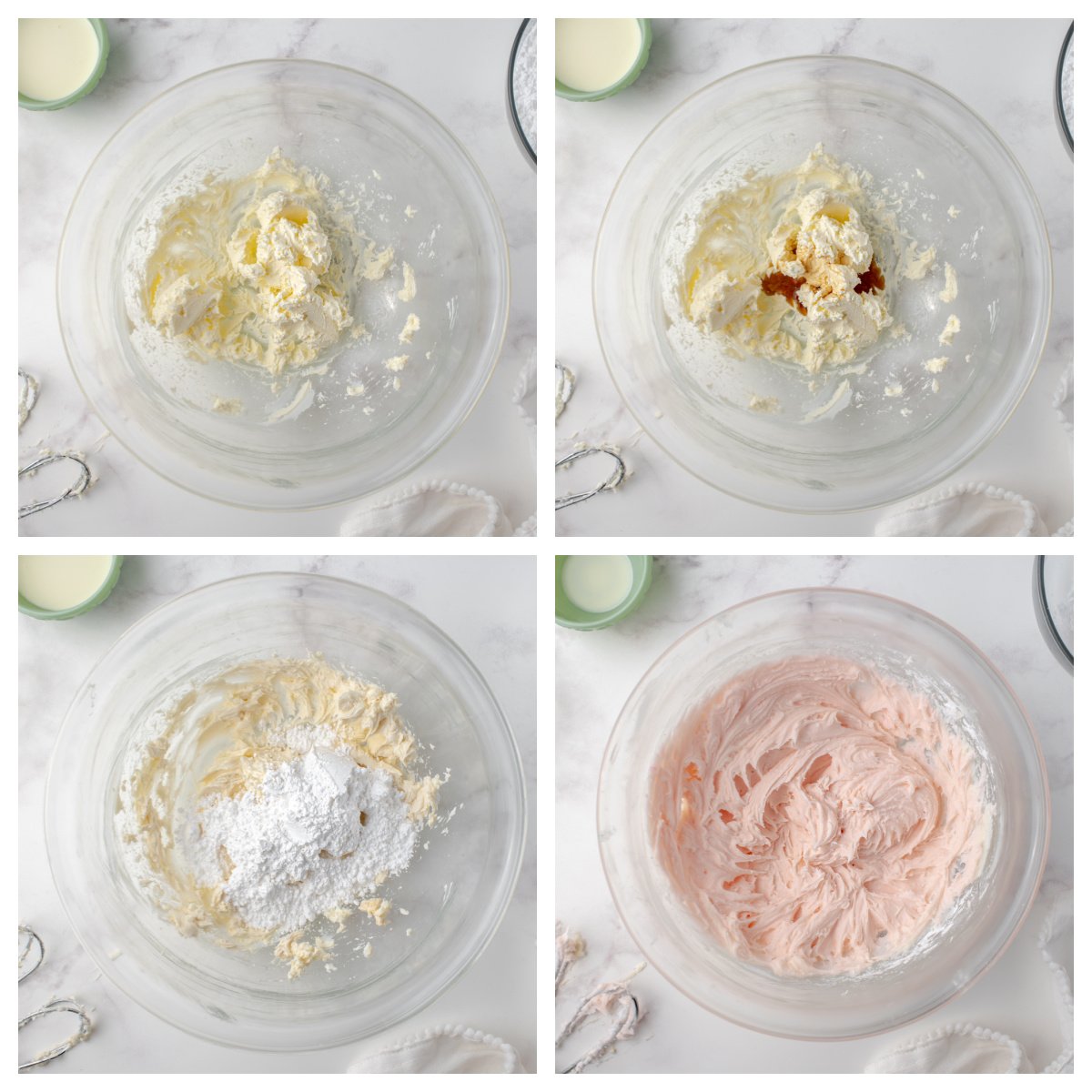 Forming the Candy
I used a piping bag and the 1M Wilton Star Tip. The trick is to not put too much candy in the bag at once. It is thick and you need a lot of pressure to get it through the holes and if it gets too dry, it gets harder to press.
You can also use a Spritz Cookie Press
. They will be a little larger, but also thinner. The handle on the gun makes them easier to press.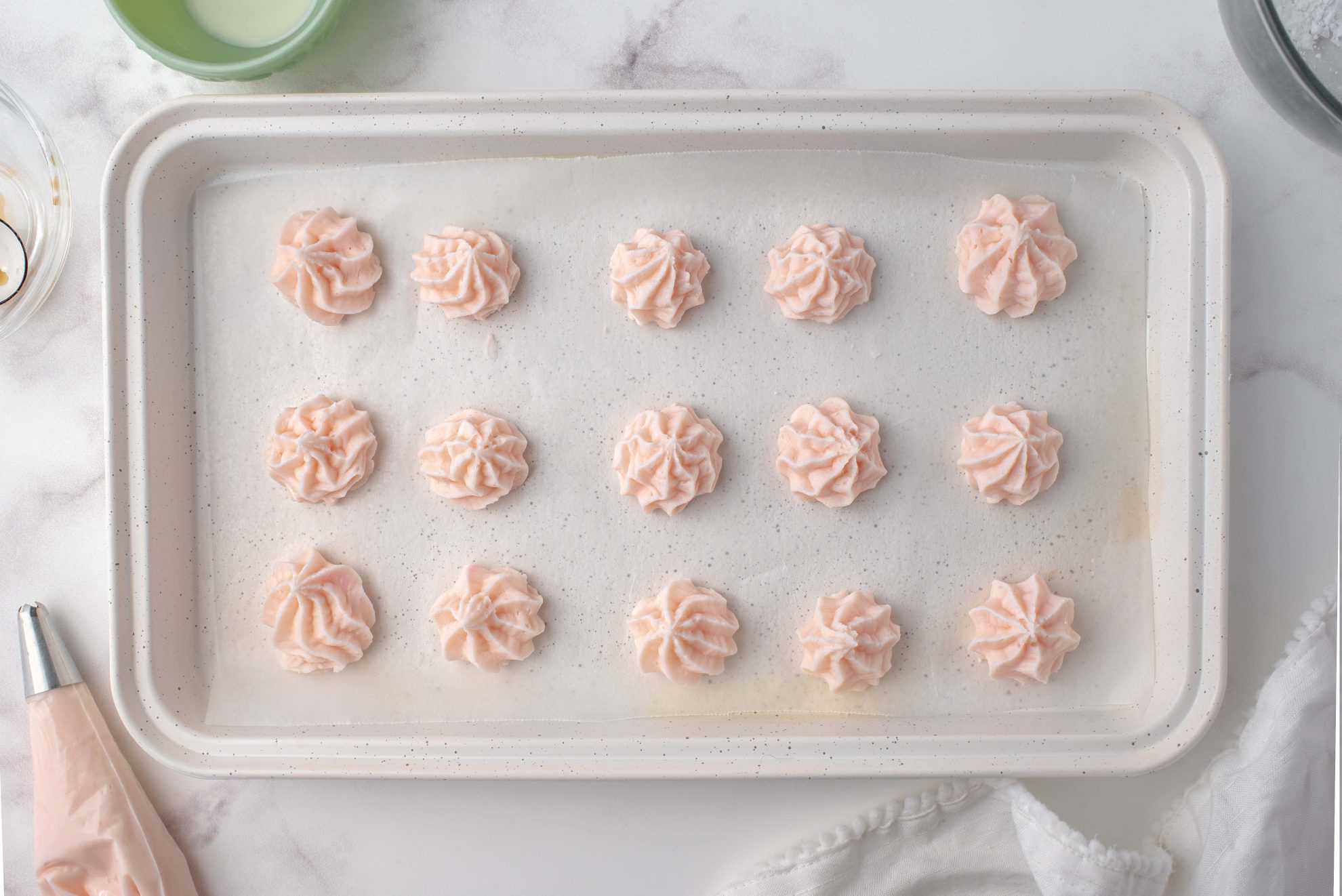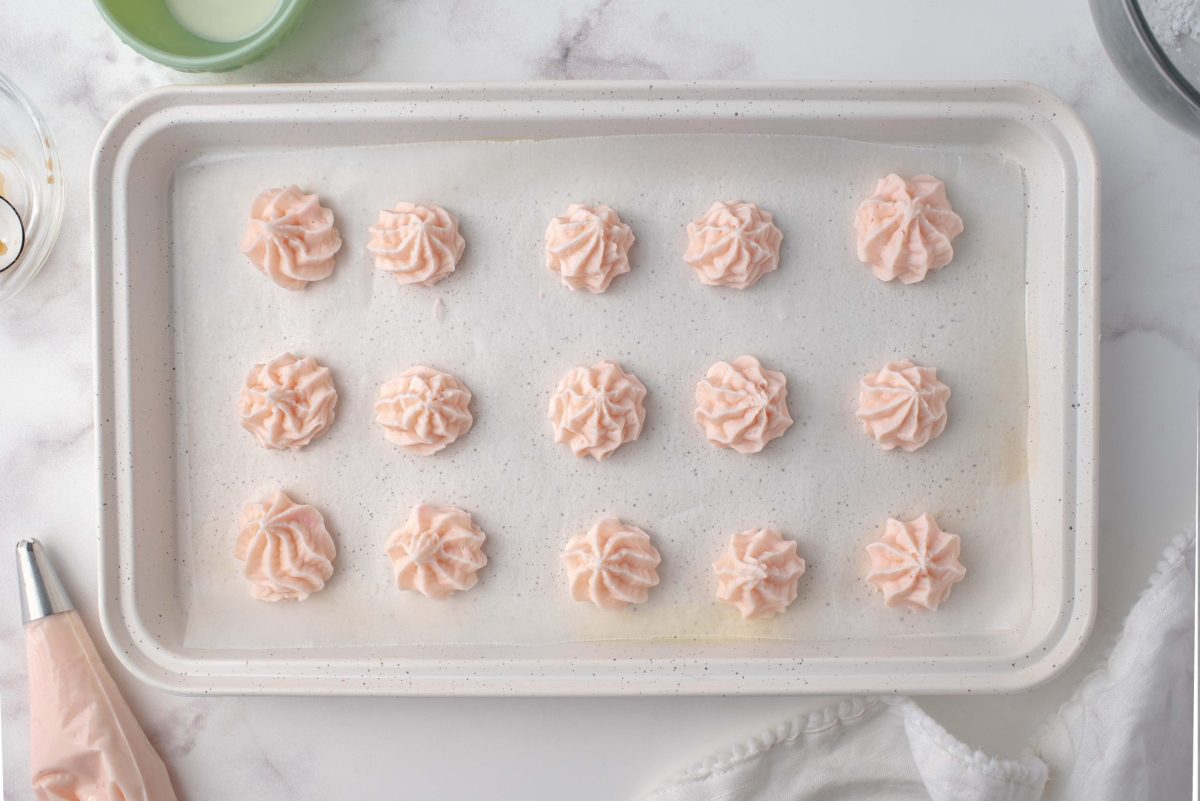 And if piping isn't your alley, you can also use your hands to make little round patties and then score it with a fork, much like peanut butter cookies. Lightly coat your hands with additional powdered sugar and also the fork so it doesn't stick.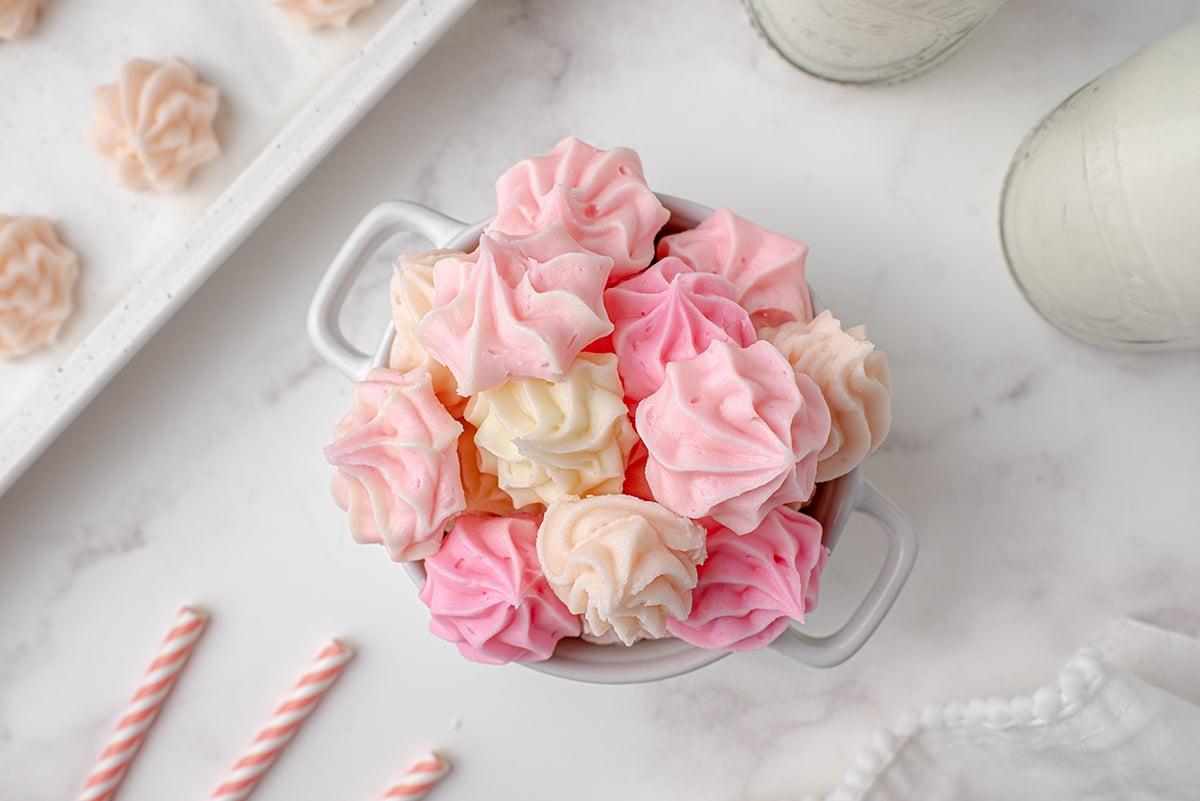 Storage
Store at room temperature in an airtight container for up to 1 week. They can also be stored in an airtight container for up to 1 month.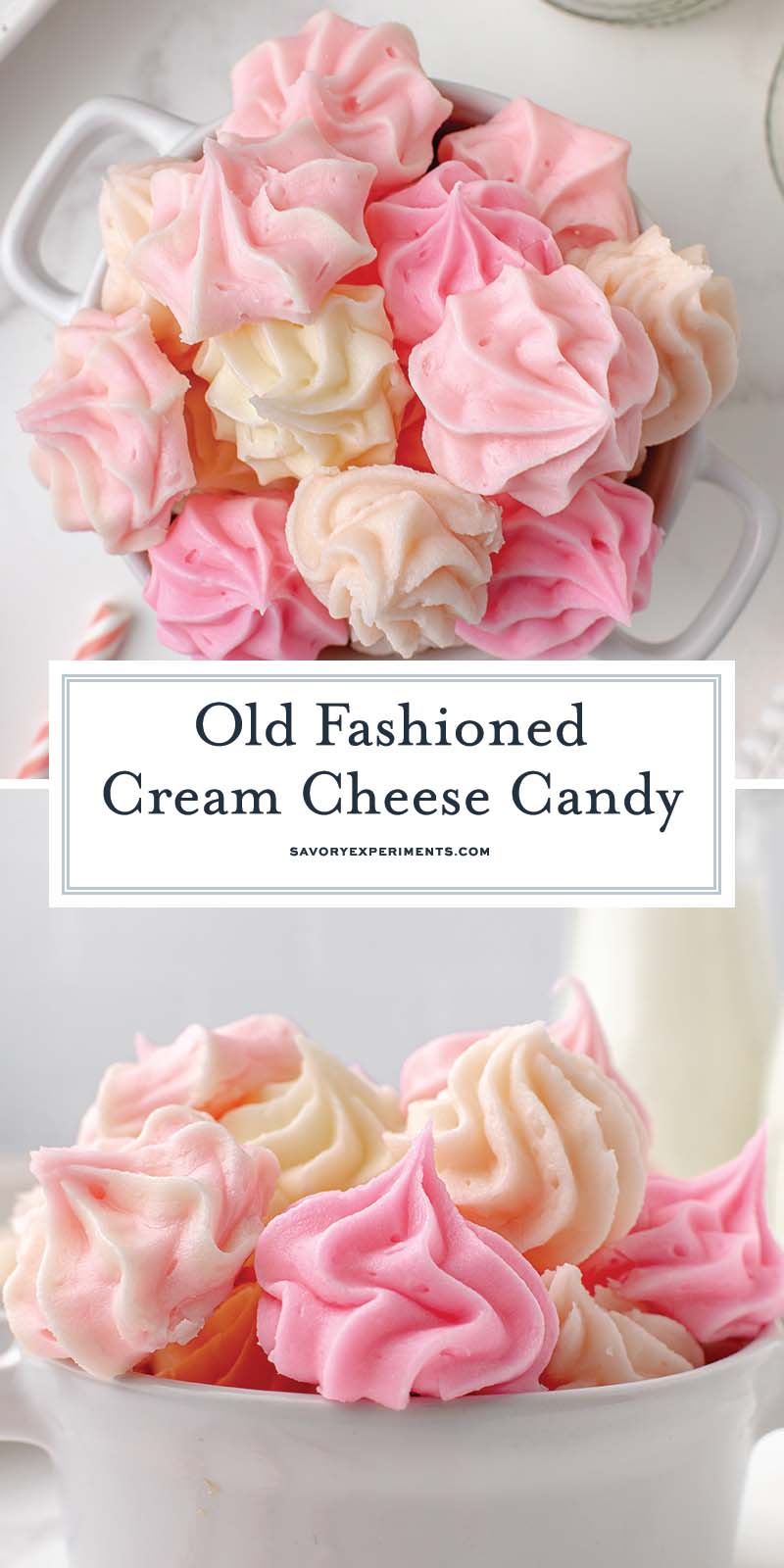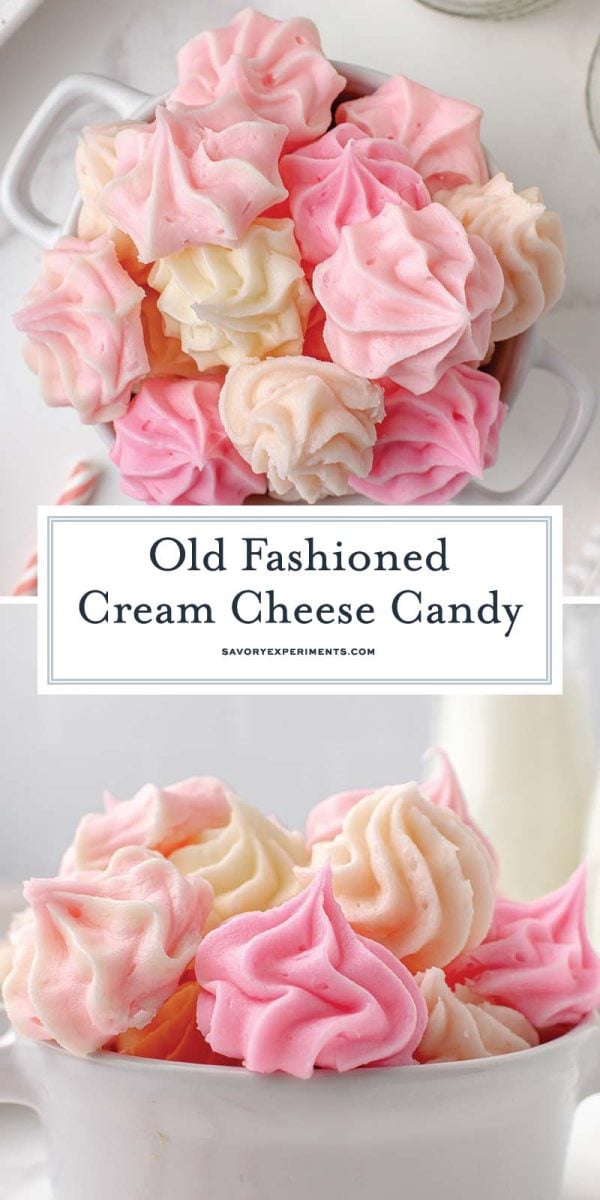 More Dessert Ideas: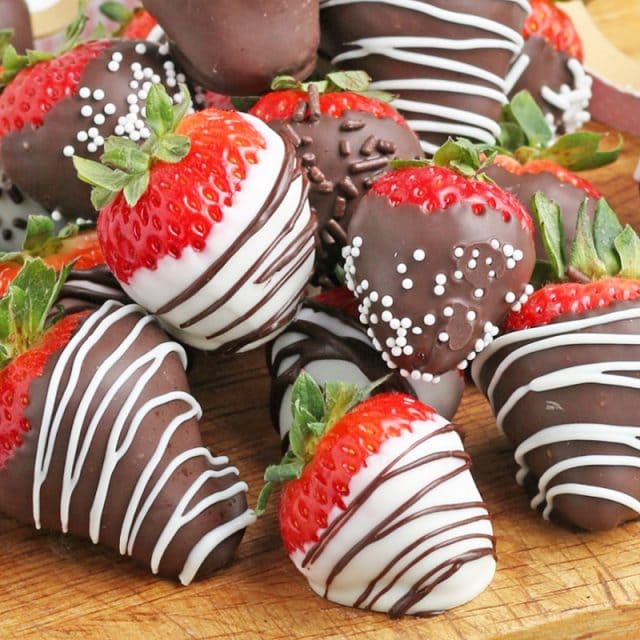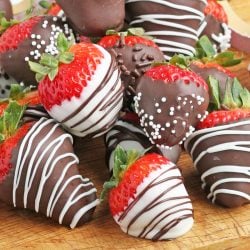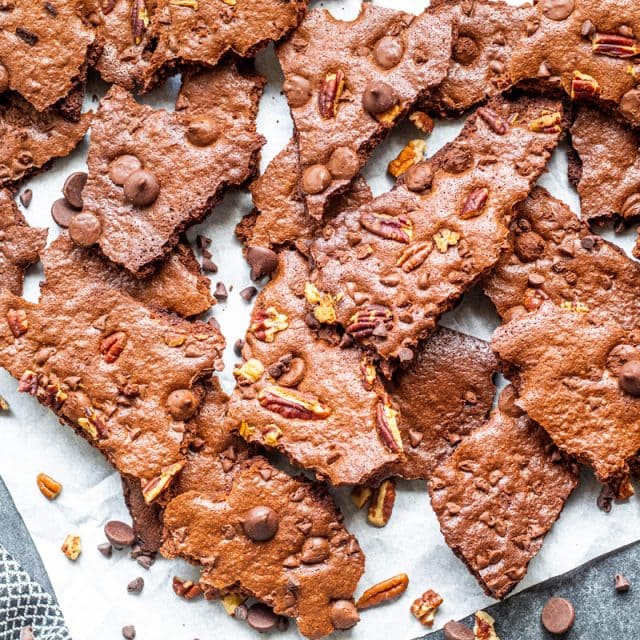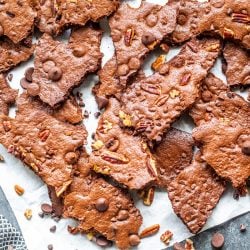 Brownie Brittle
This Homemade Brownie Brittle Recipe is simple to make and a great version of the store-bought favorite. Easily customizable!
See The Recipe!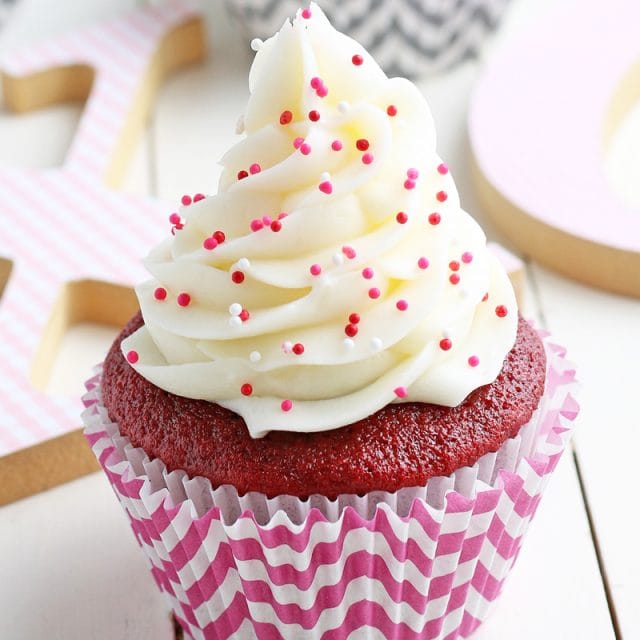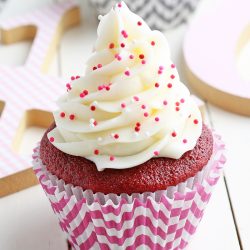 Red Velvet Cupcakes
A light yet decadent cake topped with a velvety cream cheese frosting makes these Red Velvet Cupcakes the BEST! Chocolate, vanilla and tang!
See The Recipe!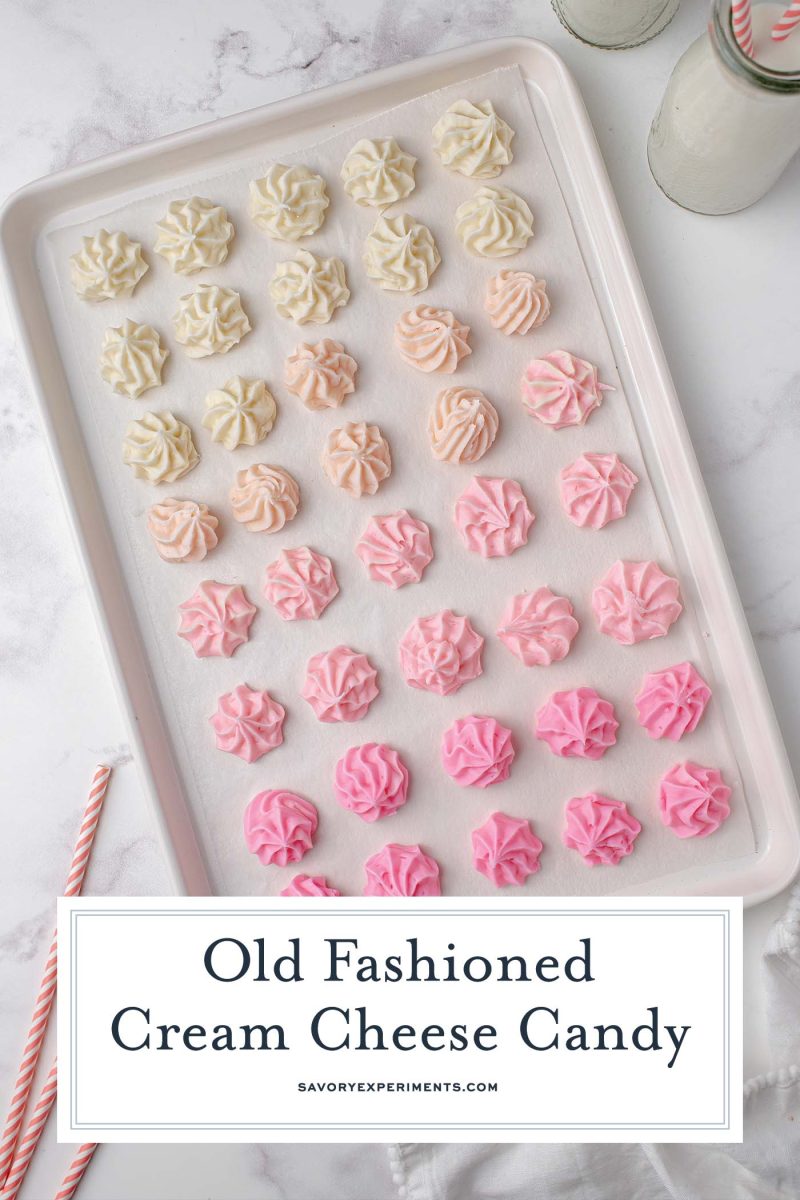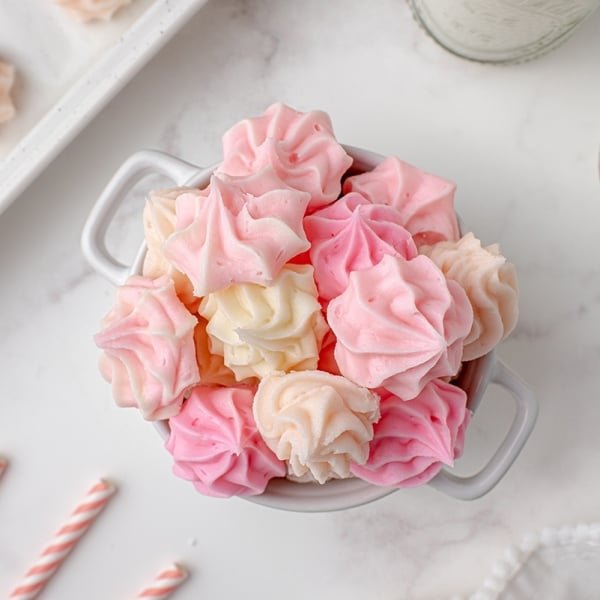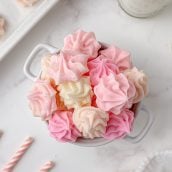 Cream Cheese Candy
One of the easiest cream cheese desserts, Cream Cheese Candy is an easy no-bake dessert idea for parties, weddings or just to munch on.
Instructions
In the bowl of a stand mixer fitted with a paddle attachment or a medium mixing bowl using an electric mixer with a whisk attachment, beat cream cheese until smooth.

Add the vanilla, beating again. Add the powdered sugar in stages until it is a thick consistency.

If the mixture is dry and brittle, add small amounts of cream until it is soft, but holds its shape.

Transfer to a piping bag fitted with your desired tip. Only fill 1/3 of the way, it makes it easier to pipe.

Pipe out rosettes onto a wax or parchment paper lined rimmed baking sheet.

Allow to set for 1-2 hours at room temperature.

Store between layers of waxed paper in an airtight container in the refrigerator or at room temperature.

If you've tried this recipe, come back and let us know how it was in the comments or ratings.
Notes
If you'd prefer patties: Coat your hands with powdered sugar (it is sticky!) and shape into 1/2 inch. balls. Place on wax paper. Flatten with a fork. Let stand until firm, 1-2 hours.
Nutrition
Calories:
23
kcal
,
Carbohydrates:
5
g
,
Cholesterol:
1
mg
,
Sodium:
3
mg
,
Potassium:
1
mg
,
Sugar:
4
g
,
Vitamin A:
15
IU
,
Calcium:
1
mg