Sweet and salty desserts always win me over. There is something about the pairing that is always so tantalizing. These Chocolate Caramel Pretzel Bites are a super easy snack. Salty, sweet and can be decorated for just about any holiday- just change up the sprinkles!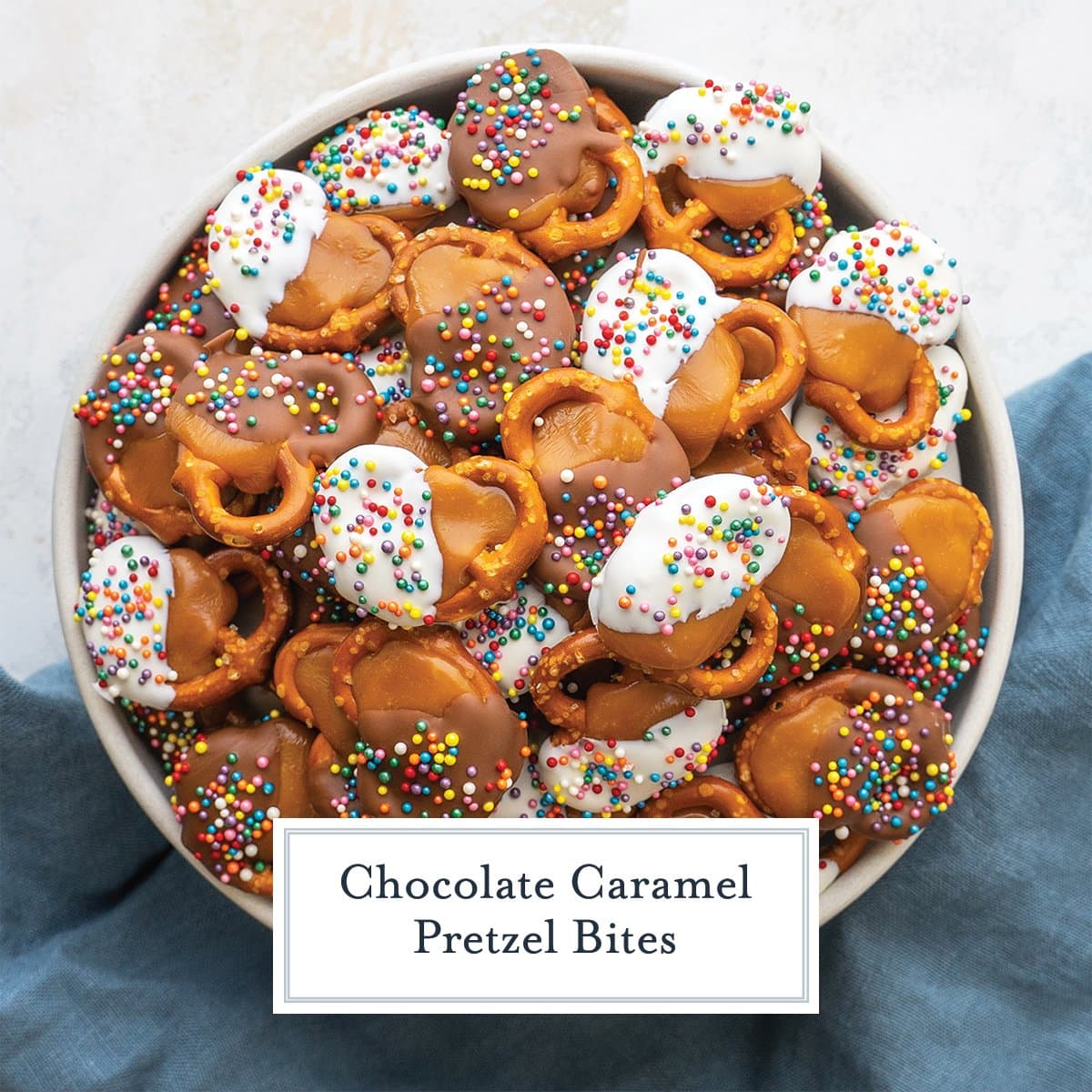 Basic mini twist pretzels are baked for just a few minutes with a piece of caramel. This melts over the pretzel and is allowed to cool. Dip them in chocolate, white, dark, or milk and then decorate with your favorite sprinkles!
To make things interesting, I try to use a few kinds of chocolate or a few colors of chocolate as well as multiple styles of sprinkles to make my dessert tray a little more interesting.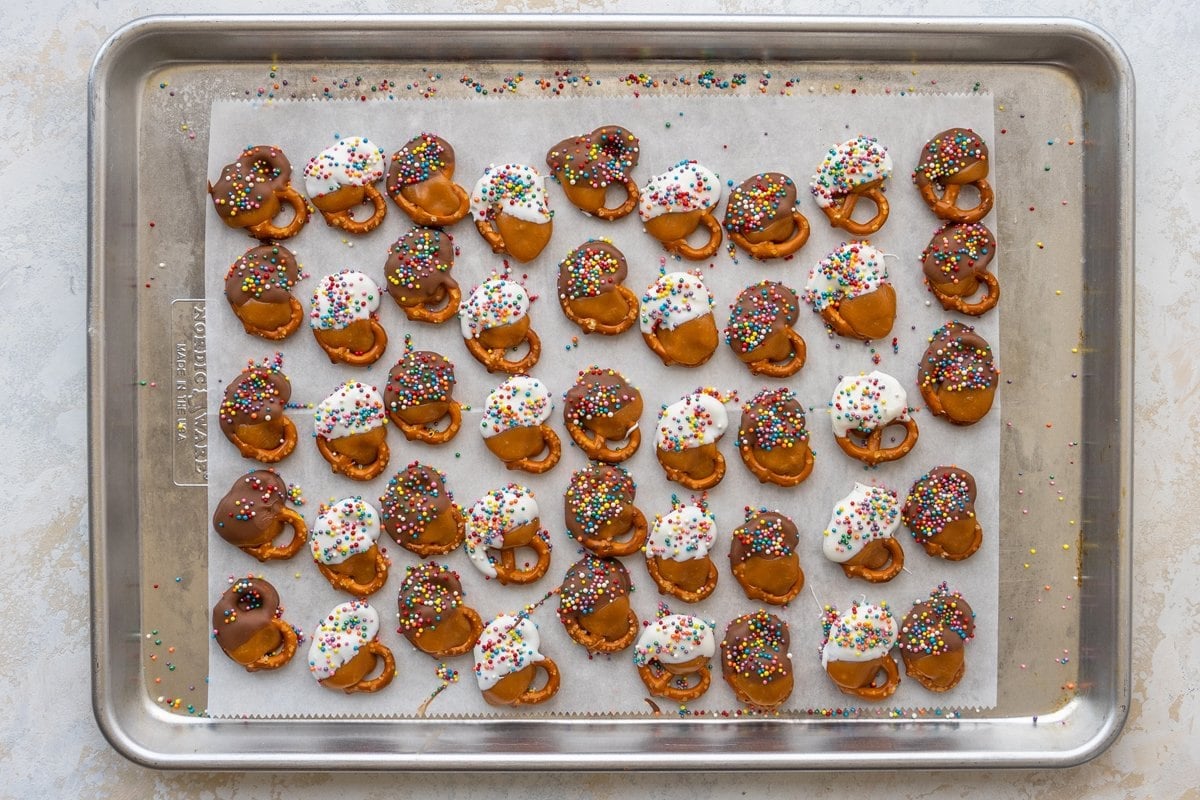 Quick & Easy Dessert
Chocolate caramel pretzels are the perfect make-ahead dessert idea. They stay tasty in an airtight container for several days so they are ready to go when you need them.
A quick and easy dessert is perfect for any occasion. These little babies are perfect for taking to a party, for favors at a get-together, for serving as a dessert, or for shipping to friends and family as a gift. They ship well and are liked by kiddos and adults alike.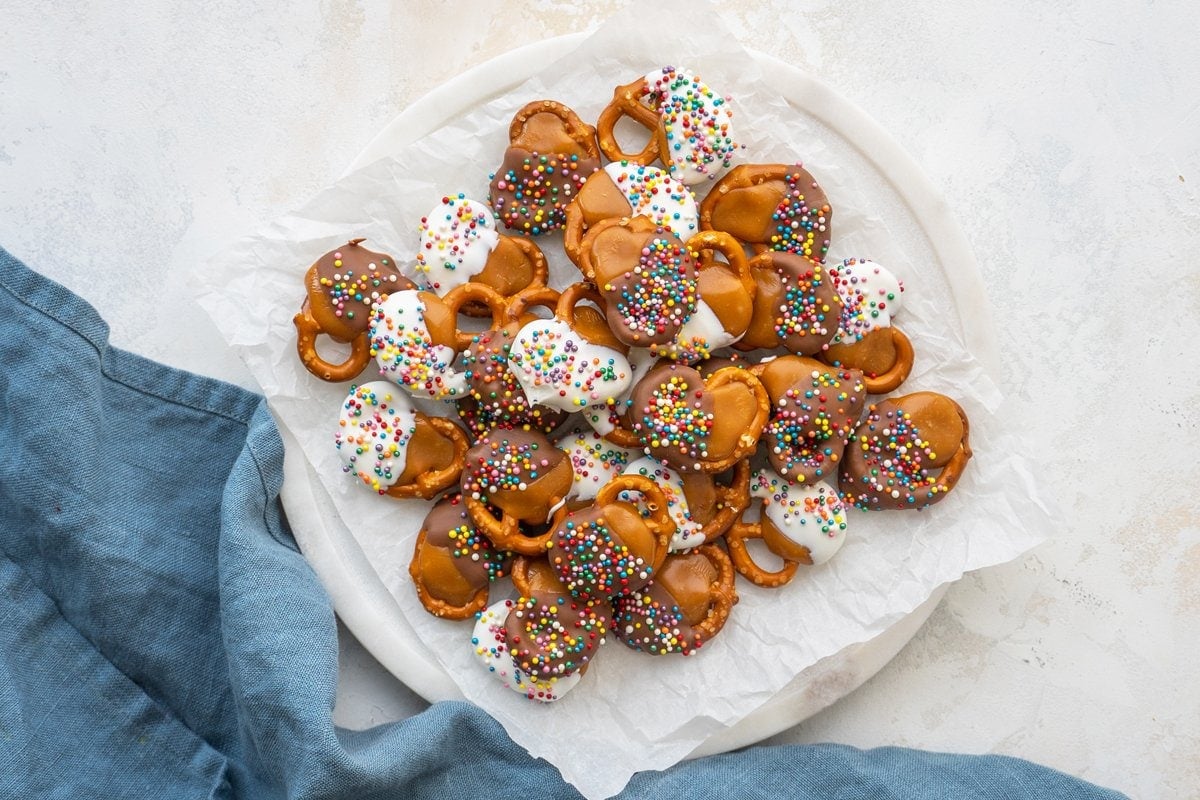 But Don't They Stick?
While I am sure you have a baking sheet in your kitchen's arsenal, you might need to purchase one special item to make these chocolate pretzels: a non-stick silicone baking mat.
Parchment paper also works. Do not use wax paper, it will melt!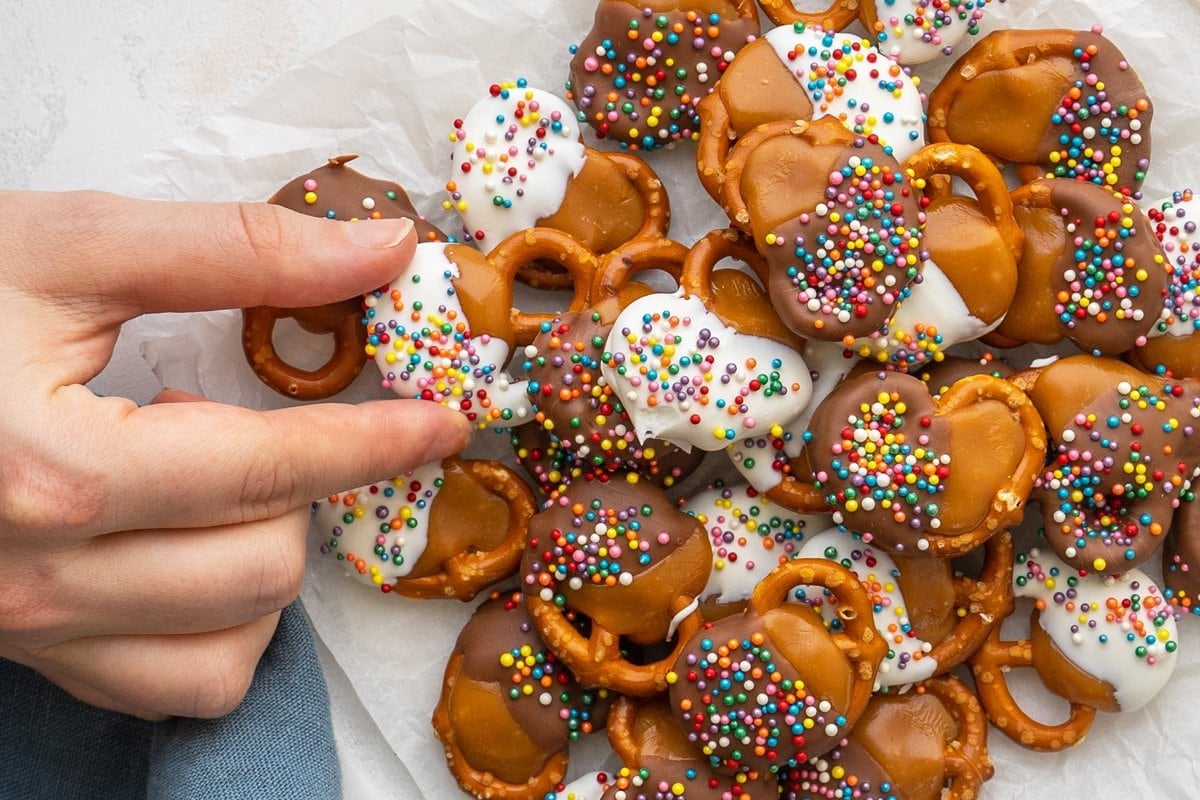 This prevents the melted caramel from sticking to your baking sheet and making clean up a real pain. You can also use parchment paper as a decent alternative, but I find the silicone baking mats to be easiest in this case.
How to Melt Chocolate
In terms of your chocolate, you have two options. You can put it in a microwave safe bowl and pop it into the microwave, heating it in 10-15 second intervals as to not burn it and mixing it in between each heating. This method while easy has a tendency to make gloppy chocolate.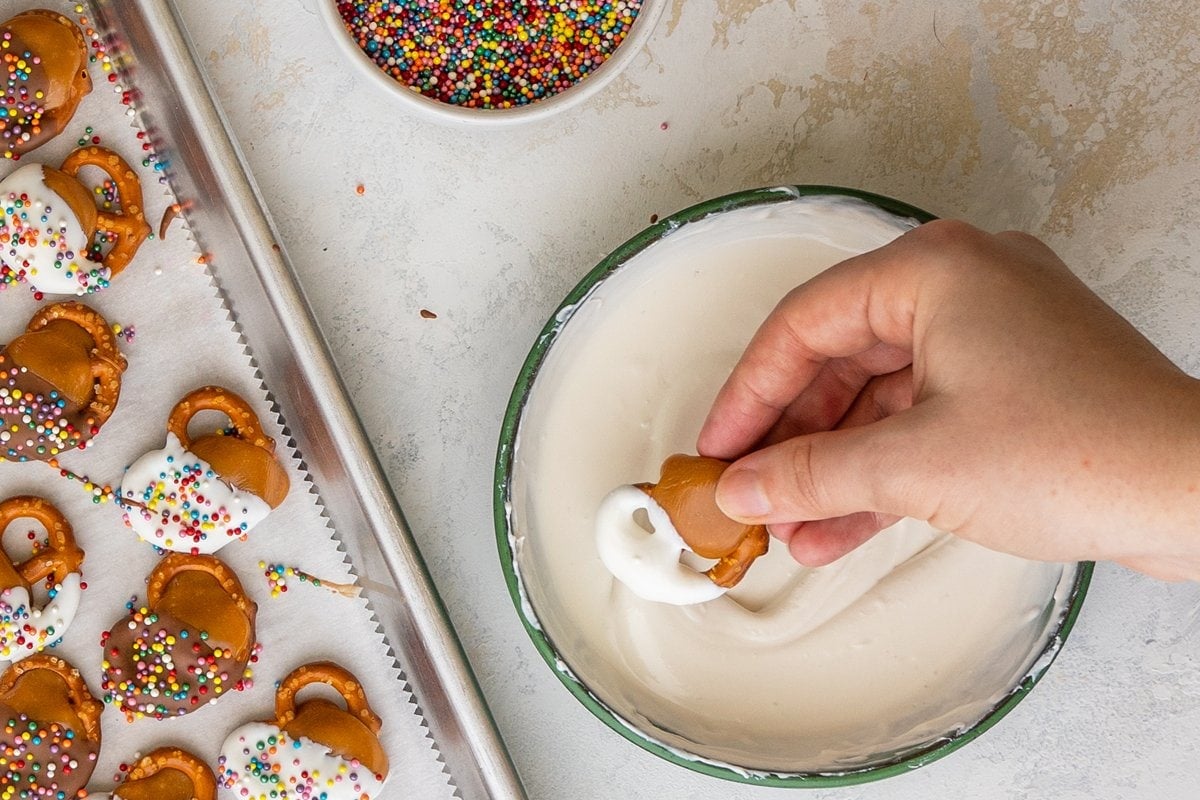 Nine times out of ten, I use a double boiler for a creamy and even melt. The beauty of this method is that you can always add it back to the double boiler to reheat is it starts to get too hard for dipping. You can also use a double boiler to make a regular chocolate covered pretzel too.
Be sure to allow the chocolate to set completely before you plate them up or pile them into a bag as gifts. You can always pop them in the fridge for a few minutes just to be sure. If you don't, the gorgeous decorations might go awry.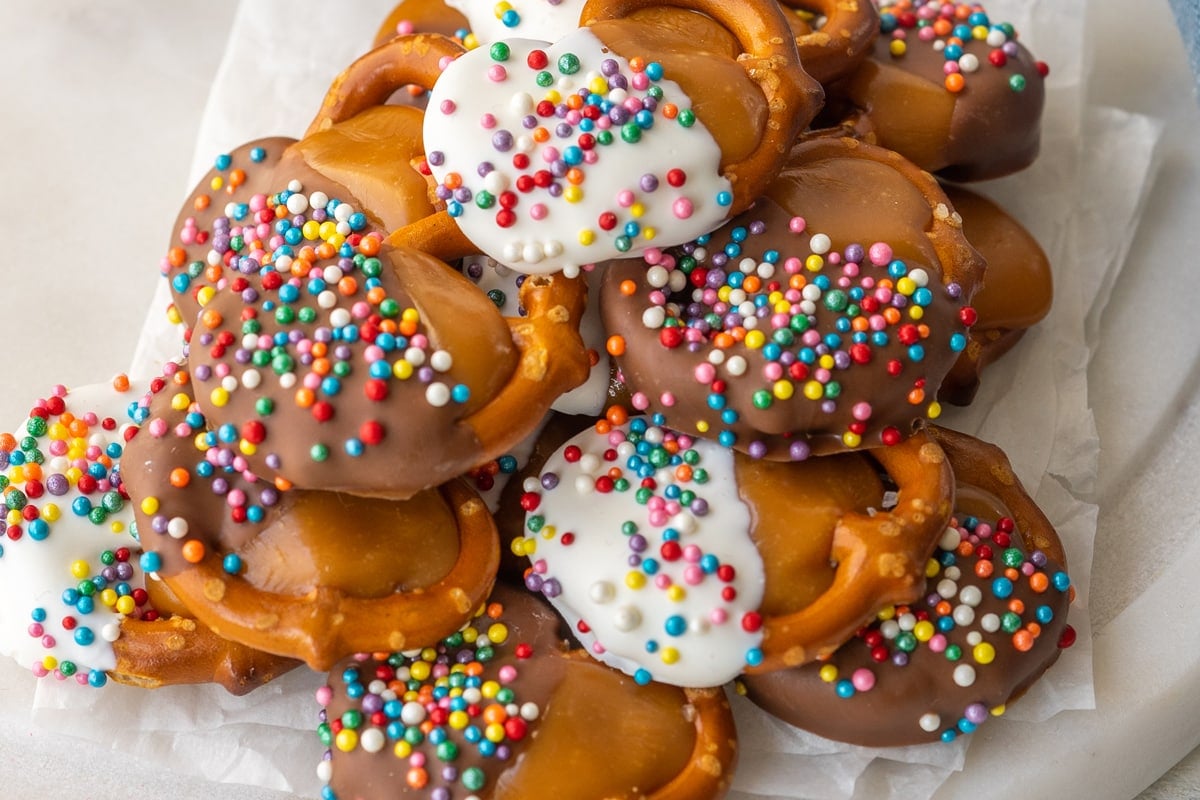 How to Make
Now that we've talked about the best way to achieve the melted chocolate part, let's talk about how to actually make these chocolate dipped pretzels.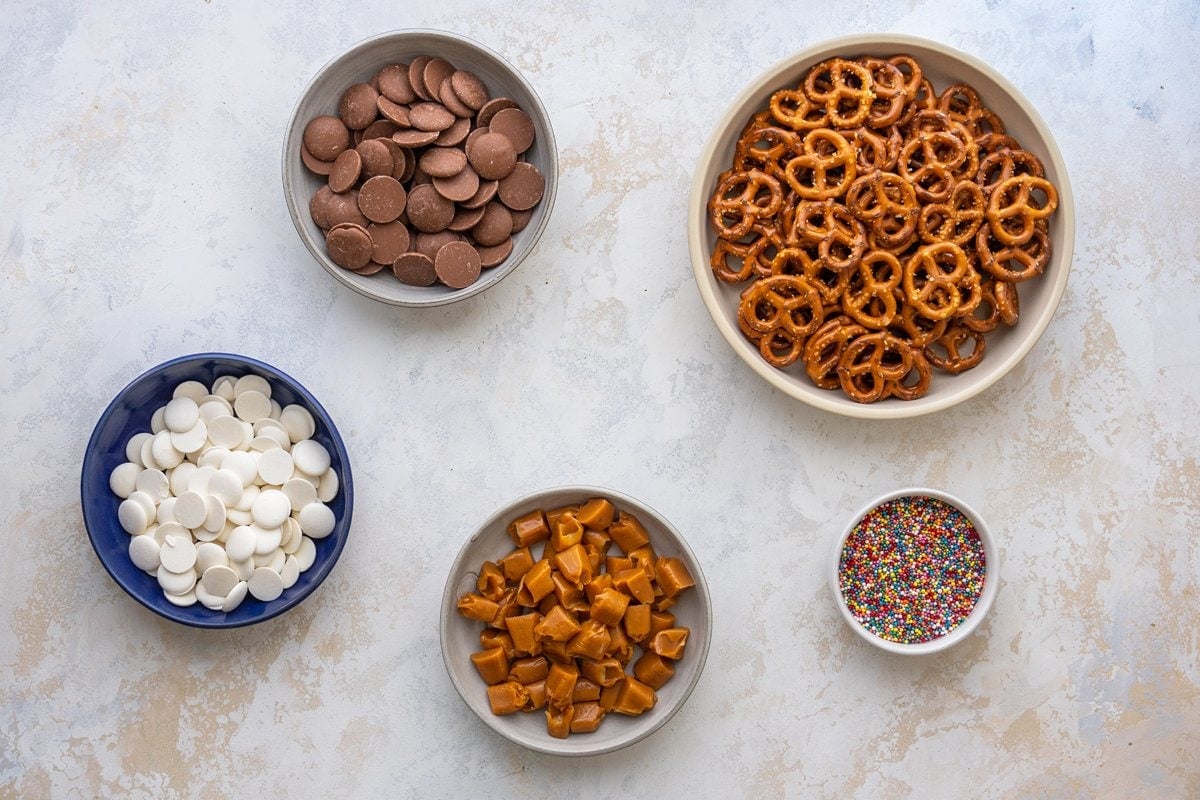 Start by lining your baking sheet (with the silicone baking mat) with an even layer of pretzel twists. Make sure none of them overlap and then gently press caramel squares on top of each one.
Bake those for 3-5 minutes and then allow them to fully cool before moving on.
Next, you will want to melt your chocolate. You can use white chocolate, milk chocolate, dark chocolate or a combination between all three. I like to use the candy melts, but if chocolate chips are all you have, you can use those too.
Then, dip the cooled pretzels half way in, tapping to get rid of the excess chocolate.
Put them back on the silicone mat or parchment paper and decorate with sprinkles of your choice. You could even top with chopped nuts if you'd like. Salty pretzels and salty nuts combined with chocolate and caramel is always a winning combination!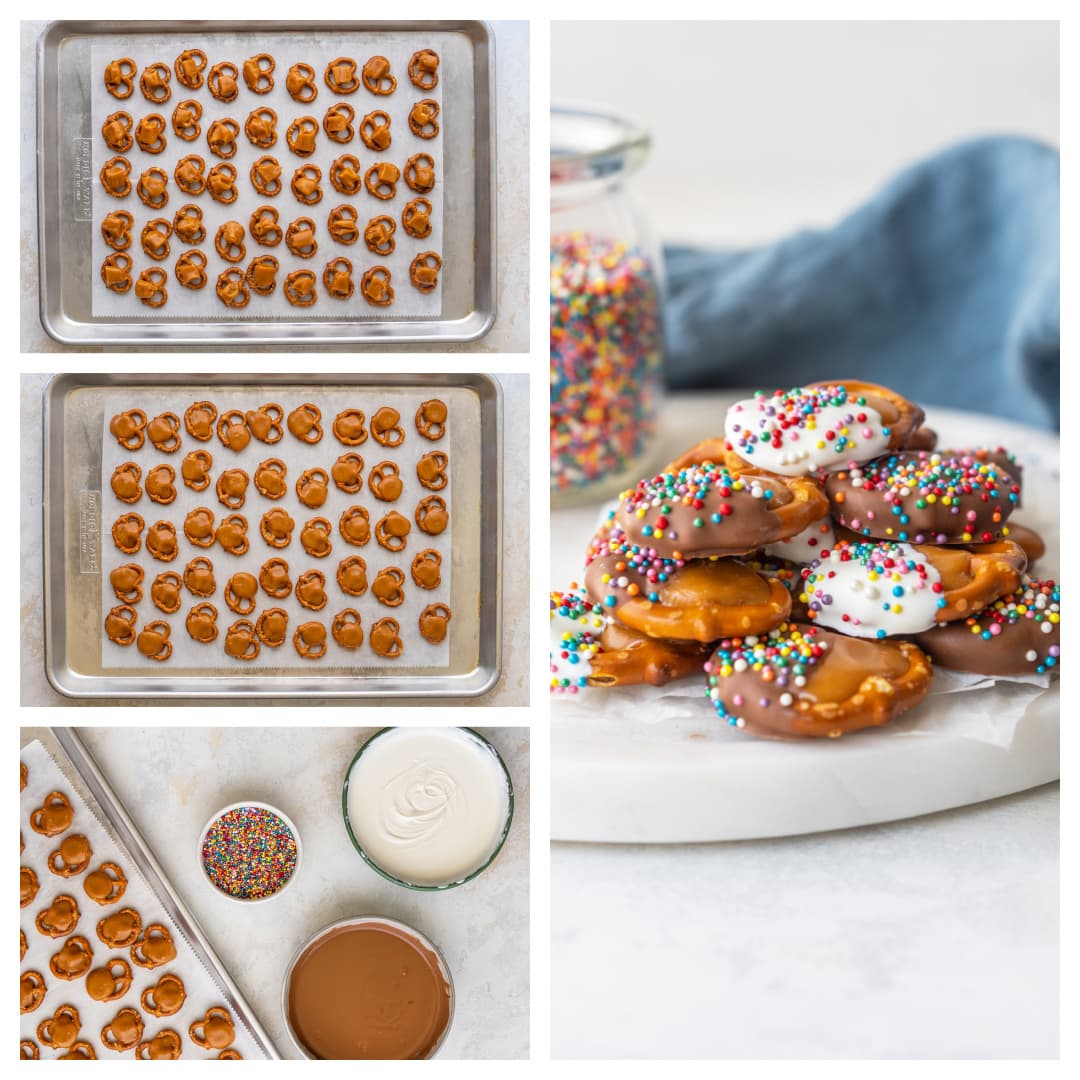 Storage
These tasty bites are best stored at room temperature in an airtight container. Do not allow in a super hot area or in direct sunlight, chocolate melts! You can store them chilled, but let them come to room temperature; caramel gets really hard in the fridge. Because they do not need to be refrigerated, these are great to give as gifts- they can be wrapped up all tidy without worry!
Chocolate caramel pretzels bites can be frozen, but the chocolate and caramel might deteriorate a little easier when thawed- it might crack and the chocolate might be a little discolored.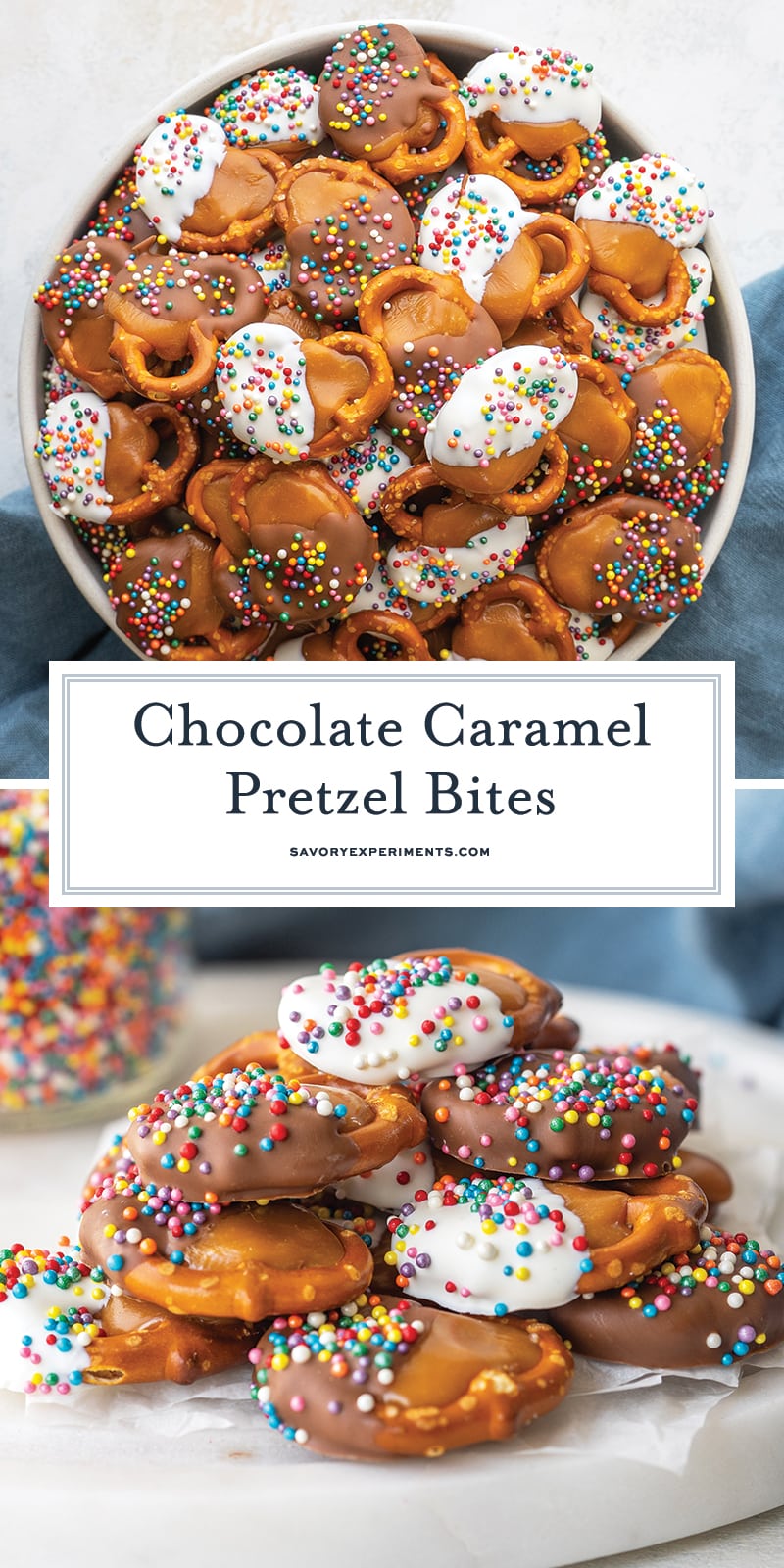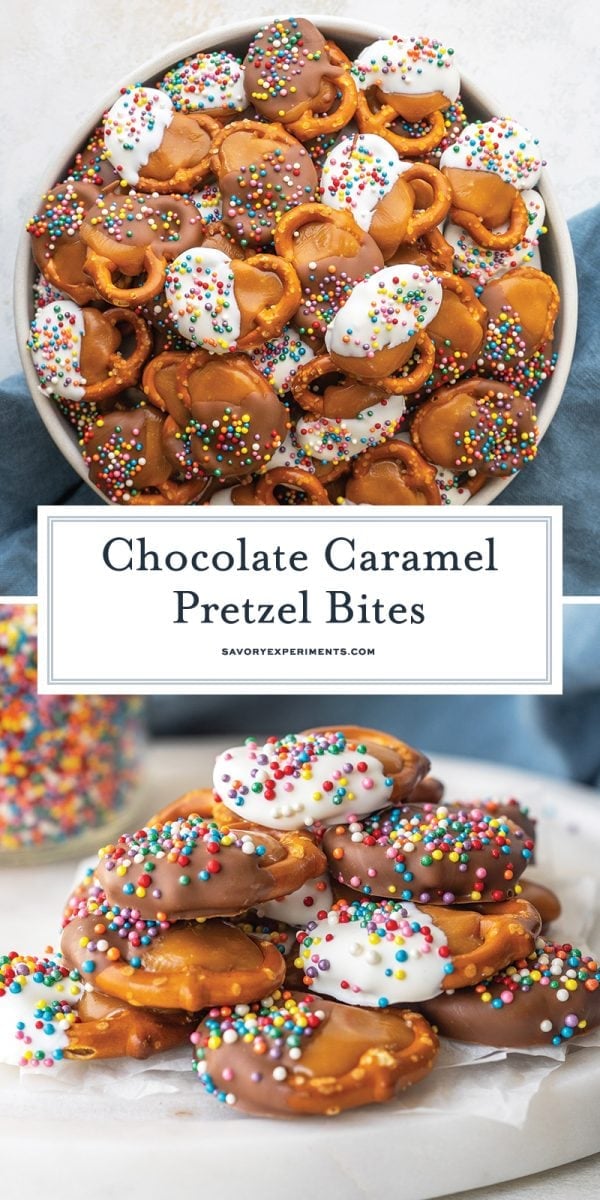 Even more chocolatey treats to enjoy: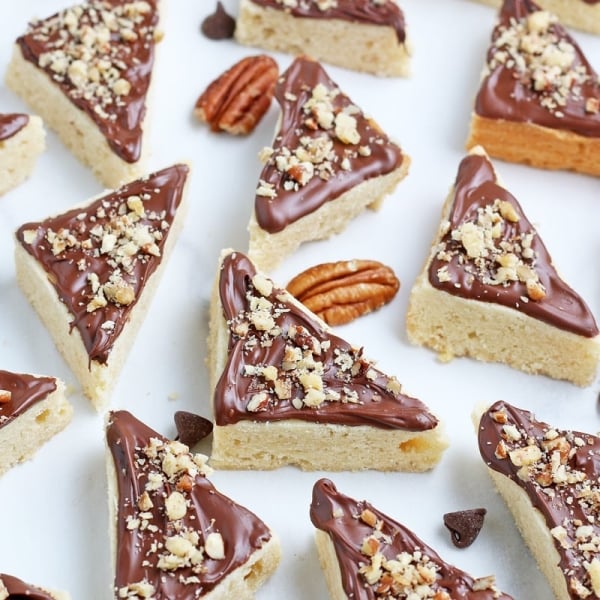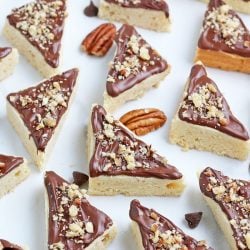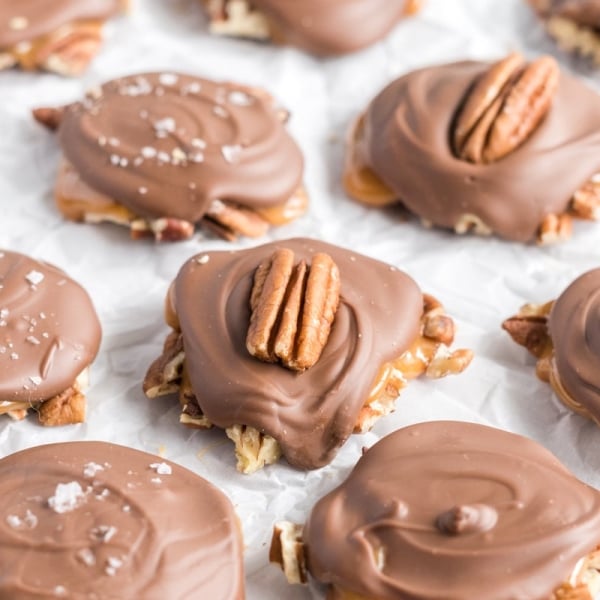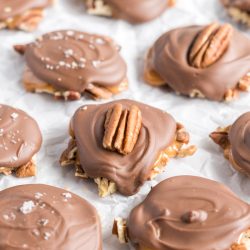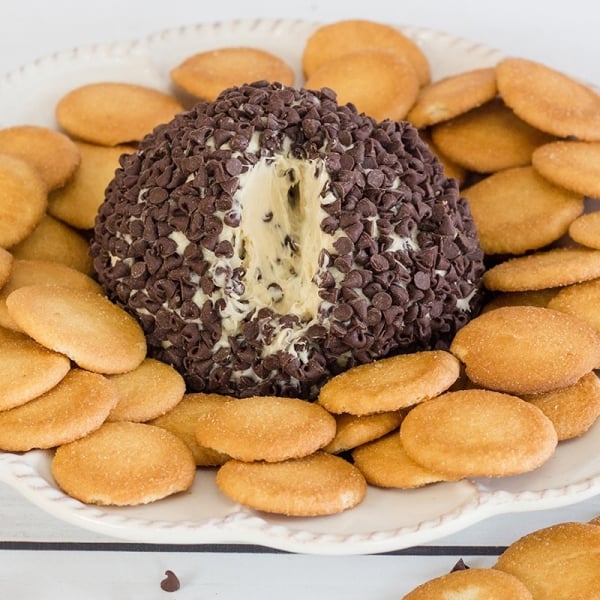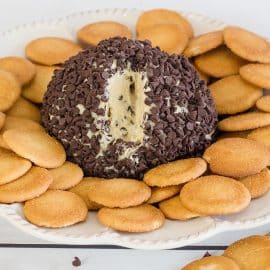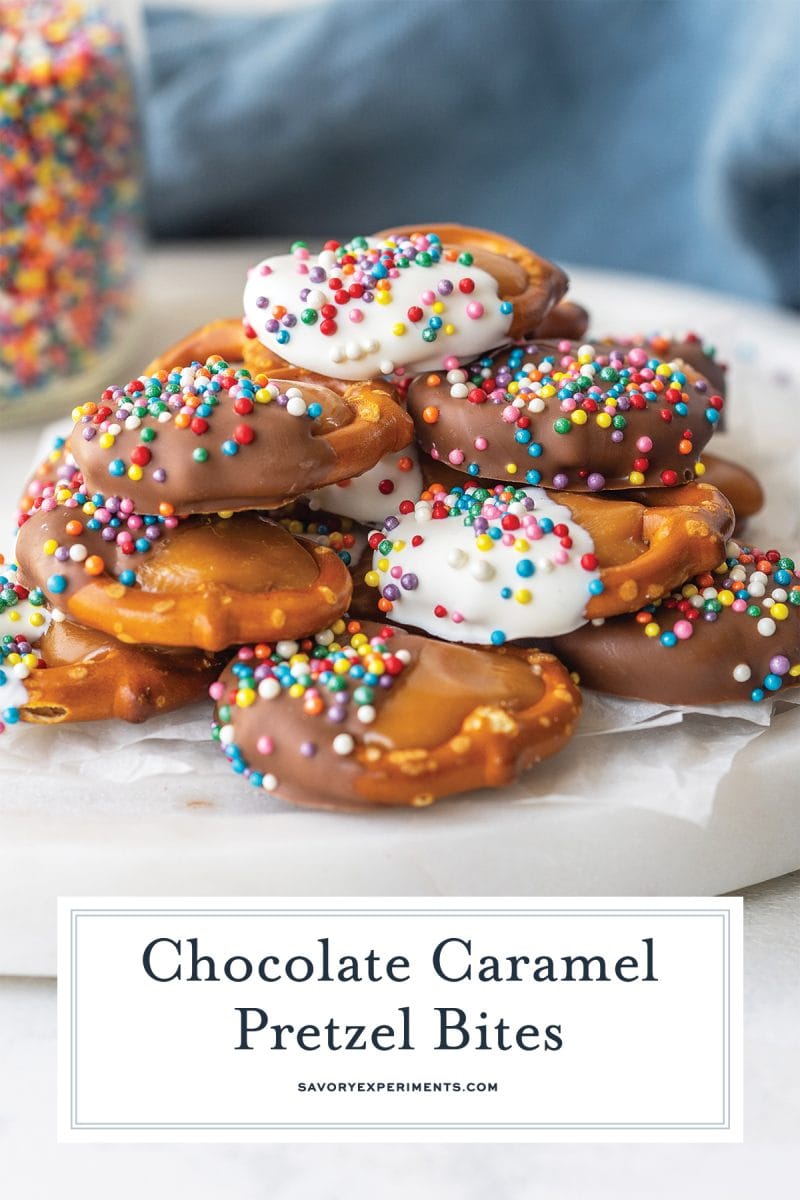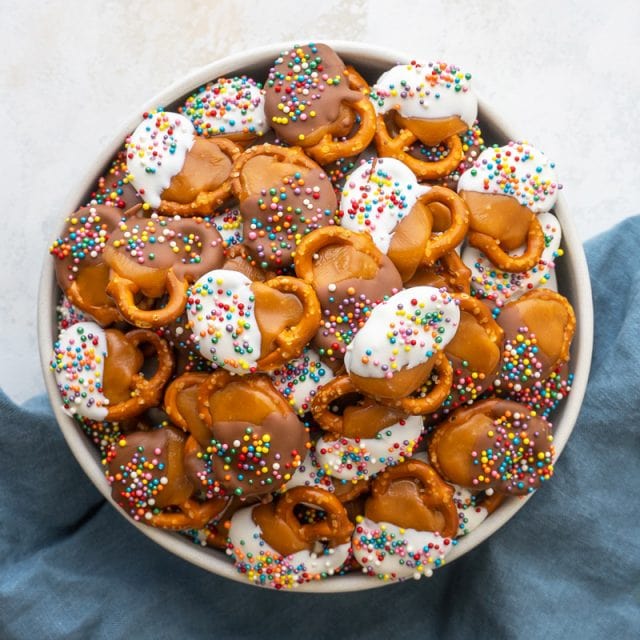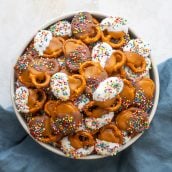 Chocolate Caramel Pretzels
Chocolate Caramel Pretzels are an easy dessert recipe. Salty and sweet and decorated for just about any holiday, your guests will requests these over and over!
Instructions
Preheat oven to 375°F. Line a baking sheet with parchment paper or silicone baking mat.

Arrange pretzels in a single layer and place a piece of caramel on each.

Bake for 3 to 5 minutes. The caramel won't be fully melted, this is okay, just leave it and it will continue to spread as it cools. Allow to cool to room temperture.

Melt Candy Melts (or other chocolate) and dip cooled pretzels half way in, tapping to release excess chocolate. Return to silicone mat or parchment paper and decorate with sprinkles. Allow to cool completely.

If you've tried this recipe, come back and let us know how they were in the comments or ratings.
Nutrition
Serving:
1
pretzel
,
Calories:
50
kcal
,
Carbohydrates:
7
g
,
Fat:
2
g
,
Saturated Fat:
1
g
,
Sodium:
25
mg
,
Potassium:
26
mg
,
Sugar:
6
g
,
Calcium:
8
mg
,
Iron:
0.2
mg