As a child I used to call Creamy Paprika Chicken "Orange Chicken" because of the paprika-y hue. As an adult I realized that whenever I said "Orange Chicken" most people referred to the wildly popular Asian dish.
Creamy Paprika Chicken is a flavorful and easy family dinner. Crispy chicken in a creamy paprika sauce with garlic and scallions.
Now days I prepare it only once every few months. Delicately fried chicken nuggets tossed in a rich, delicate cream sauce is something I reserve for mildly special occasions or date night.
Creamy Paprika Chicken is very similar to the Hungarian dish Chicken Paprikash that typically has tomatoes, bell peppers and and sometimes sour cream simmered for hours on end.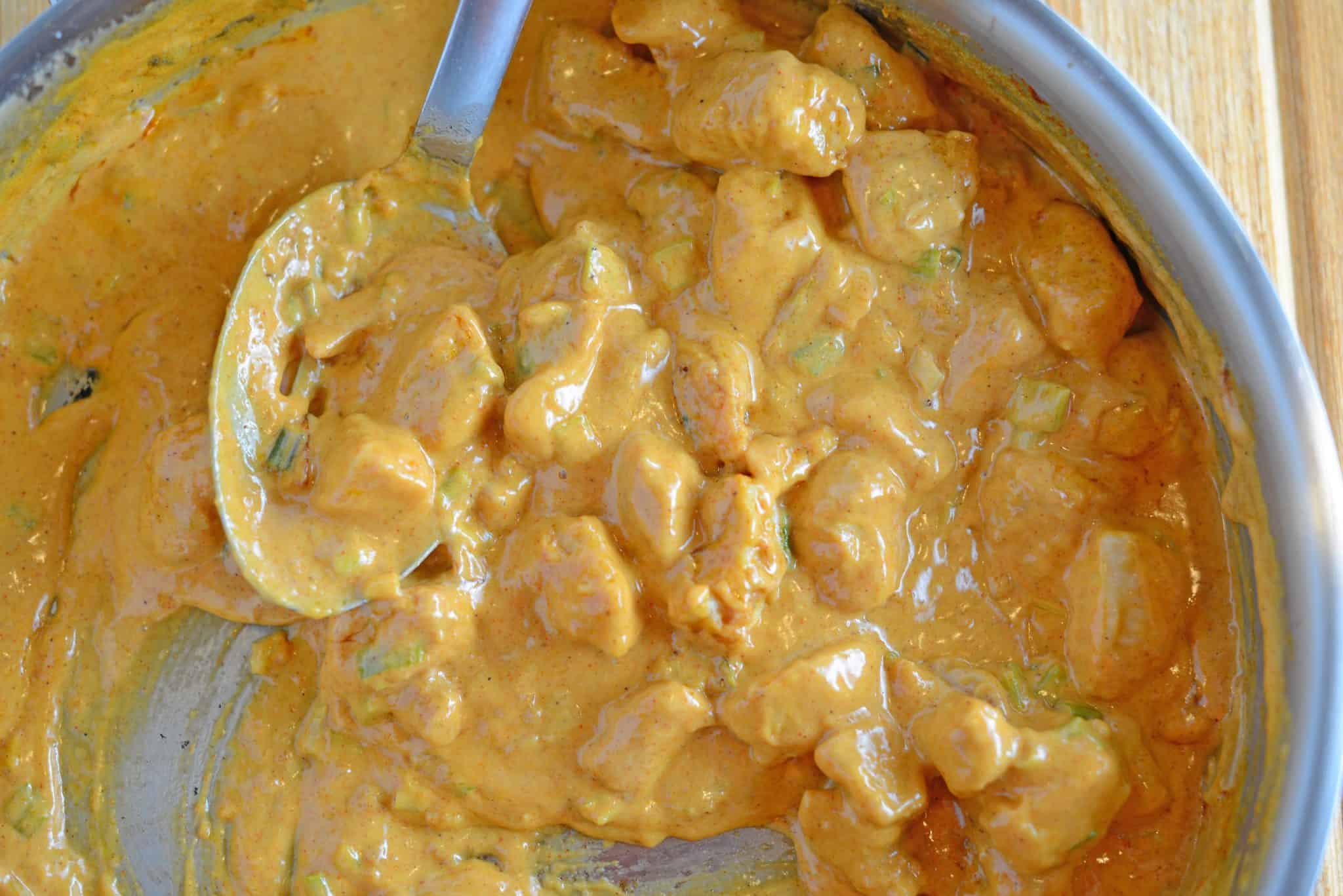 My creamy paprika chicken this festival of colorful veggies, but it heavy on crispy garlic and mild scallions. And it only takes 30 minutes as opposed to a whole day of cooking.
A few years back I started adding broccoli to my version of Creamy Paprika Chicken. I wanted a little bit of color and veggie, but nothing that would change the flavor of the delicate sauce.
I generally serve mine with a leafy green salad, most commonly my hearty Kale Salad with Lemony Dressing. You can also make a side of steamed vegetables like green beans or corn. Scroll down for even more easy chicken recipes perfect for weeknight meals!
And if you liked this recipe, you'll surely also love our other easy chicken recipes: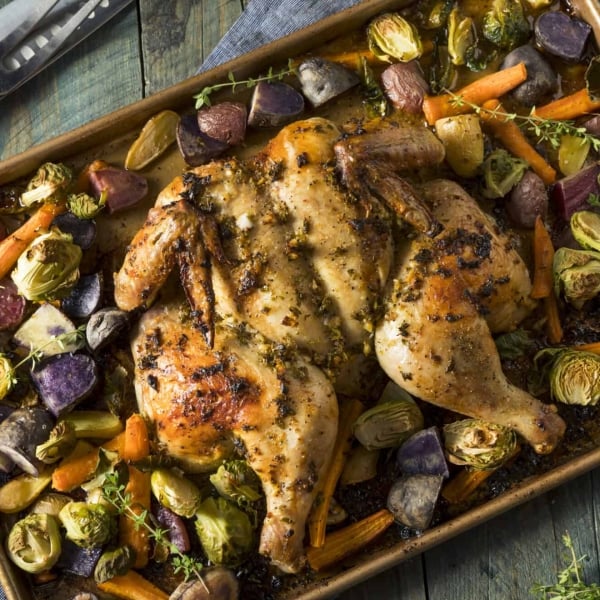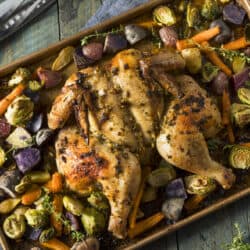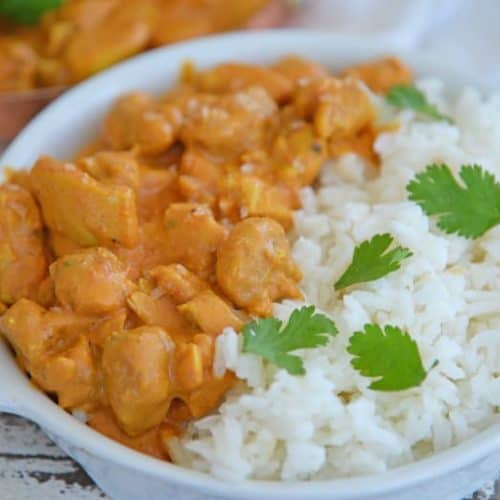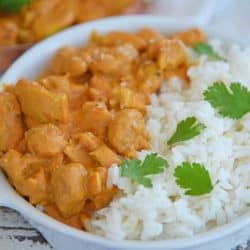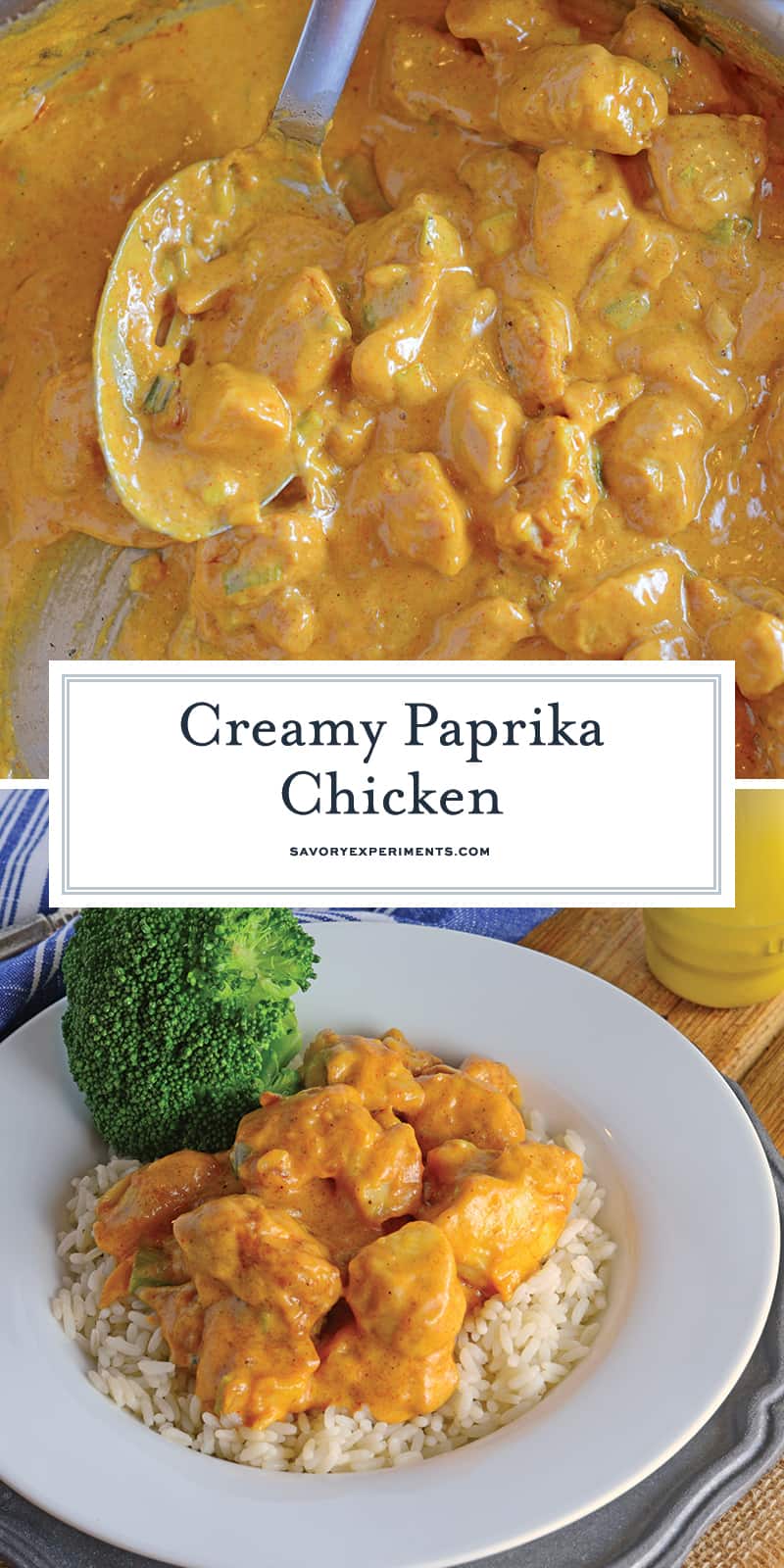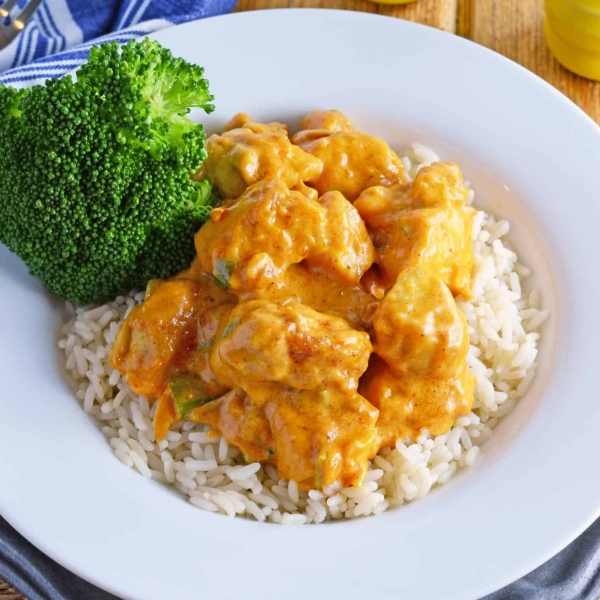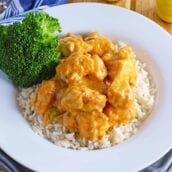 Creamy Paprika Chicken Recipe
Creamy Paprika Chicken is a flavorful and easy family dinner. Crispy chicken in a creamy paprika sauce with garlic and scallions.
Instructions
Start by timing out your rice. I prefer to make traditional rice, which takes about 30 minutes. It will be done before the chicken, but I just keep it warm. If you are using 10 minute boil-in-a-bag or microwavable rice, adjust accordingly.

In a medium mixing bowl, combine flour, salt and pepper, mix well. Heat vegetable oil in a large skillet over medium-high heat.

Toss cubed chicken in flour mixture. Using your hands, sift out pieces of chicken and deposit them directly into the heated oil. Continue with all chicken. Cook for 5-7 minutes, turning occasionally or until all chicken is light browned and crispy. Remove to a paper towel lined plate and set aside.

In the same skillet and without rinsing it out, add thinly sliced garlic and scallions. Lower heat to medium-low. If there is little to no oil left, give them a nice quick spritz of cooking spray. Ideally there will be remnants of flour and chicken left in the skillet, but if not, no worries.

Cook, stirring occasionally, until scallions are soft and garlic is fragrant and slightly crispy. I actually prefer mine near burnt in this dish, so I cook my garlic separately and before the scallions, but that is your call. Most people aren't weird like me! This process takes approximately 5 minutes.

Add heavy whipping cream to garlic and scallions, stirring the entire time. Increase heat to medium-high again. Stir in paprika and a dash or two of fine sea salt and ground pepper. Stir continuously to prevent scalding until mixture comes to a simmer. At first the paprika will appear granular and seem to avoid mixing with the cream, it will eventually, don't worry!

When mixture comes to a simmer, reduce heat to low and add cooked chicken. Toss in sauce. At this time the sauce should be thickening, in part from the heat, but also as the flour on the chicken acts as a tightening agent. Continue to heat for a few more minutes, tossing as you go to loosen up the flour bits.

Serve Paprika Cream Chicken over a bed of white or brown rice. Enjoy!

If you've tried this recipe, please come back and let us know how it was!
Nutrition
Calories:
856
kcal
,
Carbohydrates:
30
g
,
Protein:
54
g
,
Fat:
77
g
,
Saturated Fat:
50
g
,
Cholesterol:
306
mg
,
Sodium:
601
mg
,
Potassium:
1056
mg
,
Fiber:
2
g
,
Vitamin A:
3530
IU
,
Vitamin C:
4.9
mg
,
Calcium:
109
mg
,
Iron:
3.1
mg