These homemade Jammie Dodger Cookies are a tasty cookie sandwich using a shortbread cookie with sweet jam. We've added a dusting of powdered sugar to make them extra special.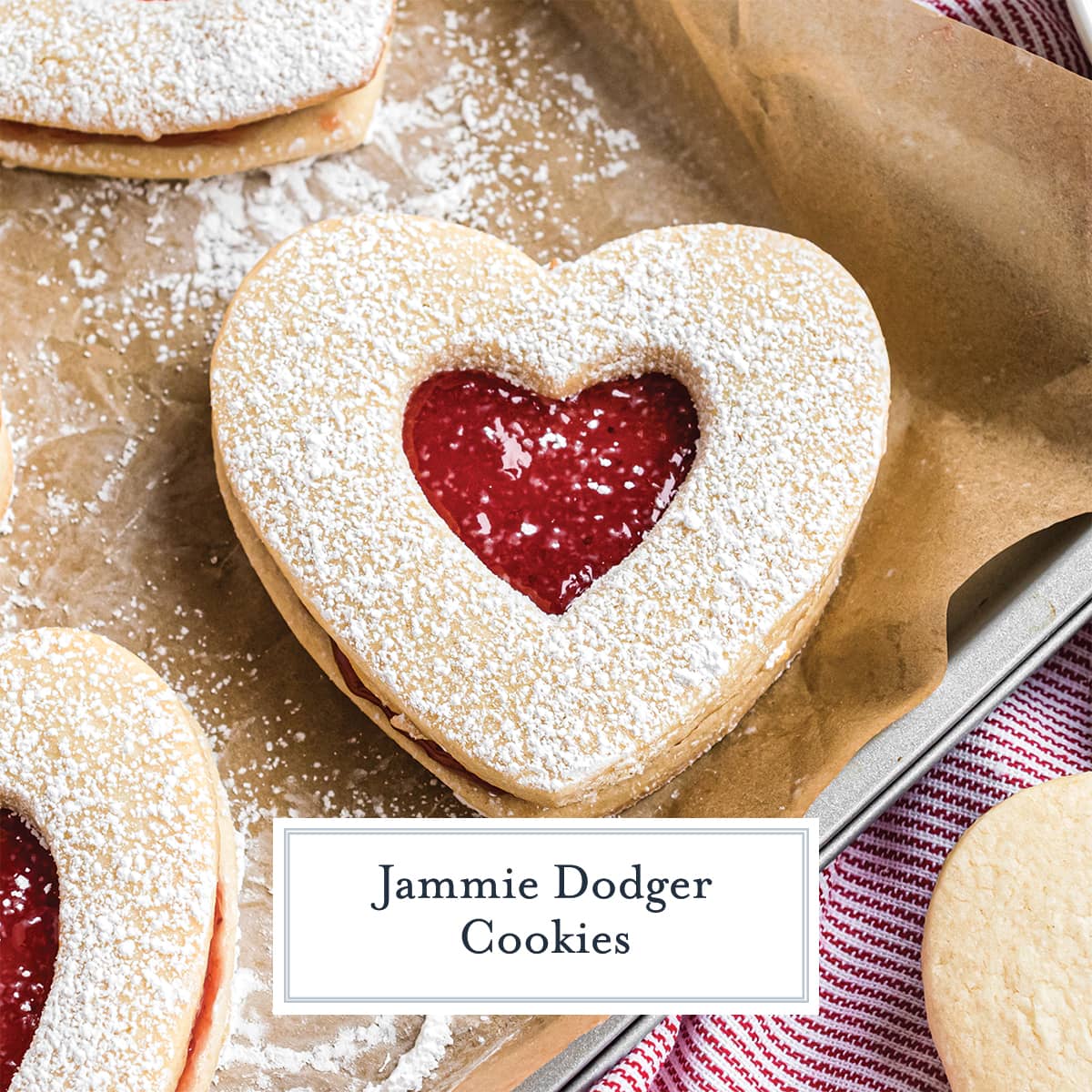 What are Jammie Dodgers?
If you live in the UK, your question is probably "why haven't you heard of these iconic cookies?" but if you live in the states, chances are you've never heard of them.
Biscuits, as they are called in the UK, are a jam filled shortbread cookie, generally strawberry or raspberry. They are similar to thumbprint cookies, but flat.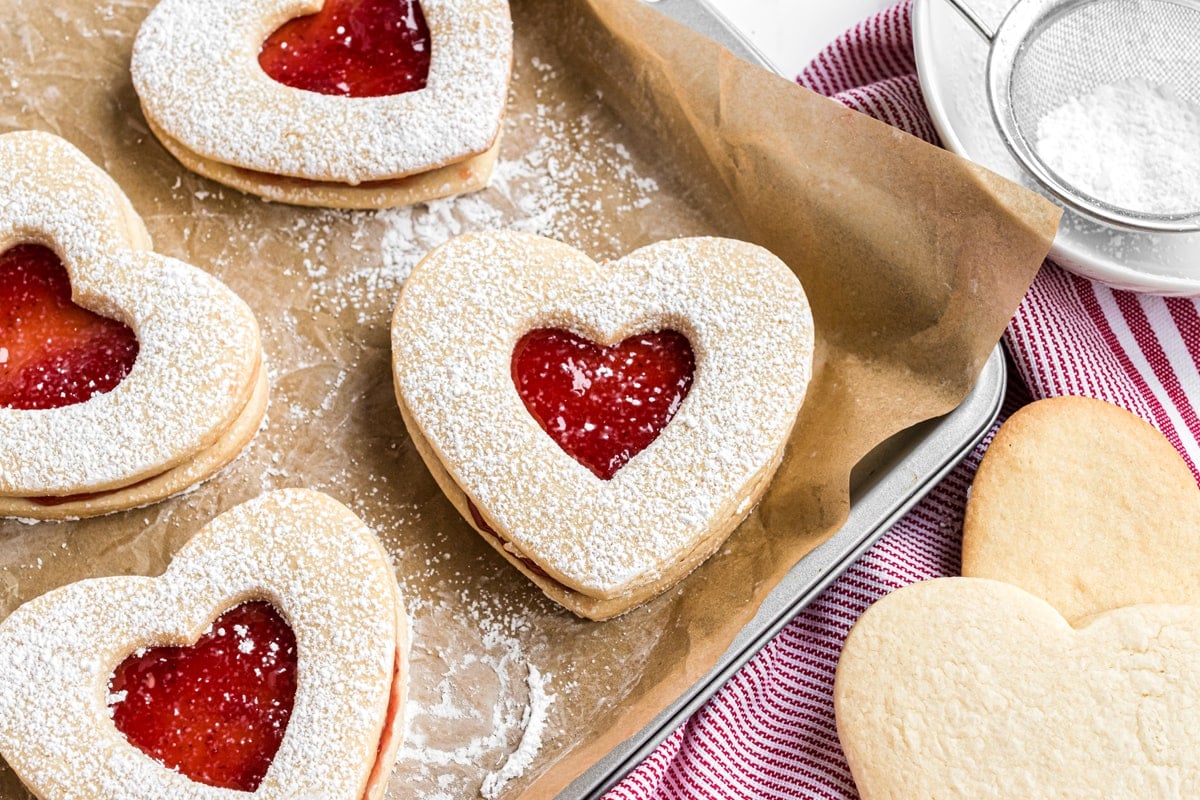 Ours are slightly Americanized because our cookie base is more of a sugar cookie than shortbread.
They are commonly served with tea or for dessert and are only slightly sweet, but totally scrumptious. When I visited London, we enjoyed them along with our tea serve at the Mandarin Oriental Hotel.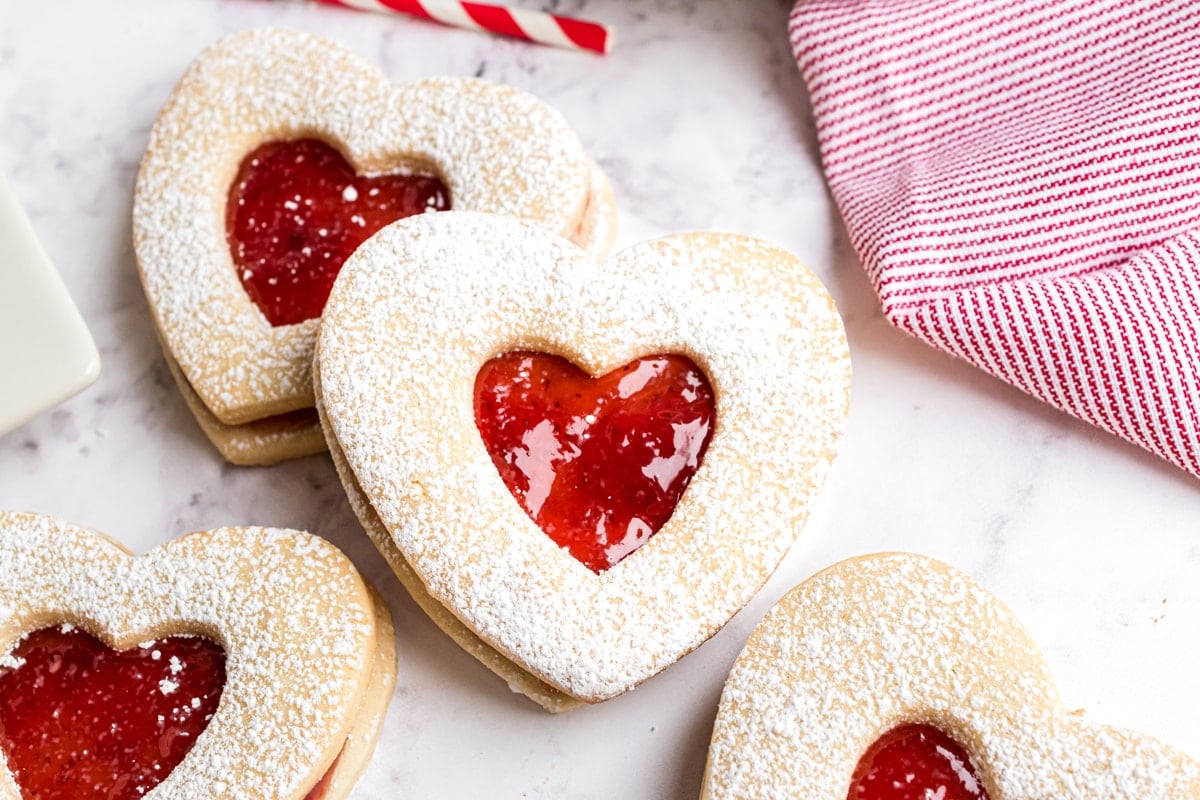 How are shortbread and sugar cookies different?
The two big differences are ratios and eggs. Sugar cookies typically contain eggs and have a lower ratio of butter to flour, while shortbread cookie recipes have a higher ratio of butter to flour.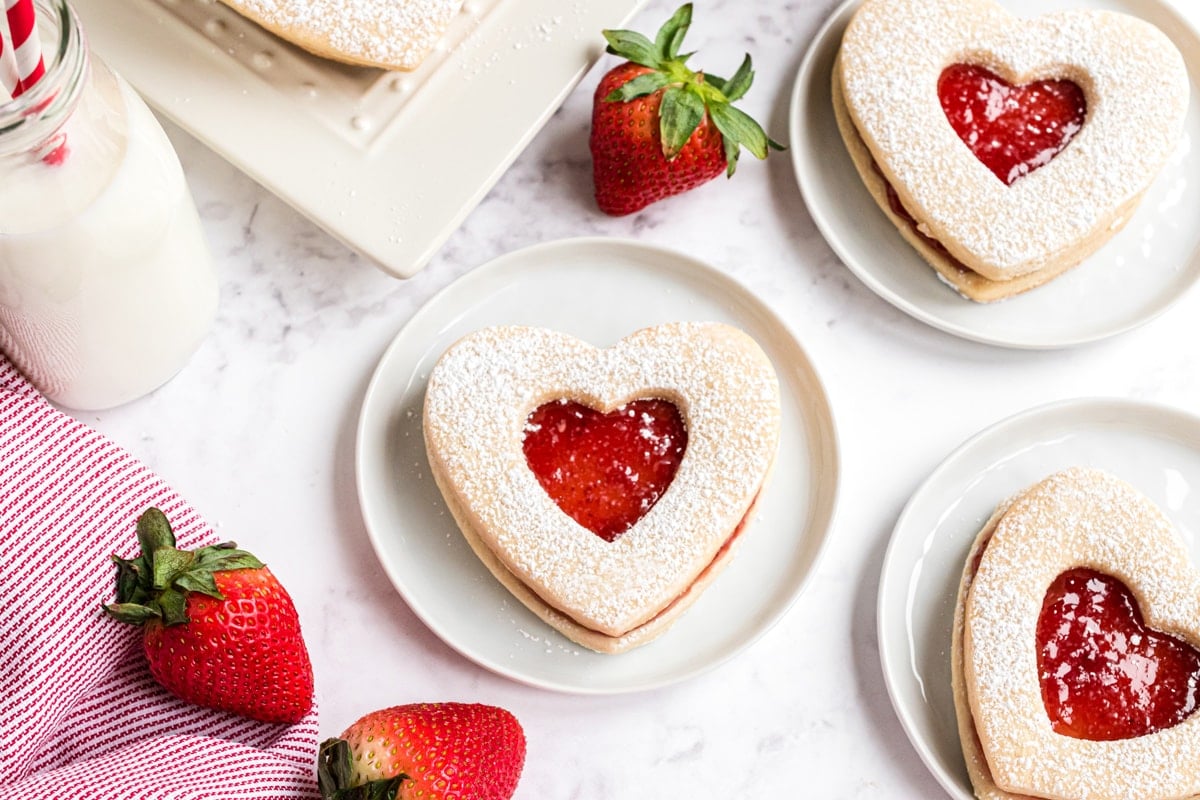 Shortbread are more crumbly and fragile, while sugar cookies are a little more sturdy due to having structure from the egg.
Shape
The original Jammie Dodger is a circle cookie with a small heart in the center. I really love the look of ruby red jam, so ours are a little larger- both the cookie and cutout.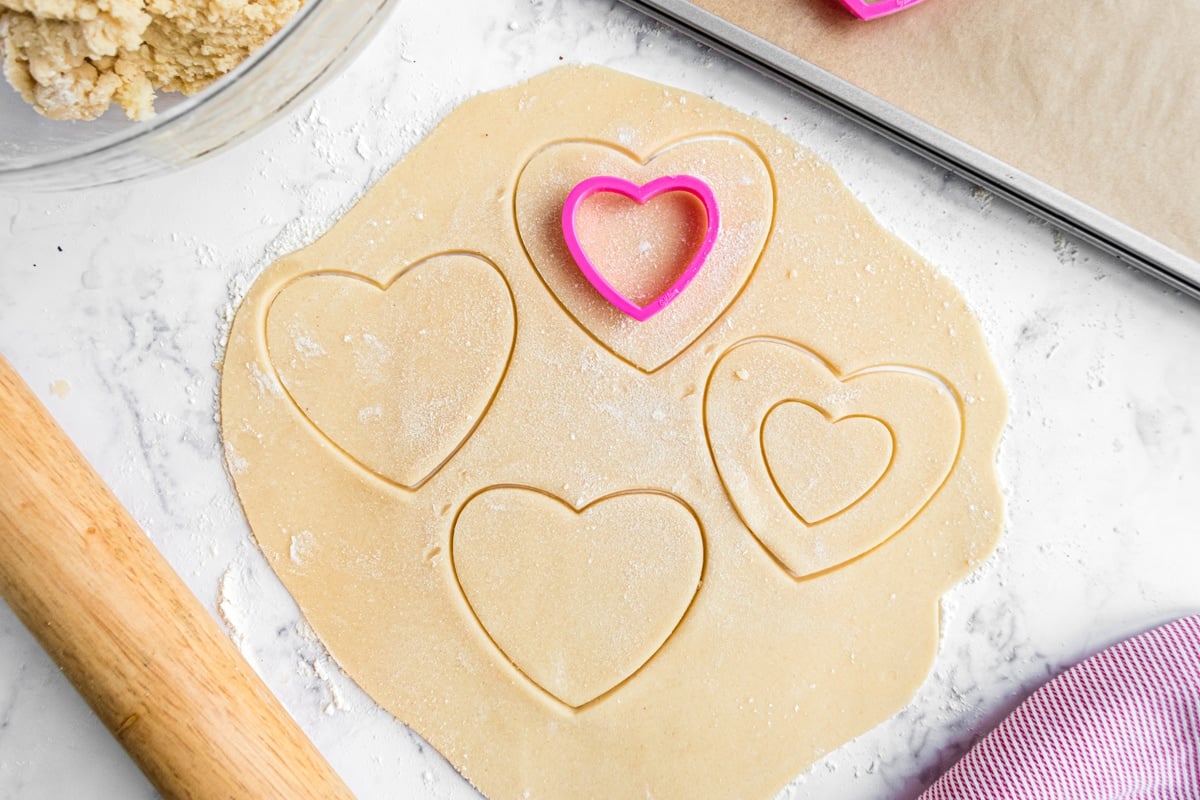 You can really use whatever shape you desire, but for our purposes of Valentine's Day, a heart was perfect. I put them on a tray with chocolate dipped strawberries and it was divine!
To make the cut-out, I used two sizes of heart shaped cookie cutters. You can find a set on Amazon here. They come in handy for decorating pies, baking Christmas cookies and of course, Valentine's Day cookies!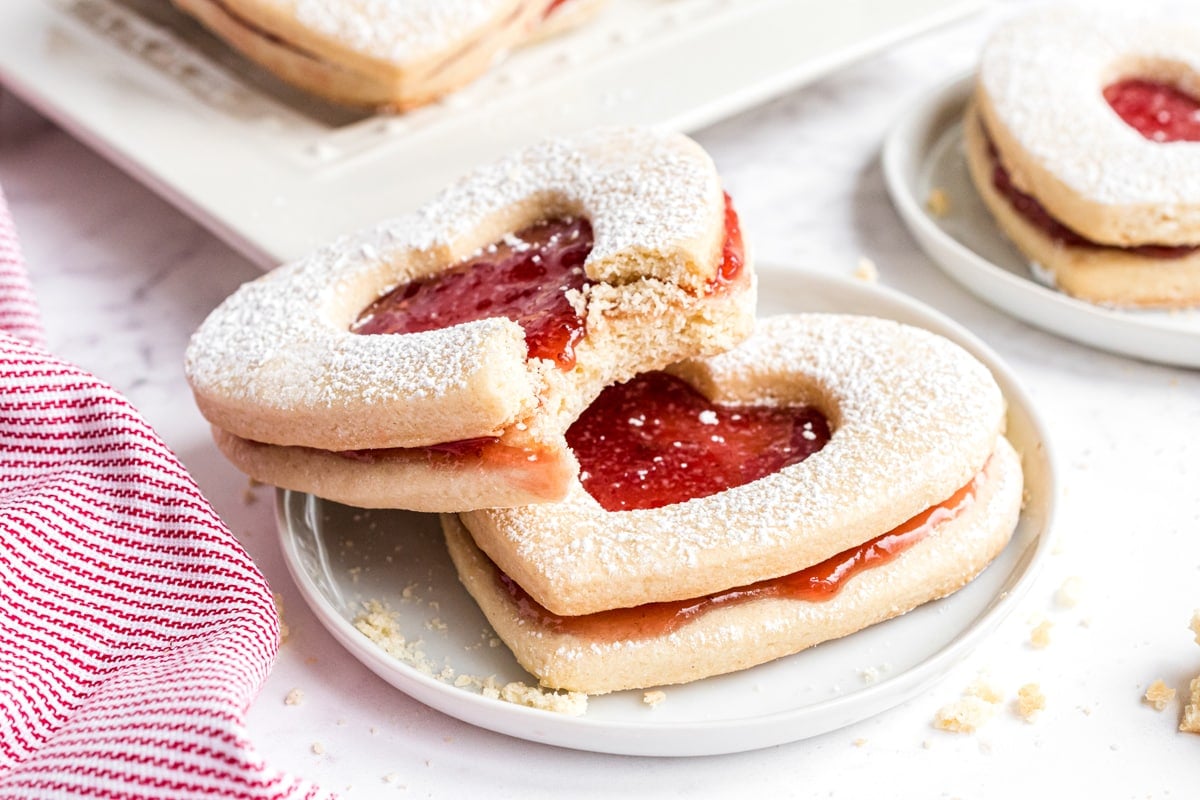 You can still bake the smaller heart cookies and just serve them seperate or let the kids decorate them like regular sugar cookie cut outs.
Filling
Traditionally, Jammies use raspberry jam or strawberry jam, but just like the shape, this flavor can be customized as well.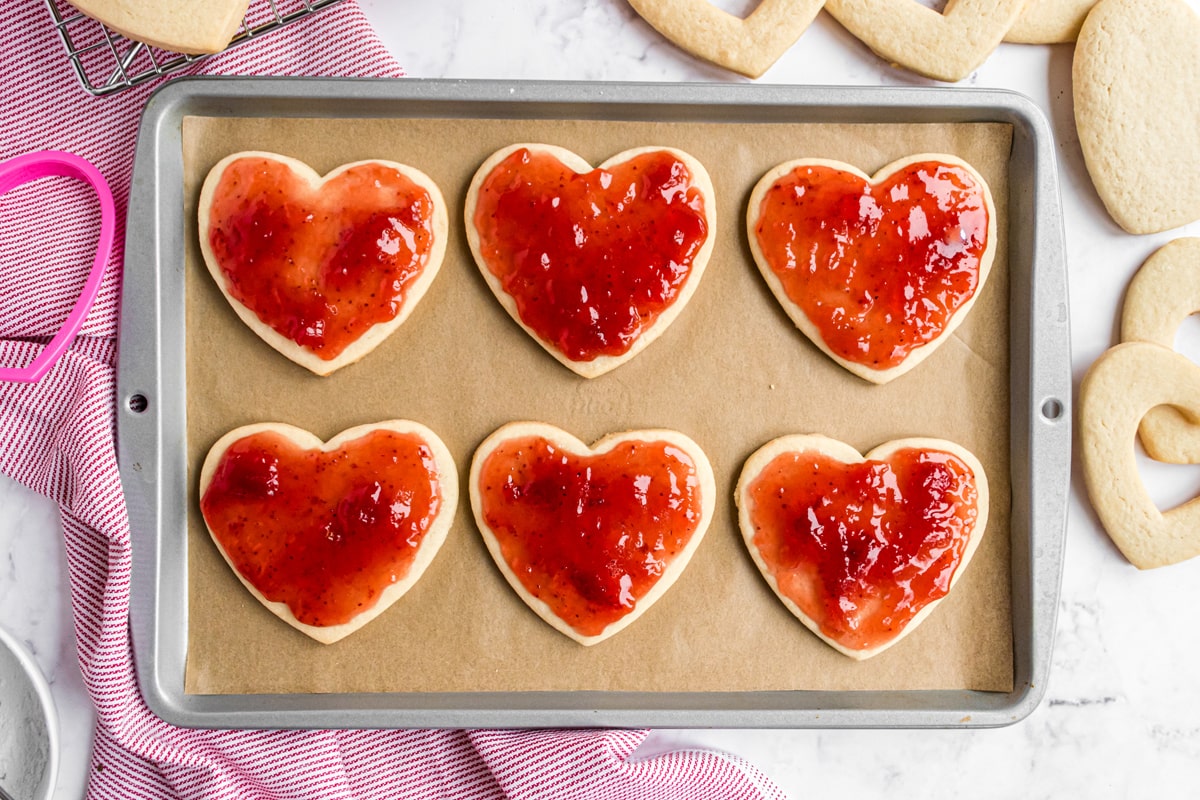 Cherry jam can be used, along with any other type of fruit jam. And if you want to get totally bonkers and drop the red color, Bacon Jam is another fun variation.
Storage & Freezing
Jammie Dodgers can be stored at room temperature in an airtight container. The jam won't set, so make sure to use parchment or wax paper between layers to prevent sticking. Like any cookie, they are best enjoyed within 2-3 days of baking.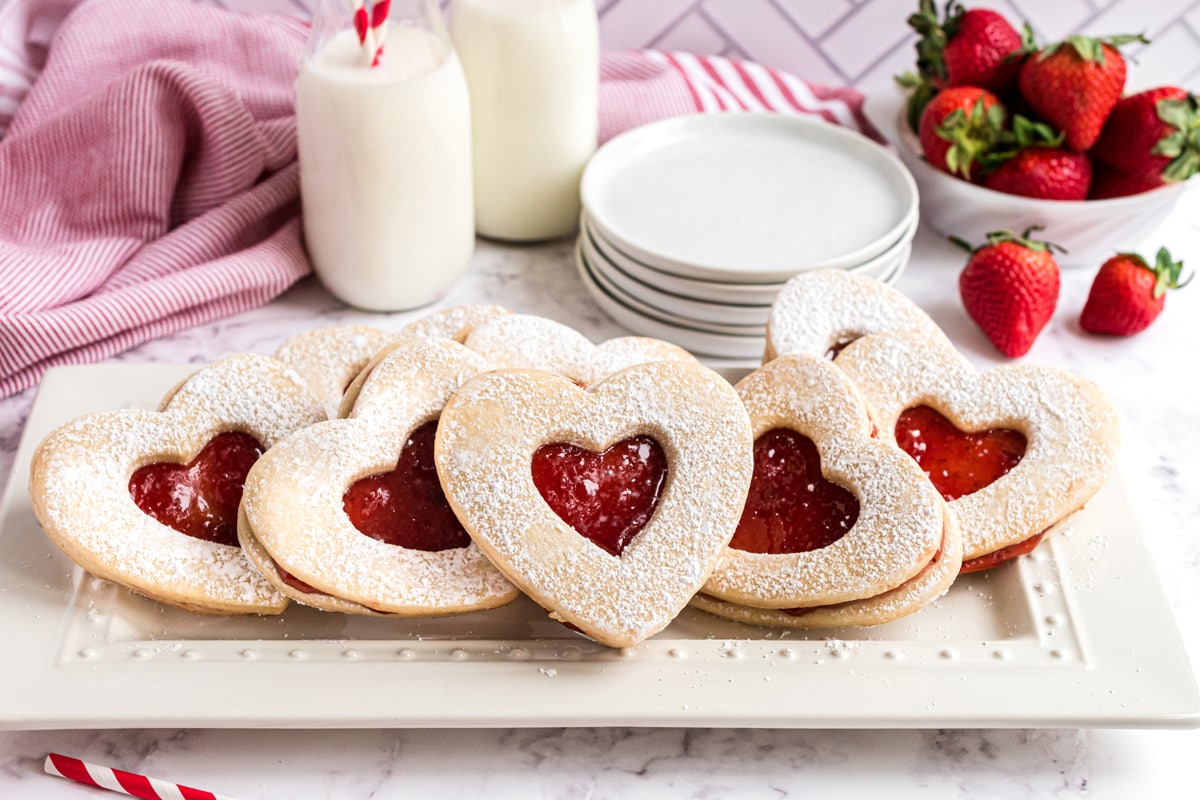 But if you want to make them ahead of time, feel free to freeze the cookies. I recoomend freezing the baked cookie peices, but waiting to stuff and assemble them until you are ready to serve.
Jams in generally don't defrost well and will make the rest of the cookie soggy.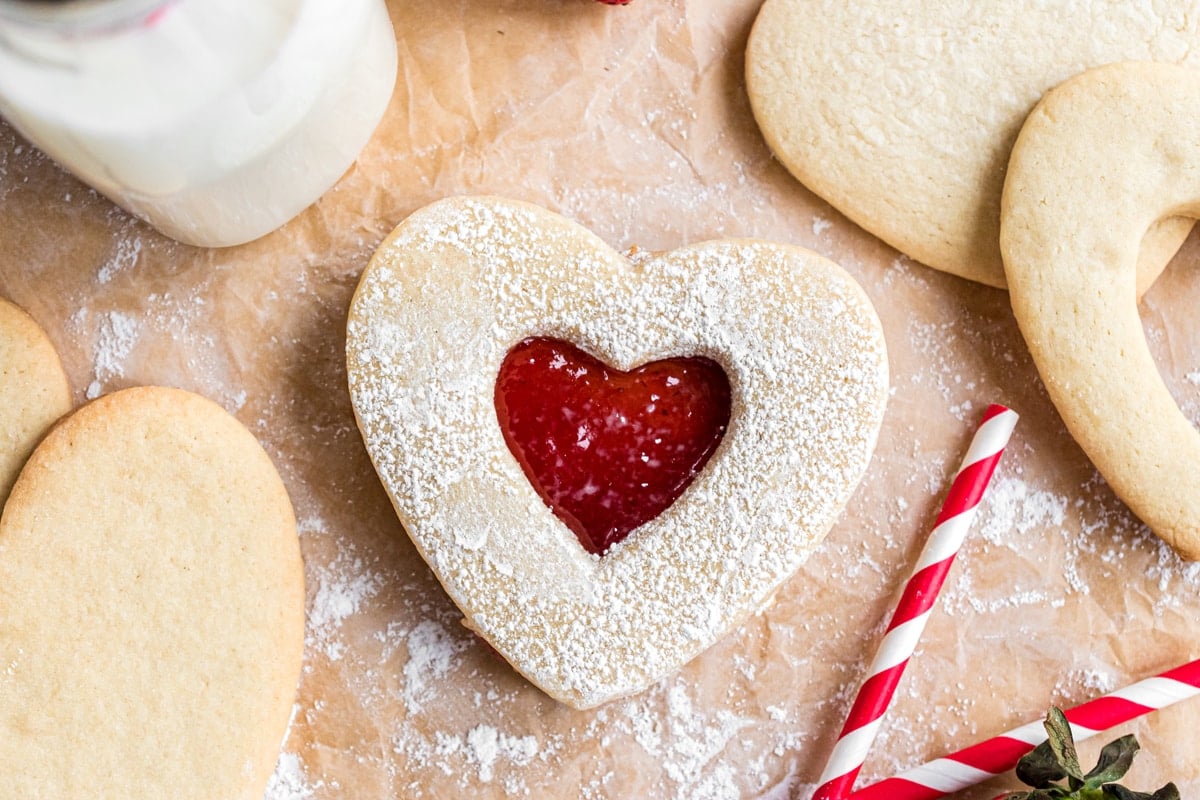 Fun Valentine's Day Facts:
The origin of Valentine's Day is still debatable, there are two theories. The first is that the day derives from Lupercalia, a raucous Roman festival on February 15 where men stripped naked and spanked young maidens in hopes of upping their fertility.
The second theory is that while the Roman Emperor Claudius II was trying to bolster his army, he forbade young men to marry (apparently single men make better soldiers).
In the spirit of love, St. Valentine defied the ban and performed secret marriages. For his disobedience, Valentine was executed on February 14.
There are 36 million heart shape boxes of chocolates sold for Valentine's Day annually.
On average, men spend double the amount of money on Valentine's Day gifts than women spend, which is $130.
There are approximately 8 billion candy hearts manufactured for the holiday.
There are approximately 50 million roses given on Valentine's Day.
The phrase to "wear your heart on your sleeve" began in the middle ages when young people would draw the name of their valentine from a bowl. They had to wear the name on their sleeve for one week.
Hopeless romantics send 1,000+ letters addressed to Juliet to the city of Verona, Italy every year on this date.
Approximately 9 million people buy their pets a gift on Valentine's Day.
During the middle ages, superstition said that if you were single, you would end up marrying the first single person of the opposite sex that you met on Valentine's Day.
Now that you are properly armed with dinner discussion and the answers to at least 2 jeopardy questions, go forth and enjoy your Valentine's Day or SAD (Singles Awareness Day).