The holidays are here and I am hosting THREE Christmas dinners. I know, I know, I am losing it for agreeing to this!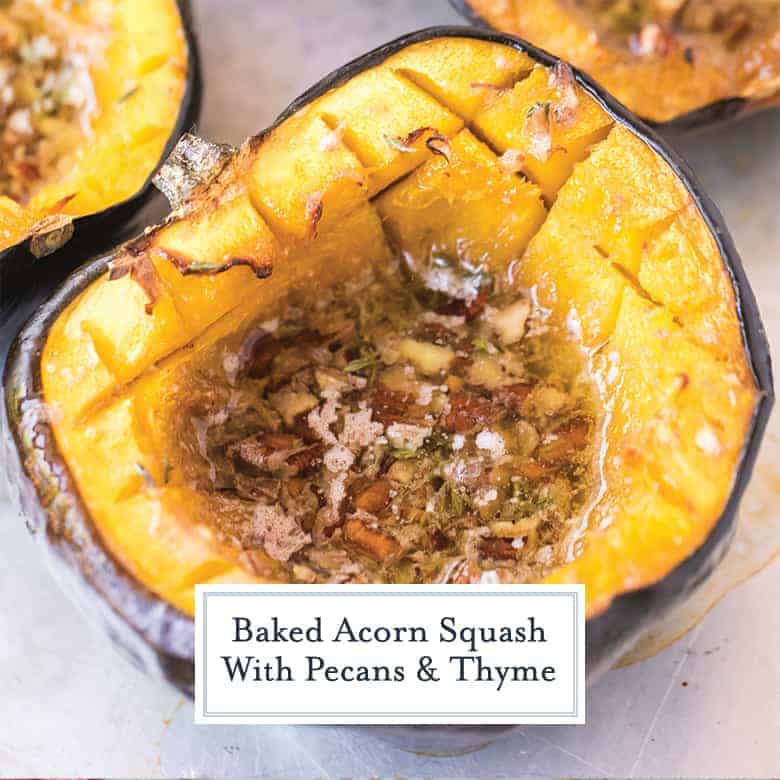 Baked Acorn Squash with a Sweet Pecan Thyme Filling is the perfect holiday side dish!
I have no problem picking out my main entrees, but then coming up with side dishes that everyone enjoys and aren't too time consuming gets tricky.
Baked Pecan Thyme Acorn Squash is one of my go-tos. While the baking time isn't super speedy, the preparation is quick and most of it is hands-off. I generally have all of the ingredients in my pantry and ready to go.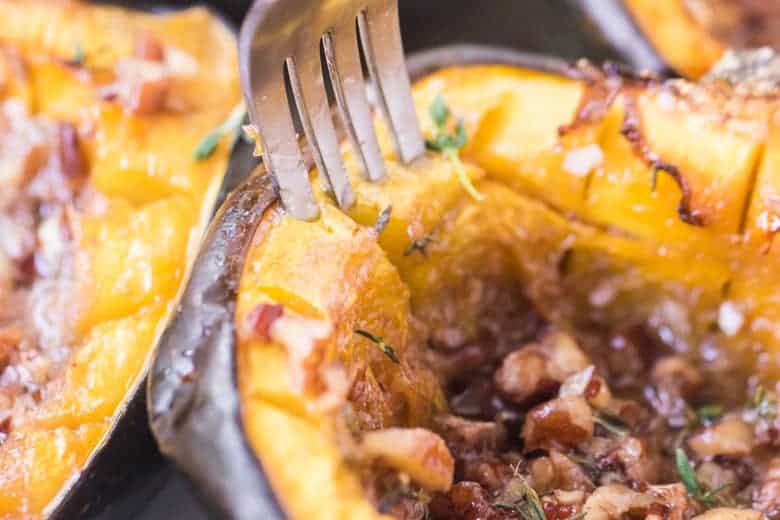 Plus, acorn squash come with their own little bowls that make a beautiful display for a passed platter and easy cleanup for the host.
PRO TIP: If you are having trouble initially cutting the squash, place it in the microwave for 1 minute before cutting to soften it.
So how do you make this delicious acorn squash recipe? Let me show you!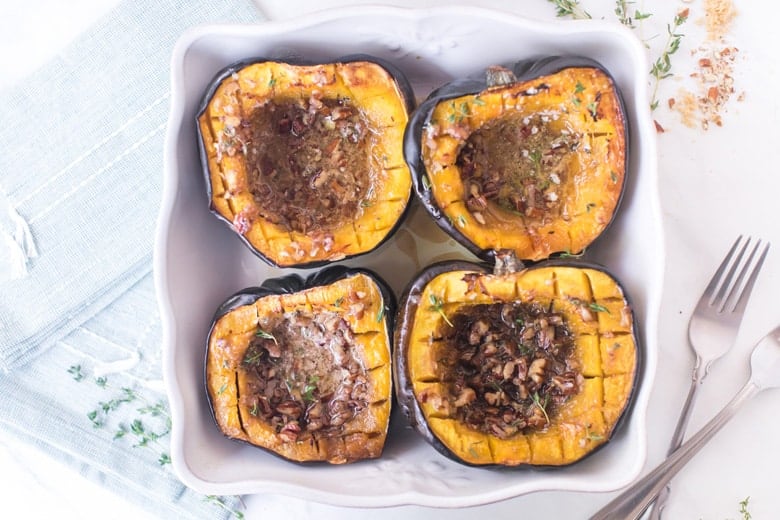 Begin by carefully cutting acorn squash in half starting at the stem and working you way down to the squash.
FACT: Acorn squash are sometimes called pepper squash or Des Moines squash.
Place squash face down (skin side up) on a parchment lined baking sheet. Pour ¼ water directly onto the pan and bake for 30 minutes.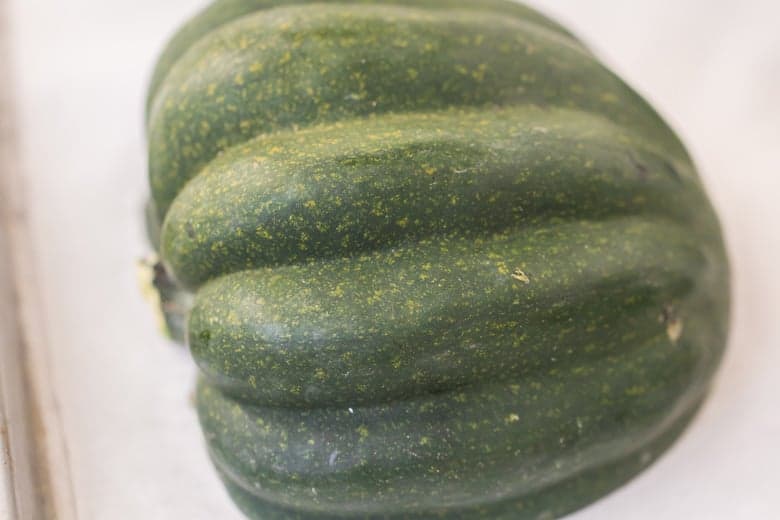 Take squash out of oven and wait 5-10 minutes before carefully scooping out the seeds. They should come out easily.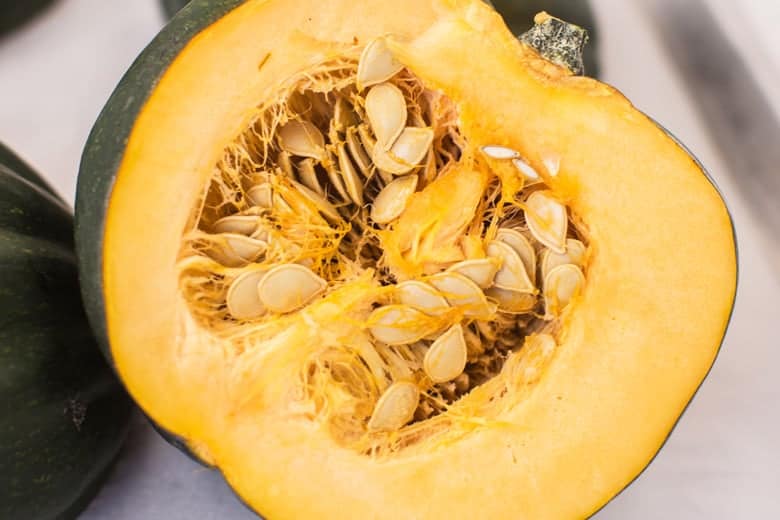 With a sharp knife, add in diagonal slashes along the inside of the squash, about 2 inches apart.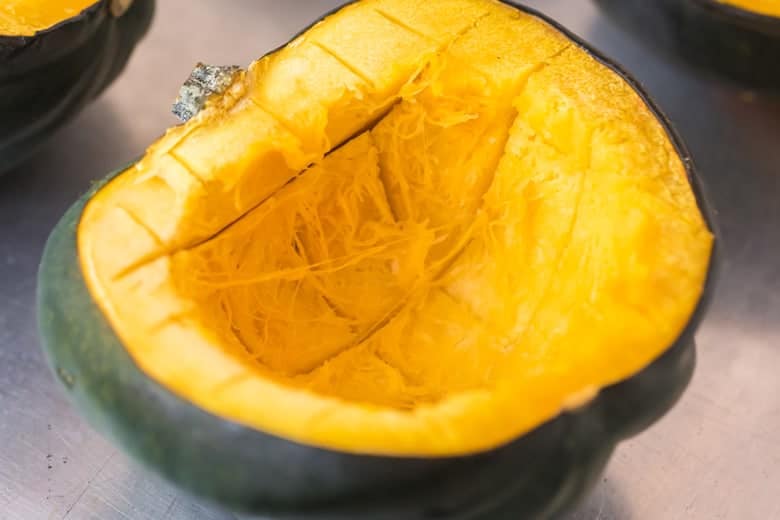 Cut squash by making vertical and horizontal slashes to make a diamond pattern. Be careful not to pierce the skin so the juices do not leak out of the bottom of the squash during baking.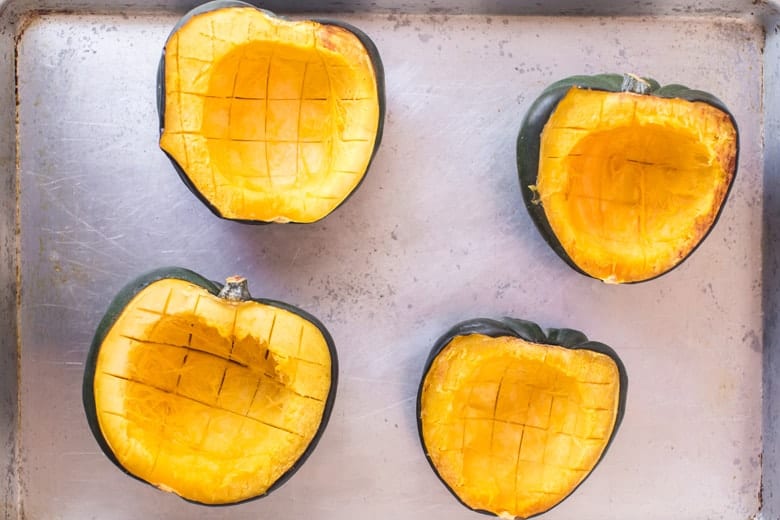 Evenly divide all of the stuffing ingredients and add them into the "bowl" of the acorn squash.
Butter
Maple Syrup
Pecans
Fresh Thyme
Brown sugar
Place squash halves back into the oven and bake for an additional 30-40 minutes or until squash is fork tender.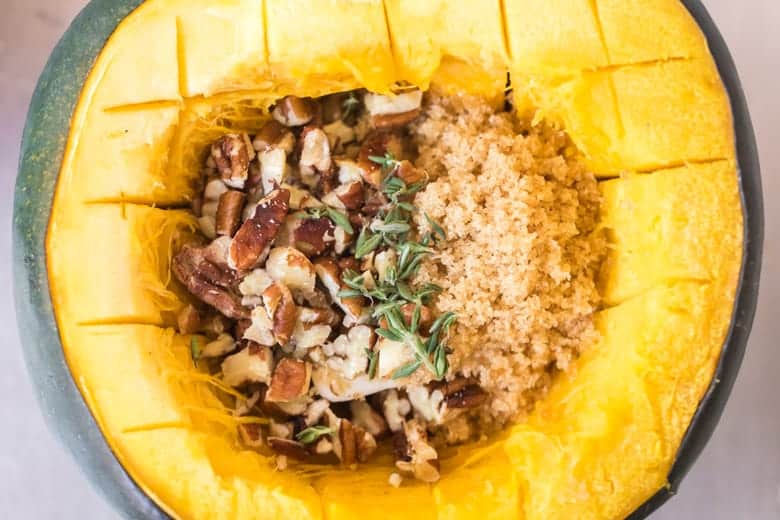 Be sure to scoop the buttery mixture and pour it over the sides of the squash to coat it before eating.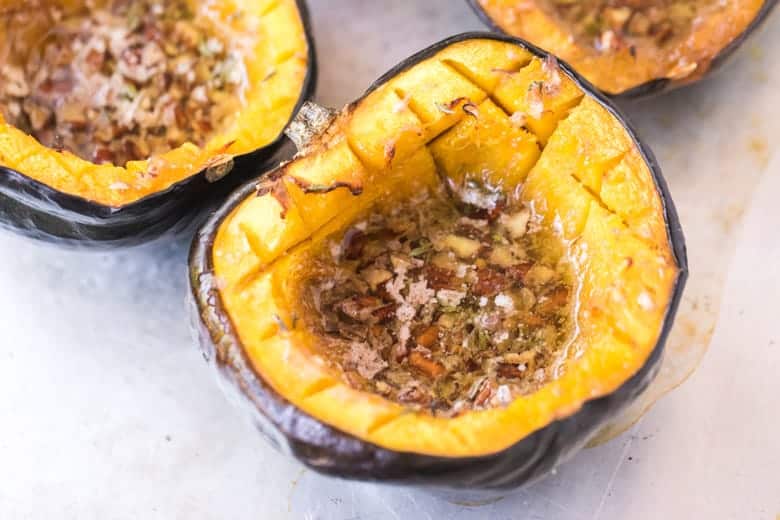 If you liked this squash side dish, you might also like these:
Questions you might have about how to bake acorn squash:
Why bake it upside down before removing the seeds? It will not only make it super easy to remove the seeds and stringy bits (which can be a pain beforehand), but it also helps to add life to an older, drier squash. The added water helps add a little extra moisture into the squash and plumps it up.
Do I have to serve it in the skin? I prefer to eat directly from the squash when I prepare it this way. You are free to scoop out the insides onto a place and eat it from there.
Can you eat acorn squash skin? All squash skin is edible, but it doesn't mean it is pleasant. Acorn squash have a thick skin that is tough to chew even after baking. I don't recommend it.
Do you have any recommendations for main dishes to serve with acorn squash? It is a very verstile vegetable, so it goes with A LOT of things! But here are a few of my favorites:
What does acorn squash taste like? Acorn squash is mild, buttery and nutty with a slightly sweet flavor.
Why do you score an acorn squash? Cutting through the flesh allows it to cook faster and more even, but also lets the delicious buttery flavors penetrate so every bite is even more delicious!
Can I use unsalted butter? You can, but you might need to add a sprinkle of fine sea salt to mixture.
Can I use maple flavored syrup or lite syrup? You can, but there is a huge difference between real maple syrup and the fake stuff.
You can also use honey, if you wish, just add an additional tablespoons of water to each roasted acorn squash.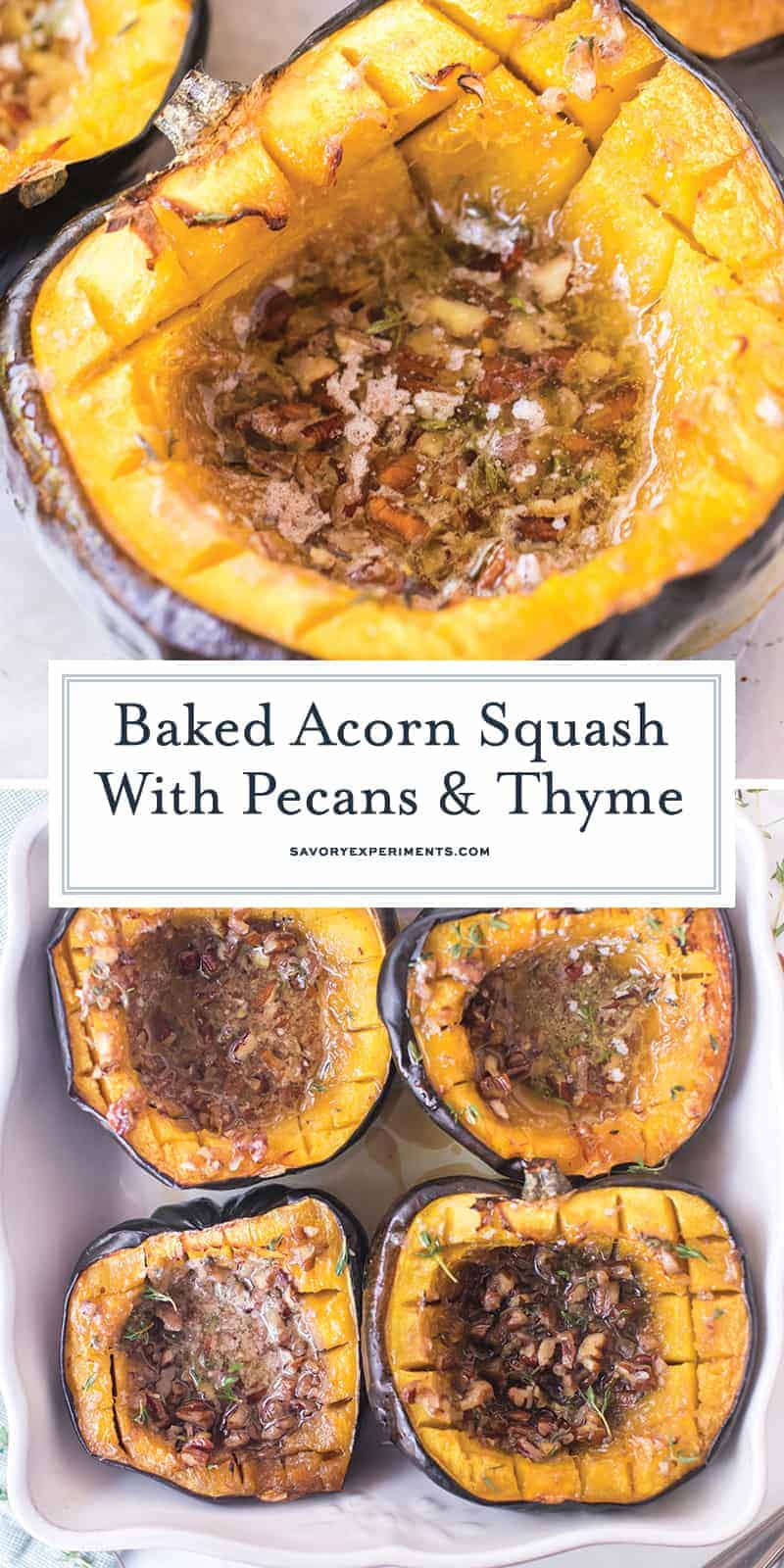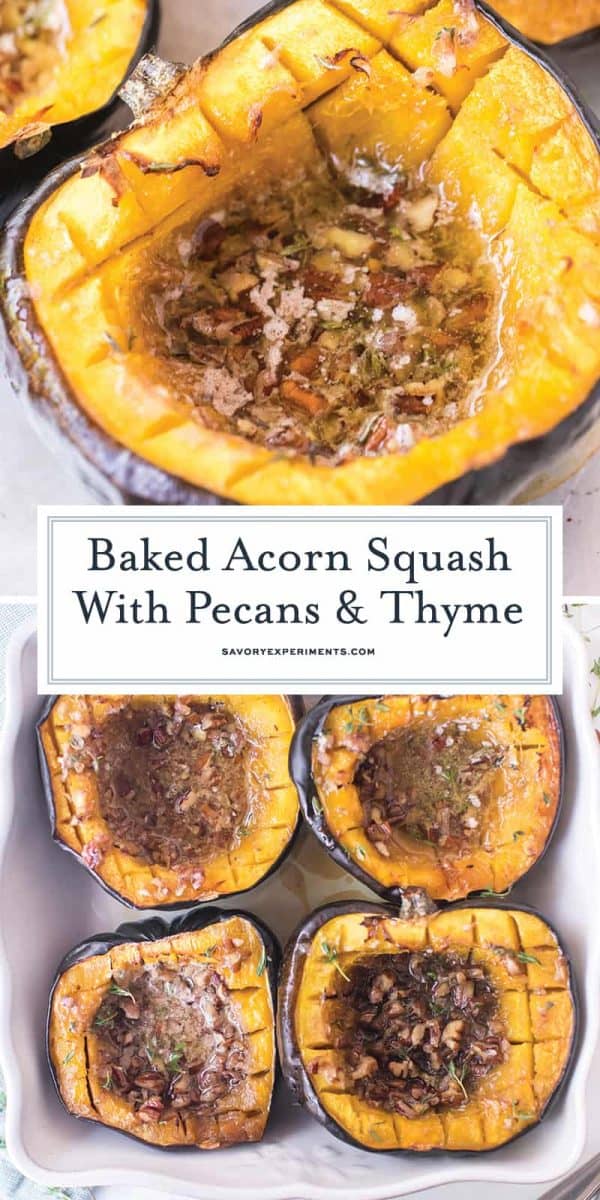 Tools for making Baked Acorn Squash:
Wood cutting board – wood won't dull your knives like plastic and if treated properly, has natural antimicrobial properties.
Good knife – Global is my favorite! They are worth the price, I promise. I am kind of obsessed with them and store them tucked away so no one else can use them. Including hubby. Hands off my good stuff!
Rimmed Baking Sheet– another kitchen staple! You'll use this for prep work, roasting and much more. I have 7 at my house. You'll need a medium size one for this recipe.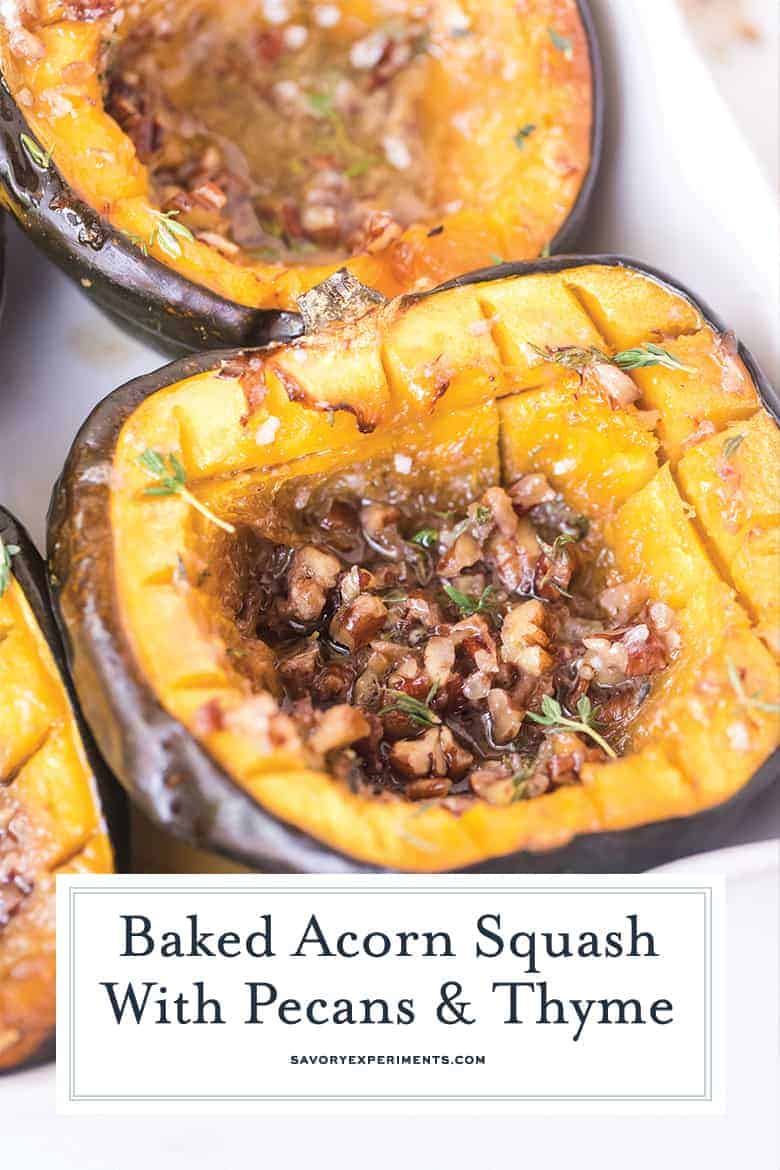 ---
---