If a warm, creamy, rich soup is your idea of comfort food, this Butternut Squash Soup recipe is perfect for you.
Butternut Squash
What is butternut squash? Butternut squash is a winter squash that grows low on a vine. It is yellow with a signature bell shape. It tastes similar to a pie pumpkin with its sweet and slightly nutty golden flesh.
While squash is typically thought of as a fall and winter vegetable, you can find it in the grocery store all year long. I will fully admit though, that I am typically buying it in abundance in the fall.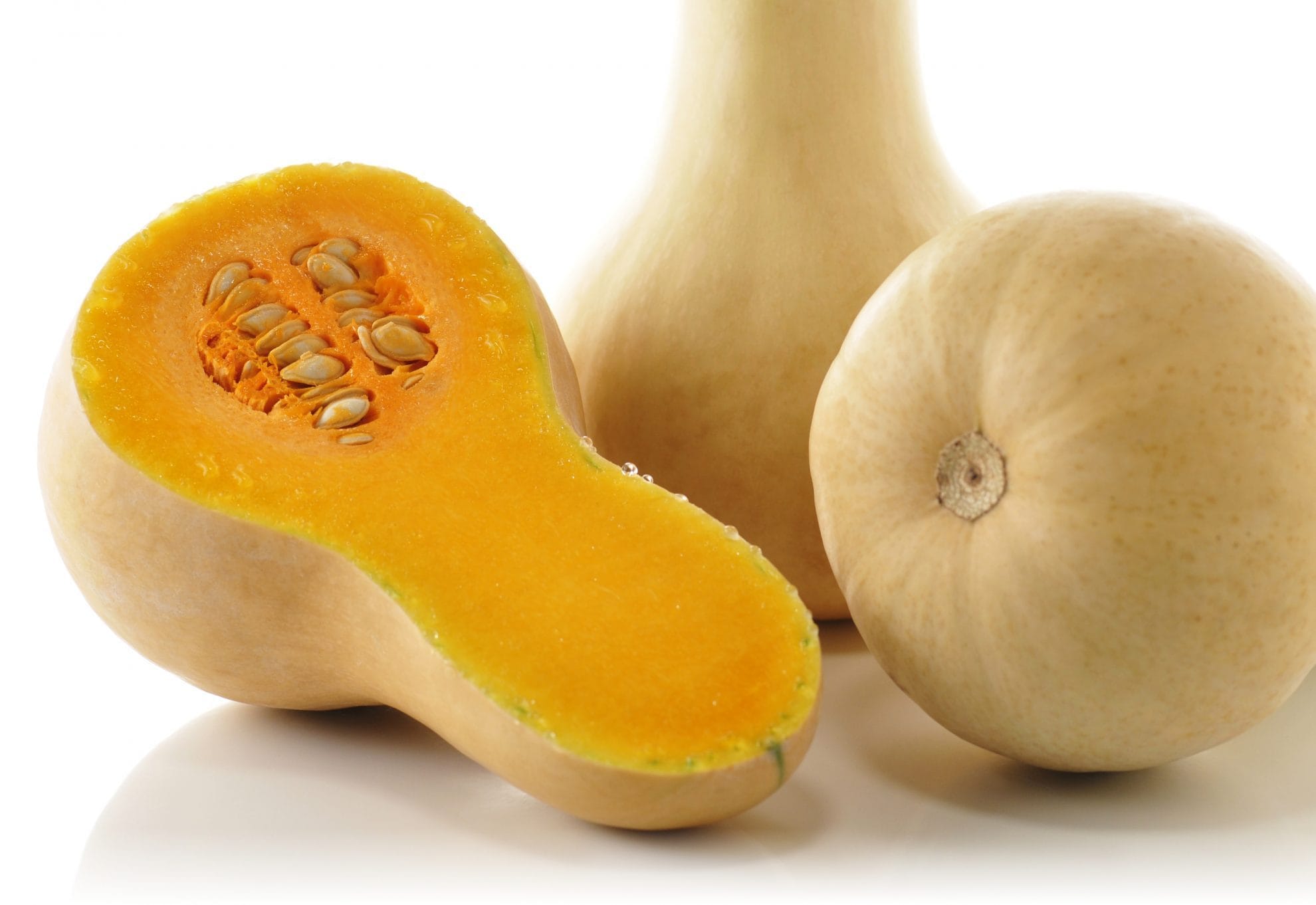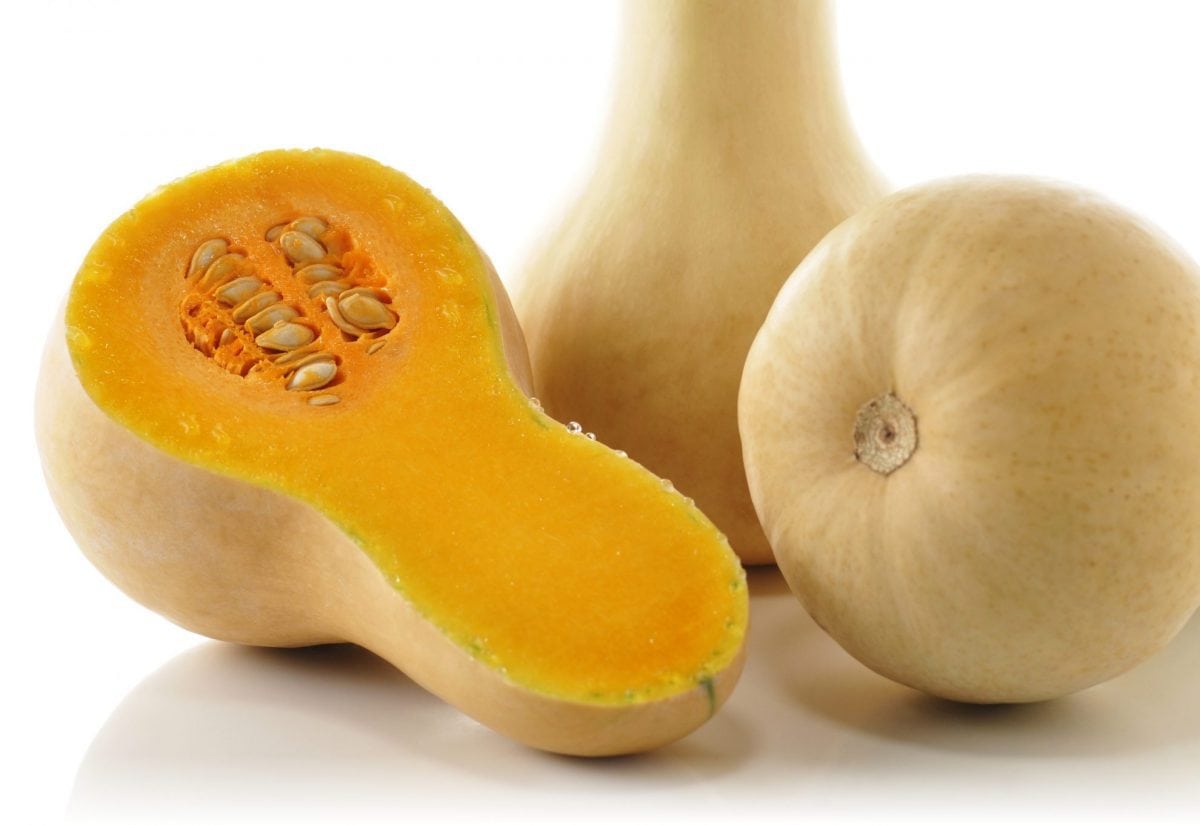 It is naturally flavorful on its own, but I like to throw in some warm spices for depth. They really play well with the natural sugars in the squash itself.
Butternut squash is also freezer friendly, so if you happen to grow it in your garden or find a clearance of the favorite veggie, buy it, chop it into cubes and freeze in airtight plastic bags for up to 6 months. Just enough time to get you through to the next squash season.
Fun fact: Butternut squash is actually a fruit! We tend to treat it as a vegetable however because it has a lot of those characteristics and is great whether it is roasted, sauteed, or used in baked goods. It is also an excellent source of fiber, Vitamin C, magnesium, and potassium.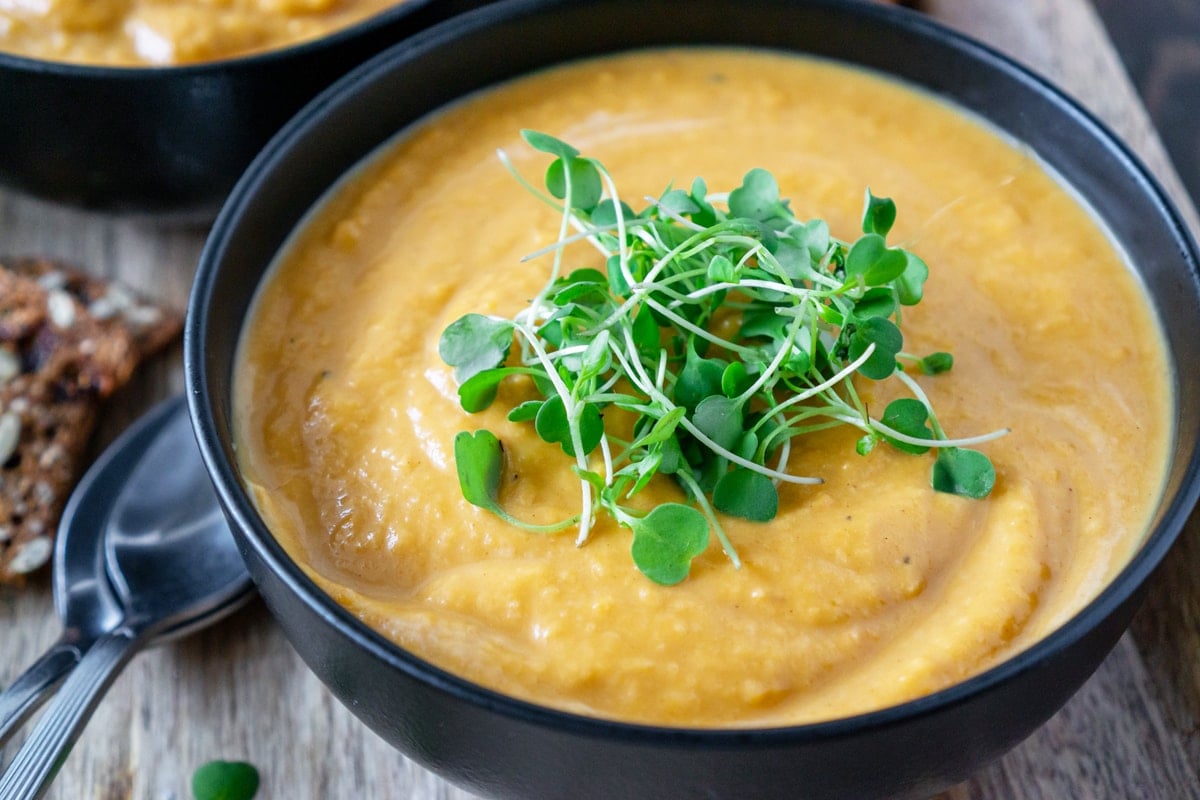 How to Peel Butternut Squash
Butternut squash can be a bit of a chore to peel and chop. You'll need a Y peeler and a large knife to conquer the job.
Cut off both stem ends.
If the skin is thin enough, use a Y-peeler to remove the remaining skin. If the skin is too thick, sit the squash sitting with the skinniest side upright and using your knife, carefully slice the skin off in a downward motion, rotating all the way around.
Cut the squash in half lengthwise. Some are very dense, you might need to cut all the way around and work your knife to get it apart.
Using a spoon, scrape out the seeds. If you have a grapefruit spoon, these work wonders for seeding!
Cut into quarters, width wise. From here, cut into half rings or chop into 1 inch cubes.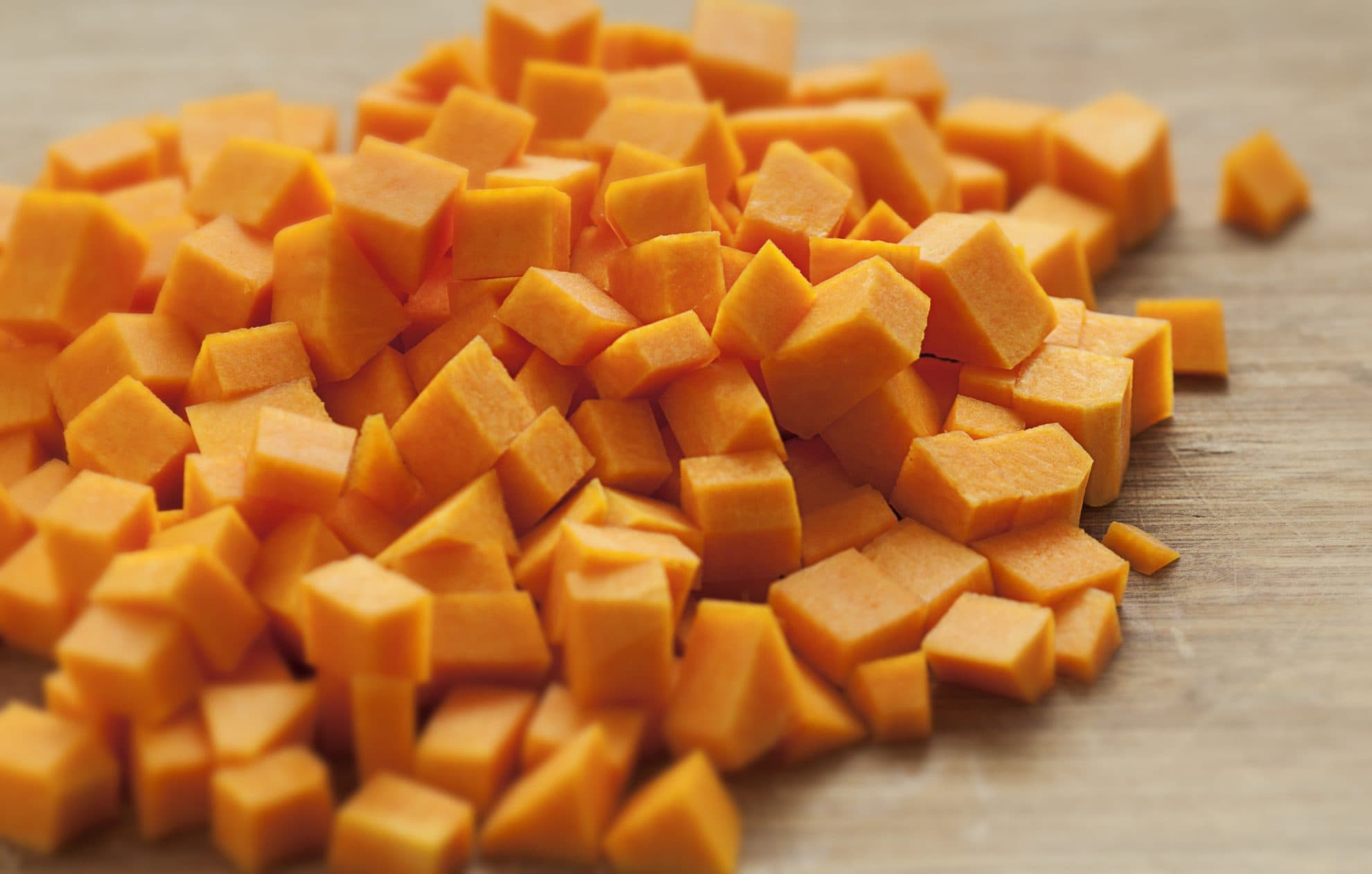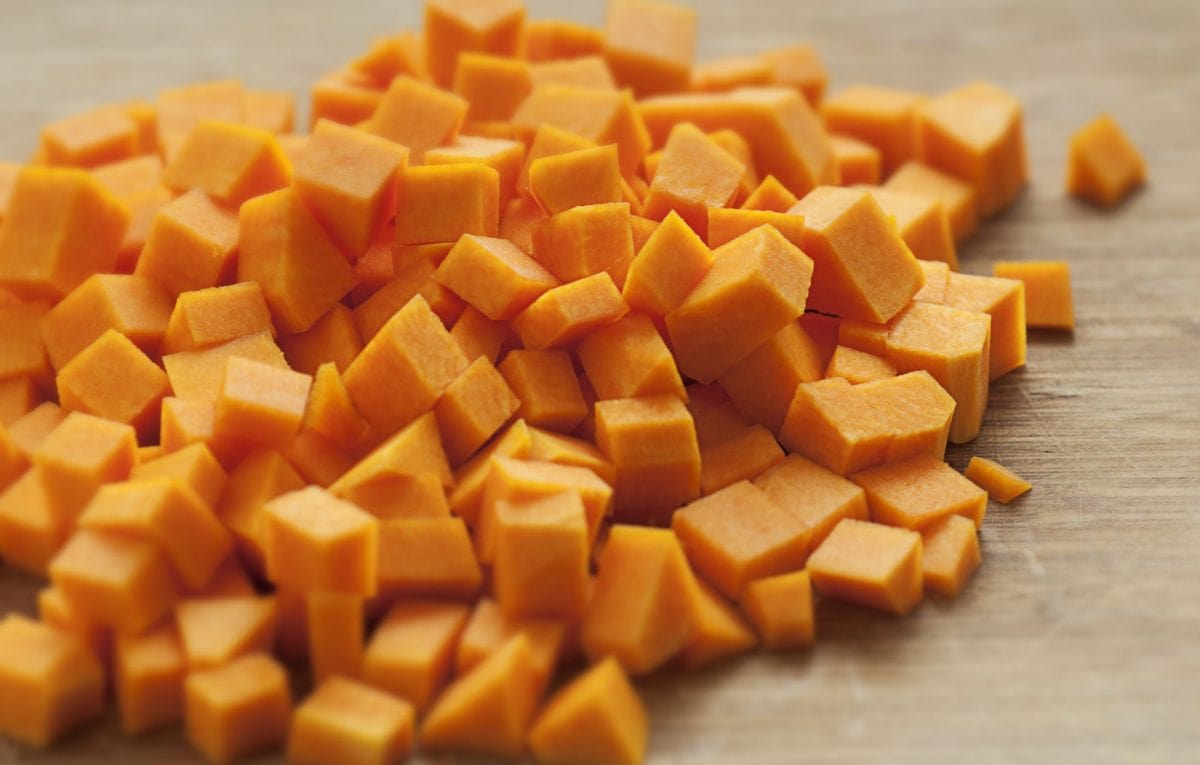 Butternut squash is also typically sold pre chopped in the produce section of the grocery store.
Creamy Soup (Without Cream)
Butternut squash is an absolutely delicious vegetable to use in soups as it is hearty and full of starch which will give your soup that wonderfully rich texture you love without using a thickener or creamy.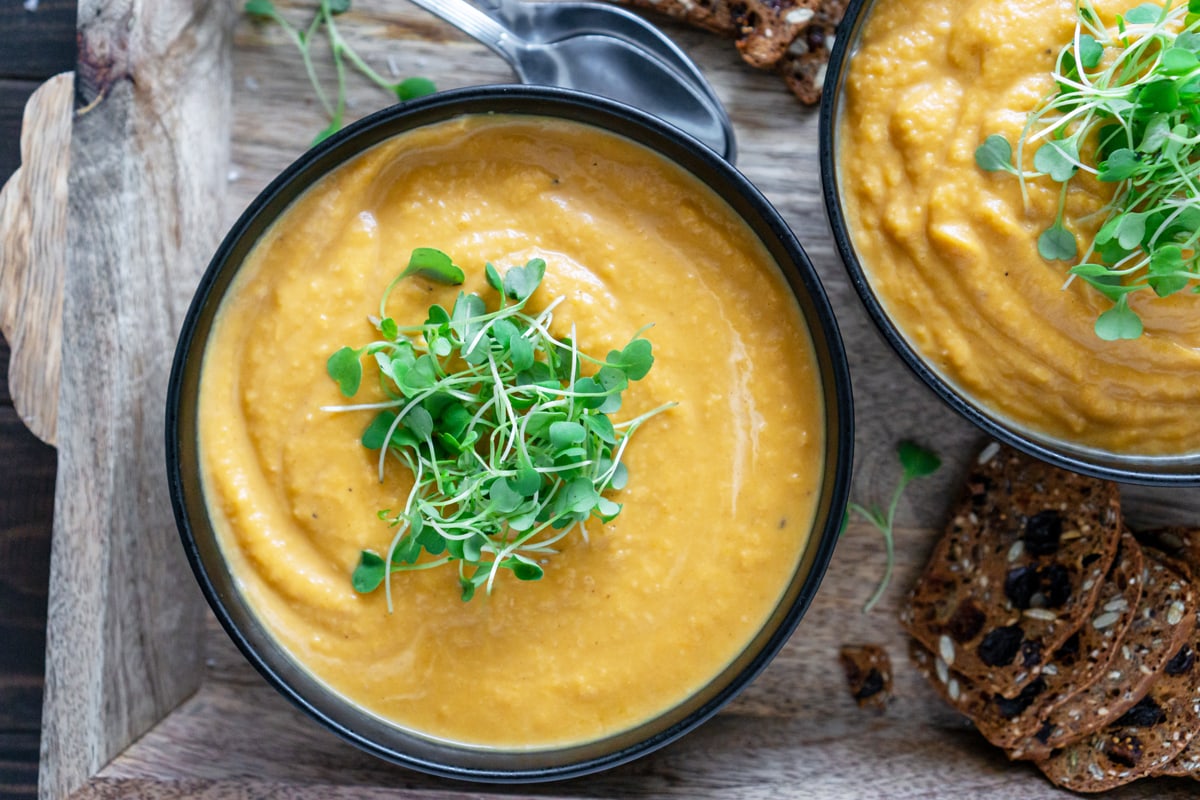 But it isn't just the squash flesh, this is also a butternut squash soup with apple. The flavors of apple not only complement squash perfectly, but apple butter adds to the texture and apple juice replaces an otherwise unami broth or plain water.
And lastly, yogurt. Yep, yogurt is the dairy that helps to pull this soup together. I strongly suggest using Greek yogurt, it has been drained longer and therefore is much thicker.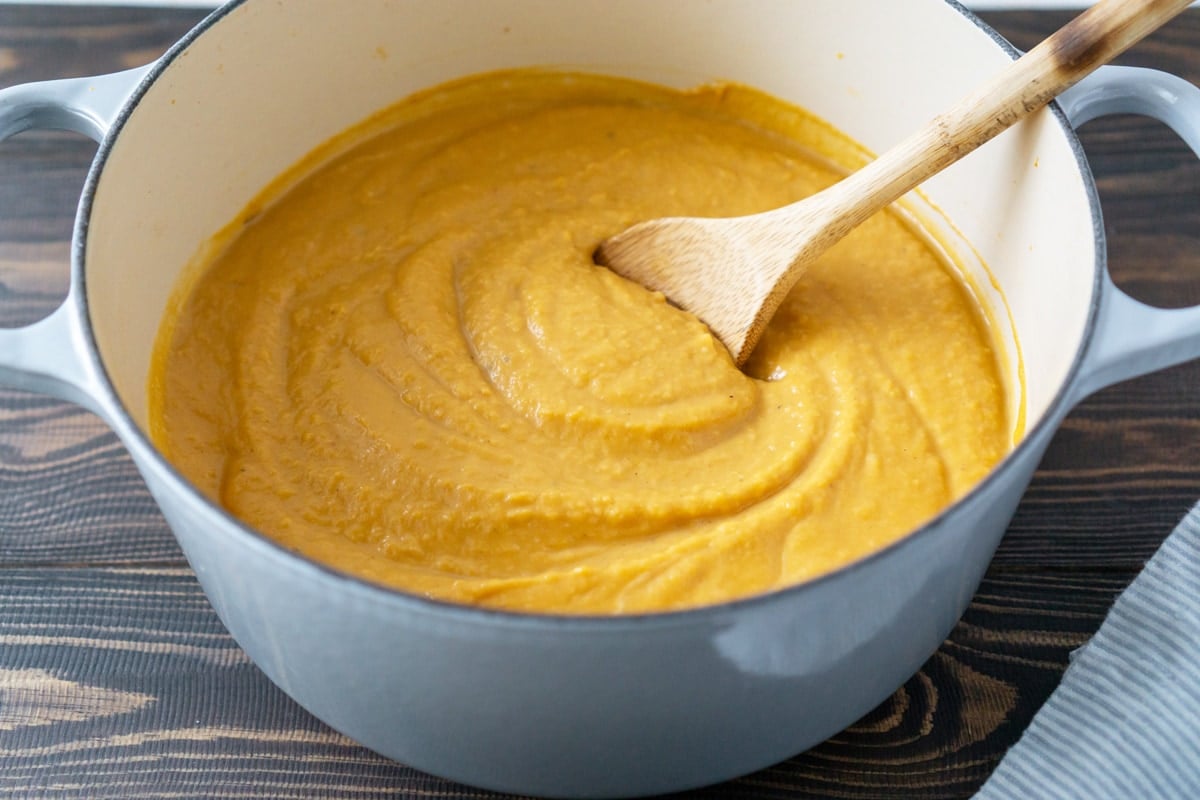 For a Vegan Butternut Squash soup, feel free to use an almond or oat milk based yogurt or coconut milk.
How to Make Butternut Squash Soup
First, gather your ingredients. The list seems a little lengthy, but I promise, it is all fairly standard with the exception of the star ingredients: squash, apple butter and apple juice. The preparation is super easy.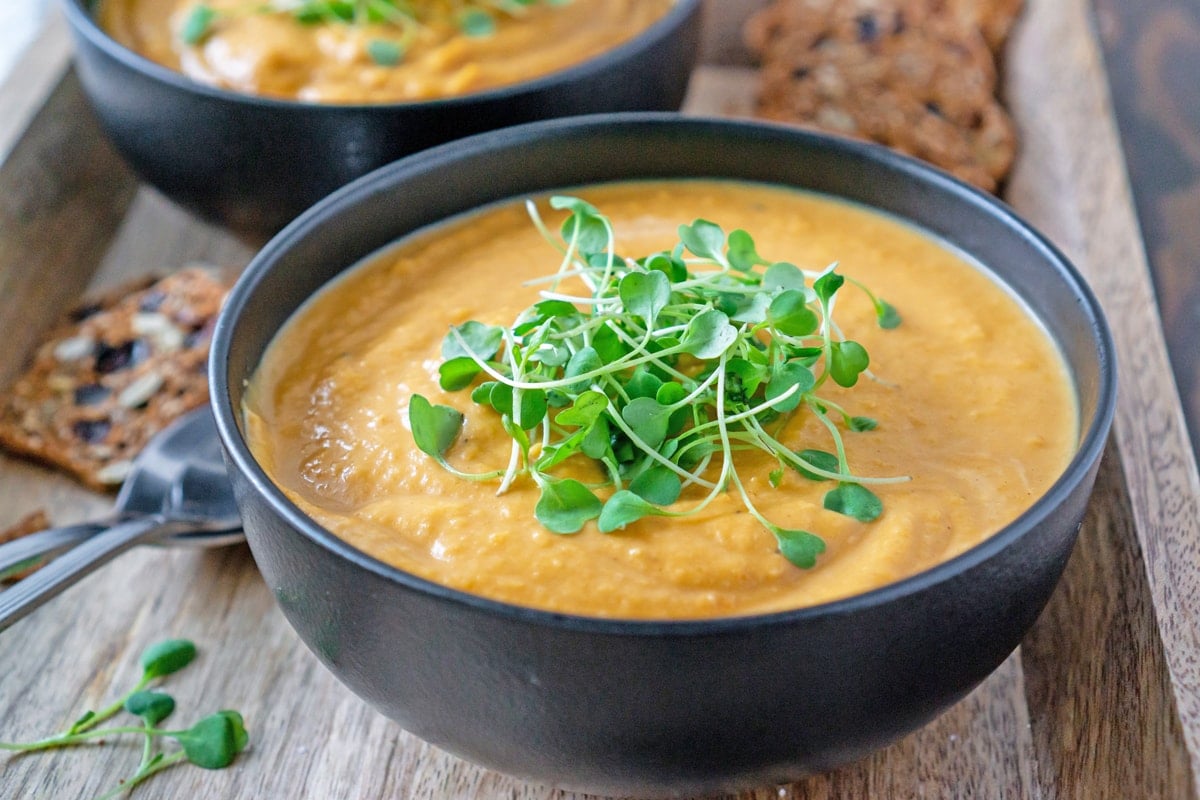 Stars: Butternut squash, apple butter, apple juice
Produce: white onion and garlic sauteed with olive oil
Low Sodium Vegetable Broth– low sodium allows you to control the salt, use more or less depending on the thickness you desire, chicken broth is also an option
Plain Greek Yogurt: yogurt alternative or coconut milk
Seasonings: cinnamon, marjoram, thyme, nutmeg, coarse salt, black pepper
The trick to this recipe to bring out natural flavors is to roast the butternut squash first. Do not skip this step. Browning caramelizes the fruit using the maillard reaction.
Season butternut squash and then arrange in a single layer until form tender and browned.
Meanwhile, saute chopped onion and garlic cloves in olive oil.
Blend remaining ingredients with cooked squash and onion mixture using a large food processor or immersion blender.
Transfer to a large Dutch oven (if not already in one).
Bring to a low simmer until fully heated. Do not boil, otherwise the yogurt can separate from the rest of the soup.
Garnish soup with sauteed mushrooms, microgreens (pictured), jumbo lump crab meat or a dollop of plain Greek yogurt or sour cream.
Slow Cooker or Instant Pot
This soup can be made in either the slow cooker or instant pot, but will still require roasting the squash and blending using an immersion blender or food processor.
Slow Cooker: place all of the ingredients into the slow cooker and set to low for 2 hours. The benefit is being able to serve it at parties and also that the heat will not have the chance to get high enough to seperate.
Instant Pot: Combine everything except Greek yogurt, set to low manual pressure for 4 minutes. Use quick release and whisk in Greek yogurt before serving.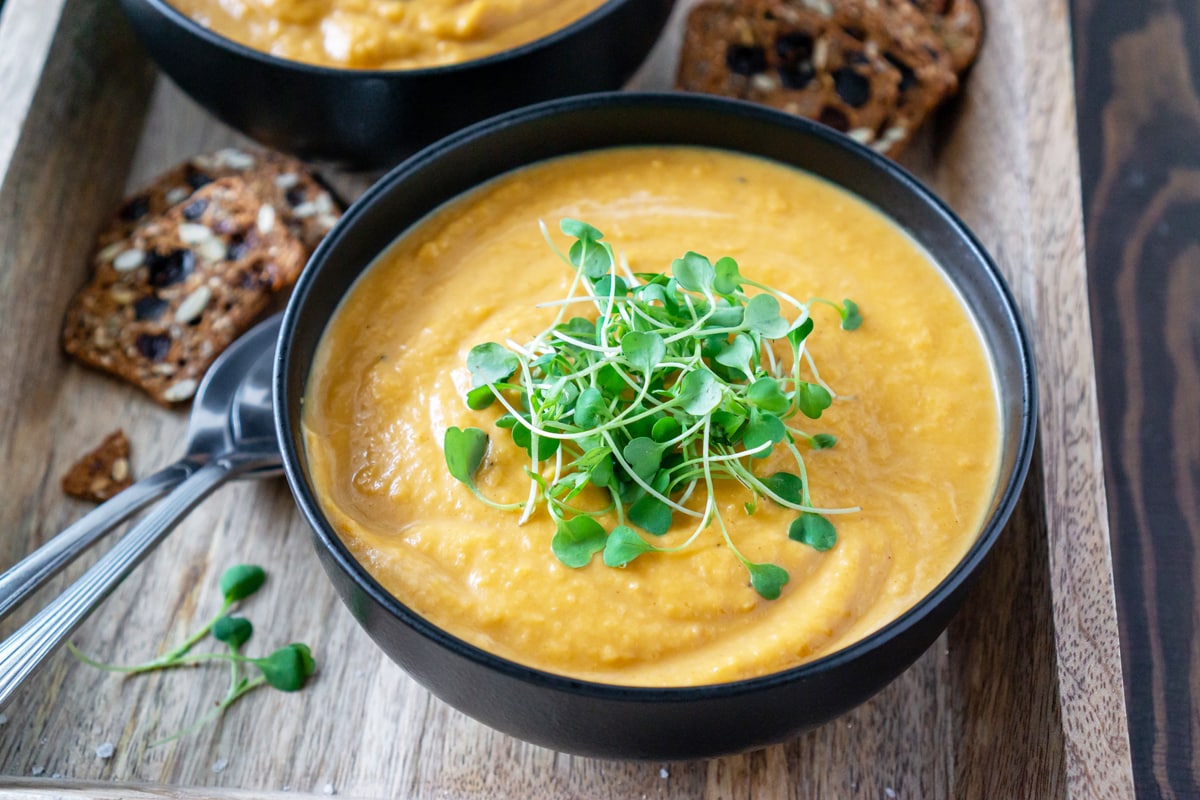 Storage & Freezing
You can make this easy butternut squash soup ahead of time and warm it up, although make sure you taste test and correct seasoning, especially salt, before serving.
Or, freeze it and save it for a rainy night. Place in an airtight container and store for up to 3 months. Frozen soups can lose a little flavor, so make sure you adjust the seasoning with salt and pepper before serving.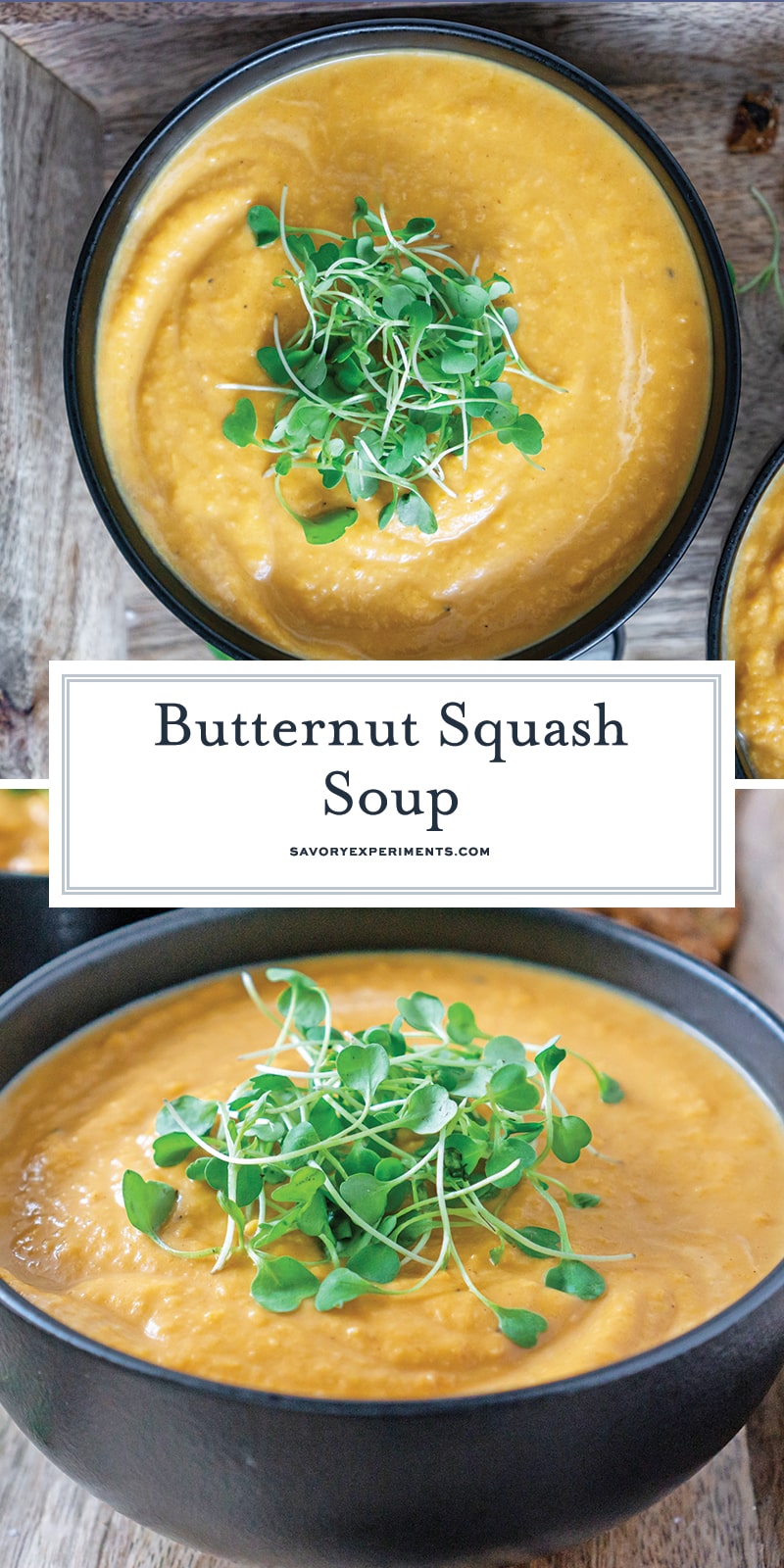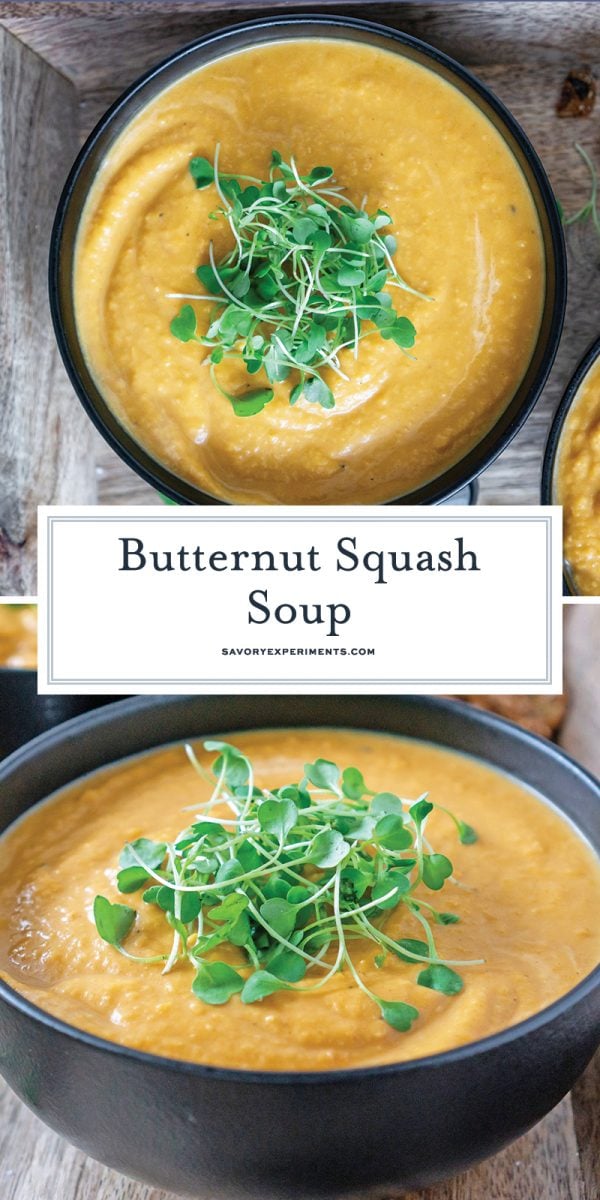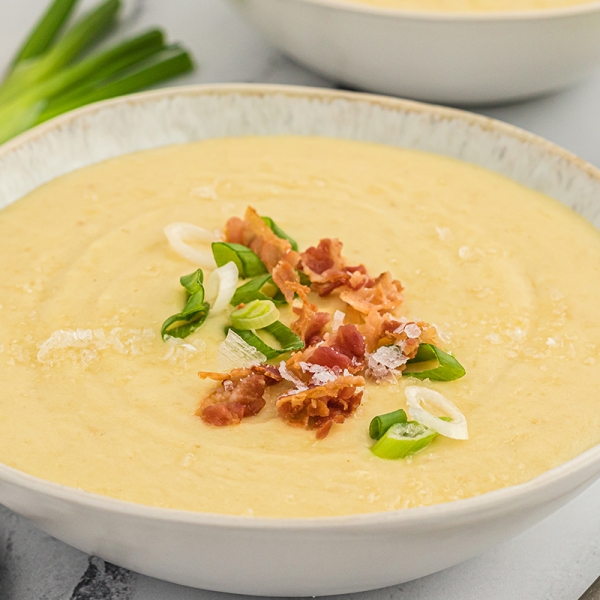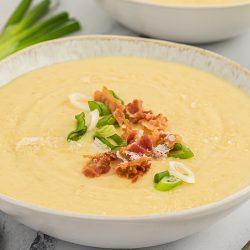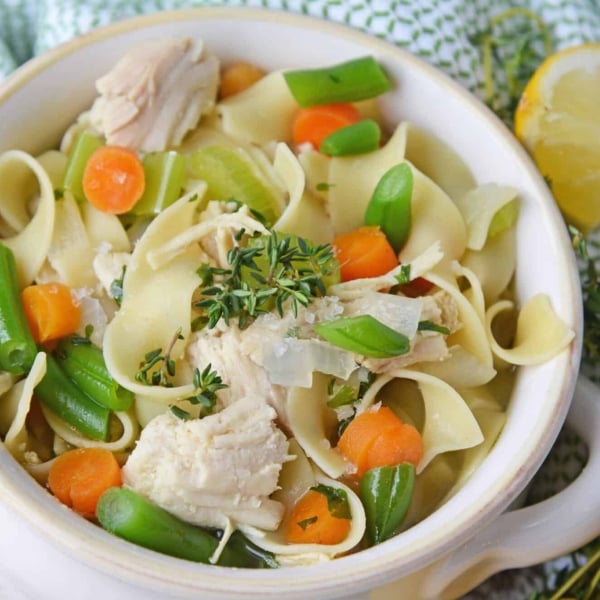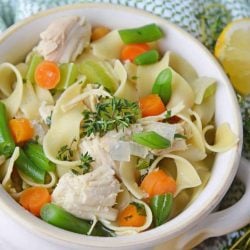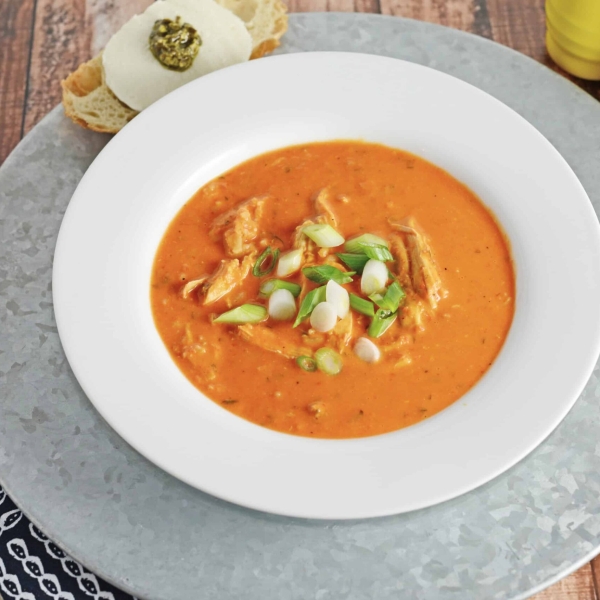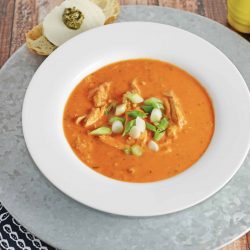 10-Minute Roasted Red Pepper and Hummus Soup
Gluten and dairy free soup made from pre-cooked items, only takes 10 minutes. Sub tofu for vegan version.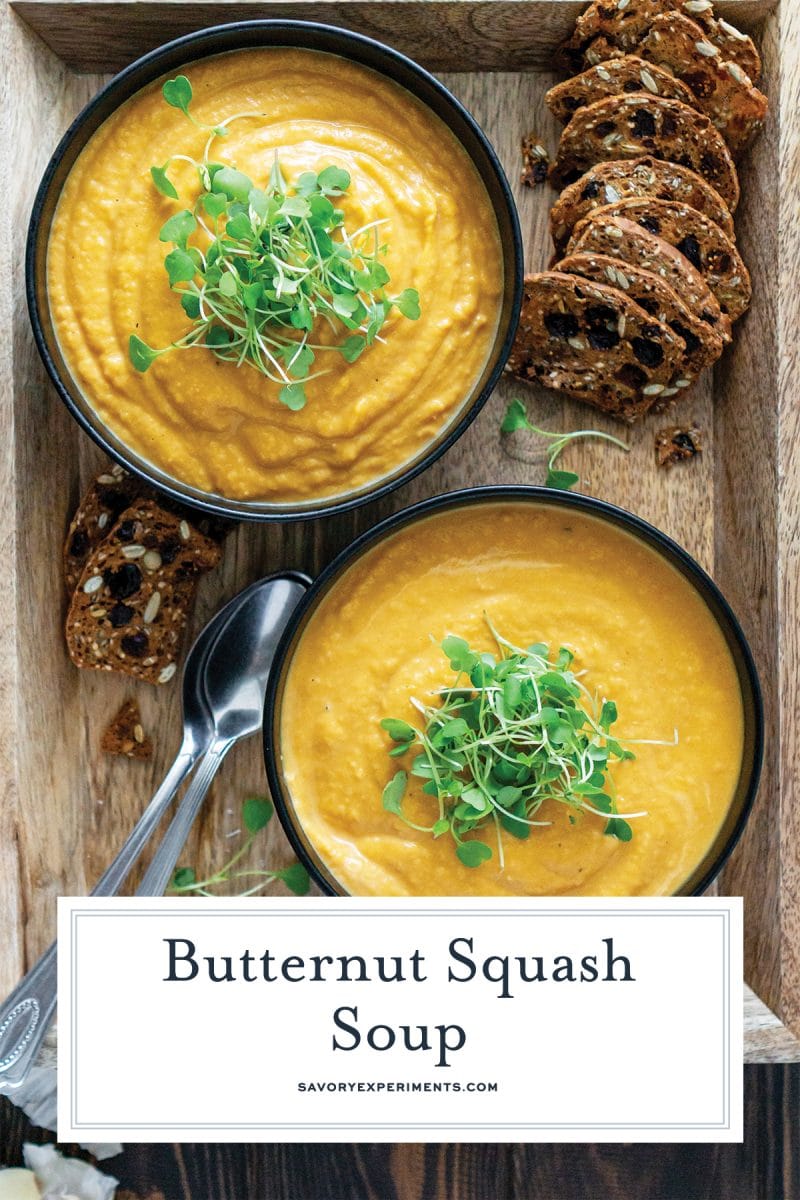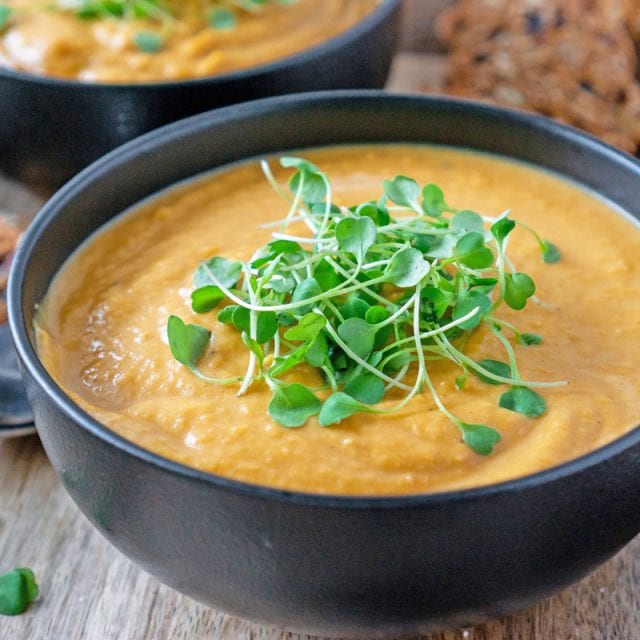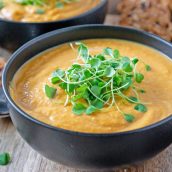 Roasted Butternut Squash Soup Recipe
Easy, homemade butternut squash made with apple and Greek yogurt. Make ahead and freezer friendly- perfect for a cozy winter night.
Instructions
Season the butternut squash lightly with salt and pepper, then arrange the butternut squash in a single layer on a rimmed baking sheet, roast for 30-35 minutes or until squash is fork tender.

In a large Dutch oven or stock pot, heat the olive oil over medium high heat. Add the onion and garlic, sauteing until soft and fragrant, approximately 5 minutes.

Add the cooked squash, apple butter, apple juice, vegetable broth, yogurt, cinnamon, marjoram, thyme, nutmeg, salt and pepper to the onion mixture. Blend well using an immersion blender.*

To serve, ladle into soup bowls and top with desired garnishes.

If you've tried this recipe, come back and let us know how it was in the comments or ratings!
Notes
*If you do not have an immersion blender, transfer to a food processor. You may have to work in batches.
Nutrition
Calories:
323
kcal
,
Carbohydrates:
67
g
,
Protein:
5
g
,
Fat:
6
g
,
Saturated Fat:
2
g
,
Cholesterol:
8
mg
,
Sodium:
1219
mg
,
Potassium:
1036
mg
,
Fiber:
6
g
,
Sugar:
37
g
,
Vitamin A:
24505
IU
,
Vitamin C:
51
mg
,
Calcium:
210
mg
,
Iron:
2
mg