This post has been sponsored by the National Pork Board. All thoughts and opinions are my own.
Fall is in the air and school is in session, which means one thing: we are all on the hunt for easy weeknight meals. Pork from Safeway is your answer, foodie friends!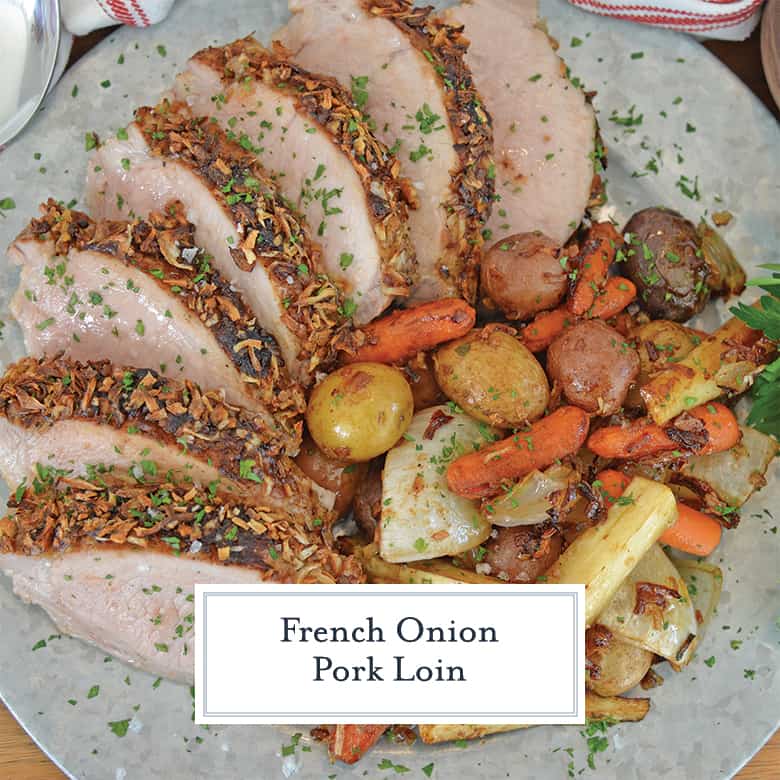 This French Onion Pork Loin with potatoes, carrots, parsnip and onion is the perfect one-dish weeknight meal!
Pork is one of my favorite go-to proteins for many reasons. The first is obviously because it is delicious. But there are actually many others.
Pork is high in protein, thiamine, B6, phosphorus, niacin, potassium, riboflavin and zinc.
Many cuts of pork are considered extra-lean sources of protein, with under 200 calories per serving. These include pork loin, pork sirloin, and pork loin.
Pork loin has less fat per serving than a skinless chicken breast.
Pork sirloin and pork loin meet the American Heart Association's criteria for a heart-healthy food.
Eight cuts meet the USDA guidelines of a "lean" meat. They include the New York and sirloin roasts, ribeye, New York, sirloin and porterhouse chops, 96% lean ground pork, and tenderloin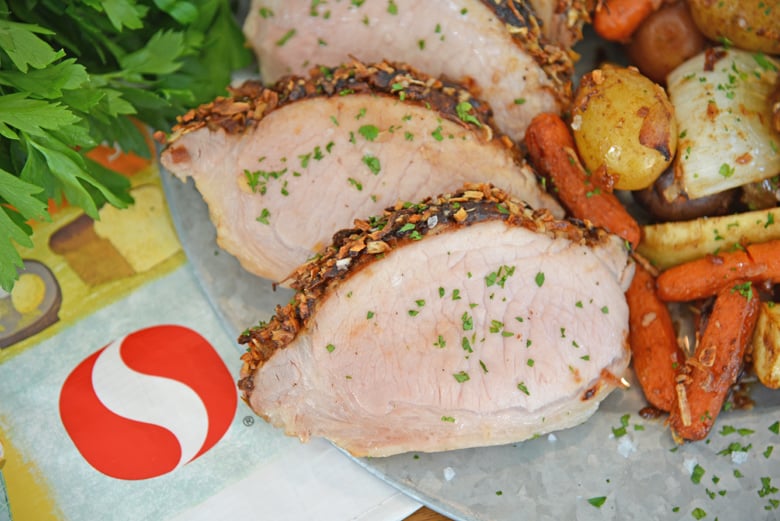 Now that we've cleared up several pork misconceptions, let's talk about common cooking mistakes. No food, no matter what it is, tastes good overcooked.
One of my college roommates swore up and down she hated pork and beef. Turns out, her mother just cooked all meats to a crisp. After I made her my mother's famous Onion Grilled Pork Chops (at the correct temperature), she quickly changed her mind and has been a meat lover ever since!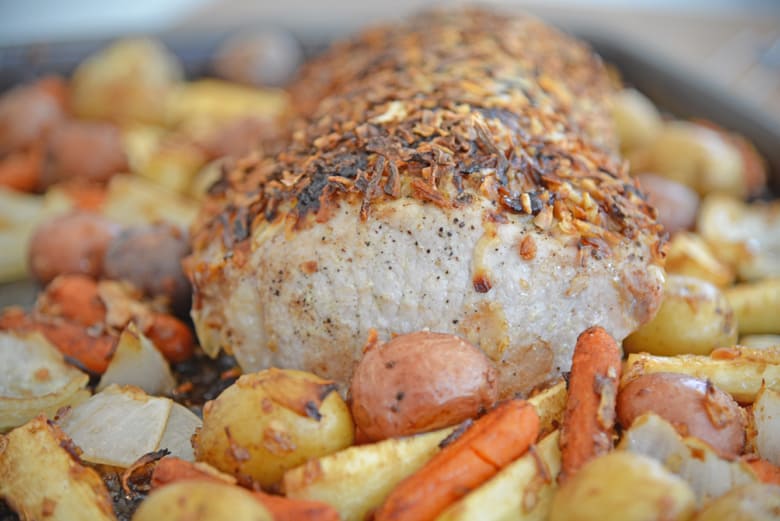 For flavorful and tender pork, there is a misconception that the juices must run clear and all meat is white. Pork should actually be a light blush color and register at an internal temperature of 145 degrees (per the USDA and FDA Food Code).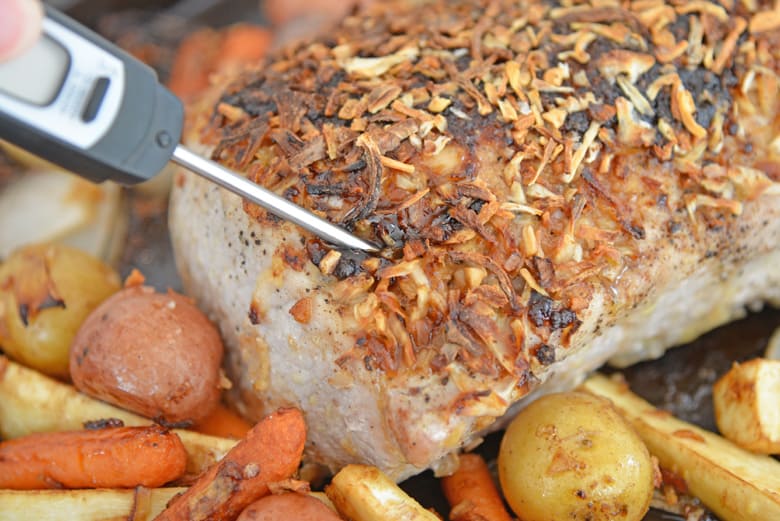 Don't be afraid of using a meat thermometer. There seems to be stigma attached to using one and not being able to magically know the internal temperature of your meat.
Newsflash: ALL PROFESSIONAL CHEFS HAVE ONE ON THEIR LAPEL.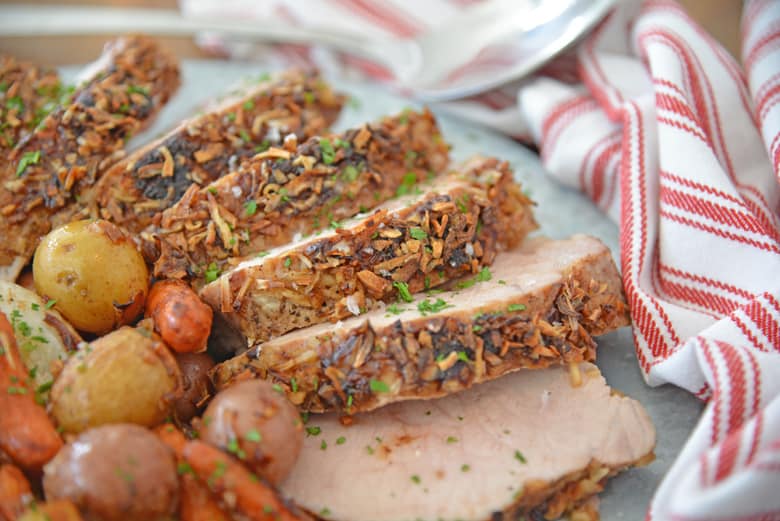 This French Onion Pork Loin uses the already assembled seasoning of onion soup packets. Combined with a small amount of olive oil, it caramelized and makes for a slightly crunchy, sticky, and sweet bark for vegetables and meat.
PRO TIP: Cut your vegetables into similar sizes, but vary the shapes. This way, they will cook evenly but offer differing textures and visual appeal.
I've used parsnips, carrots, onion and potatoes. Using hearty vegetables that can withstand a long cook time is imperative, as is making sure they are similar sizes so they cook evenly. No one wants a raw potato!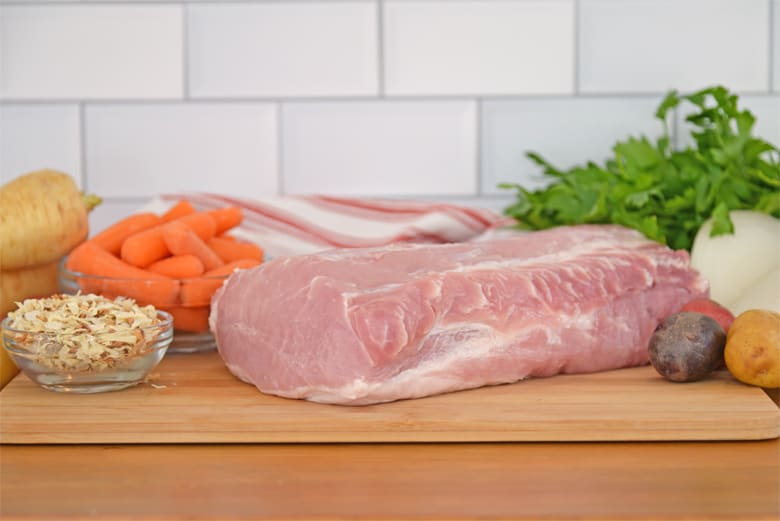 All of these items can be purchased at your local Safeway store. Look for the pork loin in the meat case, and make sure to check the Safeway mobile app for coupons!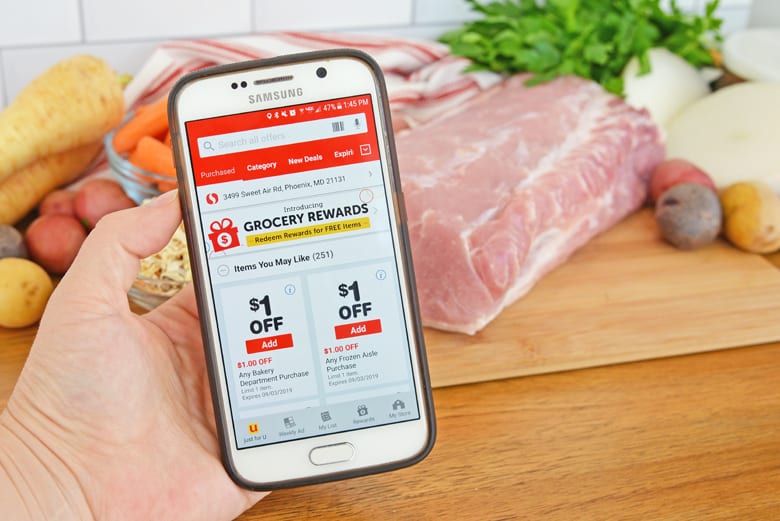 PRO TIP: Make sure to break up any clumps of onion soup mix to make sure everything gets evenly seasoned.
It will take you about 5 minutes to get all these items into a roasting pan, about the same amount of time it takes to the preheat the oven. Then, set it and forget it!
When you hear the DING 35 minutes later, your whole dinner will be ready and waiting. All you need to do now is wait for your family to ohh and ahh over this delicious dinner.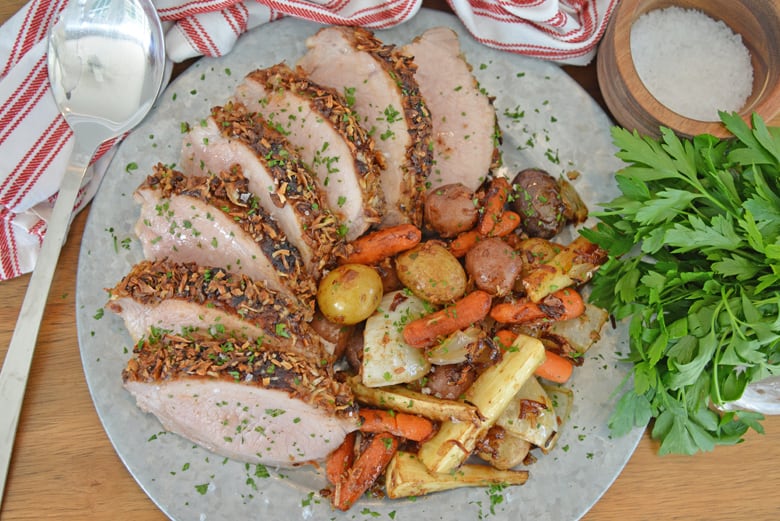 The next time you think "what should I make for dinner tonight" try out this recipe!
Do I have to use a loin? You can use just about any cut of pork you like! I would suggest using a similar weight so you don't throw off the seasoning to protein ratio. Cooking times will vary based on the size and thickness of the cut you choose.
Can I substitute the vegetables? Feel free to use whatever veggies you prefer but to keep the seasoning to vegetable ratio correct, try to use a similar amount of hearty vegetables that can withstand 35 minutes in the oven.
Most pork recipes use salt, why doesn't yours? Onion soup mix contains salt, so the recipe doesn't not require any additional salt.
Different brands contain different amounts of salt. If you think yours needs a little additional, it can always be added at the end.
What is the difference between a pork tenderloin and pork loin? They both come from the loin, but are shaped different and have different texture profiles.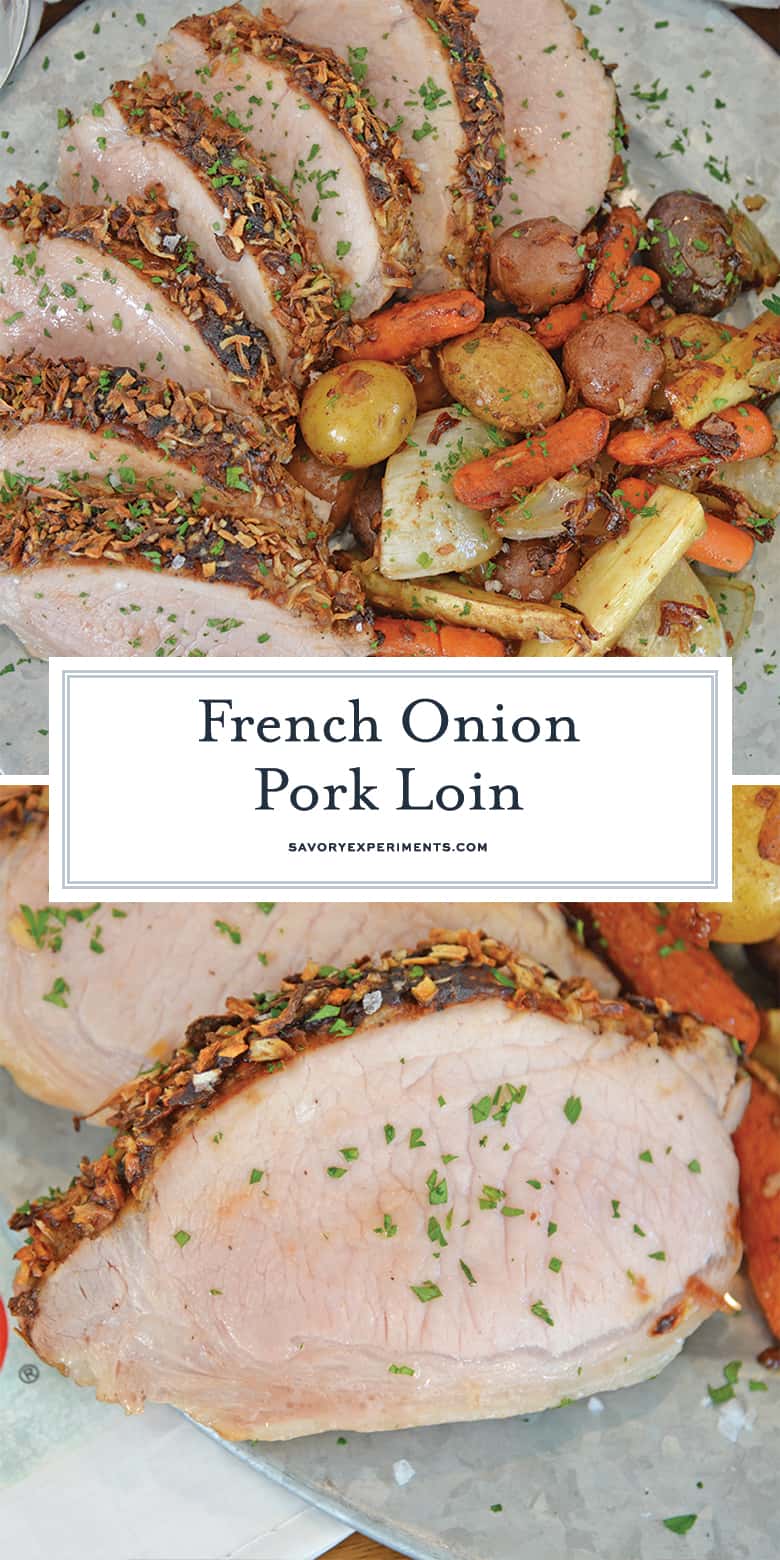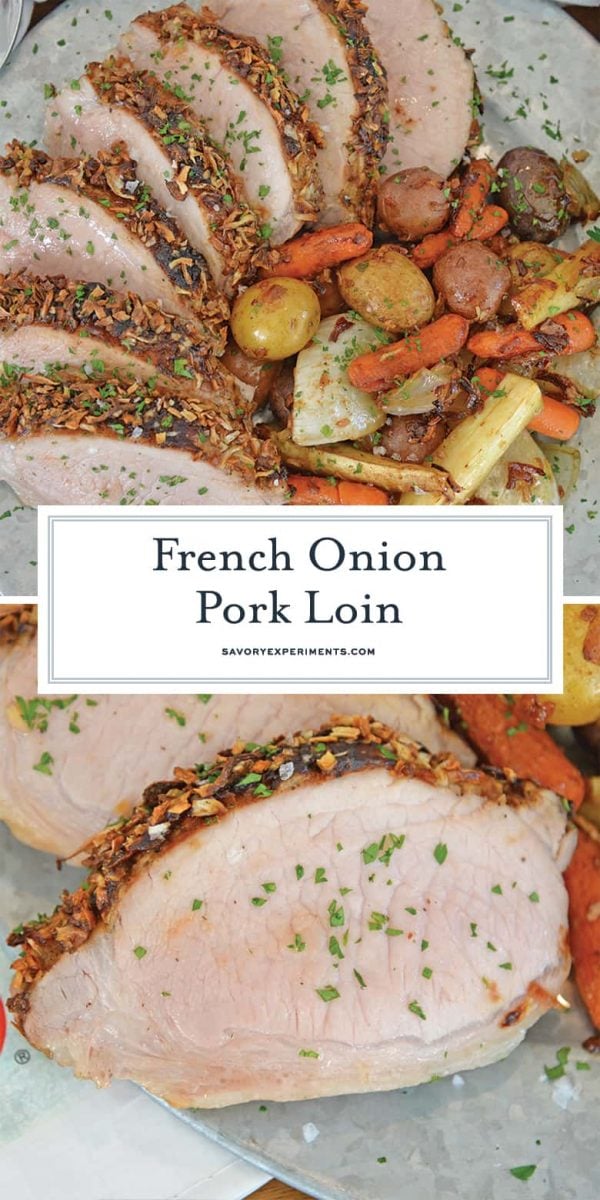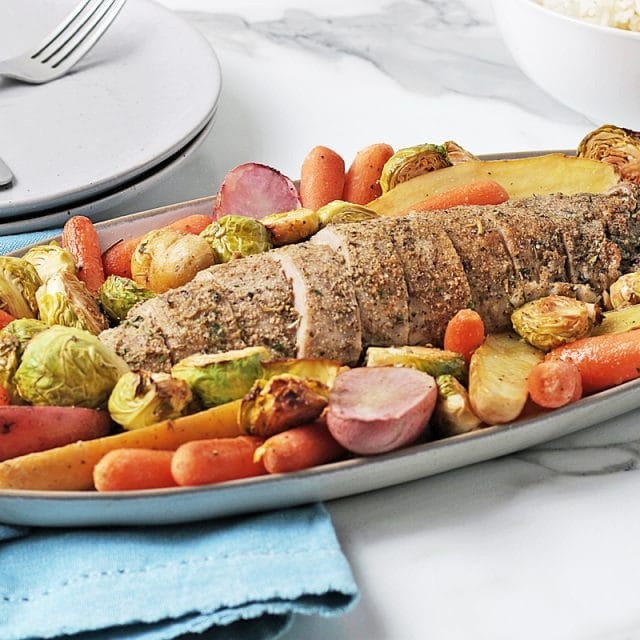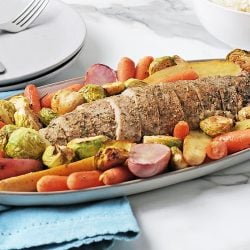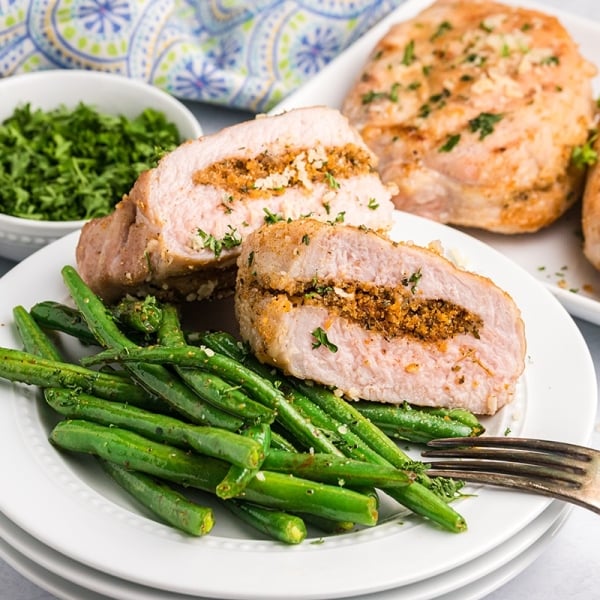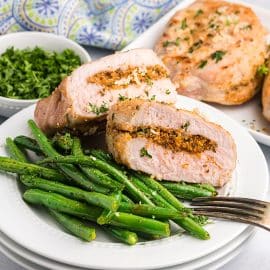 Grilled Stuffed Pork Chops
Grilled Stuffed Pork Chops are an easy grilled pork recipe. Herb marinated pork is stuffed with bread crumbs, herbs and Parmesan cheese and grilled to flavorful perfection in just 15 minutes!
See The Recipe!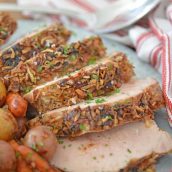 French Onion Pork Loin
This French Onion Pork Loin with potatoes, carrots, parsnip and onion is the perfect one-dish weeknight meal!
Instructions
Preheat the oven to 350 degrees. Line a rimmed baking sheet with aluminum foil.

Combine 2 tablespoons olive oil with baby carrots, parsnips, baby potatoes and white onion in a large mixing bowl. Toss to coat.

Add one onion soup packet to the vegetables, making sure to break up any clumps of seasoning. Toss well and set aside.

Trim pork loin of any excess fat, rinse, and dab dry with a paper towel.

Rub entire loin with remaining 1 tablespoon of olive oil. Season with black pepper and French onion soup packet, breaking up any large clumps.

Place pork loin in the center of your prepared baking sheet. Surround it with seasoned vegetables.

Roast for 35 minutes or until meat thermometer registers at 145 degrees.

Remove and allow to rest for 5-10 minutes before slicing.

If you've tried this recipe, come back and let us know how it was!
Notes
*Sizes of pork loin can vary. This roast was 2.8 pounds.
**Each packet contains about 3 tablespoons of seasoning
Nutrition
Calories:
638
kcal
,
Carbohydrates:
22
g
,
Protein:
84
g
,
Fat:
22
g
,
Saturated Fat:
6
g
,
Cholesterol:
230
mg
,
Sodium:
232
mg
,
Potassium:
1850
mg
,
Fiber:
5
g
,
Sugar:
5
g
,
Vitamin A:
2942
IU
,
Vitamin C:
21
mg
,
Calcium:
54
mg
,
Iron:
3
mg
Visit the National Pork Board for even more delicious pork recipes!