This Cobb salad recipe brings together so many amazing ingredients into a single dish on one plate! If you've been searching for a delicious salad recipe to liven up your lunches, be sure to give this one a try.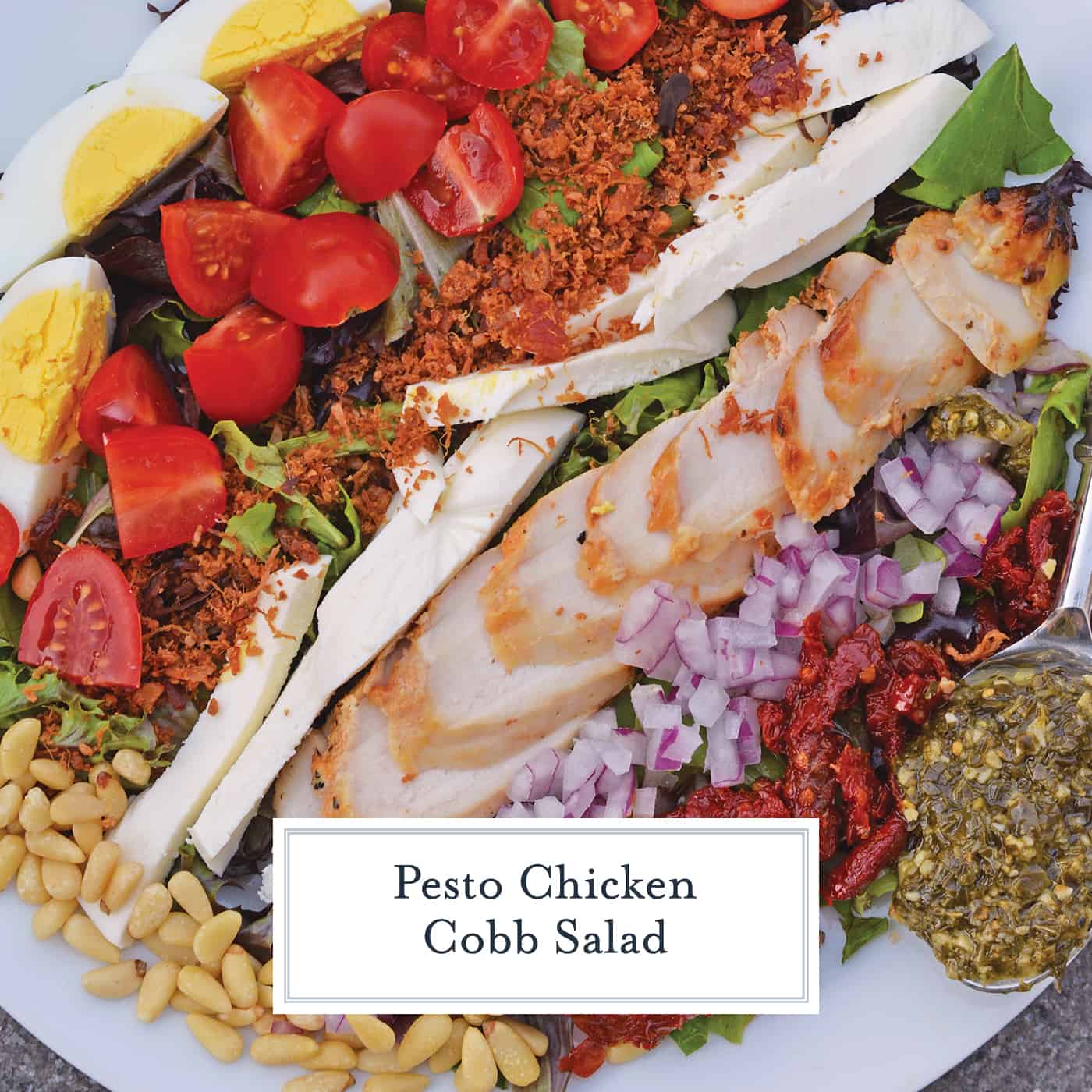 Pesto Chicken Cobb Salad is a delicious salad recipe using traditional Cobb ingredients with chicken and a pesto dressing. The perfect starter or entree!
What is a cobb salad? Remember this acronym: EAT COBB. Memorize that and you will never again forget the elements in a classic Cobb salad.
Egg, Avocado, Tomato, Chicken, Onion, Bacon, Blue Cheese. The Cobb salad originated in Los Angeles at the restaurant The Hollywood Brown Derby. A California classic.
The salad is actually named after the owner of that restaurant, Richard Howard Cobb. The restaurant was known for its contemporary American cuisine.
However, the legend goes that Mr. Cobb hadn't eaten and it was late at the restaurant. He threw together a mish-mash of things and a cook gave him some bacon and there you go.
Back then, French dressing was king and a Cobb salad was a particular set of components. Nowadays, the Cobb salad has many variations. This Pesto Chicken Cobb is just one, but it is also my favorite.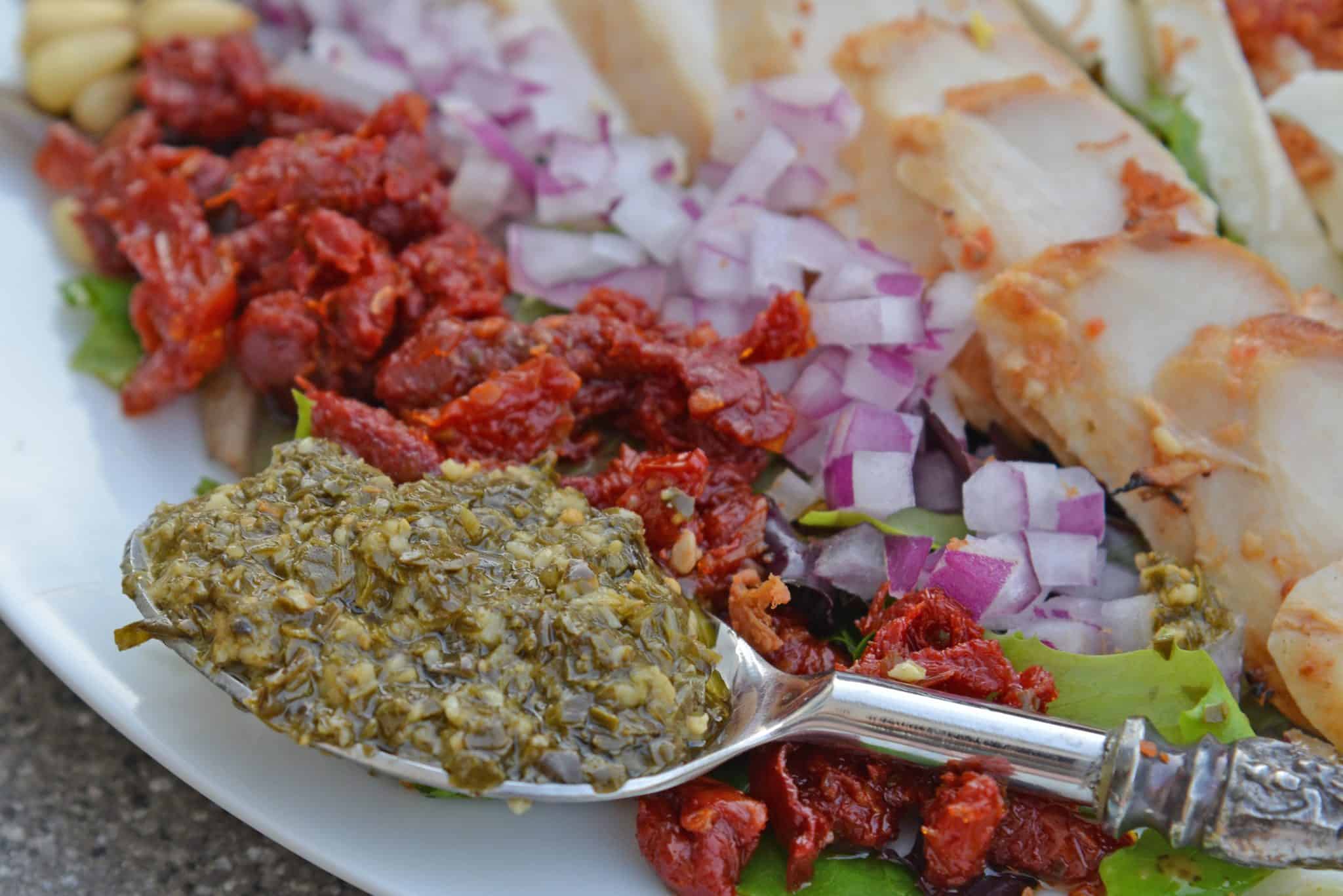 I like to call it an Italian Cobb salad because it swaps a few different ingredients that lean in that direction.
Instead of blue cheese, I use fresh mozzarella. The tomato part of the recipe is doubled. I like the burst from the fresh tomatoes and the zing from the zesty sun-dried variety as well.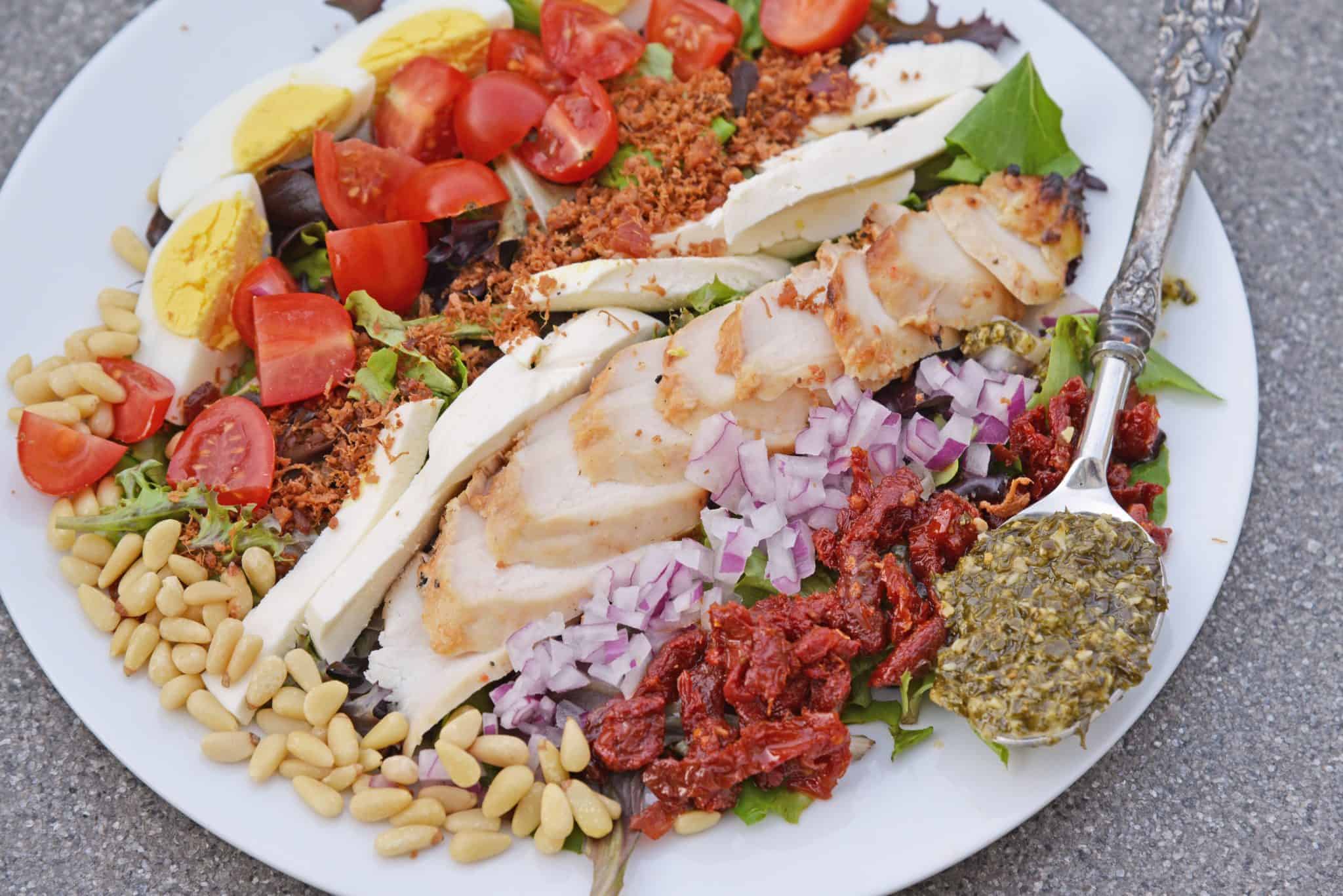 I nixed the avocado entirely, but feel free to add it back in. To replace that buttery rich flavor, I added toasted pine nuts. I am partial to a salad mix that uses tender and filling spinach with spicy and crunchy arugula, but if that doesn't float your boat, use any type of leafy green that does.
If you have the time, I suggest you marinate your chicken overnight for more flavor. Should marinating for that long not be in the cards, start marinating it while you get the rest of the ingredients together.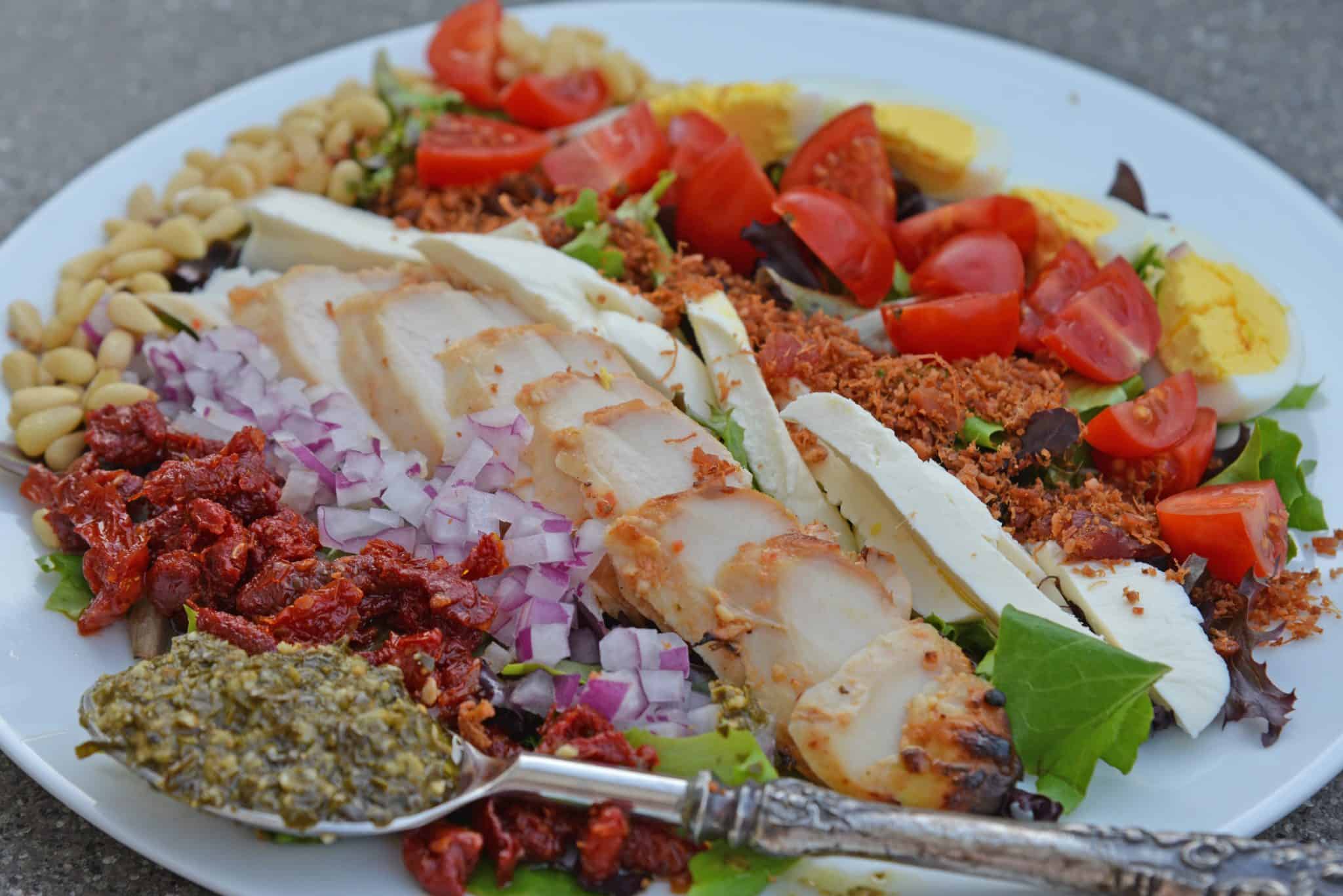 Even an hour will give you a big return on flavor. Italian dressing does the trick perfectly.
The pesto sauce adds a ton of flavor if you are short on marinating time. Should you have time for the chicken to sit and soak up all that flavor, then you are in for one heck of a flavorful experience.
For your pesto, you have options. Make your own pesto or buy some at the store, whatever is easier.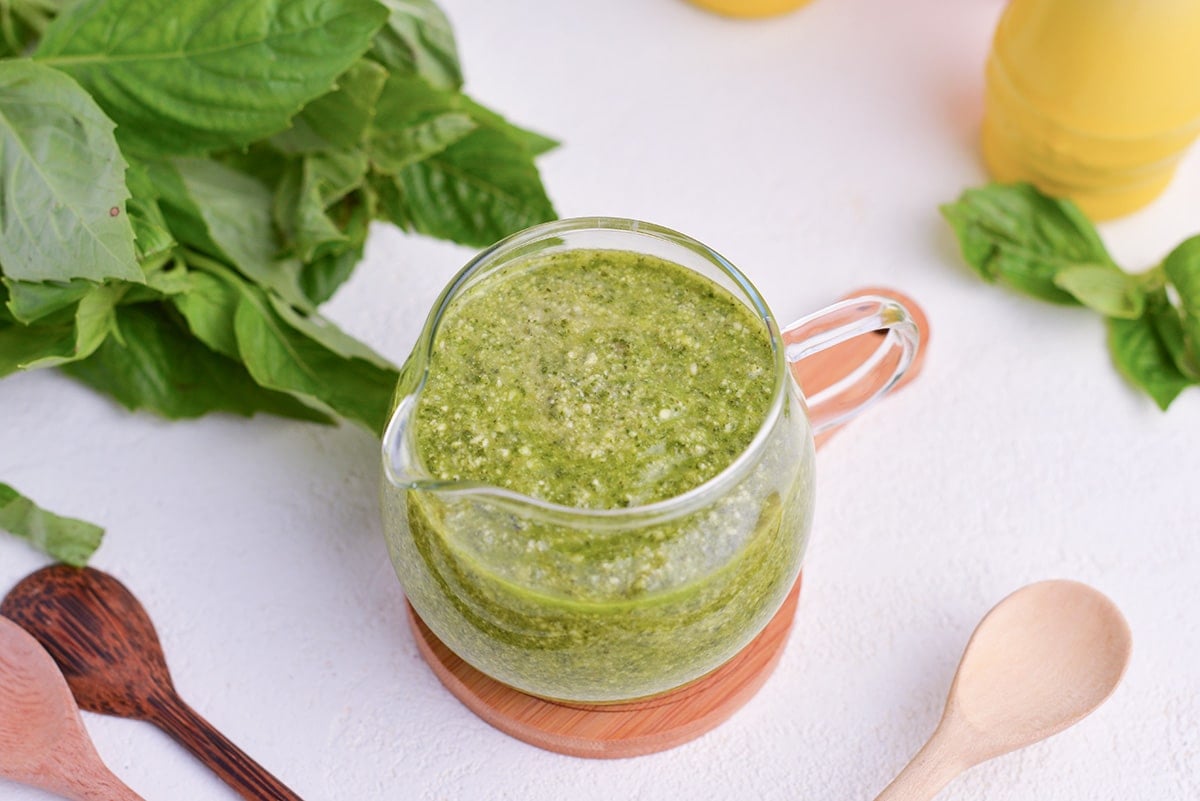 Don't worry about this being a drab salad, this Pesto Chicken Cobb Salad is like a flavor explosion in your mouth! Make sure you check out my 7 tips for more interesting salads before you starting chopping!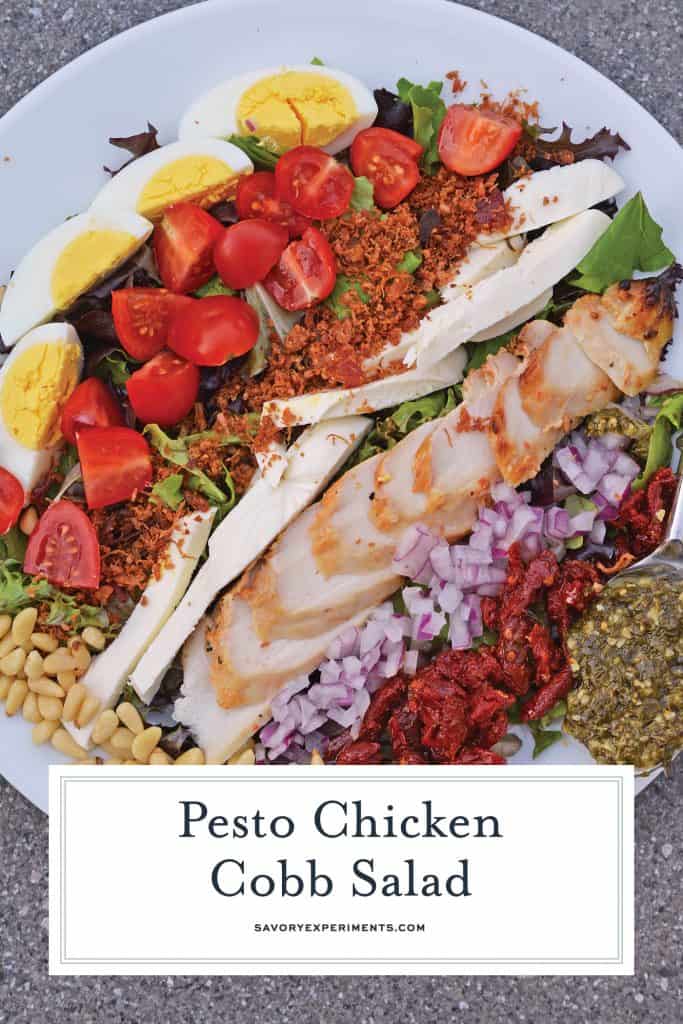 More easy salad recipes: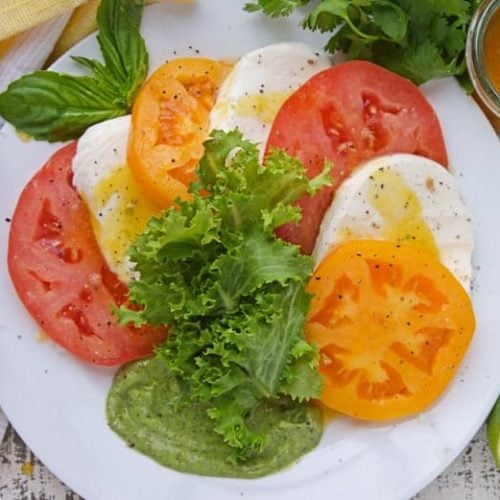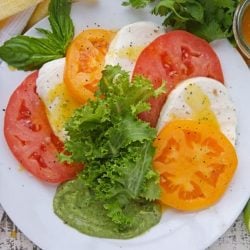 Passion Fruit Caprese Salad
Passion Fruit Caprese Salad, a summer salad offered by Omni Hotels & Resorts, combines a sweet and spicy serrano-passion fruit dressing and avocado spread with a traditional Caprese salad.
See The Recipe!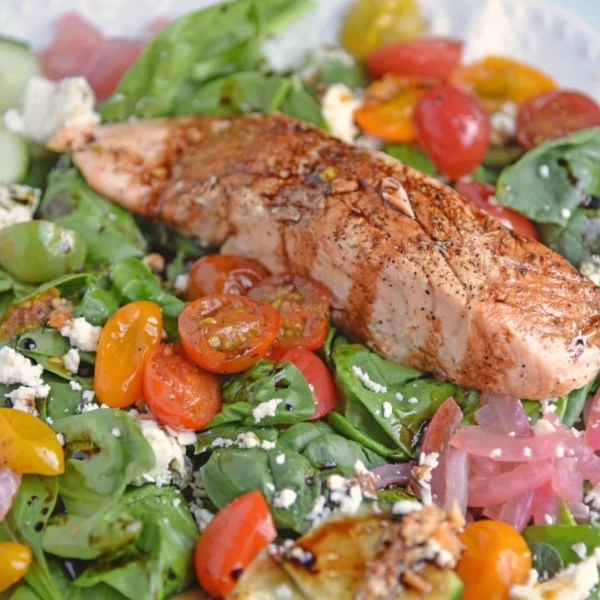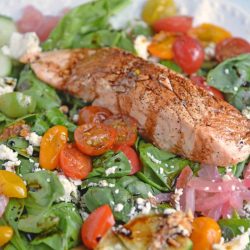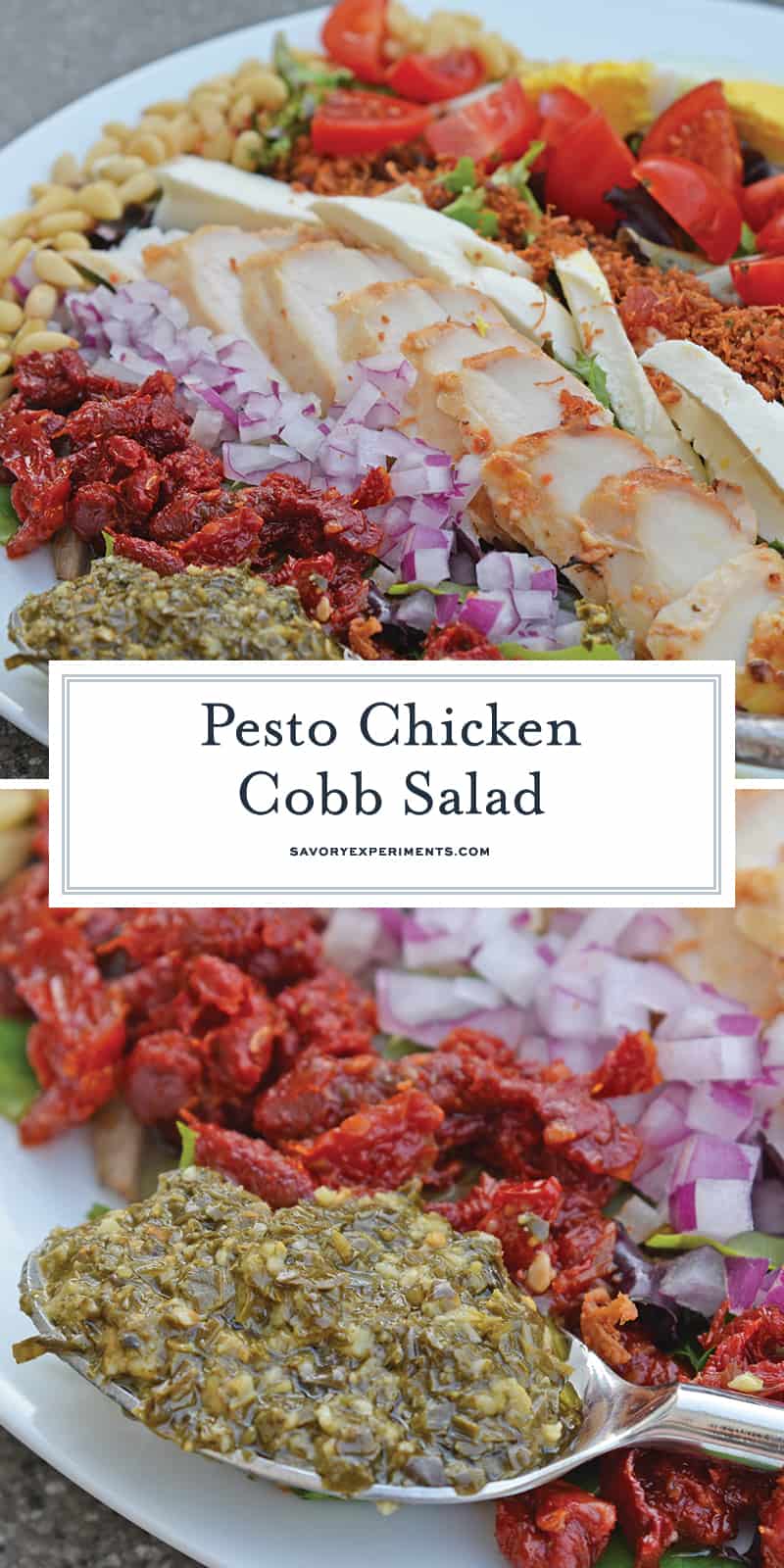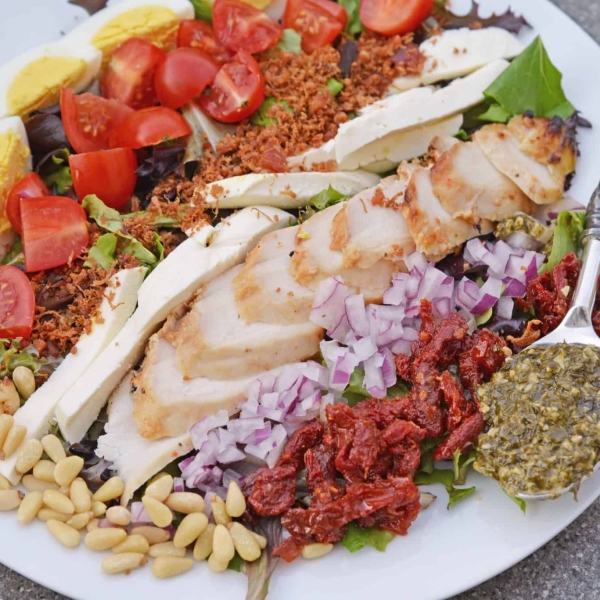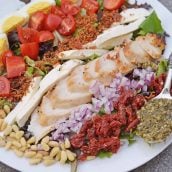 Pesto Chicken Cobb Salad Recipe
Pesto Chicken Cobb Salad is a delicious salad recipe using traditional Cobb ingredients with chicken and a pesto dressing. The perfect starter or entree!
Instructions
Marinate chicken in Italian dressing for a minimum of 1 hour or a maximum of overnight, refrigerated.

Heat a medium skillet over medium-high heat. Coat with cooking spray. Cook chicken on each side for 5-8 minutes, or until chicken is done. Discard extra Italian dressing. Remove to a cutting board and thinly slice against the grain.

Divide spinach and arugula mix between two large bowls. Carefully arrange toppings, pine nuts, quartered hard boiled eggs, sun dried tomatoes, fresh tomatoes, mozzarella cheese, red onion and bacon, in strips on top of greens.

Serve with 1/4 cup pesto on the side as dressing. Enjoy your Pesto Chicken "Cobb" Salad!

If you've tried this recipe, come back and let us know how it was!
Nutrition
Calories:
1209
kcal
,
Carbohydrates:
24
g
,
Protein:
75
g
,
Fat:
89
g
,
Saturated Fat:
20
g
,
Cholesterol:
446
mg
,
Sodium:
2040
mg
,
Potassium:
1633
mg
,
Fiber:
3
g
,
Sugar:
11
g
,
Vitamin A:
2410
IU
,
Vitamin C:
28.5
mg
,
Calcium:
314
mg
,
Iron:
4.6
mg