No one can resist the smell of buttery soft pretzel bites wafting from the Auntie Anne's stand at the mall. But making delicious homemade soft pretzel bites has never been easier than with this simple recipe. Serve with a cheddar cheese dip for the perfect party snack!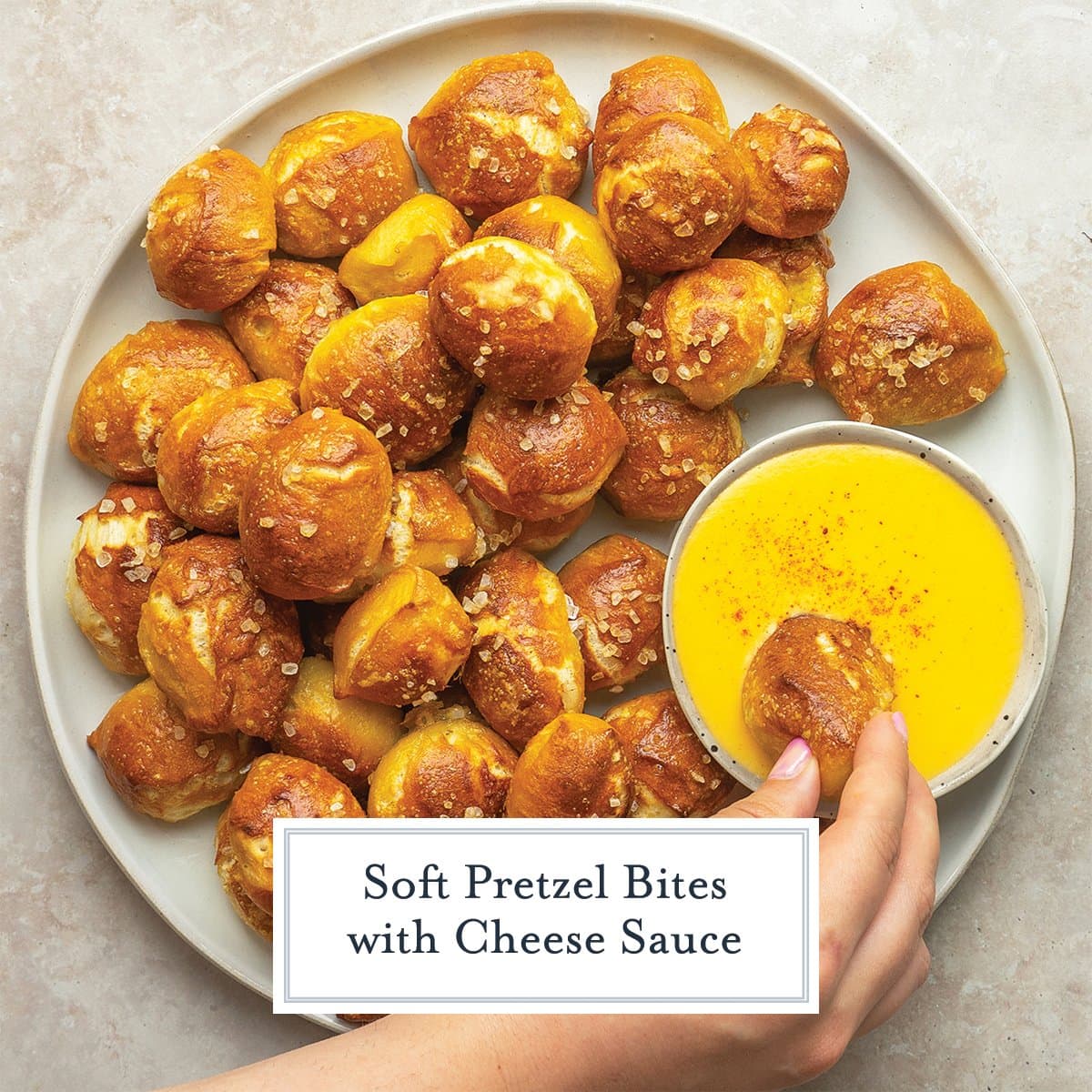 If I had to rank my favorite bread products it would go: soft pretzels, bagels, then sourdough bread. There is just something about a warm and fresh soft pretzel that is so satisfying.
When I was a kid my mom would reward us with soft pretzel bites at the mall if we were well behaved while she ran her errands. This recipe is my tribute to those pretzels. Thanks, Mom.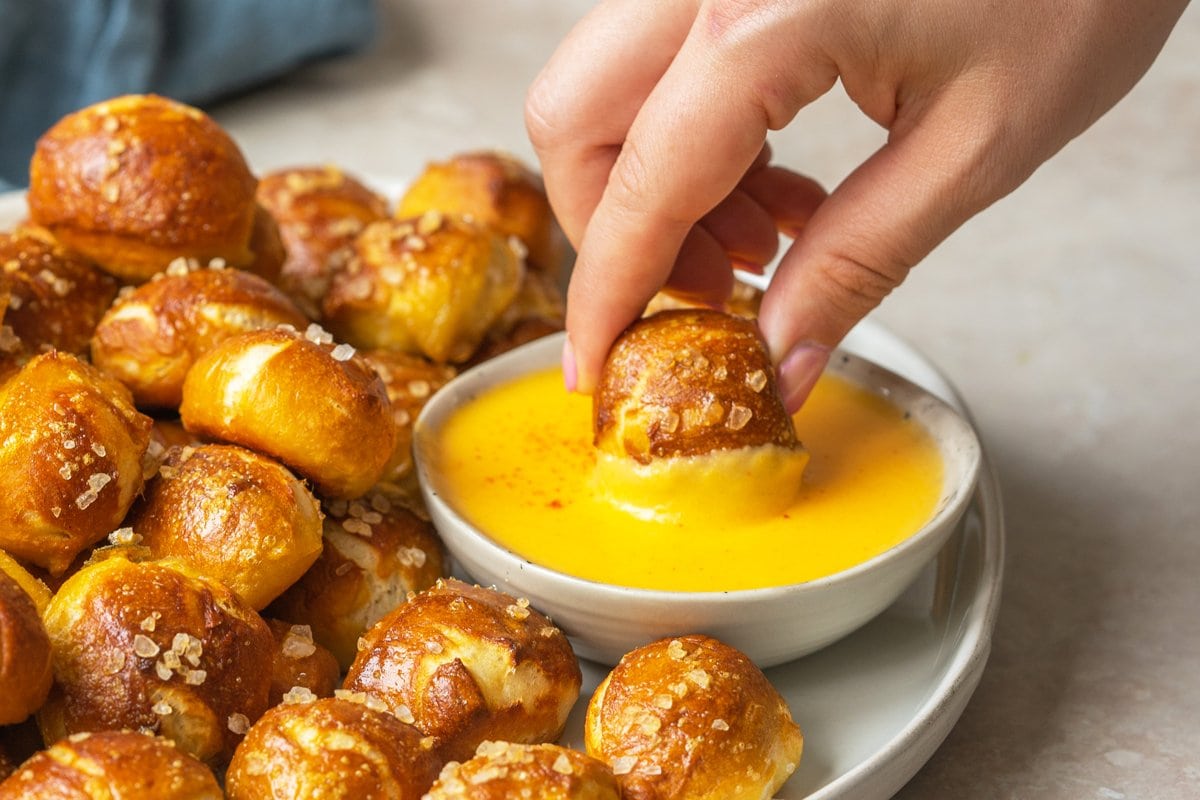 Ingredients
The ingredients for the pretzel bites themselves are relatively simple, and other than the yeast, you probably have everything you need already in your pantry!
Warm Water – Helps the dough rise more than cold or room temperature water, but make sure it isn't too hot or it will kill the yeast
Instant yeast – You can also use Active Dry Yeast
Kosher Salt – I like Diamond Kosher Salt best, coarse salt is traditional for making pretzels
Light Brown Sugar –

You can also use standard granulated sugar

, but a hint of molasses and sweet in the bread is nice
Melted Butter – Unsalted is best
All Purpose Flour
Baking Soda – You will use this to boiling the bites – it does not go into the dough
Egg – Beat one large egg to brush over the bites before baking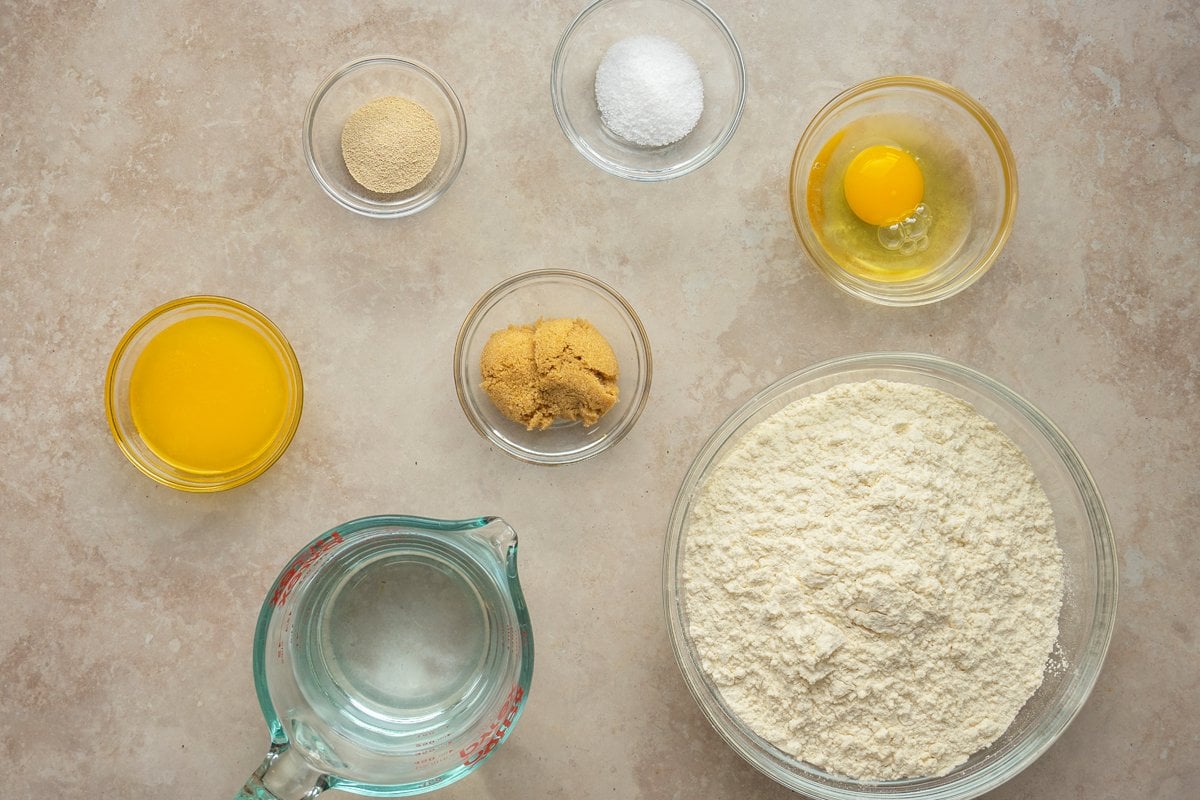 The cheese sauce ingredients are simple as well. I like to add smoked paprika to mine to give it a little bit of a smoky flavor.
Butter– I prefer unsalted
All purpose flour
Milk – I prefer to use whole milk for a creamier cheese sauce
Cheddar cheese – Grate the cheese yourself instead of buying pre-grated for smoother sauce, also swap out with another similar cheese. White cheddar, American, Colby, Pepper Jack and Monterey are all good, melty cheeses.
Smoked paprika – Just a pinch of smoked paprika gives the cheese sauce a slightly spicy and smoky flavor. This can be omitted or you can use plain or sweet paprika.
How to Make Soft Pretzel Bites
Prepare pretzel dough
Mix warm water, yeast, brown sugar and salt in a large mixing bowl, allow it to bloom and become fragrant. Add flour and melted butter to the bowl.
Mix with a wooden spoon as much as you can. Then, use your hands to knead the dough until a smooth even mixture remains. Kneading is important to the texture because you are stretching the gluten. If you don't knead it enough, it won't be a tender dough. You can also use a stand mixer with a dough hook.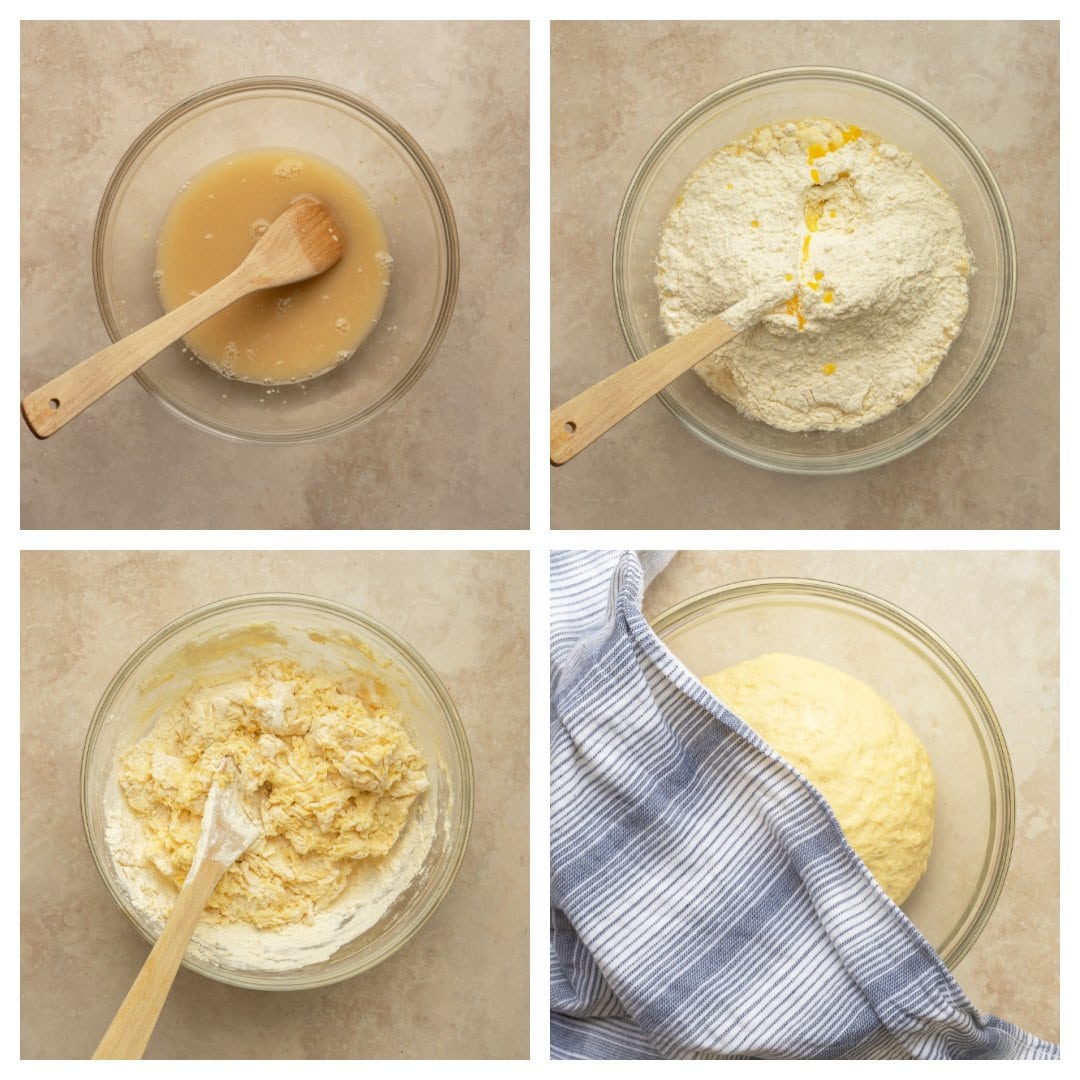 Knead the dough into a ball and place in a lightly oiled bowl to prevent sticking. Cover with a damp cloth, which will prevent the dough from drying out. Allow to rise until it doubles in size.
Once the dough has risen, turn out of the bowl and cut into equal pieces about 1.5 inches long.

Boil and bake pretzel bites
Bring a large pot of water to a boil with the baking soda. This is the step that most people have questions about. I'll answer it in more detail below. Wait to boil the dough until right before you are ready to bake.
Baste with an egg wash and then sprinkle with salt while still tacky. Egg wash helps it to be shiny and pretty. Alternatively you can omit the egg wash and spritz lightly with water after baking and then tack on the salt.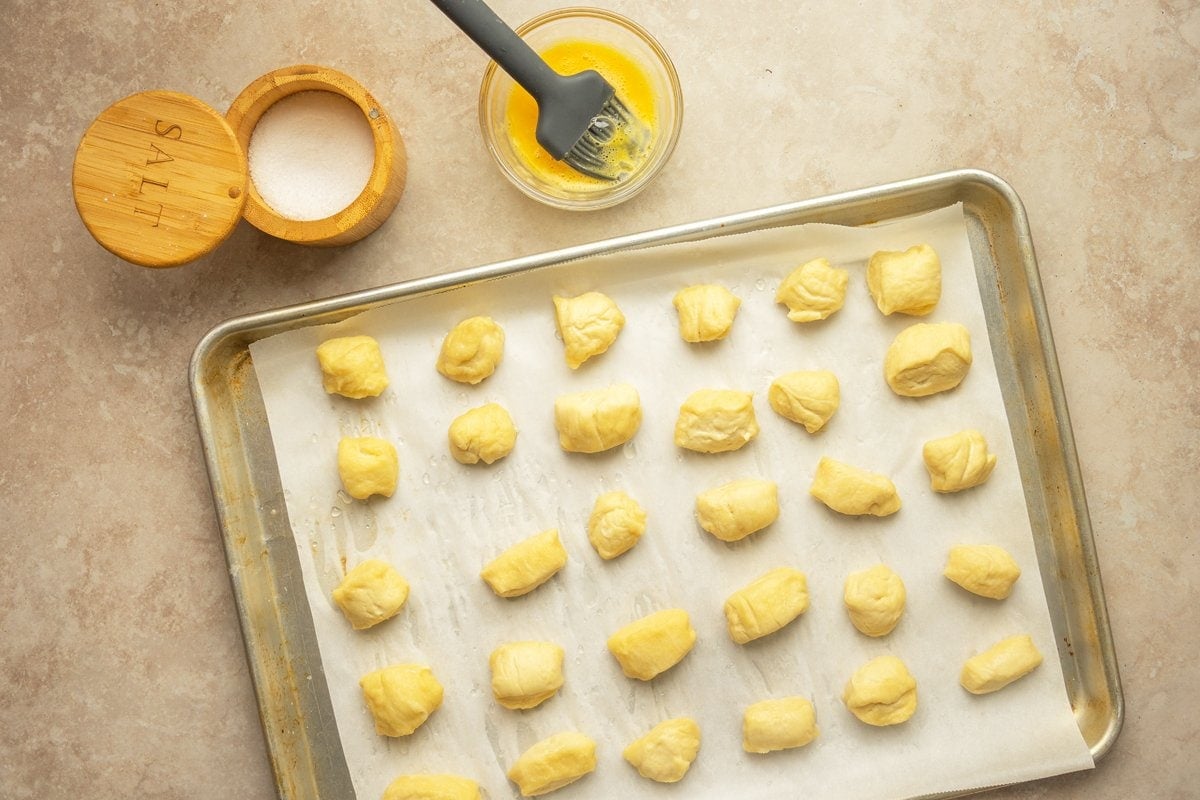 Bake pretzels bites until a caramel, golden brown color. They should be a little crunchy on the outside and soft and fluffy on the inside.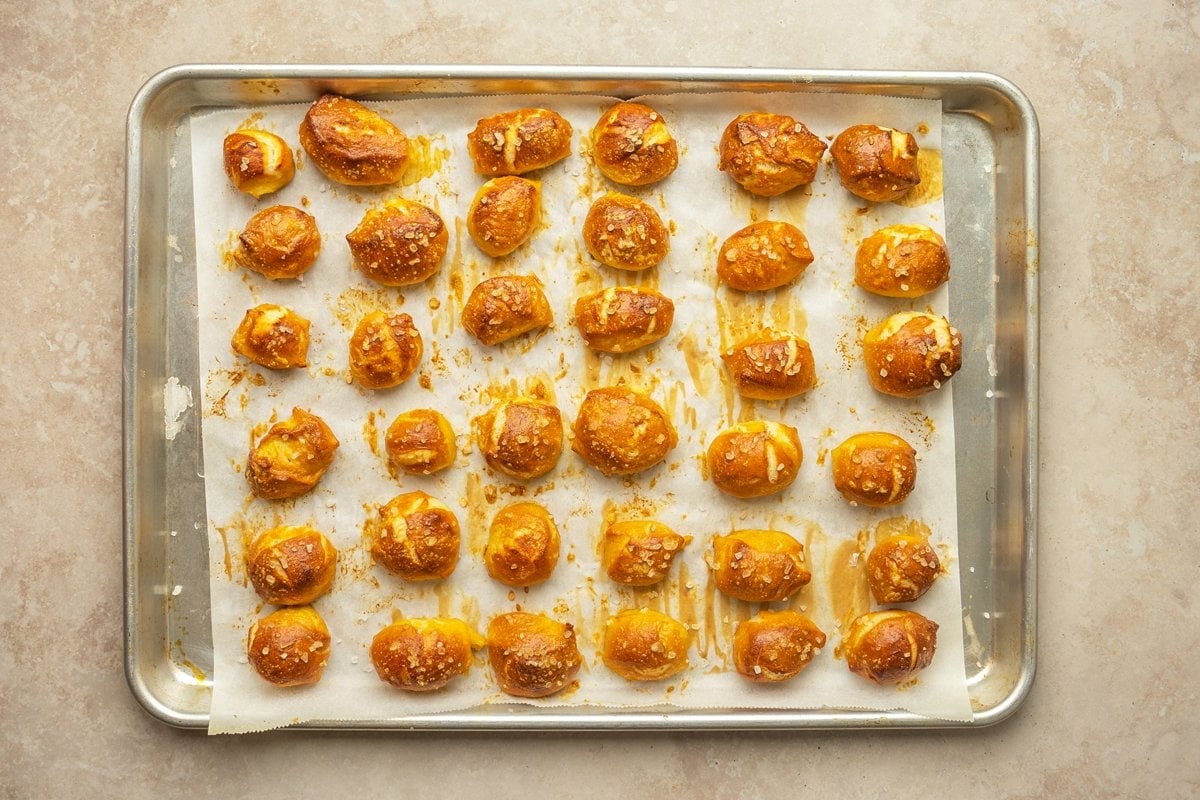 Prepare cheese sauce
While the bites bake, prepare the cheese sauce. Cheese sauce can also be made ahead of time and is also freezer friendly.
It is a basic sauce with a roux base, combing butter with flour and then whisking with milk and finally, cheese. This gives the smoothest sauce.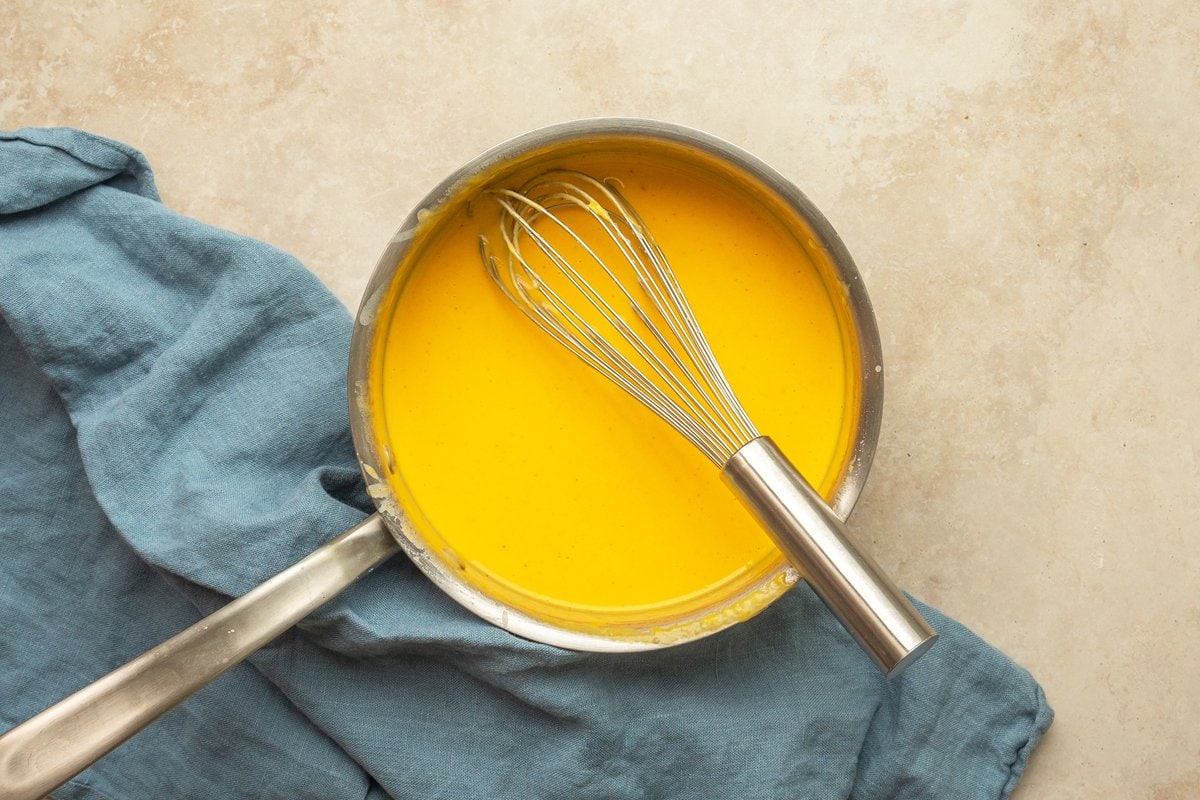 This cheese sauce can also be used on nachos or anything else your cheesy little heart desires. Make a double batch!
Boiling Pretzel Dough
The biggest question asked about making soft pretzels: why do you boil pretzel dough in baking soda? According to PureWow, the alkaline baking soda helps increase the pH of the white albumen (that is, makes it less acidic), loosening the bond between the egg whites and the inner membrane of the shell.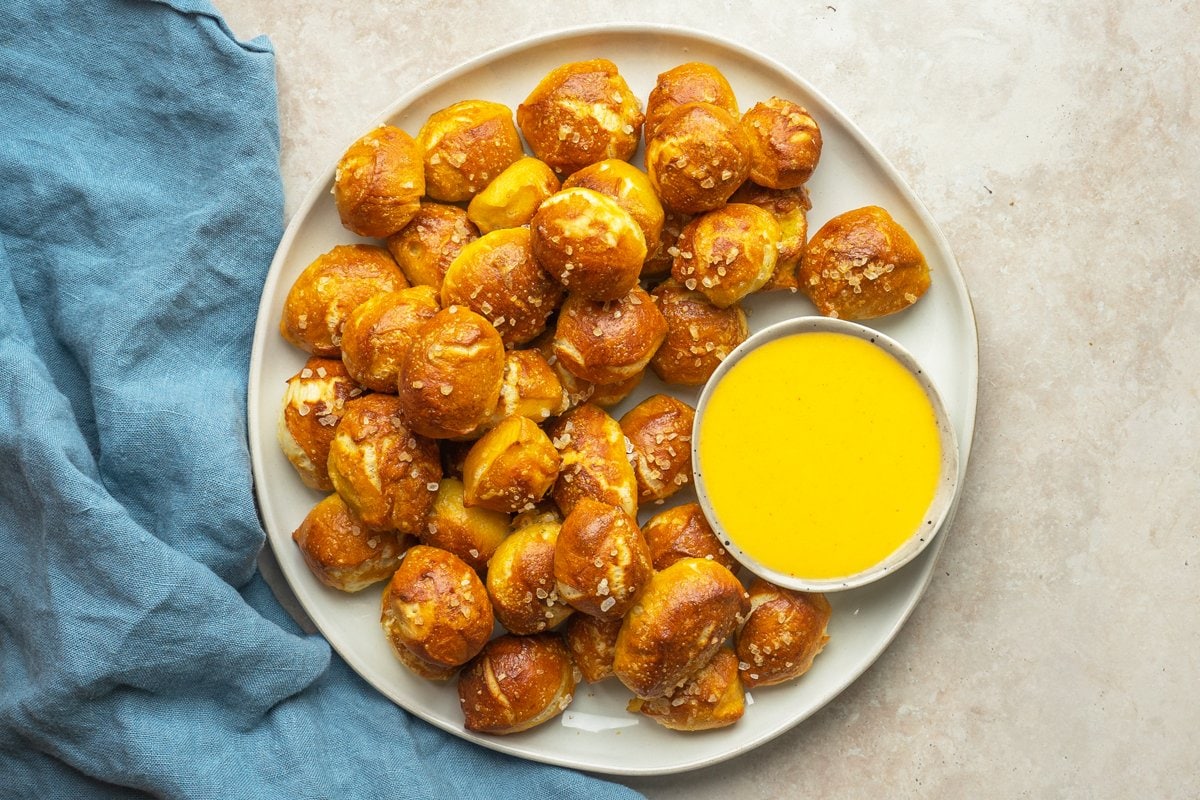 In laymen's terms, it is a leavener- adding it to the actual dough will be too much. But boiling it for just a brief period helps it puff up just enough without making it into a cake-y texture. This gives it a fluffy, soft inside and lets the outside get a nice crispy crunch. It is what gives soft pretzels such a unique and different exterior and interior.
Can I skip boiling the dough? The short answer is yes, but they won't be the same pretzels you are craving. Instead, it will just be your run-of-the-mill baked bread bites.
Oven Temps Going Up and Down
Why are we changing the oven temperature up and down? Well, everytime you open the oven door, you let out heat and drastically reduce the inside temp. By overheating it, you'll be just a little over the correct heat.
Putting the pretzels in at a higher temp helps to shock the outside, creating the crust we love so much. Much like making a roast and wanting the bark (seasonings) to crust over before reducing the temp and roasting. It gives it that hard exterior, but super fluffy inside.
Tips for Making Soft Pretzels
You can use instant dry yeast or active dry yeast. If you are using active dry yeast, be sure to allow the dough to bloom fully.
Use warm water when making the dough so that the dough will have a nice rise and the pretzel bites will not be too dense.
Boil the pretzel bites in batches to prevent them from sticking together in the baking soda and water mixture.
If you are baking the pretzel bites in batches, brush them with the egg mixture just before baking to ensure the best golden brown color.
You can buy specific pretzel salt for topping your pretzel bites OR you can use coarse sea salt.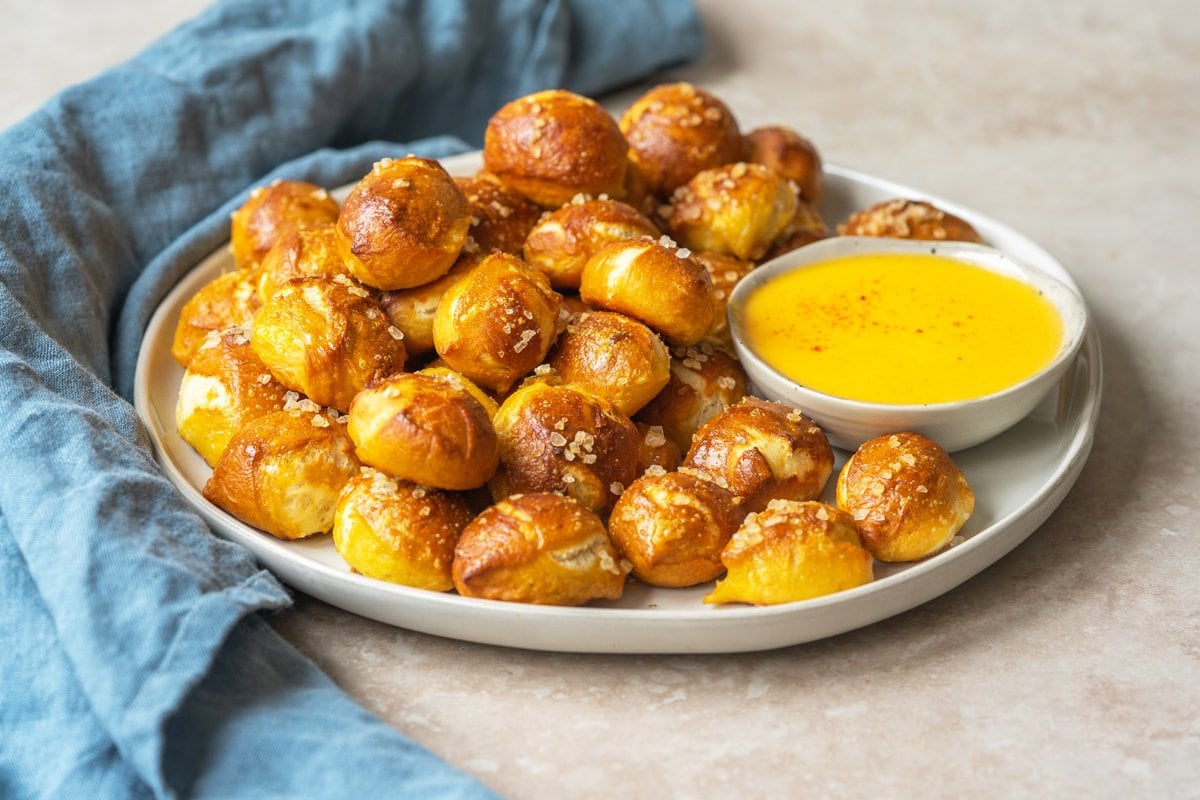 Make Ahead & Storage
Soft pretzel bites are best enjoyed immediately, as with most bread. Store at room temperature in an air tight container for up to a week. They can be eaten at room temperature but also reheated in the oven or microwave.
To reheat in the microwave, wrap in damp paper towel and heat at 50% power for 10 seconds. This helps prevent the gumminess that often occurs with microwaved bread.
You can store either the prepared dough or fully cooked pretzel bites in the freezer for up to 3 months.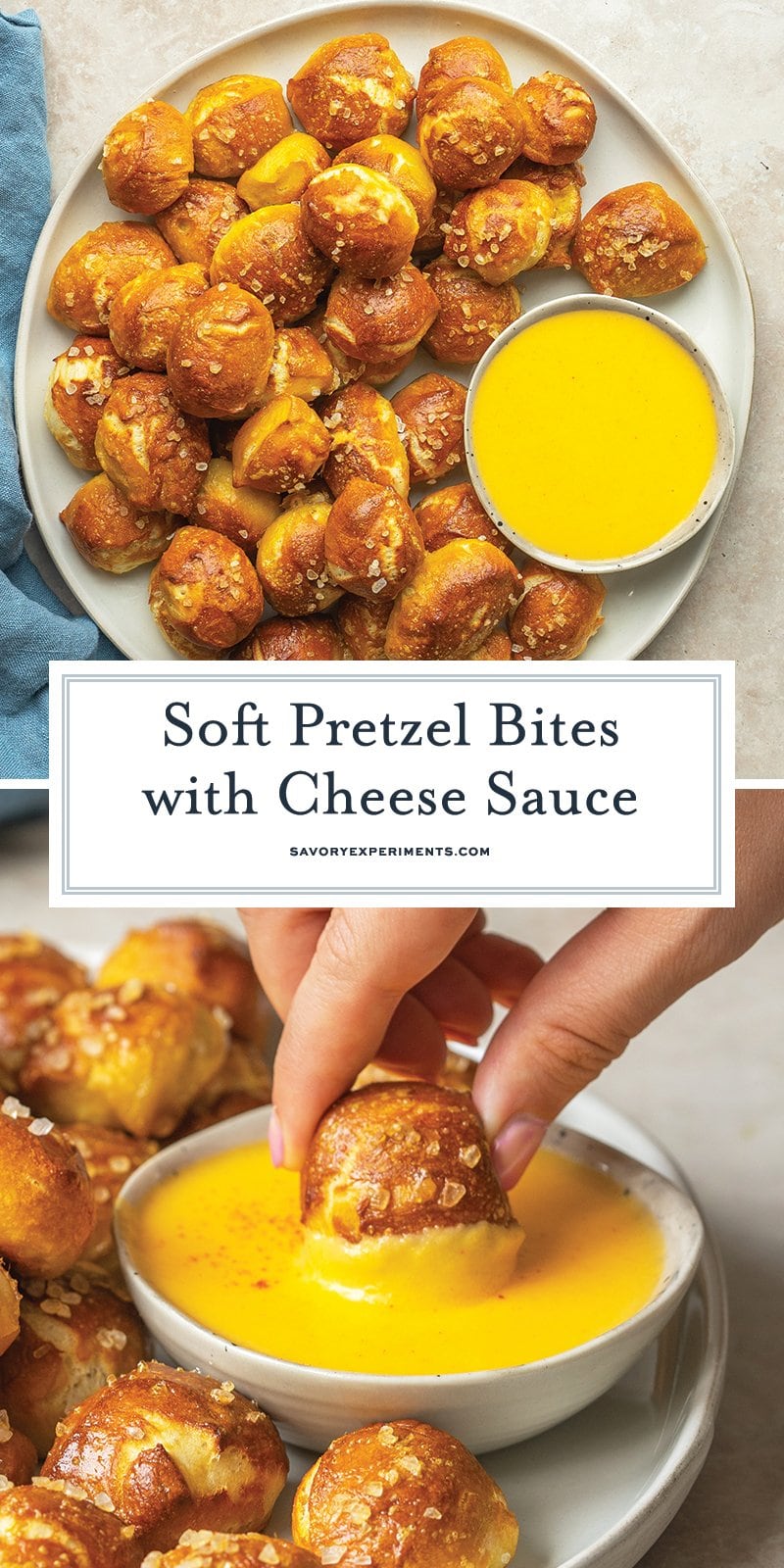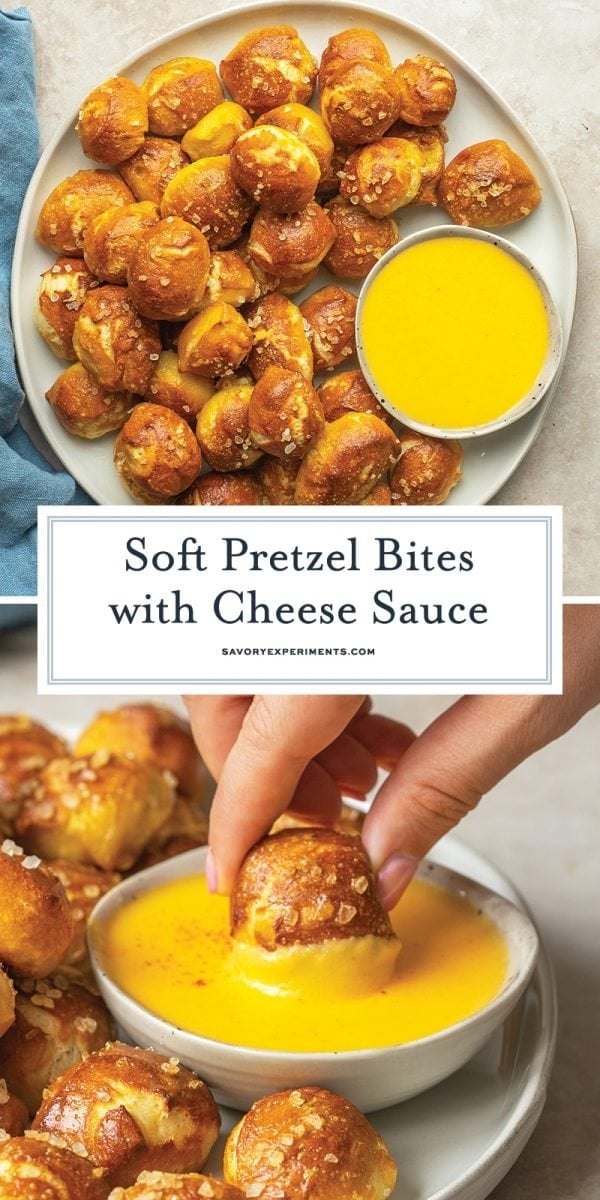 More delicious snack recipes:
Chocolate Covered Bacon
Chocolate Covered Bacon is a salty sweet dessert that is made with only 2 ingredients. Mix up your chocolate and add fun toppings for a truly gourmet treat!
See The Recipe!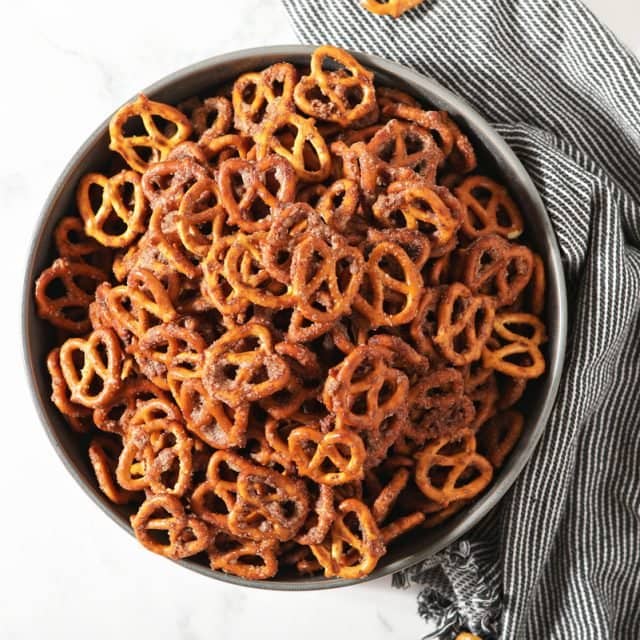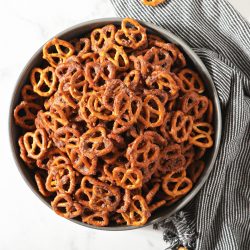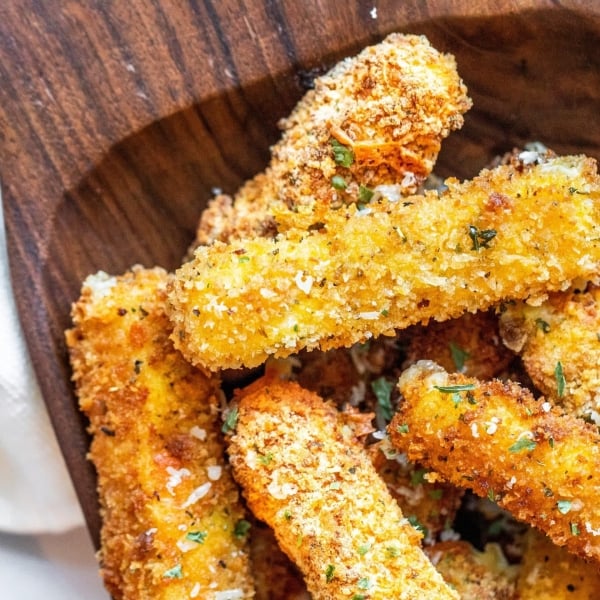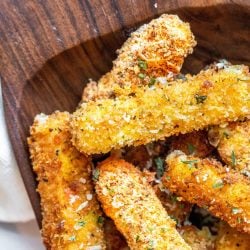 Homemade Mozzarella Sticks
Easy mozzarella sticks from scratch make the perfect party appetizer for a crowd or kid friendly family dinner. Cheese, breading, traditional frying and air fryer instructions included.
See The Recipe!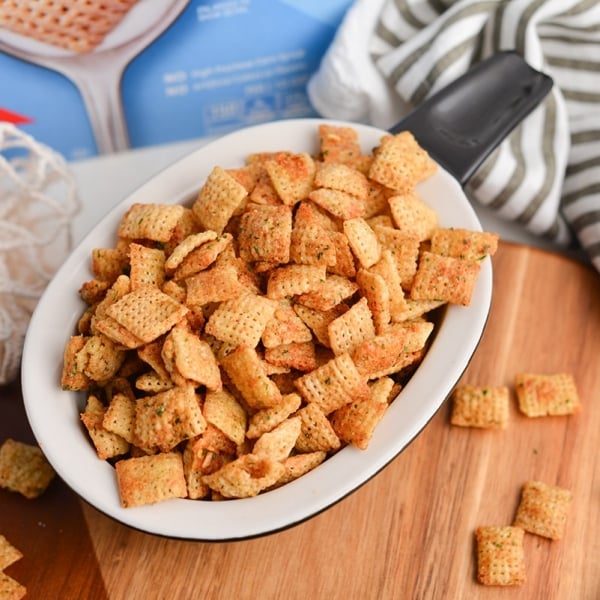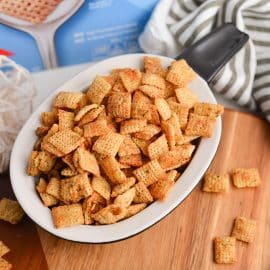 Ranch Chex Mix
If you're looking for a delicious snack that is easy to make, look no further than this zesty Ranch Chex Mix! With only three ingredients, it simply can't be beat!
See The Recipe!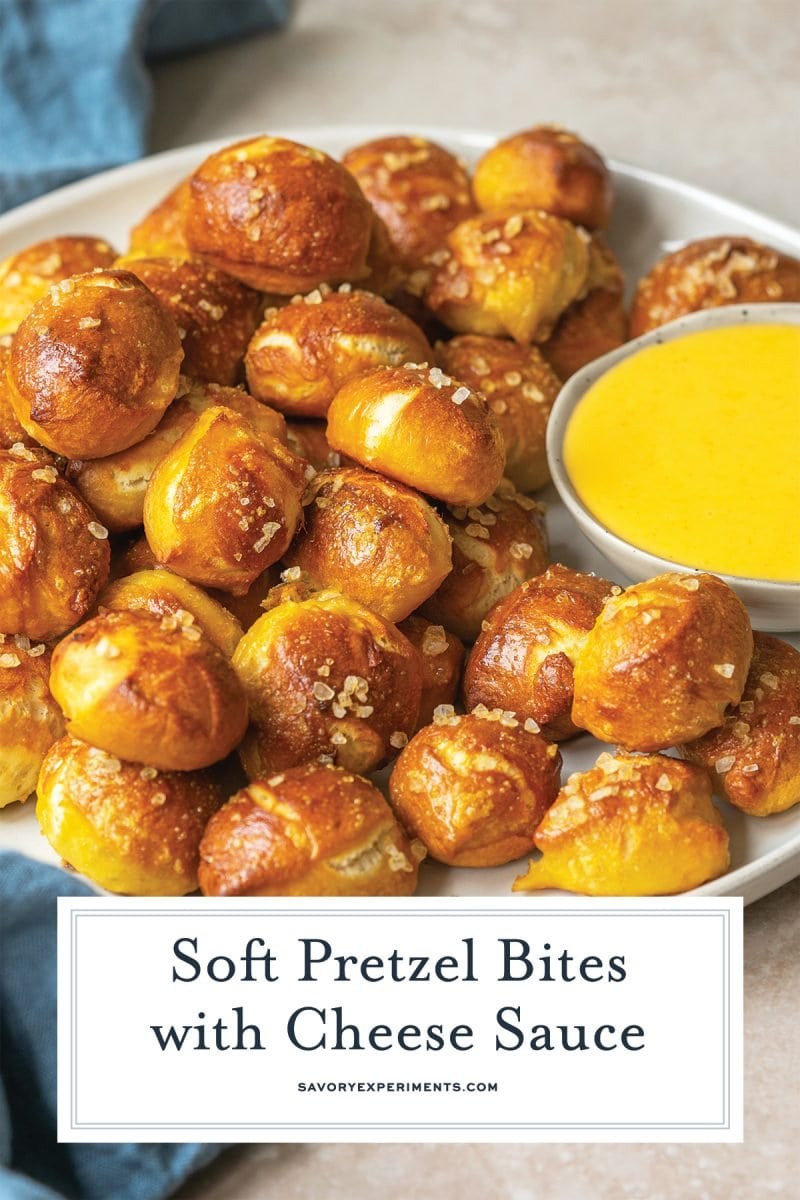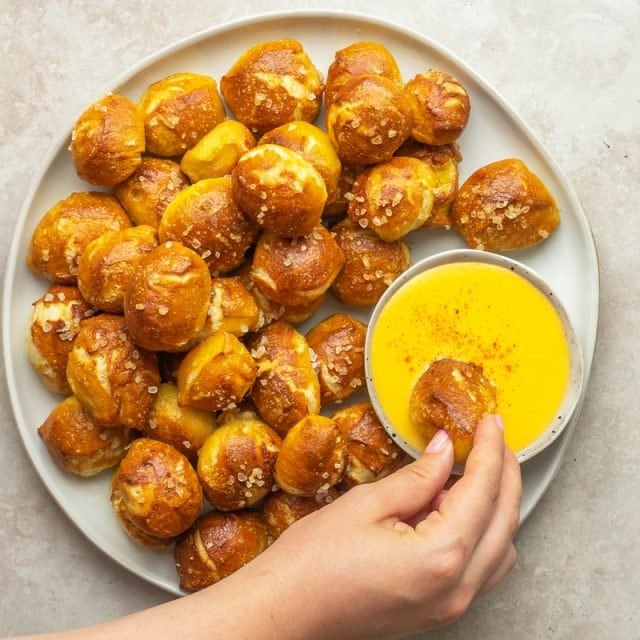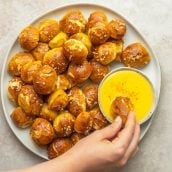 Soft Pretzel Bites with Cheese Sauce
Making EASY Soft Pretzel Bites has never been easier than now. Serve them with a cheddar cheese dip for the perfect party snack!
Instructions
Homemade Pretzel Bites:
Mix the warm water, brown sugar, yeast, and salt in a large mixing bowl. Let sit for a minute or two. If you are using active yeast instead of instant yeast, let the mixture sit for 5 minutes or until the mixture starts to bloom and becomes fragrant. Add the flour and melted butter to the bowl.

Mix with a wooden spoon as much as you can. Then, use your hands to knead the dough until a smooth even mixture remains.

Once the dough has risen, turn out of the bowl and cut into 8 pieces. Roll each piece into about an 18 inch tube. Cut each tube into 1.5 inch pieces and lay the pieces on a parchment lined baking sheet.

Preheat the oven to 450°F and bring a large pot of water to a boil with the ½ cup of baking soda.

Once the water is boiling, boil the soft pretzel bites in small batches for 10 seconds each. Remove the bites from the boiling water with a slotted spoon.

Arrange the boiled bites on a parchment lined baking sheet with a little bit of space between each bite. Beat the large egg and brush the bites with the egg and top with coarse salt.

Reduce heat as soon as you put the pretzels in the oven and bake the pretzel bites at 350°F for 12 minutes each – bake in batches one sheet pan at a time and make sure not to crowd the pan.

If you are working in batches, reheat the oven to 450°F and reduce each time you add a new batch.
Cheese Sauce:
Heat butter in a saucepan over medium low. Add flour to the warm butter and mix until a smooth paste is formed.

Pour milk into the pan in small batches whisking constantly as you pour in the milk.

Turn the heat off and add the cheese to the pan and mixing constantly until the cheese is melted.

If you've tried this recipe, come back and let us know how it was in the comments or ratings.
Nutrition
Calories:
48
kcal
,
Carbohydrates:
6
g
,
Protein:
2
g
,
Fat:
2
g
,
Saturated Fat:
1
g
,
Polyunsaturated Fat:
1
g
,
Monounsaturated Fat:
1
g
,
Trans Fat:
1
g
,
Cholesterol:
7
mg
,
Sodium:
310
mg
,
Potassium:
19
mg
,
Fiber:
1
g
,
Sugar:
1
g
,
Vitamin A:
61
IU
,
Vitamin C:
1
mg
,
Calcium:
28
mg
,
Iron:
1
mg