The healthier twist on mac and cheese! This Butternut Squash Mac and Cheese is made with lots of good-for-you stuff and ready in just 30 minutes!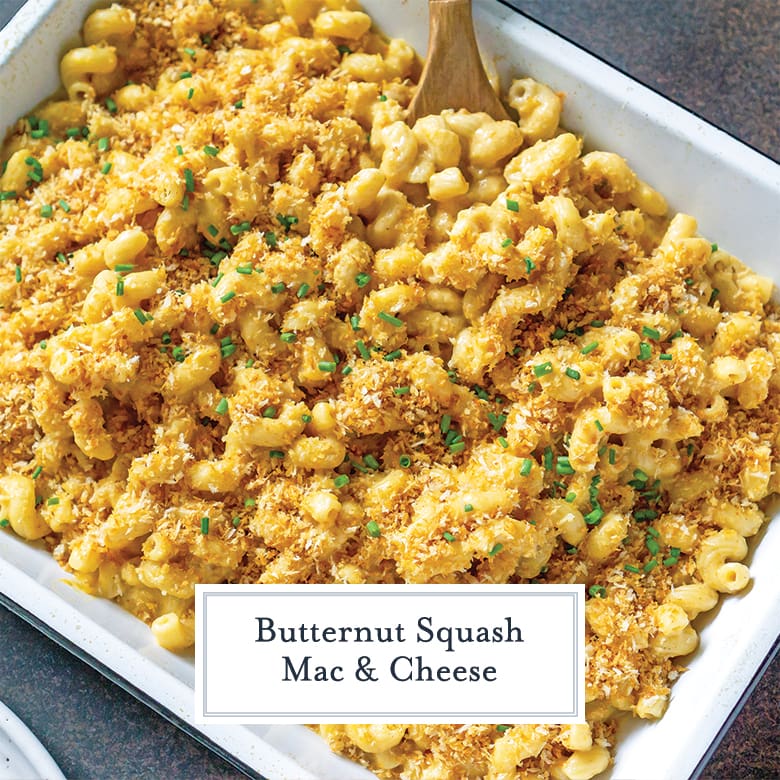 It's SO cozy. It's SO creamy. And it's SO delicious.
I don't know about you, but I am ready for fall and everything delicious that comes with homemade comfort foods!
Butternut Mac and Cheese Recipe
Who doesn't love mac and cheese? This recipe is easy to follow, creamy and delicious, and will be on the table in under 30 minutes.
This homemade mac and cheese is TO DIE FOR…and did I mention, healthy…well, healthier!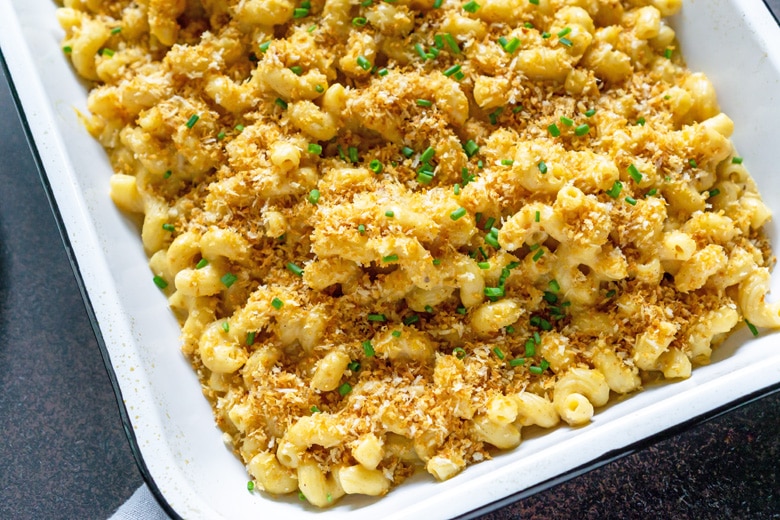 Prep those aprons ladies (and gents), it's time to celebrate the comings of autumn with a warm serving of the best comfort food around!
Butternut Squash Mac and Cheese Ingredients
butternut squash, cubed
cinnamon
paprika
cayenne pepper
garlic clove
cavatappi pasta
panko bread crumbs
flour
whole milk
nutmeg
gruyere cheese
white cheddar cheese
The full list of ingredients and measurements for this recipe can be found in the recipe card at the bottom of the page!
How to Make Mac and Cheese
Start by roasting the butternut squash. Preheat the oven to 400F. In a small bowl, combine cinnamon, paprika, and cayenne pepper.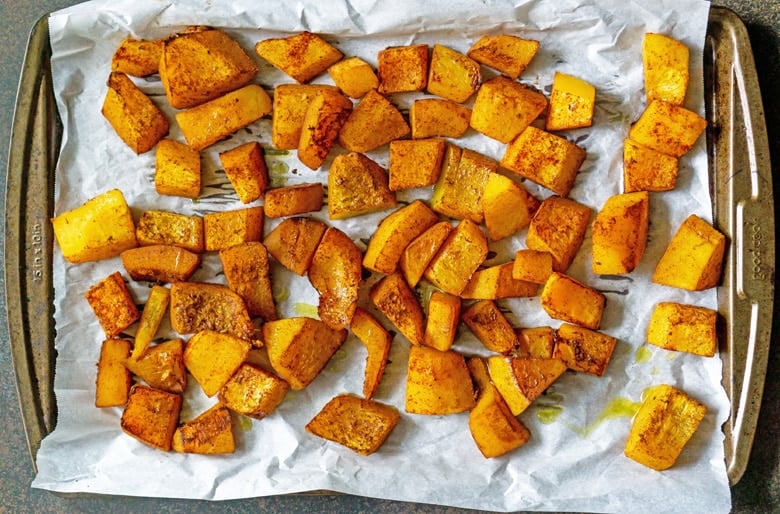 Sprinkle the seasoning over the butternut squash and roast for 25-30 minutes, or until the squash is easy to poke with a fork.
Add the butternut squash to a food processor with garlic and blend until smooth and creamy, scraping down the sides as you go.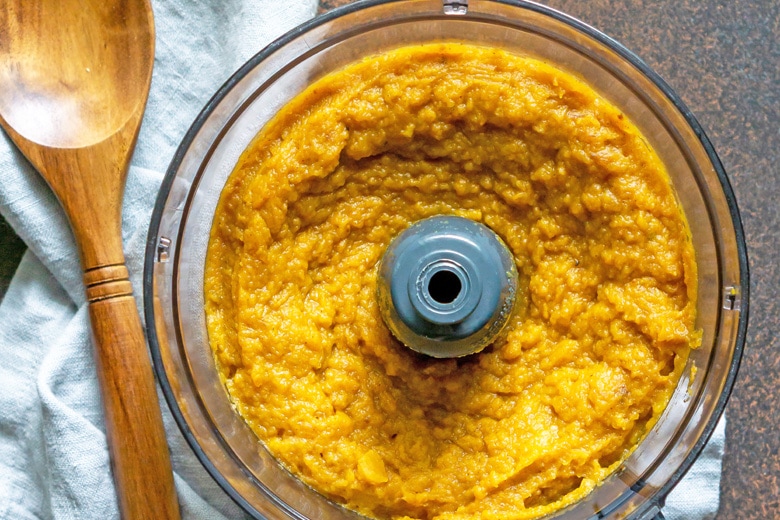 Next cook the pasta. Boil a tall pot of water and cook the pasta according to box instructions, until al dente.
Then toast the panko. In a large non-stick skillet with olive oil, toast the panko bread crumbs until golden brown.
Finally make the cheese sauce. Using the same pan, melt the butter over medium heat. Whisk in the flour and milk, stirring until it begins to thicken. Reduce the heat to low and whisk in nutmeg, paprika, cayenne pepper, salt and pepper.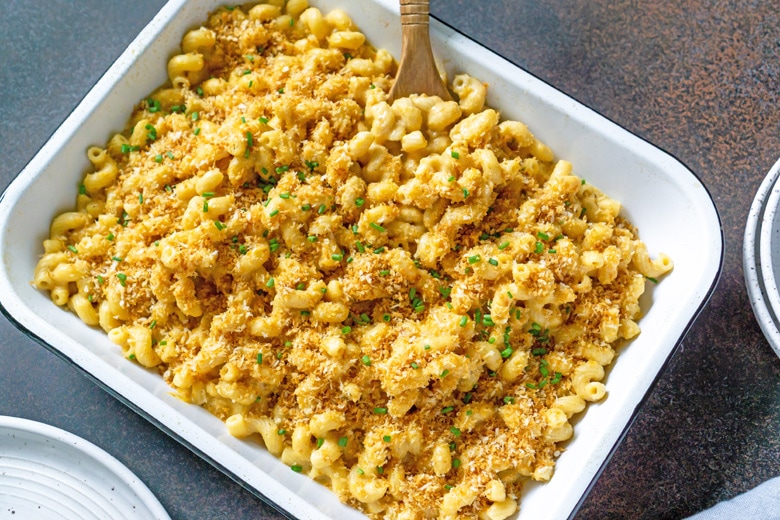 Mix in the squash puree, stirring until fully combined. Gradually add both cheeses, stirring well to combine until cheese is completely melted.
Add the pasta to the cheese sauce and stir to combine. Mix in half the panko and sprinkle the rest on top with fresh chopped chives.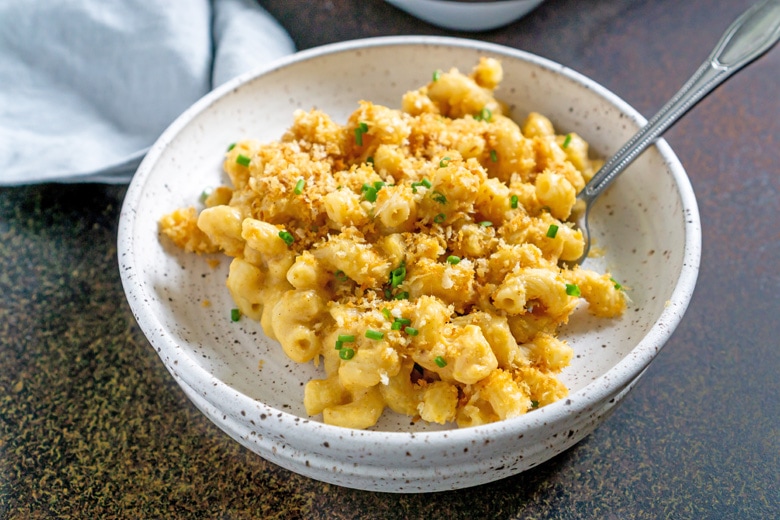 Protein and Veggies to Add
I am a BIG fan of fancy mac and cheese. You can definitely add: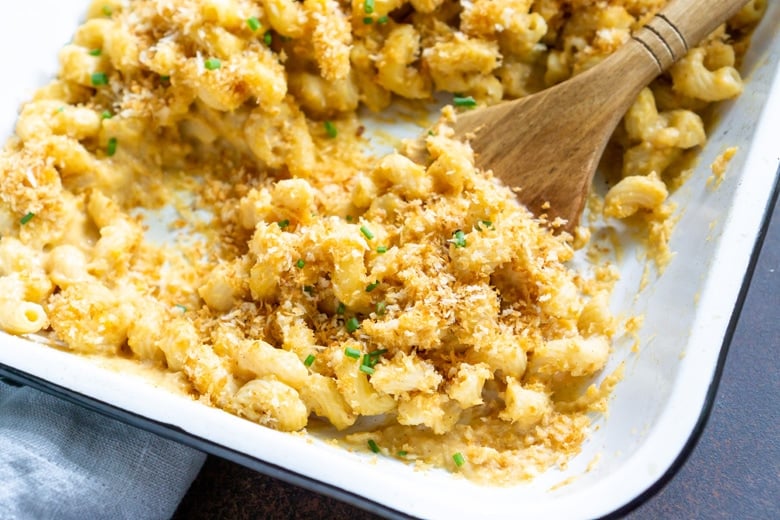 If you want to dress the recipe up, but you aren't looking for a meat or fish, add:
cooked broccoli
cauliflower
mushrooms
or anything else that's calling your name!
Variations
If Gruyere is not your flavor you can definitely change up the cheese! Feel free to experiment with what you like best. Parmesan is always a winning cheese. I also recommend smoked gouda as a substitution!
I know a lot of folks follow a gluten free diet. So to make this Butternut Squash Mac and Cheese recipe gluten free, just swap out your pasta with a certified gluten free pasta and use almond flour instead of all purpose flour.