I'm one of those people who loves a nice heat. Not sweating heat, just a nice "oh, well hello there jalapeno". I want to still taste the sharpness of the cheese; a little salty and umami, but also sweet heat from jalapeno.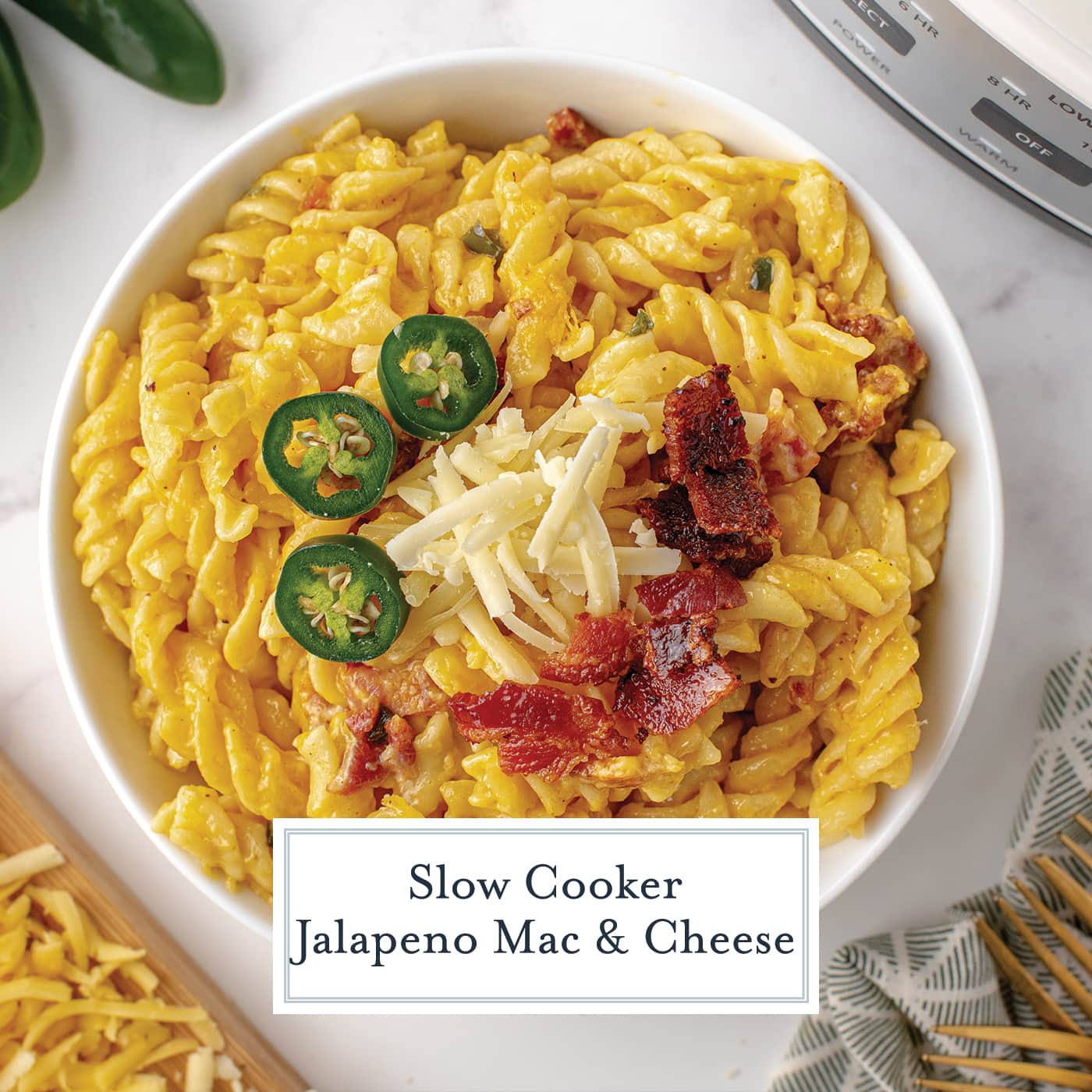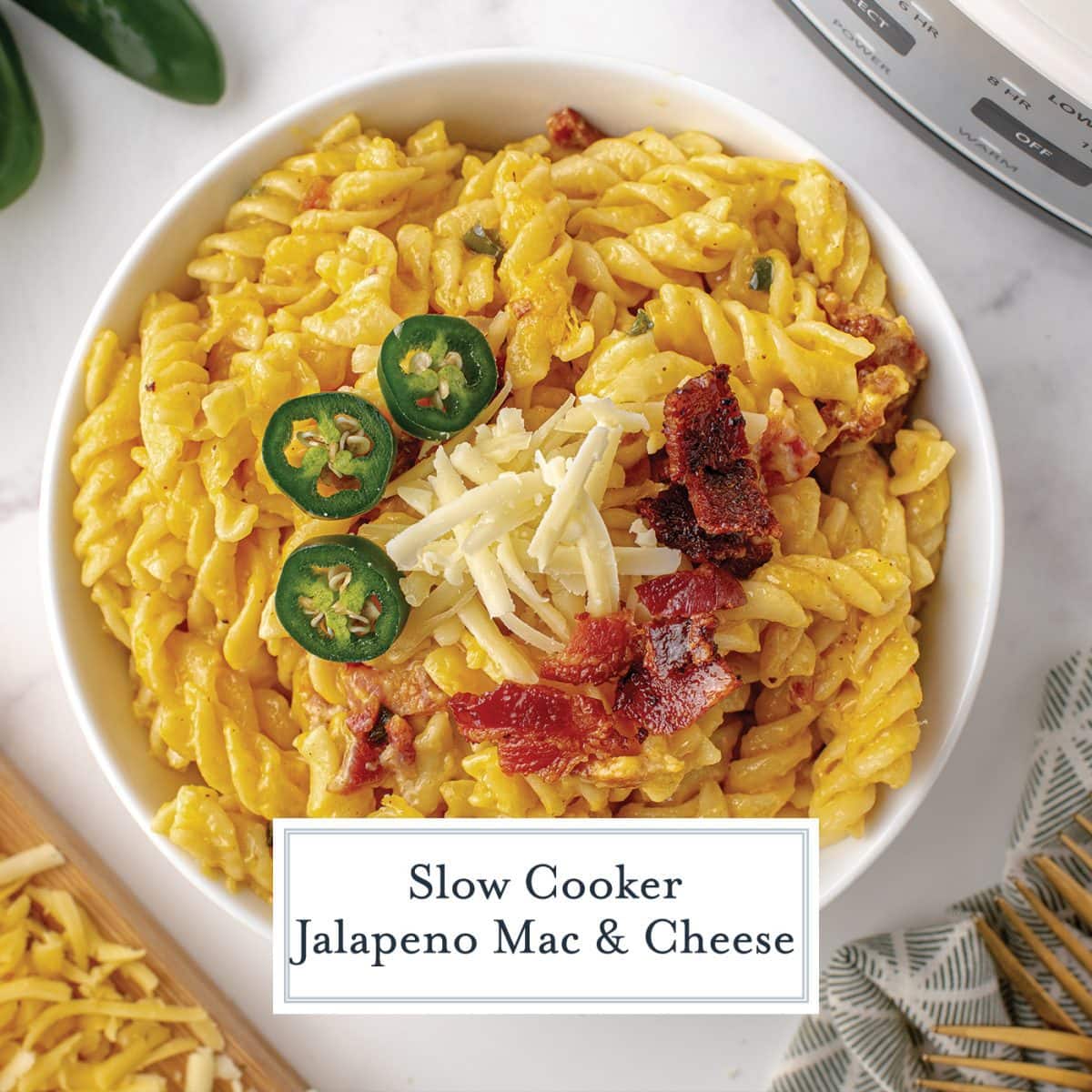 This crock pot mac and cheese recipe totally breaks my "10-Minute" rule for slow cooker recipes. The preparation takes closer to 30 minutes, while cook time is only one hour. But it is worth it- as the winner of THREE mac and cheese competitions, you'll agree!
Crock Pot Mac and Cheese
You might be asking yourself why I would make mac and cheese in the slow cooker as opposed to baked mac and cheese and that is an excellent question.
The benefit of cooking mac and cheese in a crock pot is that it reduces the chances of it drying out. Instead it stays warm and creamy, especially when you are making it for a potluck, as I was on this occasion.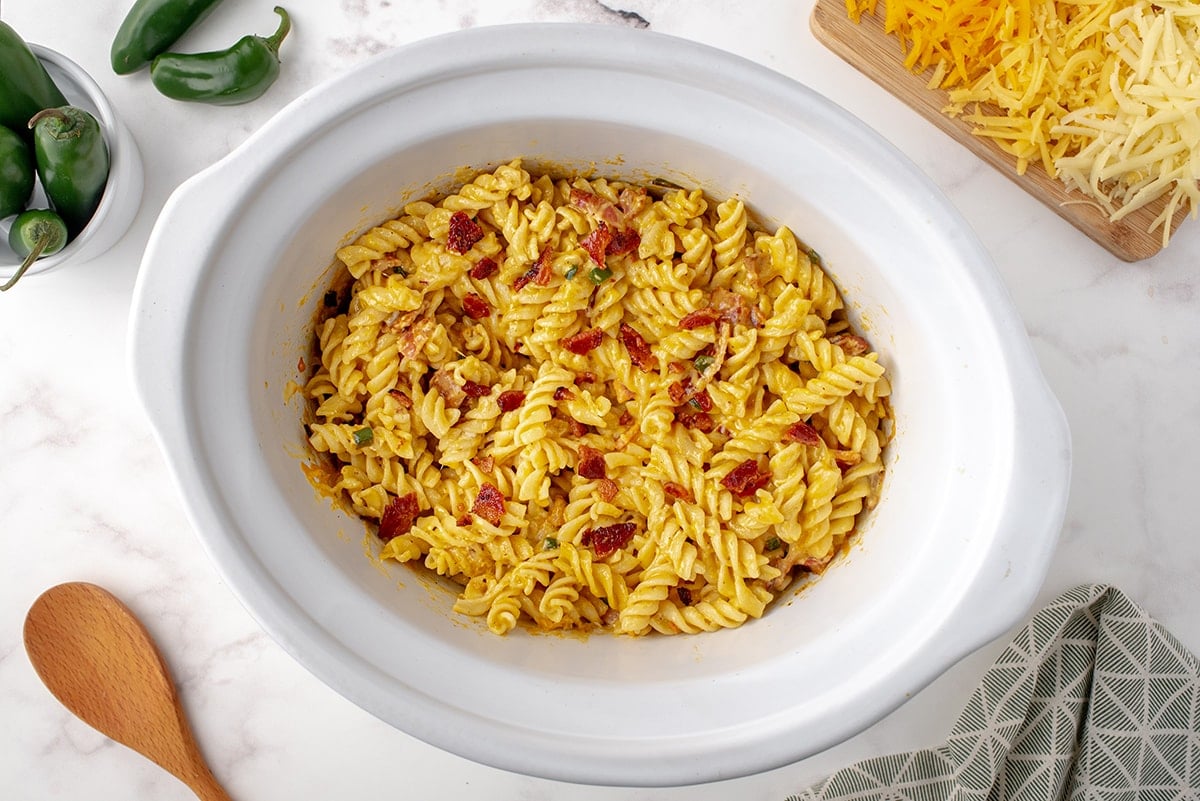 If you are one of those folks who likes the crunch little edges, you won't get them here. But you will have a perfectly decadent and rich jalapeno mac and cheese. This recipe can be baked, if you prefer. Just bake it at 350°F for about 25-30 minutes.
Cheese Sauce- No Roux!
The difference between a good mac and cheese recipe and a bad one comes down to the cheese sauce.
Too thin and watery and it doesn't stick to the pasta. Too thick and gloopy and it is just a bad texture. And the trick has nothing to do with cheese and everything to do with the base which is usually a roux, but for this quick and easy recipe, we are going to use a cheese sauce hack.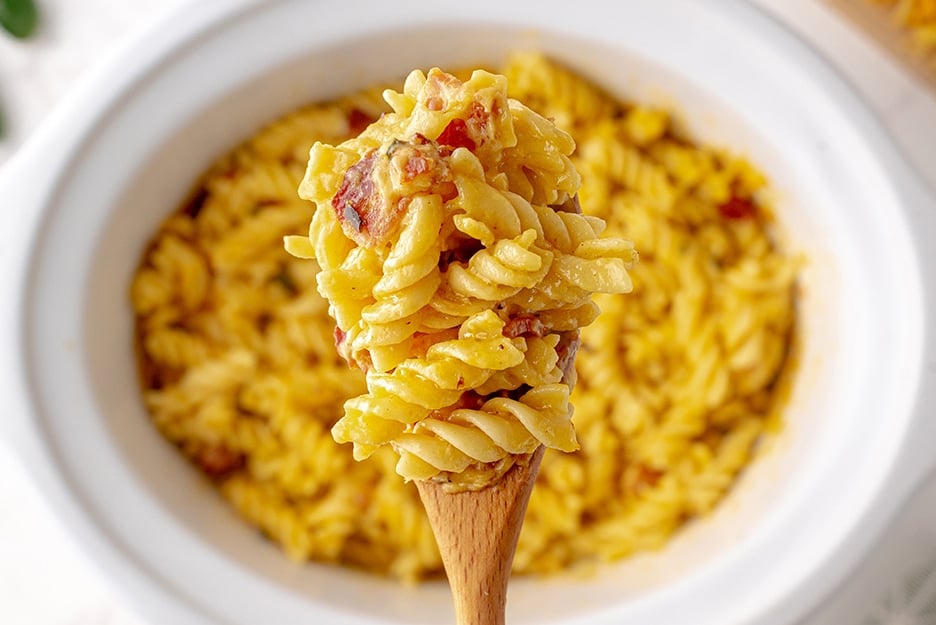 Roux is considered to be one of the 5 mother sauces and hails from France. It starts as a paste of equal parts of fat (butter) or flour and then thinning it out with dairy, generally milk. From there, cheese is added.
Speed is the name of this game, so I used condensed cheese soup for the base- concentrated flavor in a smooth and thick sauce already flavored with cheese. This means less work, pots and pans for you, but still a thick and rich sauce.
The Cheese
This recipe for macaroni and cheese has won THREE, yes three, mac and cheese competitions. Even with the additional work, it is my go-to for side dishes when I really want to WOW folks.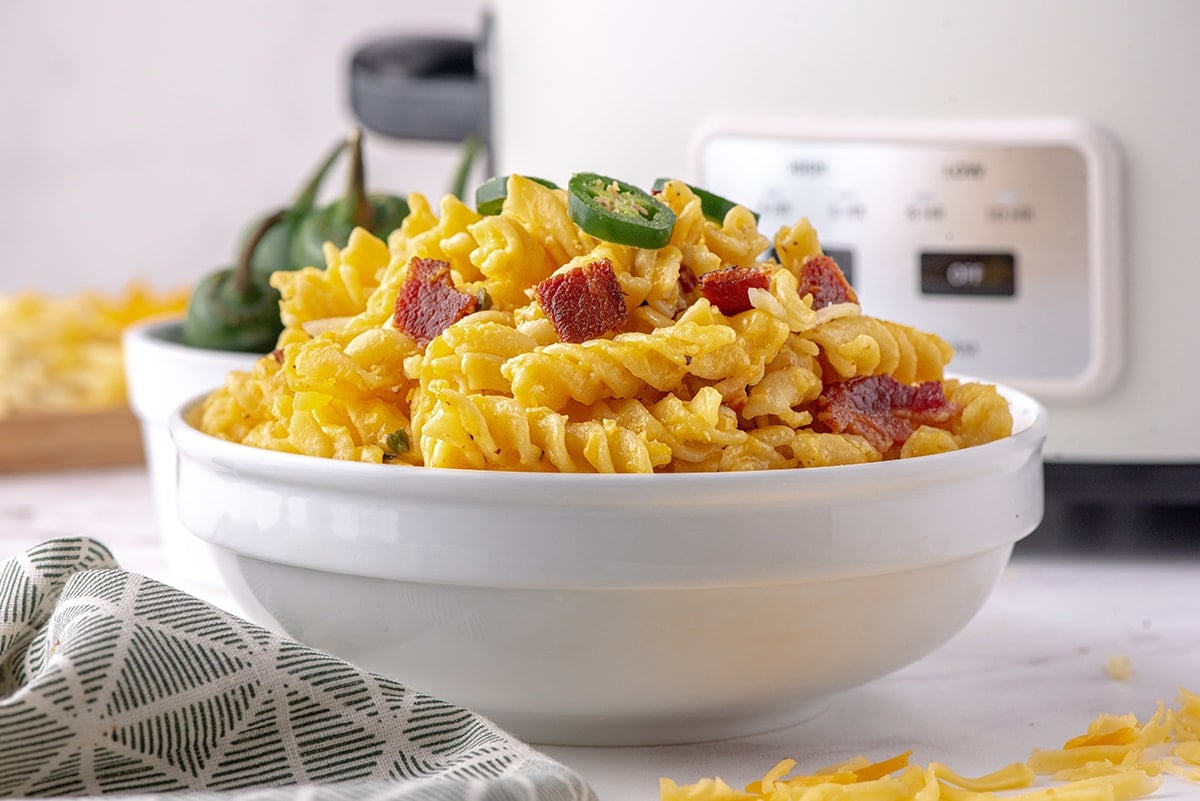 One can use many different types of cheese for mac and cheese, but I prefer gouda and cheddar. Smoked gouda is a medium flavored cheese that adds an unexpected zing and of course, smoke, to the traditional flavor of cheddar. I used both sharp yellow and white cheddar. Pasta types can also be varied.
The Pasta
I prefer to use something that "holds" a lot of sauce, anything with a corkscrew shape is a good pick. You want nooks and crannies for the perfect cheese sauce to be able to stick to it!
Other good mac and cheese pasta choices include:
Elbows
Fusilli
Wagon wheels
Shells
Cavatappi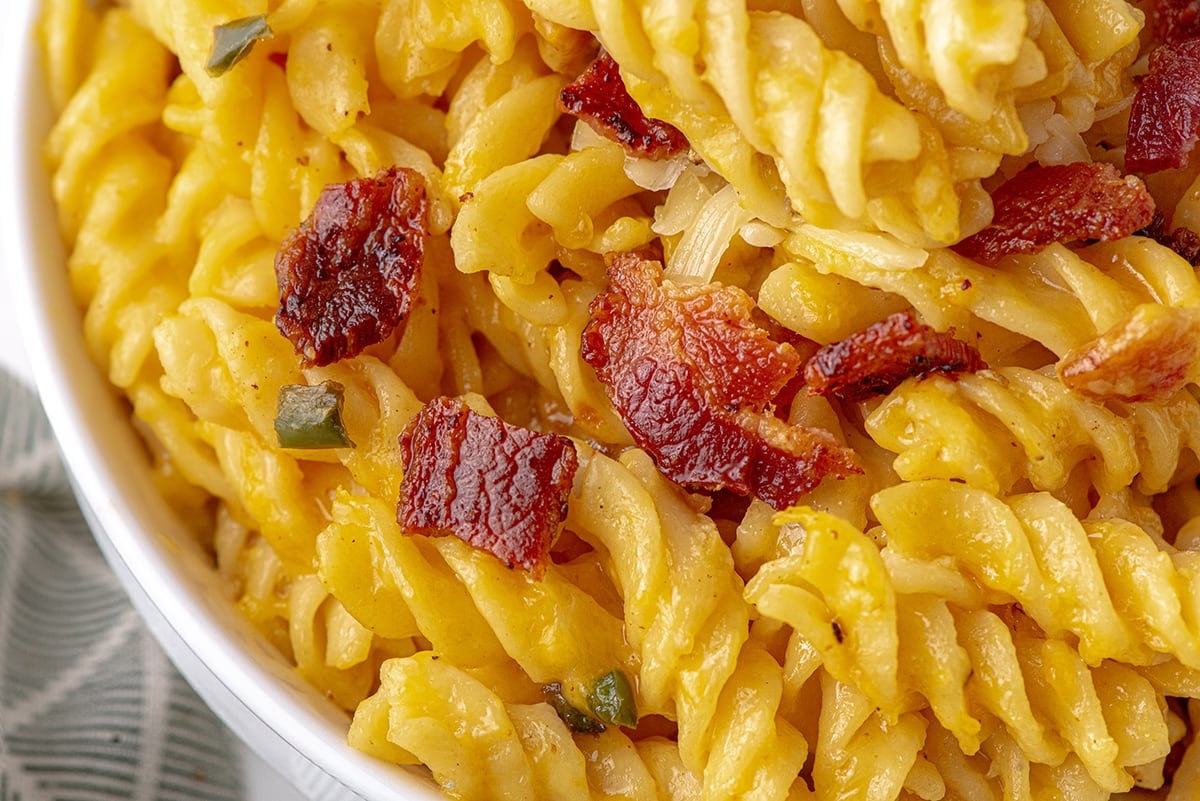 Other Ingredients
Most of these are kitchen staples, with the exception of the jalapenos, of course.
Center Cut Bacon– I like center cut because there isn't as much fat. Taste your bacon ahead of time to know the saltiness and then be able to accordingly adjust the salt in the rest of the recipe.
Jalapenos– Peppers differ in heat, so make sure it is safe for your crew before you flavor the whole pot! To reduce heat on jalapenos, nix the seeds or use pickled. And if you really want those sweat beads to brew, swap them with habanero or ghost peppers.
Condensed cheddar cheese soup- I rarely use canned soups, but in this case, it replaces the traditional roux, saving you oodles of time.
Sour Cream– adds creaminess and a little tang.
Unsalted butter– I almost always use unsalted so I can adjust the saltiness.
Onion powder- This is supposed to be a quick recipe, so I used powder instead of chopping, if you opt for fresh onion, use 2 tablespoons of finely minced yellow or white onion. Onion powder can also be swapped for garlic powder if that suits your palate better.
White pepper- White pepper has a slightly milder pepper flavor than black or red peppercorns. Any of the peppers can be used.
Cheeses– smoked gouda, sharp cheddar and white cheddar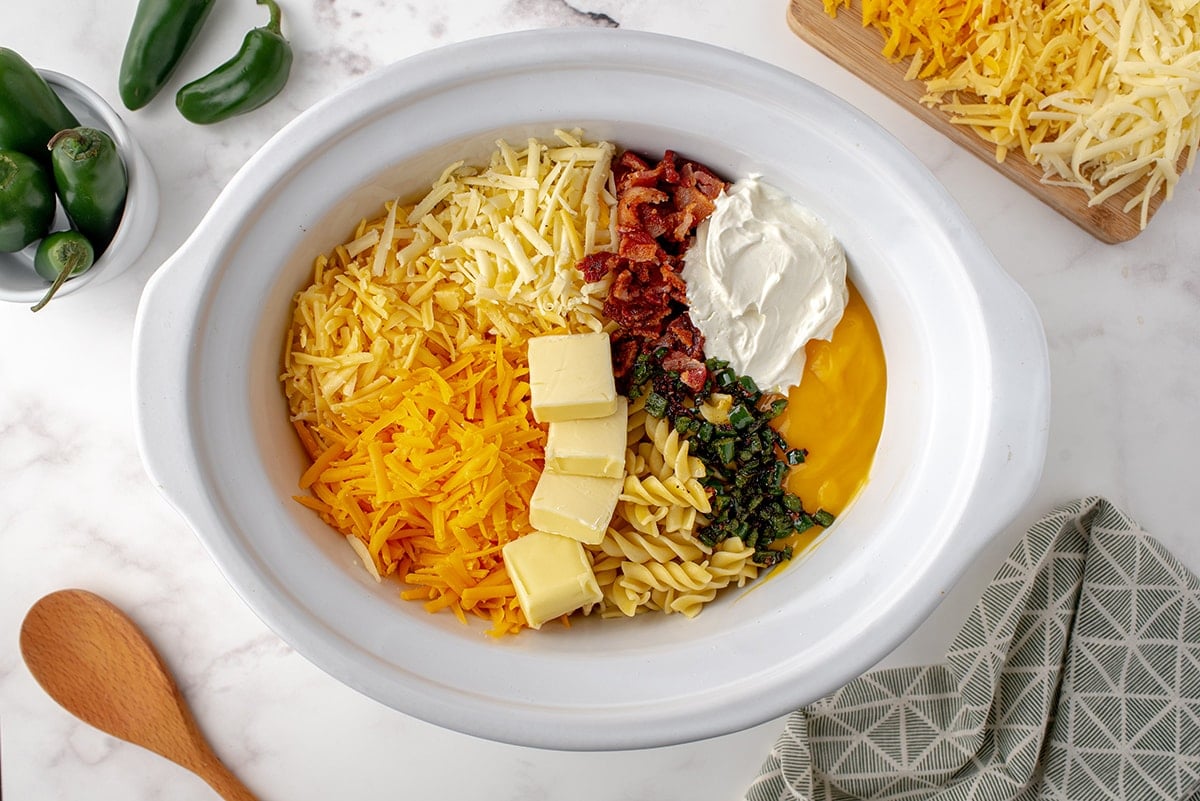 Make It!
I'm generally against crock pot recipes that require a ton of work before throwing it all in the pot, but for this one, it is unavoidable. The bacon and the pasta will need to be cooked ahead of time.
From there, it all goes into the pot and just needs to heat long enough for the cheeses to melt. The steam will keep your sauce silky smooth.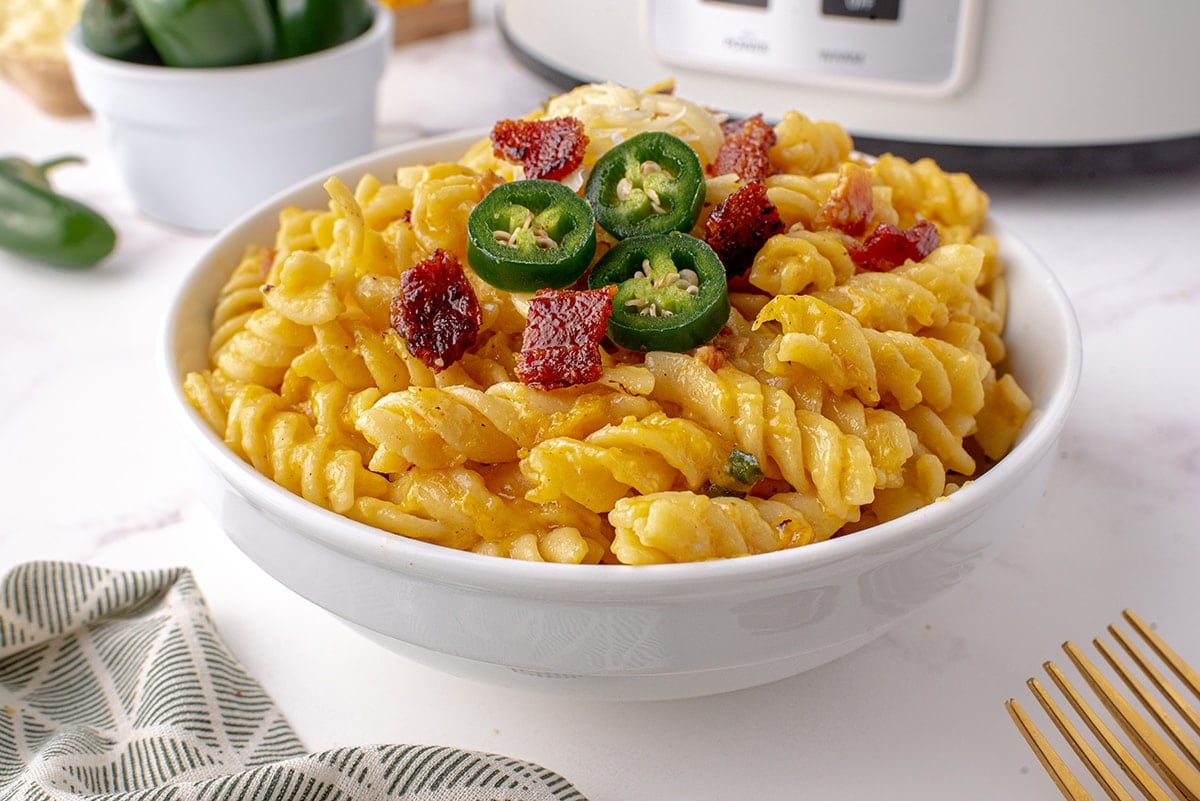 Make Ahead and Leftovers
This recipe can surely be made ahead of time at several different places. You can get all the ingredients ready, primarily the pasta and bacon and then throw it all in before you need it.
You can also make the whole thing and just reheat it in either the slow cooker, stovetop, oven or microwave.
Mac and cheese is unbelievable freezer friendly as well!
I've been asked if this is the Famous Dave's or Del Frisco's Jalapeno Bacon Mac and Cheese Recipe and the answer is no, it is not a copycat recipe. However, it does taste just as good, if not better!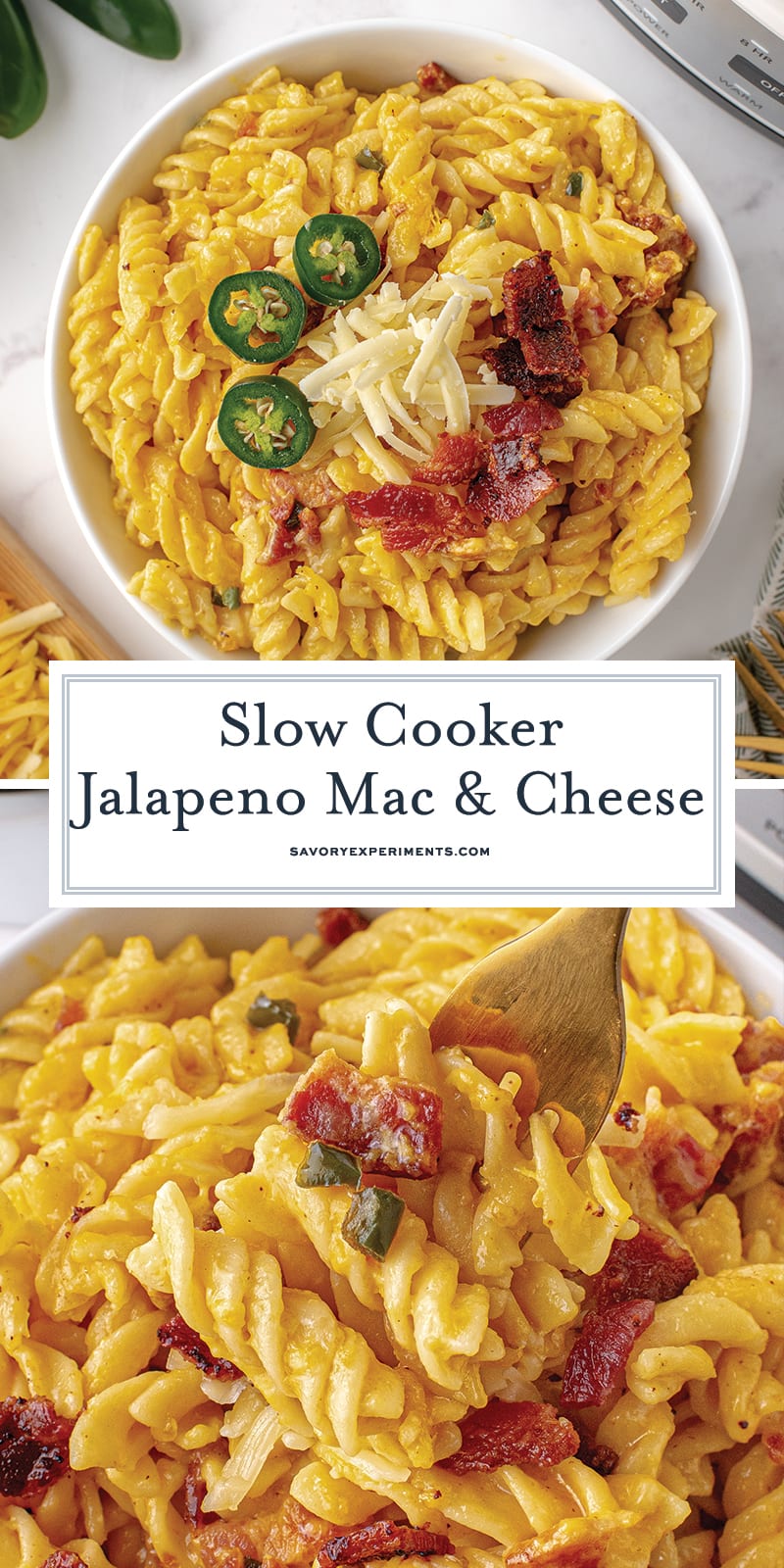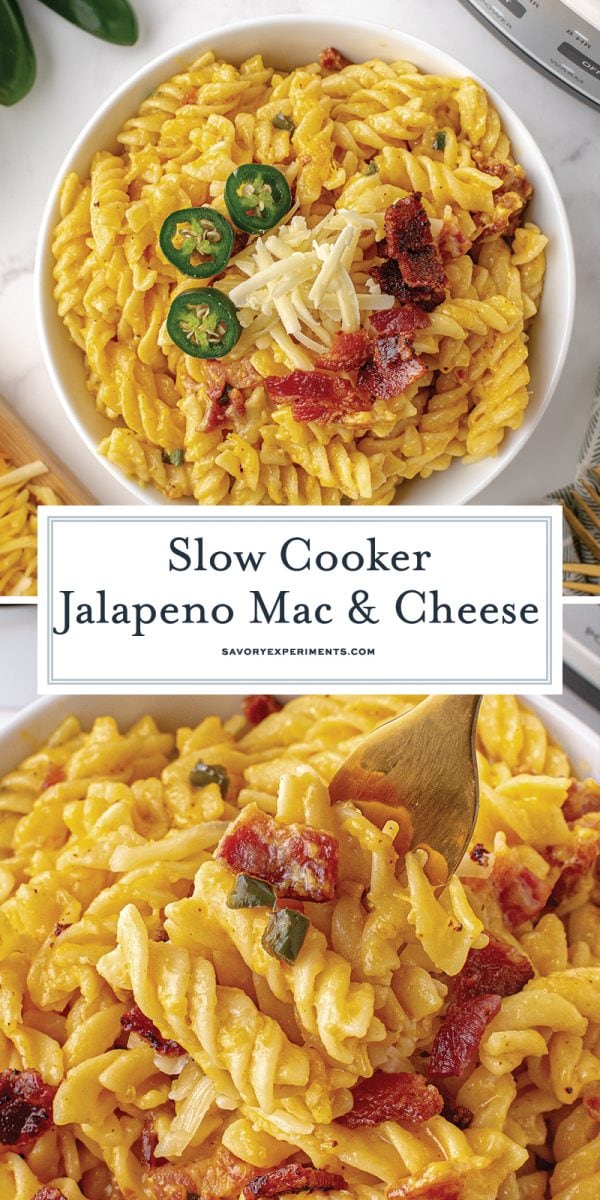 More delicious mac and cheese recipes you might like: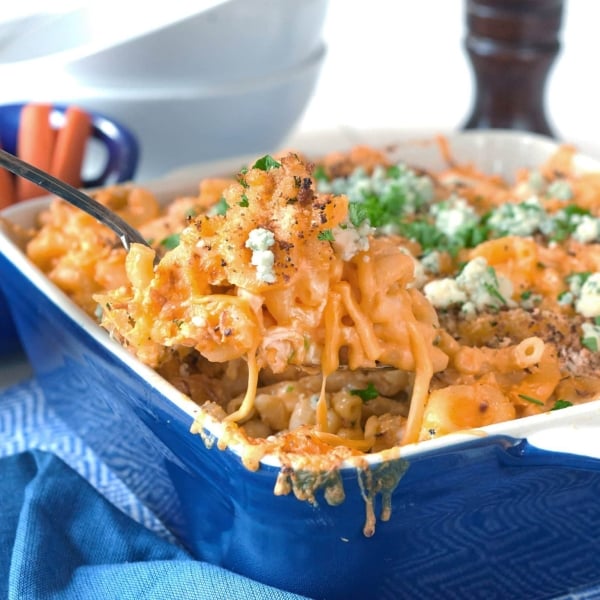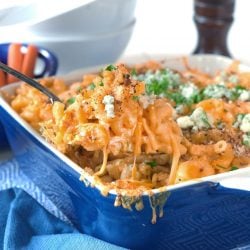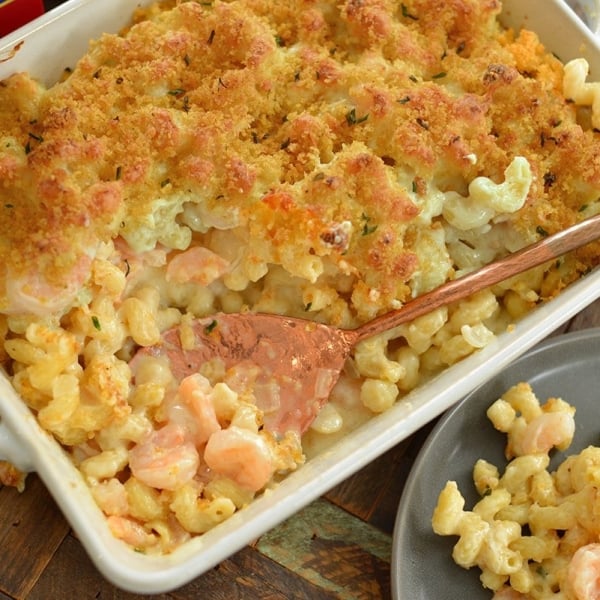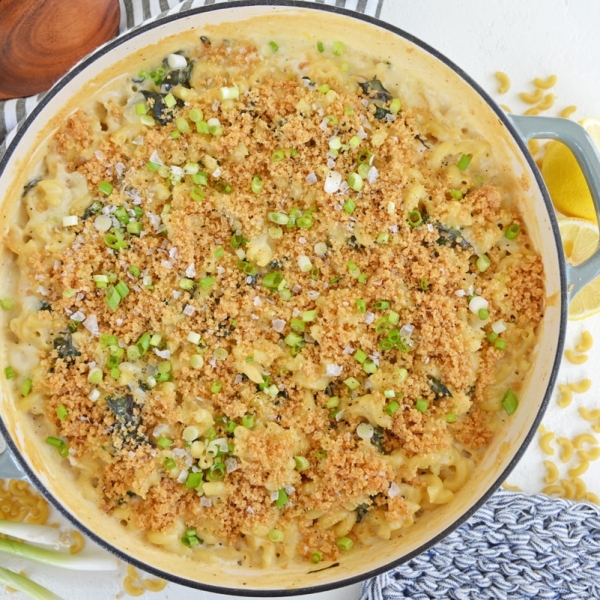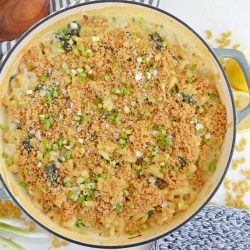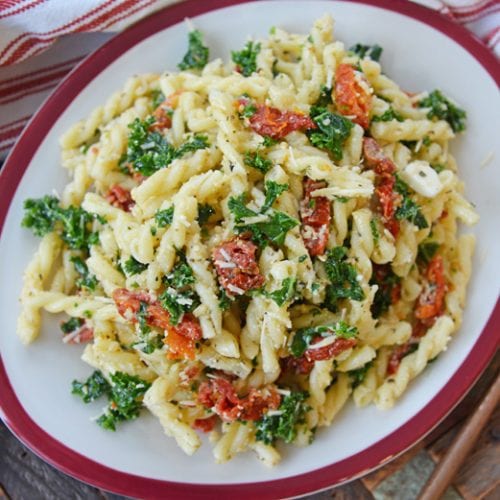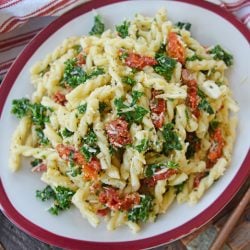 Kale Mac and Cheese
Massaged kale tossed with olive oil, garlic, Parmesan cheese and sundried tomatoes, this EASY Kale Pasta Salad is the ultimate side dish!
See The Recipe!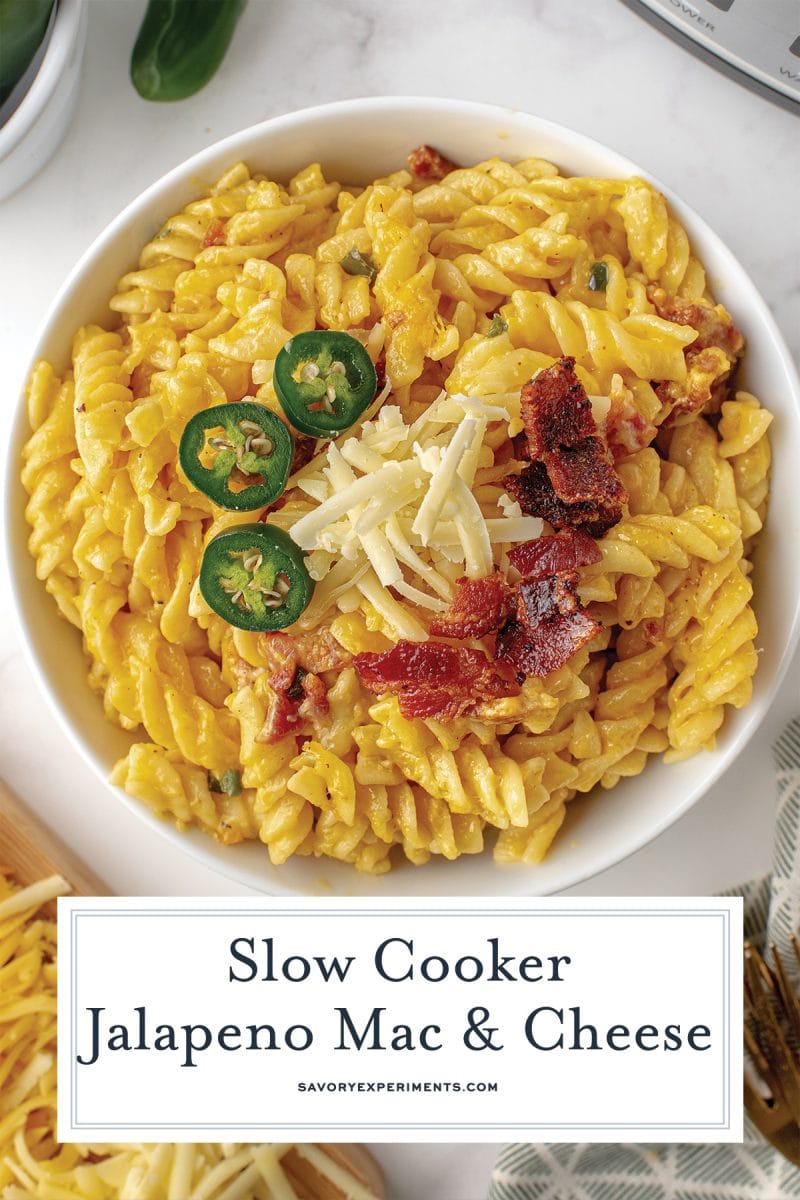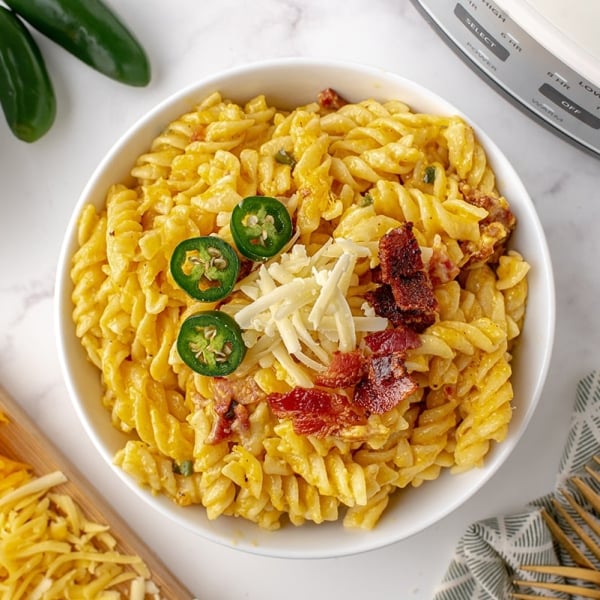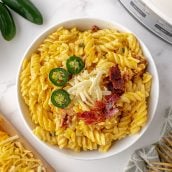 Slow Cooker Jalapeno Mac and Cheese Recipe
Slow Cooker Jalapeno Bacon Mac and Cheese is the BEST mac and cheese recipe made in the slow cooker with gouda, cheddar bacon and jalapenos!
Ingredients
12

ounces

dry rotini pasta

1/4

cup

plus 2 tablespoons unsalted butter

, divided

6

slices

center cut bacon

2

jalapenos

, seeded and minced

12

ounces

condensed cheddar cheese soup

1/2

cup

sour cream

1/2

teaspoon

onion powder

1/4

teaspoon

ground white pepper

1

cup

smoked gouda

, shredded

1

cup

sharp cheddar

, shredded

1

cup

white cheddar

, shredded
Instructions
Cook pasta according to package directions for al dente, minus 1 minute. Drain and toss with 2 tablespoons unsalted butter to prevent it from sticking together while you prepare the other pieces. Set aside.

Cook the bacon in a skillet over medium-high heat. Fry until crispy then remove the bacon to a paper towel lined plate, leaving the bacon fat in the skillet.

In hot bacon fat, saute the jalapenos for 2 minutes. Remove and set aside.

In a large saucepan, heat the condensed cheddar soup, sour cream and the remaining 1/4 cup unsalted butter, whisk until smooth. Whisk in all three cheeses until smooth and melted. Add onion powder and white pepper, combine.

Coat the inside of a large crock pot with cooking spray. Add cheese sauce and jalapenos. Give it a quick stir, then add pasta. Carefully toss pasta until just coated. Heat the crock pot to high and allow to cook for 1 hour.

Meanwhile, after the bacon has cooled, roughly chop. Add to mac and cheese after 1 hour, toss.

After adding the bacon, continue to cook on high for 10 minutes.

If serving at a party, change heat to "keep warm" or turn off. If the lid is on, the heat should keep it nice and hot.

If you've tried this recipe, come back and let us know how it was in the comments or ratings.
Nutrition
Calories:
494
kcal
,
Carbohydrates:
32
g
,
Protein:
20
g
,
Fat:
31
g
,
Saturated Fat:
17
g
,
Cholesterol:
87
mg
,
Sodium:
657
mg
,
Potassium:
343
mg
,
Fiber:
1
g
,
Sugar:
2
g
,
Vitamin A:
845
IU
,
Vitamin C:
3.5
mg
,
Calcium:
423
mg
,
Iron:
0.8
mg