There is nothing quite as wholesome and soul warming as a fresh dish of baked macaroni and cheese. Straight out of the oven, I'm inclined to reach in a pick off the crunchy little edges.
The only thing that makes it better is when it is Buffalo Chicken Mac and Cheese!
Buffalo Chicken Mac and Cheese is a quick and spicy baked mac and cheese recipe the whole family will love. Perfect as a potluck recipe or for a BBQ side dish!
This post is sponsored by Southern Kitchen. All opinions are my own.
I'll tell you all about this buffalo chicken mac and cheese, but before I do, can we talk a little about my new favorite cookware website?
Beautiful tools make tasty food that much better and the process of cooking that much more fun. At Southern Kitchen they sell gorgeous vessels that are practical and pretty. The best of both worlds.
PRO TIP: To add even more spice and heat, try using a pepper jack cheese in addition to cheddar cheese!
Check out these hand painted stoneware measuring cups. I actually leave them on my countertop as accent pieces. Spouts make them handy for liquid and dry measuring.
Colorful designs guarantee to put a smile on your face while in use. Update: unfortunately, these are no longer available…
And who can't use a cherry red Staub baking dish? An essential kitchen item, there is no need to buy a drab one.
PRO TIP: Cook macaroni to al dente or even one minute less. It will cook even more while baking.
You know what they say, if your casserole dish pops, your recipe will too! Okay, so I don't know anyone who says that, maybe just me ☺
For a while now I've been obsessed with this chicken roaster. I visit it on the regular at Bryan Voltaggio's Family Table and now I can have one of my very own!

Southern Kitchen offers more than just stylish kitchenware, they also host a weekly Sunday Supper Podcast that you can also catch on Facebook Live Friday afternoons.
Topics are informational with Southern pizazz like The Biscuit Commandments and The Women of Cast Iron Chronicles.
Virginia Willis is a regular collaborator, offering classic recipes like good ole Southern Egg Sandwiches. They even allow YOU to be a part of the kitchen fun by submitting your own family recipes!
Before you get cooking, here are few notes about this fabulous Buffalo Chicken Mac and Cheese Recipe. Prepare to be WOWED.
Then prepare to be slightly obsessed. My family loves this homemade mac and cheese recipe… it is requested at every party I attend.
Click the link for my classic buffalo sauce, but feel free to use a mild version, your favorite flavor or even get crazy and use a BBQ sauce!
Many recipes use sour cream for the creaminess factor, but I prefer mayonnaise. Mayo not only adds creaminess, but since it is made from eggs, helps hold the mac and cheese casserole together.
Sandy F. says: "This is a great recipe. Thank you for sharing, my whole family loved it! We even added more hot sauce to top."
I also can not stress enough the importance of using freshly grated cheese. Pre shredded cheese has its place for ease and convenience, but is coated in potato starch to prevent sticking and clumping.
That same starch can negatively impact your macaroni and cheese recipe.
This mac and cheese sauce is thick, creamy and will grasp onto the ingredients. If you prefer a thinner sauce, add an additional ½ cup of milk. Scroll down to the notes section to see more fun variations on this spicy buffalo chicken pasta bake!
PRO TIP: You can also add green onions (scallions) or chives to the top of your dish to add more color!
Here are a few more mac and cheese recipes you might fancy:
Cauliflower Mac and Cheese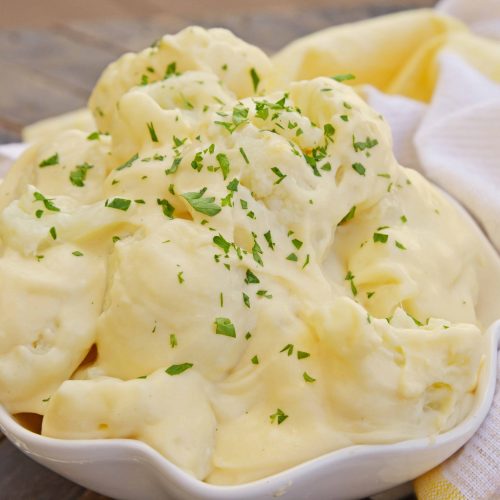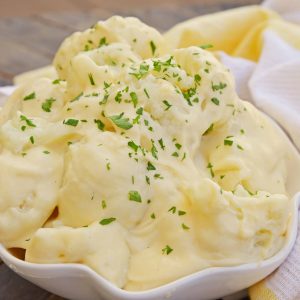 Cauliflower Mac and Cheese is an easy-to-make low carb mac and cheese that follows keto guidelines. A kid-friendly cauliflower side dish!
Tools for making mac and cheese:
Heavy Bottom Sauce Pan– this will be one of your most used kitchen tools. Having something that is heavy bottom will distribute heat better and prevent burning whether you are using an electric or gas range.
Dutch Oven– every kitchen should have one! They are heavy. They are expensive. They are worth it!
Mixing Bowls– make sure to check out my article on Using the Right Mixing Bowl, you'd be surprised how many people aren't!
9×9 Casserole Dish– You'll use this for baking brownies, making homemade mac and cheese recipes and more! Do yourself two favors and get one that is dishwasher safe AND has a lid.
Questions about how to make buffalo chicken mac and cheese:
Can I freeze mac and cheese? Yes, if frozen properly, mac and cheese will stay good in the freezer for up to 4 months.
My family likes things mild, can I use a different sauce? You can omit the buffalo sauce altogether, use a mild buffalo sauce or even substitute a BBQ sauce.
Can I make baked mac and cheese in advance? One of the beauties about mac and cheese is that it is perfect to be made in advance. Cover and refrigerate before or after baking. If you do the later, just reheat it in the oven.
Can I omit the blue cheese? Yes! If you your family doesn't enjoy blue cheese, simply leave it off. If your family loves blue cheese, go ahead and serve it with a side of blue cheese dressing!
Do I have to use elbow macaroni? While elbow macaroni is certianly the most famous and commonly used pasta for mac and cheese, you can use any pasta you'd like. Ones with lots of nooks and crannies so the sauce can stick to it. other commonly used types of pasta are:
Shells
Rigatoni
Penne
Ziti
Rotini
How long can mac and cheese sit out? I don't recommend allowing it to sit out at room temperature for more than 2 hours.
Can mac and cheese be served cold? It sure can! I prefer mine hot, but hubby might argue he likes it better the day after and cold.
My cheese sauce is too thick, how do I thin it? Before adding it to the pasta, simply whisk in more milk. It might seem sloppy at first, but it will combine eventually.
My cheese sauce is too thin, how do I thicken it? You can use a starch, like cornstarch or arrowroot, or add more cheese until it reaches the desired consistency.
Can I omit the chicken? Sure! You can make this into just a buffalo mac and cheese recipe by taking out the chicken.
Can I use canned chicken instead of a rotisserie chicken? Be my guest! I am not a fan of canned chicken, so I don't care to use it, but you can. I would suggest about 16 ounces, drained.
Buffalo Chicken Mac and Cheese is a quick and spicy baked mac and cheese recipe the whole family will love. Perfect as a potluck recipe or for a BBQ side dish!
CONNECT WITH SAVORY EXPERIMENTS!

Be sure to follow me on social media, so you never miss a post!

Facebook | Twitter | Youtube
Pinterest | Instagram

Get our FREE 8 Day E-Course on How to Be a Better Home Cook. Sign up HERE!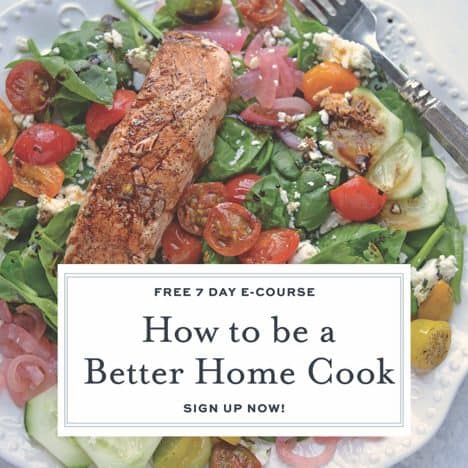 Buffalo Chicken Mac and Cheese
Buffalo Chicken Mac and Cheese is a quick and spicy baked mac and cheese recipe the whole family will love. Perfect as a potluck recipe or for a BBQ side dish!
Instructions
Preheat oven to 350 degrees.

Cook elbow pasta according to package directions for "al dente". Drain and set aside.

In the same large pot, melt butter over medium-low heat. Add dried minced onion, kosher salt and white pepper. Stir until butter is melted and onion is fragrant.

Whisk in flour until a paste forms. Slowly add milk to form a thick cream, then add a little more until all milk is added and there are no flour lumps.

Add buffalo sauce, whisking until combined.

Add shredded cheddar cheese and mayonnaise, whisking until combined.

Fold in cooked elbow macaroni and shredded chicken.

Coat a 9×9 baking dish with cooking spray. Transfer contents to baking dish and top with seasoned bread crumbs.

Bake, uncovered, for 20 minutes. Change to low broil to brown the bread crumbs.

Remove, top with blue cheese crumbles and parsley, if desired.

Serve hot with celery and carrot sticks.

If you've tried this recipe, come back and let us know how it was!
Notes
*For easy shredded chicken, use a store-bought rotisserie chicken or canned chicken, drained. Variations: Substitute chicken for cut up hot dogs or ground beef (cooked and drained) ½ teaspoon smoked paprika ½ cup sun dried tomatoes ½ cup bacon ½ cup peas ½ cup celery or carrots, chopped ½ teaspoon cayenne pepper
Nutrition
Calories:
492
kcal
|
Carbohydrates:
49
g
|
Protein:
22
g
|
Fat:
22
g
|
Saturated Fat:
10
g
|
Cholesterol:
65
mg
|
Sodium:
889
mg
|
Potassium:
277
mg
|
Fiber:
2
g
|
Sugar:
4
g
|
Vitamin A:
540
IU
|
Vitamin C:
1.2
mg
|
Calcium:
284
mg
|
Iron:
1.5
mg