There is nothing quite as wholesome and soul warming as a fresh dish of baked macaroni and cheese. Straight out of the oven, I'm inclined to reach in a pick off the crunchy little edges. The only thing that makes it better is when it is Buffalo Chicken Mac and Cheese! The ultimate comfort food.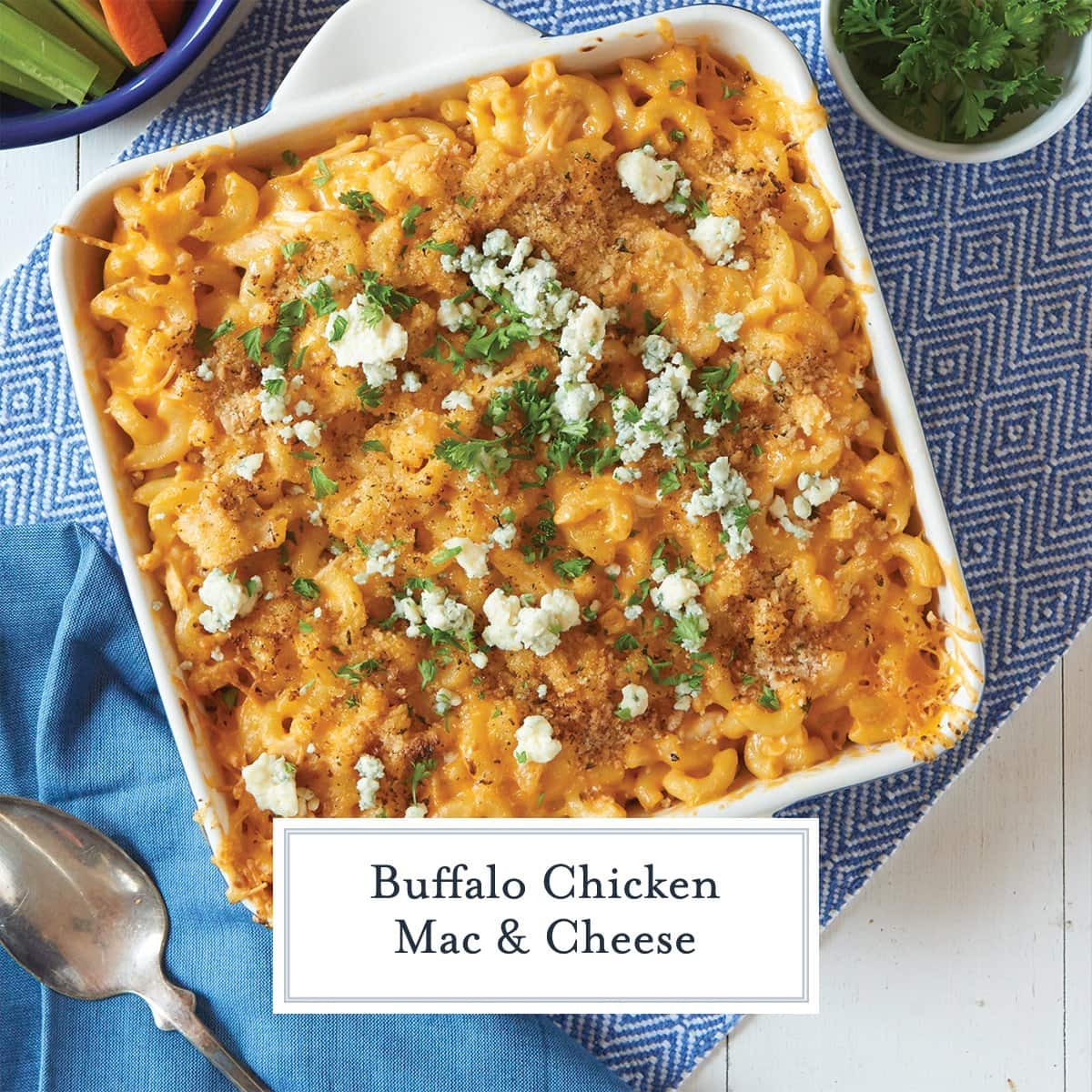 Buffalo Chicken Mac and Cheese
Sometimes known as BUffalo Chicken Macaroni or just buffalo mac, this recipe basically takes two of my favorite comfort foods, mac and cheese and buffalo chicken wings, and smashes them together.
It is the perfect dish to serve on the side any BBQ of potluck and in my house, it can be an easy meal. Serve with a side of celery and carrots, or maybe even a green salad and you are good to go!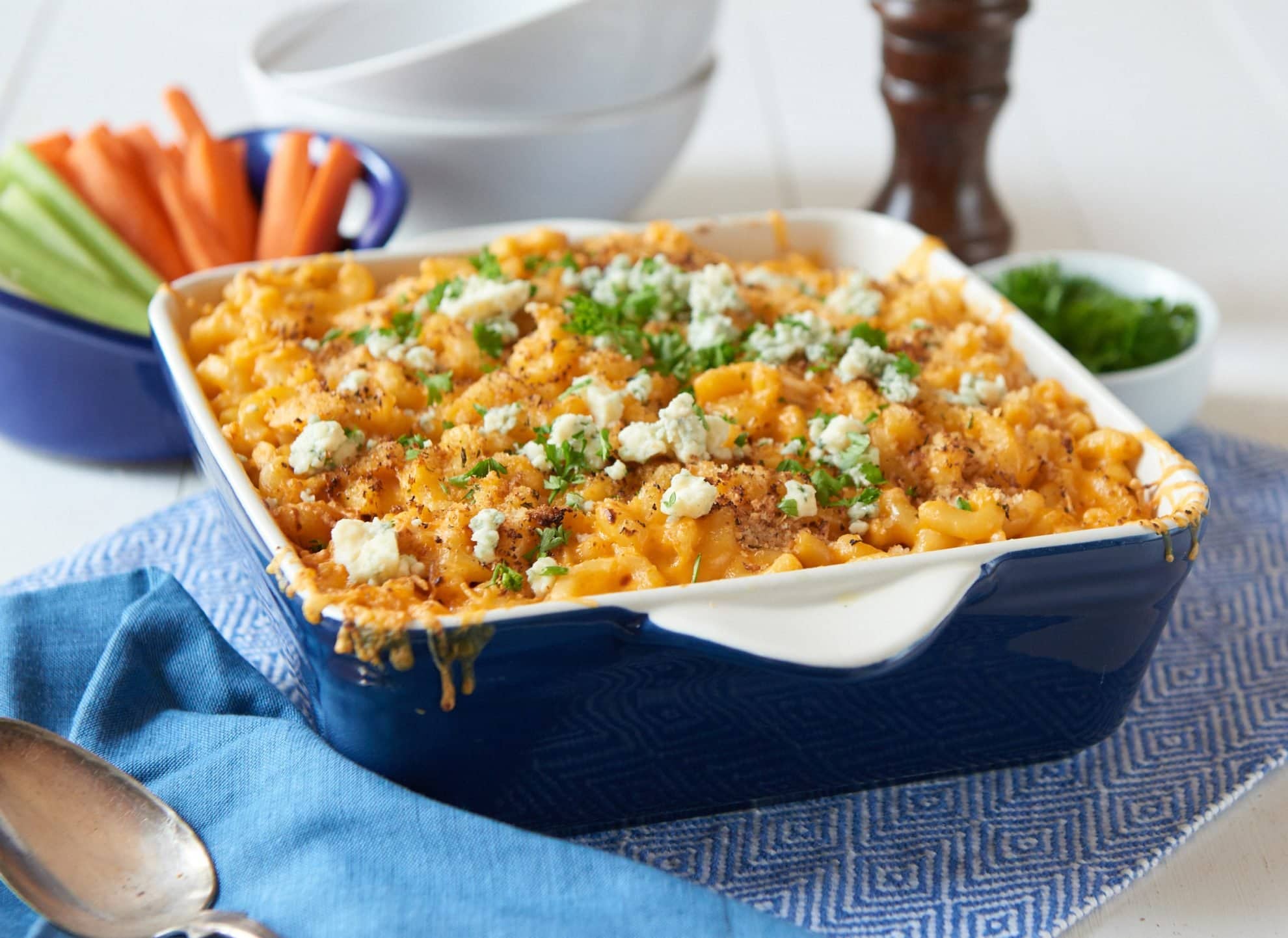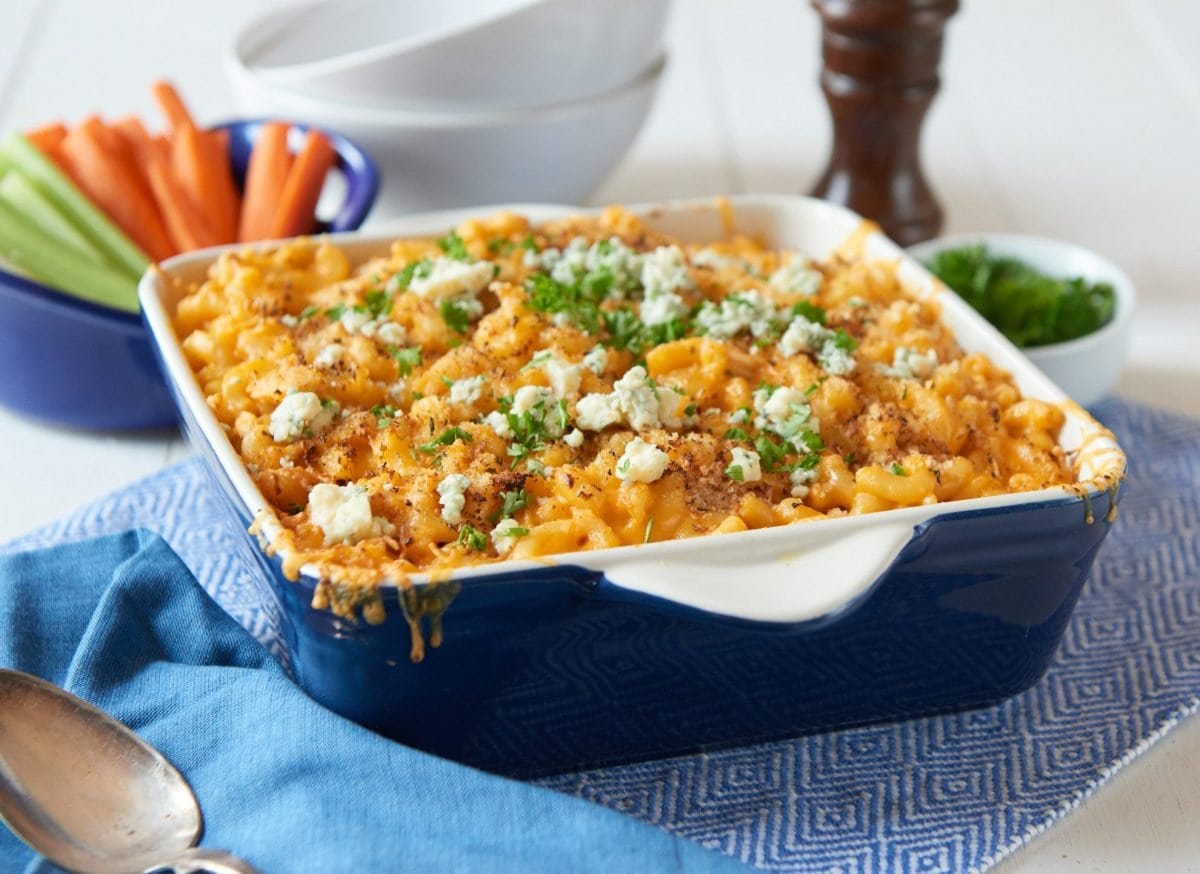 Ingredients You'll Need
The ingredients for this easy recipe are pretty simple. In fact, some of them are pantry staples. You can also swap out different cheeses for what you prefer!
Elbow macaroni – This is the traditional pasta shape for mac and cheese. The hollow shape allows all of that ooey gooey to fill up and allow for max deliciousness. Other options include shells, rigatoni, penne, ziti or rotini.
Unsalted butter – I always prefer to use unsalted butter when cooking. That way I can control the amount of salt.
Dried minced onion – I love the flavor of onion, but if you're not into it you can certainly omit this ingredient. Using dried saves some time from chopping also sweating, making more of an onion essence than bold taste. Onion powder is another option.
Flour – this works as a thickening agent. It helps the cheese sauce to become more of a sauce and less of a melty mess.
Milk – this adds to both the creaminess and richness of the mac and cheese. I usually have 2% on hand, but you can also use whole milk. I'm not a huge fan of skim in these types of recipes because you need some fat.
Spicy Buffalo sauce – my classic buffalo sauce is my favorite, but feel free to use a mild version, your favorite flavor or even get crazy and use a BBQ sauce! Please note that buffalo sauce is a combination of a vinegar based hot sauce and butter. You can use just hot sauce, but it won't be as creamy.
Mayonnaise – many recipes use sour cream or cream cheese for the creaminess factor, but I prefer mayonnaise. Mayo not only adds creaminess, but since it is made from eggs, helps hold the mac and cheese casserole together.
Cheddar cheese – I always freshly grate my cheese, and suggest you do the same! I like to use sharp cheddar cheese, but feel free to experiment with different kinds of cheese. Mild cheddar cheese, monterey jack and pepper jack cheeses are great options too.
Chicken – I love finding great recipes to use leftover chicken. For this recipe I like to use a rotisserie chicken or a chicken breast. Canned chicken is also an option- grab a 16 ounce can and drain it well.
Bread crumbs – I love a crunchy bread crumb topping on my mac and cheese! Seasoned, unseasoned or even panko are all options.
Blue cheese crumbles – you either love or hate blue cheese, but it does pair really well with buffalo sauce! If you aren't a big fan, you can swap it for a drizzle of ranch dressing if you prefer.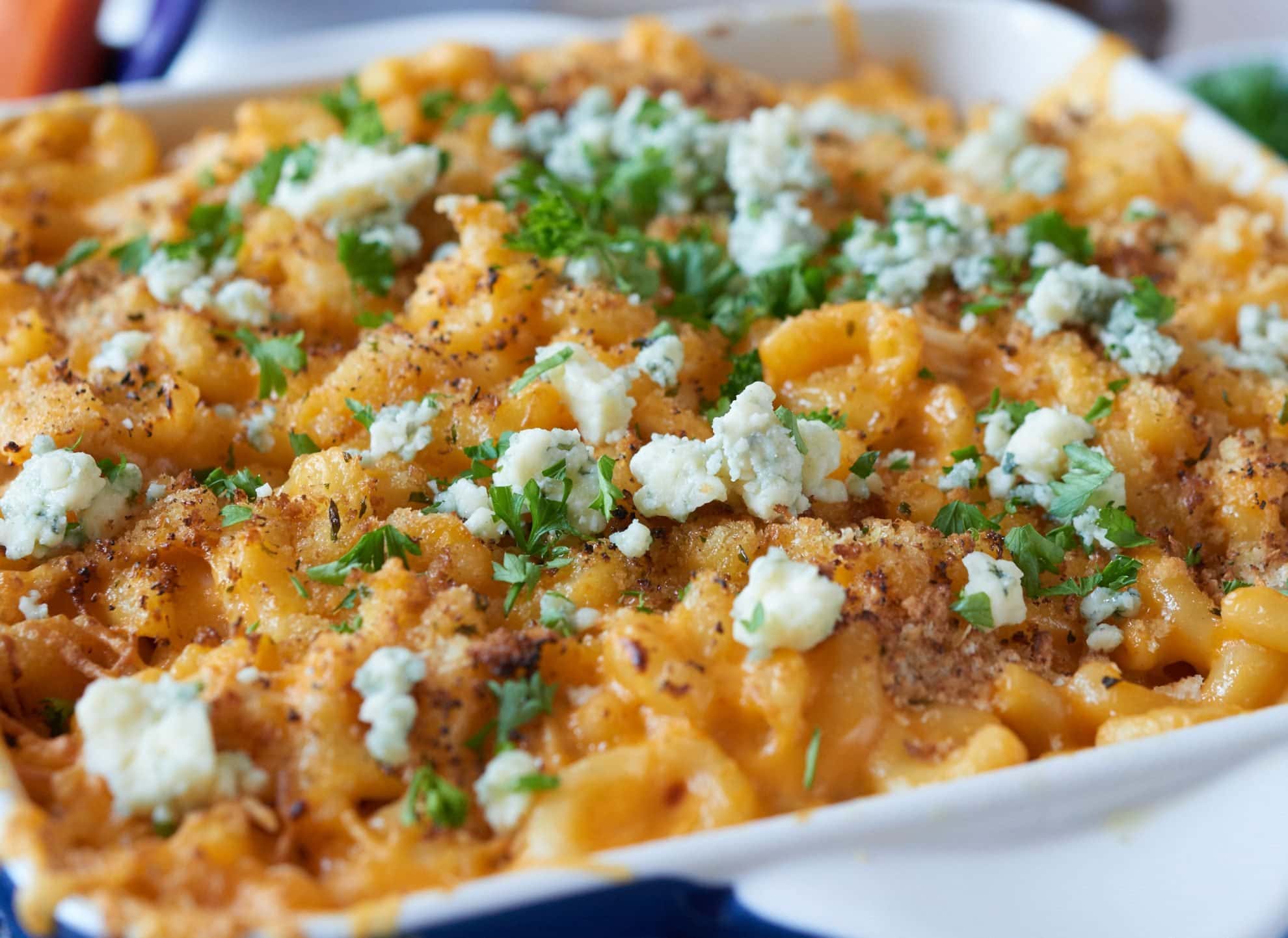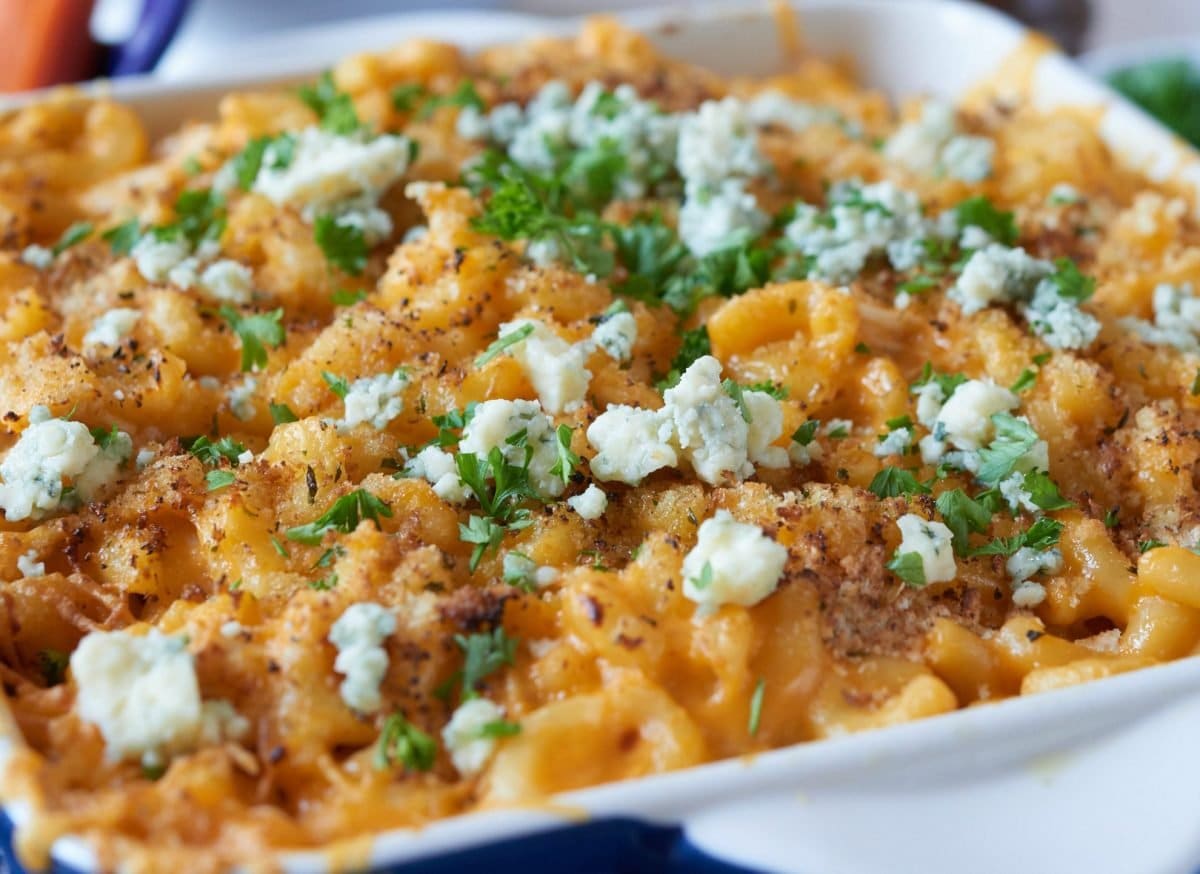 How to Make It
Cook the pasta al dente and drain well. Remember that it will continue to cook while baking, so leaving it a little undercooked is best.
In the same large pot you boiled the pasta in, melt the butter and the dried minced onion, salt and white pepper so it infuses, then add the flour to make a roux. Make sure to not go over medium heat, you don't want the butter to brown.
Slowly whisk in the milk until it is smooth (except for the onion flakes, of course). Then combine with the buffalo sauce.
Add the cheese and mayo. The trick to a creamy cheese sauce is using shredded cheese- melts so much better and smoothly. Then add the pasta and chicken.
Fold in cooked elbow macaroni and shredded chicken.
Transfer it to a prepared baking dish, then top with crunchy breadcrumbs and bake to combine. Bake until golden brown.
Serve hot and garnish with parsley, chives, scallions or more blue cheese.
My cheese sauce is too thick, how do I thin it? Before adding it to the pasta, simply whisk in more milk. It might seem sloppy at first, but it will combine eventually.
My cheese sauce is too thin, how do I thicken it? You can use a starch, like cornstarch or arrowroot, or add more cheese until it reaches the desired consistency.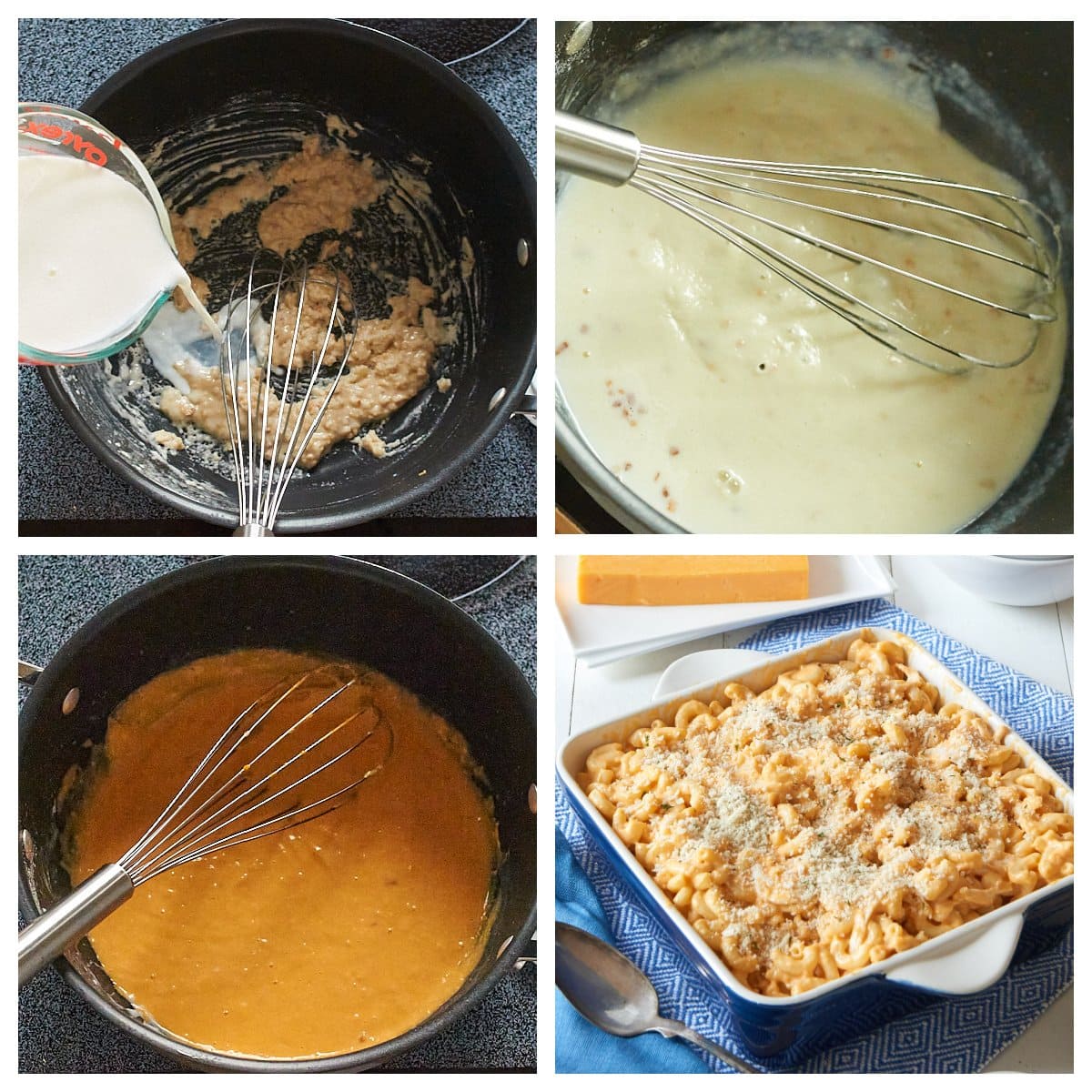 Variations
Make it Mild– My family doesn't like spicy foods, can I use a different sauce? You can omit the buffalo sauce altogether, use a mild buffalo sauce or even substitute a BBQ sauce.
Can I omit the blue cheese? Yes! If you your family doesn't enjoy blue cheese, simply leave it off. If your family loves blue cheese, go ahead and serve it with a side of blue cheese dressing!
BBQ Style– Swap the buffalo sauce for BBQ sauce. Mild, zesty or sweet- they'll all work!
Top it with green– You know me, I like color in my food and this one is pretty boring. Top it with chopped green onions for a fresh crunch or minced flat parsley.
Garlic– Adding freshly minced garlic or garlic powder is also an option, especially if you omit onion flakes.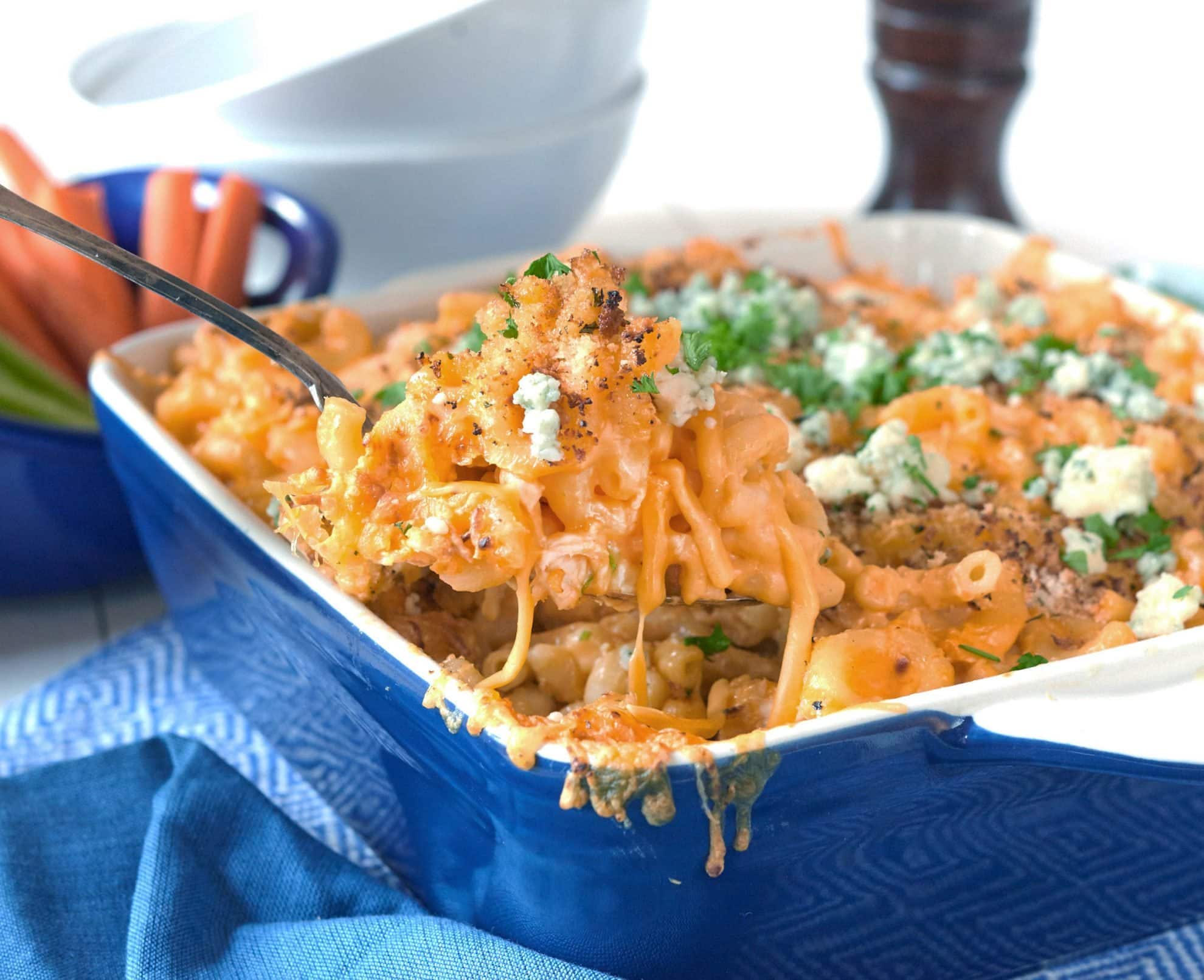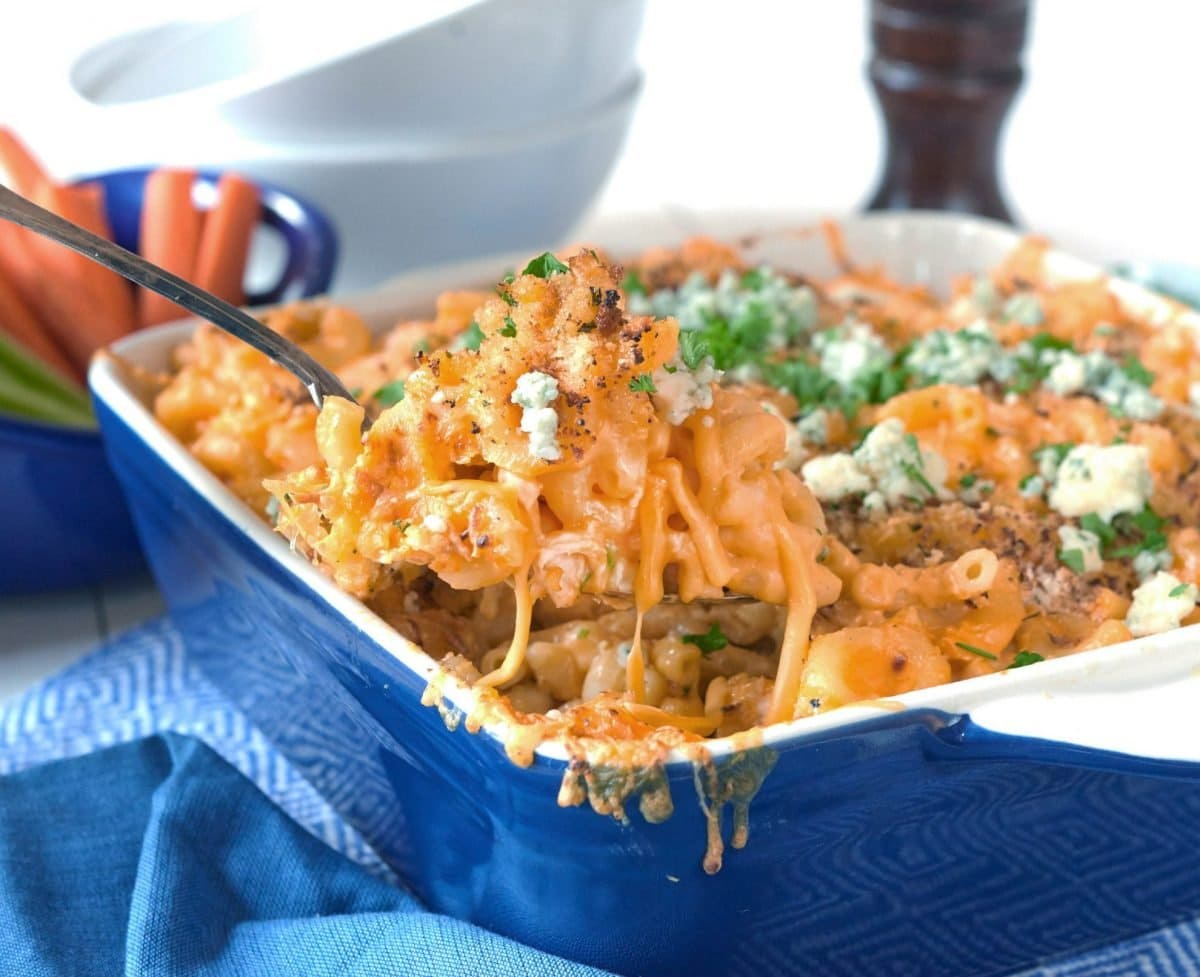 Make Ahead, Storage & Freezing
Can I freeze mac and cheese? Yes, if frozen properly, mac and cheese will stay good in the freezer for up to 4 months.
Can I make baked mac and cheese in advance? One of the beauties about mac and cheese is that it is perfect to be made in advance. Cover and refrigerate before or after baking. If you do the later, just reheat it in the oven.
How long can spicy buffalo chicken mac and cheese sit out? I don't recommend allowing it to sit out at room temperature for more than 2 hours.
Can mac and cheese be served cold? It sure can! I prefer mine hot, but hubby might argue he likes it better the day after and cold.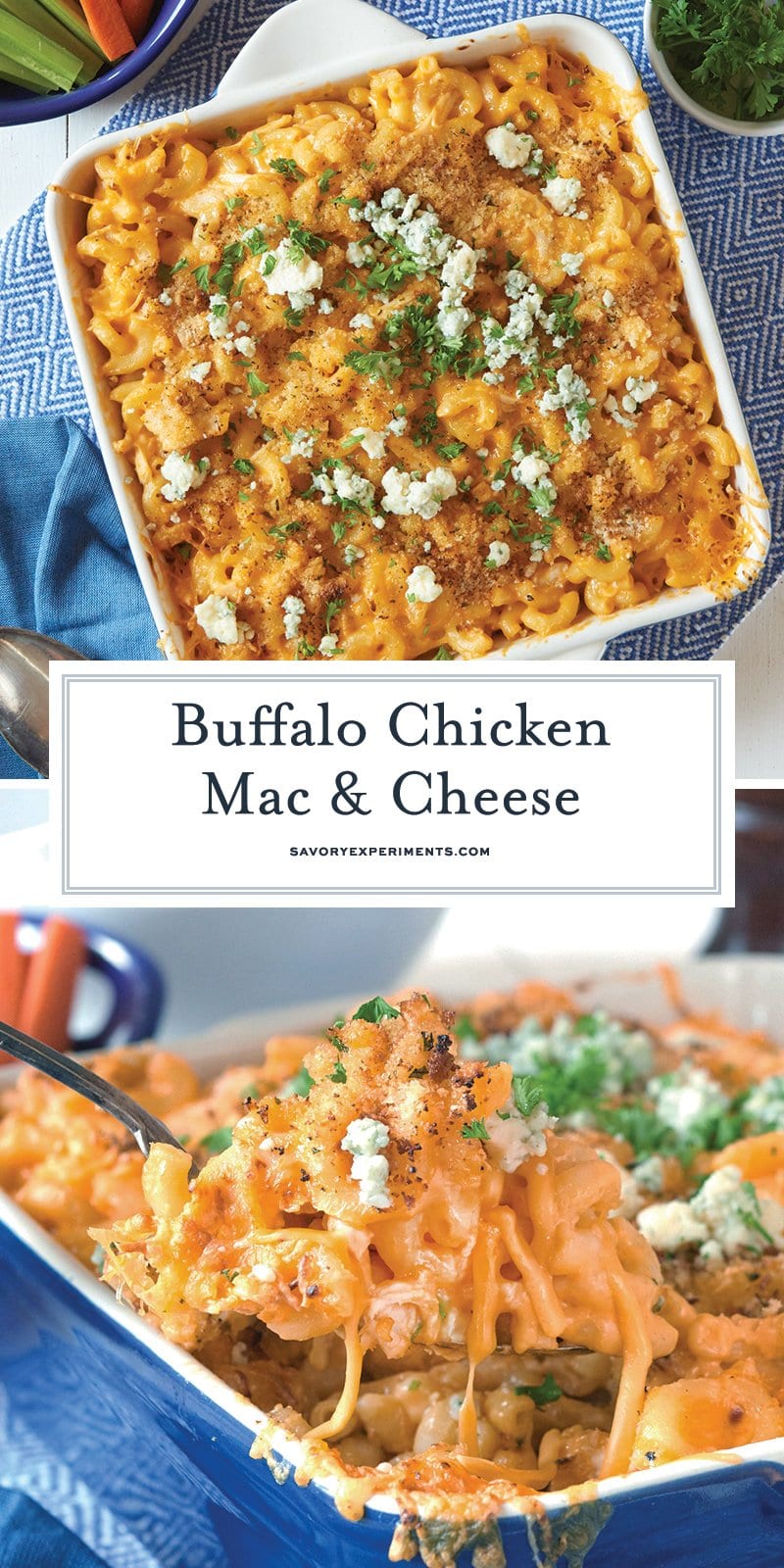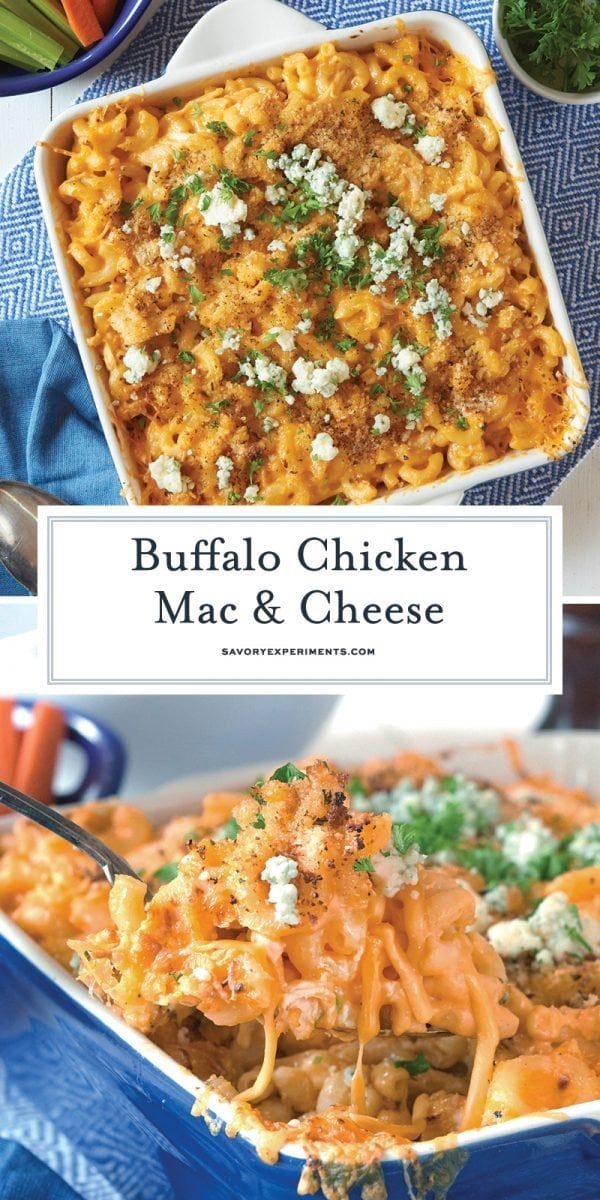 More Mac and Cheese Recipes: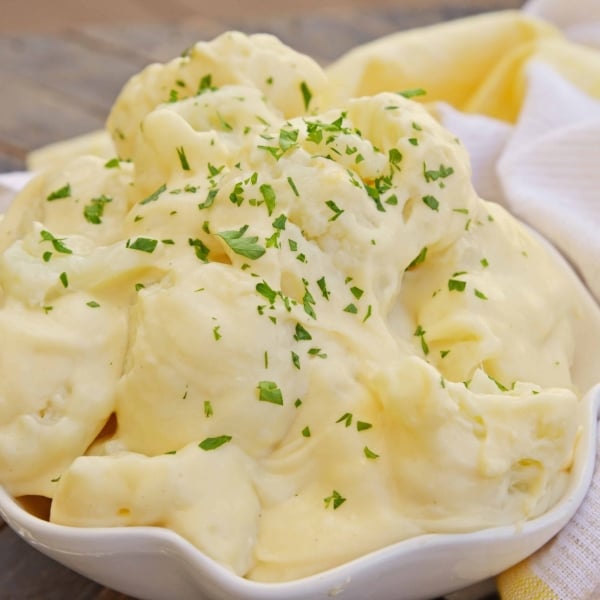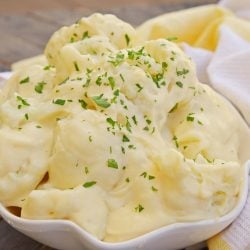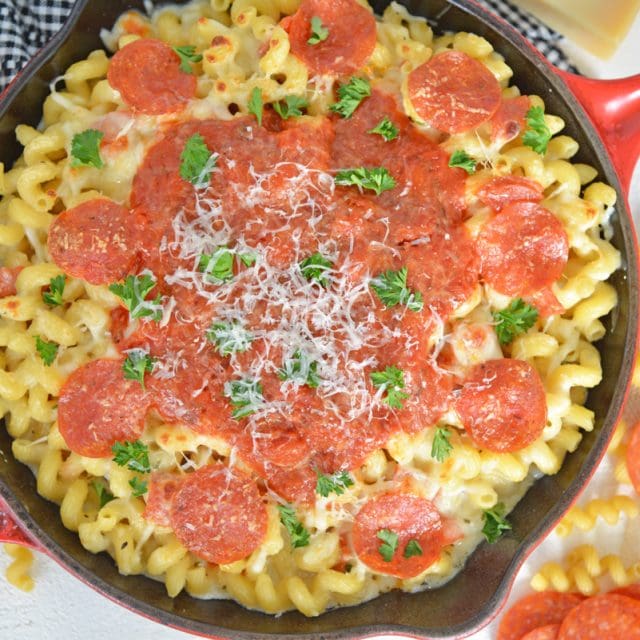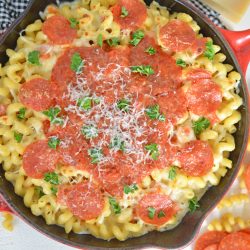 Pizza Mac and Cheese
Delicious three cheese mac and cheese combined with thick pasta sauce and pepperoni makes for the best side dish or entrée with Pizza Mac and Cheese!
See The Recipe!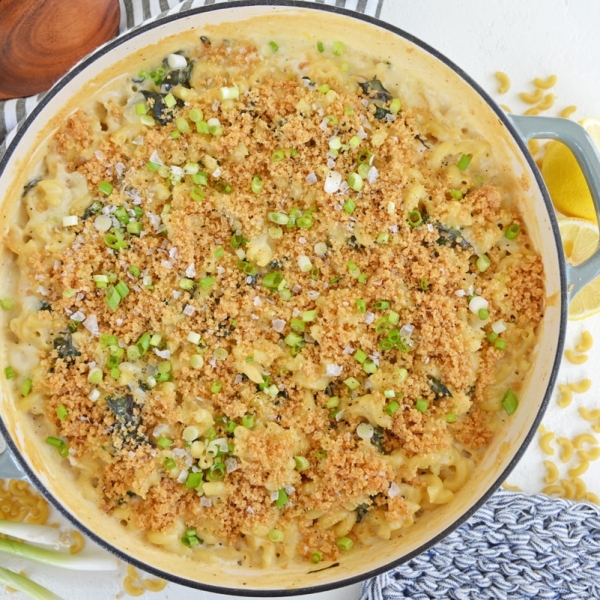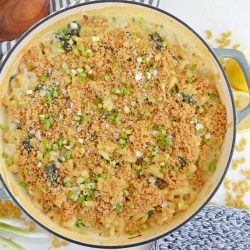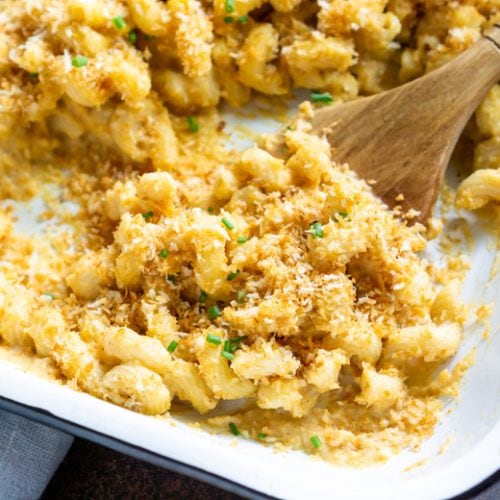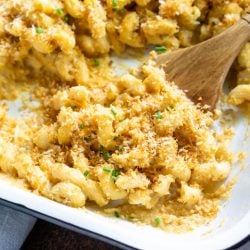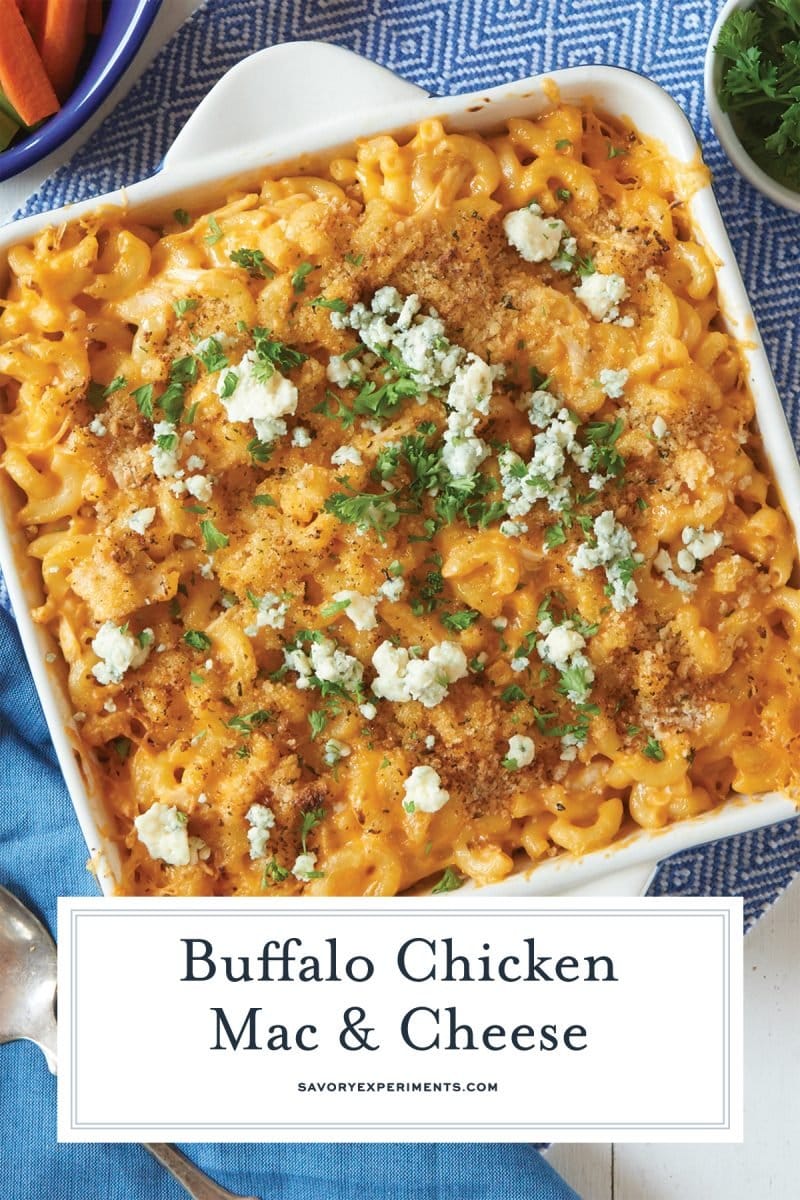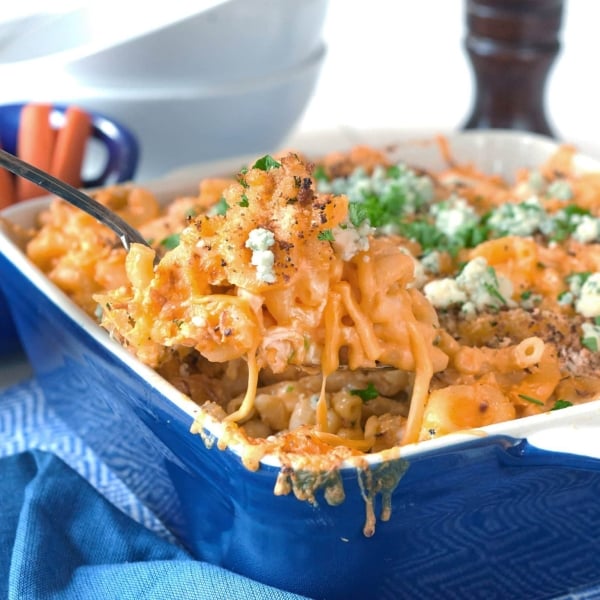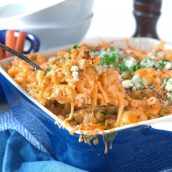 Buffalo Chicken Mac and Cheese
Buffalo Chicken Mac and Cheese is a quick and spicy baked mac and cheese recipe the whole family will love. Perfect as a potluck recipe or for a BBQ side dish!
Instructions
Preheat oven to 350°F. Coat a 9X9 baking dish with cooking spray.

Cook elbow pasta according to package directions for "al dente". Drain and set aside.

In the same large pot, melt the butter over medium-low heat. Add the dried minced onion, kosher salt and white pepper. Stir until the butter is melted.

Whisk in the flour until a paste forms. Slowly add the milk to form a thick cream, then add a little more until all milk is added and there are no flour lumps.

Add the buffalo sauce, whisking until combined, then whisk in the cheese and mayonnaise, whisking until combined.

Fold in cooked pasta and chicken.

Transfer the contents to the prepared baking dish and top with seasoned bread crumbs.

Bake, uncovered, for 20 minutes. Change to low broil to brown the bread crumbs.

Remove, top with blue cheese crumbles and parsley, if desired.

Serve hot with celery and carrot sticks.

If you've tried this recipe, come back and let us know how it was in the comments or ratings.
Notes
*For easy shredded chicken, use a store-bought rotisserie chicken or canned chicken, drained. Variations: Substitute chicken for cut up hot dogs or ground beef (cooked and drained) ½ teaspoon smoked paprika ½ cup sun dried tomatoes ½ cup bacon ½ cup peas ½ cup celery or carrots, chopped ½ teaspoon cayenne pepper
Nutrition
Calories:
492
kcal
,
Carbohydrates:
49
g
,
Protein:
22
g
,
Fat:
22
g
,
Saturated Fat:
10
g
,
Cholesterol:
65
mg
,
Sodium:
889
mg
,
Potassium:
277
mg
,
Fiber:
2
g
,
Sugar:
4
g
,
Vitamin A:
540
IU
,
Vitamin C:
1.2
mg
,
Calcium:
284
mg
,
Iron:
1.5
mg