This recipe is one of those that never gets enough attention. An acclaimed New York Times adaptation from Risha Zimmern, the original title was Chicken with Shallots and I think the mere volume of shallots turned some folks away.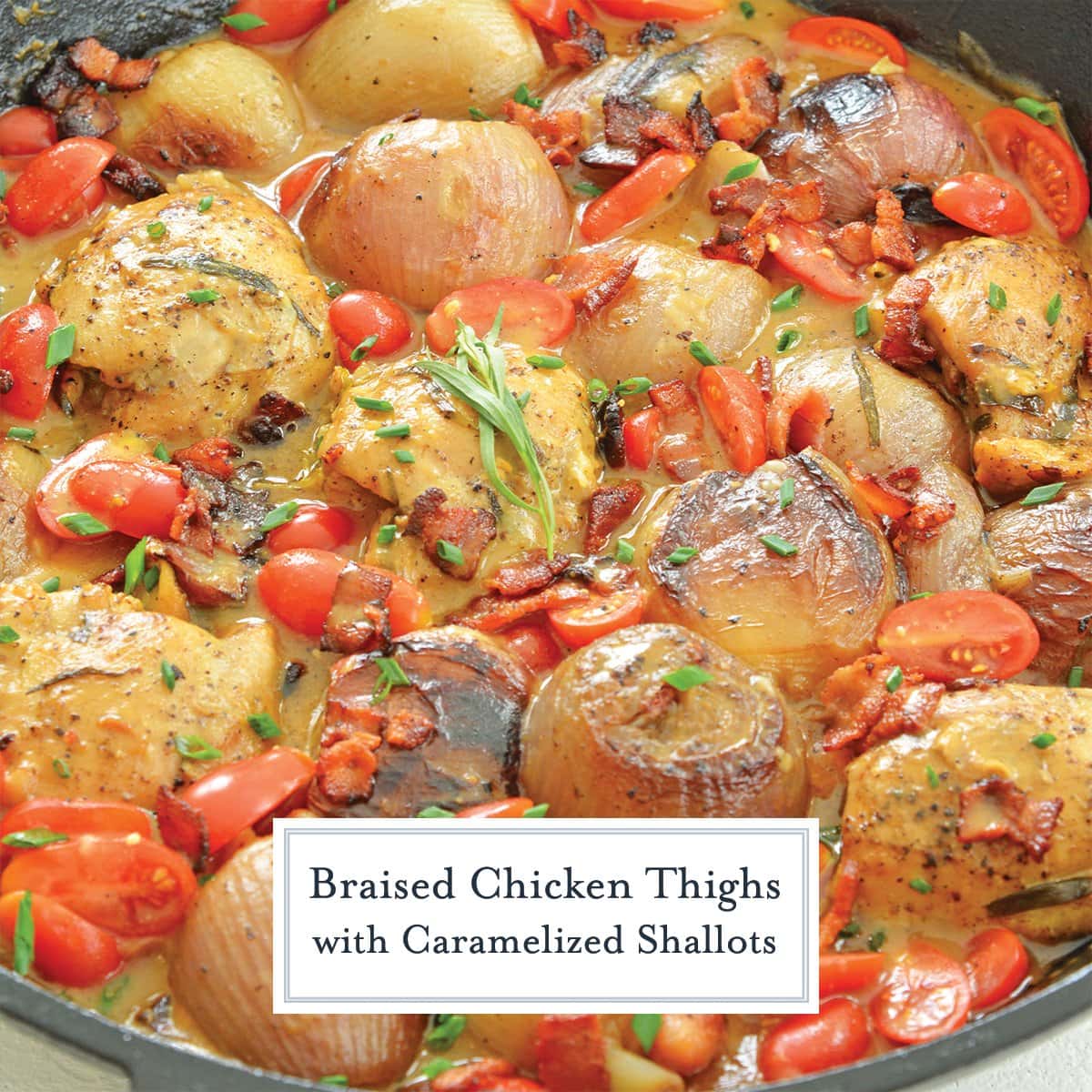 That or the cooking time. In a world when we want everything faster and easier, we've also gotten away from some of the tried and true cooking techniques that yield beautiful results like caramelizing onions and braising.
This is one of those recipes that I make when I want to spend MORE time in the kitchen. The results are chicken thighs so juicy and tender, you won't even need a knife.
The sauce is a nice and flavorful wine base laced with sweet onion and salty bacon. Zimmern suggests thick cuts of bread for sopping the sauce in the original version, but I prefer to serve it over rice, sometimes pasta.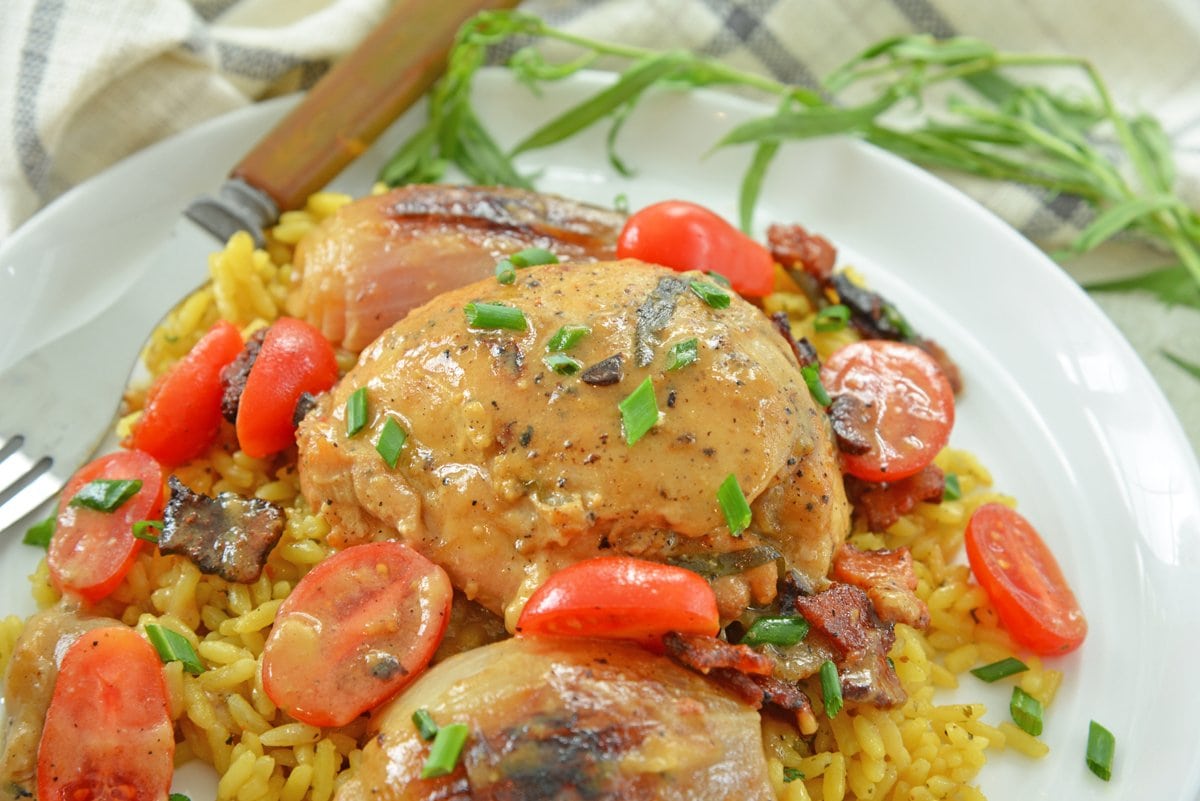 Chicken Thighs vs. Chicken Breasts
Chicken breasts also tend to win and I'm pretty sure it is because people associate the white meat with being healthier. In a way, it is, but they also tend to be larger portioned, so why not have a smaller thigh and get SO much for flavor from that dark meat?
True, thighs have more fat, but it is monounsaturated fat- the "good" kind that has been linked to weight loss and other cholesterol related issues. It is also the skin that typically gives the most caloric intake and while I love a good crispy skin, skinless thighs are still better in the flavor department.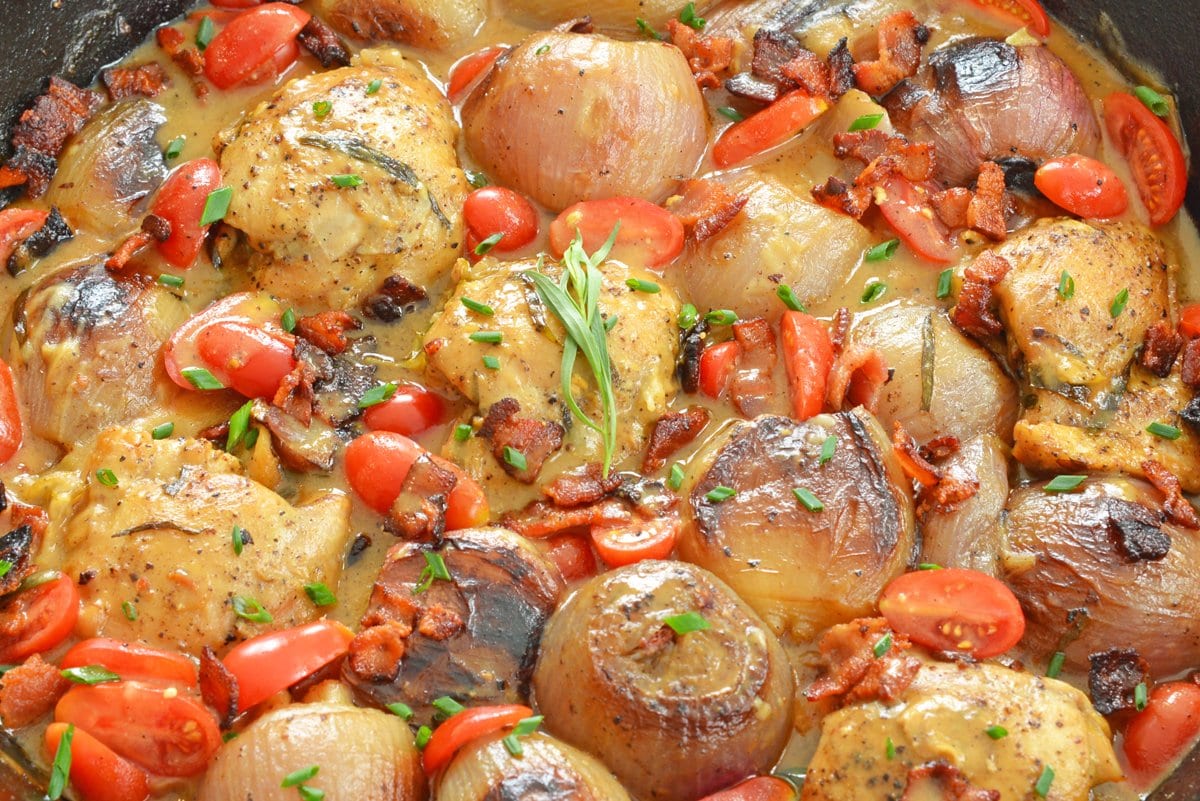 And the real kicker- they are cheaper. I like purchasing skinless, boneless chicken thighs. They are roughly 50% less than breasts and can be used in nearly any recipe that calls for breasts. And vice versa, you can swap out white meat chicken for the thighs here too.
While there are oodles of chicken breast recipes out there (and believe me, I have plenty), there just aren't as many chicken thigh recipes.
That is A Lot of Shallots
Yep, it is. But just like 40 Clove Chicken, the quanity is alarming at first, but then makes total sense.
These shallots are caramelized and just like any other caramelized member of the onion family, they become soft and sweet and lose their pungent aroma. Shallots, in general, are milder than most onions anyhow. In fact, I did a quick video about what are shallots?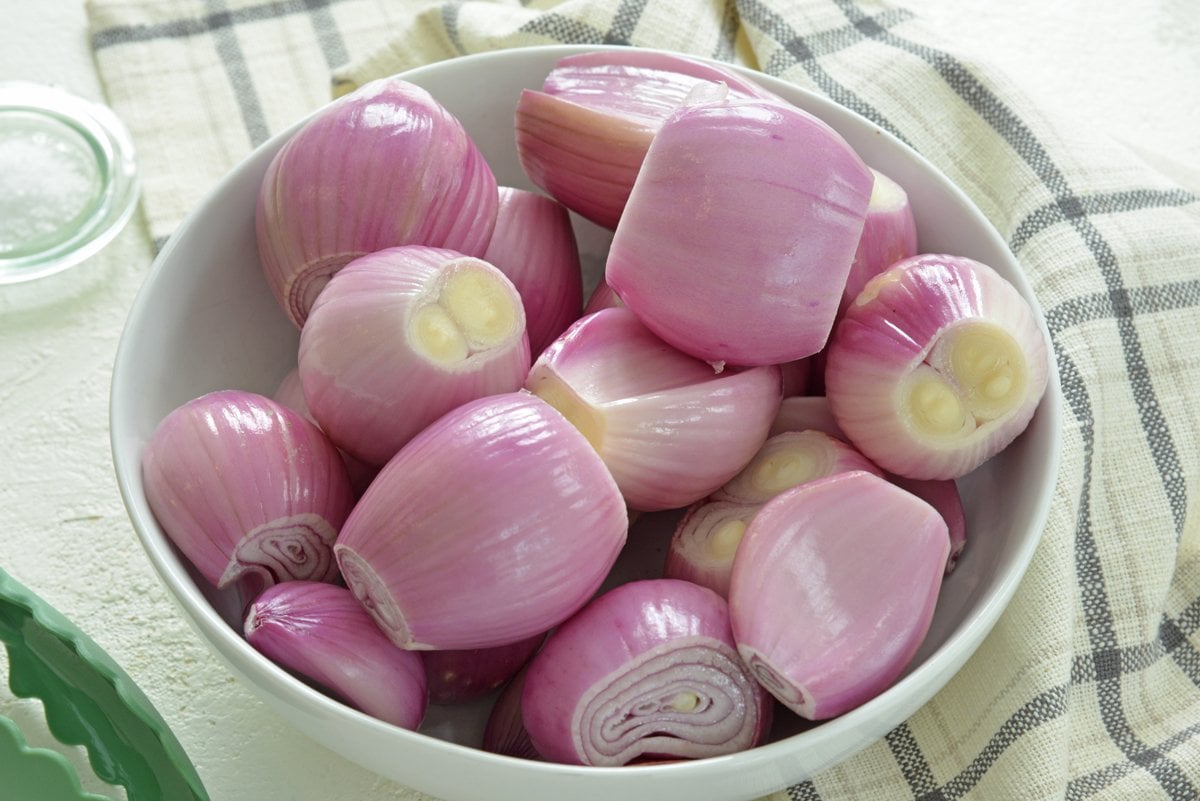 I promise you there isn't an overwhelming onion-y taste. In fact, I will personally reimburse you for your shallot purchase should you decide this dish was disappointing.
Braised Chicken Thighs
Braising is a techinque defined by cooking in low and slow in liquid. It is a myth that the foods need to be totally submerged in liquid, in fast most braises require a small amount of liquid.
What you do need is a lid. It keeps the liquid from totally evaporating or reducing so the meat stays moist.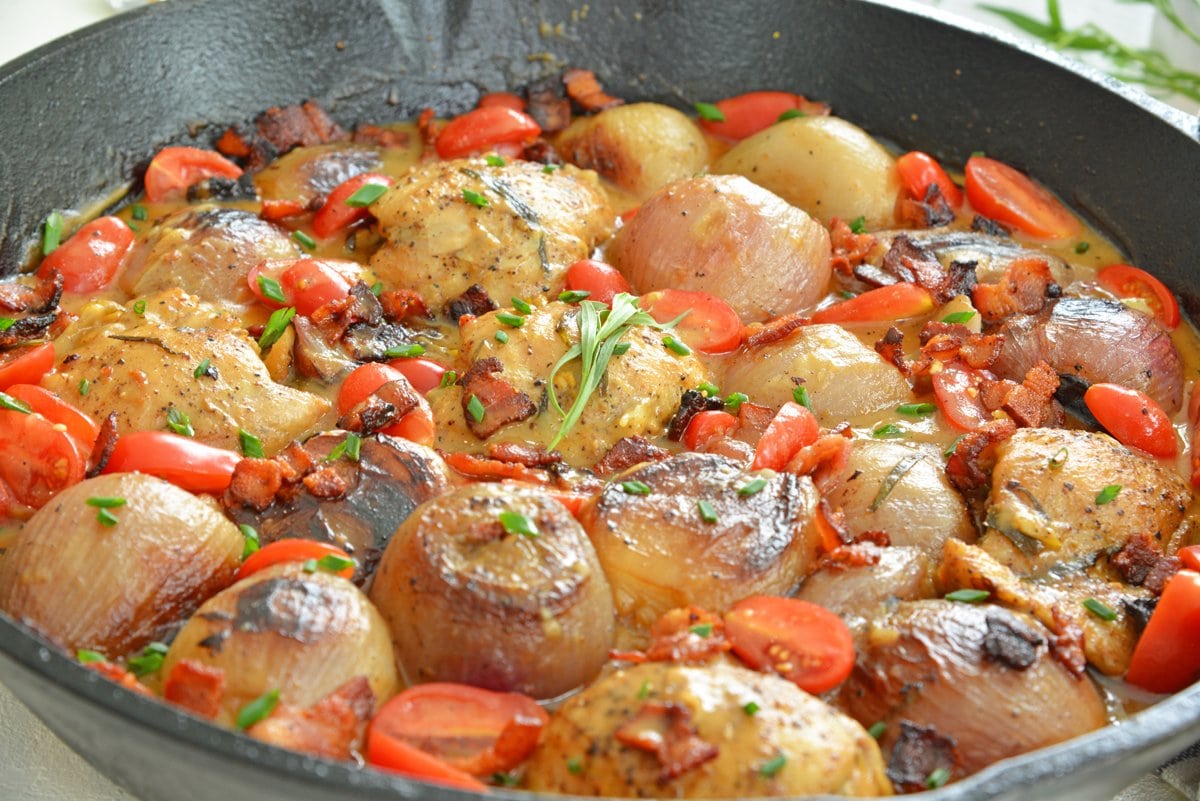 Most braised start with a sear or browning. This serves two purposes.
Creates Flavor- This is called the maillard reaction and is changes the profile of any food by creating acid. Browning, nearly anything, will punch it up.
Heats the food- Just putting the meat into liquid and shoving it into the oven will take a long time to cook. By preheating the skillet and the chicken, you get a head start on the cooking part.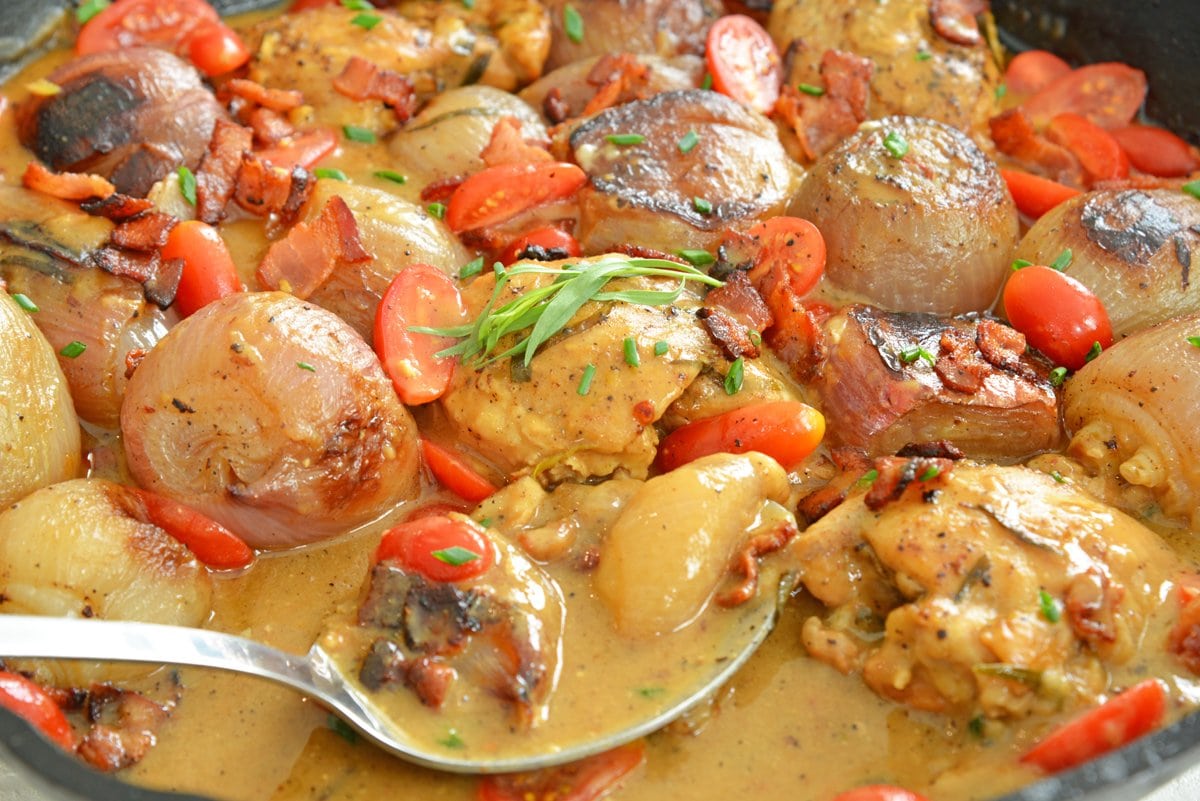 What Skillet Should I Use?
I personally like using cast iron skillet for any recipe going between the stovetop and oven. Before you get started, make sure you know how to properly season your cast iron and how to clean your cast iron!
Stainless steel or enameled pots can also work, even dutch ovens. Although this recipe works best if the ingredients are in a single layer and they sometimes get piled up in a larger cooking vessel.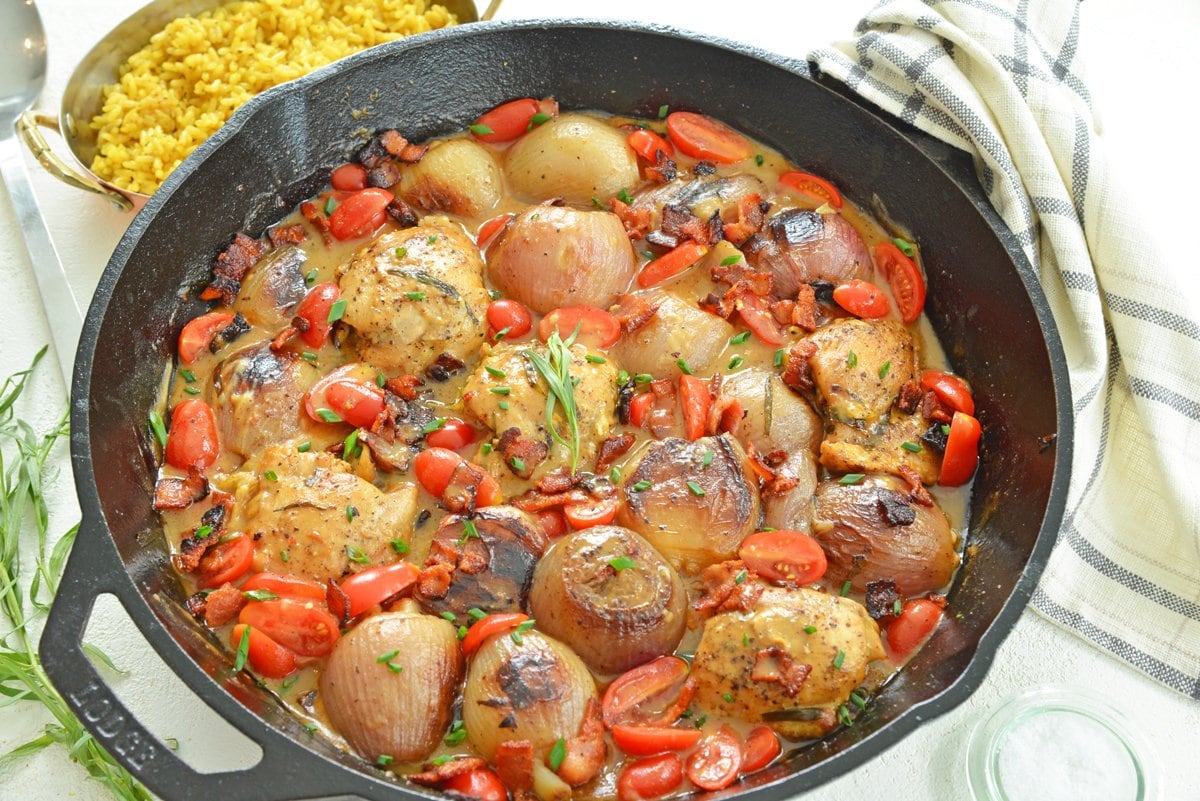 Ingredients
While this is a time intensive recipe (at least more so than most), it doesn't require too many ingredients.
Boneless Skinless Chicken Thighs– you can also use bone-in or chicken breasts
Salt & Pepper for seasoning
Olive oil
Bacon
Shallots
White Wine– I suggest an actual wine (not cooking wine which has added salt). Pinot Grigio or Chardonnay work well. If you don't want to use wine, swap this out for chicken stock.
Dijon mustard
Fresh tarragon- or 2 teaspoons dried
Unsalted butter- I highly suggest unsalted here or your sauce might be a little salty
Flour- alternately, use cornstarch or arrowroot, it is used to thicken in this case
Cherry Tomatoes
Chives– for garnish and are optional
Pasta, rice or bread for serving
How to Make It
You'll want to get a good sear on the chicken for maximum flavor, to do this pat the chicken thighs dry with a paper towel and then season the chicken with salt and pepper.
Sear them in olive oil until golden brown on both sides. They won't be fully cooked. Remove and set aside.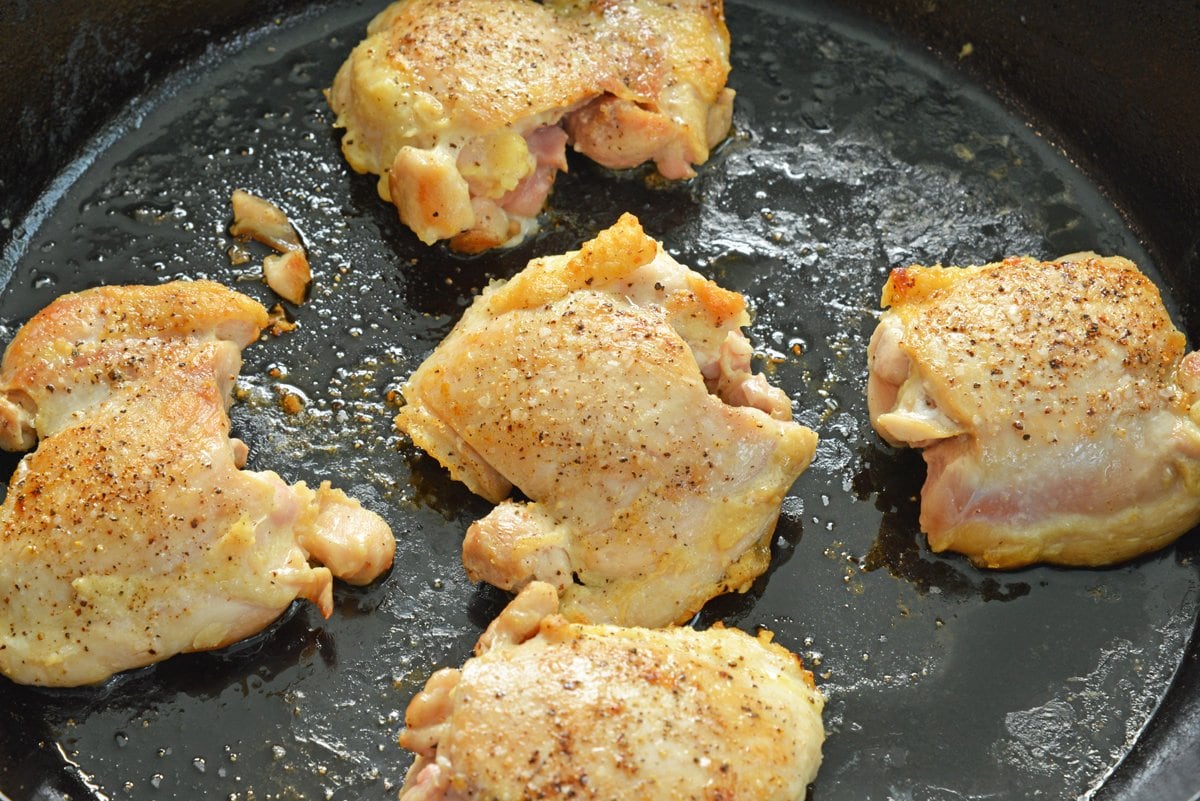 In the same pan, brown the bacon until crispy. Remove, reserving bacon grease in the pan.
Use the beautiful bacon grease to caramelize the shallots. Don't rush this step, sauteed onions are very different than caramelized onions. You need slow and steady patience to get soft, sweet shallots. It takes about 15 minutes to do this- sometimes longer depending on how big your shallots are.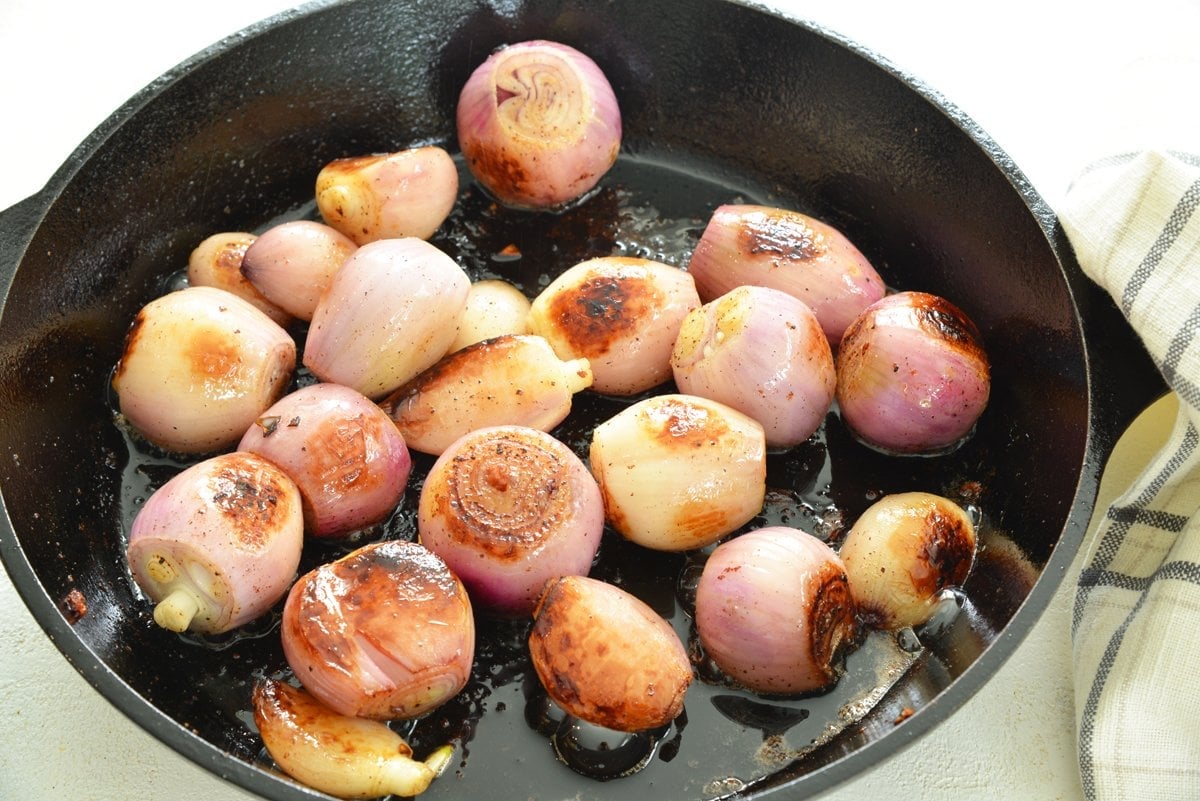 Nestle the chicken back to the pan and deglaze with the white wine, bringing to a low simmer and adding the mustard and tarragon.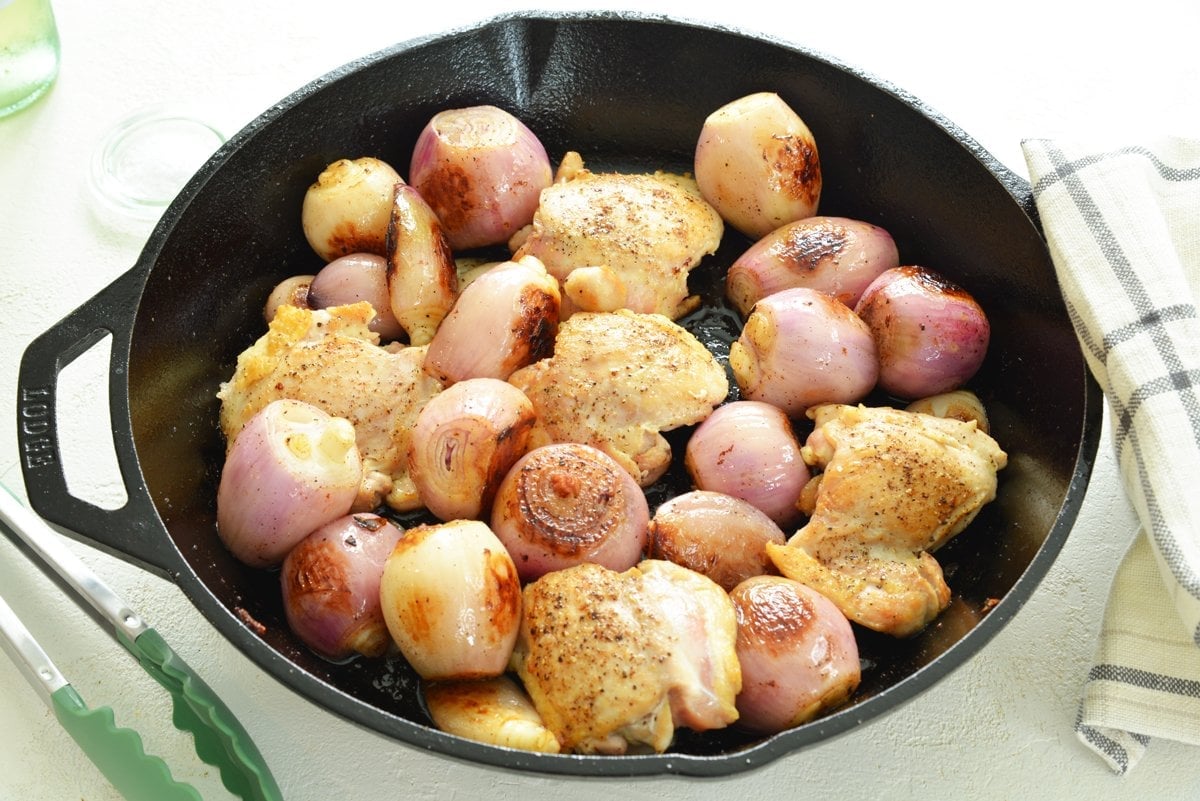 Cover and braise until chicken is fully cooked.
Make a paste with the butter and flour to thicken the sauce. Add the tomatoes until just hot and you are ready to serve!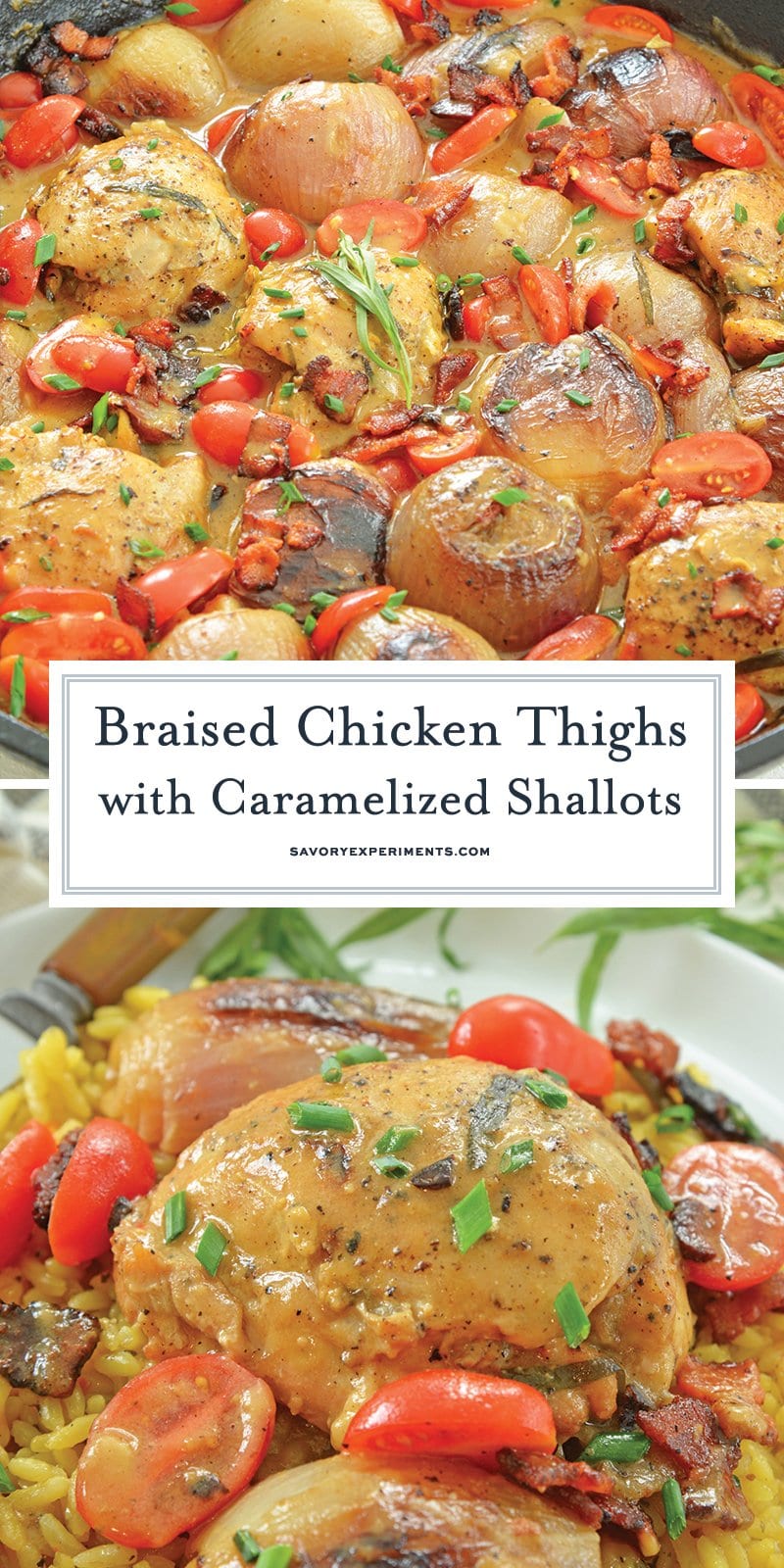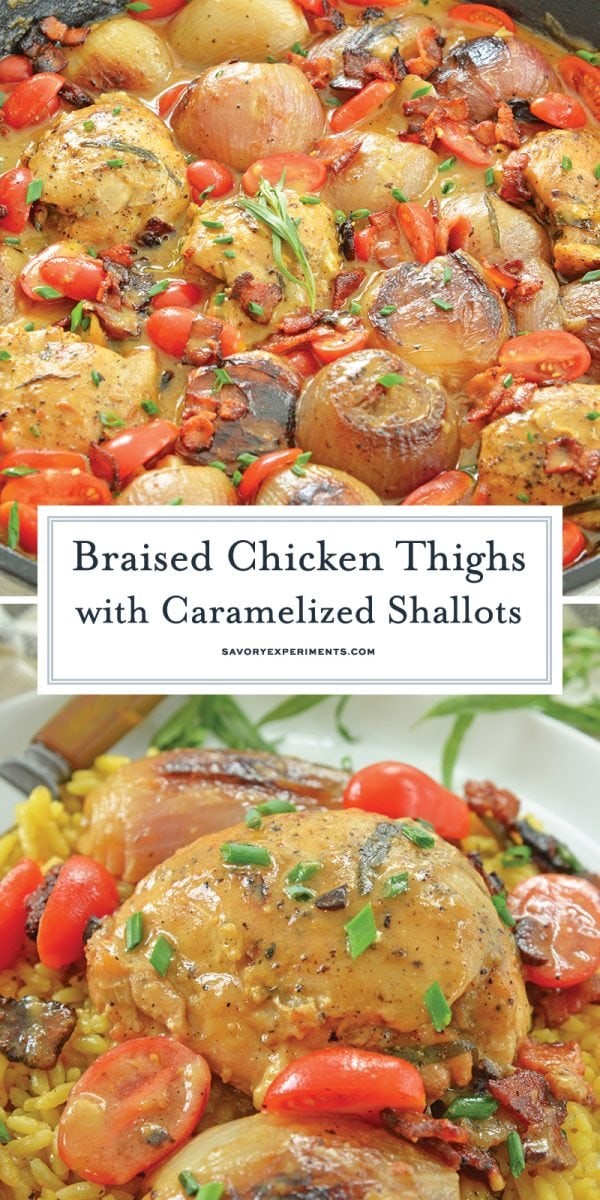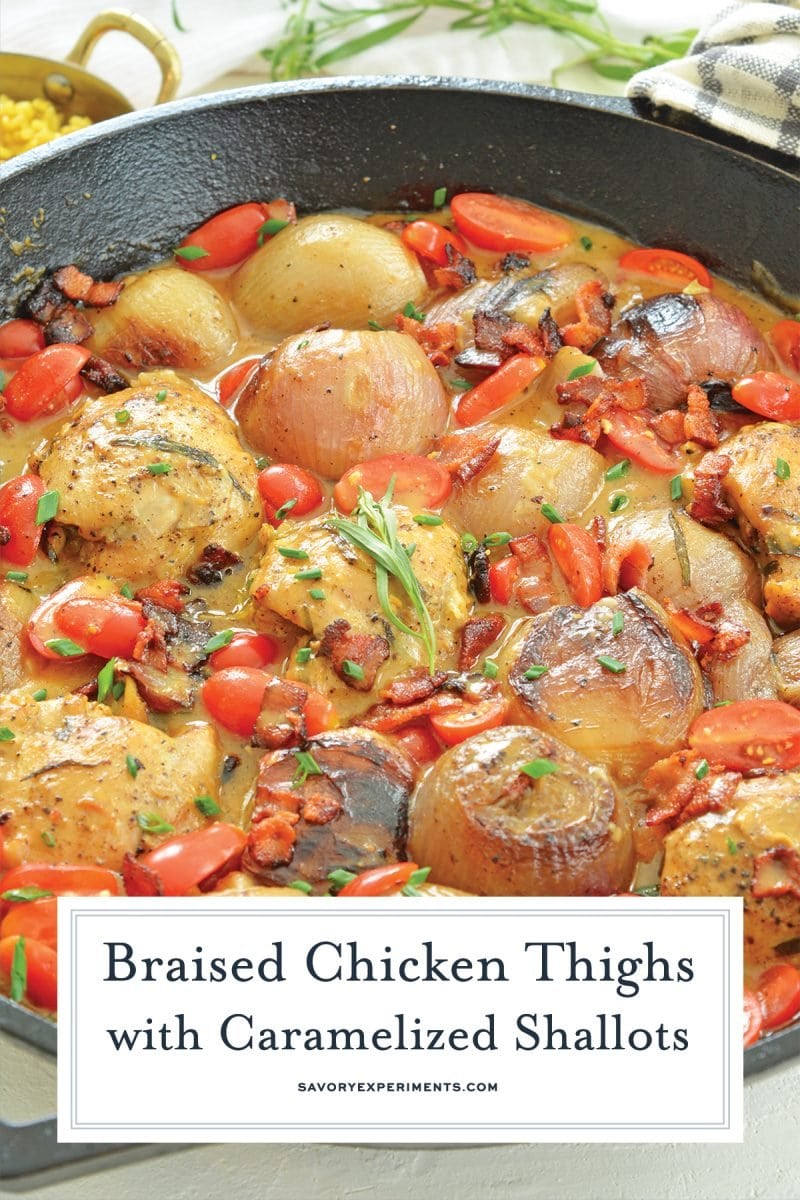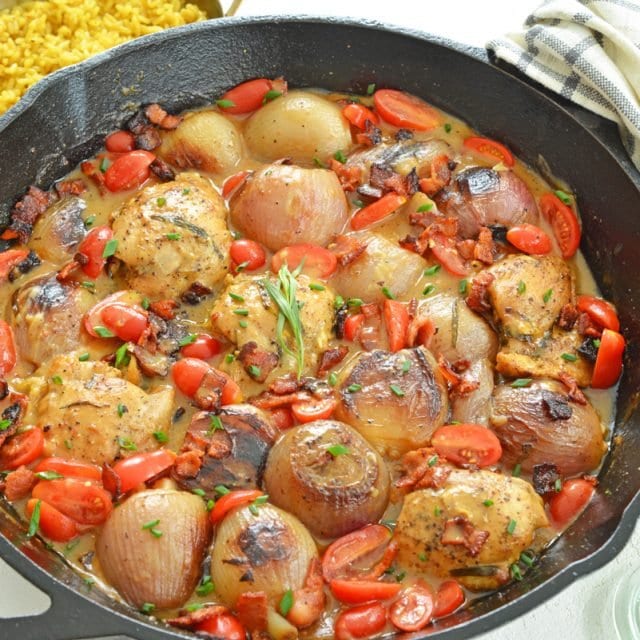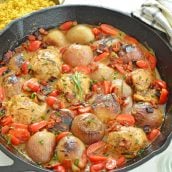 Braised Chicken Thighs
Chicken thighs braised in a white wine Dijon sauce and caramelized shallots, crispy bacon and tomatoes.
Instructions
Preheat the oven to 300°F.

Pat the chicken thighs dry with a paper towel. Season with the salt and pepper. Set aside.

In an ovenproof skillet, heat the olive oil over medium-high heat. When hot, add chicken thighs, browning well on both sides, approximately 4 minutes on each side. They will not be fully cooked. Remove to a plate and set aside.

In the same pan, without wiping, add cut bacon. Cook until browned and crispy. Remove using a slotted spoon, reserving bacon fat in the pan.

Reduce heat to medium and add the shallots to the hot skillet. Caramelize, turning over so often for 15-20 minutes or until the exteriors are browned and soft.

Add the chicken back to the pan and deglaze with white wine. Add the Dijon mustard and tarragon, stirring into the sauce as best you can.

Cover with a lid or a sheet of aluminum foil and transfer to hot oven. Braise for 30 minutes or until chicken registrars at 165°F.

When about to remove, stir together the melted butter and flour to make a paste.

Remove skillet from the oven and return to the stove over low heat. Dollop the butter paste into the sauce, using a fork to whisk in the little pockets. Sauce will start to thicken. Spoon over chicken and shallots.

Add the tomatoes, tossing with sauce as well. Heat for 3-4 minutes allowing for the tomatoes to heat, but not actually cook.

Serve over rice or paste and garnish with the chives.

If you've tried this recipe, come back and let us know how it was in the comments or ratings!
Notes
*You can opt to use bone-in as well.
** Use 2 teaspoons of dried tarragon in place of fresh.
Nutritional calculation do not include pasta or rice.
Nutrition
Calories:
532
kcal
,
Carbohydrates:
19
g
,
Protein:
25
g
,
Fat:
34
g
,
Saturated Fat:
11
g
,
Polyunsaturated Fat:
6
g
,
Monounsaturated Fat:
14
g
,
Trans Fat:
1
g
,
Cholesterol:
137
mg
,
Sodium:
709
mg
,
Potassium:
739
mg
,
Fiber:
3
g
,
Sugar:
7
g
,
Vitamin A:
605
IU
,
Vitamin C:
18
mg
,
Calcium:
79
mg
,
Iron:
3
mg