Baked Halibut Recipe
This baked halibut recipe is a sensory feast! It looks amazing, smells sweet and tastes fresh and light making it perfect for any month.
Healthy Baked Halibut is an easy, healthy and colorful dish. Perfect for an easy weeknight meal or sophisticated enough for a holiday!
Halibut recipes can be hard to find. One of the main reasons is that halibut is expensive. I get it! Luckily for me, I had a co-worker visit Alaska for a fishing trip and he brought back a ton of halibut and salmon.
Even when I don't have fresh freshly caught fish in the fridge, I do splurge and buy halibut fillets at the store just for this recipe.
Many people are intimidated by preparing fish at home.
They are concerned about food poisoning or think it doesn't taste the same as in a restaurant. So, how do you bake halibut?
Just the same way you'd bake anything else. Most baked halibut recipes are the same, don't put the oven too high for fear of drying your fish out, but high enough that it cooks all the way through.
The moment you start seeing a white, milky substance, your fish is done, take it out. How long you bake your halibut will depend greatly on the thickness of your filet.
Generally speaking, take it out when the thermometer reaches 130-135 degrees.
Colorful dishes, such as healthy baked halibut, are easy on the eyes, but also packed with vitamins and nutrients. It has also been known to turn non-fish eaters into liking seafood. White wine, citrus undertones, dill and sweet bell peppers pair wonderfully with the mild fish flavor of halibut.
If halibut is too expensive, I have substituted salmon, however salmon has distinctly different taste that can be seen as "fishy". If you choose to substitute another fish, aim for a light taste and a thick, dense fish (NOT mahimahi, tilapia or grouper).
Tools for making Baked Halibut:
Meat Thermometer– Every home kitchen should have a meat thermometer. Never take a guess as to if something is done again!
9 x 13 Glass Baking Dish– an absolute essential for any kitchen! Use it for baking, marinating or storing. Get one with a lid, you'll thank me later.
If you liked my Healthy Baked Halibut, then you'll also love these other easy seafood recipes:
Lemon Pepper Grilled Calamari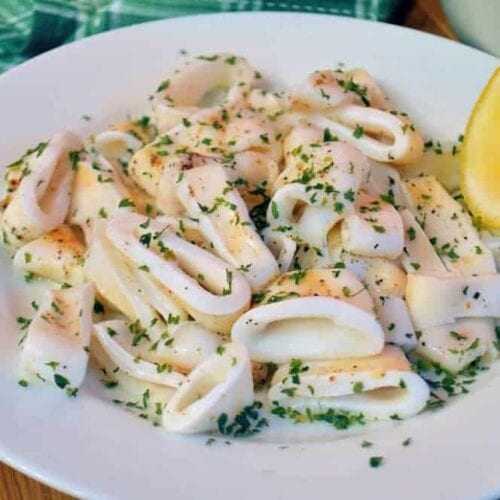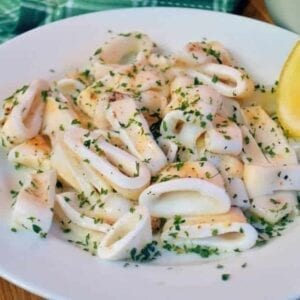 Lemon Pepper Grilled Calamari is an easy recipe for seafood on the grill!
Parmesan Crusted Tilapia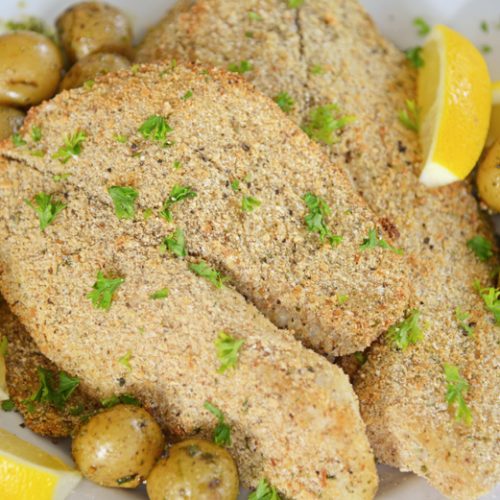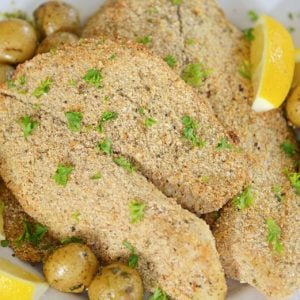 Tilapia is a fish that even non-seafood lovers enjoy. It's easy easy to prepare & pretty healthy, especially this EASY Parmesan Crusted Tilapia.
Stuffed Lobster Tail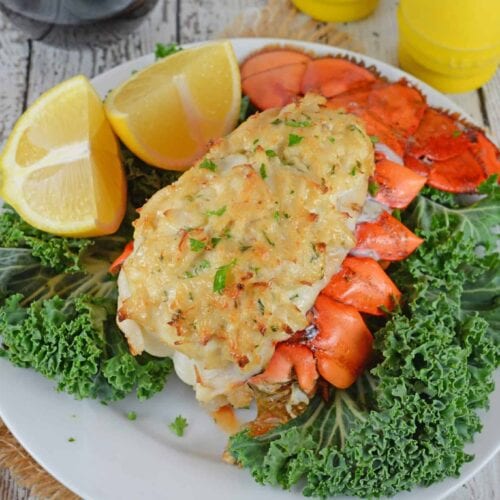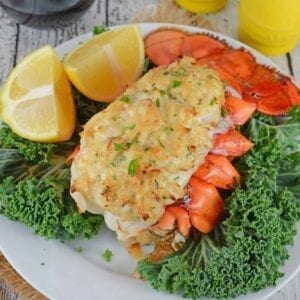 Crab Stuffed Lobster Tails is the ideal dinner for a special occasion. You won't beleive how easy they are to make!
Crab Imperial Recipe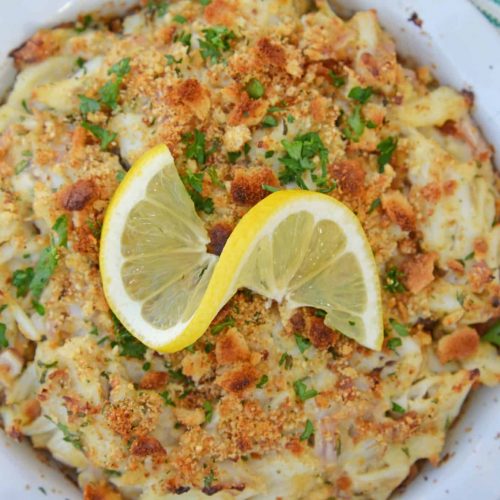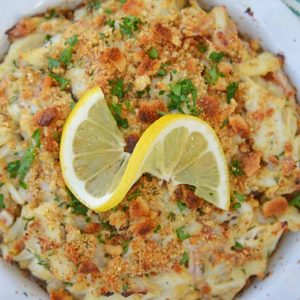 Crab Imperial is one of the best easy lump crab meat recipes. Jumbo lump crab in a simple seafood recipe with a crunchy topping and simple imperial sauce.
CONNECT WITH SAVORY EXPERIMENTS!

Be sure to follow me on social media, so you never miss a post!

Facebook | Twitter | Youtube
Pinterest | Instagram

Get our FREE 8 Day E-Course on How to Be a Better Home Cook. Sign up HERE!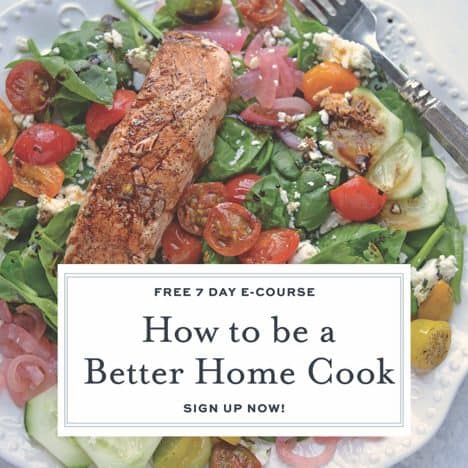 Healthy Baked Halibut
Healthy Baked Halibut is an easy, healthy and colorful dish. Perfect for an easy weeknight meal or sophisticated enough for a holiday.
Instructions
Heat oven to 400 degrees and prepare all ingredients in separate bowls.

Rinse fish and pat dry. Spray a deep, glass rectangular baking dish with cooking spray.

Place fish, flesh side up in glass dish, push together as if one continuous fillet. This allows the other ingredients to hold better on top.

Pour lemon juice over fillets followed by salt and pepper seasoning, lemon zest and dill.

In layers, place scallions, tomatoes and then mix of bell peppers on top of the fish. Pour white cooking wine in the bottom of the dish (not over the fish). This will allow the fish to steam and not dry out while baking.

Cover with aluminum foil and allow to sit for 5 minutes before placing in the oven. Cook covered for 10 minutes. Remove aluminum foil, just barely separate each fillet so they can cook evenly on the sides, place back in over for 5 minutes or until fish flakes easily with a fork.

Sprinkle Parmesan cheese over bell peppers and return to the oven until melted (2-3 minutes).

Plate and serve with lemon wedges.

Comments make us smile, come back and leave one!
Nutrition
Calories:
253
kcal
|
Carbohydrates:
6
g
|
Protein:
36
g
|
Fat:
5
g
|
Saturated Fat:
2
g
|
Cholesterol:
91
mg
|
Sodium:
321
mg
|
Potassium:
959
mg
|
Fiber:
1
g
|
Sugar:
2
g
|
Vitamin A:
1685
IU
|
Vitamin C:
89.4
mg
|
Calcium:
169
mg
|
Iron:
0.9
mg