This baked halibut recipe is a sensory feast! It looks like a rainwbow, smells sweet and tastes fresh and light making it perfect for any month.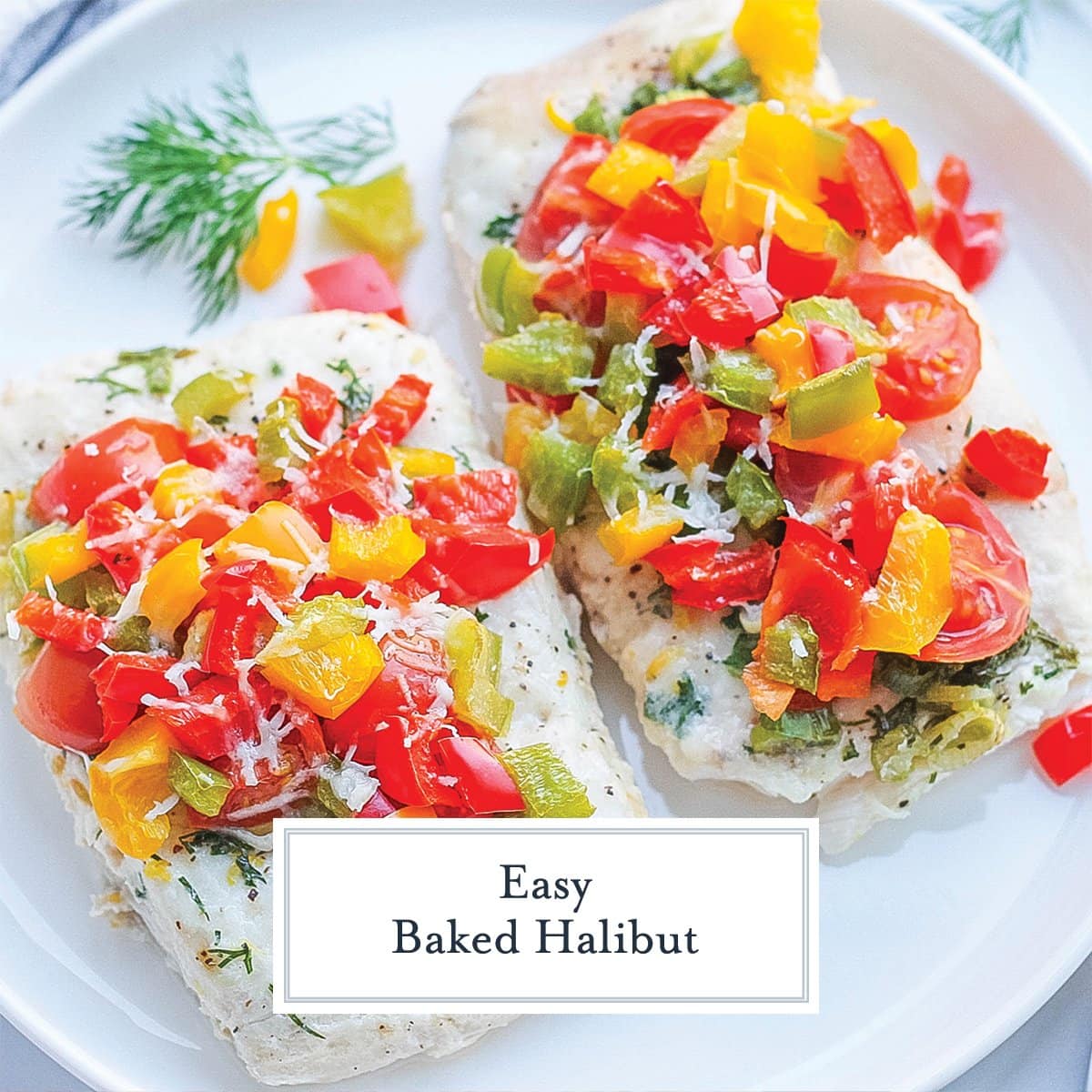 What is Halibut Fish?
Halibut, also known as white fish, is a large flat fish from the flounder family. They are positively huge, growing up to 9 feet in length.
They live on bottom of the seabed and are prevalent in the Pacific ocean. Halibut is very popular in Hawaii but also as far north as Alaska. Because of their size and preferred swimming location, they are fairly hard to catch and also more expensive than other types of fish.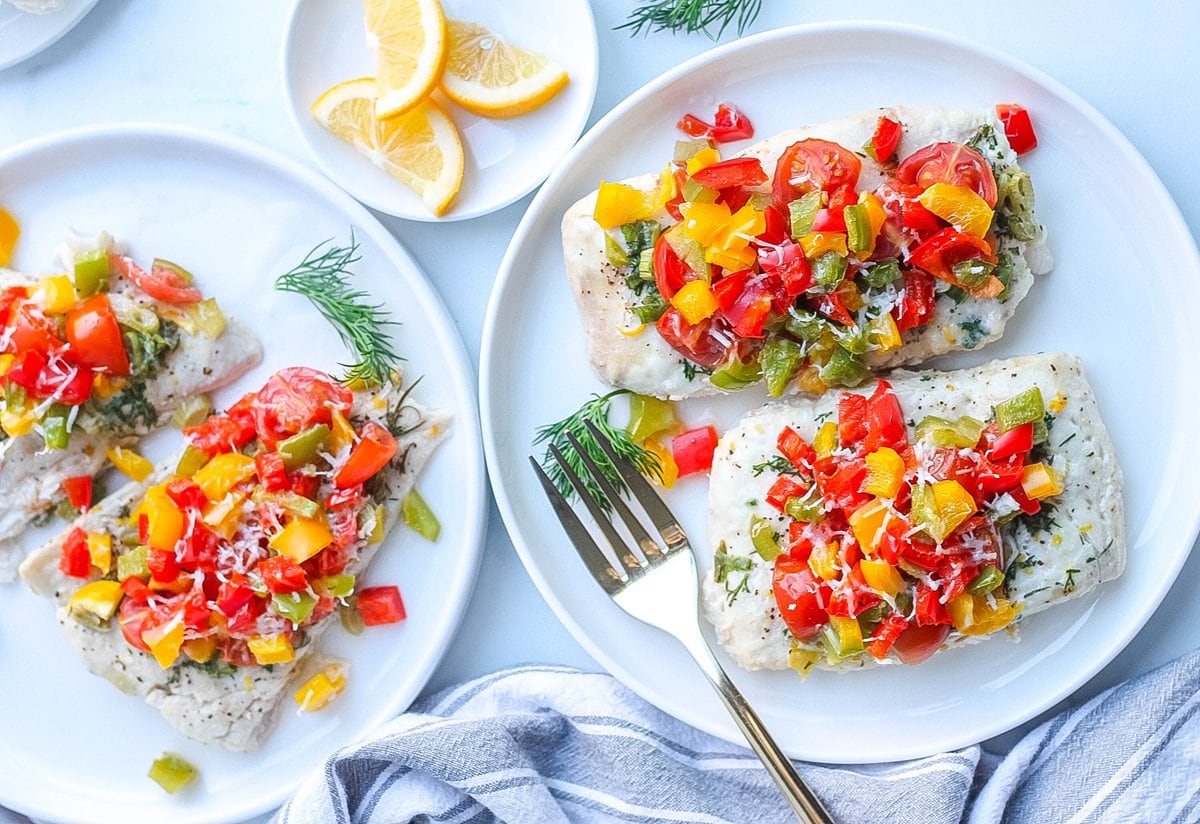 The meat is thick, white and flaky. Halibut steaks can be 2-3 inches in thickness. It cook much like a baked swordfish.
How to Cook Halibut
Halibut recipes can be hard to find. One of the main reasons is that halibut is expensive and also hard to find, especially on the East coast where I like. Lucky for me, I had a co-worker visit Alaska for a fishing trip and he brought back a ton of halibut and salmon.
Shredded in fish tacos, chopped raw into ceviche, blacked and pan seared or grilled, halibut can be cooked used nearly any cooking method. But one of my favorite ways is baking.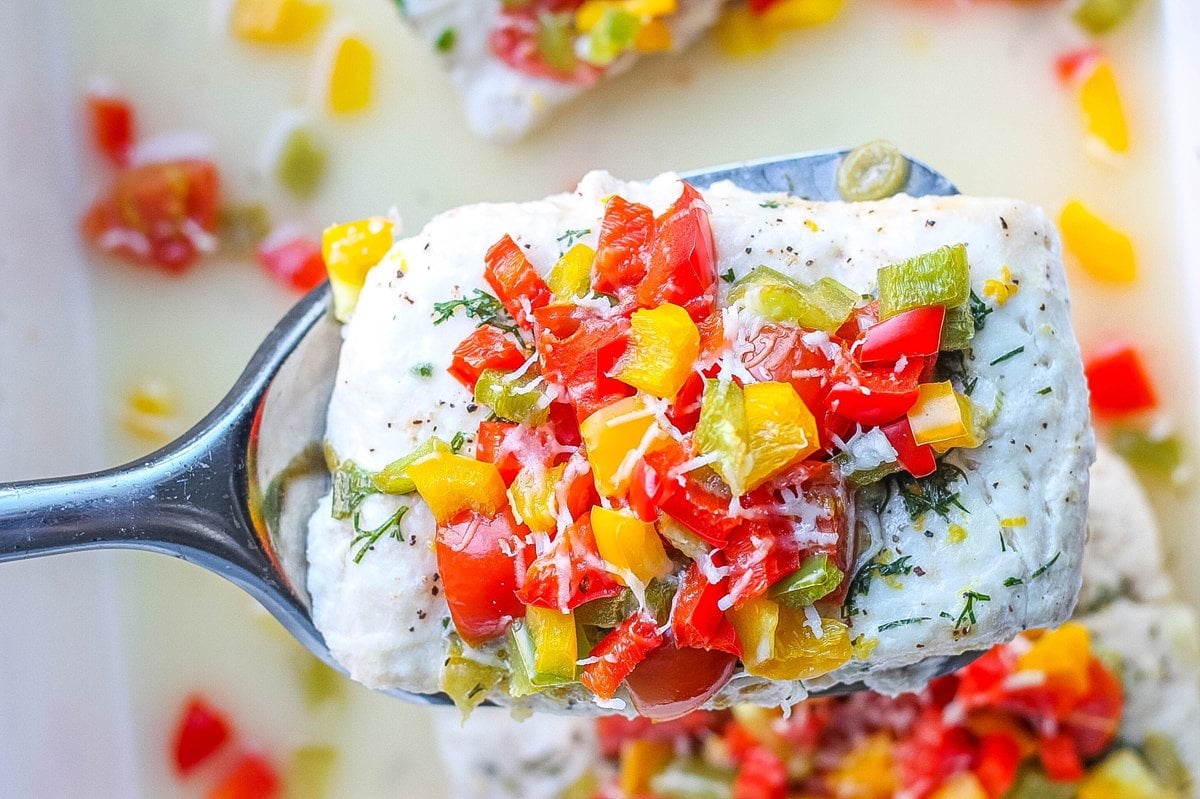 Ingredients
This recipe is very forgiving and therefore the amounts, even whole ingredients, can be easily omitted or changed. The flavors that really matter are fresh lemon, fresh dill and good white wine. Here is the whole list: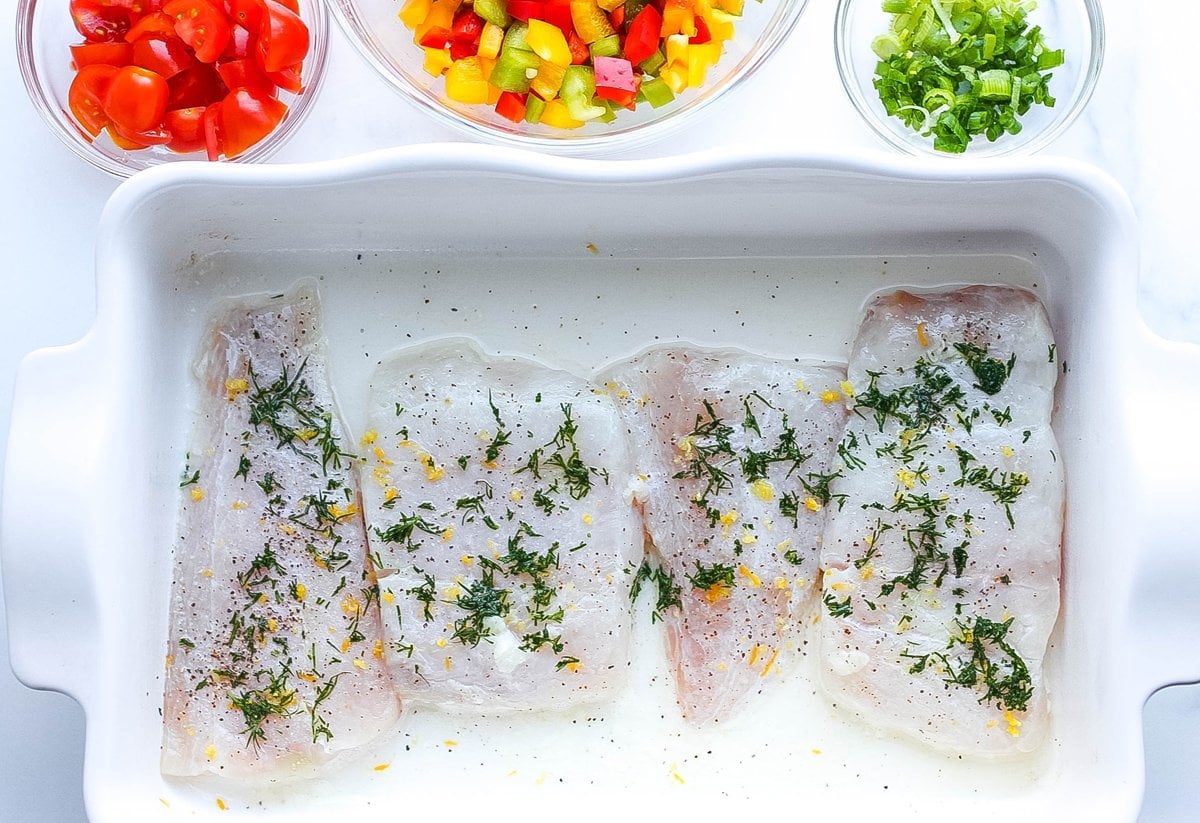 Halibut Fillets– When shopping for fish it should be clear in color, smell like the sea and not be too slimy
Fresh lemon– You will need fresh lemon juice and zest. Lemon juice gives tart acidity while zest provides a clean and bright lemon flavor.
Fresh Dill– I highly suggest using fresh dill, but dried is an option. Make sure it has been opened within the last 6 months to get the best flavor.
Scallions– Also known as green onions, they offer a fresh crunch with mild onion flavor. Chives are a good swap.
Vegetables– Tomatoes and bell peppers. I like using a variety of bell pepper colors to make it a carnival of color.
White wine– Dry white wine works best, sweet will enhance the flavors as well. Cooking wine is also a good option, but has salt, so cut back on seasoning.
Parmesan cheese– A perfect nutty flavor compliments a delicate dish. Other hard cheese can be used.
Salt & Pepper
How to Bake Halibut
Baking is easy, but getting the cooking time right is key because you don't want the fish to dry out. I like using a glass baking dish with high sides because this steams the fish, helping keep moisture in. I even cook for the first portion of time covered. It is the same concept as cooking fish in parchment paper pouches.
Instead of using just water, I steam it in white wine. Of course, water is also an option. The alcohol is cook off, so it is safe for the kiddos.
For our halibut recipe, we simply layer the carnival of colors and flavor onto the fish, piling it high!
Bake for a total of about 18 minutes total. I add the cheese last because it has the tendency to stick to the aluminum foil or burn if added too soon. It does serve like glue holding the mountain of veggies on top while serving.
Lastly, let is rest. Just like other proteins, letting the fish rest will ensure that the juices stay put- inside the fish. It should flake easily with a fork.
Serving with more lemon wedges is optional. I can never get enough lemon in my life!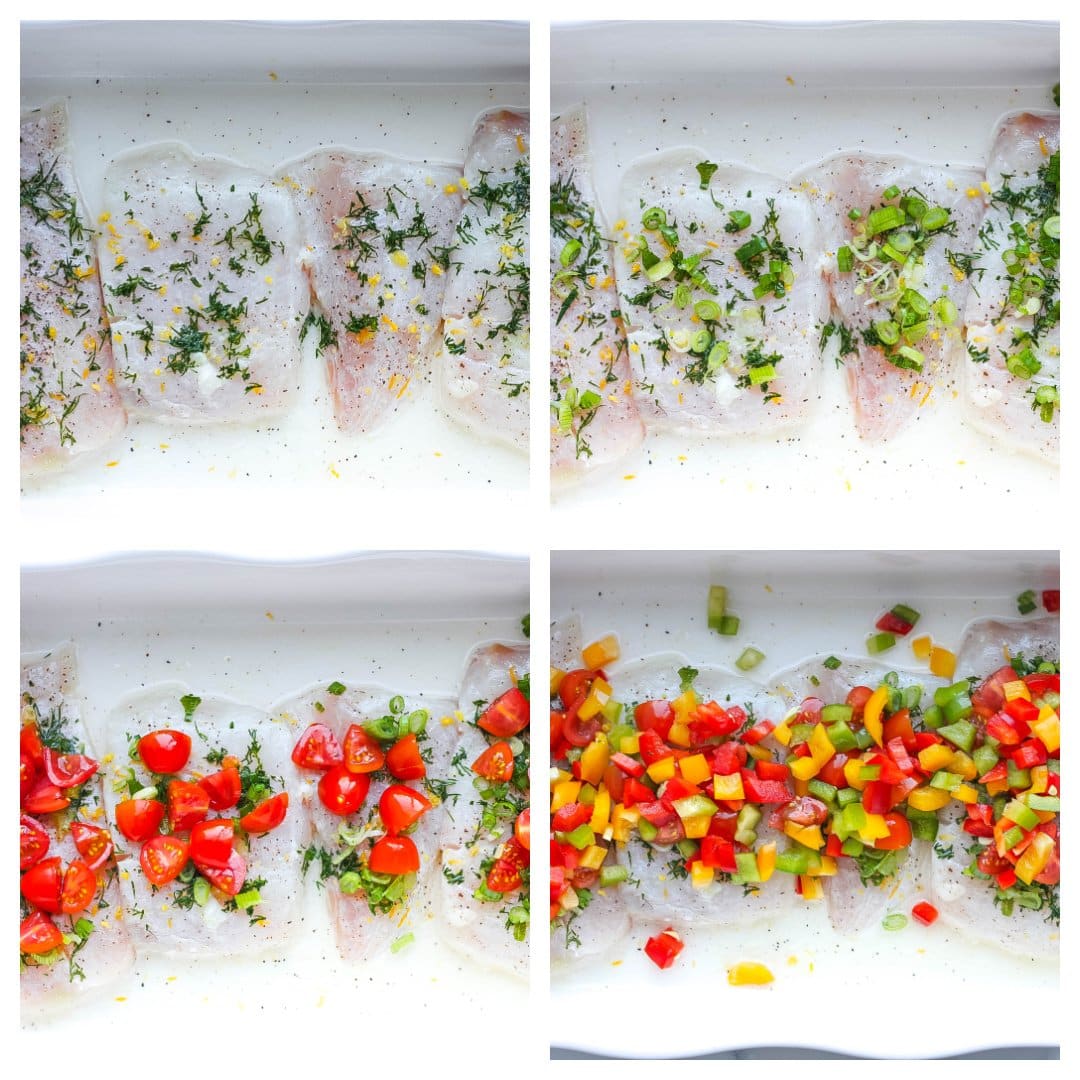 Internal Temperature
Don't be shy to use a digital thermometer. Generally speaking, take it out when the thermometer reaches 120°F. It is best served at a low temperature similar to rare beef. You can cook it longer, but will risk the fish being dry.
What is the milky white substance that comes out? It is not harmful or bad, but simply a protein called albumin. It squeezes out as the proteins cook and tighten. Different fish will have different levels, just like all animals vary in fat and muscle. This tends to happen the longer the fish is cooked. Taking it out at 120°F will be the best step to prevent it.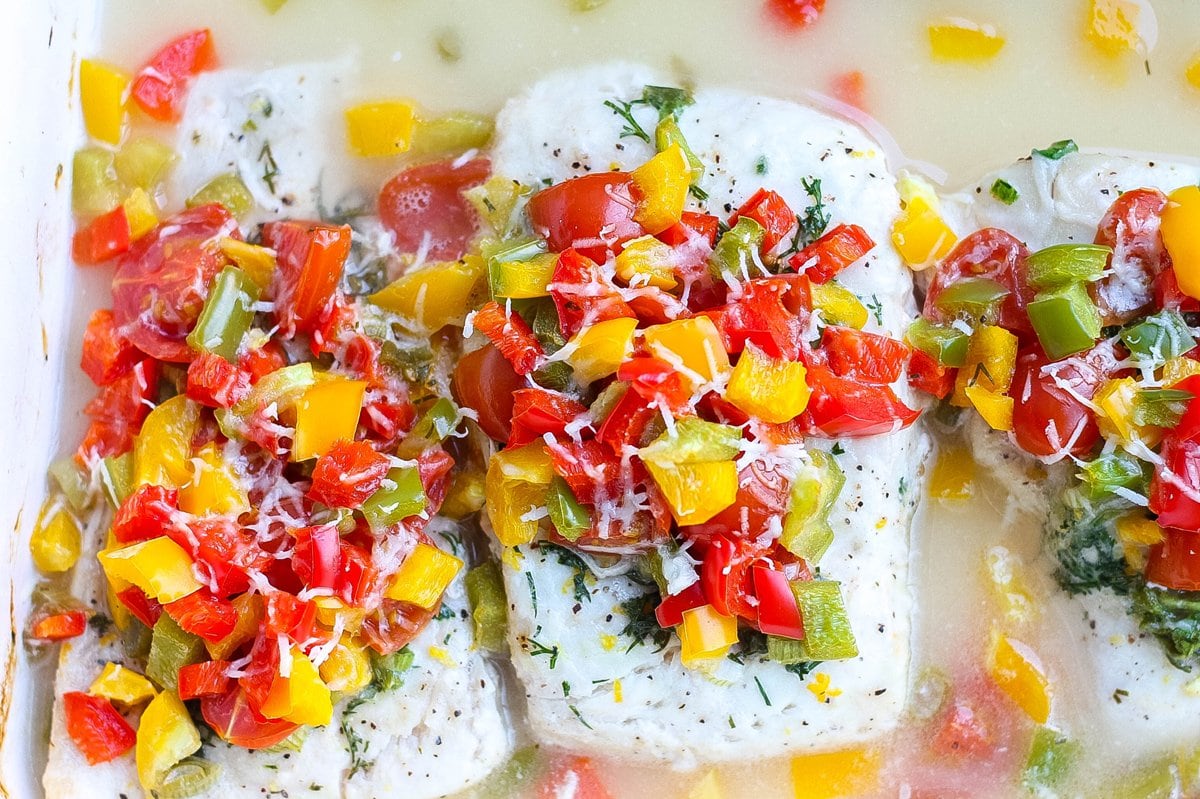 Fish Substitutes
If halibut is too expensive, I have substituted salmon, however salmon has distinctly different taste that can be seen as "fishy". Other good fish options are anything that has a light taste and a thick, dense fish; NOT mahimahi, tilapia or grouper.
You can even make this with boneless skinless chicken breasts.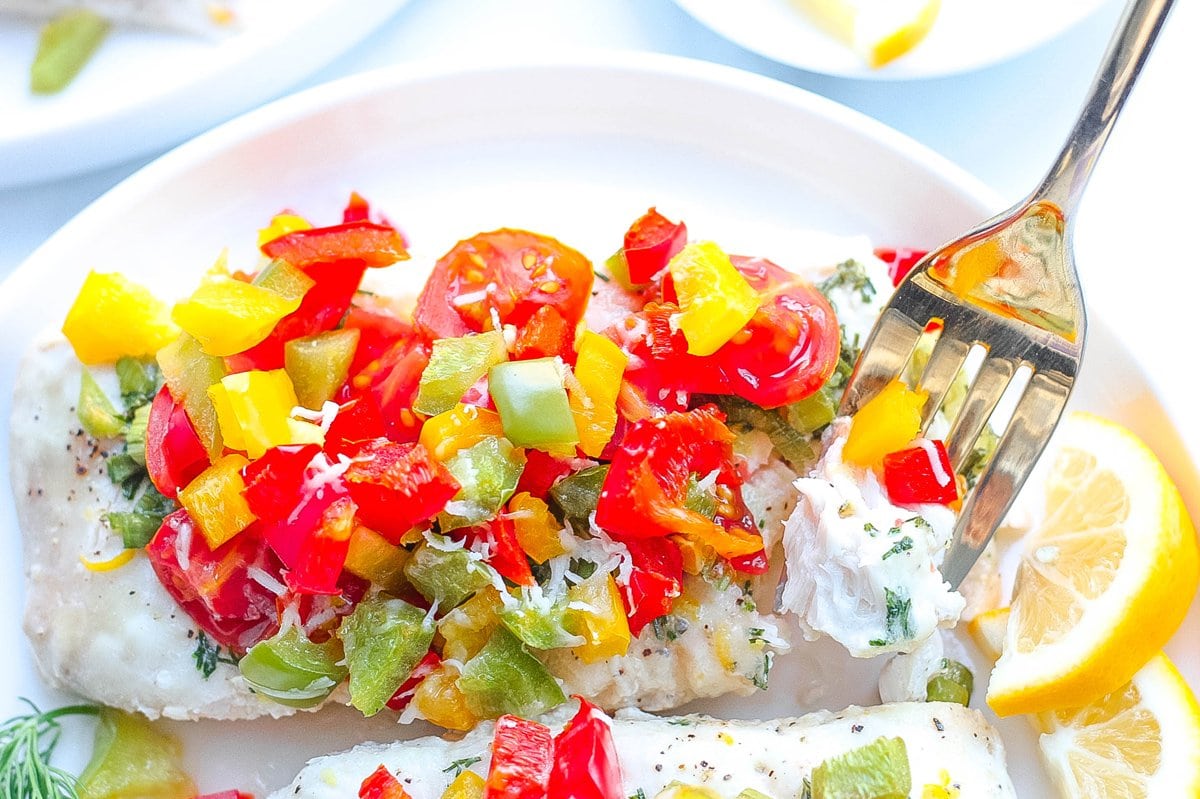 Make Ahead & Storage
While I don't suggest cooking the fish ahead of time, you can assemble the dish and keep it chilled until you are ready to bake.
Halibut will stay good in the fridge for up to 5 days. Reheating fish is best in the oven at 300 degrees for about 10 minutes, but can also be done in the microwave on 50% power for 1-2 minutes, depending on wattage.
I do not recommend freezing the cooked dish, however raw halibut will stay fresh in the freezer for up to 6 months in an airtight plastic bag and 1 year in a air sealed freezer bag.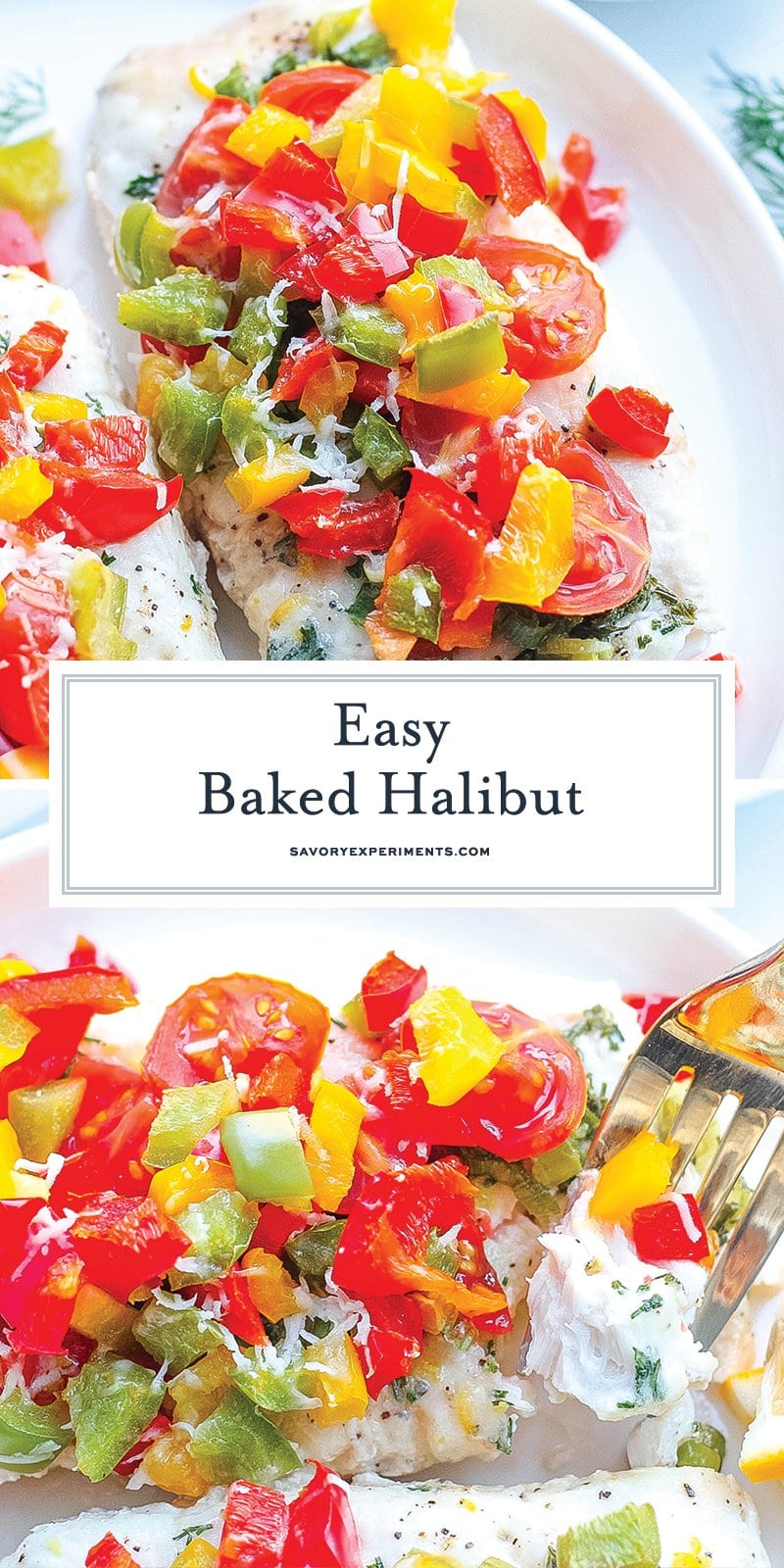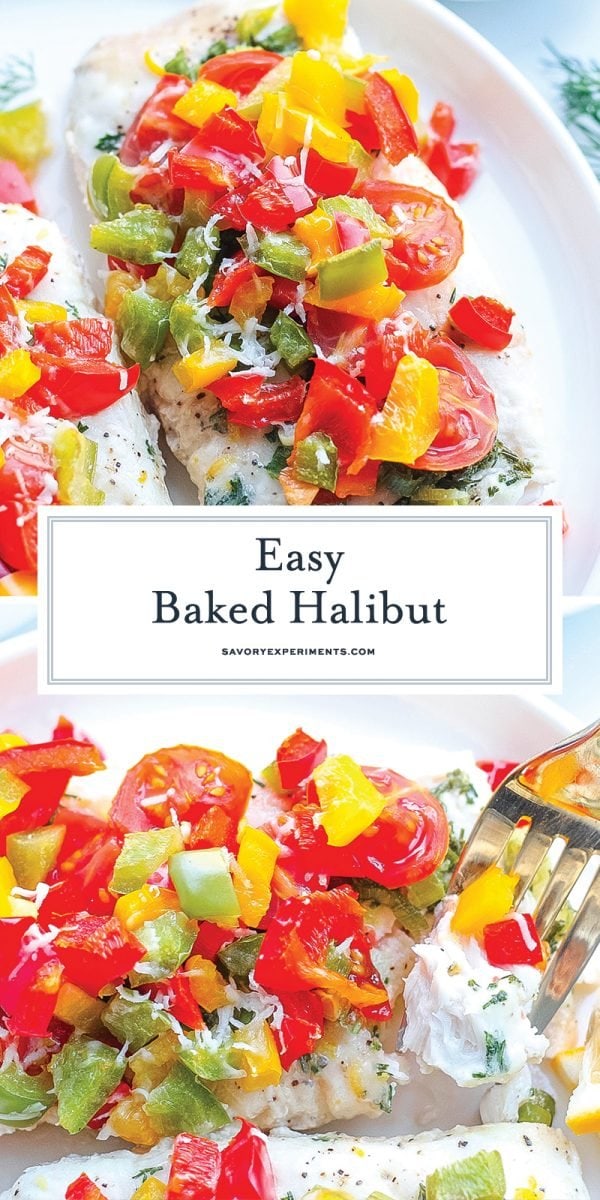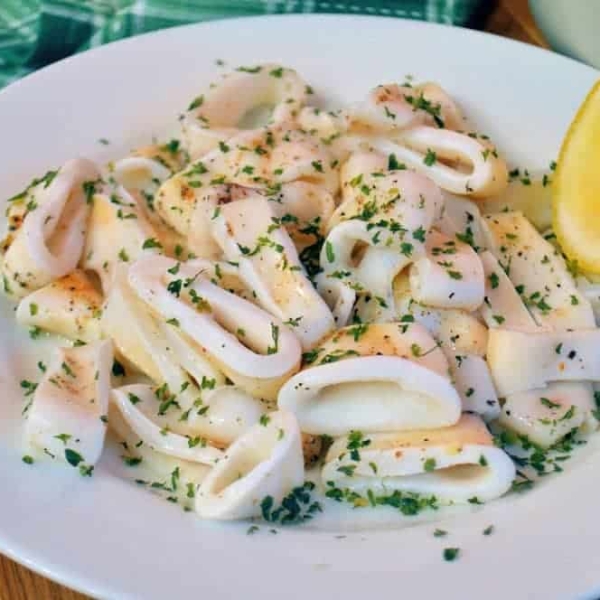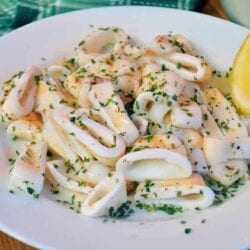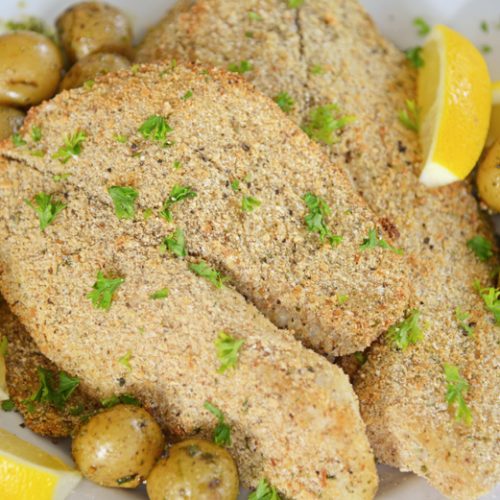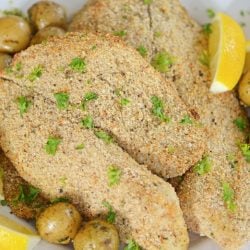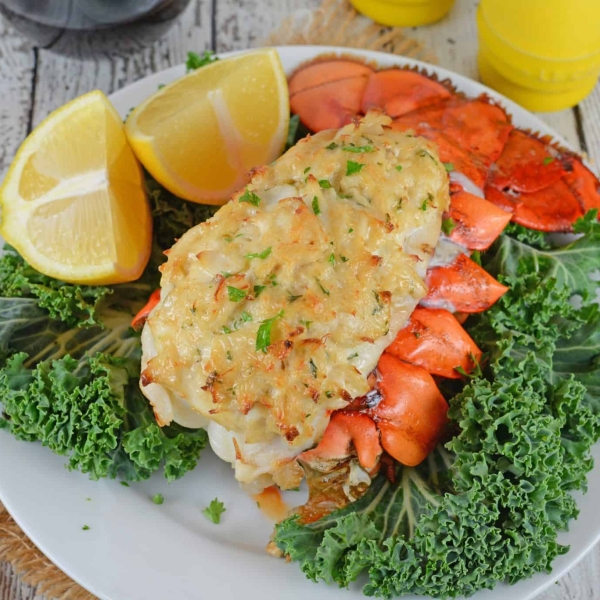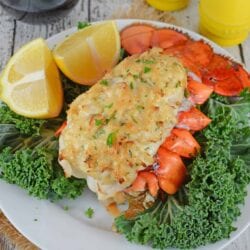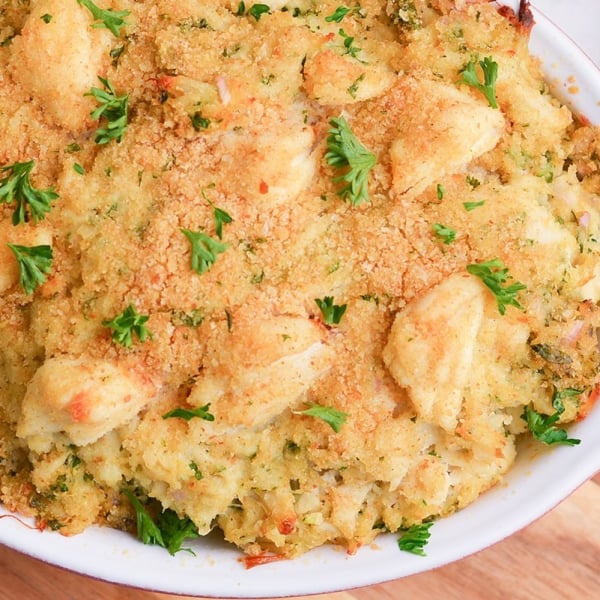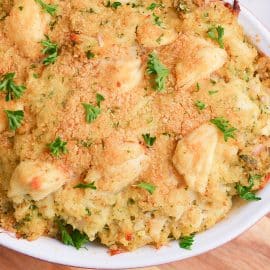 Crab Imperial
Baked Crab Imperial is a creamy and buttery masterpiece made with lump crab meat, fresh lemon and topped with bread crumbs.
See The Recipe!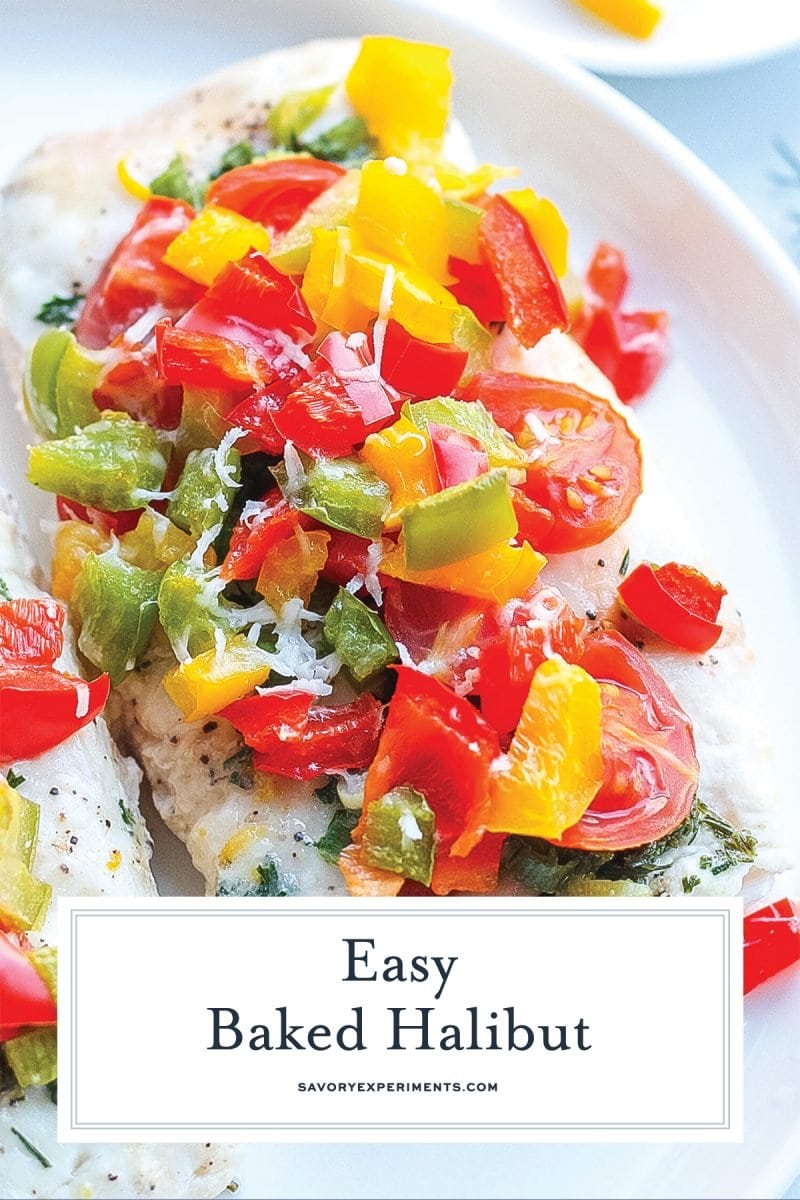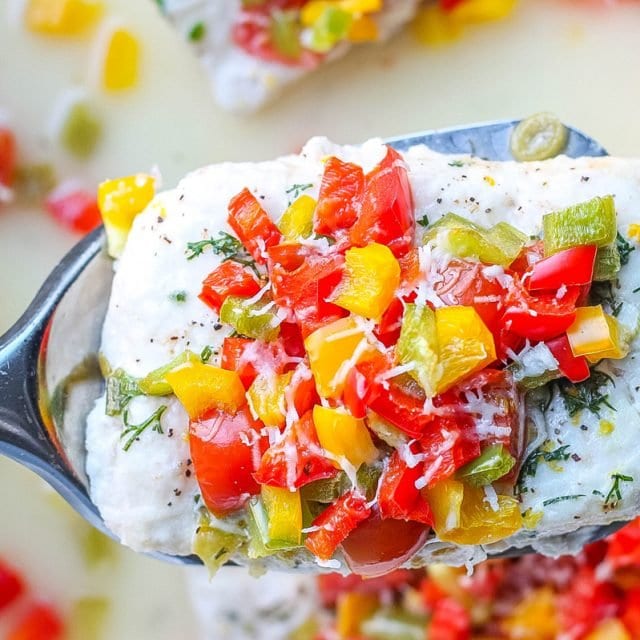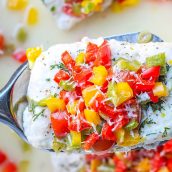 Easy Baked Halibut
Easy Baked Halibut is an easy, healthy and colorful dish. Perfect for an easy weeknight meal or sophisticated enough for a holiday.
Instructions
Heat oven to 400°F and coat a baking dish with cooking spray.

Rinse the fish and pat dry. Place the fish, flesh side up in the baking dish.

Pour the lemon juice over fillets and then season liberally with the salt and pepper, lemon zest and dill.

Layer the scallions, tomatoes and and bell peppers on top of the fish. Pour the white cooking wine in the bottom of the dish (not over the fish).

Cover with aluminum foil and allow to sit for 5 minutes before placing in the oven. Cook covered for 10 minutes. Remove aluminum foil, just barely separate each fillet so they can cook evenly on the sides, place back in over for 5 minutes or until fish flakes easily with a fork.

Sprinkle Parmesan cheese over fish and return to oven until melted, approximately 2 minutes. Allow to rest for 2-3 minutes before serving.

Comments make us smile, come back and leave a comment or rating!
Nutrition
Calories:
253
kcal
,
Carbohydrates:
6
g
,
Protein:
36
g
,
Fat:
5
g
,
Saturated Fat:
2
g
,
Cholesterol:
91
mg
,
Sodium:
321
mg
,
Potassium:
959
mg
,
Fiber:
1
g
,
Sugar:
2
g
,
Vitamin A:
1685
IU
,
Vitamin C:
89.4
mg
,
Calcium:
169
mg
,
Iron:
0.9
mg