What's better than ice cream? ICE CREAM BREAD!!! Only a handful of ingredients and ice cream is all it takes to make a delicious ice cream bread loaf.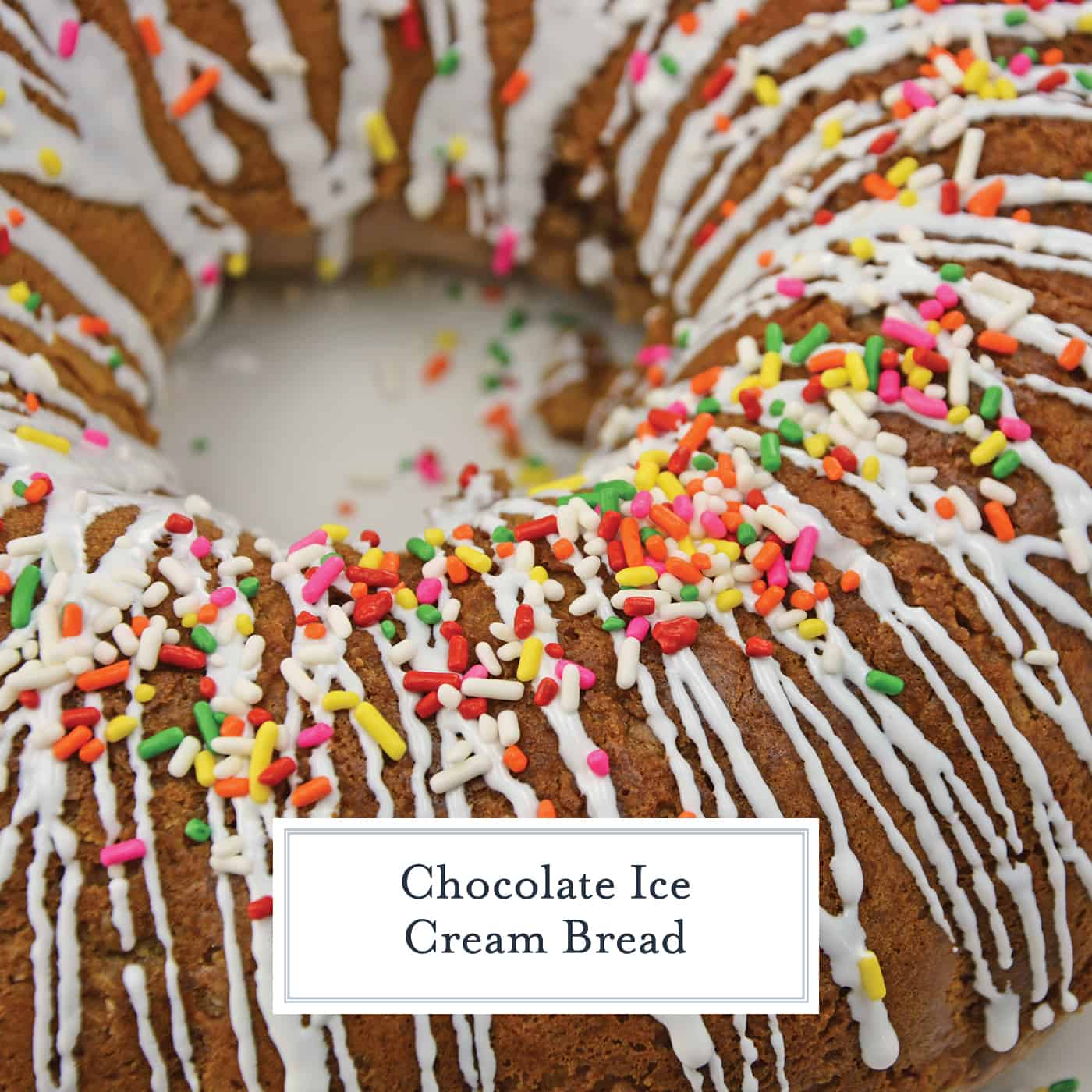 Chocolate Ice Cream Bread is an easy and fun way to use ice cream using just a few common kitchen ingredients. Add cookie frosting and colorful sprinkles for a surprisingly good munchie.
First thing is first, let's get it out of the way. This is a recipe for chocolate ice cream bread. Not chocolate ice cream cake.
I've had this recipe on my "to make list" for a really long time. I'd tell you how long, but I'm embarrassed to say that I have zero concept of time and what feels like years might only be a few months.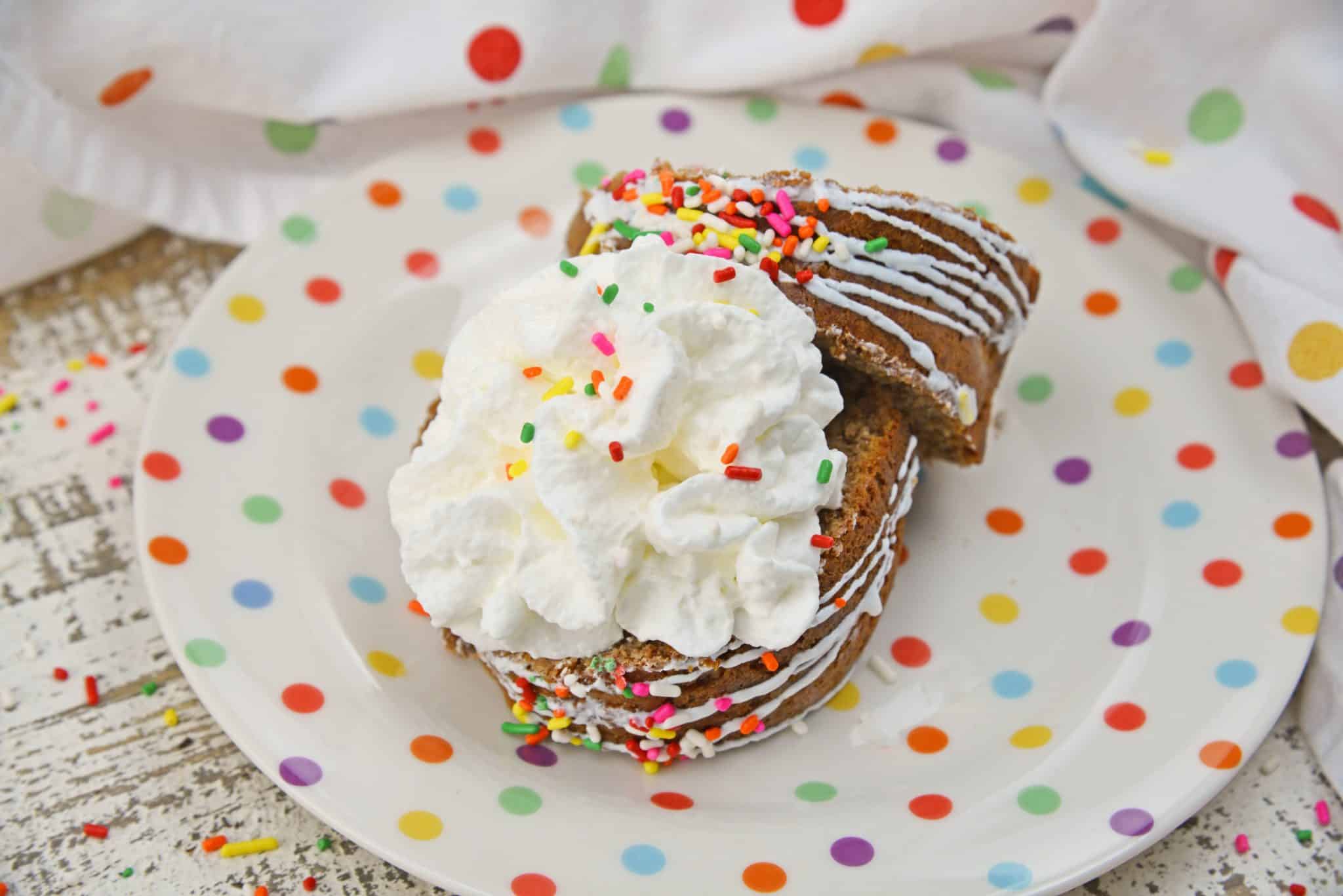 Anyhow, I originally saw it in Taste of Home magazine and in Googling for the recipe, I also found In Katrina's Kitchen version. I loved her idea of making ice cream bread in a bundt pan instead of a loaf. So much more festive!
So I took the two and made my own version, but without the whole self rising flour. How many people really have self rising flour lying around? Not me!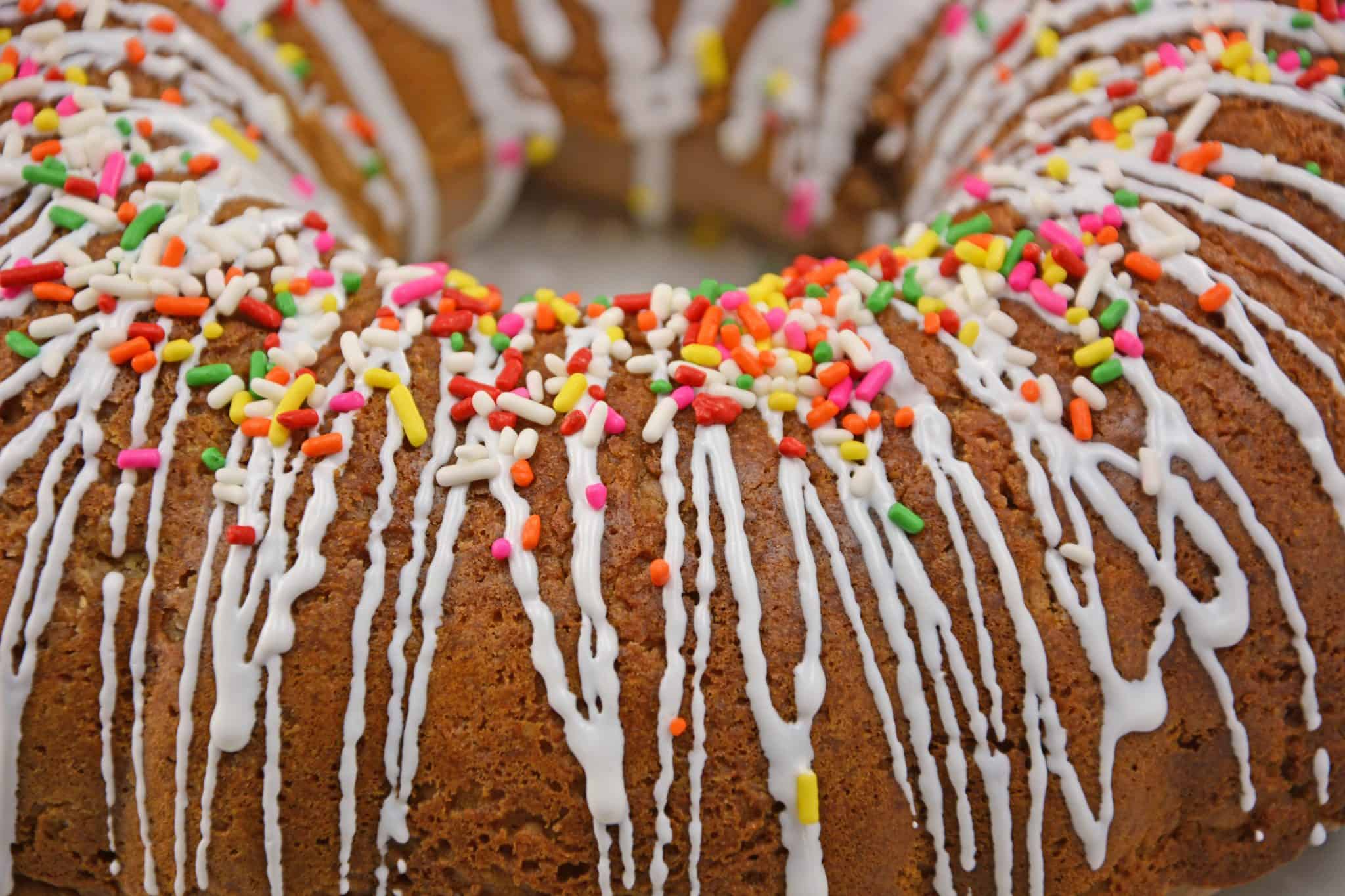 So this 2 ingredient ice cream bread turned into a 4 ingredient cake, not counting icing and sprinkles. Still not bad, comparatively.
If you are like me and need and a substitution for self rising flour here ya go: for every 1 cup all-purpose flour, add 1½ teaspoons baking powder and ½ teaspoon salt. For totals for this recipe, see the notes section.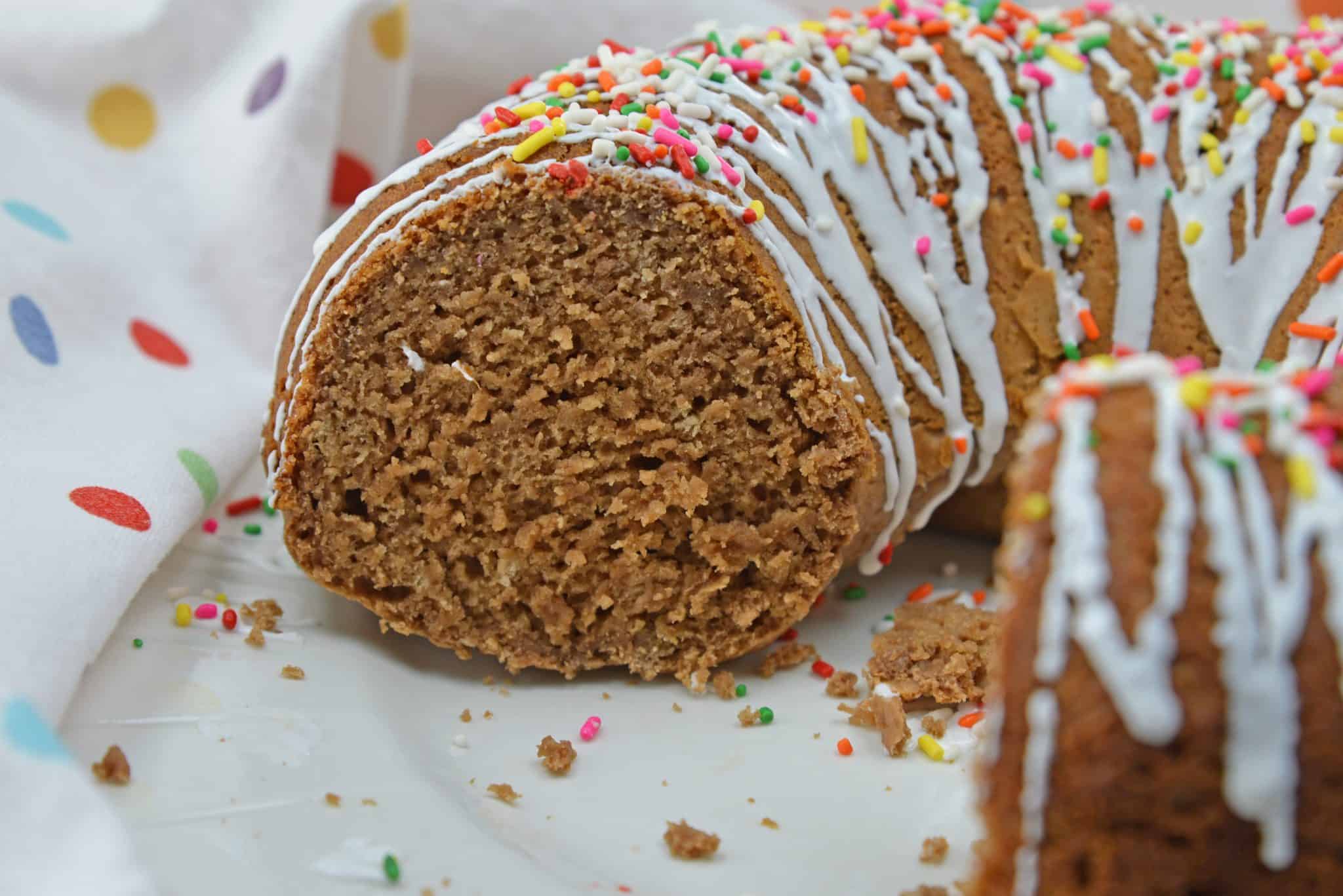 I really do enjoy ice cream, but as I get older, the darn stuff hurts my teeth. I end up sucking it down, not able to savor it on my tongue before wincing.
PRO TIP: Serve ice cream bread… with a side of ice cream!
With ice cream bread, I get all the flavor and deliciousness of ice cream but with none of the tooth sensitivity.
And who doesn't love icing and sprinkles??? No one. Well, I suppose some people do, but I don't trust them. Wink, wink.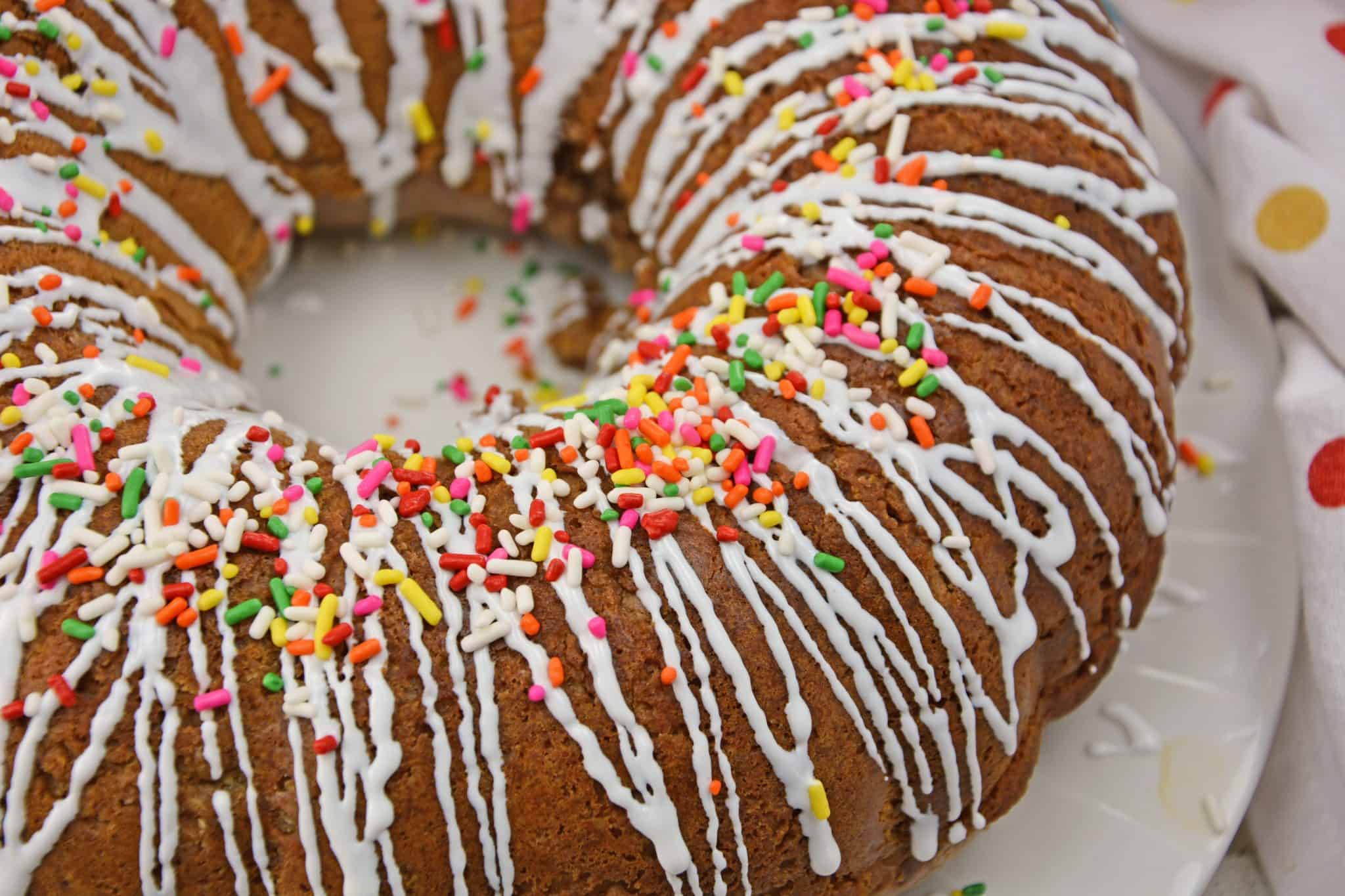 So other than top your chocolate ice cream bread with whipped cream and enjoy it plain, you can also do these fabulous things with it:
Make French toast! Add some cocoa to your egg batter and fry it up for breakfast!
Ice Cream Sandwiches- what better to make ice cream sandwiches than ice cream bread?
Peanut Butter and Jelly Sandwiches- Oh yes. Chocolate ice cream bread slathered with peanut butter and raspberry jelly. Pure heaven.
Before you leave, make sure to scroll down and check out my friend's fabulous chocolate ice cream recipes, or creative takes, like mine.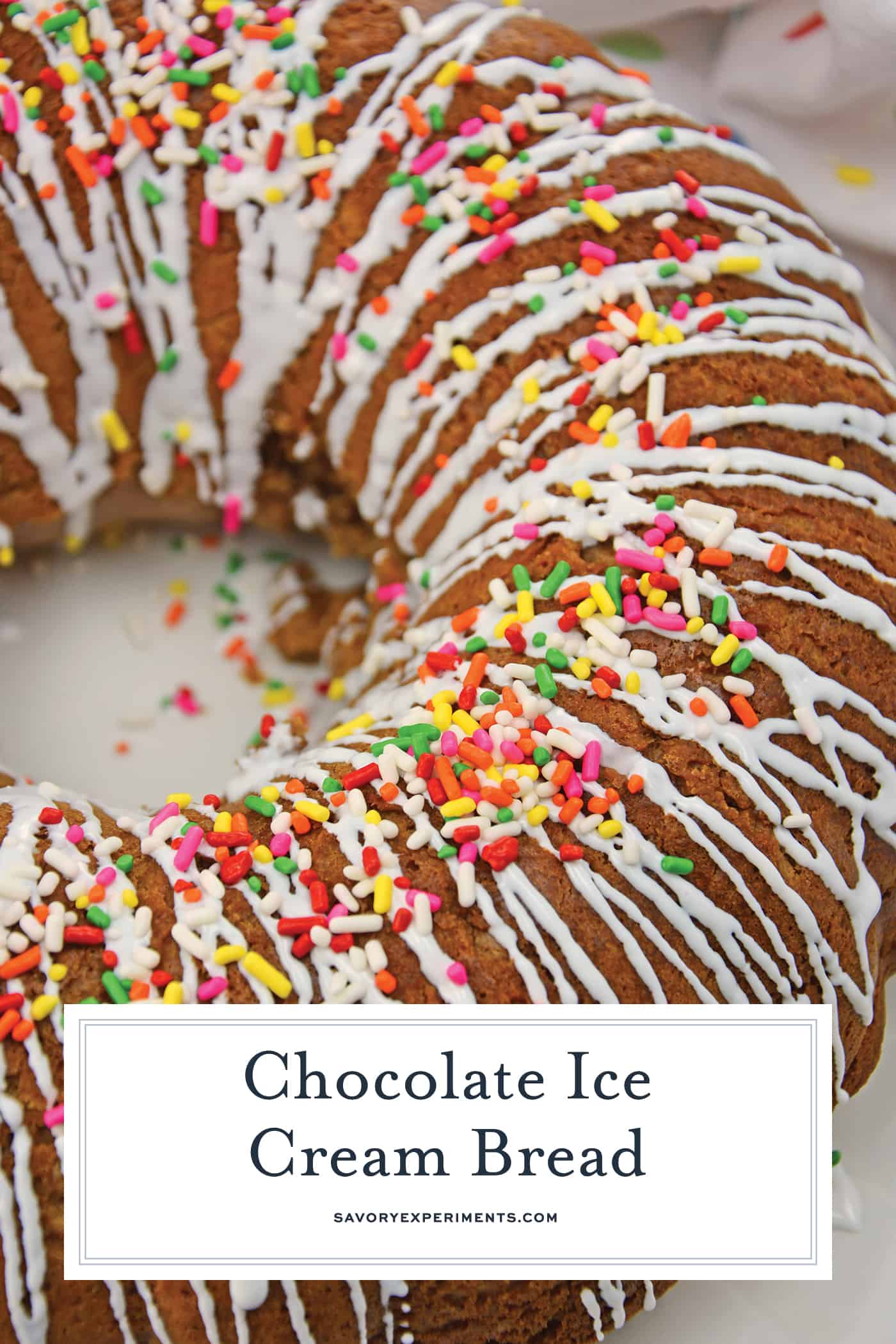 Or my homemade ice cream recipes, all of which can be substituted for the chocolate ice cream in this recipe.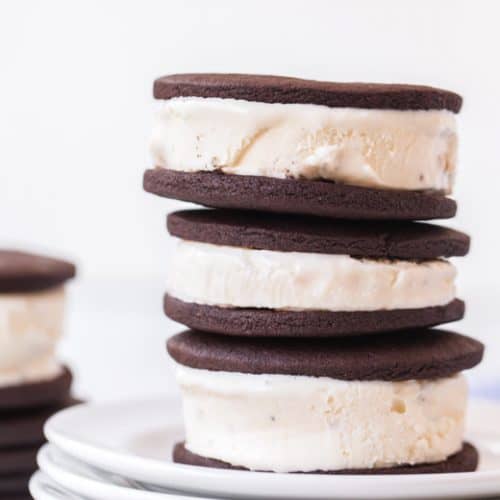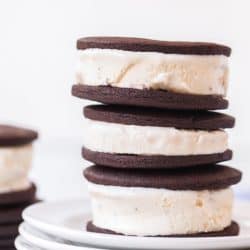 Ice Cream Sandwiches
Ice Cream Sandwiches are a frozen delight everyone in the family will love. Make them for your next cookout or have them on standby in the freezer for when you want a delicious dessert.
See The Recipe!
Please note that we have never tried this recipe with NO CHURN ice cream, only with old fashioned, cream based, so we can't tell ya if it works or not.
What is the difference between no churn ice cream and traditional ice cream? No churn is made with sweetened condensed milk and whipped cream versus traditional that is made with heavy cream and milk.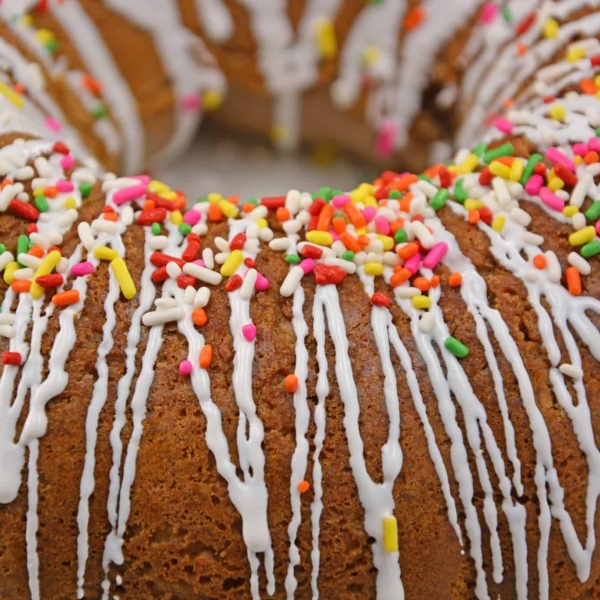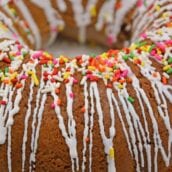 Chocolate Ice Cream Bread
Chocolate Ice Cream Bread is a fun way to use ice cream using just a few common ingredients. Add frosting and sprinkles for a surprisingly good munchie.
Instructions
Preheat oven to 350 degrees. Coat a standard bundt pan with cooking spray. Set aside.

In the bowl of your stand mixer fitted with a paddle attachment or a large mixing bowl with an electric mixer, or by hand if you are a strong man, combine softened ice cream with self-rising flour until just incorporated.

Bake for 45-50 minutes or until it passes the toothpick test.

Place on a cooling rack. Invert after cooling for 10-15 minutes, tapping the top to loosen.

After fully cooled, drizzle with cookie icing and top with rainbow sprinkles while still tacky.

If you've tried this recipe, come back and let us know how it was!
Notes
*If you don't have self-rising flour, sift together 3 cups all-purpose flour with 1 1/2 tablespoons baking powder and 1 1/2 teaspoons salt.
Adapted from Taste of Home.
Nutrition
Calories:
392
kcal
,
Carbohydrates:
61
g
,
Protein:
8
g
,
Fat:
13
g
,
Saturated Fat:
8
g
,
Cholesterol:
40
mg
,
Sodium:
90
mg
,
Potassium:
325
mg
,
Fiber:
2
g
,
Sugar:
35
g
,
Vitamin A:
490
IU
,
Vitamin C:
0.8
mg
,
Calcium:
134
mg
,
Iron:
1.4
mg
Check out chocolate ice cream recipes for National Chocolate Ice Cream Day from all of my foodie friends!
Links below!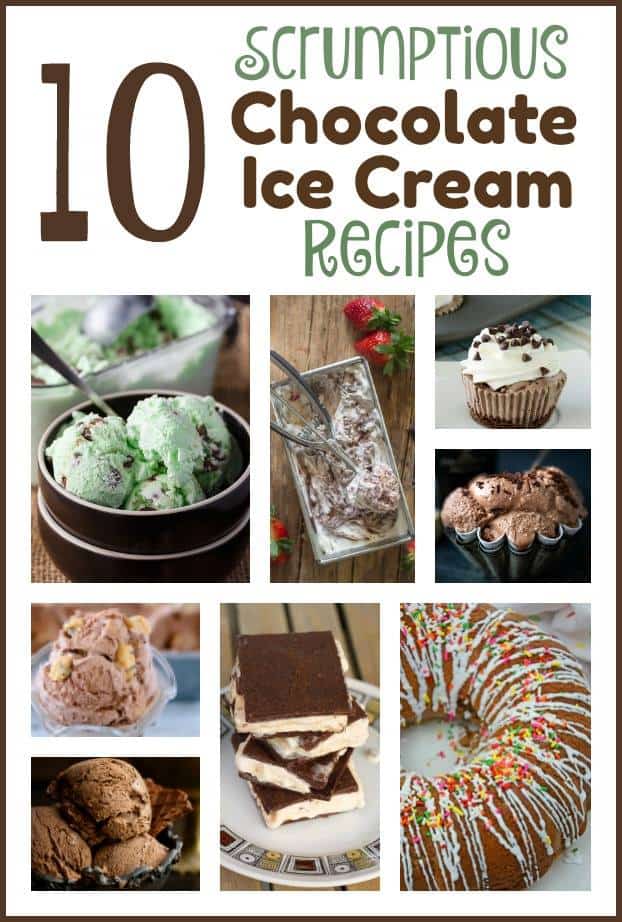 Chocolate Ganache Ice Cream by Ashlee Marie
Chocolate Cookie Dough Ice Cream by Creations by Kara
Brownie Ice Cream Sandwiches Crumb
Dairy-Free Chocolate Ice-Cream in a Bag by Premeditated Leftovers
Strawberry Chocolate Ripple Ice Cream by An Italian in my Kitchen
Chocolate Ice Cream Cupcakes by Real Mom Kitchen
Blender Chocolate Peanut Butter Banana Ice Cream by 365 Days of Slow Cooking
Mint Chocolate Chip Ice Cream by Simply Stacie