If a warm, creamy, rich soup is your idea of comfort food, this Butternut Squash Soup is perfect for you.
My Butternut Squash Soup recipe is the perfect way to celebrate the spoils of fall all year long. Served hot or chilled, your guests are in for a treat.
While squash is typically thought of as a fall and winter vegetable, you can find it in the grocery store all year long. I will fully admit though, that I am typically buying it in abundance in the fall.
Butternut squash is a great vegetable to use in soups as it is hearty and full of starch which will give your soup that wonderfully rich texture you love without using a thickener.
It is naturally flavorful on its own, but I like to throw in some warm spices for depth. They really play well with the natural sugars in the squash itself.
Not only does the subtle sweetness of the soup play well with warm spices, but the sweetness of this recipe pairs perfectly with jumbo lump crab meat and rosemary mushrooms. Earthy, rich, sweet, and savory – what a combo!
Butternut squash can be a bit of a chore to peel. I would suggest buying an inexpensive Y-peeler from Amazon to tackle the task. It was initially given to me by a friend as a gift and talk about a gift that keeps on giving. It is indispensable in the kitchen.
Fun fact: butternut squash is actually a fruit! We tend to treat it as a vegetable however because it has a lot of those characteristics and is great whether it is roasted, sauteed, or used in baked goods. It is also an excellent source of fiber, Vitamin C, magnesium, and potassium.
Cream is traditionally used to give soups a velvety texture, but sometimes you don't have it in the fridge and if you do, you want to skirt the calories. Instead of cream, try some yogurt.
Plain Organic Stonyfield Yogurt is my favorite and helps lend a silky mouthfeel without adding too many calories.
Apple is a natural pairing with the squash. I like to use apple juice and apple butter to get that wonderful flavor without adding too much to the cook time. (Apples take a bit of time to break down.)
Sautéed rosemary mushrooms add a bold, aromatic savory element and the jumbo lump crab meat make it just a touch decadent. This Butternut Squash soup can be served hot or chilled.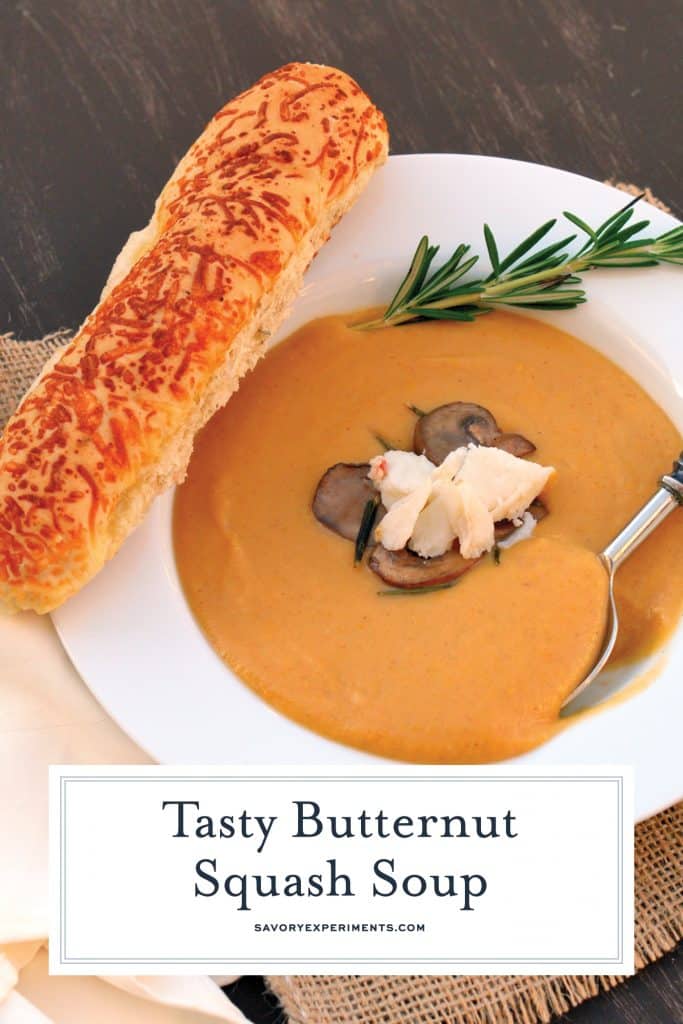 You can make it ahead and warm it for guests or freeze it and save it for a rainy night. Place in an airtight container and store for up to 3 months! Frozen soups can lose a little flavor, so make sure you adjust the seasoning with salt and pepper before serving.
Check out these easy soup recipes:
Creamy Leek and Potato Soup
Creamy Leek and Potato Soup is the perfect winter time comfort food. A creamy, silky broth with oodles of flavor, topped with crispy bacon and scallions.
Instant Pot Chicken Noodle Soup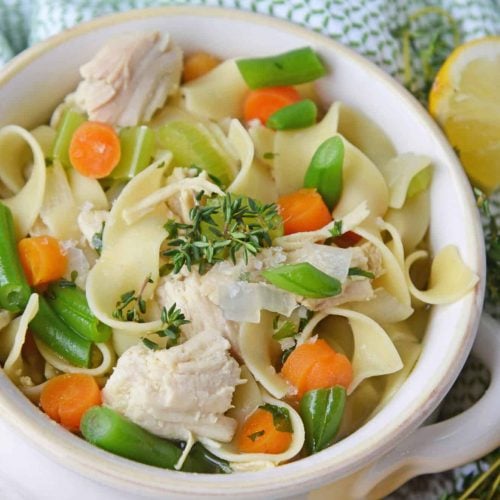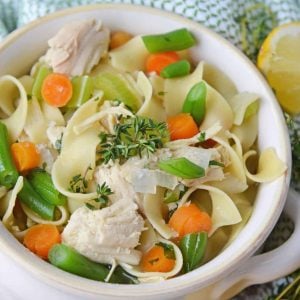 Looking for a homemade chicken noodle soup recipe that you can enjoy all year round? This Instant Pot Chicken Noodle Soup is flavorful and SO easy to make!
CONNECT WITH SAVORY EXPERIMENTS!

Be sure to follow me on social media, so you never miss a post!

Facebook | Twitter | Youtube
Pinterest | Instagram

Get our FREE 8 Day E-Course on How to Be a Better Home Cook. Sign up HERE!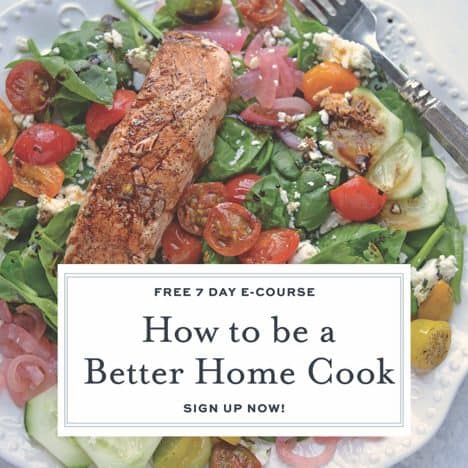 Butternut Squash Soup
A savory soup that can be served chilled or hot, creamy butternut squash with dry sauteed rosemary mushrooms and sweet jumbo lump crab.
Instructions
Heat oven to 375 degrees. Lay cubed butternut squash in a single layer, roast for 30-35 minutes or until squash is fork tender.

While butternut squash roasts, place sliced mushrooms and rosemary leaves in a medium skillet over medium heat. Turning occasionally, the mushrooms will release enough liquid to prevent sticking. Saute until they have reduced in size by half and browned. Remove from heat and set aside.

Remove from oven and transfer to a large food processor or large dutch oven. using the food processor or a stick/immersion blender, blend butternut squash with apple butter through fine sea salt.

If you are serving your soup chilled, place in the refrigerator until fully cooled. If you are serving soup warm, heat over medium heat on large Dutch oven or pot.

To serve, ladle into soup bowls. Top with 2 tablespoons mushrooms and 4 pieces of jumbo lump crab per bowl.

Enjoy your Butternut Squash Soup with Jumbo Lump Crab and Rosemary Mushrooms!
Nutrition
Calories:
335
kcal
|
Carbohydrates:
64
g
|
Protein:
16
g
|
Fat:
3
g
|
Saturated Fat:
1
g
|
Cholesterol:
31
mg
|
Sodium:
1576
mg
|
Potassium:
1254
mg
|
Fiber:
6
g
|
Sugar:
36
g
|
Vitamin A:
24450
IU
|
Vitamin C:
53.6
mg
|
Calcium:
218
mg
|
Iron:
2.5
mg