Here is a killer grilled cheese recipe, your mouth will be watering for just at the very thought of it! This is a sandwich that will boost your grilled cheese game into a different echelon.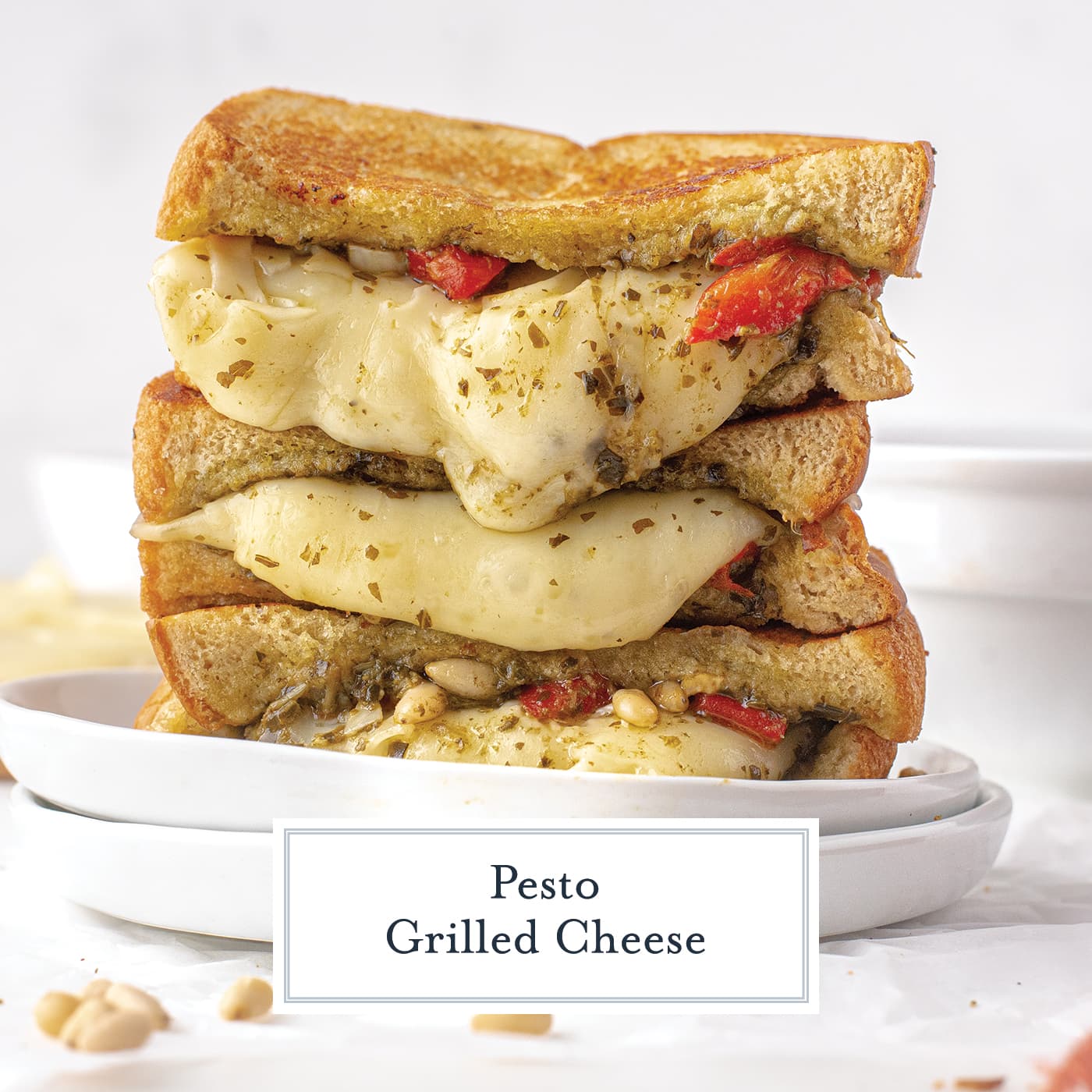 Toasty sourdough bread + gooey cheese + pesto sauce + roasted red peppers + pine nuts. That means we get all the elements of savory, juicey, gooey and crunchy in each bite. The ultimate comfort food!

A pesto grilled cheese sandwich is a fabulous quick and easy dinner idea, lunch or even after school snack.
Jarlsberg vs Swiss Cheese
I've been asked about Jarlsberg cheese a lot… so let me answer this question right off the bat. Jarlsberg cheese hails from Vestfold County in Norway and was developed by Swiss cheesemakers, but is not Swiss cheese. I repeat this is NOT Swiss cheese.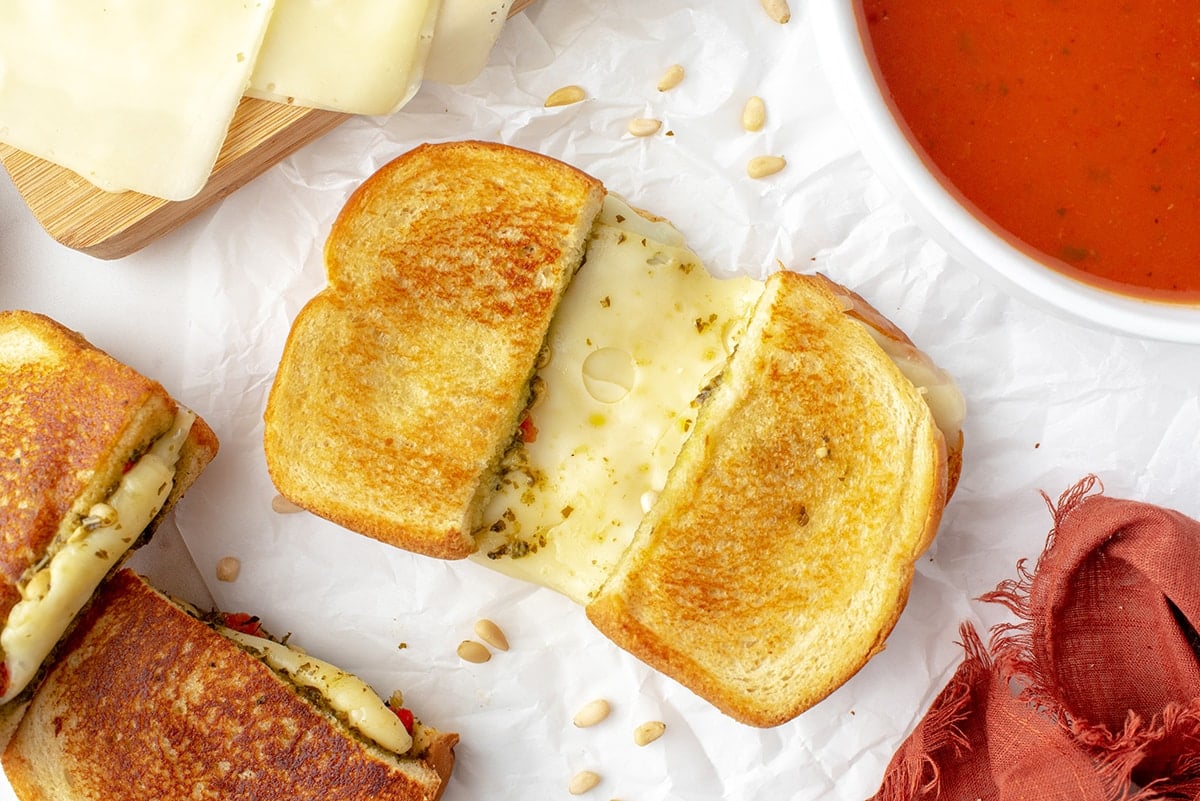 While it might resemble Swiss with it's large "eyes" or holes, it is only similar in that it comes from the same general region of the world. It is a part-skim cow's milk cheese with a sweet, nutty, buttery flavor.
Add the fact that it melts beautifully, tastes magnificent cold, and looks gorgeous on a cheese tray, and you have got a winner.
Although the flavor here is different from Swiss, if you are partial to it, Swiss can certainly be used as a substitution for Jarlsberg. I am also totally guilty of using more cheese than any respectable person should use. I want mine exploding with cheesy goodness!
Fresh mozzarella cheese, goat cheese, provolone cheese, sharp white cheddar, fontina, parmesan cheeses and gouda are other lovely additions.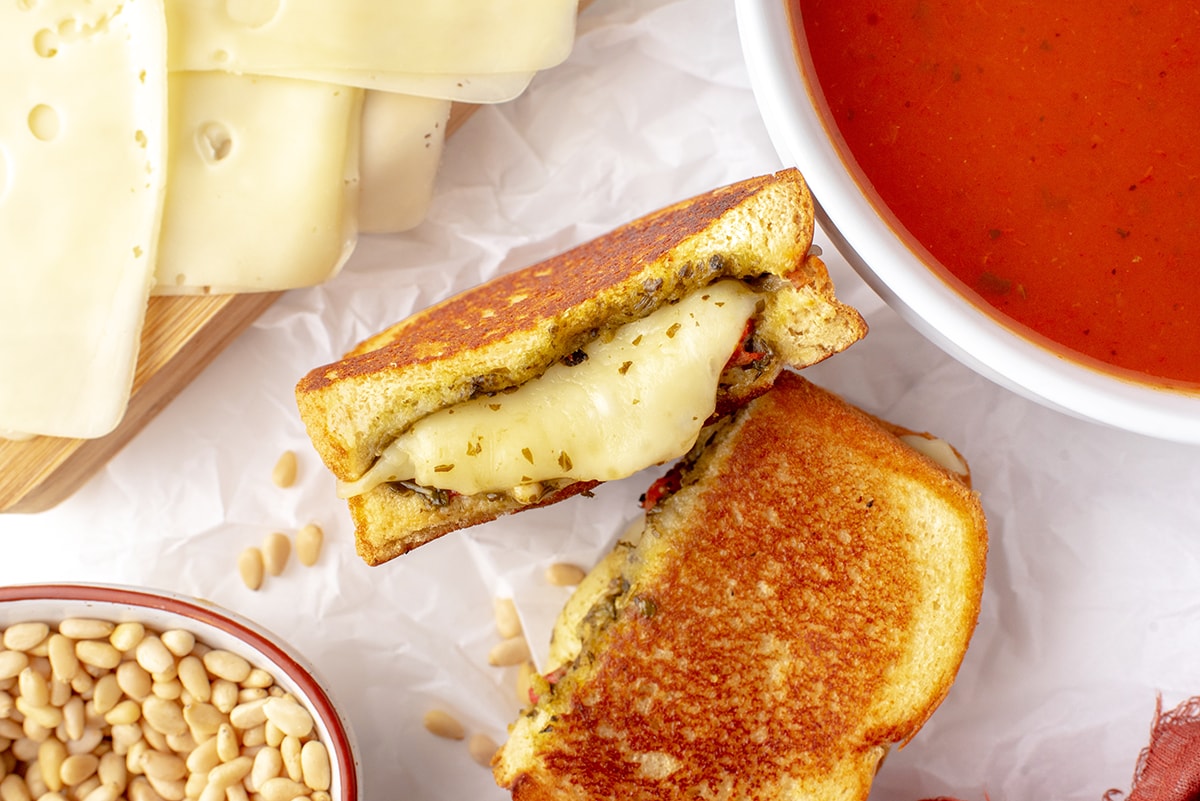 Grilled Cheese or Panini
Onto another question you may be asking yourselves, is this technically a pesto panini or is it, in fact, a grilled cheese?
There are some grilled cheese purists that might argue that real grilled cheese is cheese only and any other additions makes it nothing but a fancy sandwich.
I am calling this thing a grilled cheese and that is the end of it. All you need to know is that it is delicious. Whether you want to call it a flavor-packed vegetarian panini or a gourmet grilled cheese, it is a fabulous nonetheless!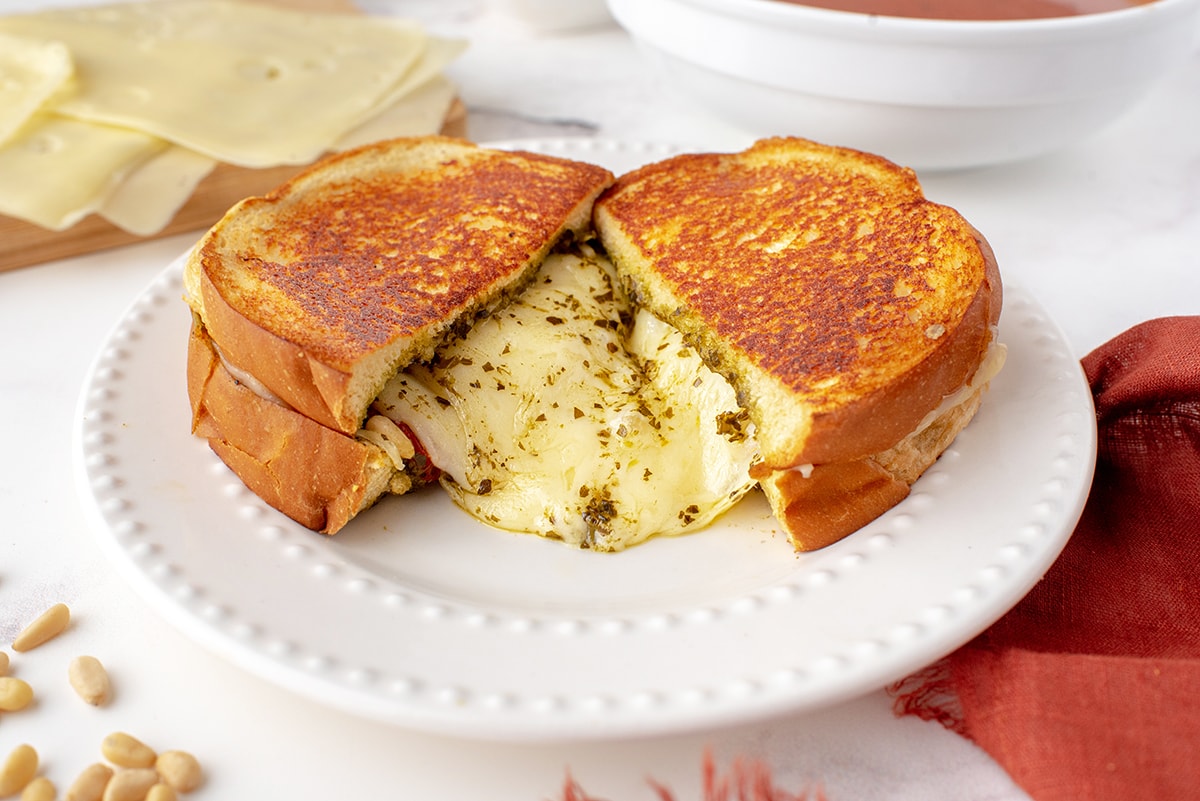 What is pesto?
It is a sauce originating in Genoa made up of crushed garlic, pine nuts, salt, basil leaves, parmesan cheese and pecorino sardo blended together with olive oil.
Of course, many folks are allergic to tree nuts, so many pestos are made without nuts too.
For this recipe, you can make your own roasted red peppers or basil pesto sauce, but store bought will also do. Fresh pesto will give you a brighter greener flavor and allow you to personalize, while store bought will save you precious time if you need it. And some days, we all do, so do what works best for you!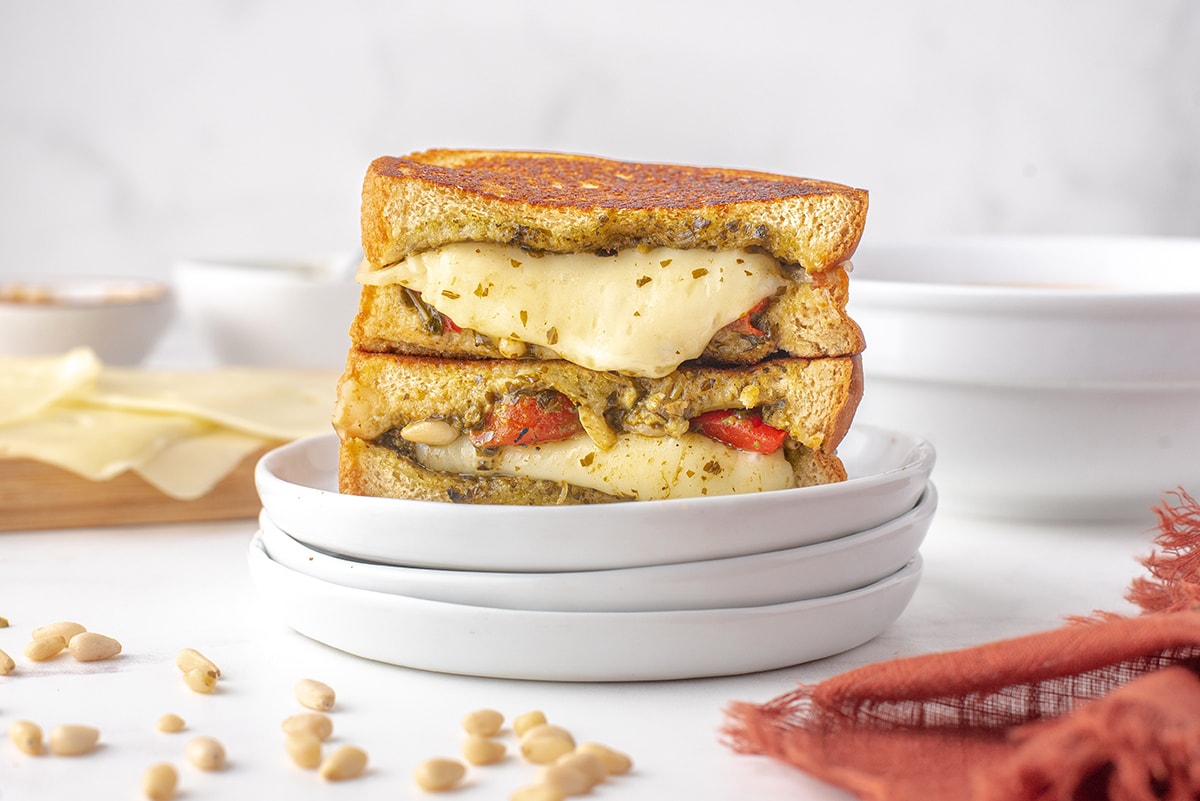 Sourdough Bread
I used thick-cut sourdough bread, but Italian bread is a great substitution if you want to switch it up. Both are hearty enough to give you good bite and not "sog out" from all the delicious fillings.
Just make sure they are thick slices of bread with no holes (otherwise the cheese will just melt right out!).
How to Make a Pesto Grilled Cheese
Again, a very controversial subject. How to make a grilled cheese. One might think it is easy, but it isn't. There are three acceptable things to lubricate your bread: butter, mayonnaise and eggs. I think work but I use different items for different flavors of sandwich. For this bad bay, I picked butter. With so many other tastes and textures, I wanted to stay somewhat neutral but still get a good toast.
Butter one side of bread slices . While most of the time the butter goes inward, we are going to place the butter outwards to create a nice crust on the bread.
Evenly spread the pesto, roasted red pepper strips, pine nuts and cheese on the inside, non-buttered sides of the bread. Top with a buttered slice of bread, butter side out.
Heat a skillet over medium heat. Butter had a smoke point (burn point) of 350°F so you don't want it to go too far over. For some more professional ranges, this might even mean medium-low heat.
Sear on both sides, gently pressing down with a spatula. This creates contact with the pan to brown the bread and also melt the cheese making it into the delicious glue that will hold your sandwich together.
Remove when golden brown and slice!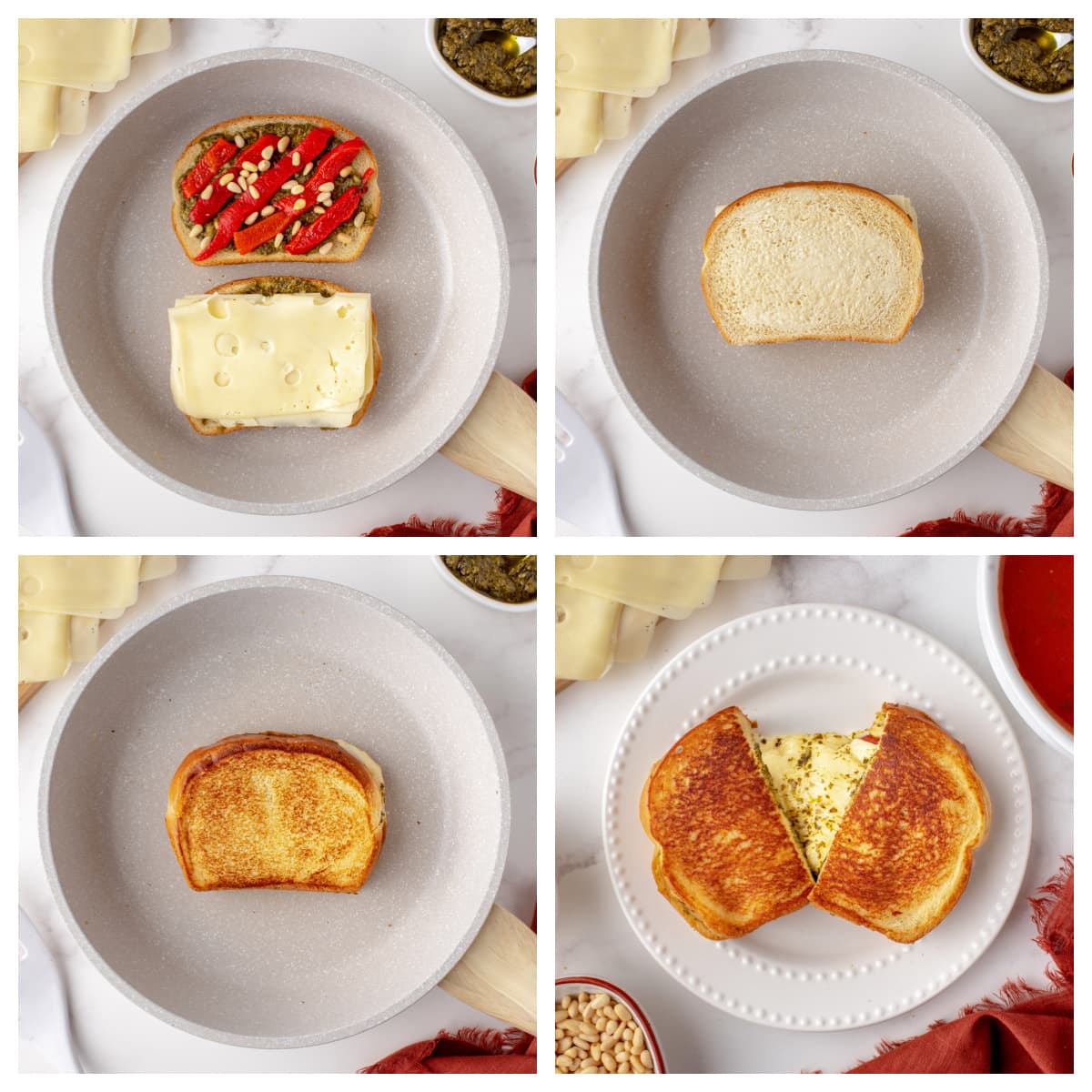 Serve this with a bowl of creamy tomato soup on a cold day or with a bowl of gazpacho if it is hot out. You can even cut it into strips and serve it as an appetizer at your next party. Who can say no to grilled cheese in finger food form? Exactly – no one!
Variations
Other than switching up the cheese, here are a few more ways to customize your sandwich.
Balsamic reduction sauce– Pesto and bell pepper always taste good with a drizzle of caramelized balsamic vinegar. Drizzle it in the sandwich or serve on the side for dipping.
Garlic Aioli- Same as the reduction, garlic is a match made in flavor heaven. Spread on the inside, or omit the butter and spread on the outside for a crunchy garlic crust.
No nuts! If someone is allergic to pine nuts, it goes unsaid to omit them.
Add meat- While I love this recipe for meatless Monday, sometimes you want a little more substance. Add shredded or sliced chicken or prosciutto to the sandwich. Crispy bacon is another good option.
Tomato- Of course these flavors also lend themselves to fresh tomatoes slices.
Add greens- fresh spinach or arugula are also welcome on this sandwich.
Before you know it, these fun twists are going to land you with a sandwich so big, you won't be able to eat it!
Make Ahead & Storage
Unfortunately, very few grilled cheese sandwiches are good as a make-ahead item. And for this one in particular, since it has a sauce, that is even more true. Prepare all of the elements and wait until ready to serve to assemble and cook.
Grilled cheese are also not great for leftovers. Even if you re-grill is in the skillet, they never fully regain their original glory. If you do want to reheat, try doing it in a hot skillet, panini press or even the Air Fryer.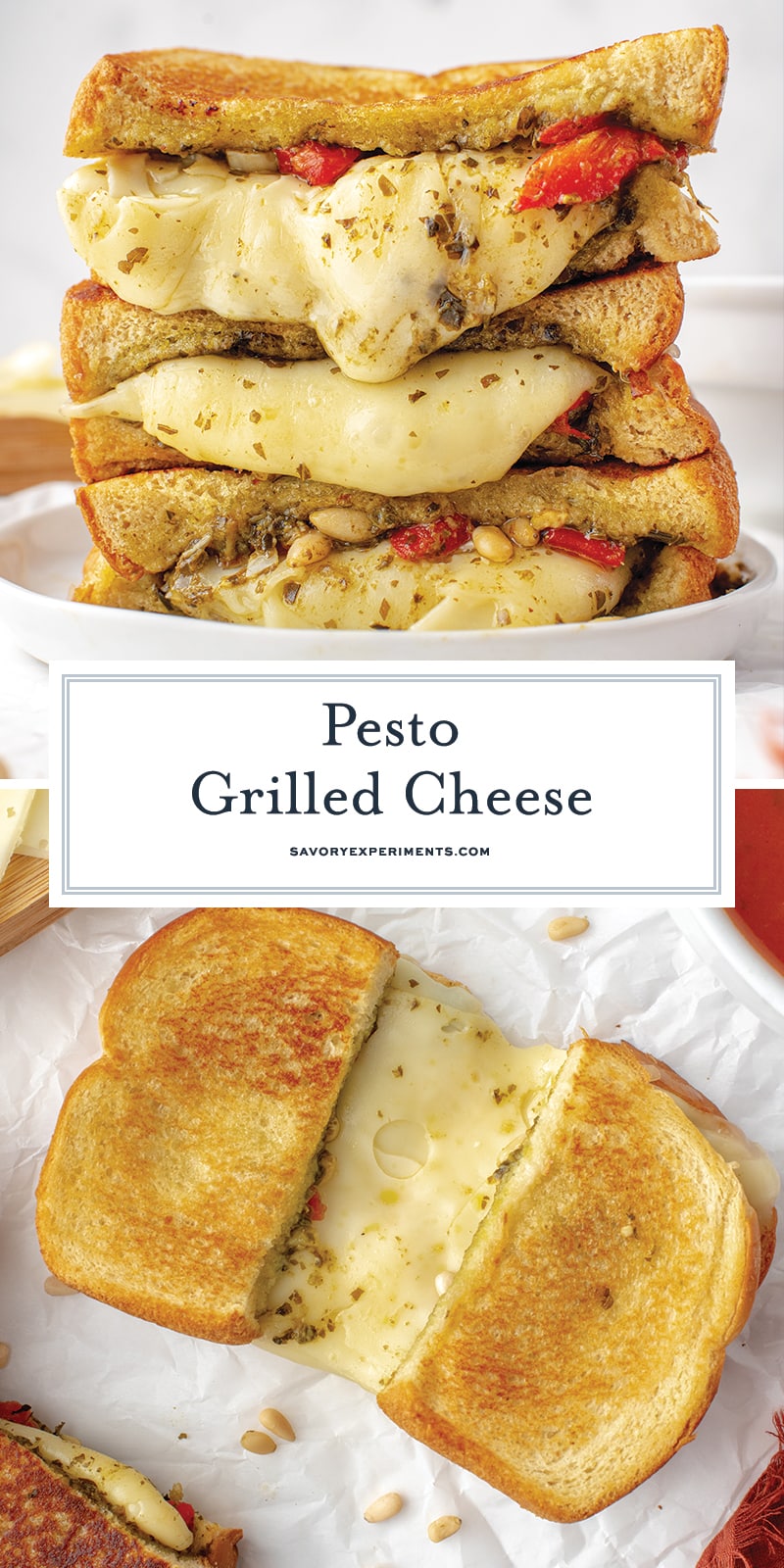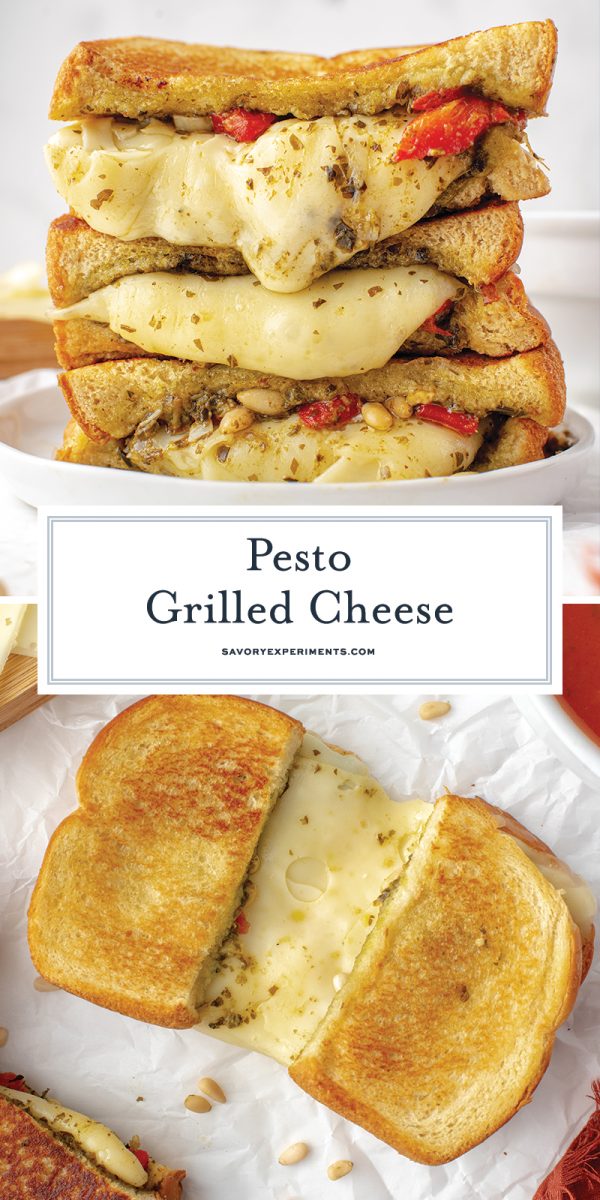 More cheesy sandwiches: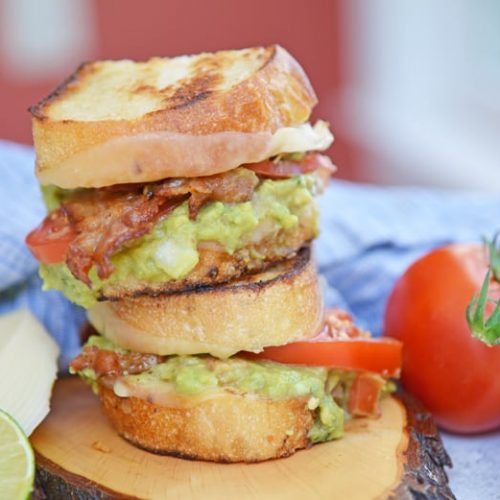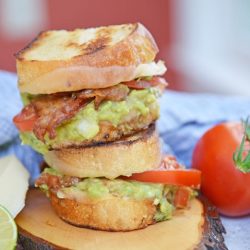 Guacamole Grilled Cheese
This Guacamole Grilled Cheese Sandwich is stuffed with gooey provolone cheese, crispy bacon, juicy tomatoes and freshly made guacamole, all grilled to perfection on crusty bread.
See The Recipe!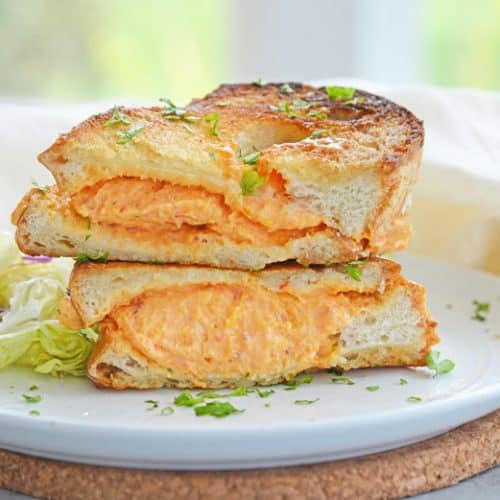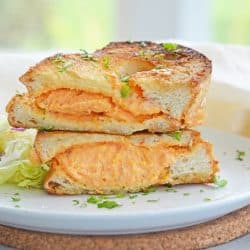 Greek Cheese Melt
Delicious melted cheeses with roasted red pepper, black olives and red onion on two slices of King's Hawaiian Bread and tzatziki sauce.
See The Recipe!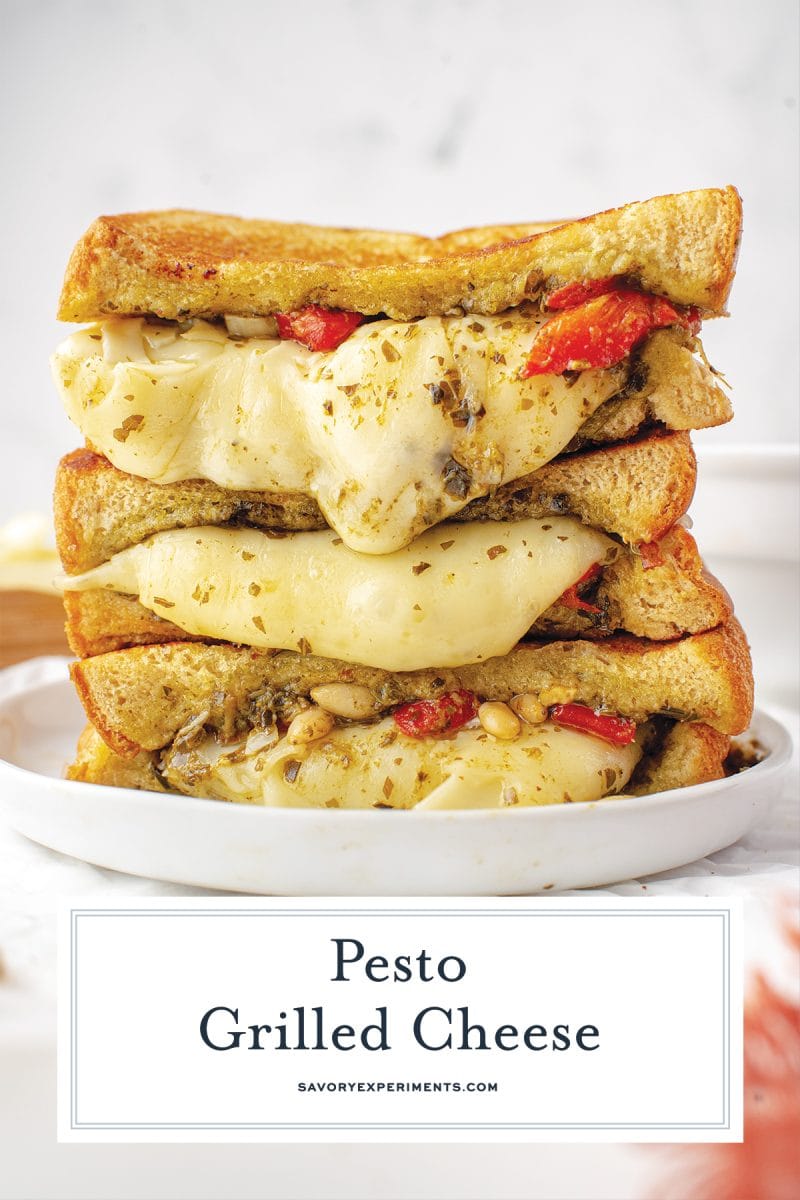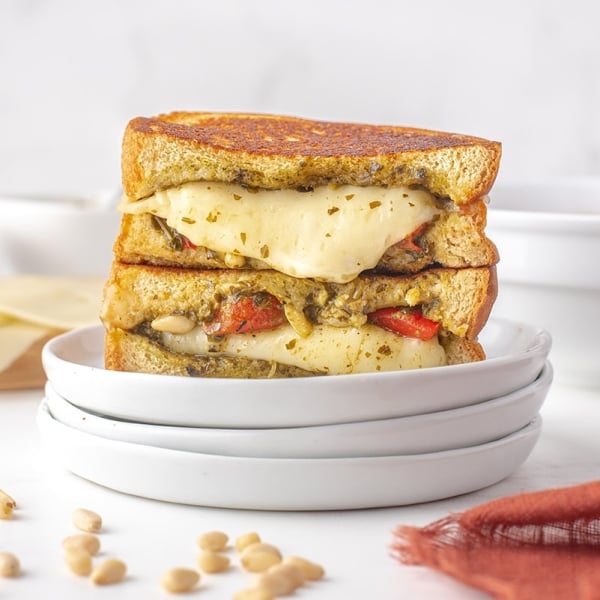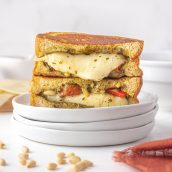 Pesto Grilled Cheese Recipe
Pesto Grilled Cheese is a gooey grilled cheese recipe featuring cheese, roasted red peppers, pesto, and pine nuts and sourdough bread!
Equipment
Heat Resistant Rubber Spatula
Ingredients
2

tablespoons

butter

, softened

8

thick slices

sourdough or Italian bread

16

slices

Jarlsberg cheese

1/4

cup

roasted red peppers

, cut into strips

4

tablespoons

pesto

2

tablespoons

pine nuts

, toasted
Instructions
Butter one side of each piece of bread, buttered sides out.

Evenly divide the pesto, pine

Heat a large skillet over medium heat. Place 1-2 sandwiches in the skillet at a time. Do not crowd the pan, work in batches.

Using a spatula, apply pressure to get a nice buttery crust. When lightly browned, flip and repeat on the other side.

Remove from the pan and cut in half. Serve hot.

If you've tried this recipe, come back and let us know how it was in the comments or ratings.
Nutrition
Calories:
595
kcal
,
Carbohydrates:
3
g
,
Protein:
15
g
,
Fat:
31
g
,
Saturated Fat:
15
g
,
Cholesterol:
56
mg
,
Sodium:
682
mg
,
Potassium:
42
mg
,
Sugar:
1
g
,
Vitamin A:
930
IU
,
Vitamin C:
4
mg
,
Calcium:
433
mg
,
Iron:
0.4
mg