While most would think grilled cheese is as simple as a plastic wrapped square of American sandwiched in slices of wonder bread, the business of grilling cheese has gotten much more complicated and quite frankly, controversial.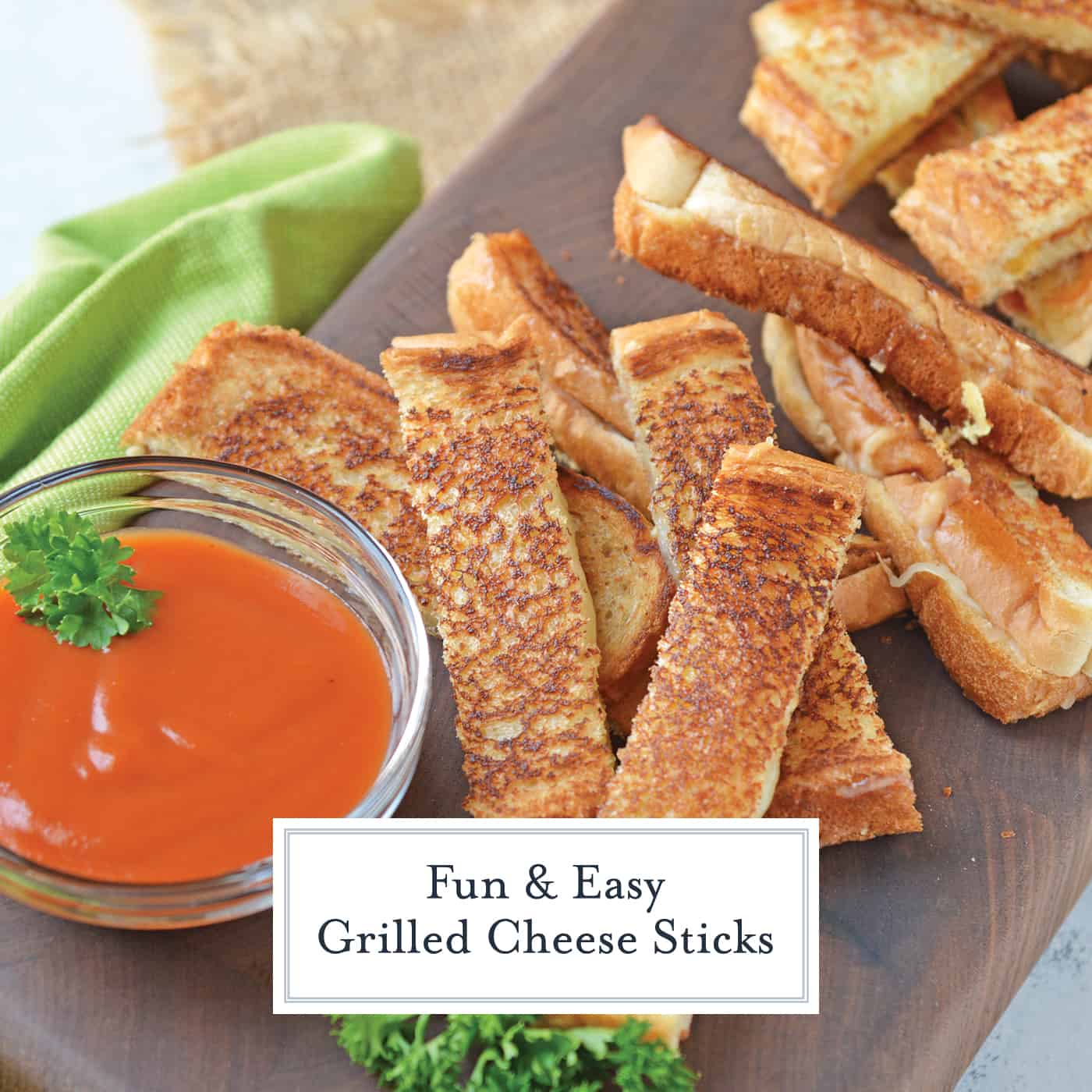 Grilled Cheese Sticks make your childhood favorite into a party-worthy appetizer! Pair with tomato soup or tomato jam for an upscale grilled cheese sandwich recipe.
For many sensitive issues there seems to be black, white and whole bunch of gray, but according to my recent poll, grilled cheese beliefs tend to be all black or white, with no gray.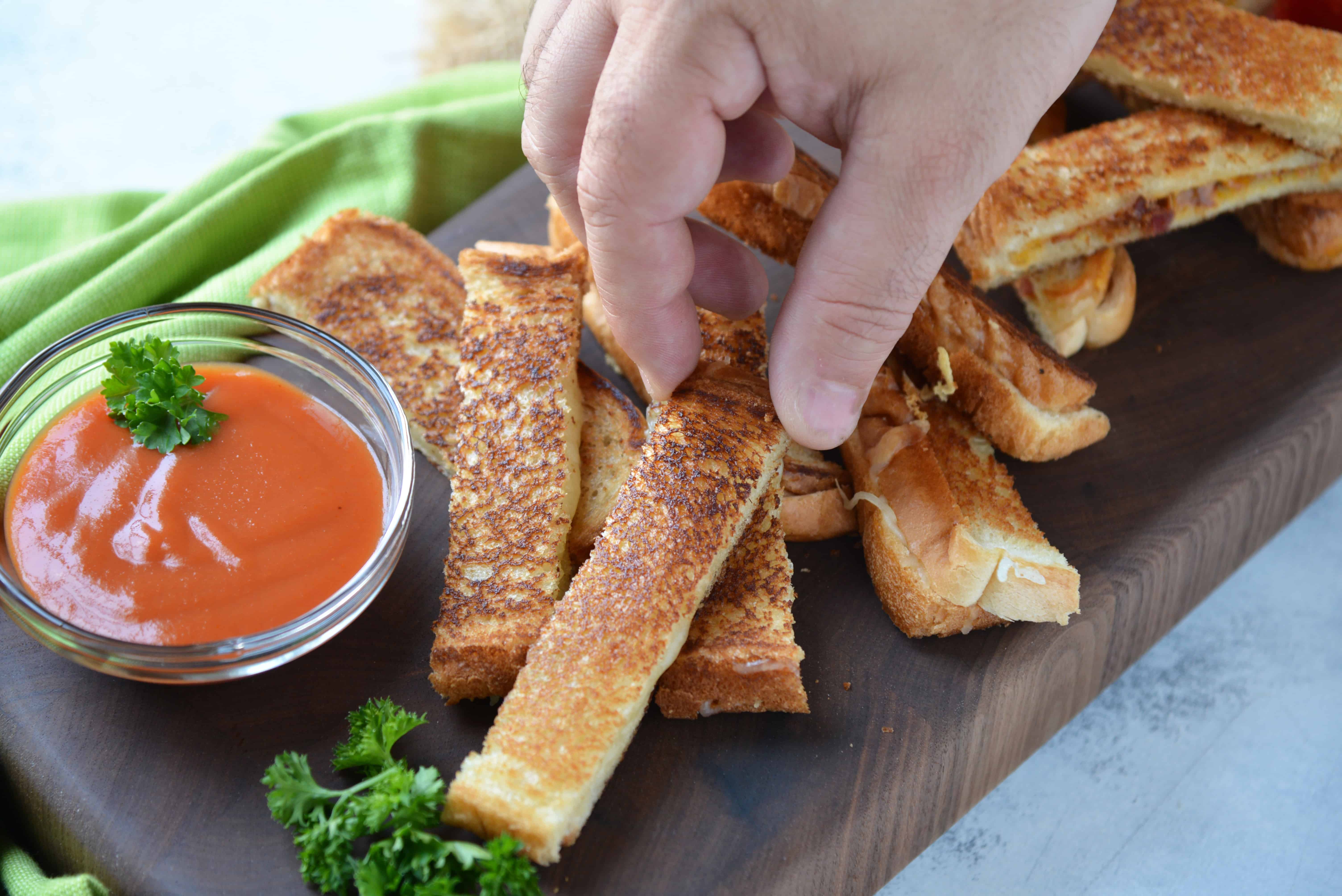 Grilled cheese sticks fall under the purists category. While they are cut into matchstick lengths for easier handling and dipping, they are nothing but three slices of varied cheddar cheese smashed between lightly buttered Italian bread.
There are even some grilled cheese purists who might say that having three cheese violates the terms of a real grilled cheese sandwich, claiming only a slice of American can be a true grilled cheese. Personally, I don't care for processed American cheese, so mine are nearly always something else.
They also beleive that if the recipe has anything else in it other than cheese, it is no longer a grilled cheese sandwich. Just a sandwich. Or even a panini if you happened to use a press or an air fryer.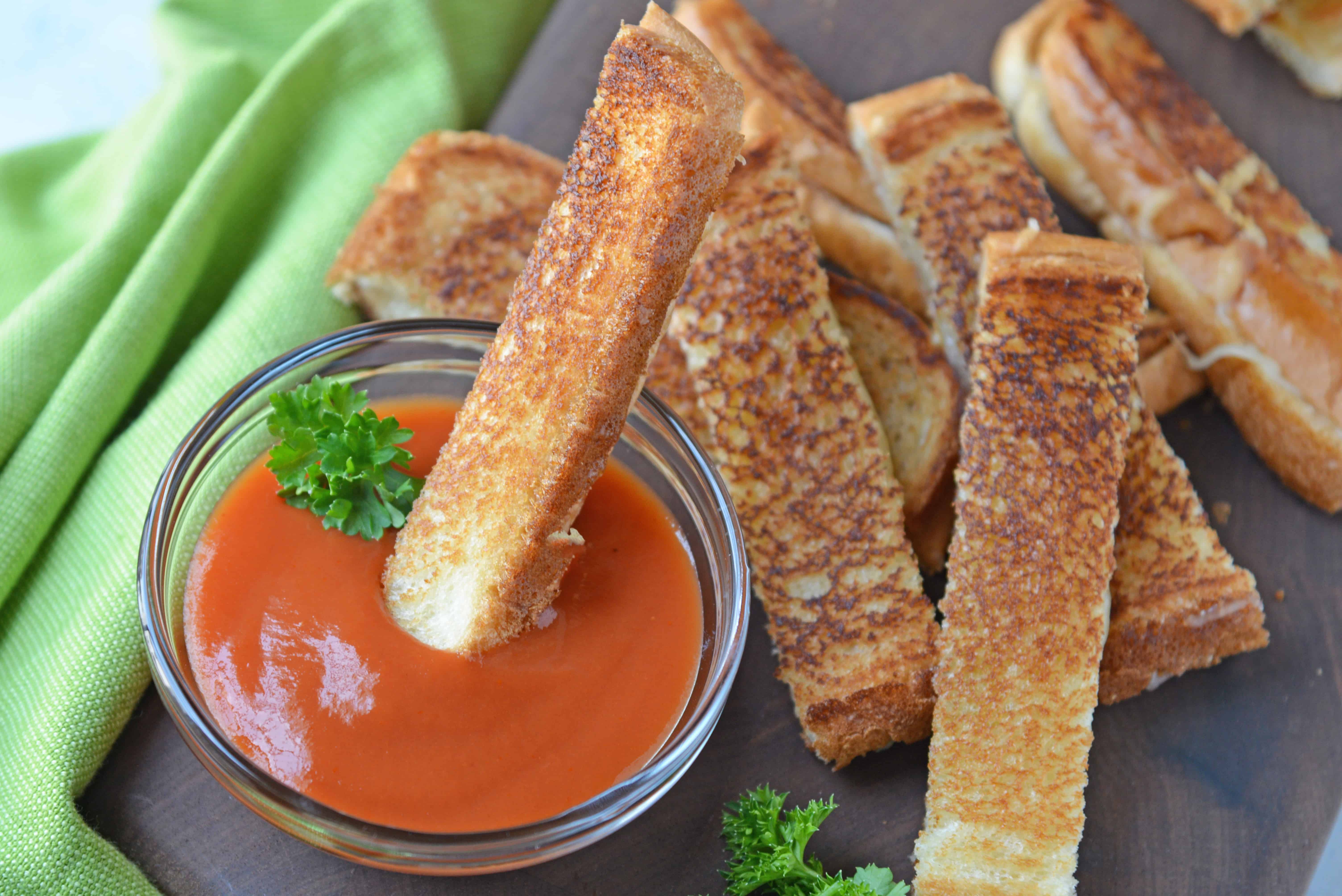 One could also argue that mayonnaise should be used instead of butter, but I prefer butter. Your choice, no judgement from me.
I serve my grilled sticks with a side of Creamy Tomato Soup when at a sit down meal or with a small cup at a party. You can also serve them with a side of Tomato Jam for slathering.
They can be an entree, appetizer or snack. Whatever your heart desires!

You'll love these other gourmet grilled cheese recipes: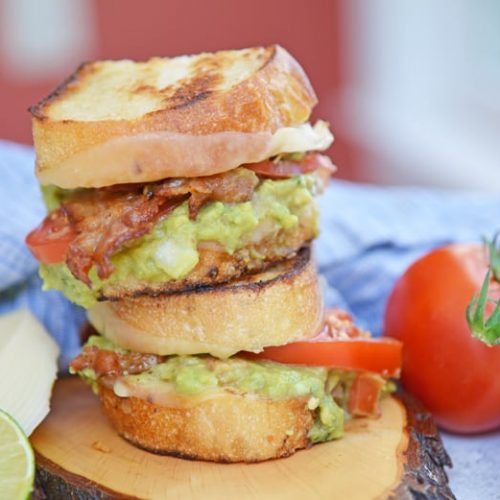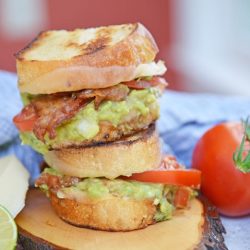 Guacamole Grilled Cheese
This Guacamole Grilled Cheese Sandwich is stuffed with gooey provolone cheese, crispy bacon, juicy tomatoes and freshly made guacamole, all grilled to perfection on crusty bread.
See The Recipe!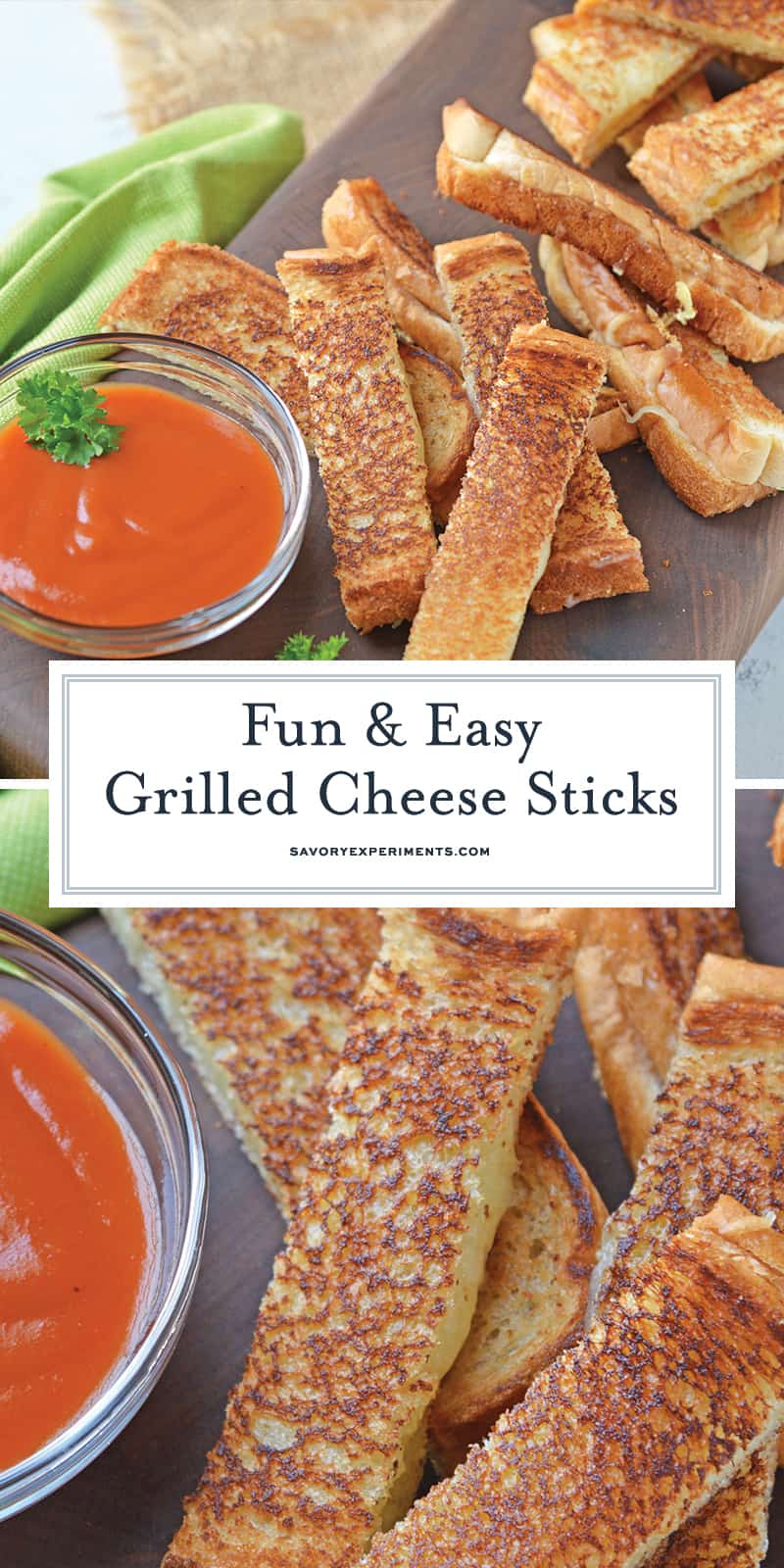 Tools for making Grilled Cheese Sticks:
Heavy Bottom Frying Pan– this will be one of your most used kitchen tools. Having something that is heavy bottom will distribute heat better and prevent burning whether you are using an electric or gas range.
Wood cutting board – wood won't dull your knives like plastic and if treated properly, has natural antimicrobial properties.
Good knife – Global is my favorite! They are worth the price, I promise. I am kind of obsessed with them and store them tucked away so no one else can use them. Including hubby. Hands off my good stuff!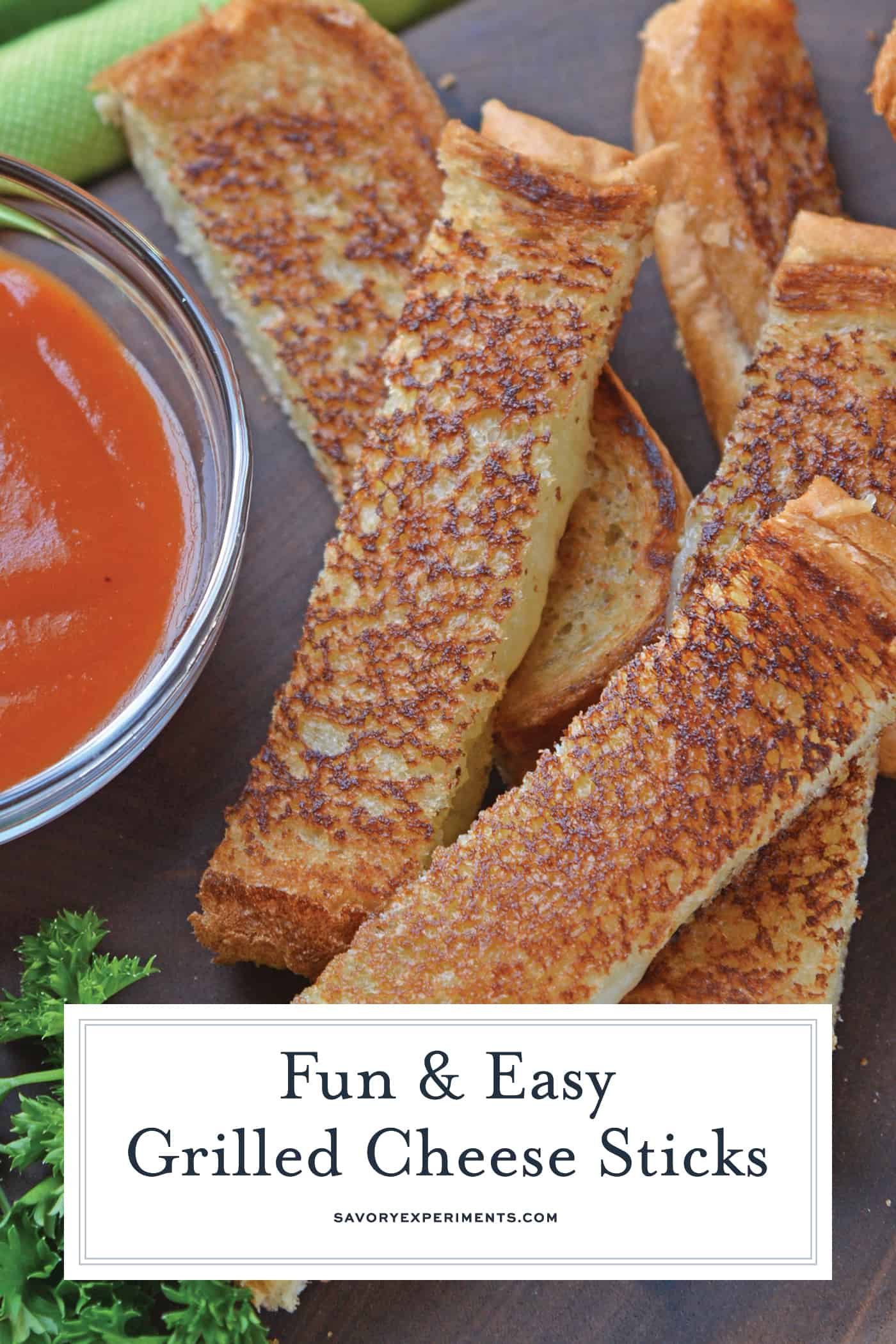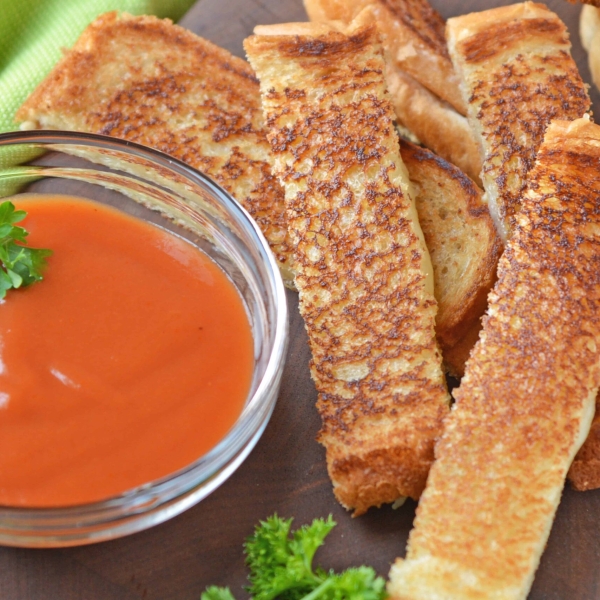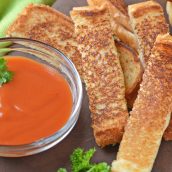 Grilled Cheese Sticks
Grilled Cheese Sticks make your childhood favorite into a party-worthy appetizer! Pair with tomato soup or tomato jam for an upscale grilled cheese sandwich recipe.
Equipment
Heat Resistant Rubber Spatula
Ingredients
2

slices

Italian bread

thickly sliced

1

slice

white cheddar

1

slice

sharp cheddar

1

slice

mild cheddar

1

tablespoon

butter
Hot tomato soup

for dipping
Instructions
Lightly butter one side of each slice of Italian bread. Sandwich all three slices of cheese, with buttered sides facing out.

Heat a mdium skillet to medium-high heat and add sandwich. Getnly press down using a spatula to evenly distribute heat and get a nice, buttery golden crust. This will take only 1-2 minutes, then turn and repeat on the other side.

Remove from skillet and slice using a sharp knife into "finger size" portions.

Serve with tomato soup or tomato jam for dipping.

If you've tried this recipe, come back and let us know how it was!
Nutrition
Calories:
662
kcal
,
Carbohydrates:
21
g
,
Protein:
24
g
,
Fat:
53
g
,
Saturated Fat:
32
g
,
Cholesterol:
118
mg
,
Sodium:
770
mg
,
Potassium:
86
mg
,
Fiber:
1
g
,
Sugar:
12
g
,
Vitamin A:
1190
IU
,
Calcium:
606
mg
,
Iron:
1.4
mg