I never had scotcheroos as a kids, can you beleive it? In fact, I hadn't even heard of them until my mid 30s!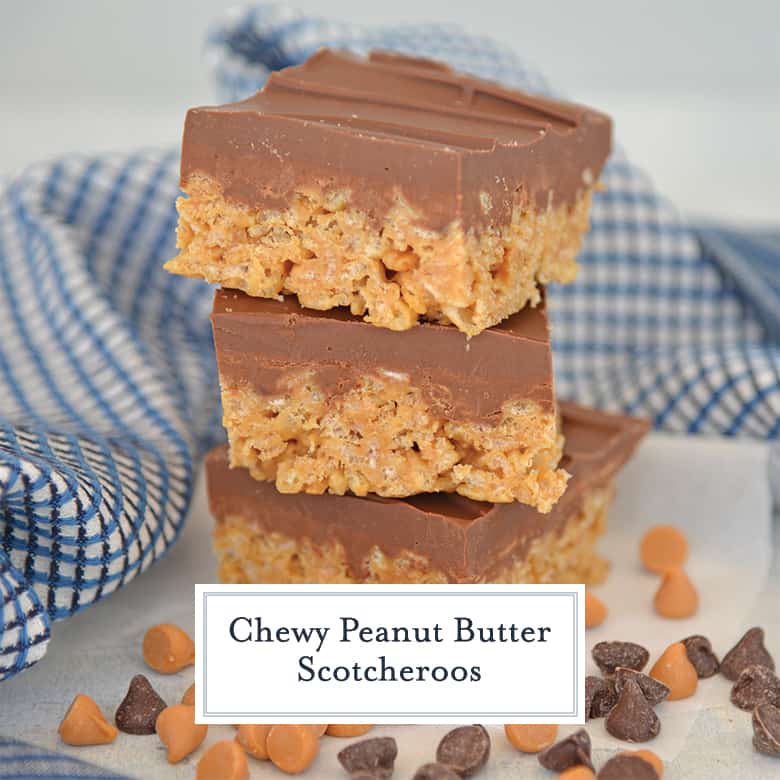 Classic Scotcheroos are made with Rice Krispies, peanut butter, chocolate and butterscotch chips. The ultimate no-bake bar dessert!
Scotcher-what?
One day I sent hubby to the store to buy Rice Krispie cereal for my Chocolate Rice Krispie Bowl with Whipped Peanut Butter Dip. He came back with the generic store "puffed rice cereal".
On the side of this box was the recipe below. Since I had leftover puffed rice cereal (code for generic Rice Krispies) and similar ingredients from my intended recipe, I made a batch.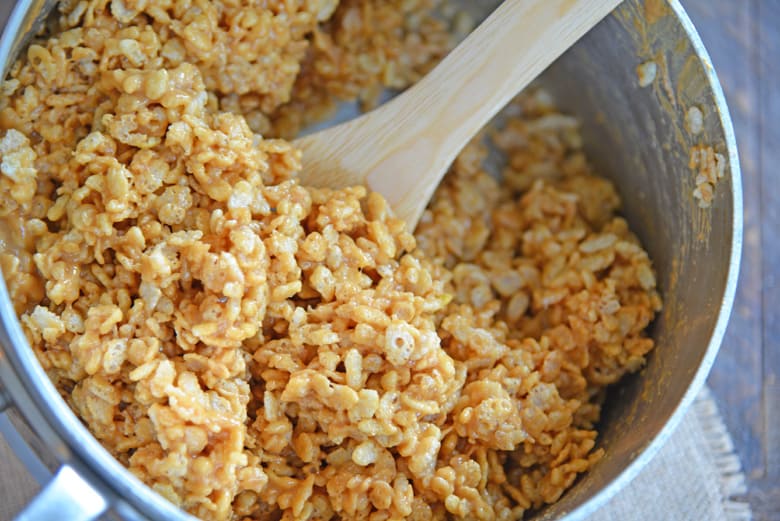 The recipe had no name, so judging by the amazing flavor profile, I decided to call them Million Dollar Bars.
Why? Because they were delicious and worth a million dollars.
It was only then that I saw something similar pop up in my Pinterest feed because you know, the internet stalks you. And much to my surprise, these bars DO have a name and apparently I am the only poor soul that never had them growing up.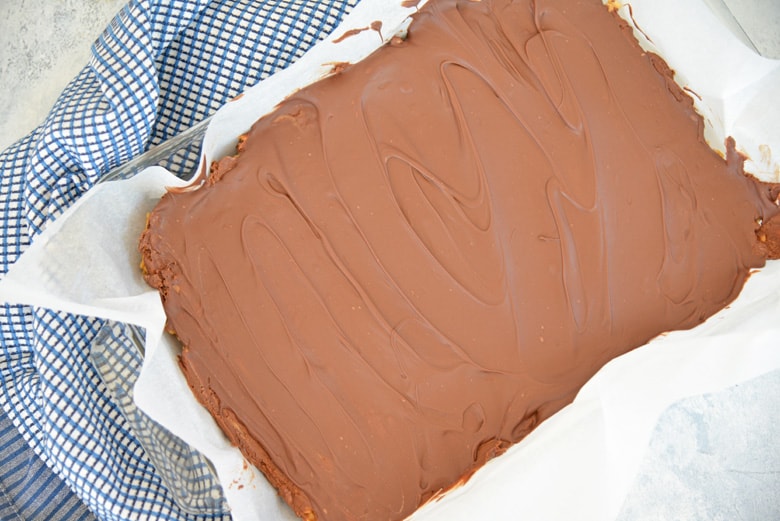 Childhood Favorite
Did you have Scotcheroos as a kid?
If you aren't familiar (and clearly I am not judging because I never had them) they are essentially a Rice Krispie treat, sans the marshmallows, held together with peanut butter and corn syrup. They are sticky and sweet.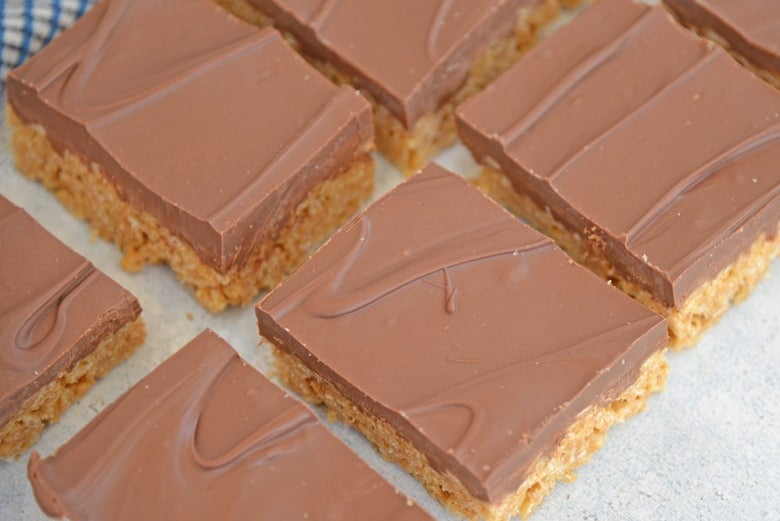 But it doesn't end there. No way, Jose. Now you top them with a nice frosting of semi-sweet chocolate.
Butterscotch Flavors
So the recipe I originally used had just chocolate, but then I kept seeing the addition of butterscotch chips. Which honestly made sense, the "scotch" part of the name hails from "butterscotch."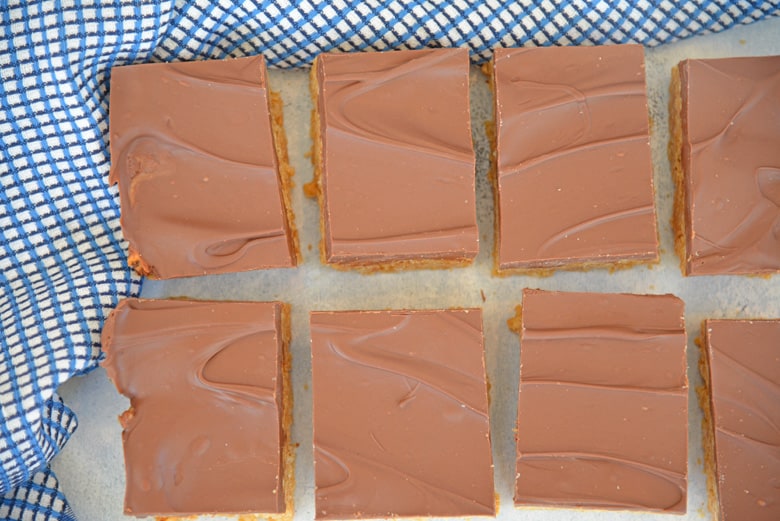 Some melted chocolate and butterscotch together and others made a pretty swirl. Either way, it is all headed to the same place.
But why "eroo"? I never found out. So if you know, please tell me! I do know the recipe as originally seen on a Rice Krispie box in the 1960s… but that is about it.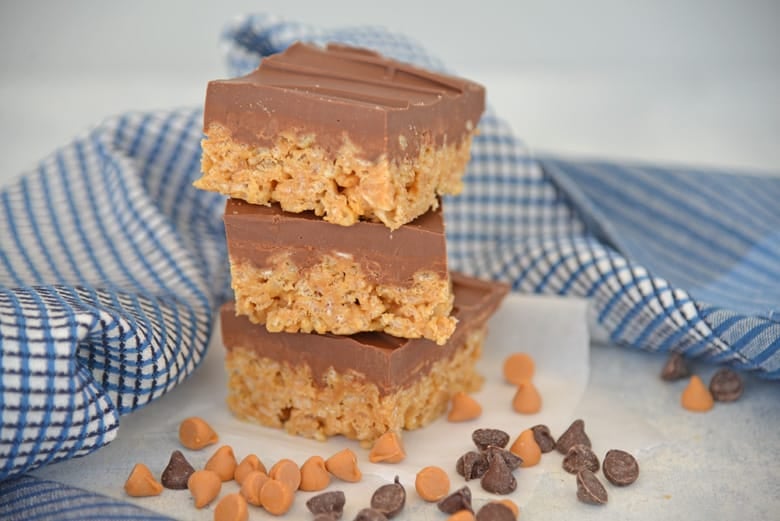 Chocolate and peanut butter, it's the dream bar! Kinda like a Rice Krispie Treat, but also a little candy like.
Make Ahead & Storage
They are perfect for camping, hikes and potluck parties since they don't need to be refrigerated and are easily carried wrapped in aluminum foil or an airtight container.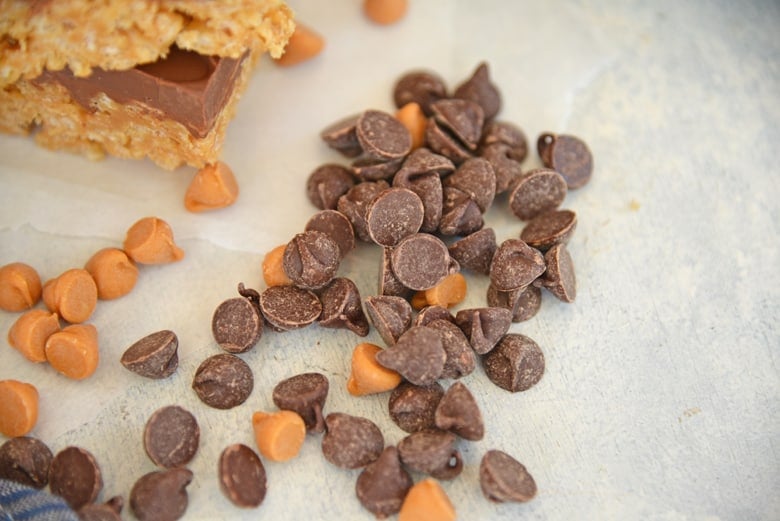 Scotcheroos can be made a day or two ahead of time with no fears of getting stale or gross.
And lastly, these bars are NO BAKE! You heard me right… they require zero baking. A little stove work, but no baking and very little clean up.
However, I don't recommend freezing them. They just get super hard and dry.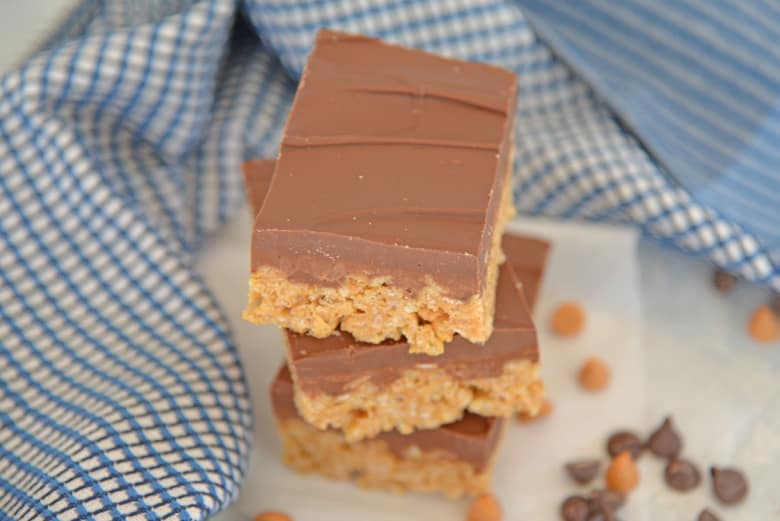 Here are a few tips for making Scotcheroos:
Don't make them over high heat, corn syrup and sugar burn and they burn fast.
Make sure the sugar has fully dissolved or you'll have grainy bars.
Use a heavy bottom saucepan. This helps evenly distribute the heat.
Stir frequently to prevent scalding and burning.
Line your pan with parchment paper so you can easily pull out the bars.
Allow bars to cool completely before cutting.
Run knife under hot water for a clean cut. Wipe after each cut.
For storage, separate layers with parchment or wax paper to prevent sticking.
Tips for Melting Chocolate
The art of melting chocolate. It should be easy, right? Melt the chocolate and ta-da! If only…
Melting chocolate, like many other things in the kitchen, is chemistry and science. You need the optimal temperature to make sure your chocolate melts to a silky smooth consistency. So here are a few tips for melting chocolate:
Skip the microwave and use a double boiler. The microwave heats too fast and too hot.
If you do need to use the microwave, use it at 50% power or defrost mode and go slow, 15 second intervals.
Don't fully boil the water in your double boiler. Get it hot enough to melt the chocolate, but not to a rolling boil.
Put the top pot on with chocolate after the water has come to temperature.
Stir constantly while melting. It should only take a minute or so.
Use immediately and while shiny.
If chocolate gets too hot, it gets clumpy and matte.
You can try to revive it by adding 2 teaspoons of vegetable shortening, but sometimes you are better off just starting over.
Why does chocolate sweat? It is just condensation. An extreme temperature change like going from the fridge to a warm room creates it. You are best to keep it at a consistent, cool temperature rather than extreme changes.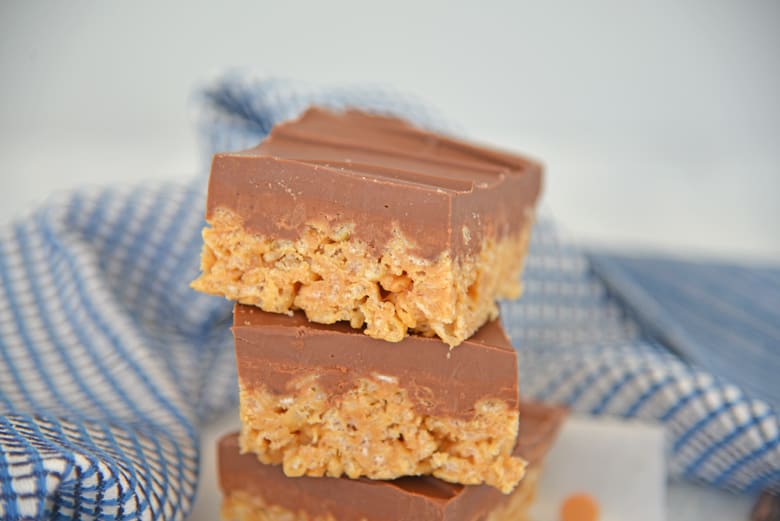 Can you make scotcheroos with Cheerios?
You can! And they happen to be quite tasty. You can even use Chex cereal.
Can I make scotcheroos without butterscotch chips?
Surely, just double the amount of regular chocolate chips or use another flavor of chip.
Peanut butter or white chocolate work well, but you can also use the candy flavored kind. Or… I'm getting crazy here… sprinkle chopped candy over the top of chocolate while it is still tacky.
Can I make these without peanut butter?
Unfortunately, there really isn't a good substitute except another nut butter.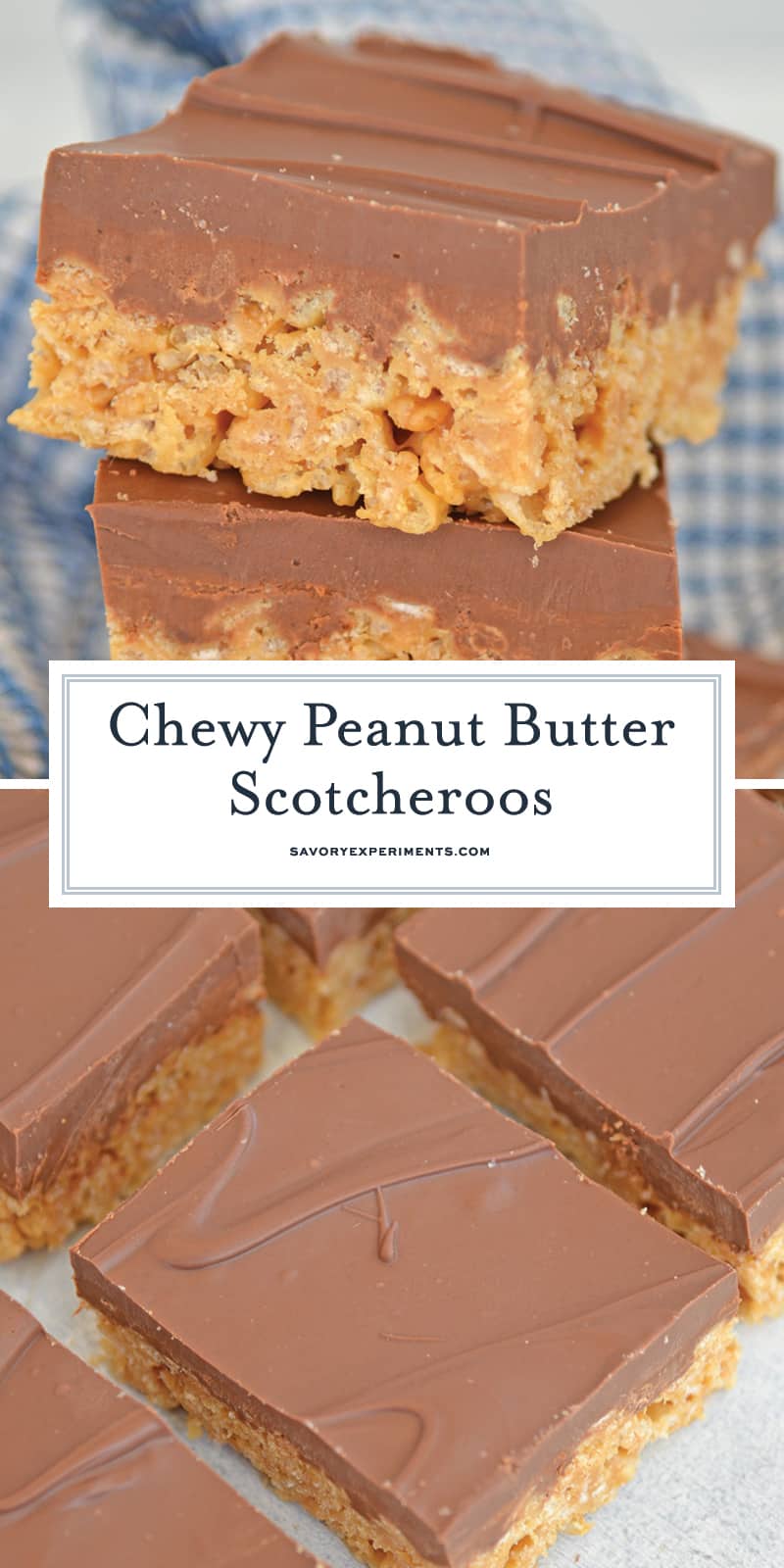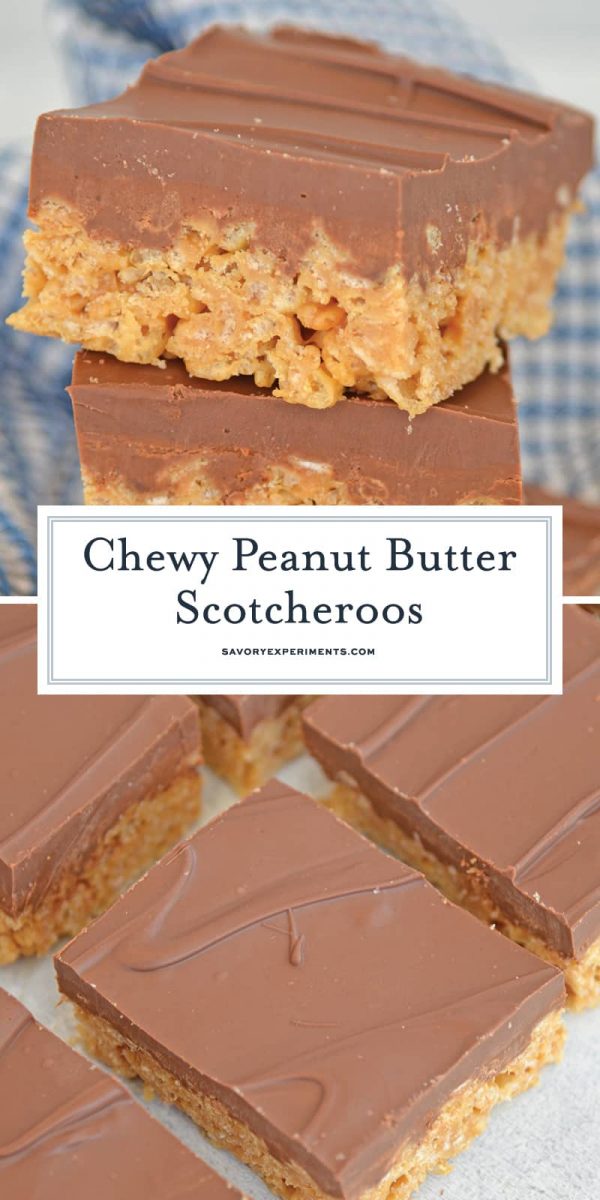 Homemade Brownie Recipe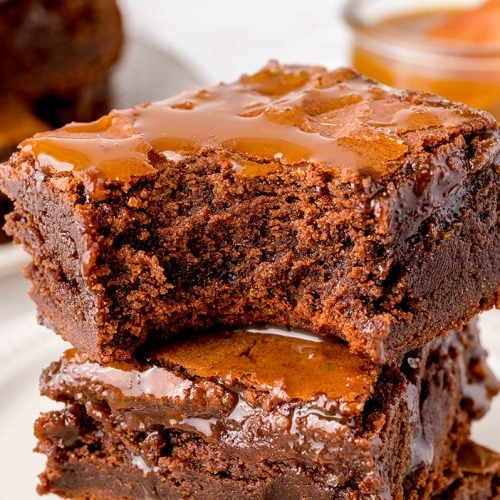 The Best Brownie Recipe ever makes basic fudgy brownies from scratch. Add caramel and salt for sweet and salty brownie goodness.
Brown Butter Layer Cake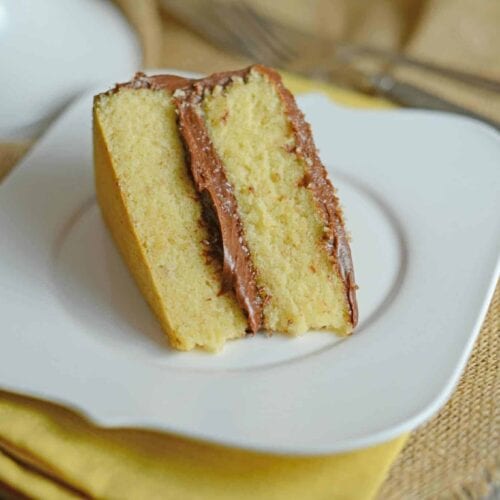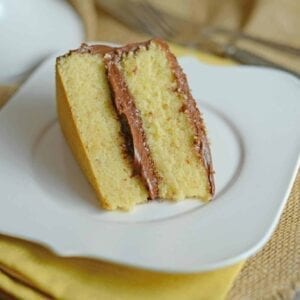 Brown Butter Cake is an easy cake made from scratch using delicious brown butter, chocolate mousse filling and chocolate buttercream frosting.
Tiramisu Cups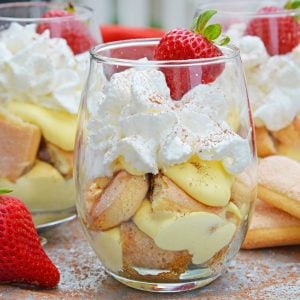 Tiramisu Cups are an easy, make-ahead dessert recipes layering mascarpone custard with espresso soaked lady finger cookies and whipped cream.
---
Get our FREE 8 Day E-Course on How to Be a Better Home Cook. Sign up HERE!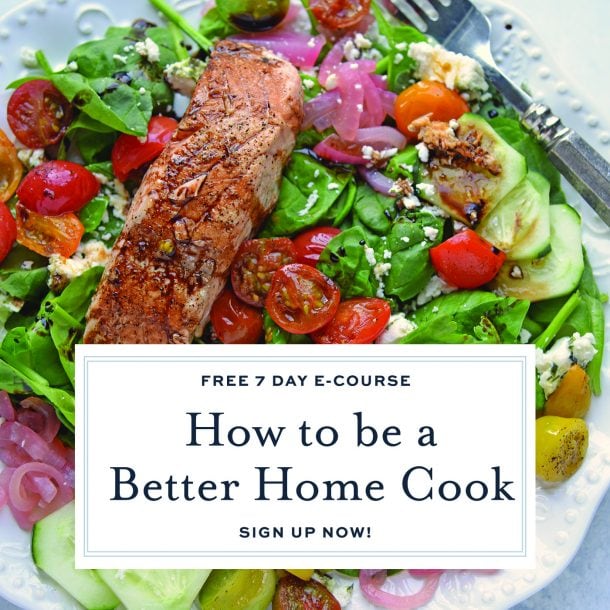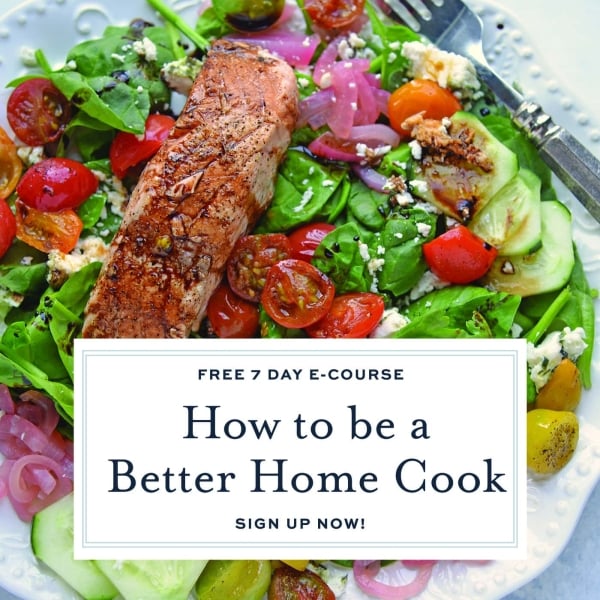 CONNECT WITH SAVORY EXPERIMENTS!

Be sure to follow me on social media, so you never miss a post!

Facebook | Twitter | Youtube 
 Pinterest | Instagram 
---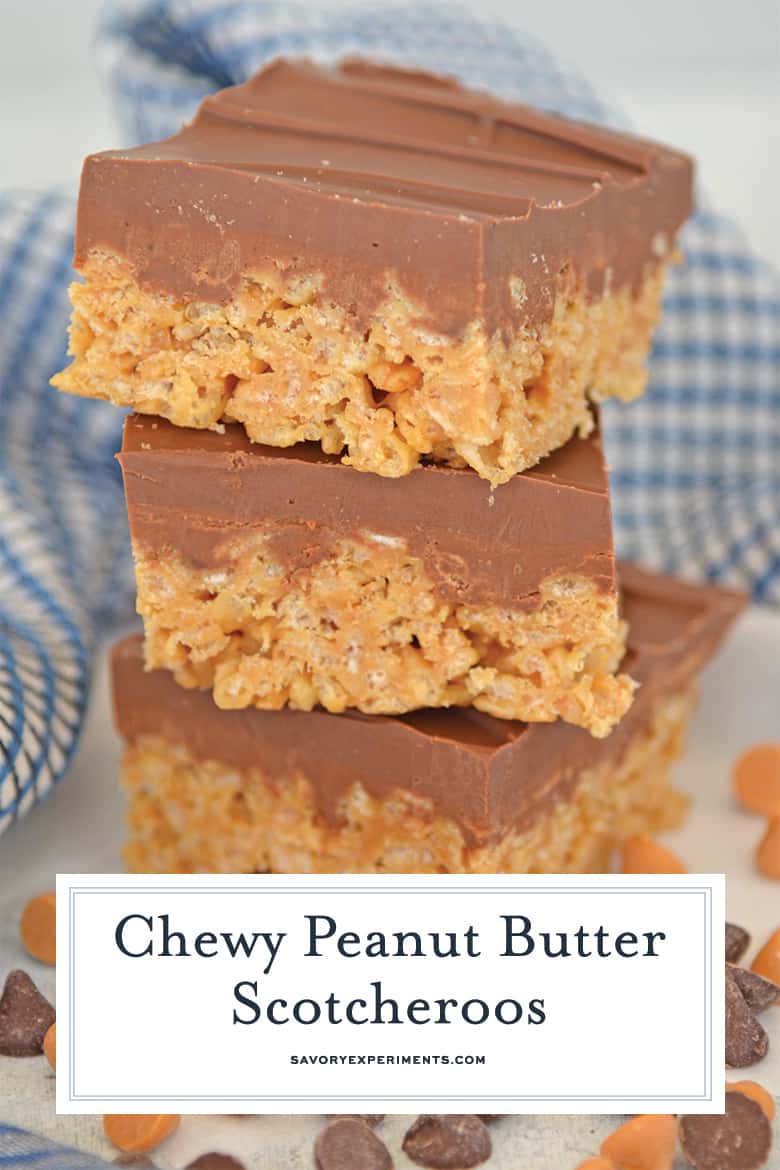 Scotcheroos
Classic Scotcheroos made with Rice Krispies, peanut butter, chocolate and butterscotch chips. The ultimate no-bake bar dessert!Classic Scotcheroos made with Rice Krispies, peanut butter, chocolate and butterscotch chips. The ultimate no-bake bar dessert!
Instructions
Coat a 9×13 baking dish with cooking spray, set aside.

In a medium saucepan, stir together light corn syrup and sugar, cooking until sugar dissolves and starts to boil.

Remove from heat, stirring in peanut butter and vanilla until smooth.

Fold in Rice Krispie cereal until entirely coated. Press into prepared pan.

Melt chocolate chips, butterscotch chips and butter in a double boiler until shiny and just melted. See notes for the best ways to melt chocolate above.

Pour over Rice Krispie mixture, spreading evenly, and place into the refrigerator to set.

Remove after chocolate topping has hardened. Cut into squares. Serve and store at room temperature.
Nutrition
Calories:
326
kcal
|
Carbohydrates:
52
g
|
Protein:
5
g
|
Fat:
12
g
|
Saturated Fat:
5
g
|
Cholesterol:
6
mg
|
Sodium:
169
mg
|
Potassium:
88
mg
|
Fiber:
1
g
|
Sugar:
42
g
|
Vitamin A:
604
IU
|
Vitamin C:
5
mg
|
Calcium:
32
mg
|
Iron:
3
mg