Ready to find your new favorite dessert?! This homemade version of Trader Joe's Cookie Butter is so easy to make and ready in 5 minutes. Serving ideas and cookie suggestions included!
Homemade Cookie Butter
Love cookies? Well, meet your next dessert addiction: cookie butter! You may have heard of or even bought Trader Joe's Cookie Butter in the past, but now you can make it right at home.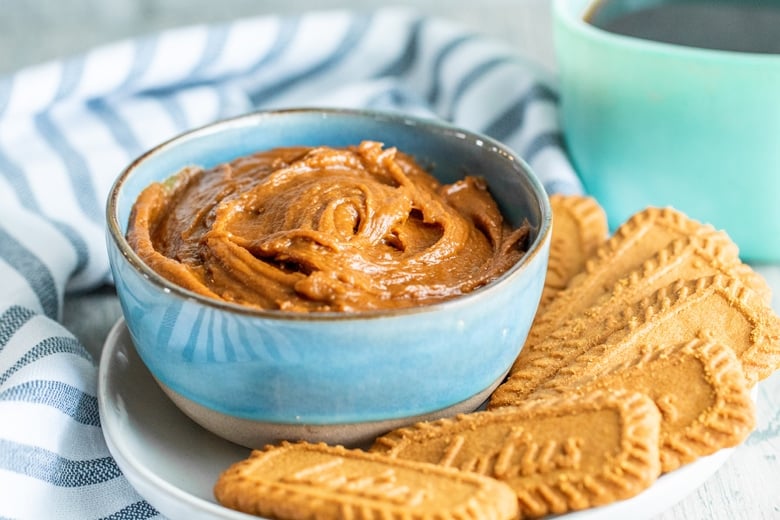 This recipe uses minimal ingredients and you can whip it up very quickly. It's so simple even my hubs can make it (and he can barely make cereal).
This smooth and creamy butter pairs great with several desserts and breakfast recipes to enjoy along with some coffee or tea. You can really use it on anything you'd use Nutella on.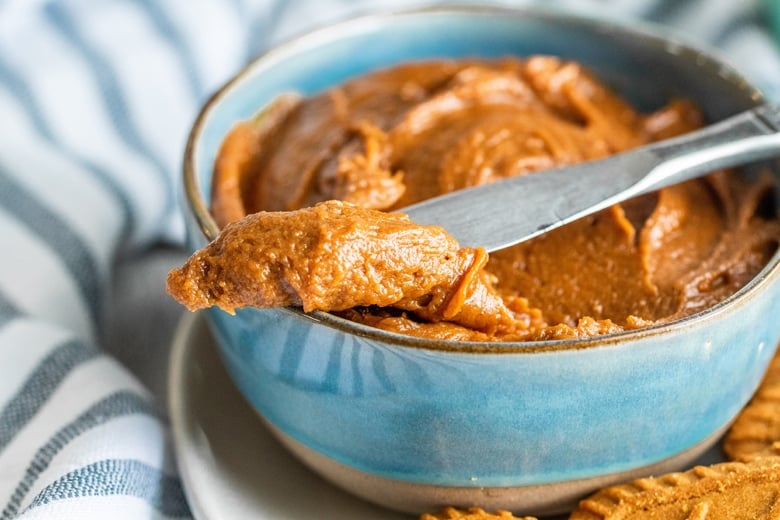 What is Cookie Butter?
Cookie butter originated in Europe and is traditionally made with speculoos cookies that are made during the Christmas holiday season. This cookie is made with a special spice blend and similar to gingersnap cookies.
The cookie also grinds down beautifully smooth making it perfect for cookie butter.

It has been popular in Europe for many years but started reaching popularity in America recently thanks to Trader Joe's Cookie Butter. Luckily, we can make this tasty treat very easily at home with a variety of cookies.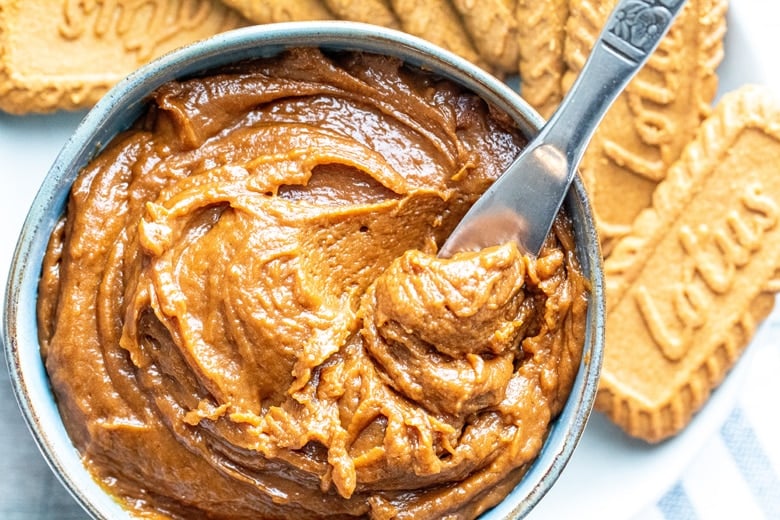 Make Cookie Butter
Making cookie butter is remarkably easy.
Combine all ingredients into a blender or food processor and blend on high until a smooth paste forms.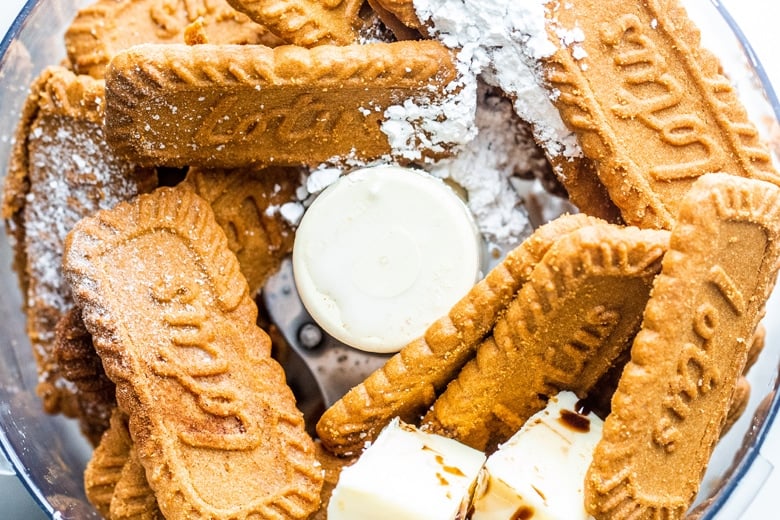 You may need to add a bit more milk depending on the cookie you use and their moisture level.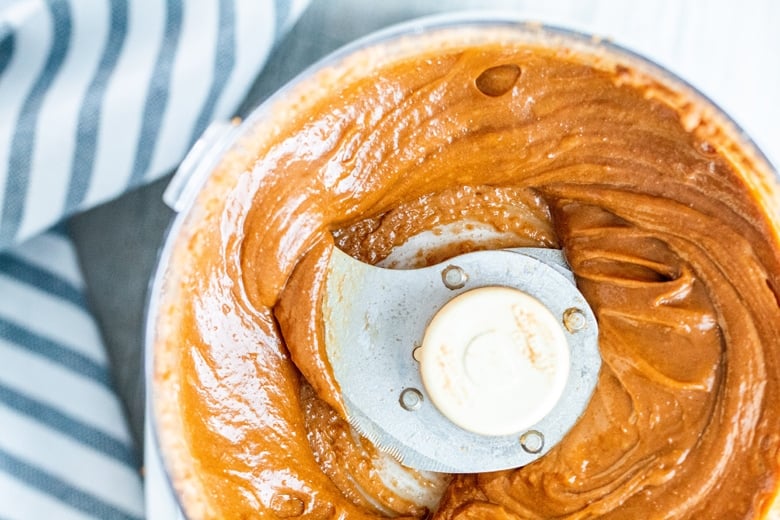 Once you have the cookie butter to your desired consistency, enjoy immediately or store leftovers.
How to Use Cookie Butter
It is really simple to make and has loads of great uses. This is one of my guilty pleasures and I always try to hide it in the back of the fridge to keep it all to myself.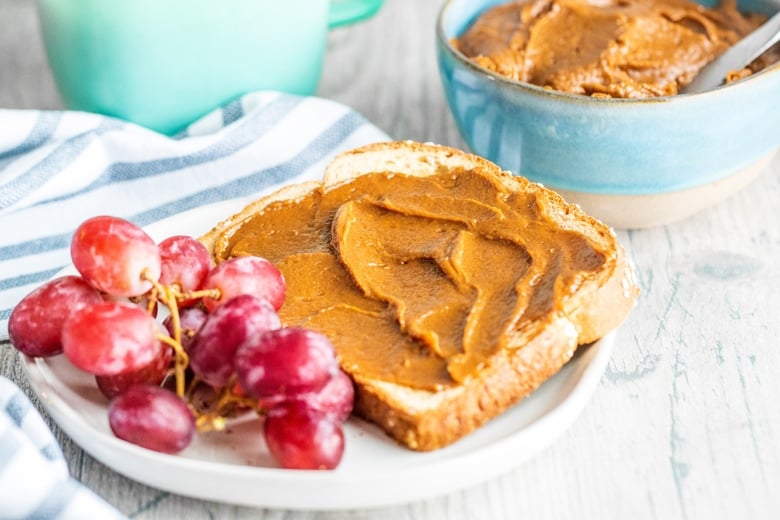 This tactic never seems to work as my family always hunts it down and devours it by the spoonful.
My favorite ways to eat it include:
With sliced apples, bananas or strawberries
On toast or an English muffin
Spread over a speculoos cookie
Just strait out of the bowl with a spoon
Stuffed in crepes
Over the top of pancakes, waffles or french toast
Mixed into brownie batter
In a "Peanut" Butter and Jelly sandwich
Mixed into a smoothie or oatmeal
Tips for Perfect Cookie Butter
Take it Slow: To ensure that you get the perfect creamy texture, make sure to add additional milk in very slowly. I suggest using the amount of milk the recipe calls for and blend everything together.
After that if the butter is still too thick, then add additional milk 1 tbsp at a time until it reaches a smooth and creamy consistency.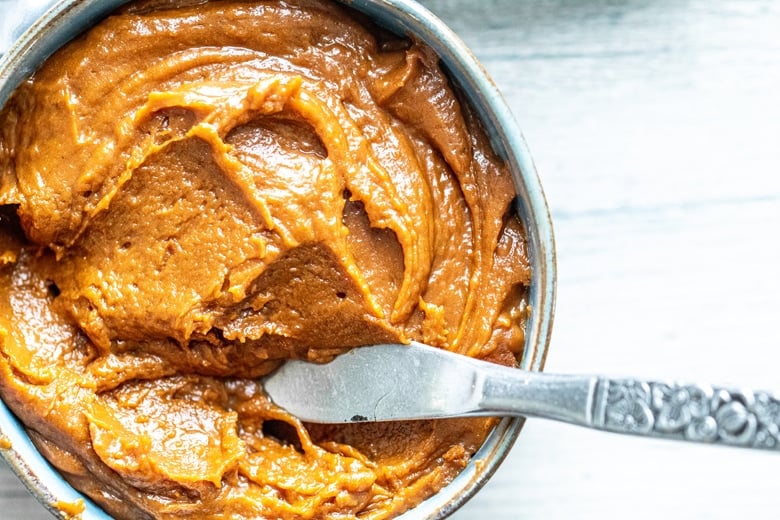 Cookie Options: I suggest using Lotus Biscoff cookies (speculoos cookies) or a generic gingersnap cookie. This will give you the classic Trader Joe's cookie butter taste.
You can find these cookies at most big grocery stores. If you cannot find this brand you can also use a generic brand of gingersnap or molasses cookies. Of course you could use virtually any cookie to make this recipe if you cannot find one of those.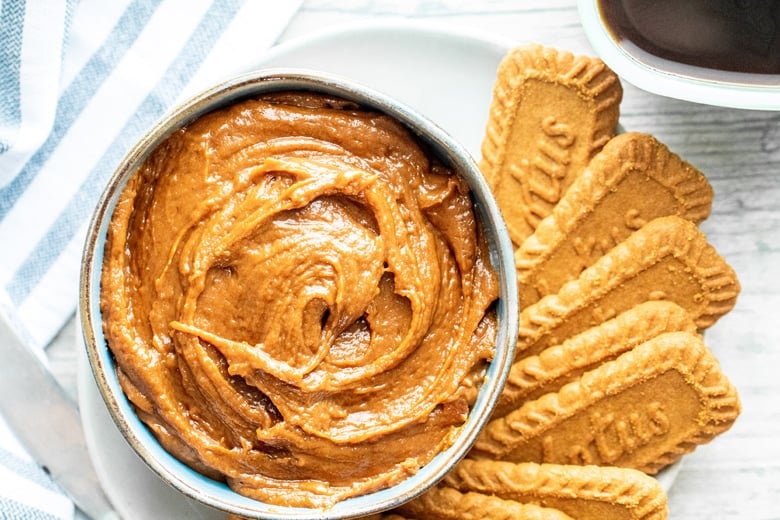 Obviously, using a different cookie will yield a different flavor but there are endless tasty cookie options to explore. Some other great cookies to try are:
Storage Instructions
Store leftover cookie butter in an airtight storage container like a mason jar, or tupperware. While store bought butters can be stored at room temperature I find that this recipe keeps best in the fridge.
When stored in the fridge it will stay good for 1-2 weeks, but it will also get firm. You can remove it from the fridge and allow it to come to room temperature before using, or spread it over something warm like toast and it will soften up.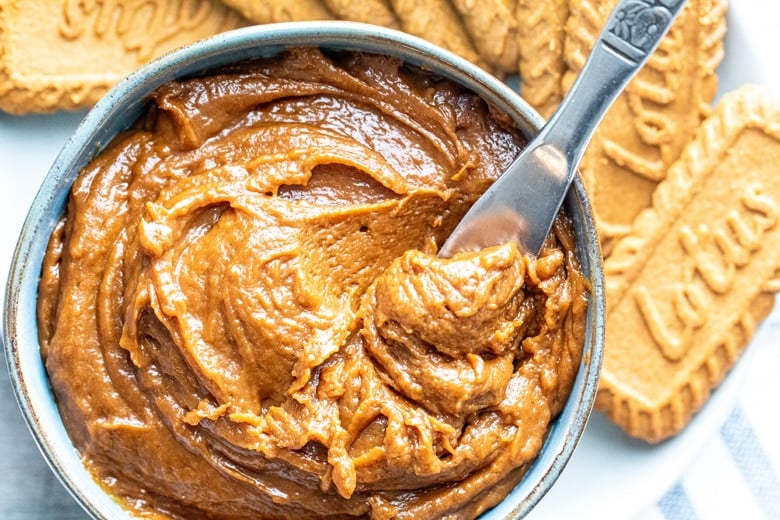 You can also freeze the cookie butter for up to 3 months. You can store it in freezer bags, an airtight container or my favorite way is in an ice cube tray.
With the ice cube tray method you can pop out a single serving and not defrost the entire thing. Let the cookie butter come to room temperature before eating, or add frozen into a smoothie.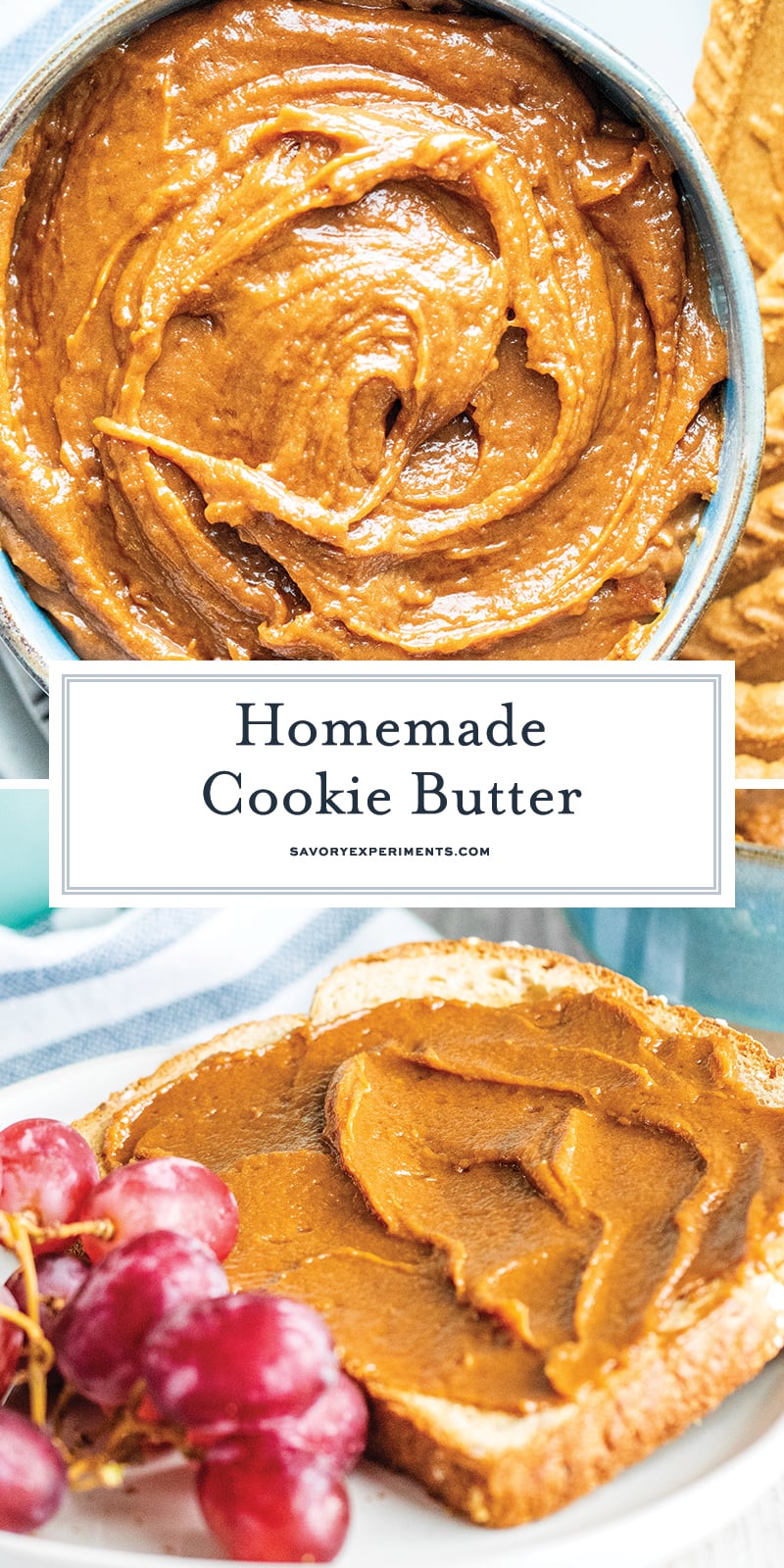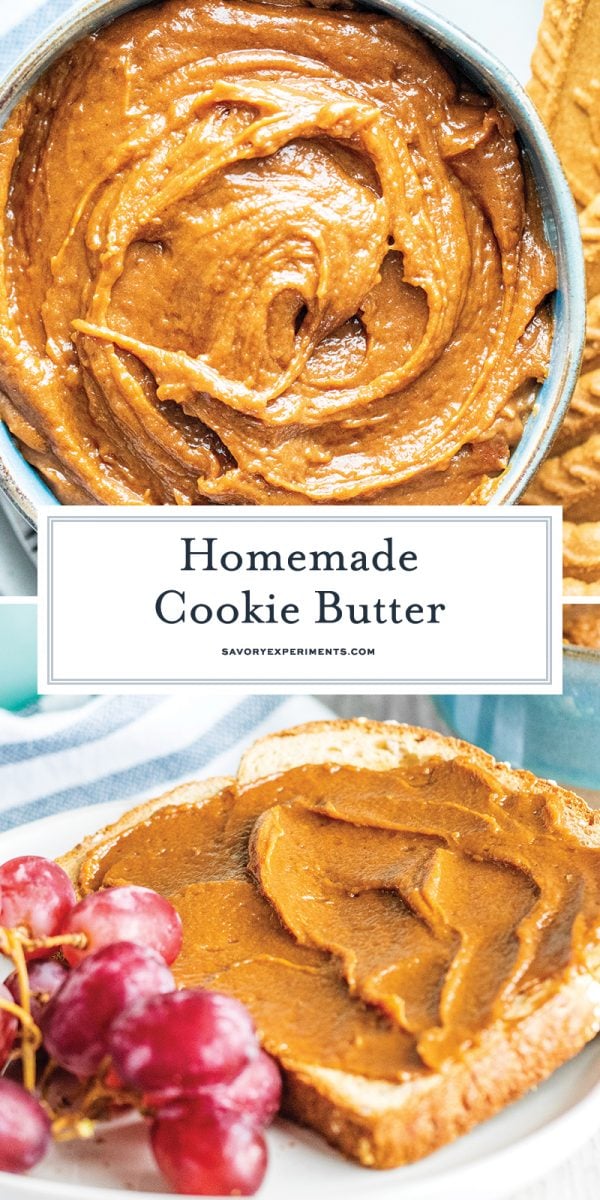 More cookie recipes: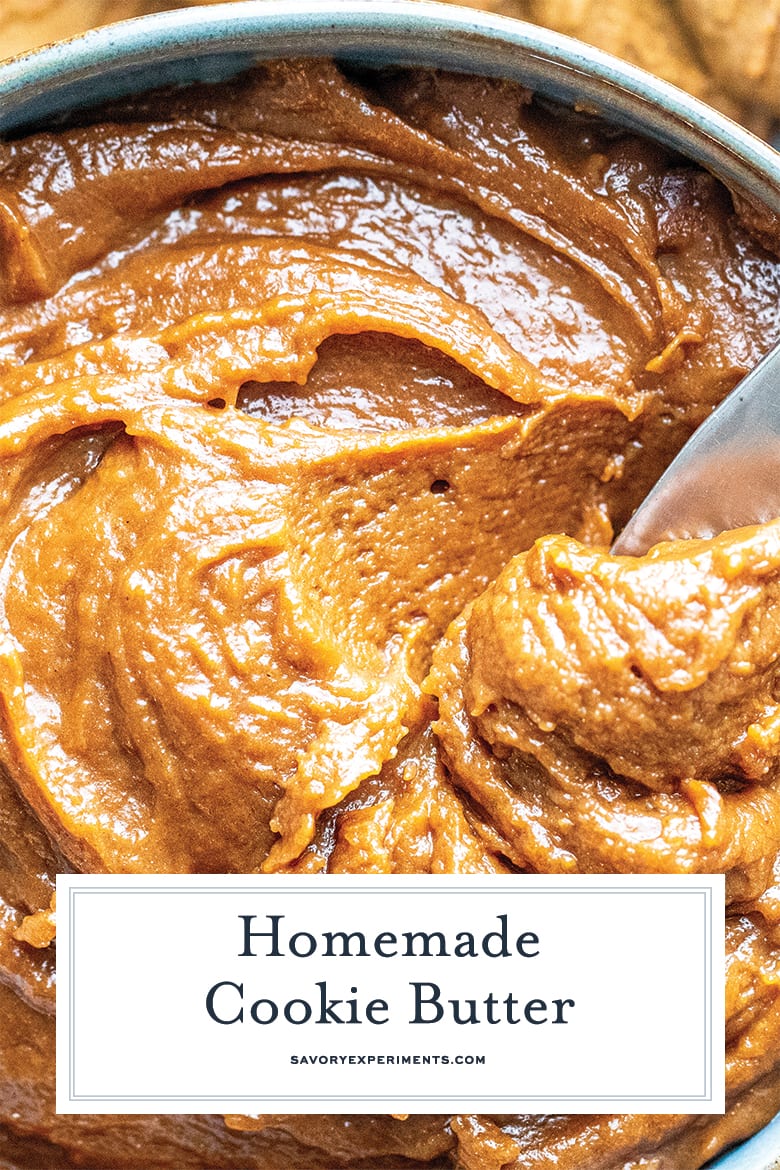 CONNECT WITH SAVORY EXPERIMENTS!

Be sure to follow me on social media, so you never miss a post!

Facebook | Twitter | Youtube
Pinterest | Instagram

Get our FREE 8 Day E-Course on How to Be a Better Home Cook. Sign up HERE!