Peanut butter no bake cookies are a childhood favorite that I still can't get enough of. Even now, no bake oatmeal cookies like these are my go-to treat when I'm feeling reminiscent of my childhood or just have a sweet tooth craving.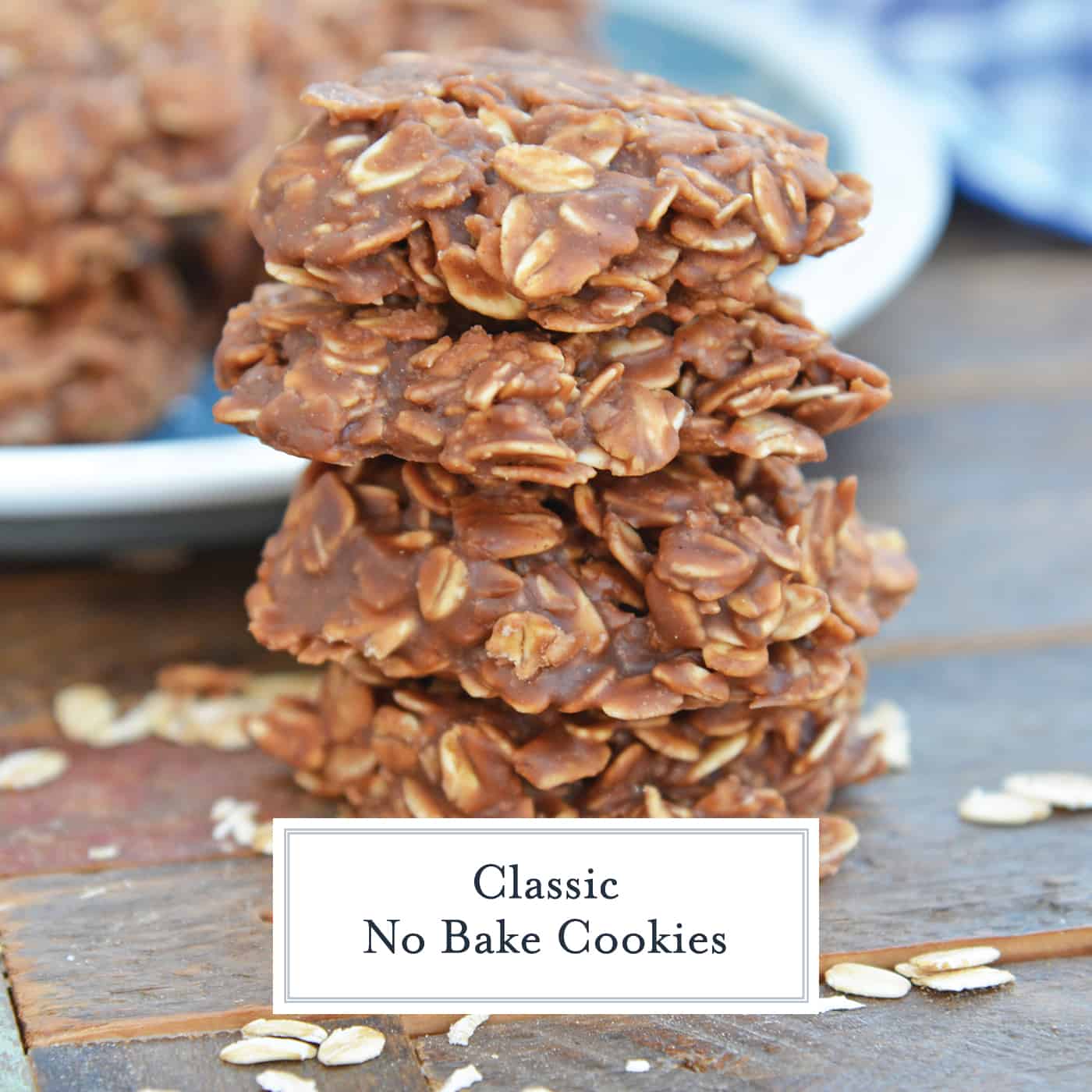 If you've always thought oatmeal no bake cookies were difficult, this classic no bake cookie recipe will change your mind. With these tips, you'll end up with the perfect peanut butter no bake cookies every time!
I've been on a no bake cookie recipe streak this month, coming up with all kinds of no bake cookie ideas in the recipe that I figured it was finally time for me to share THE no bake cookie recipe. You know, the classic peanut butter no bake cookies…or are they chocolate no bake cookies?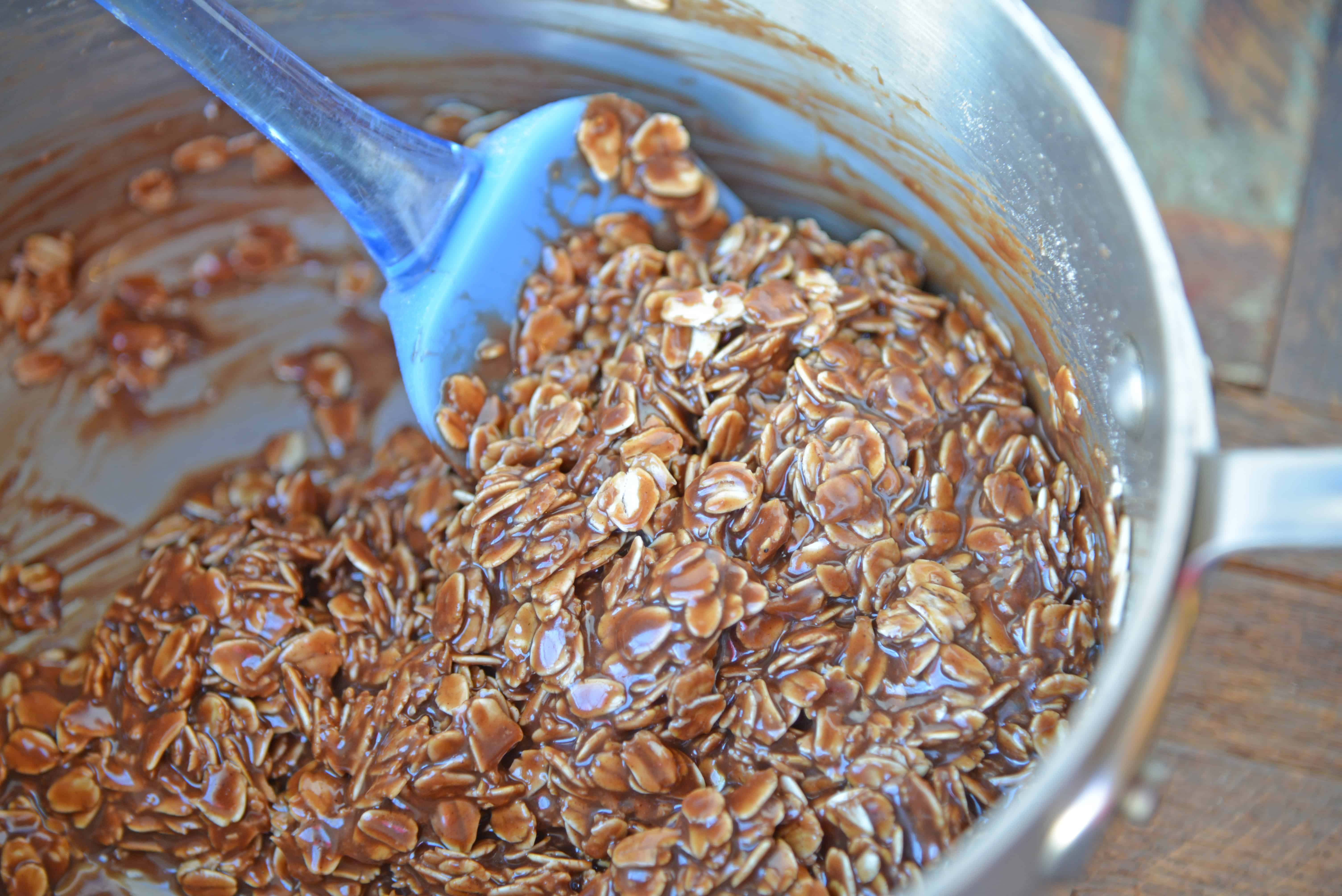 I've never known which flavor to call these, since they contain both cocoa and peanut butter. Whether you think the flavor is more chocolate or peanut butter, these classic no bake oatmeal cookies are a timeless favorite.
My mom made no-bake cookies when I was little and I thought she was a culinary genius. Whipping up the most imaginative an inventive recipes with the odds and ends in the pantry.
Turns out this classic no bake oatmeal cookie recipe is in a lot of places, including on the back of the oats package. Which is also funny because we didn't eat these all that often and we never ate oatmeal, but for some reason we always had oats.
My mother was still a whiz in the kitchen, but I like to look back at how as a child she was all-the-things and how I looked up to her.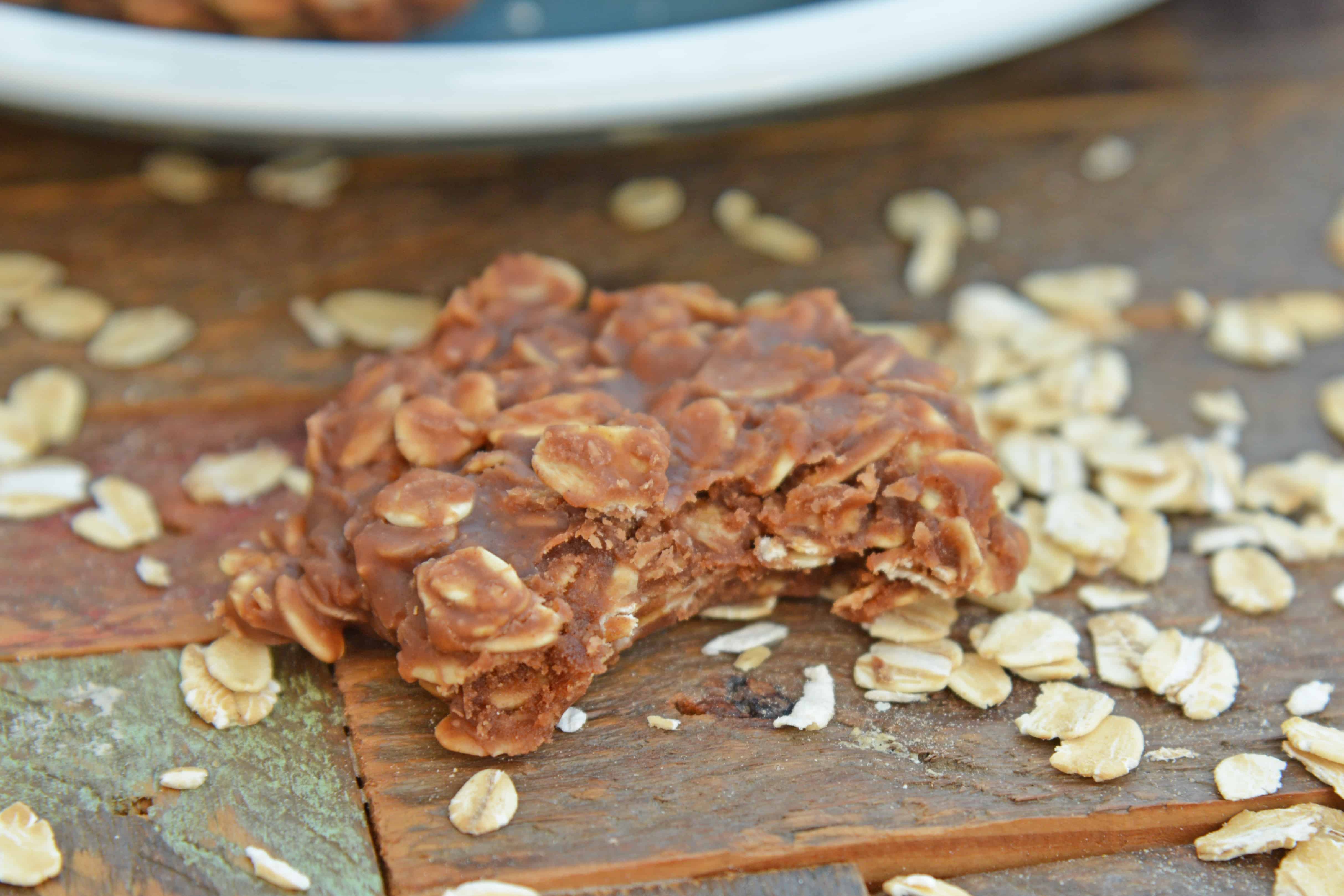 While peanut butter no-cake cookies are so simple, it is stupid, they can also easily be messed up. The two most common issues are being grainy because the sugar didn't dissolve and that they didn't set correctly.
So here is how to prevent no-bake cookie disasters. Okay, maybe that is a little dramatic.
The first mistake is boiling time, either too long or too little. Boil too little and the sugar doesn't fully dissolve, boil too long and it loses too much moisture and burns. Don't be afraid to see some bubbles, but time it for 1 minute (don't guesstimate) and remove it from the heat immediately.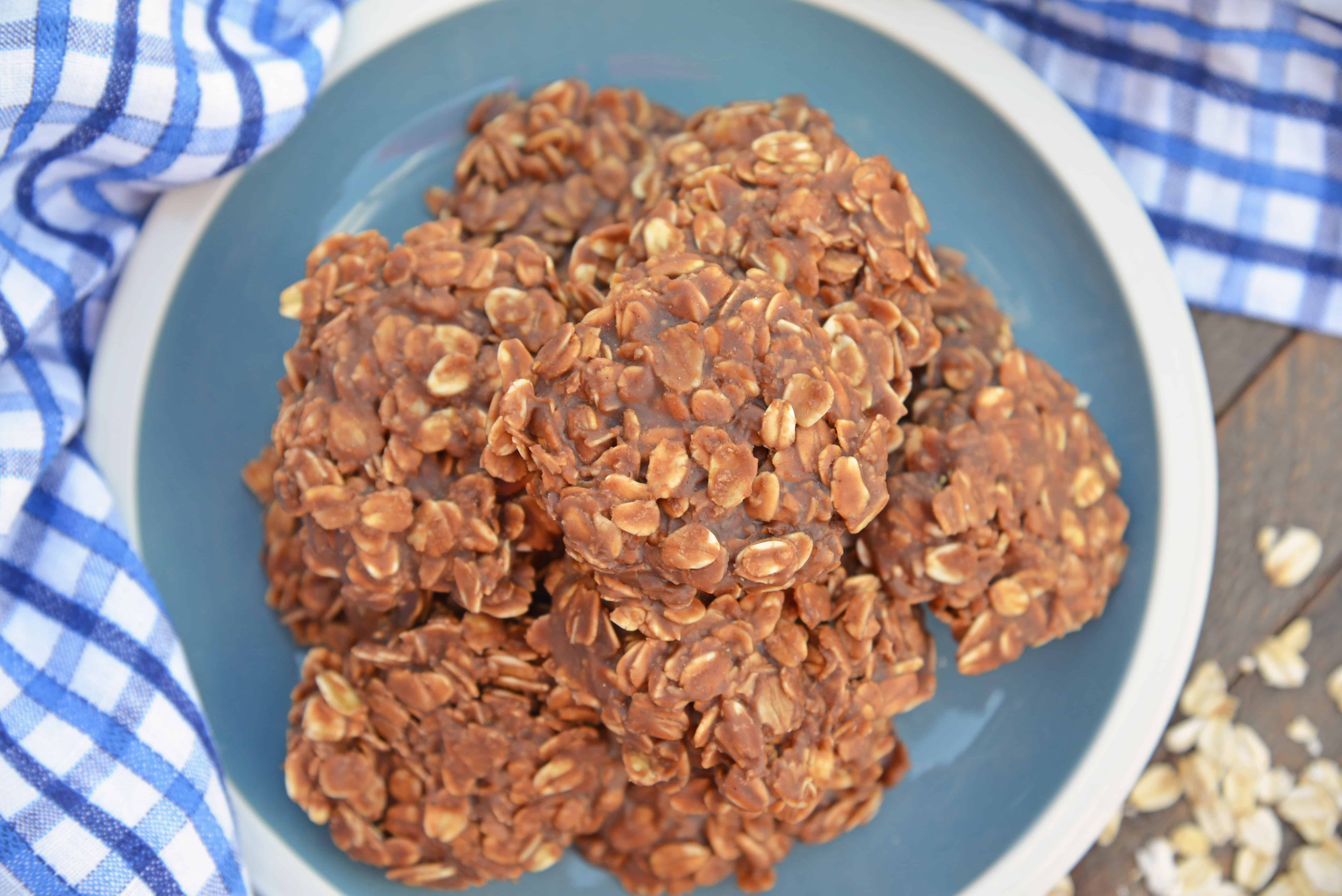 The second mistake is not measuring properly. In order for the cookies to have the right consistency and hold together, you really do need to measure the ingredients out instead of winging it. Believe me, it is hard for me to do as well, but you'll be happy when your chocolate no bake cookies are perfect!
I guess what I'm saying is that the true secret to perfect no bake oatmeal cookies is patience and attention. A little bit of both and you'll end up with the best Classic No Bake Cookies you've ever tasted.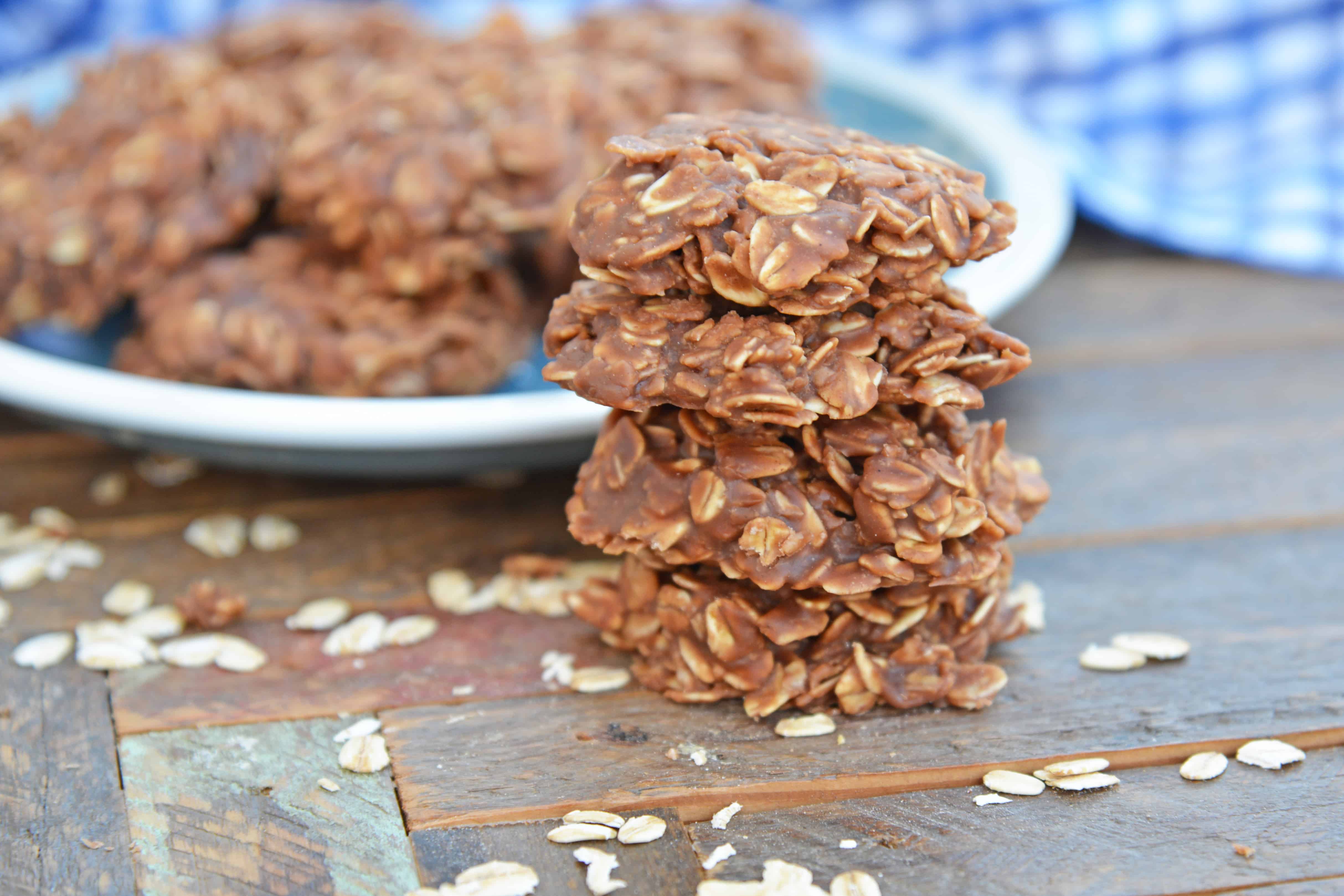 And if you ever get wrangled into making something for a bake sale fundraiser, these will always be a hit…if you can stop yourself from each the entire batch yourself!
Since you like this Classic No Bake Cookie recipe, you may like these other no bake dessert recipes:
If you are looking for even more dessert recipes, snag a copy of my Easy Dessert Recipes Mini-Cookbook. Available here for only $0.99, these easy dessert recipes are ready with less than 30 minutes hands-on time and are sure to please all your family friends. From no-bake to make-ahead, you are sure to find something you love!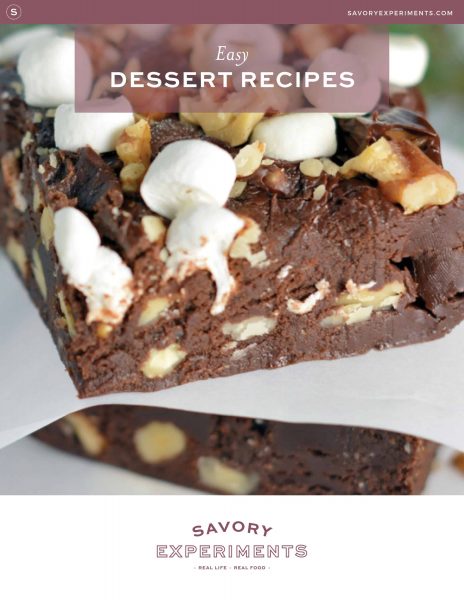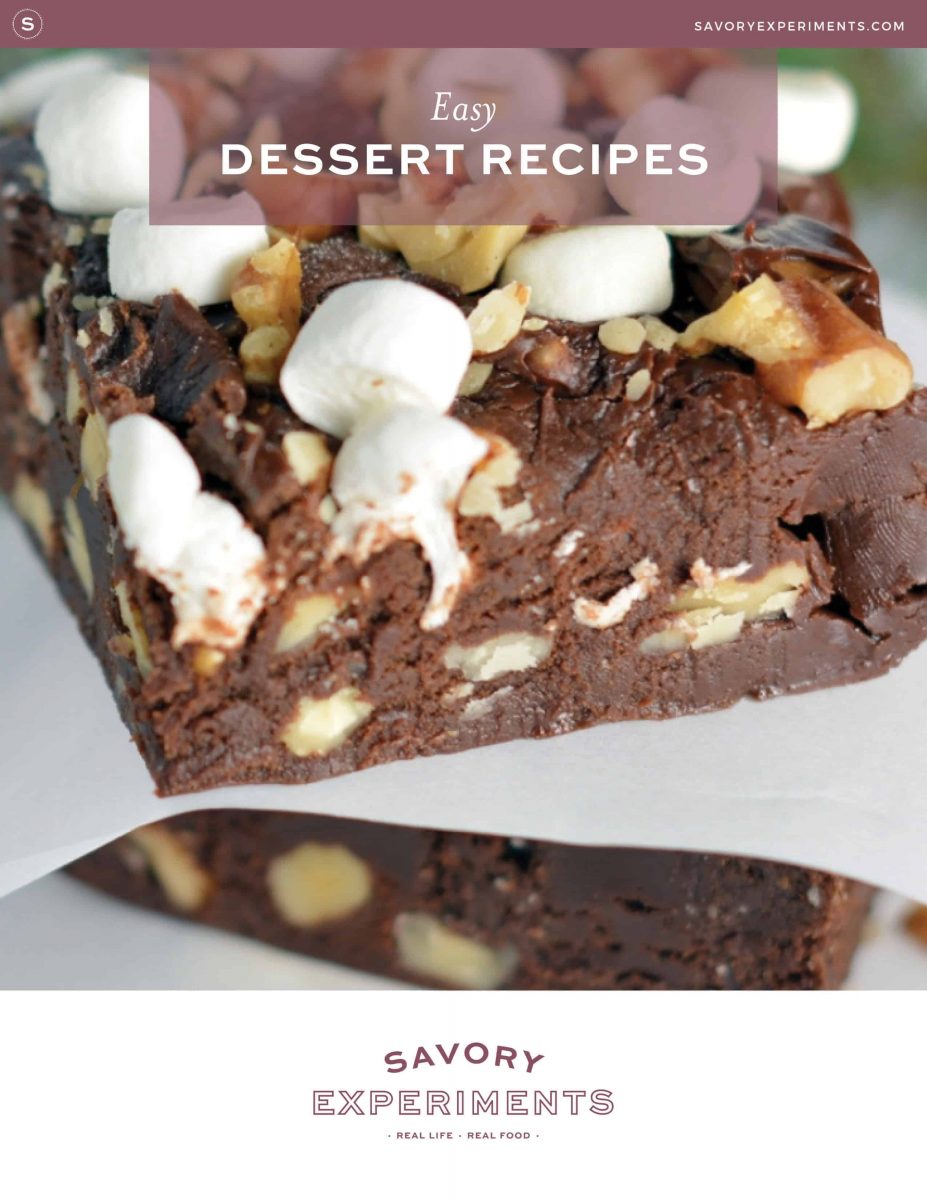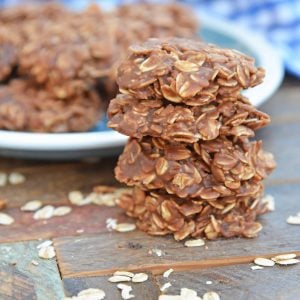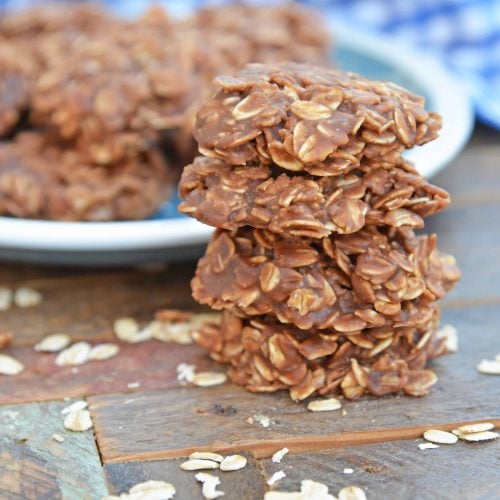 Classic No Bake Cookies
If you've always thought oatmeal no bake cookies were difficult, this classic no bake cookie recipe will change your mind. With these tips, you'll end up with the perfect peanut butter no bake cookies every time!
Keyword:
classic no bake cookies, oatmeal no bake cookies
Ingredients
1/2

cup

butter

1

cup

white sugar

1

cup

light brown sugar

1/2

cup

whole milk

1/4

cup

unsweetened cocoa powder

1/2

teaspoon

salt

1/2

cup

creamy peanut butter

1

teaspoon

vanilla extract

3

cups

old fashioned oats
Instructions
In a heavy bottom saucepan, combine butter, white sugar, brown, whole milk, cocoa powder and salt over medium-high heat, stirring to combine.

When it comes to a rolling boil, allow it to boil 1 minute, then remove from heat.

Quickly stir in creamy peanut butter and vanilla until smooth, then stir in oats.

Spoon 2 tablespoons each onto parchment or wax paper.

Allow to cool for 20-30 minutes.

If you've tried this recipe, come back and let us know how it was!
Nutrition Facts
Classic No Bake Cookies
Amount Per Serving
Calories 176
Calories from Fat 63
% Daily Value*
Total Fat 7g 11%
Cholesterol 10mg 3%
Sodium 112mg 5%
Potassium 104mg 3%
Total Carbohydrates 26g 9%
Protein 3g 6%
* Percent Daily Values are based on a 2000 calorie diet.