Sauerkraut is nothing but fermented cabbage. All you need is a head of cabbage and salt. The vinegar tastes come from the mixture fermenting, not actually adding vinegar.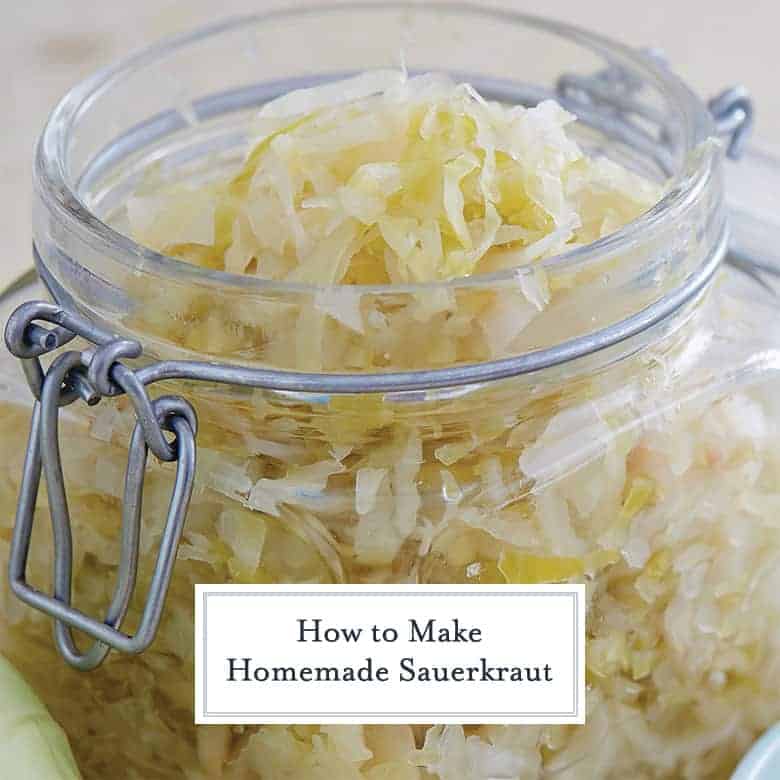 Homemade Sauerkraut has never been easier than my easy to follow steps and delicious add-ins for custom kraut in days!
Some people call is fermented sauerkraut, but that is redundant. By definition, sauerkraut is fermented.
Cabbage releases it's on liquid, which creates the brine, so you don't even need to add water.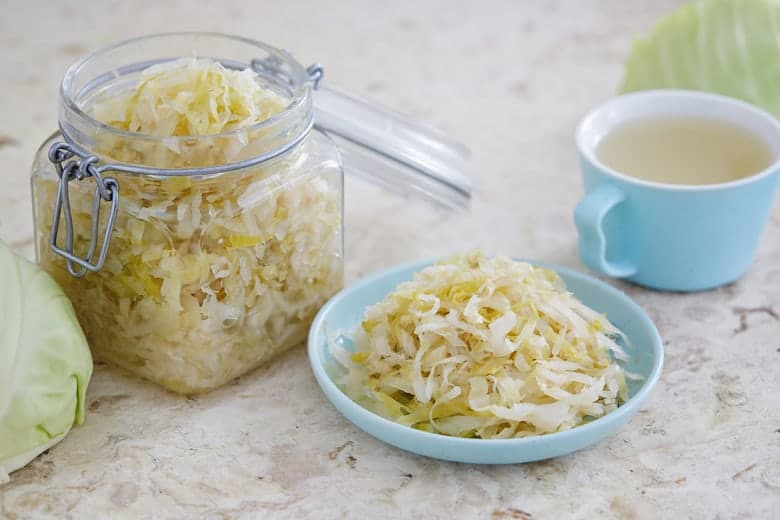 It is crunchy, slightly sour, but still fresh and totally a veggie, so it makes for the perfect condiment. Serve it on hot dogs, simmer bratwurst, top it on burgers or even French Fries and tater tots.
PRO TIP: Make this into a fun project for the kids. Take a picture of your jar every day and then look back at the process and how it changed at the very end.
Many people make super large batches of kraut, but I never need that much. Just enough for some kielbasa or a burger cookout, so this recipe is for a small batch. Just enough to serve with my cabbage rolls.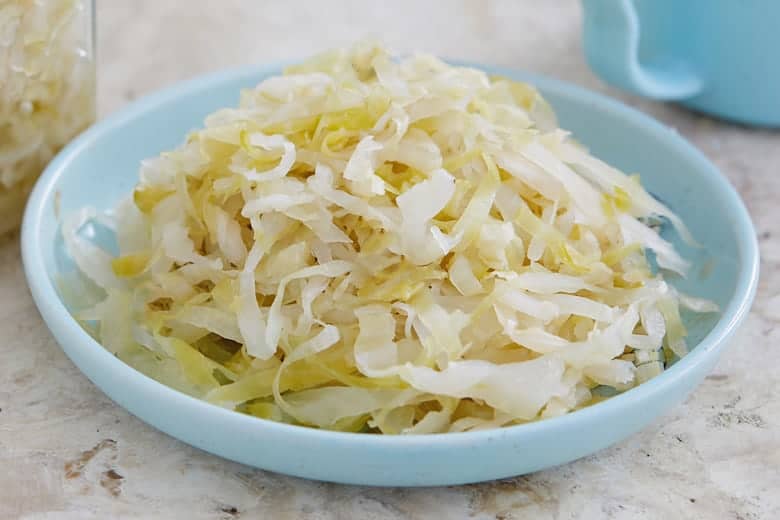 Just one head of cabbage We are feeding the family, not the whole village.
Fermented foodies are also good for you belly because they are high in rich in probiotic bacteria. This has been linked to good digestive health.
PRO TIP: Some folks use a rolling pin instead of massaging the cabbage. This works to tenderize is faster, but you won't be able to harness all the liquid and is can get messy.
Other fermented foods include kimchi, beer (!!!!!), pickles, miso, sourdough, some cheese and yogurt. You eat it (or drink it) more often than you think.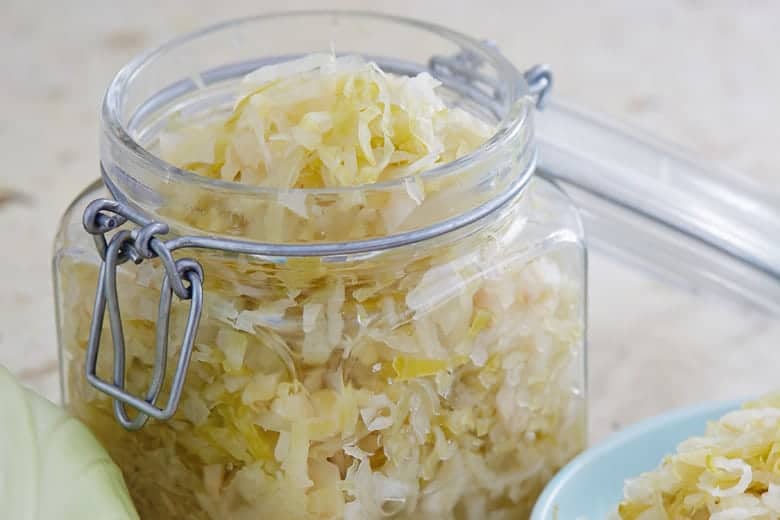 The process is called lacto-fermentation and has been used for centuries to preserve fresh produce. The process produces good bacteria, also known as beneficial bacteria, and prevents the harmful stuff from growing.
What tools do you need to make homemade sauerkraut?
You don't need many special items to make sauerkraut, but you will need a mason jar, or other glass jar to store it. Using glass is important because metal will taste metallic and is reactive and plastic is too porous.
Weights are another special item, but are fairly cheap. I like to use these (aff) big glass ones. The are easy to clean and easy to store. Paying extra for grooved handles and such just seems like a waste to me.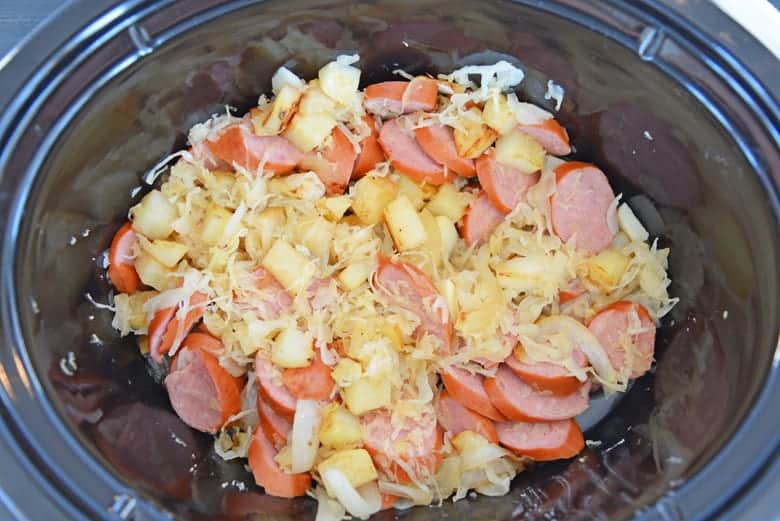 Some people swear by a (aff) sauerkraut pounder or fermentation muddler, but I quite frankly, don't own one. I use a potato masher or any other object I can find to press the cabbage down.
The one tips I have for everyone is to make sure that all of your items are clean and don't have any soapy residue, including your hands.
What are other things I can add to my sauerkraut? Nearly anything can be added to your fermented food for flavor and color. These are some of the most popular.
Beet juice/sliced beets
Shredded carrots
Whole Peppercorns
Juniper berries
Caraway seeds
Bacon lardons
Bay leaves
After your sauerkraut is finished fermenting, you can use it to make anything you want! I love sauteing it up for Beer and Bacon Sauerkraut or using it to braise with Kielbasa.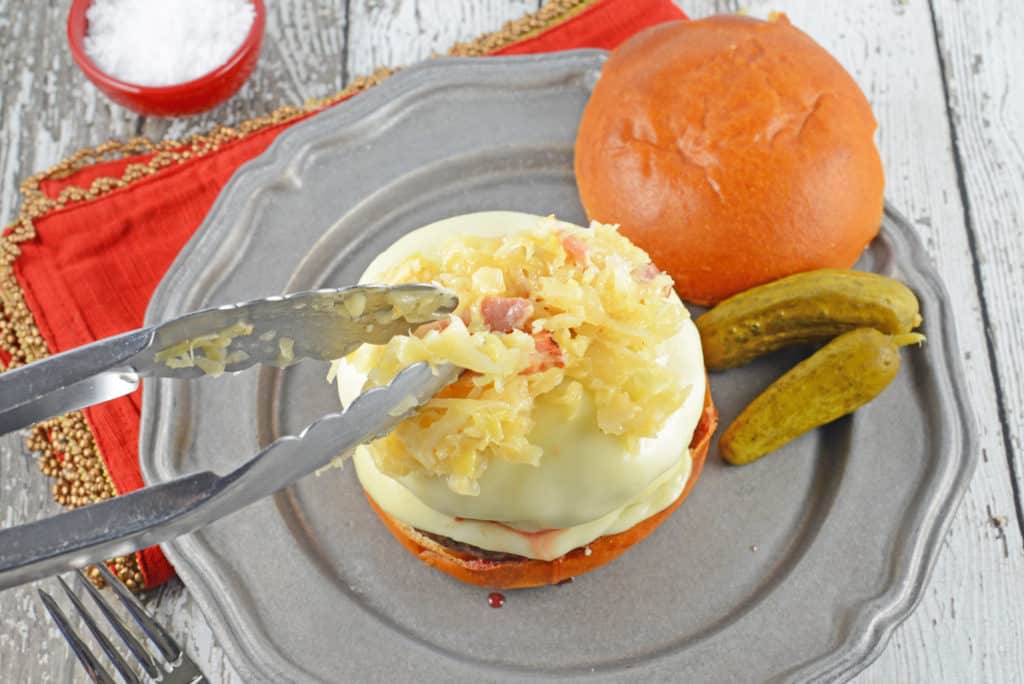 Questions you might have about how to make sauerkraut:
What is the white scummy stuff?
You might see foam white scum on the top of your sauerkraut. This is normal and can be skimmed off the top and discarded. It also won't hurt anything to leave it there.
I think there is mold on my sauerkraut, what do I do?
Mold generally forms when the cabbage isn't fully submerged or if it's too hot. The submerged sauerkraut is fine and can be kept, just remove the mold and exposed part and discard.
Of course, use your best judgement. If you smell some funky stuff coming from the jar and it turns an odd color of green or blue, then maybe you toss that batch and start over.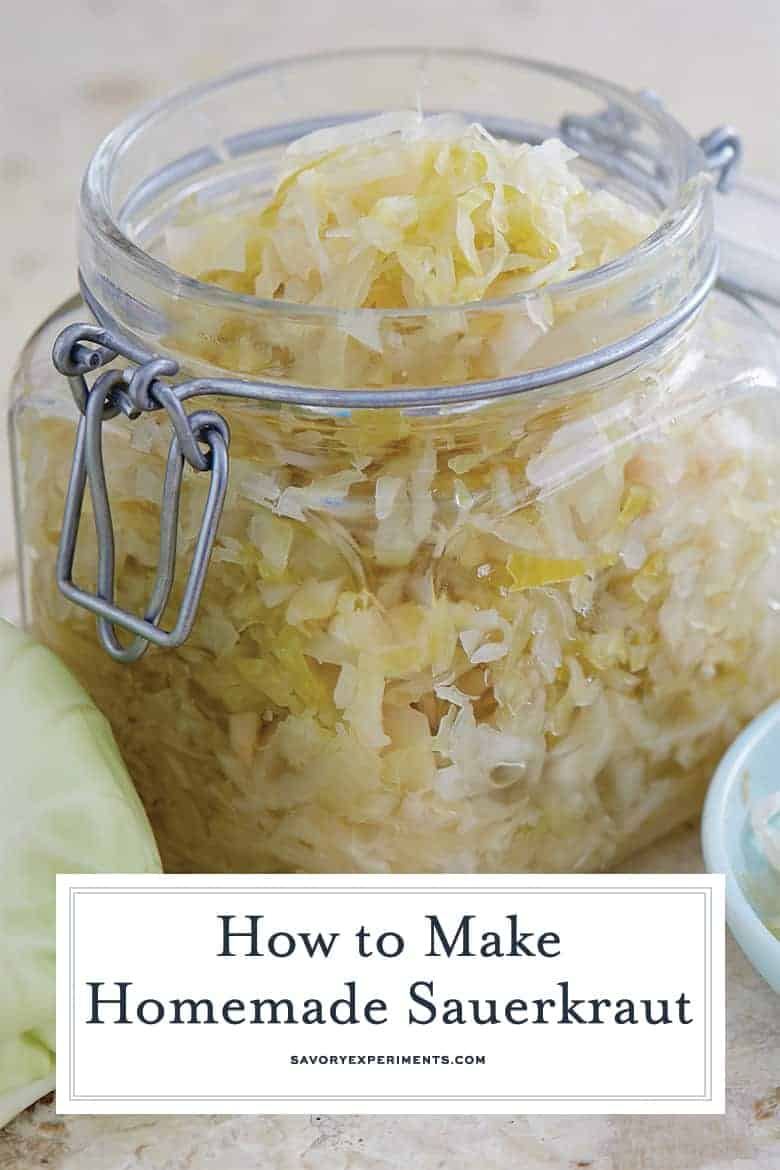 Do I need to use the outer leaves?
Some people like to fold cabbage leaves and put them on the top of the shredded cabbage, I don't find this to be necessary. You can if you want.
Can I use other colors of cabbage?
Sure! In fact, use a variety and have rainbow sauerkraut!
How do people get the purple sauerkraut?
Just use purple cabbage.
How do I make a large batch?
Simply multiple the ingredients and use a larger jar. A variety of jar sizes can be found for cheap at your local craft store. You can also use an iced tea pitcher.
Can I use a glass mixing bowl?
You can… but… you'll need a lot more weights to keep it all down. The beauty of a jar is that the mouth is narrow so even when you have a big jar, you'll still only need 3-4 weights.
What temperature is "room temperature"?
Generally speaking, you want to be between 65-75 degrees fahrenheit.
How do I cut the cabbage?
Cut the cabbage into quarters and trim out the core. Slice each quarter down its length, making 8 wedges. Slice each wedge crosswise into very thin ribbons.
Can I use regular salt instead of Kosher salt?
If you do, cut salt in half. Kosher salt has large grains and less salt. Fine salt has smaller grains, so it is almost like using double.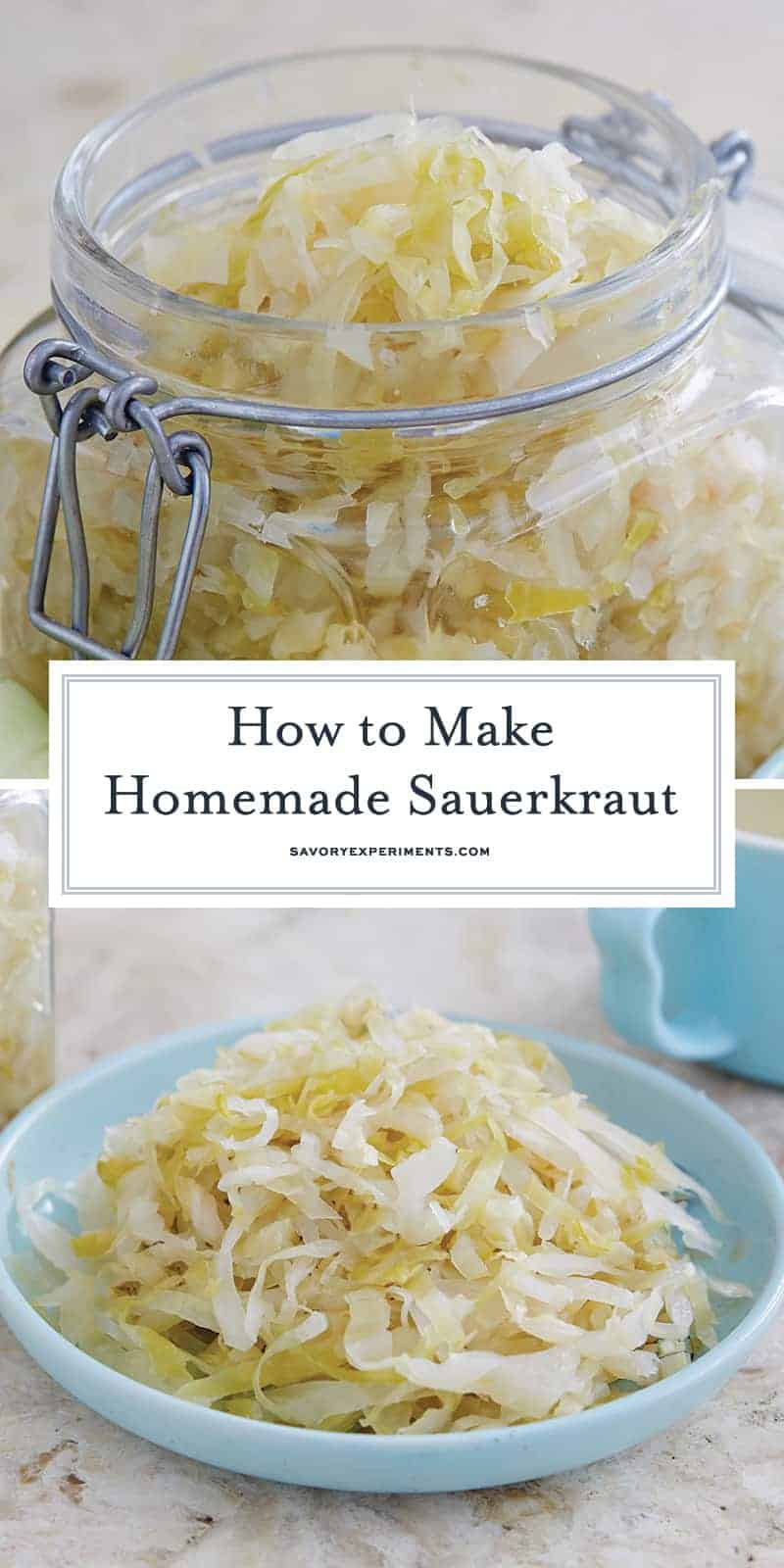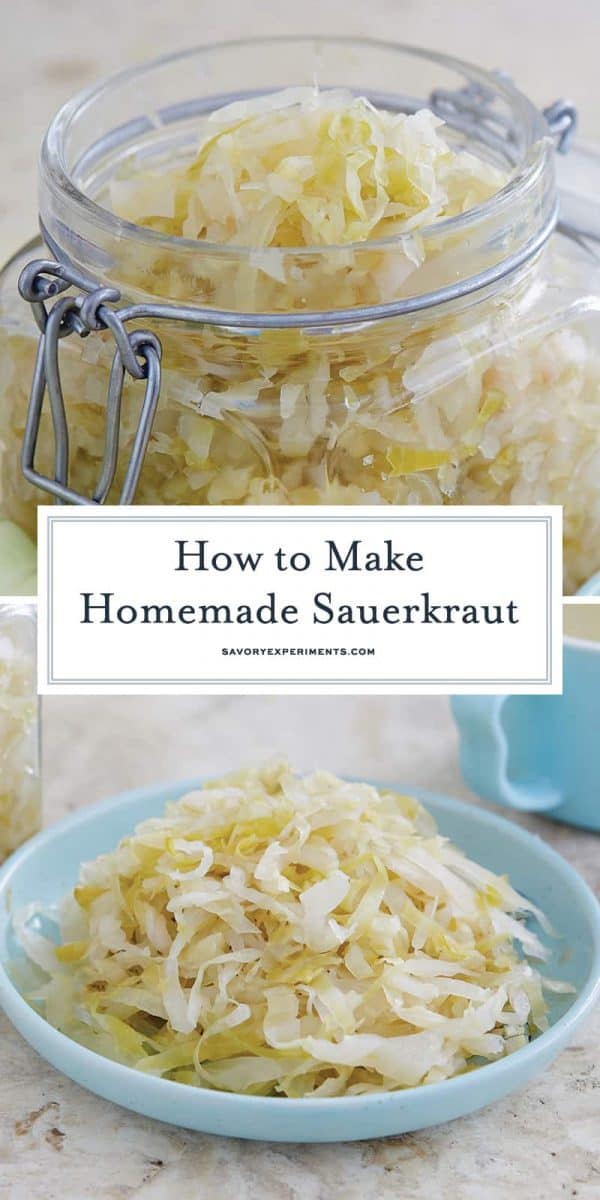 You might also like some of our other kitchen tutorials:
We hope you found our easy steps on how to make homemade sauerkraut helpful and delicious! Enjoy and let us know how you used yours in he comments!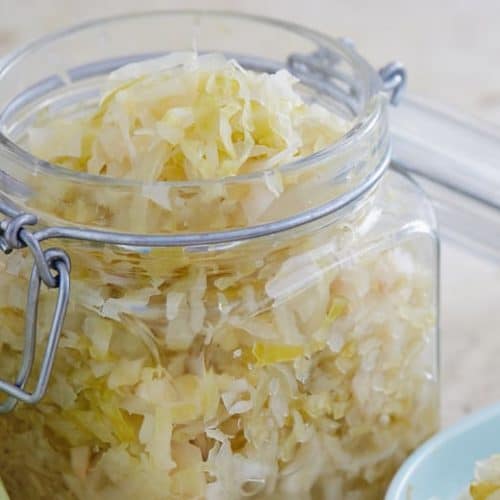 How to Homemade Sauerkraut
Homemade Sauerkraut has never been easier than my easy to follow steps and delicious add-ins for custom kraut in days!
Ingredients
1

head green cabbage

, cut into thin ribbons*see note for slicing instructions

2

teaspoons

Kosher salt
Instructions
Combine your cut cabbage with Kosher salt in a large mixing bowl. Massage and squeeze the cabbage with your hands until is watery and limp. This might take 5-10 minutes.

If you are planning to add any additional flavors to your sauerkraut, now is the time to add them.

Pack the cabbage into the jar using the end of a wooden spoon or muddler. Any tool that is going to pack it in tight.

Top it with weights to keep it packed down.

Pour any liquid released by the cabbage into a seperate bowl, cover and refrigerate. You may or may not need this.

Cover the top of the mason jar with a cloth and secure it with a rubber band or twine. You want air to flow in and out, but keep other particles from getting in.

Over the next day, press the cabbage down to release the water being released. At the end of 24 hours if there is still come cabbage that isn't submerged, use the reserved liquid to cover it. You can also use water mixed with a pinch of salt.

Keep the jar at room temperature for 3-16 days. Different people like a different texture. Less fermentation will be more crunchy, more will more limp and soft. Also taste test it.

When it reaches your desired level of yumminess, remove the weight, screw on the cap, and refrigerate.

Serve on anything you'd like!

If you've tried this recipe, come back and let us know how it was!
Notes
How to cut the cabbage: Remove outer leaves or anything that looks brown or unsightly. Cut cabbage into quarters and trim out the hard core. Slice each wedge crosswise into very thin ribbons.
Nutrition
Calories:
227
kcal
,
Carbohydrates:
53
g
,
Protein:
12
g
,
Fat:
1
g
,
Saturated Fat:
1
g
,
Sodium:
4814
mg
,
Potassium:
1544
mg
,
Fiber:
23
g
,
Sugar:
29
g
,
Vitamin A:
890
IU
,
Vitamin C:
332
mg
,
Calcium:
363
mg
,
Iron:
4
mg