Lemon Parmesan Cauliflower is an easy side dish that adds pizzazz to boring cauliflower. This is one of my favorite ways to get kids (and husbands) to eat their veggies since its conception in 2006, and will also be your new go-to side.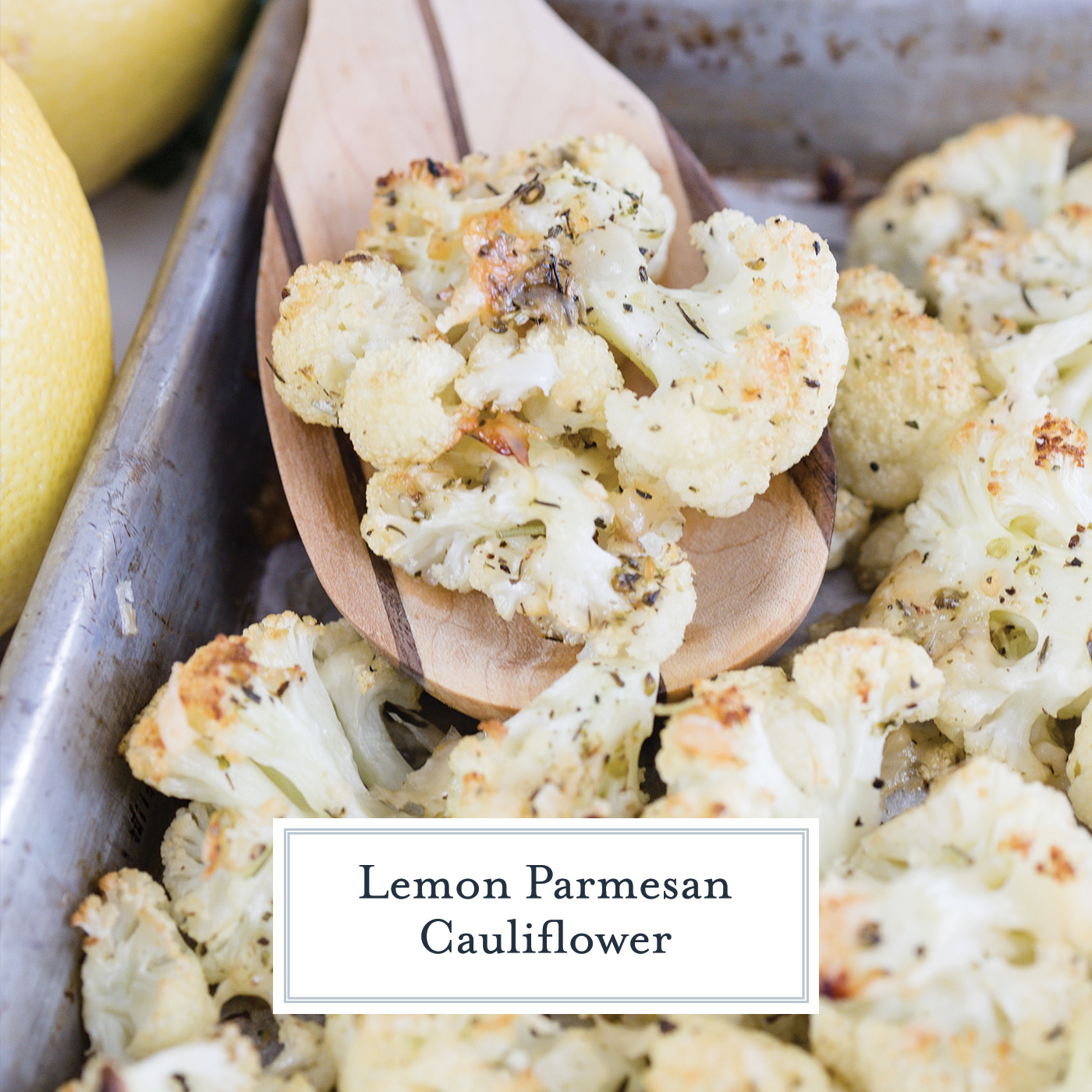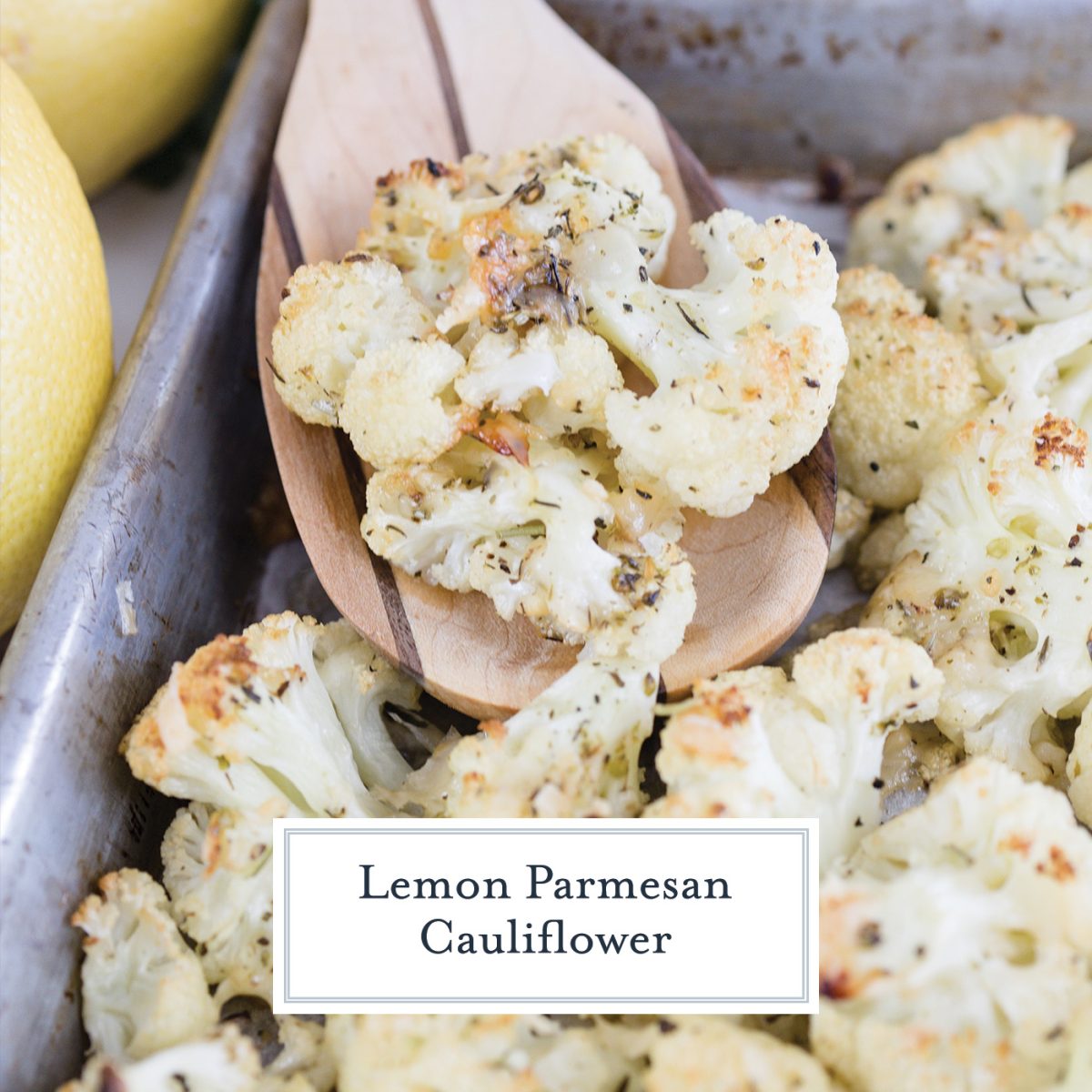 It is absolutely perfect for a weeknight meal or a special holiday dinner. Truth be told, I've even smothered it in marinara sauce or vodka sauce and ate it as an entree.
Roasted Cauliflower
I originally tried roasted cauliflower from a recipe in Bon Appetit magazine. Since then, cauliflower roasted with parmesan cheese has gone through several adaptations, but I've ultimately landed on pairing it with lemon.
This dish suits with chicken dishes, a steak, or even served over pasta. Literally any dinner recipe you can think of.
What is Cauliflower?
Beside just a fantastic carnivorous vegetables that is a blank slate for flavor and sauces, cauliflower is such an extraordinary vegetable and it is a shame that it is often overlooked in the grocery aisle. It comes from the Brassica family of veggies which also includes broccoli, cabbage, and mustards.
And while you will most often see the white variety, it comes in yellow, purple, and green. All of which can be used in this recipe.
The health benefits are numerous. It contains vitamin C which can lead to strong bones and Vitamin K which helps with collagen production. It helps to assist to naturally detox the body. It is said to help lower high blood pressure and is often said to be a cancer-fighting superfood.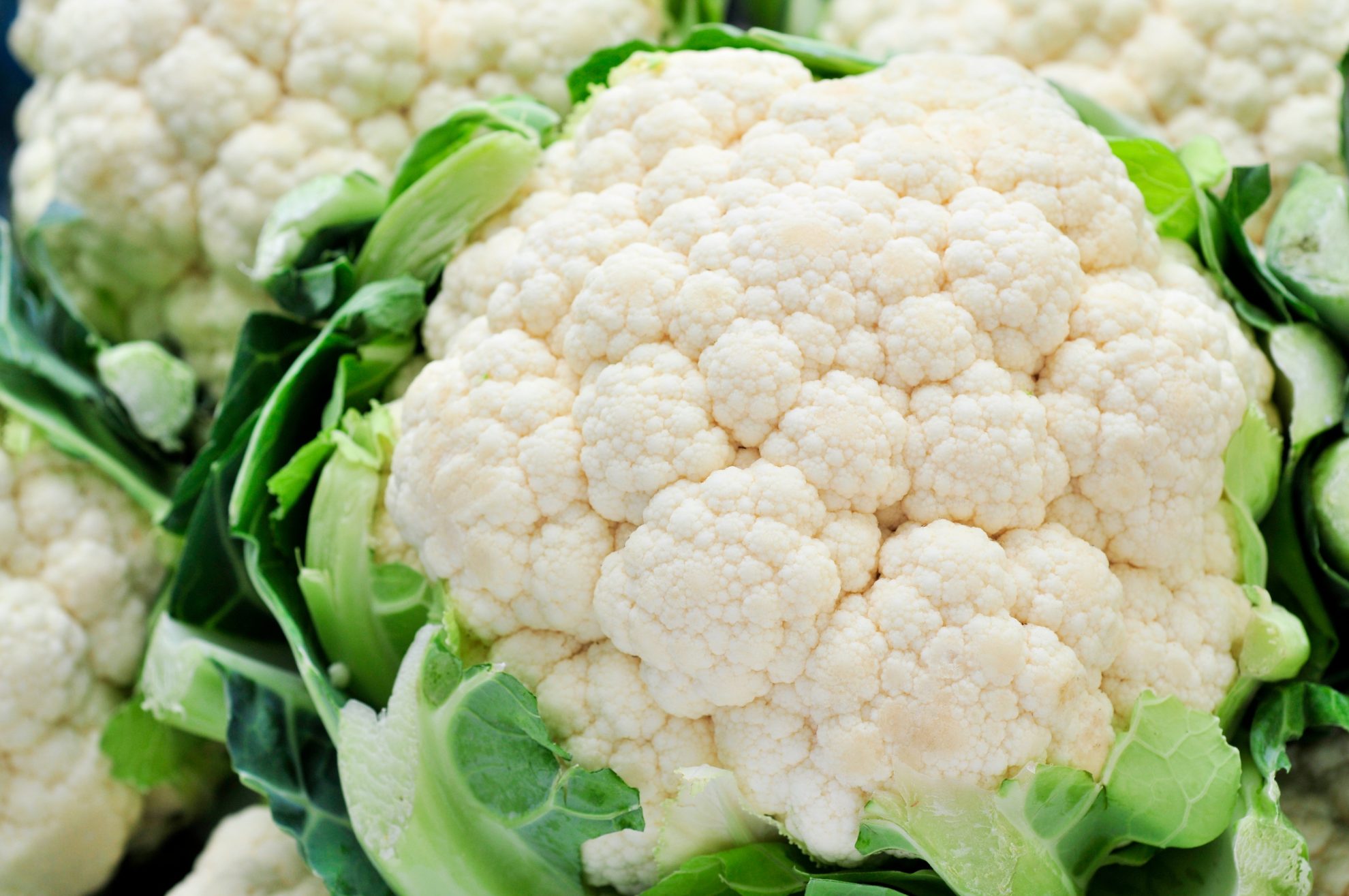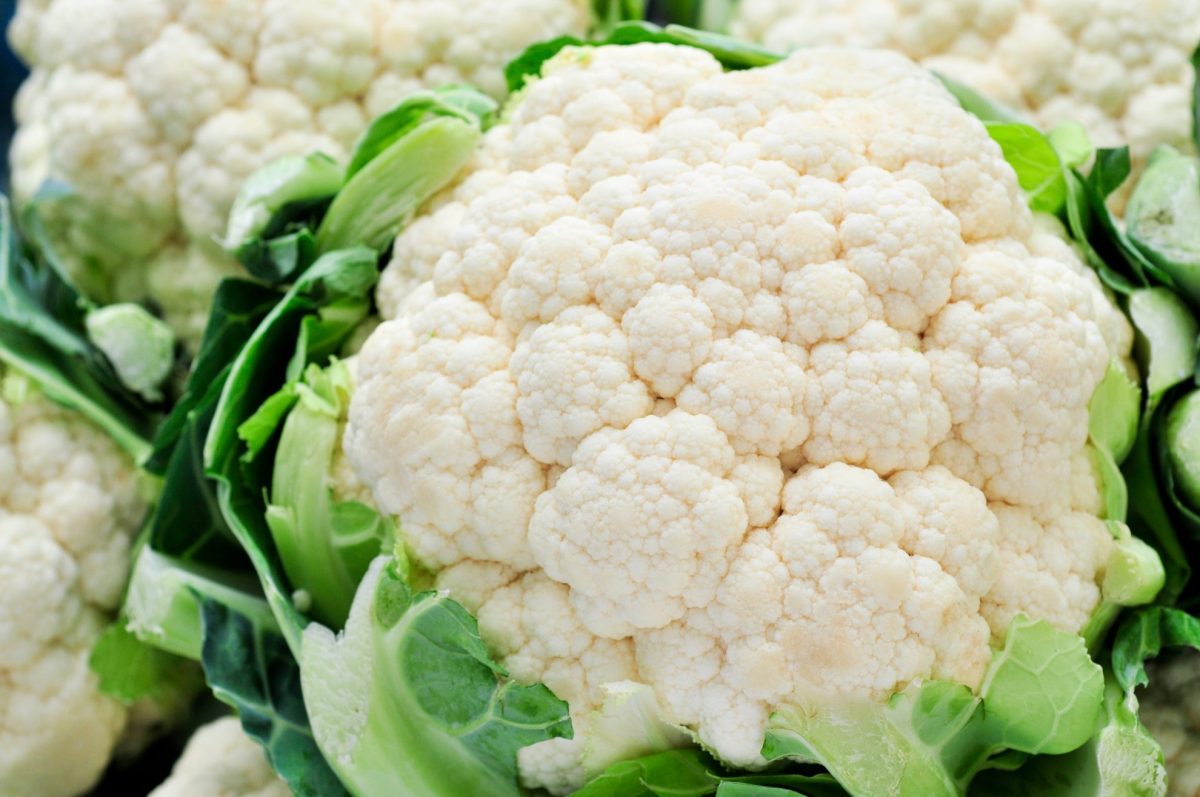 If those selling points weren't enticing enough, it is a great alternative to complex carbohydrates like rice or pasta. So for all of you on Atkins or keto, I am talking directly to you!
Some of you might even be looking to cut down on the number of meat nights in your house. If you are, once baked or roasted, cauliflower can take on an almost meaty texture. Not only is it filling, but it's good for you!
What Does Cauliflower Taste Like?
Cauliflower has a pretty mild taste which some look at in a negative light. Perhaps it is why it is so often overlooked. In my eyes, it is 100%, without a doubt, a positive attribute. I see the opportunity. To me that reads as, flavor me however you wanted to!
For this recipe, I paired two of my favorite flavors together – lemon and parmesan. It is great as is, but you can use it as a jumping-off point if you like.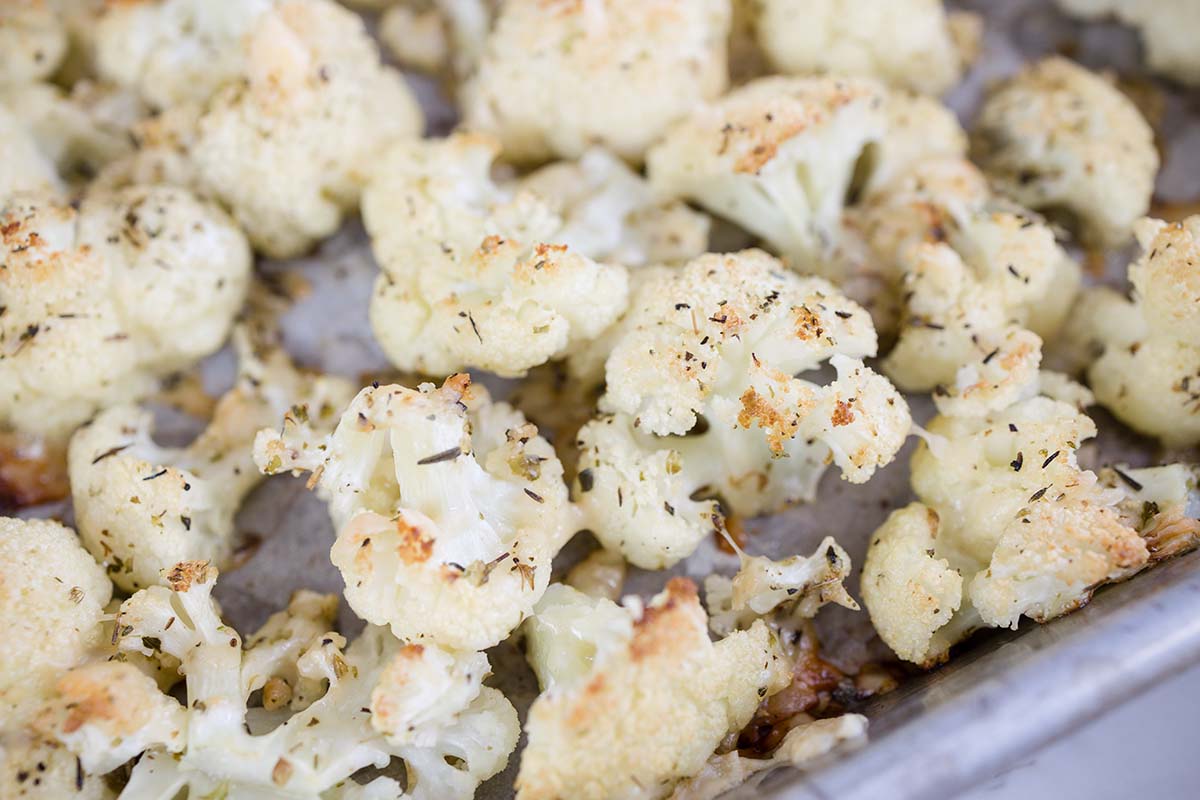 You could throw in some fresh parsley, toss it with a bit of fresh or jarred pesto, heck, you could even layer in the cheeses if you were feeling inspired. Did someone say four-cheese cauliflower? Red pepper flakes – rock out!
How to Make Parmesan Roasted Cauliflower
Grab the ingredients.
Cauliflower Florets- This recipe calls for 3 cups, but is very forgiving; a little less or a little more won't hurt it. A large head of cauliflower or two small heads will generally produce this much or you can buy them pre chopped.
Extra Virgin Olive Oil– Because part of this mix is being used for a dressing, you want a good quality oil with premium flavor.
Coarse Sea Salt– Salt is used to amplify the other natural flavors. Kosher salt or sea salt has the best true salt flavors.
Ground black pepper- Freshly ground is best, but already ground is fine. White pepper can also be used if you desire a less peppery flavor.
Parsley- Fresh flat leaf, sometimes called Italian parsley pushes the fresh herb flavor. Swap this for any other fresh herb you need to use up from the garden or opt for an aromatic blend.
Fresh Lemons– This recipe calls for lemon juice and zest, so just grab fresh lemons and skip with bottled stuff. Zest gives pure lemon flavor while the juice provides an acidic base to brighten the dressing.
Parmesan Cheese– If you do nothing else for this recipe, please use freshly grated parmesan cheese. The shake cheese will not melt, nor provide the same flavor as a nutty and smooth freshly grated variety. Do skip the aged cheese that is best for eating straight and not melting.
How to roast cauliflower:
Preheat the oven and grab a baking sheet or baking dish larger than you think you need. The trick to roasting well is allowing all of the florets to have ample room so hot air circulates around them giving a deep brown color, and thus more flavor. If using a baking dish, aim for one with lower sides. High sides can create steam in the high heat and prevent them from browning and crisping. You can even line the large baking dish with parchment paper for easier clean up.
Toss the cauliflower with 2 tablespoons of the olive oil in a separate bowl and then transfer to a baking dish, arranging in a single layer. Toss any extra oil. The trick is getting enough for it to brown and lubricate, but not so much that it is soggy.
Roast until fork tender, turning once through cooking to get a nice brown. Depending on the size you trimmed them to, the cooking time could be a little less or a little more.

Meanwhile, blend together the rest of the olive oil, salt, pepper, parsley, lemon zest and lemon juice and mix until it has emulsified. I prefer using a small food processor, but you can hand whisk if you want. Mince parsley before adding if you do it by hand.
When the cauliflower is soft, toss the cauliflower with the lemon dressing, return it to the baking dish and top with parmesan cheese. Return it to the oven for 5 minutes, or until cheese has melted.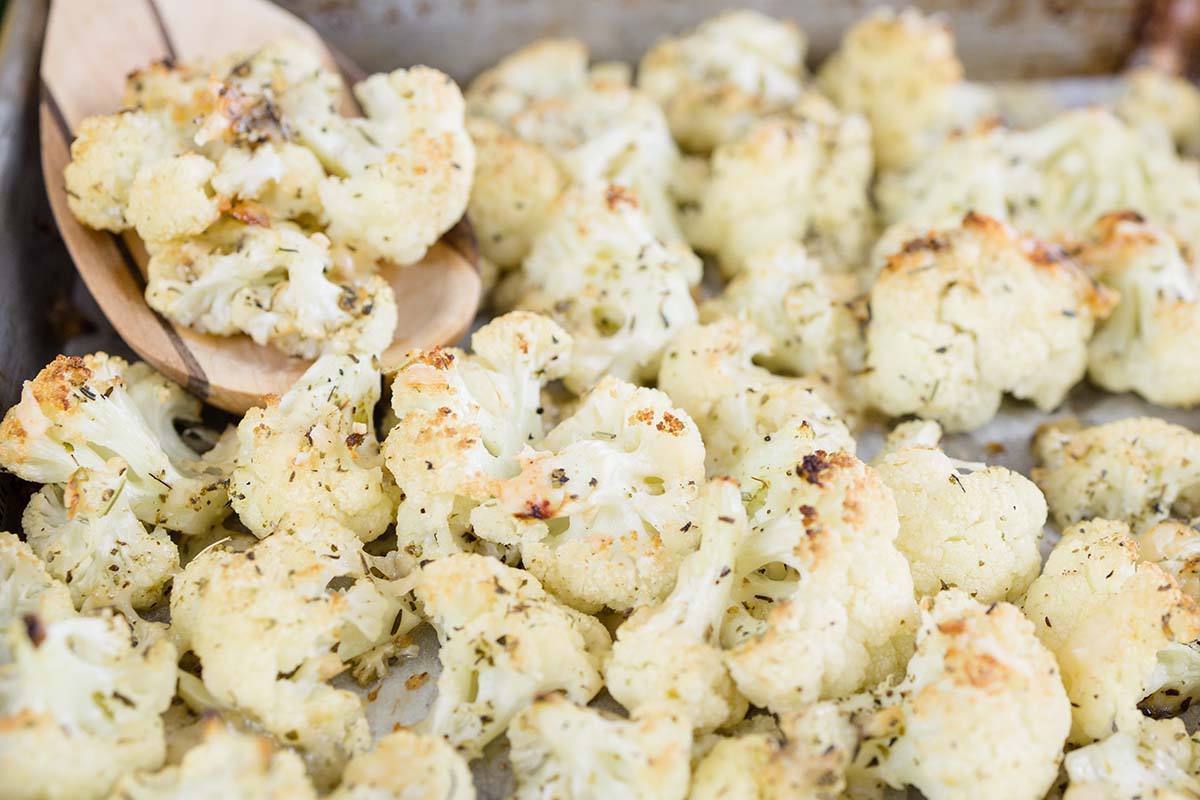 Variations
Garlicky Cauliflower– I intentionally left garlic out of this recipe even though I love it, but feel free to add some in. Garlic powder or freshly grated garlic can be added to the dressing.
Onion- The same goes for onion. Add fresh chopped sweet onion to the dressing or a shake of onion powder.
Cauliflower steaks- the same process and sauce can be used to make cauliflower steaks, simply cut 2 heads into large, thick slices.
Mix it with Broccoli– One of my favorite ways to amp this is is by doing half cauliflower and half broccoli florets.
Italian Seasoning- Omit the fresh parsley and add 1 teaspoon of dried Italian seasoning to the dressing.
Make it Spicy! – Some like it hot and while it isn't as kid-friendly, it is perfect for an adult dinner party. Appello pepper flakes give a nice heat with smoky aftertaste. Add 1/2 teaspoon to the dressing.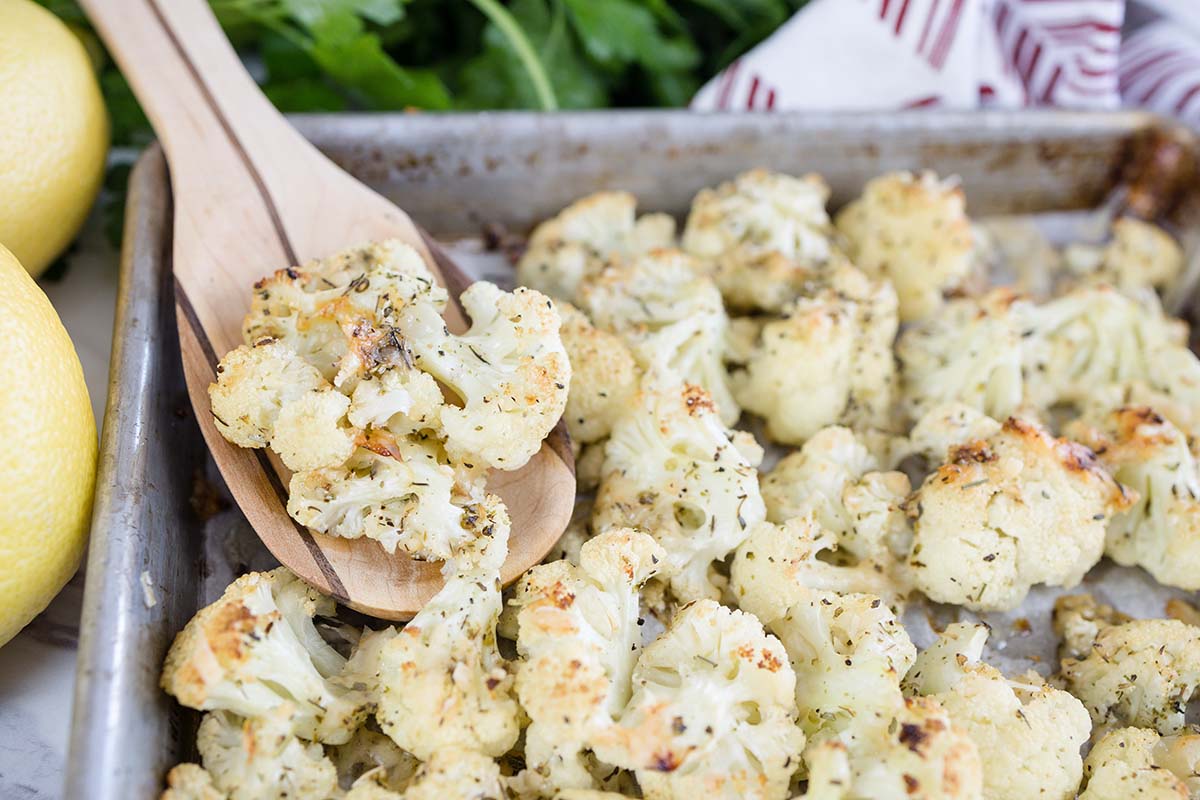 Storage
Roasted cauliflower recipes will always be best fresh from the oven to get the toothiness desired from roasting. Store leftovers in an airtight container in the refrigerator for up to 7 days.
Reheat in the oven to revive some of the roasty goodness or zap them in the microwave and reseason with salt and pepper before serving.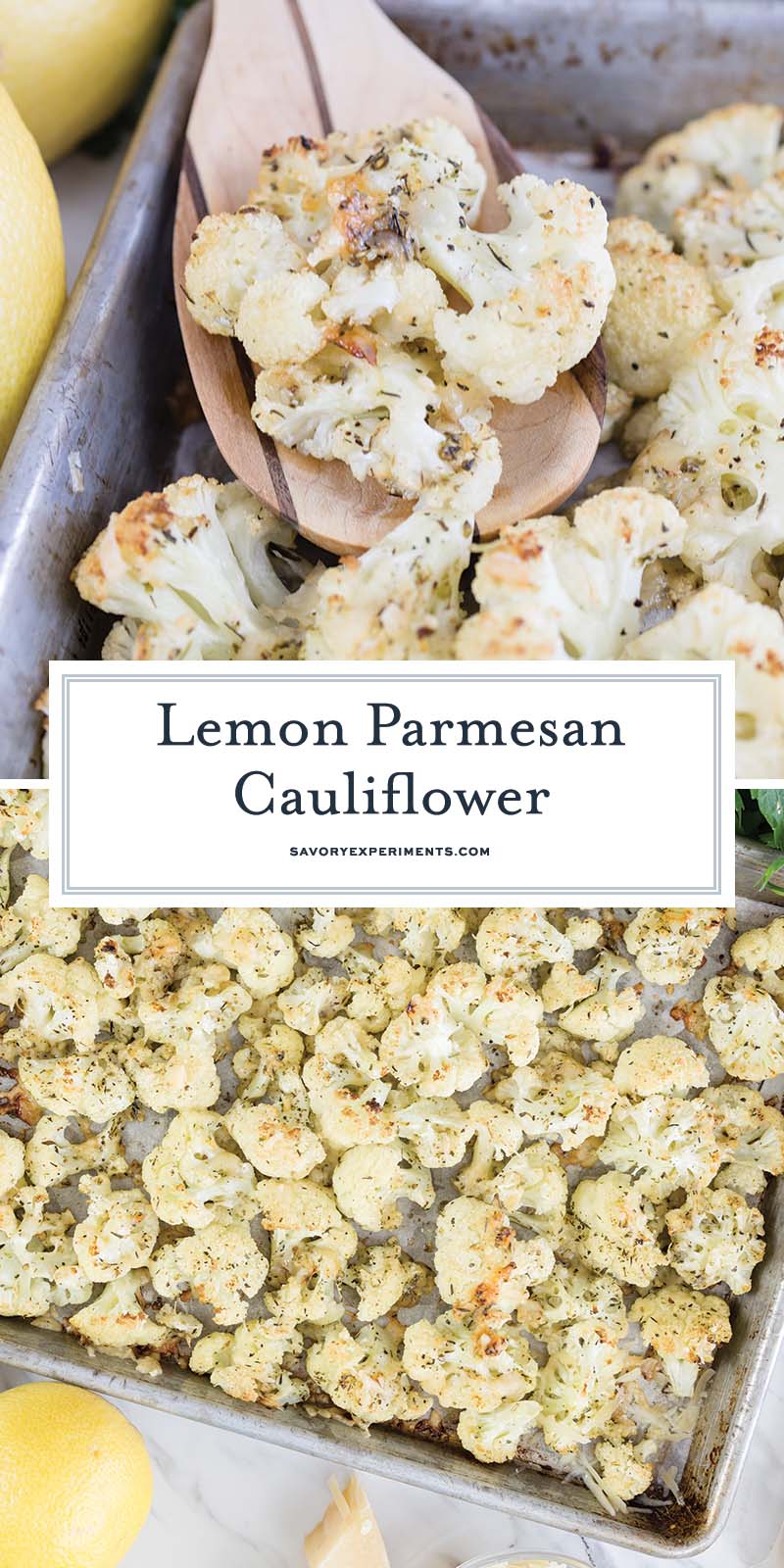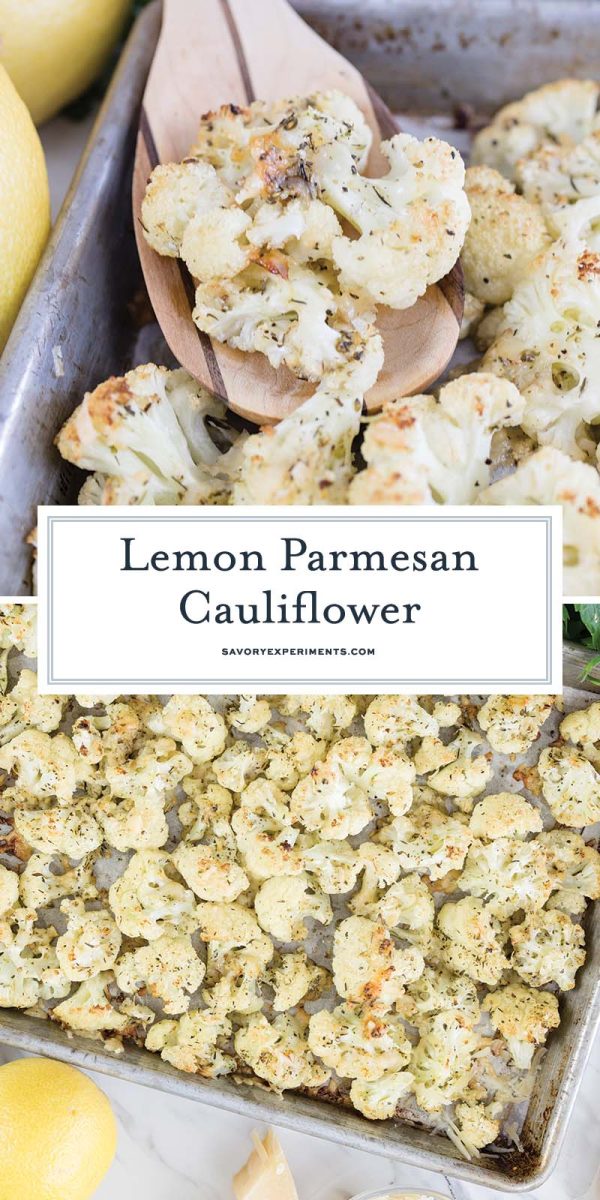 My favorite dishes to serve it with: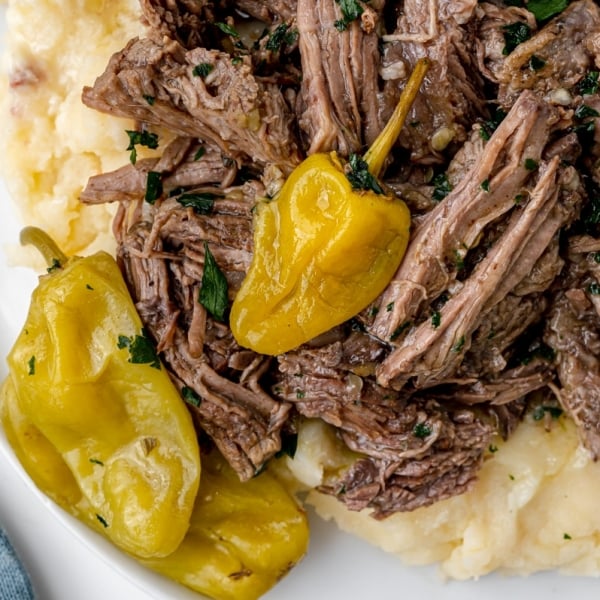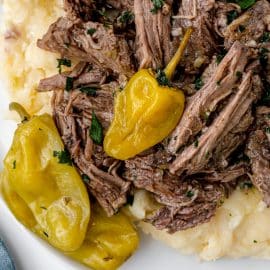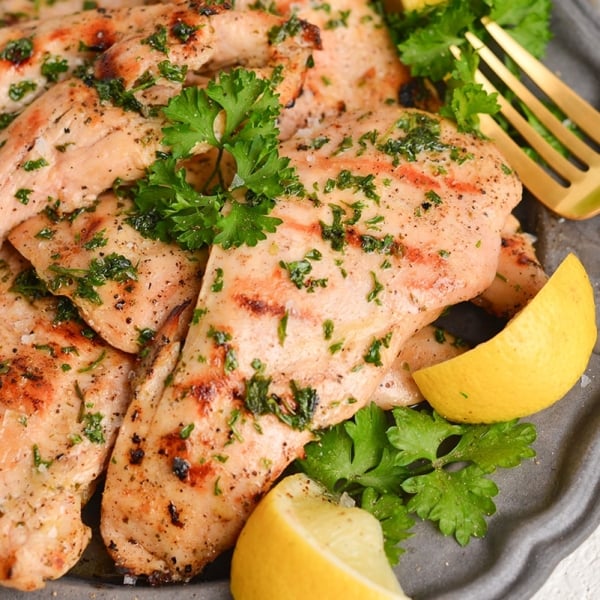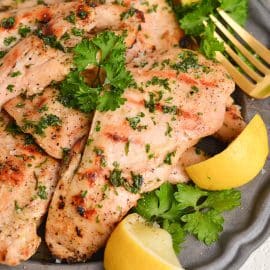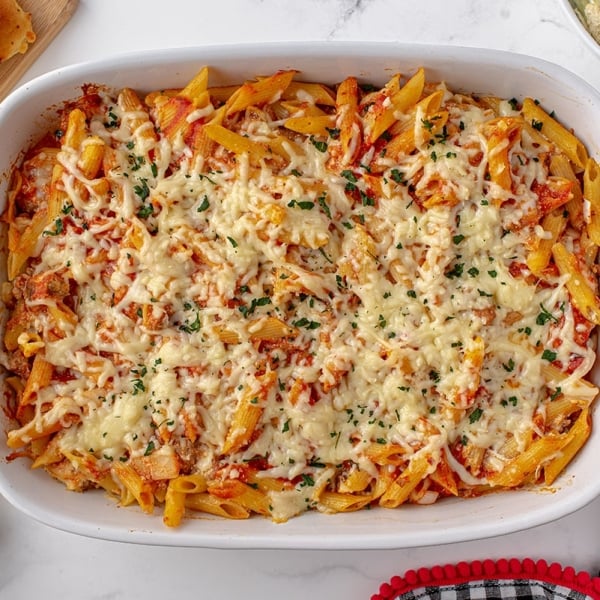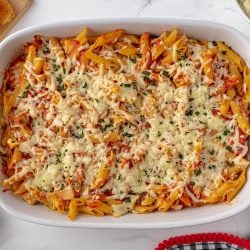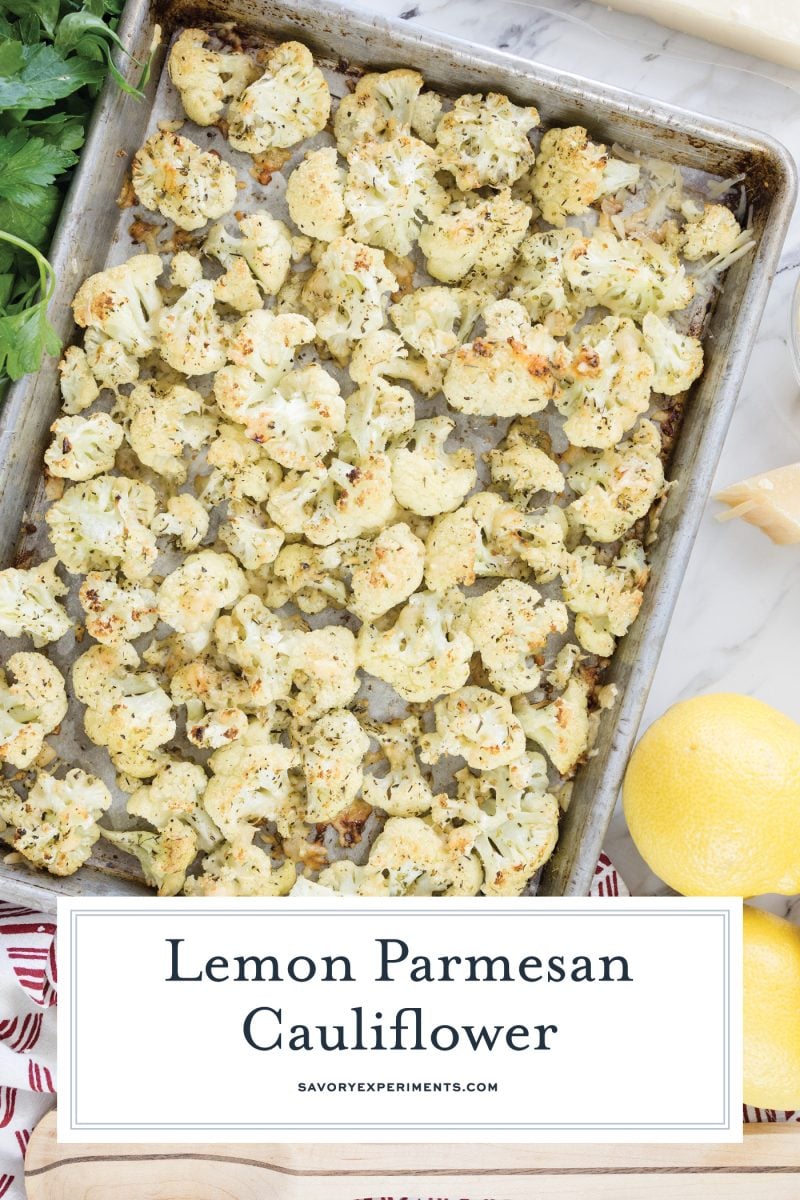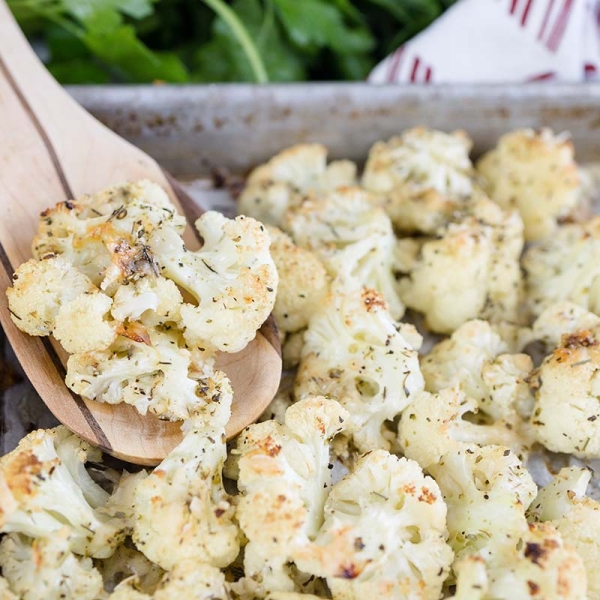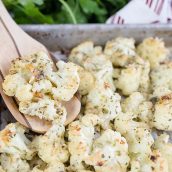 Cauliflower Roasted with Parmesan
Lemon Parmesan Cauliflower is the perfect easy and healthy side dish recipe. A roasted cauliflower recipe with flavor.
Instructions
Preheat the oven to 350°F.

Toss cauliflower with 2 tablespoons of the olive oil and then transfer to a baking dish, arranging in a single layer and not squeezing it in too much.

Roast for 25 minutes or until fork tender, turning once through cooking.

Meanwhile, blend together the remaining 4 tablespoons of olive oil, salt, pepper, parsley, lemon zest and lemon juice either by hand or in a small food processor. Pulse until parsley is coarsely chopped and mixture has emulsified.

At 25 minutes, toss the cauliflower with lemon dressing and shredded cheese. Return to the oven for 5 minutes, or until cheese has melted. Serve hot.

If you've tried this recipe, come back and let us know how it was in the comments or star ratings.
Notes
Store in an airtight container in the refrigerator for up to 5 days.
Nutrition
Calories:
169
kcal
,
Carbohydrates:
2
g
,
Protein:
3
g
,
Fat:
16
g
,
Saturated Fat:
3
g
,
Cholesterol:
5
mg
,
Sodium:
342
mg
,
Potassium:
157
mg
,
Fiber:
1
g
,
Sugar:
1
g
,
Vitamin A:
65
IU
,
Vitamin C:
24.1
mg
,
Calcium:
110
mg
,
Iron:
0.4
mg