Strawberry Stuffed French Toast is an amazing dish for breakfast, brunch, lunch and even breakfast for dinner, also known as brinner! It elevates classic French toast a few notches with decadent touches.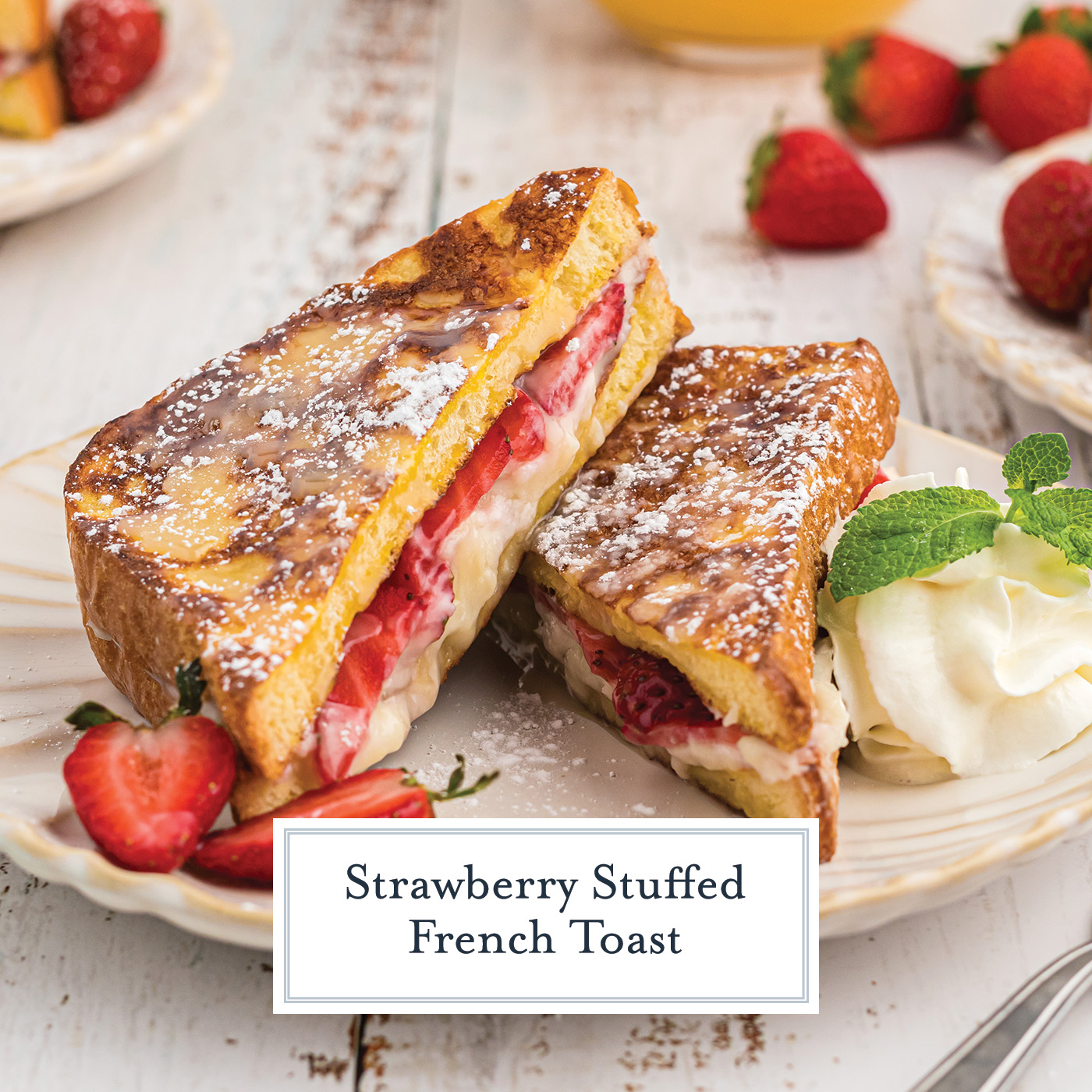 This is a unique French toast recipe made with layers of mascarpone cheese, vanilla butter syrup, fresh strawberries, and buttery brioche. A perfect brunch recipe for special events like Mother's day, Christmas morning or birthdays.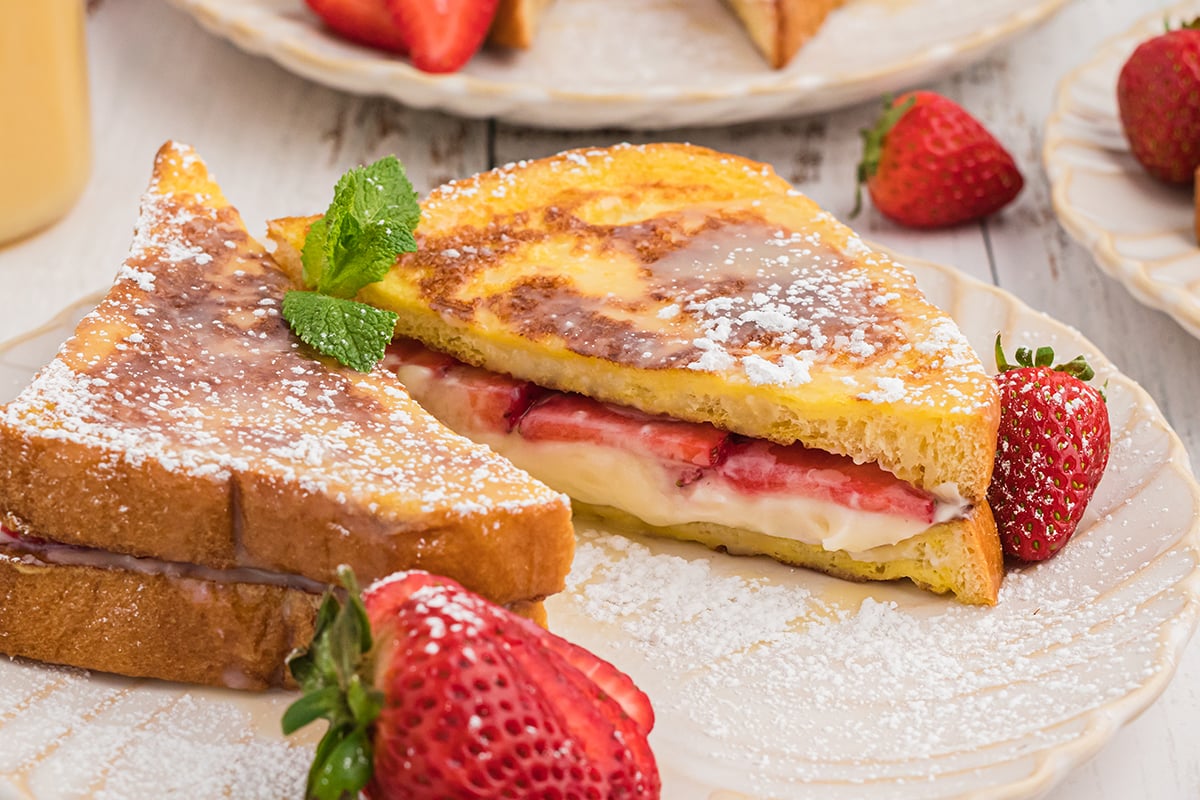 Grab the Ingredients
This recipe uses simple ingredients to create a mindblowing dish.
Mascarpone Cheese– Mascarpone is the Italian version of cream cheese. It's a soft, mild cream cheese that is made from whole cream and either citric acid, lemon juice, or vinegar. It can be used in savory or sweet recipes like this french toast, risotto, cheesecake, or in a very well recognized dessert, tiramisu. You can use cream cheese or Neufchâtel.
Powdered Sugar– This fine sugar will seamlessly beat into the cream cheese without being grainy.
Milk– Helps to thin out the filling, which is essentially like cream cheese frosting. Cream can also be used for added richness.
Vanilla Extract– For flavor and can be supplemented or swapped for almond extract.
Salt– Helps to balance out the extreme sweet flavors.
Eggs– Quintessential to making French toast, whole eggs with the yolks tend to hold together and make for the best flavor. I do not suggest using egg whites only.
Buttermilk– Our secret ingredient to making the best French toast is to ditch the whole milk and use buttermilk, a thick and tangy element that adds decadence.
Brioche bread- In my humble opinion, brioche is the best bread for this purpose. Brioche is a french bread that is high in egg and butter giving it a signature yellow hue and tender crumb. Despite being rich, it is still light and fluffy and totally hearty. It won't sog up and fall apart during the dredging process. These slices are about 1-inch slices. Stale bread actually works better to soak up the egg batter, just make sure it is only a day or two old and still fairly soft.
Fresh strawberries– Frozen can be used, but won't have the same toothy texture as fresh.
Dutch Honey Syrup- A syrup by many names, this is a family tradition (my personal favorite) and I highly recommend trying it before you grab a bottle of maple syrup.
How to Make Stuffed French Toast
This stuffed French toast recipe isn't hard at all. When you break it down, it is basically just two pieces of battered bread sandwiches together with a sweet filling and drizzled with sauce or syrup; a French toast sandwich, if you will.
Beat the mascarpone cheese until it is nice and smooth. Having it room temperature is key to not having a lump filling. Add the milk, powdered sugar, vanilla and salt until fully mixed. Set aside on the counter so it stays soft until you are ready to spread. If you are making this ahead of time, cover and refrigerate, but take out to warm up about 20 minutes before using.
Preheat the oven to the warm setting (or 200°F). Heat an electric griddle to 350°F and coat with cooking spray. You can also use a skillet over medium heat. You can use butter, it's smoke point it exactly 350°F so you run the risk of burning the batch, take it down a few notches.
Place a wire rack over a baking sheet. Transferring French toast to a wire rack allow air to circulate around them so the side stuck on the plate doesn't create steam and get soggy.

Whisk together the eggs and buttermilk in a shallow dish and then dredge the bread slices into egg mixture and place onto the griddle. If you need to cook in batches, then do not dredge until you are ready to place onto the griddle.
Cook on each side for 3-5 minutes, or until golden brown. Remove to wire rack on baking sheet. Place in the oven to keep warm, continue until all bread is fried and browned.
Spread the cream cheese mixture over four slice of bread. Layer with the strawberry slices. Top with the other 4 slices and return to the oven to warm and marry.

Drizzle with your favorite syrup or glaze, a little powdered sugar, more fresh strawberries, or other fresh berries and whipped cream.
Enjoy your delicious breakfast!
Variations
Any fresh fruit can be substituted, but I highly suggest something soft and easy to chew; think berries (frozen or fresh), pears or bananas. If you are craving apples, then I encourage you to try out my Apple Pie French Toast.
Swap out the brioche for other slices of bread like angel food cake, pound cake or Texas toast.
Use a different type of syrup or glaze. Apple cider syrup or even a powdered sugar glaze are great options.
Instead of a cream cheese filling, use vanilla custard.
Add a tablespoon of coconut cream to the filling for tropical flavors.
Add brown sugar to the egg batter. This caramelizes for a dulce de leche flavor.
If you are like Elvis, maybe you'd also like a little dollop of peanut butter almond butter in the center.
Add lemon zest to the sweet cream cheese filling.
If someone in your family isn't isn't the sweet breakfast items (ahem, my husband), simply serve them two pieces of the regular French toast with some melted butter and call it a day. A recipe the whole family will love!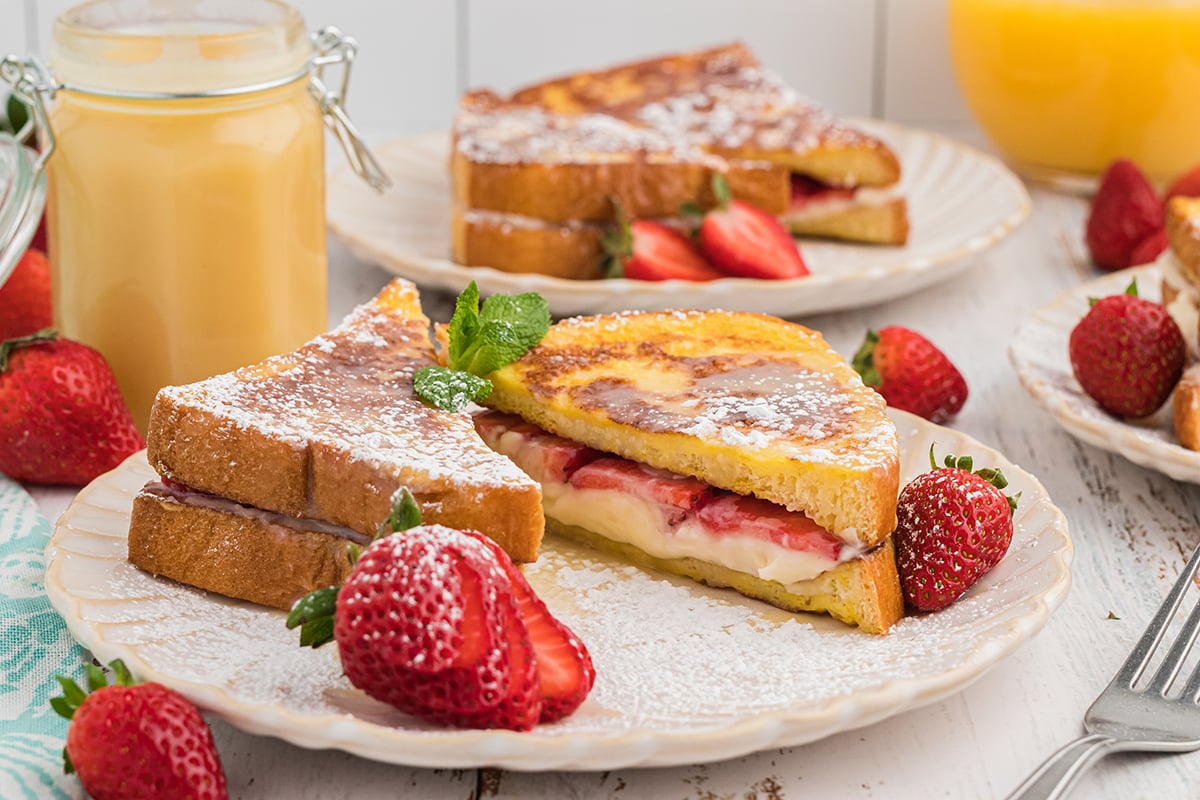 Make Ahead, Storage & Freezing
The mascarpone filling can be made ahead of time and refrigerated up to a day in advance. Make sure to remove it from the fridge about 20 minutes before using and give it a good stir. It will be easier to spread onto the bread. I do not recommend making the French toast slices ahead of time, they are best enjoyed fresh.
Store leftovers in the refrigerator in an airtight container for up to 5 days. Reheat in a skillet or the oven. Unfortunately, bread and especially French toast, will never get back that initially crusty exterior with the fluffy interior.
I do not recommend freezing this recipe.