This creamy risotto will blow your socks off! This is a meal that the whole family will fall in love with! So easy to make and so amazing to eat!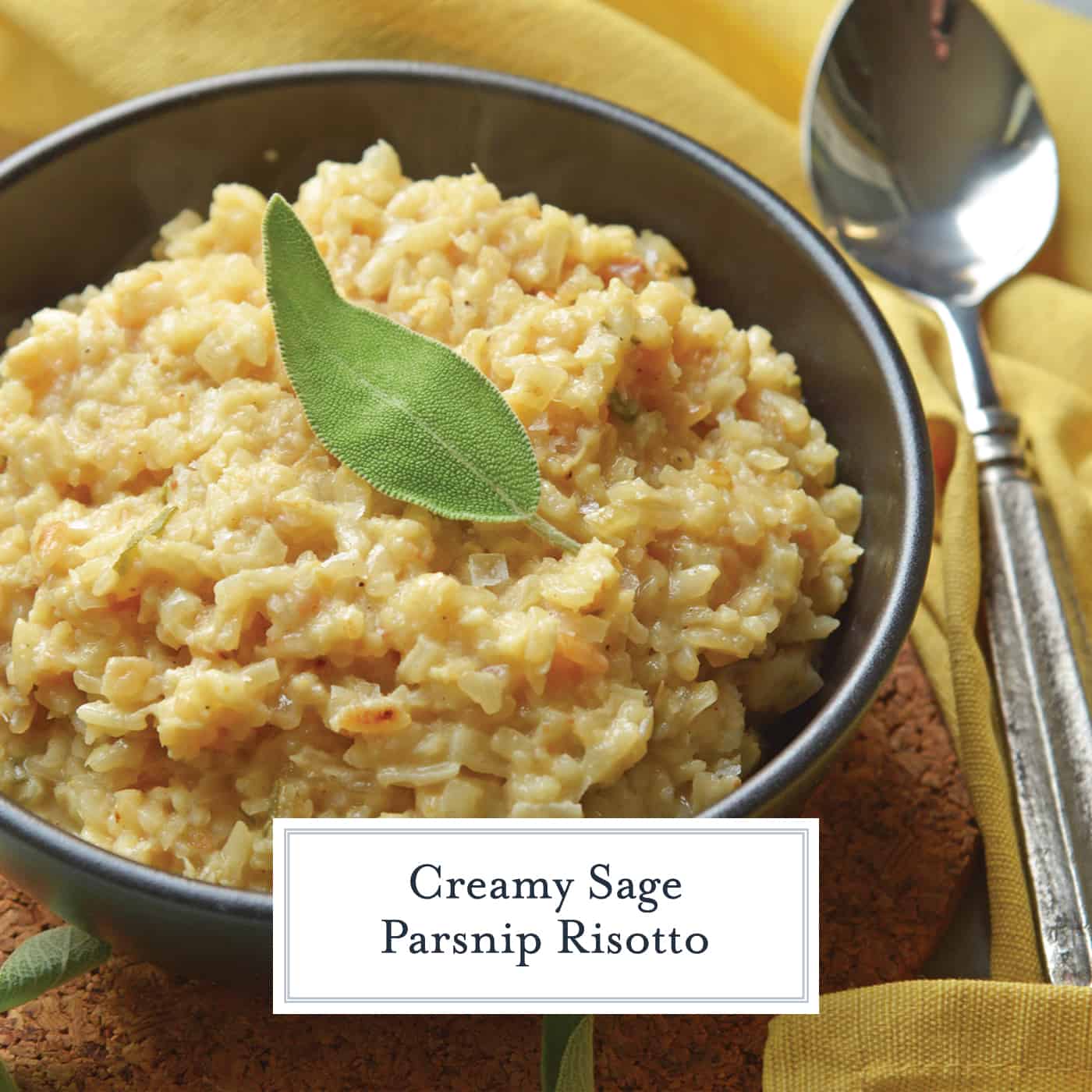 Sage Parsnip Risotto is a vegetarian side dish bursting with flavor. A creamy risotto recipe that uses mascarpone and parmesan cheese.
I found this recipe and instantly fell in love. It isn't my own and quite frankly there was nothing I wanted to change from the original, published in Vegetarian: A Delicious Celebration of Fresh Ingredients.
I do, however, have a quirky story to share. For some odd reason my brain has trouble with parsnips and turnips. They don't look similar. The don't taste similar. The preparation isn't even similar. The only thing similar is that they are root vegetables and both end with "nip".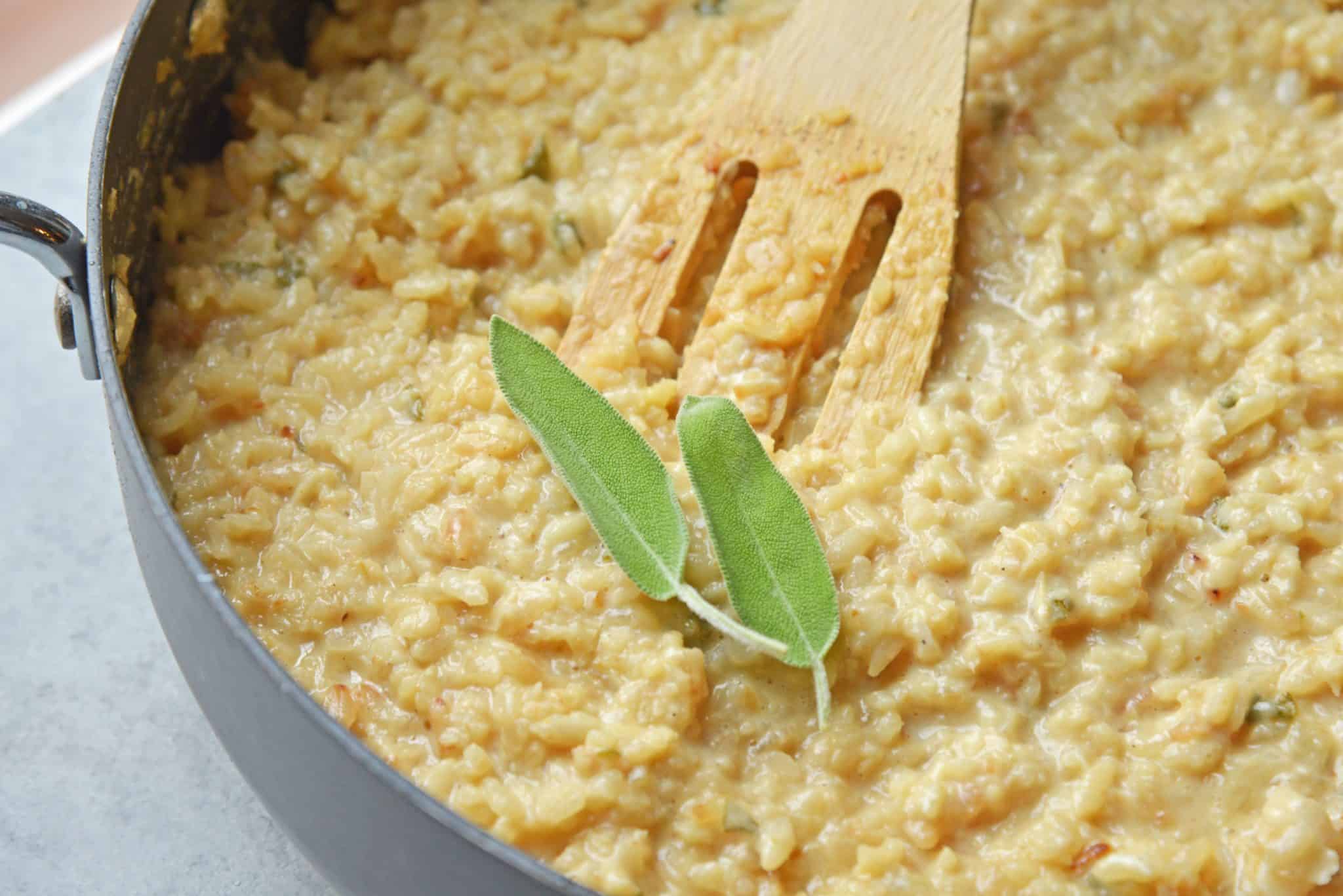 I walked into the grocery store and went to the turnips. There were no purple-top turnips out, so I asked the accommodating produce man, who told me they were out. Then I had the thought… was it parsnips or turnips??
I am notorious for not making a list and then forgetting ingredients, which is honestly how many of my recipes come about: looking for substitutions already in my kitchen.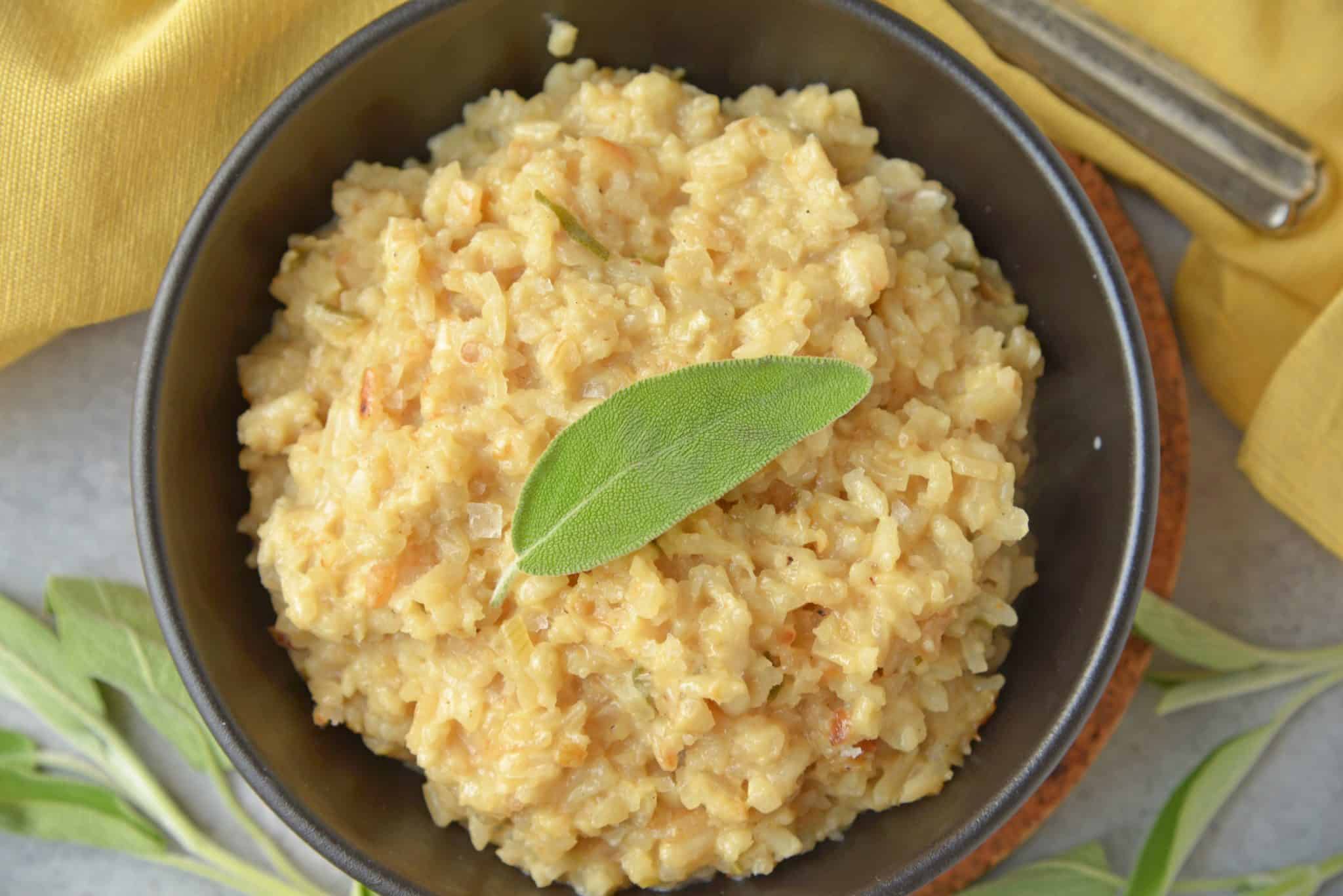 I threw up my arms and grabbed a bag of parsnips, but when I got home I realized the recipe actually called for parsnips to begin with. Maybe the universe was on my side this time saying "this recipe just wouldn't taste right with turnips."
By the way what is risotto? Risotto is a rice dish cooked in broth that has a creamy texture. Risotto is a northern Italian dish usually served as a starter or as a side dish.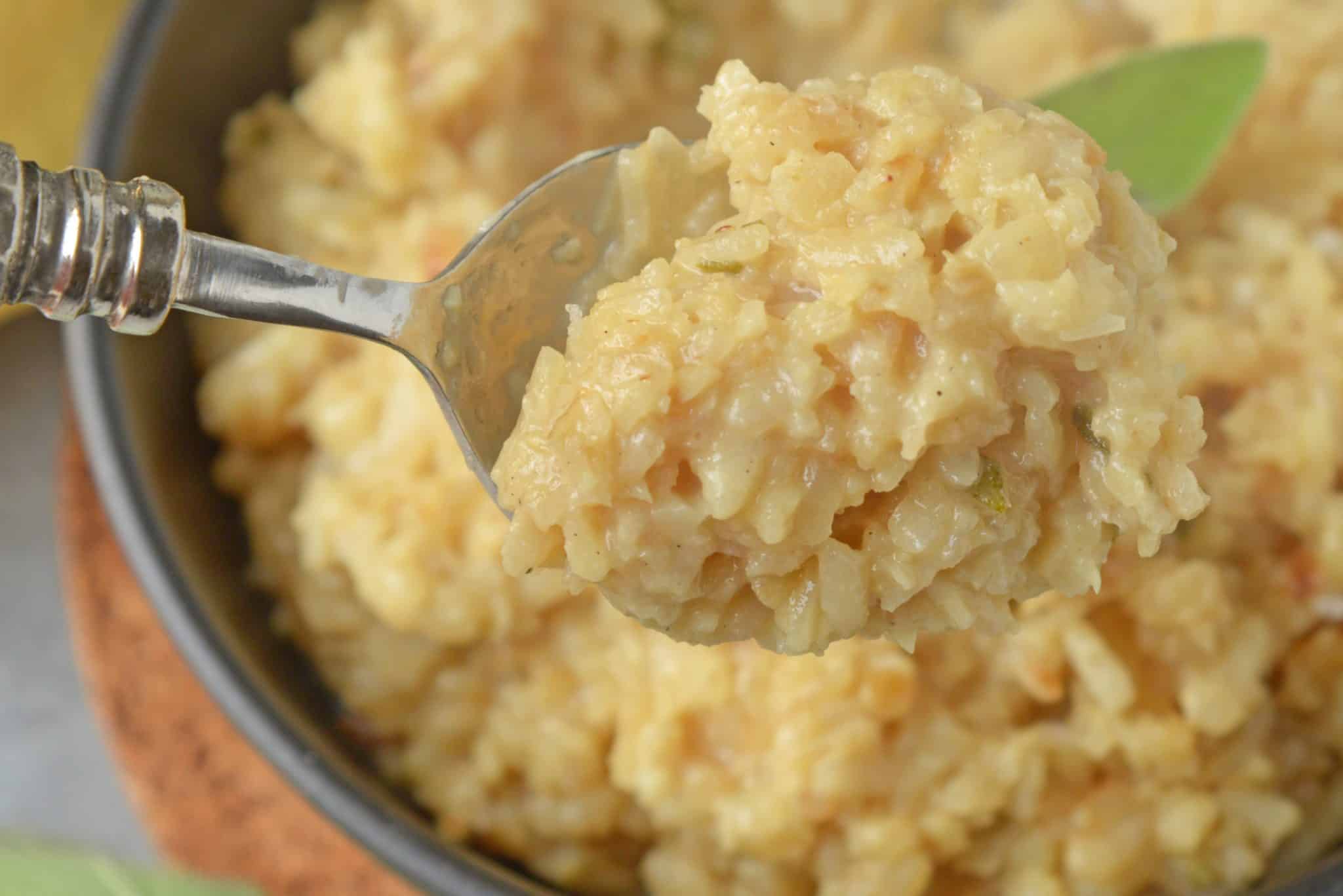 So then what is a parsnip? Parsnips are a root vegetable in the same family as carrots and parsley. Parsnips contain antioxidants, dietary fiber, as well as important vitamins and minerals!
One thing you should do before you start making this creamy risotto recipe, make sure you read my tips on making perfect risotto.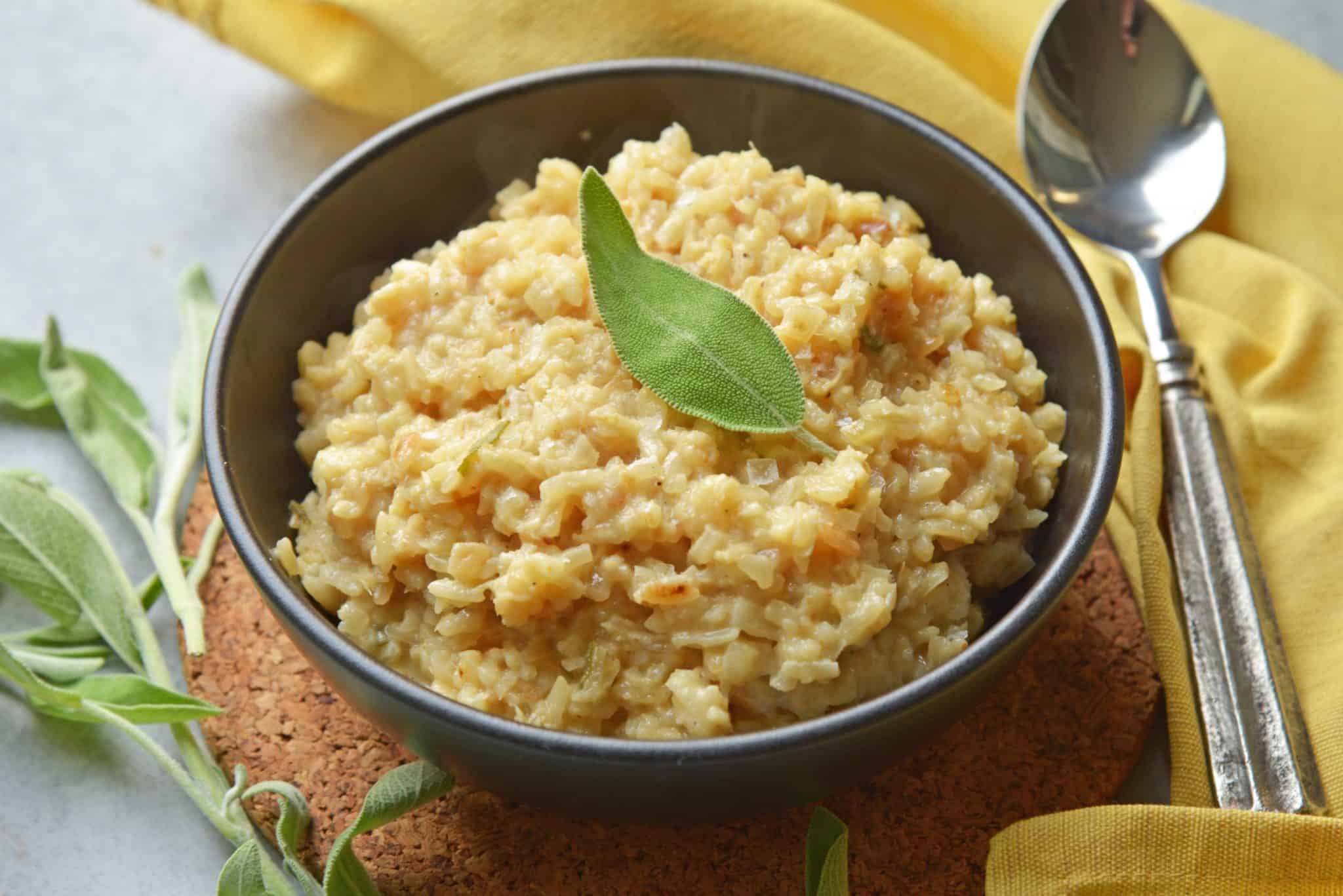 If you enjoyed this
vegetable risotto, check out these other easy risotto recipes: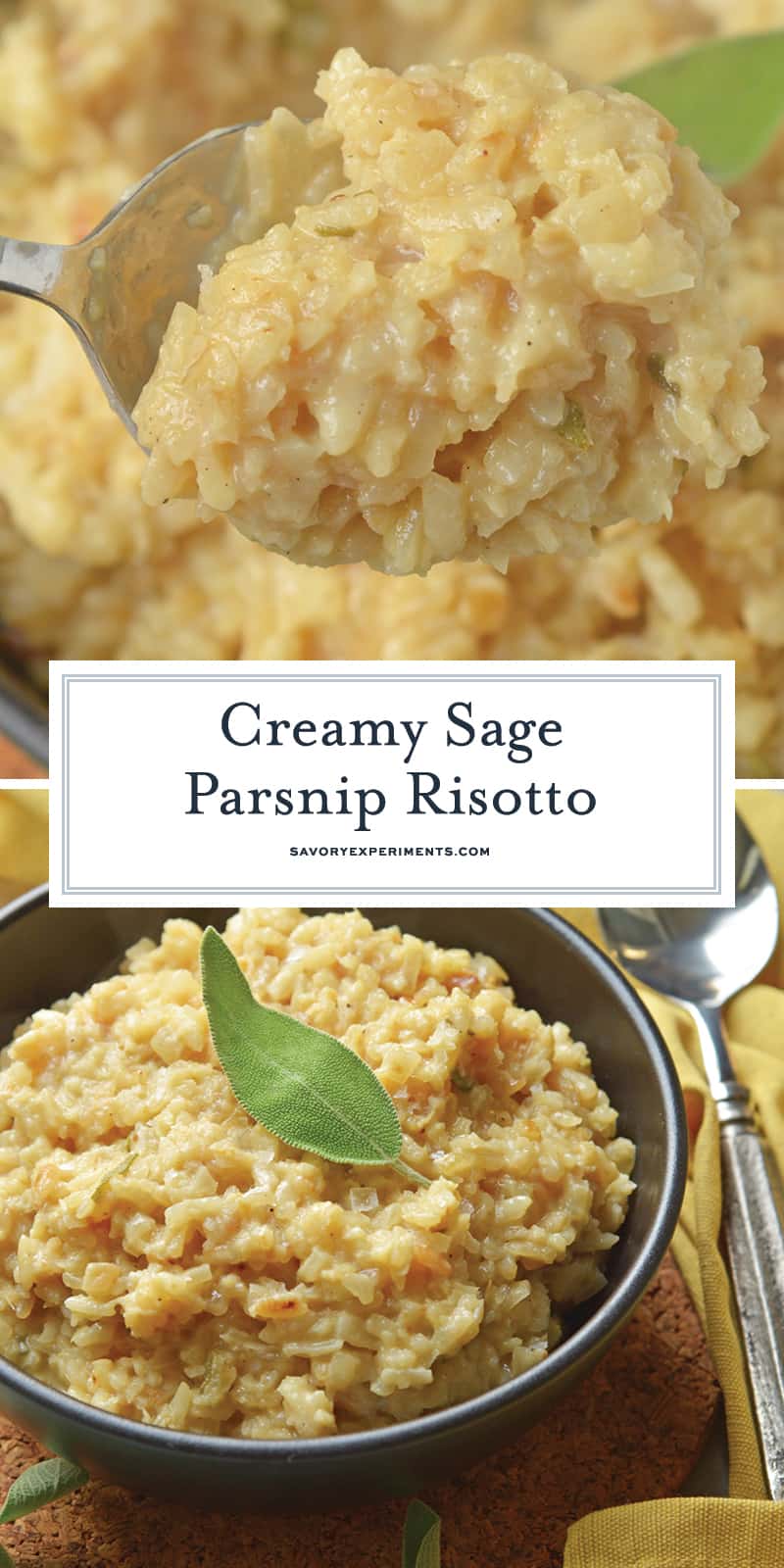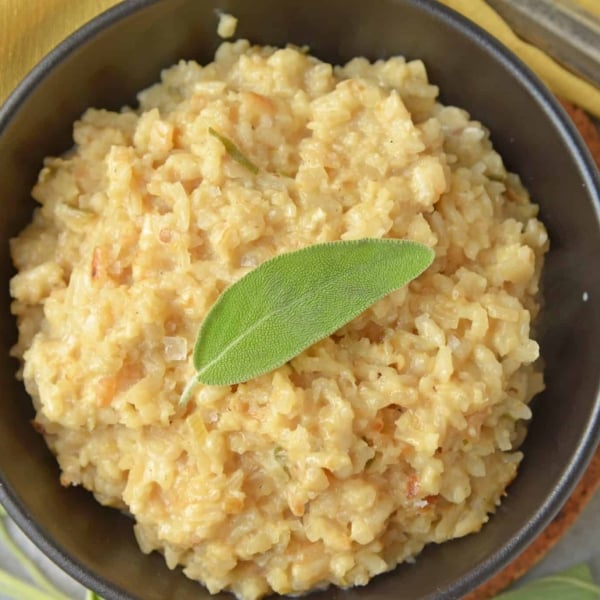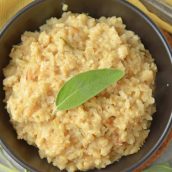 Sage Parsnip Risotto Recipe
Sage Parsnip Risotto is a vegetarian side dish bursting with flavor. A creamy risotto recipe that uses mascarpone and parmesan cheese.
Instructions
Bring stock to a low simmer in a saucepan. Keep it just warm and not come to a boil.

Meanwhile, melt butter in a large, wide and shallow skillet. Add onions, parsnips and sage. Saute for 5 minutes before adding arborio rice. Continue to saute until arborio is translucent and starts to brown.

Add white wine, cooking and stirring until it has all absorbed and evaporated. Adding the wine first will ensure that the flavor will absorb first into the rice grains.

Add one cup of broth at a time stirring between additions. Continue to add broth until it has all absorbed. Grains will be plump and a little creamy.

Stir in grated Parmesan cheese and mascarpone. Remove from heat and allow to rest for 5 minutes.

If desired, garnish with additional Parmesan cheese and mascarpone cheese.

If you've tried this recipe, come back and let us know how it was!
Nutrition
Calories:
374
kcal
,
Carbohydrates:
50
g
,
Protein:
9
g
,
Fat:
11
g
,
Saturated Fat:
6
g
,
Cholesterol:
27
mg
,
Sodium:
371
mg
,
Potassium:
442
mg
,
Fiber:
3
g
,
Sugar:
6
g
,
Vitamin A:
290
IU
,
Vitamin C:
9.2
mg
,
Calcium:
83
mg
,
Iron:
2.6
mg