Creamy Mushroom Risotto is a delicious home cooked meal that pairs nicely as a side dish with chicken, lamb, salmon, steak, or even great on its own. It's a flavorful dish that your whole family will enjoy!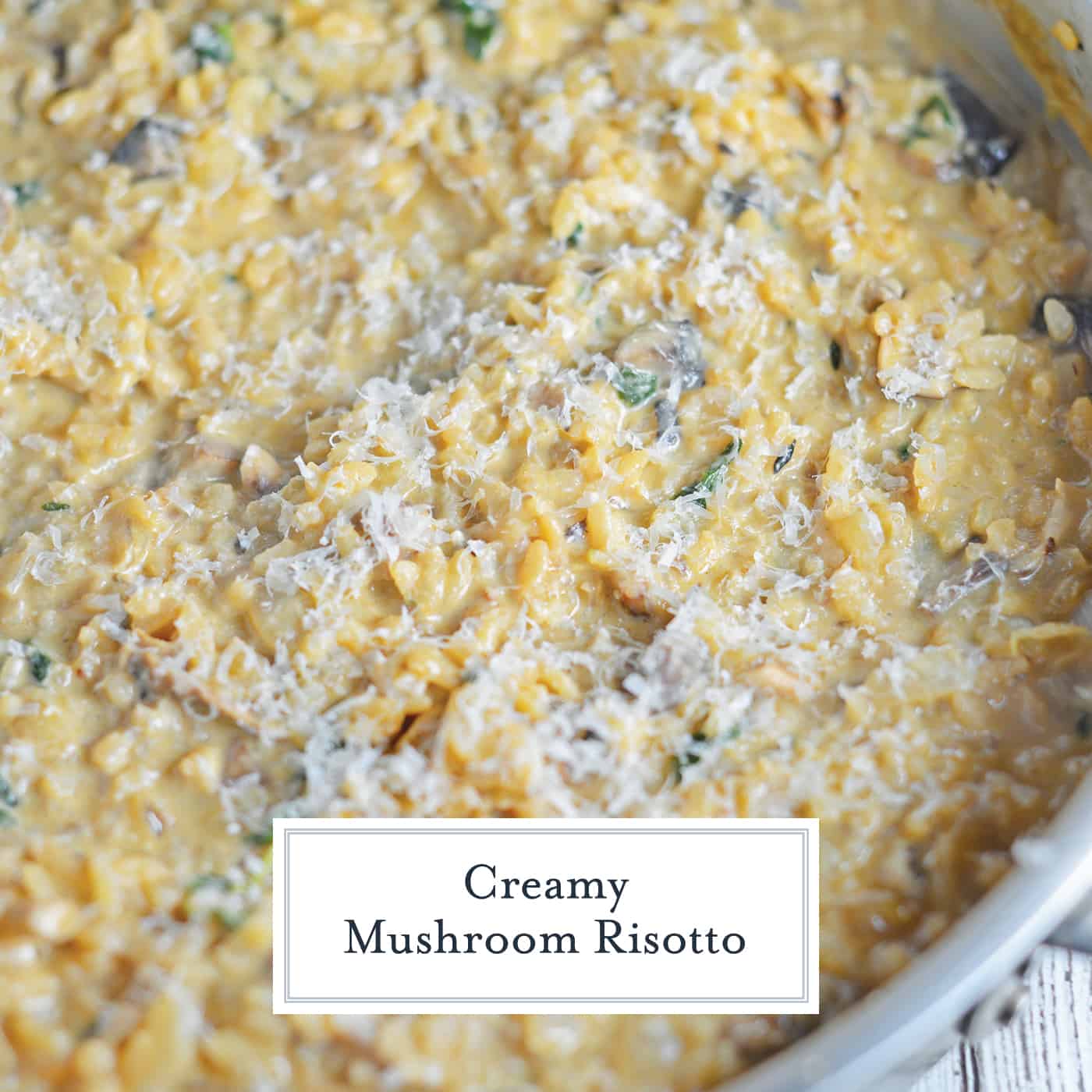 This Creamy Mushroom Risotto Recipe shows you how to make easy risotto. Mushroom risotto is a creamy and lavish dish loaded with flavor!
Risotto might be one of my favorite dishes of all time. If I see it on a menu, I automatically know what I am ordering. A true comfort food, risotto is also very versatile and can be creamy and rich without using high calorie ingredients or dairy products, making it ideal for vegetarian and vegan entrees.
Creamy Mushroom Risotto is my #1 favorite risotto recipe. I've never had a bad review and make it at least once a month because it goes with nearly everything!
Italian Risotto
What is Risotto?
Risotto is an Italian dish made from a special type of rice called arborio
. This short-grained rice is also used in rice pudding. These grains have a higher starch content, resulting in a firm grain (al dente) when cooked.
It can also absorb a lot more liquid than average rice and therefore a lot more flavor. It is also unique in the starches that cook off result in a creamy, gravy-like sauce without using any cream. One of my favorite varieties is mushroom.
I use a variety of three mushrooms, all that add their own flavor, texture and size. The end result is woody, creamy perfection. You can choose to use just one or none and still get rich flavor. You can even use more if it floats your boat!
One thing you should do before starting Creamy Mushroom Risotto, make sure you read my tips on making perfect risotto.
More risotto recipes: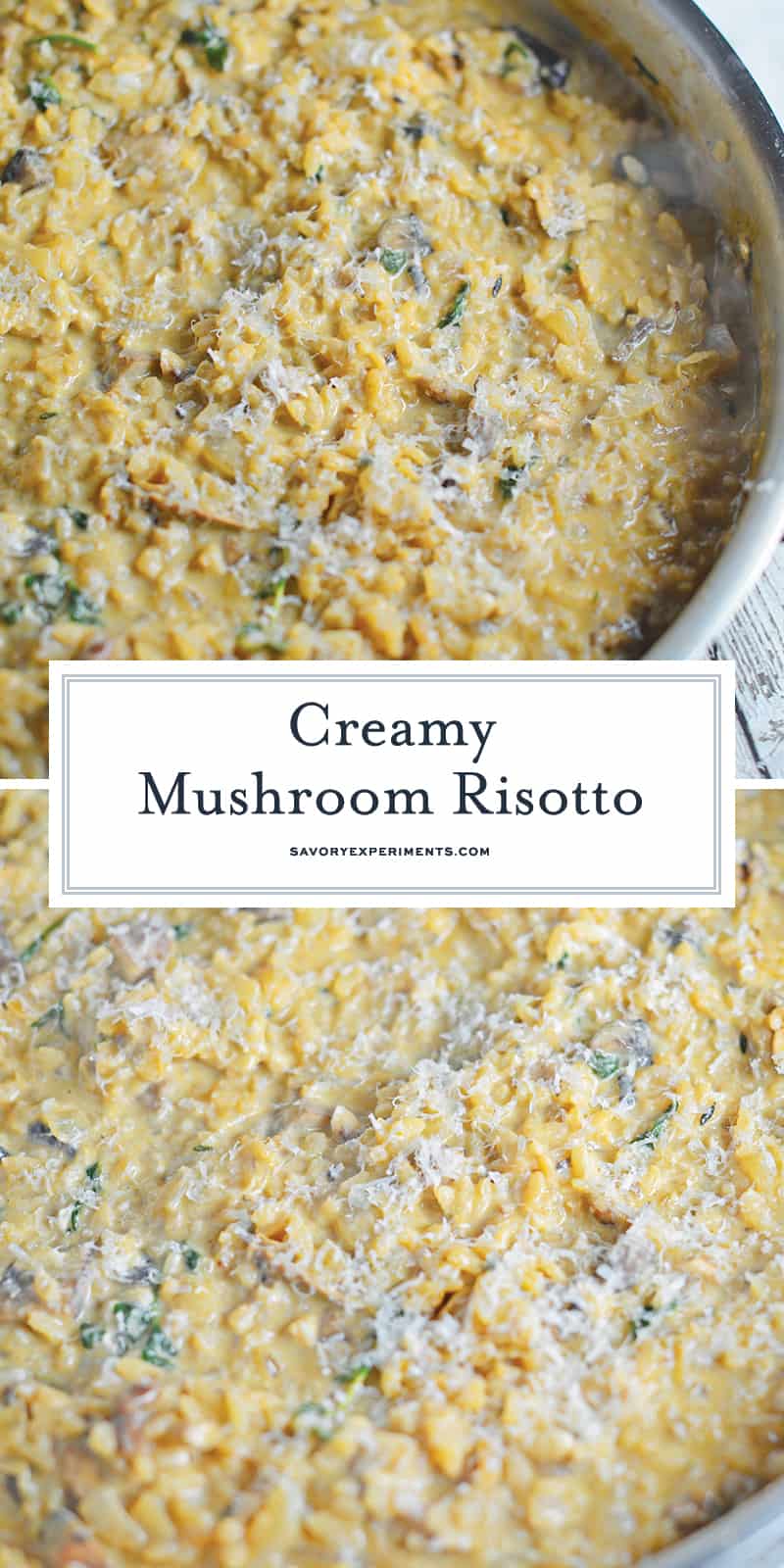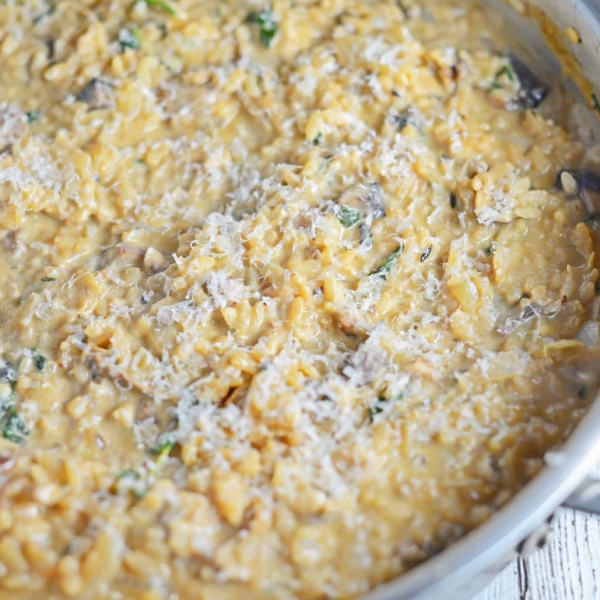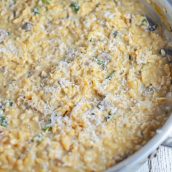 Creamy Mushroom Risotto Recipe
This Creamy Mushroom Risotto Recipe shows you how to make easy risotto. Mushroom risotto is a creamy and lavish dish loaded with flavor!
Ingredients
8

ounces

portabella mushrooms

, thinly sliced (two large heads)

3.5

ounces

shiitake mushrooms

, sliced lengthwise, 7-8

1

ounce

dried porcini mushrooms

, whole, pre-packaged

4

tablespoons

sbutter

, divided

3

tablespoons

extra virgin olive oil

, divided

7

cups

vegetable or chicken broth

1

large shallot

, minced

1

small white onion

, chopped, divided

2

teaspoons

dried thyme leaves

2

tablespoons

flat leaf parsley

, chopped

1 1/2

cups

arborio rice

1/2

cup

white wine

1/2

cup

parmesan cheese

, extra for topping
Instructions
Start by preparing your mushrooms. Mushrooms can hold dirt and grit in a multitude of places. Rinse each mushroom well and wipe with a dampened paper towel. Cut off any dry, hardened ends. Set aside. In the microwave, heat 1 cup of water with one packet of concentrated vegetable broth in a medium bowl. Reconstitute dried porcini mushrooms until doubled in size. Drain and discard remaining liquid.

In a large, high topped skillet melt 2 tablespoons butter and 1 tablespoon extra virgin olive oil. Saute shallot and 1/2 of onion until translucent, approximately 5 minutes. Add all three types of mushrooms, bay leaves, dried thyme and parsley. Saute for an additional 3-5 minutes or until mushrooms have reduced in size by half; they will still be taunt, but not mushy. Season lightly with salt and pepper. Remove from skillet and set aside.

In the same large skillet without rinsing, melt remaining 2 tablespoons extra virgin olive oil and 2 tablespoons butter. At the same time, bring the remaining 6 cups of water, combined with 6 packets of concentrated vegetable broth to a simmer over low heat in a separate sauce pan.

Add arborio rice and remaining half of the onion to the large skillet with melted butter and olive oil. Stir over medium heat until the rice is uniformly lightly browned, approximately 5-7 minutes.

Stir in white wine until evaporated. Ladle in one cup of simmering broth and stir. Cook until absorbed. Continue to add 1 cup of simmering broth at a time, waiting until it is absorbed before adding the next, until all broth is gone. This process takes about 20-25 minutes.

Return mushroom mixture to the rice in the skillet. Heat for 2-3 minutes. Stir in 1/2 cup finely shredded Parmesan cheese.

Serve while warm. Top with additional Parmesan cheese if desired. Enjoy!

If you've tried this recipe, come back to let us know how it went.
Nutrition
Calories:
409
kcal
,
Carbohydrates:
50
g
,
Protein:
9
g
,
Fat:
17
g
,
Saturated Fat:
7
g
,
Cholesterol:
25
mg
,
Sodium:
1212
mg
,
Potassium:
587
mg
,
Fiber:
3
g
,
Sugar:
2
g
,
Vitamin A:
410
IU
,
Vitamin C:
22.9
mg
,
Calcium:
125
mg
,
Iron:
3.3
mg