Are you looking for an easy yet flavorful side dish for dinner tonight? Chock full of delicious herbs like oregano, parsley and thyme, these Garlic Herb Sauteed Mushrooms will become your new favorite!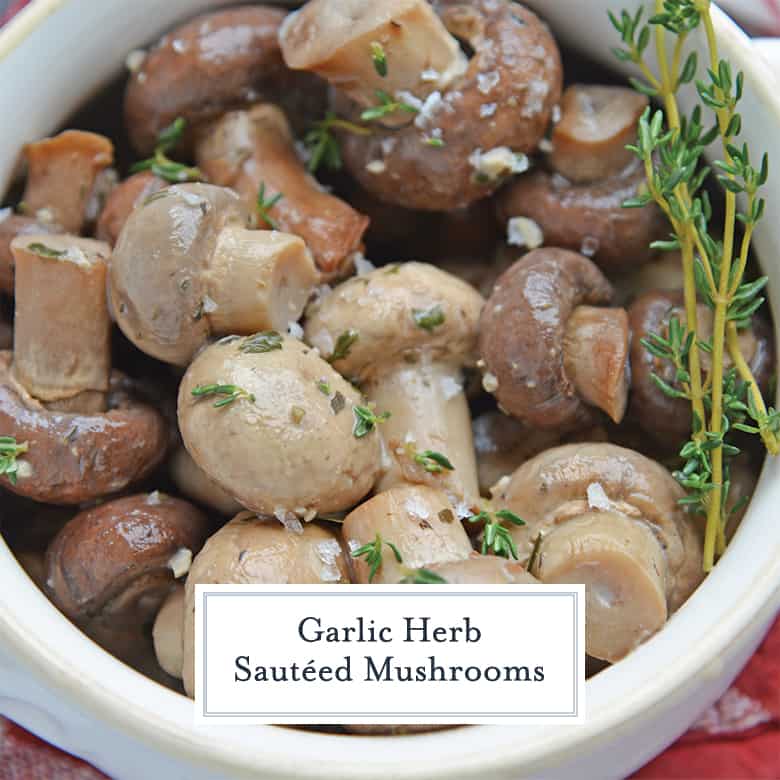 If you've ever wondered how to saute mushrooms, I've got the perfect mushroom side dish for you! These Garlic Herb Sauteed Mushrooms are super flavorful and ready in only 20 minutes.
Call them strange, but my family actually loves mushrooms, so I am always looking for new mushroom side dish recipes. I came across a creamy mushroom recipe a few years back and it has since evolved.
The original recipe for these Garlic Herb Sauteed Mushrooms was made in a slow cooker, but honestly, it is quicker to just cook mushrooms on the stove top; so the slow cooker version soon got nixed as the preferred preparation method.
The original recipe also used dried herbs. While this is fine in a punch, because I wasn't slow cooking, the broth didn't have enough time to really infuse with herb flavor using dried.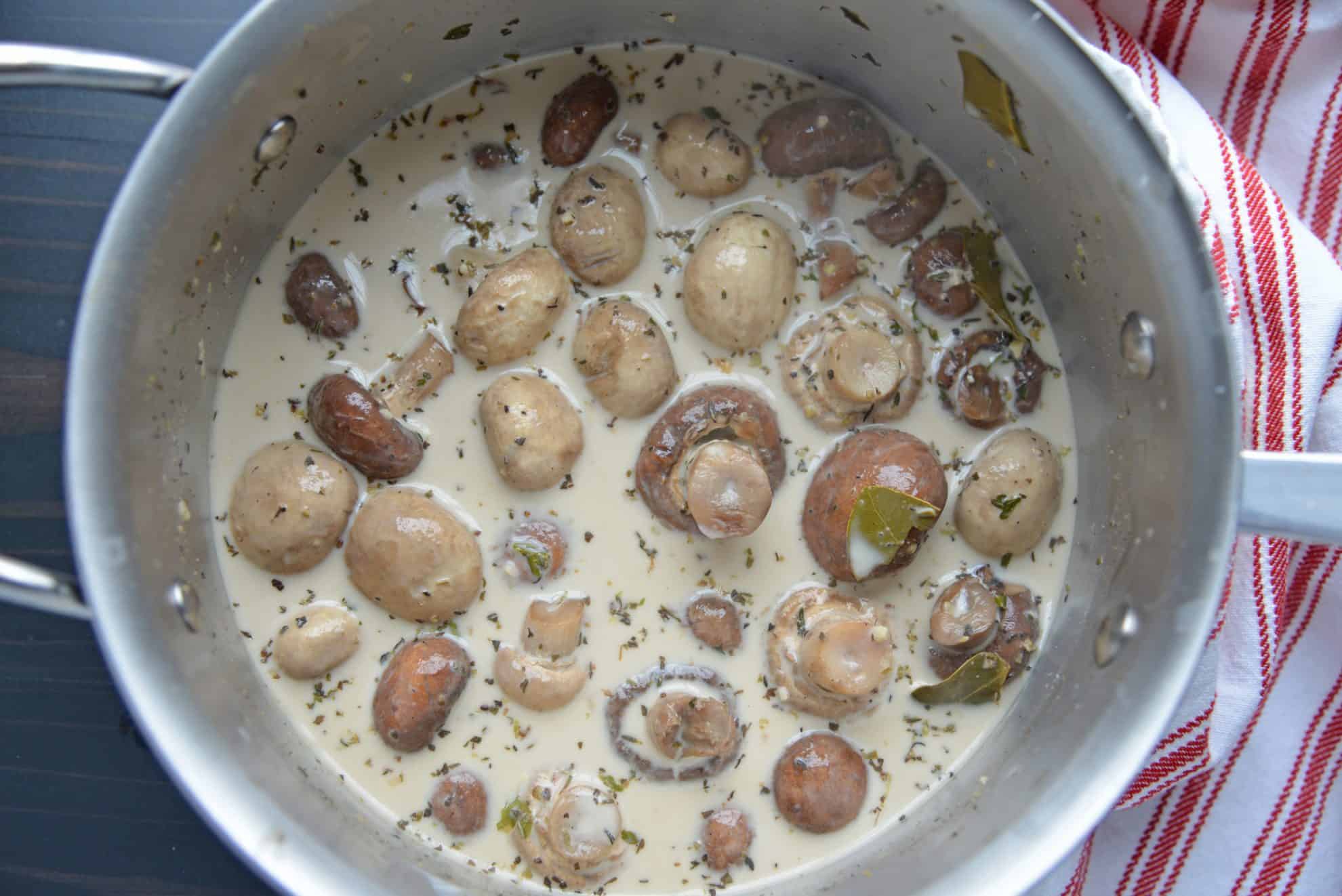 I use fresh whenever possible, but if not, the conversion for fresh herbs to dried herbs is 1 tablespoon fresh to 1 teaspoon dried. For either fresh or dry herbs, rub them together between the palms of your hands to release aromatic oils and help them release flavor faster.
White button mushrooms are the most common mushroom used in recipes, but I like to add a mix to vary in flavor and texture. I didn't get crazy adding shiitakes and oyster mushrooms, but I do use a blend of white button mushrooms and cremini mushrooms.
Mushrooms are not only the centerpiece of the Garlic Herb Sauteed Mushroom recipe, but the water and flavor released from simmering mushrooms will season the cream sauce as well.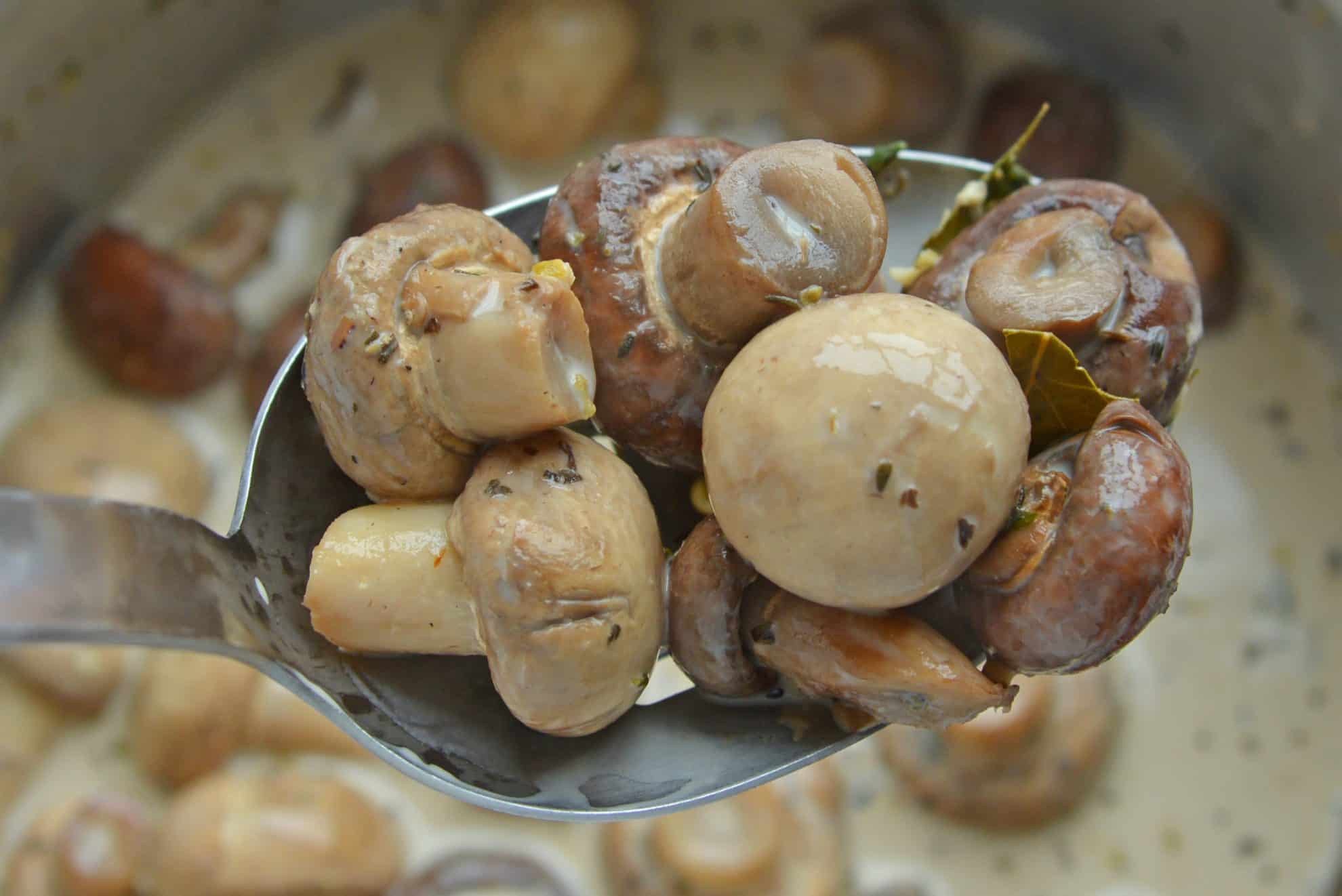 Fresh garlic is always preferred to the pre-minced bottled version. If you've never tasted the difference, do yourself a favor and check it out. The difference is quite notable.
Fresh garlic tastes like, well, garlic. While the pre-minced stuff is almost sweet and has a different texture.
If you want to use fancy mushrooms like shiitake, oyster, morals or porcinis, please do! Using a blend of mushrooms types is also fun to vary flavor, size and texture.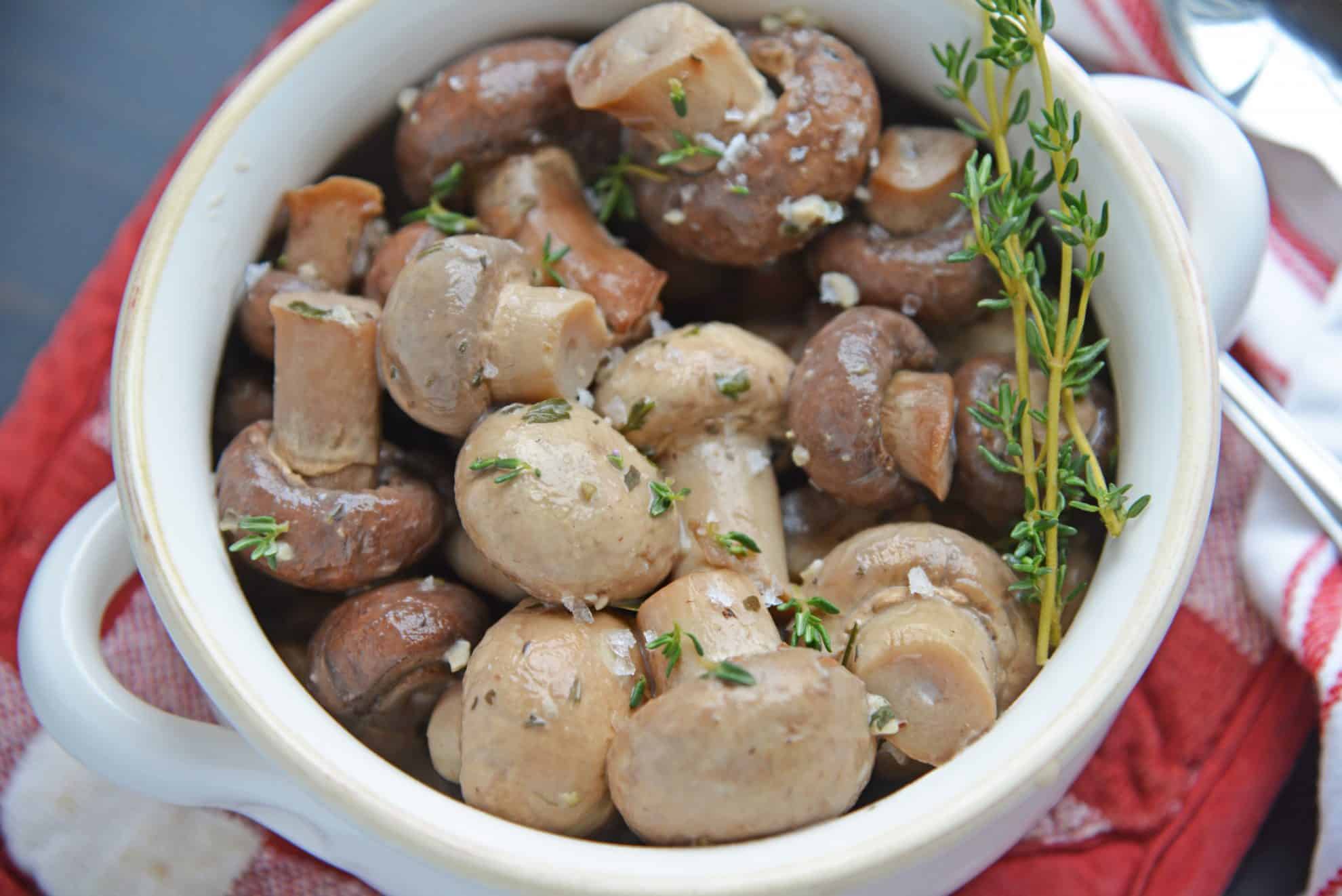 In fact, according to Nutrition Advance in this article, shiitake mushrooms offer many health benefits. These benefits include: boosting the immune system, providing a source of Vitamin D, helping with weight loss results, and many more!
So now back to these Garlic Herb Sauteed Mushrooms!
Just like with any produce you buy, make sure to wash your mushrooms before cooking. Wait until right before you're ready to cook them to wash; washing the mushrooms ahead of time may cause them to become slimy, as they retain a small amount of water.
The easiest way to wash them is to put them in a strainer and spray with your kitchen sink sprayer. Or you could just as easily leave them in a strainer and run water over them from the faucet.
After washing, keep the mushrooms whole and add ten to a large saucepan along with your herbs and broth. Bring them to a simmer, and allow to simmer for about ten minutes (or until they are easily pierced with a fork.)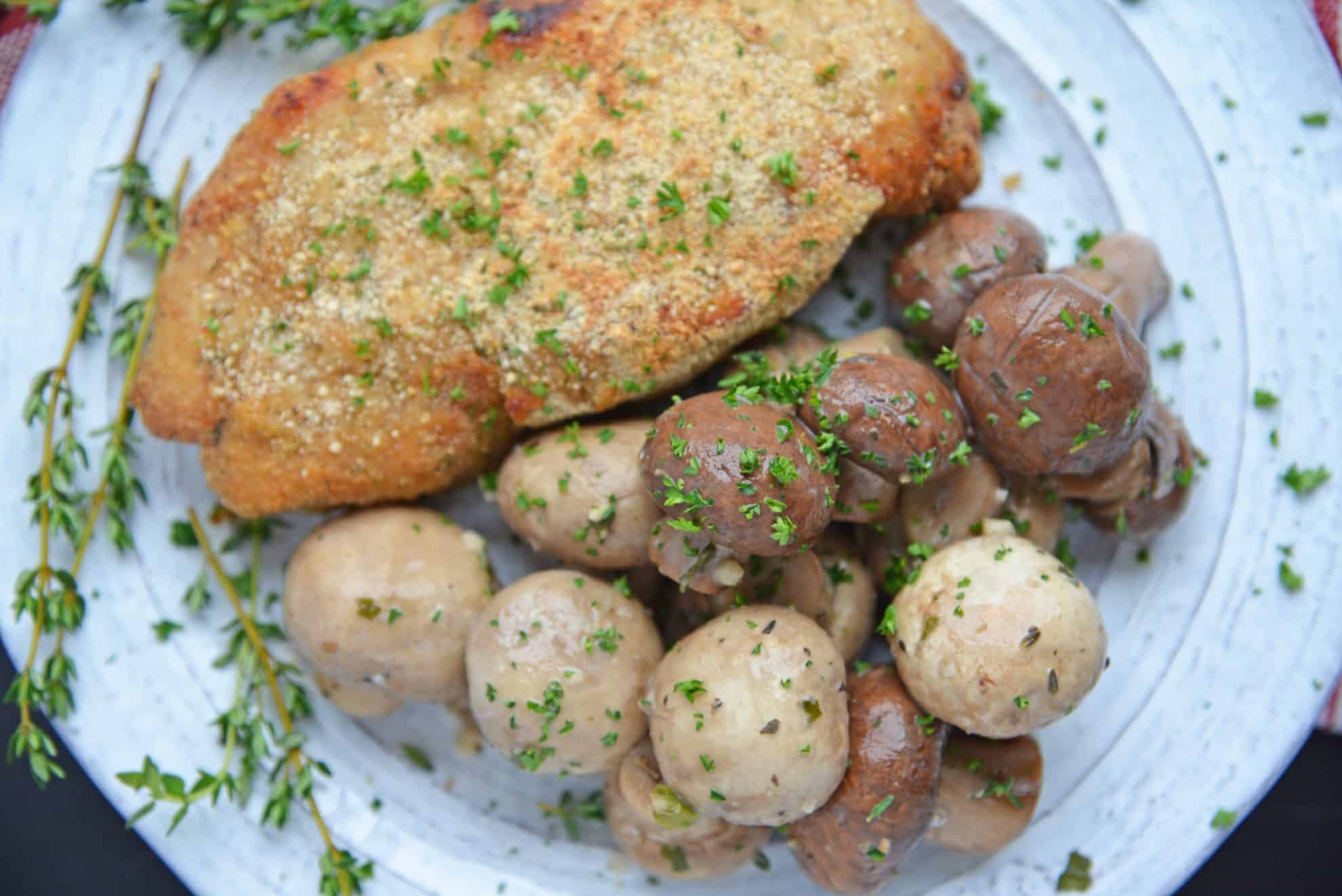 Make sure to cook the mushrooms to a nice golden brown. The key is to cook over medium high heat, and to not rush! It takes a little bit of patience to achieve the golden brown color, but it's totally worth it.
Once the mushrooms reach that golden brown color and tenderness, add heavy cream, salt and pepper to the saucepan, stirring well. After the cream is heated through, remove a couple tablespoons of liquid and mix it with cornstarch.
When you add the cornstarch and cream mixture back into the mushrooms, the cornstarch will allow the whole dish to thicken slightly.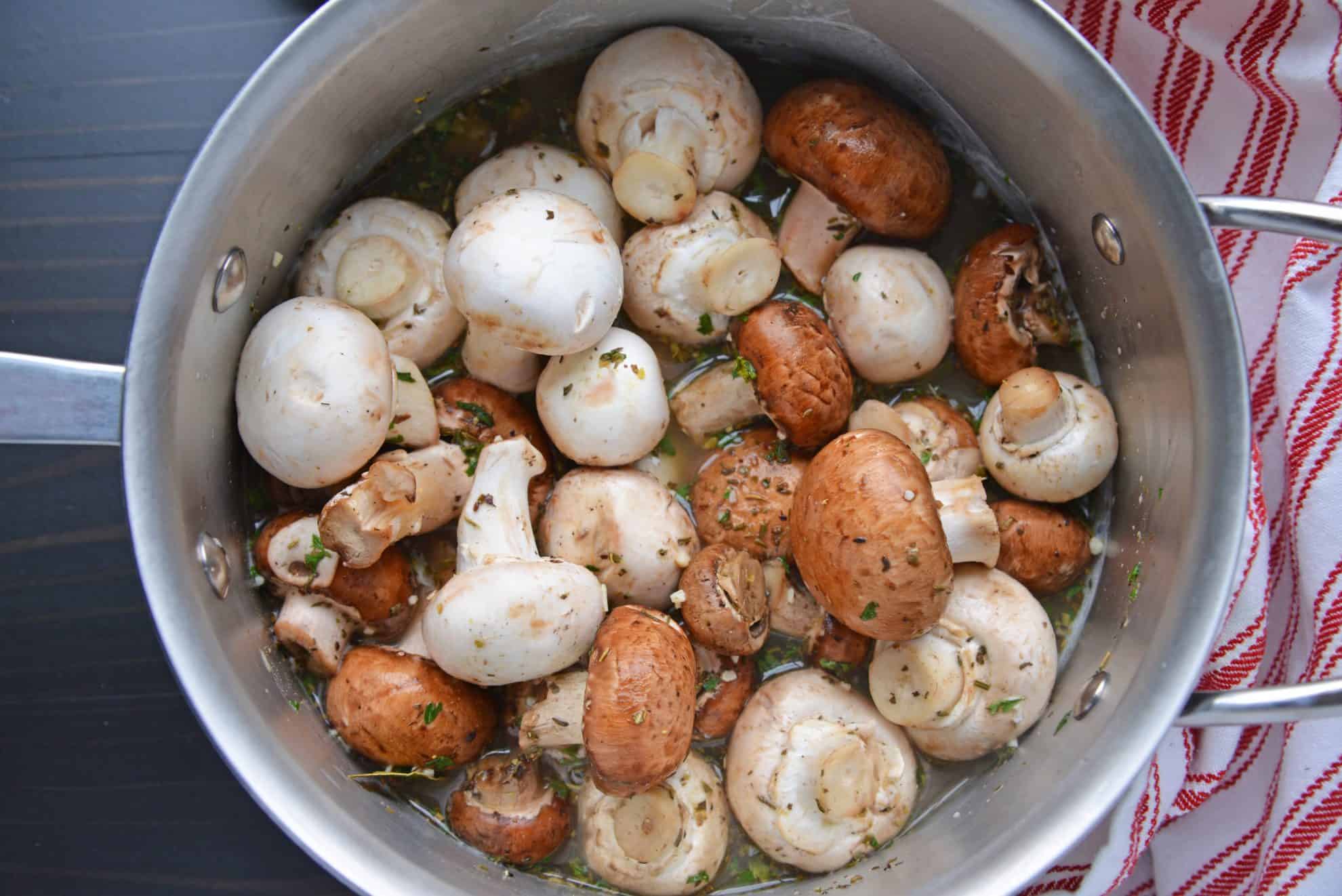 And that's it! Super easy, right? Mushroom dishes really don't get much easier than these Garlic Herb Sauteed Mushrooms.
These mushrooms are a great side dish to ANY meal, but pair particularly well with chicken breasts, or over a nice steak. I assure you, this is one of the best mushroom recipes!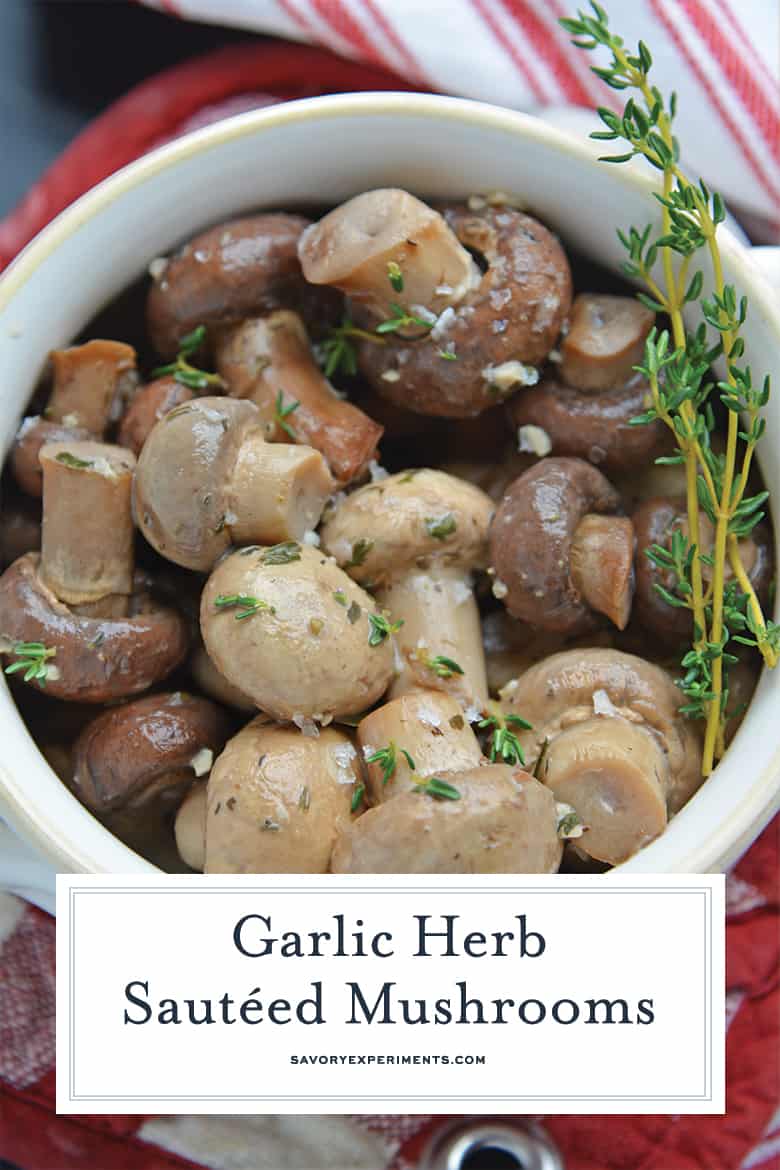 Check out these other easy side dish recipes: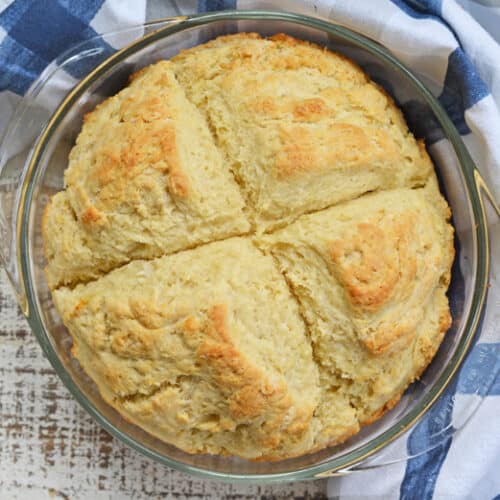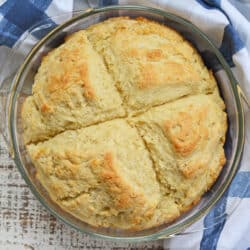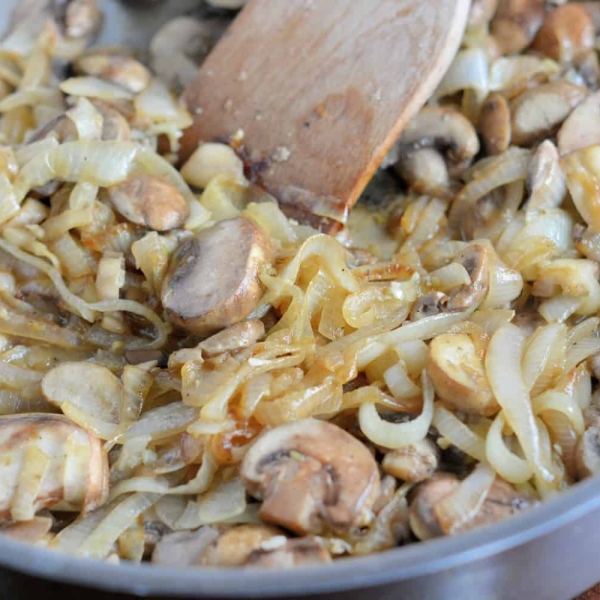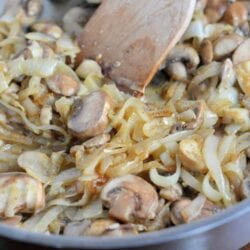 Tools for making Garlic Herb Sauteed Mushrooms:
Wood cutting board – wood won't dull your knives like plastic and if treated properly, has natural antimicrobial properties.
Good knife – Global is my favorite! They are worth the price, I promise. I am kind of obsessed with them and store them tucked away so no one else can use them. Including hubby. Hands off my good stuff!
Heavy Bottom Sauce Pan– this will be one of your most used kitchen tools. Having something that is heavy bottom will distribute heat better and prevent burning whether you are using an electric or gas range.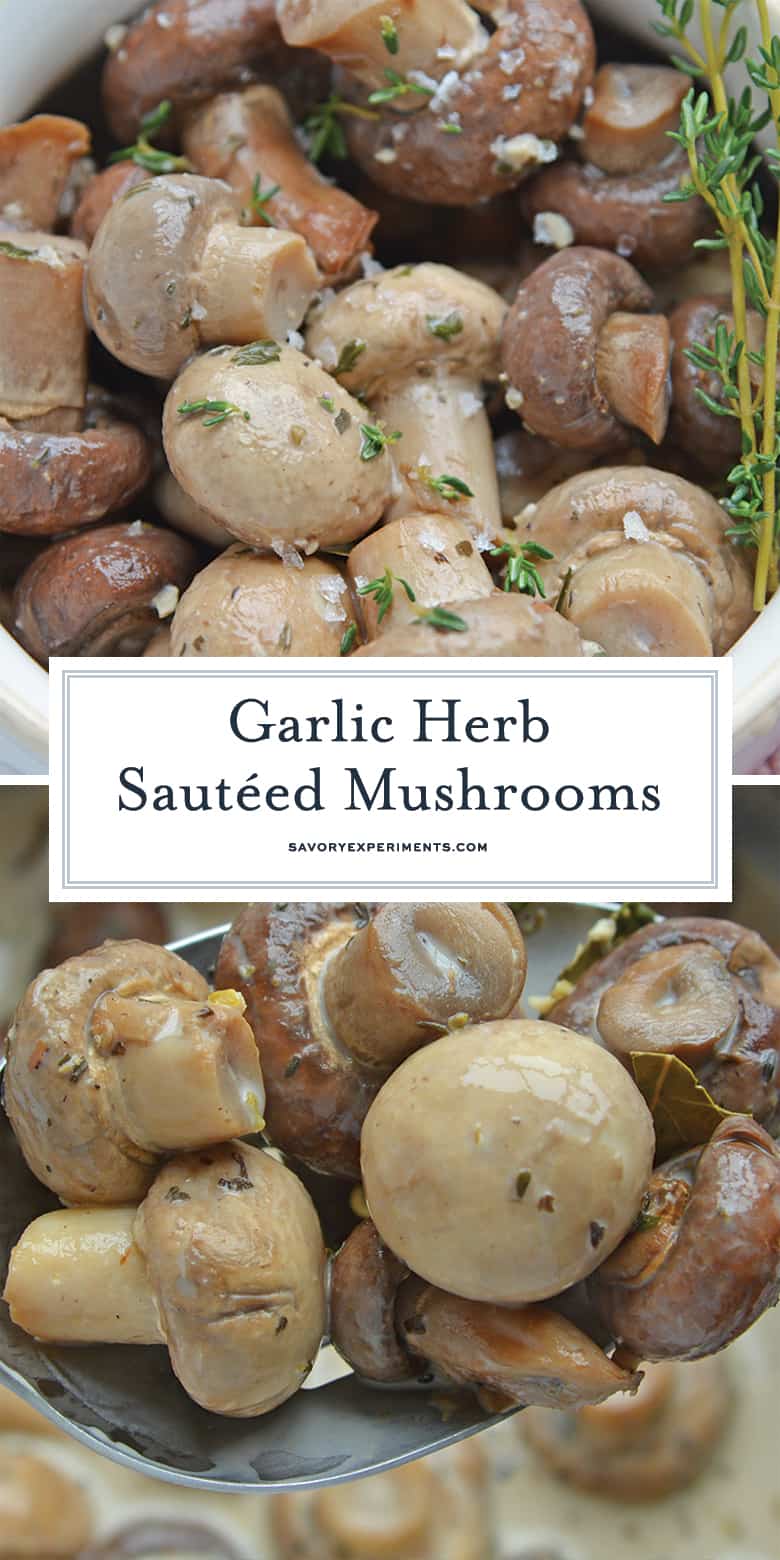 Questions you might have about how to saute mushrooms:
Can I used sliced mushrooms? You can use this sauce sauteed mushroom recipe for sliced mushrooms, but the cooking time will be cut by about half because the pieces are smaller.
What types of mushrooms can I use? For a dish like this you can stick to run-of-the-mill mushrooms. White mushrooms, button mushrooms and cremini mushrooms are the most popular.
Can sauteed mushrooms be reheated? If sealed in an airtight container and stored in the refrigerator, you can certainly reheat them the next day. However, I don't recommend keeping them longer than 24 hours.
What goes well with sauteed mushrooms? We like to serve our mushrooms as a side with just about anything, but they go exceptionally well any chicken dish, or even on top of a nice steak.
When to season sauteed mushrooms? I add mushrooms, herbs and broth to the pan all at the same time. After simmering for about 10 minutes, I then add in the heavy cream and salt and pepper to taste.
When are sauteed mushrooms done? When you can easily pierce the mushrooms with a fork, and they are lightly golden brown, your mushrooms are finished!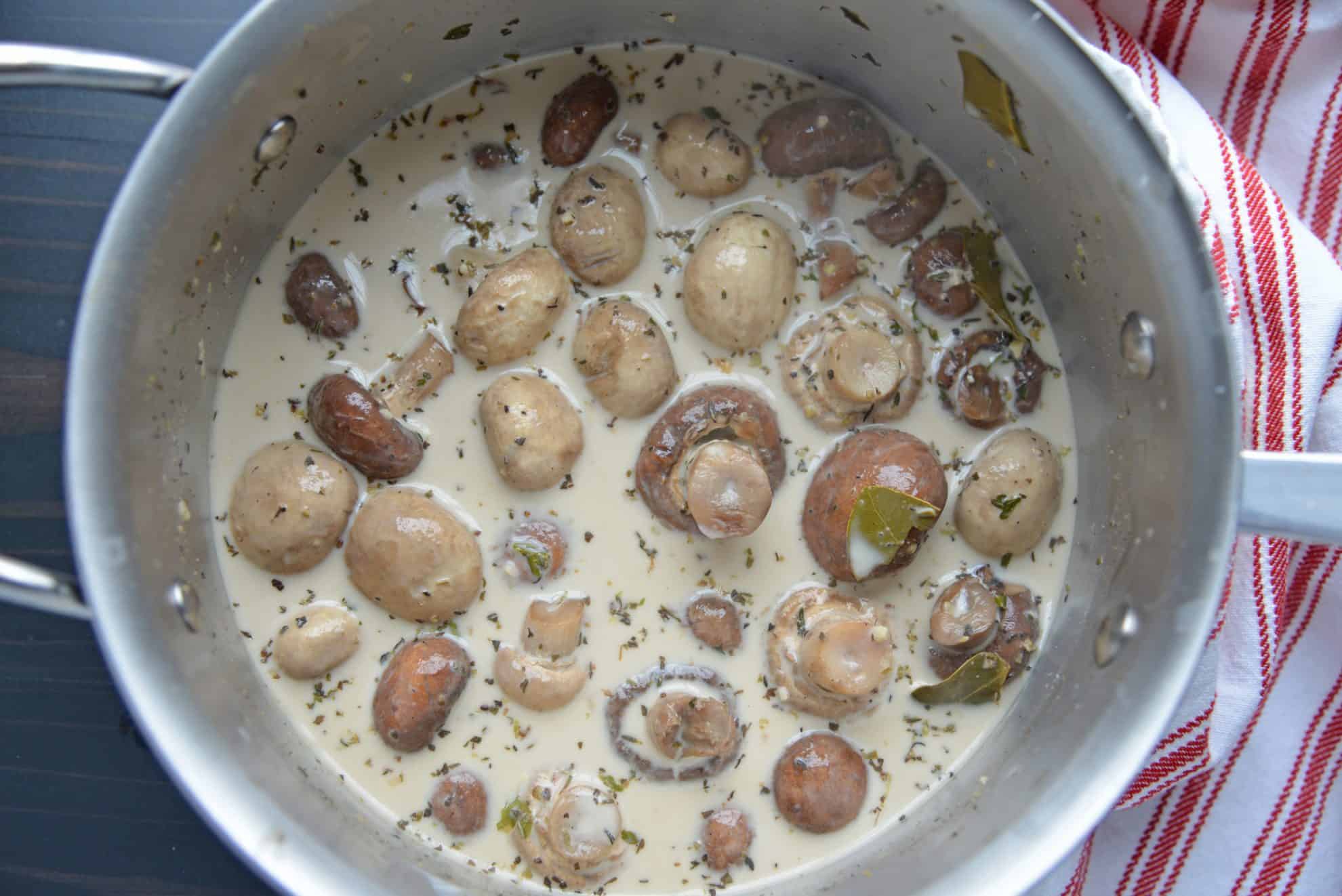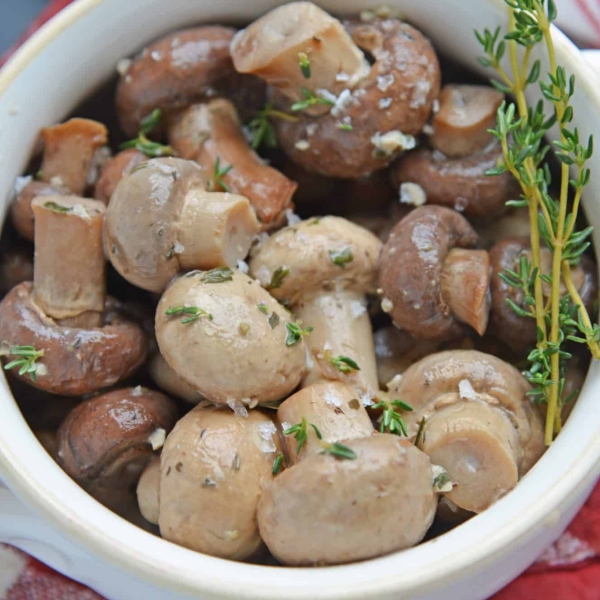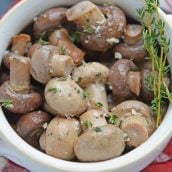 Garlic Herb Sauteed Mushrooms
If you've ever wondered how to saute mushrooms, this easy Garlic Herb Sauteed Mushrooms recipe makes for a delicious mushroom side dish for any meal!
Instructions
In a large saucepan, combine cleaned whole mushrooms with fresh minced herbs and vegetable or chicken broth. Bring to a low simmer.

Simmer until mushrooms start to soften and cook down. When they are easily pierced with a fork, approximately 10 minutes.

Add heavy cream, Kosher salt and ground black pepper, stirring well.

Remove approximately 2 tablespoons of the mushrooms sauce and whisk well with cornstarch or arrowroot.

Return to the mix, stirring until sauce starts to thicken.

Serve immediately.

If you've tried this recipe, come back and let us know how it was!
Notes
If using dry herbs, use 1 teaspoon of dry oregano, parsley and thyme.
Nutrition
Calories:
138
kcal
,
Carbohydrates:
7
g
,
Protein:
5
g
,
Fat:
12
g
,
Saturated Fat:
7
g
,
Cholesterol:
41
mg
,
Sodium:
717
mg
,
Potassium:
418
mg
,
Fiber:
2
g
,
Sugar:
3
g
,
Vitamin A:
690
IU
,
Vitamin C:
7.2
mg
,
Calcium:
54
mg
,
Iron:
1.4
mg