If you have been looking for the best mix of sugar cookies + pumpkin pie, these pumpkin cookies are your answer. They will satisfy all of your pumpkin spice cravings in one soft sugar cookie.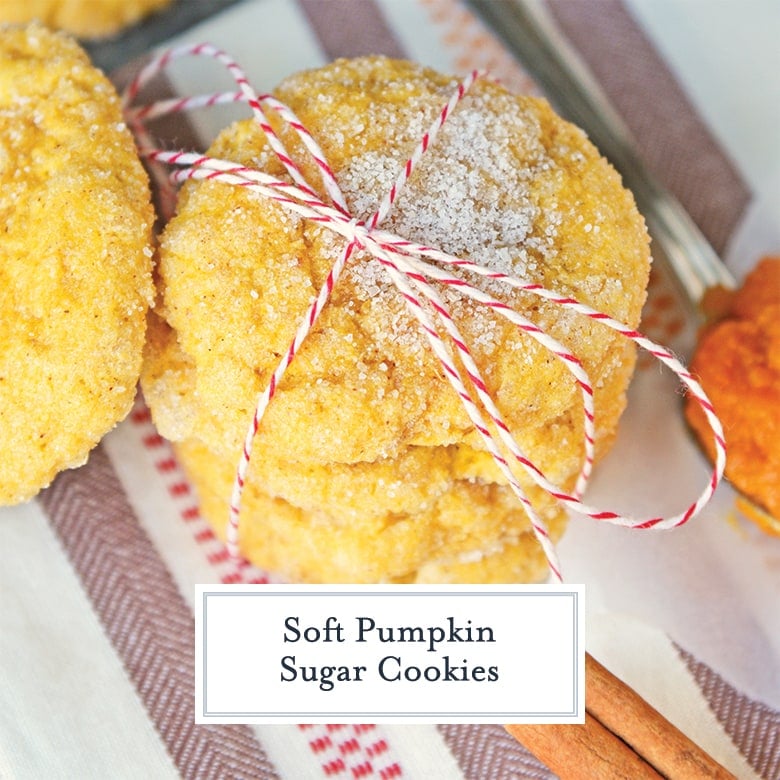 Pumpkin Spice Everything
Tis the season for everything pumpkin spice and I have one BIG gripe with the whole business. People assume that pumpkin spice means pumpkin and they are NOT the same thing.
The spice mix is a simple blend of cinnamon, allspice, ginger, cloves and nutmeg. Flavors and aromas that make you want to cuddle up by the fire and read a book. But the spice does not mean that pumpkin has anything to do with it.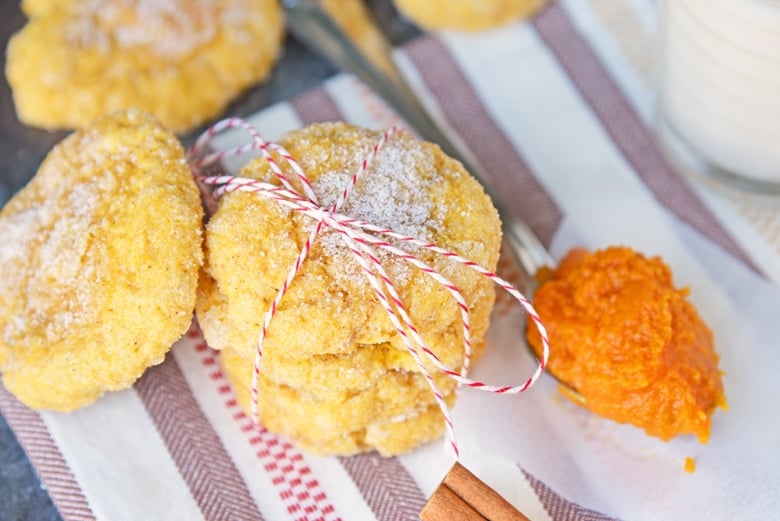 Pumpkin Cookies
I have a few recipes that use the iconic pumpkin pie spice blend without coveted pumpkin, but not many. And that is why I didn't just simply add the seasoning to plain sugar cookies.
Nope, I made a pumpkin cookie first and then added the seasoning to really brighten those flavors. In case you didn't know, plain pumpkin puree is actually pretty bland.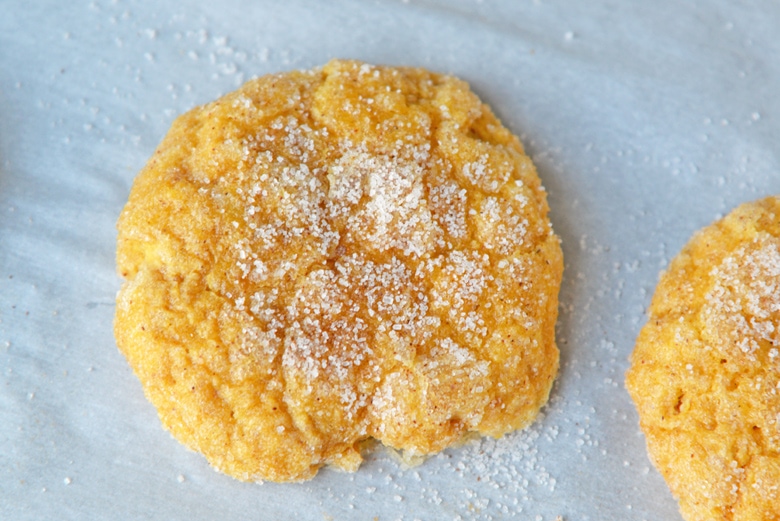 But is does help to make the softest cookies ever! Cookies that taste like a dainty little pumpkin pie.
Ingredients
The list is pretty standard as far as cookies go with the exception of the puree and spice blend. Feel free to use store bought or easily make your own.
Flour– Provides structure to your cookies.
Baking powder– A leavening agent.
Kosher salt- Brightens other flavors, use a coarse salt and never iodized, which can lead to cookies tasting metallic.
Pumpkin pie spice– Adds that classic fall aroma and taste!
Unsalted butter– You can use salted but omit additional salt
Sugar– These are sugar cookies.
Light brown sugar– Adds a bit of molasses flavor.
Egg- Creates structure and stability.
Pumpkin puree– Adds flavor, moisture and color.
Vanilla extract- Adds flavor. You can also substitute almond.
Topping: Sugar, spice and everything nice!
How to Make Pumpkin Cookies
This process is also pretty standard, but I have a few tips for making the softest, fluffiest and best cookies ever.
First, don't skip on sifting together your dry ingredients. This helps them distribute evenly so you don't end up with a single pocket of salt or one cookie that seems to bake higher than the others. It also prevents you from overmixing.
Second, whip the butter and whip it good! Whipping butter introduces air to make them light and fluffy, but overmixing after you've creamed together the sugar and butter can make your cookies dry, so do it in the beginning.
Add vanilla and pumpkin for a smooth batter.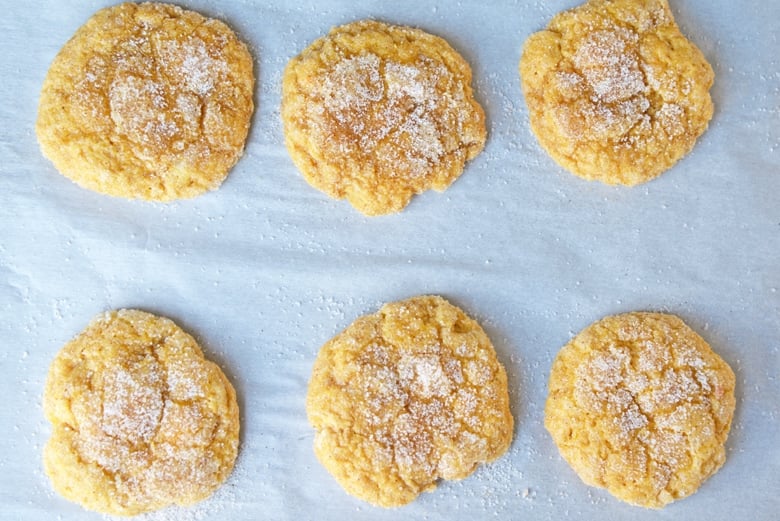 Add the rest of the dry ingredients, being careful to not over blend.
Chill for a few hours so the dough isn't too loose when baking. If it is too warm, the cookies will fall to little flat pancakes. Keep dough in the fridge between rolling.
Roll dough into balls- not too small and not too big- and then roll in the sugar spice mix like you would for Snickerdoodles. I like to line my insulated baking sheets with parchment paper to prevent sticking and for easy clean up.
Soft Cookies
Bake and remove right before they look done. Tops will crack slightly and look a little shiny. Do not wait until you see browning on the bottom. Overcooking is the #1 reason for dry cookies.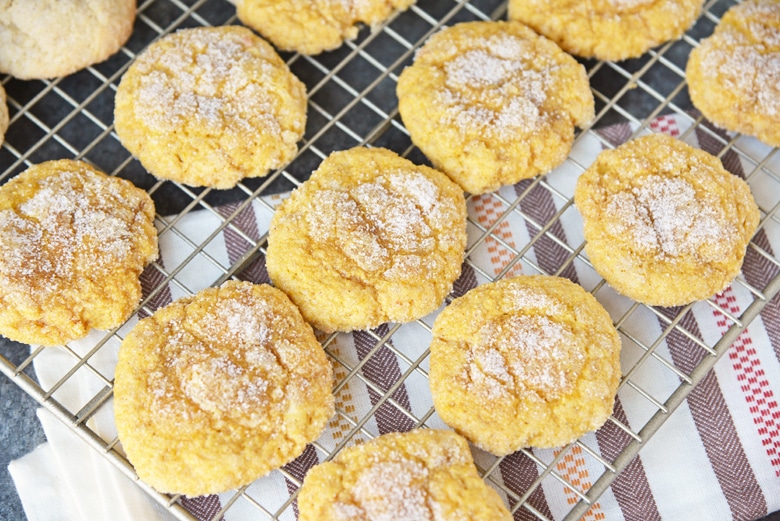 Allow to cool on the baking sheet for 2-3 minutes just so they harden slightly and then remove them to a wire rack. This allows them cool evenly. Leaving them on a hot cookie sheet will continue cooking until the cookie sheet cools, which can be quite a while.
Vibrant orange and tasting just like pumpkin pie, serve with vanilla ice cream or make into cookie sandwiches with a little vanilla whipped cream!
Glaze or Not To Glaze
A lot of pumpkin cookies use a glaze but I don't find it necessary. Should you want one, omit the sugar and spice rolling and just bake the balls.
Whisk together 3 cups powdered sugar with 3 tablespoons milk and 1/4 teaspoon pumpkin pie spice. Drizzle over cooled cookies and allow to set.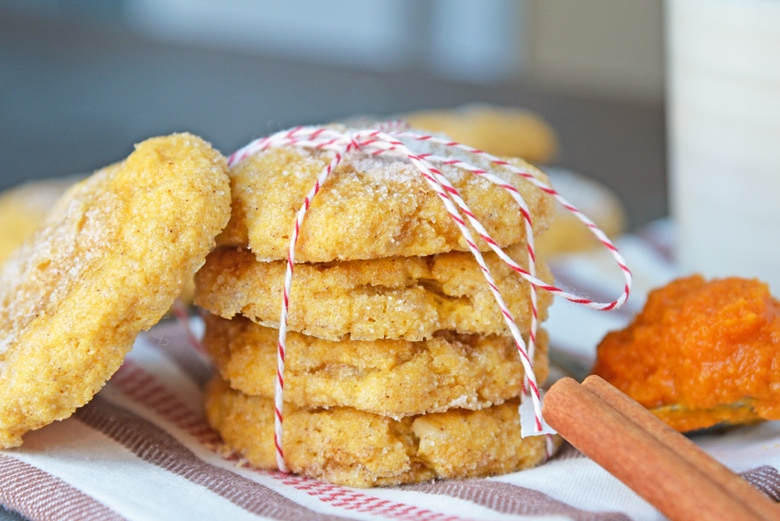 These cookies also taste great with a nice cream cheese frosting.
Storage & Freezing
Store pumpkin sugar cookies at room temperature in an airtight container. Like most cookies, they are best within 1-2 days of baking, but will be good for up to 7.
After 2 days, try microwaving them for 10 seconds to reheat the butter and make them soft again.
These cookies are freezer friendly up to 3 months. Defrost at room temperature.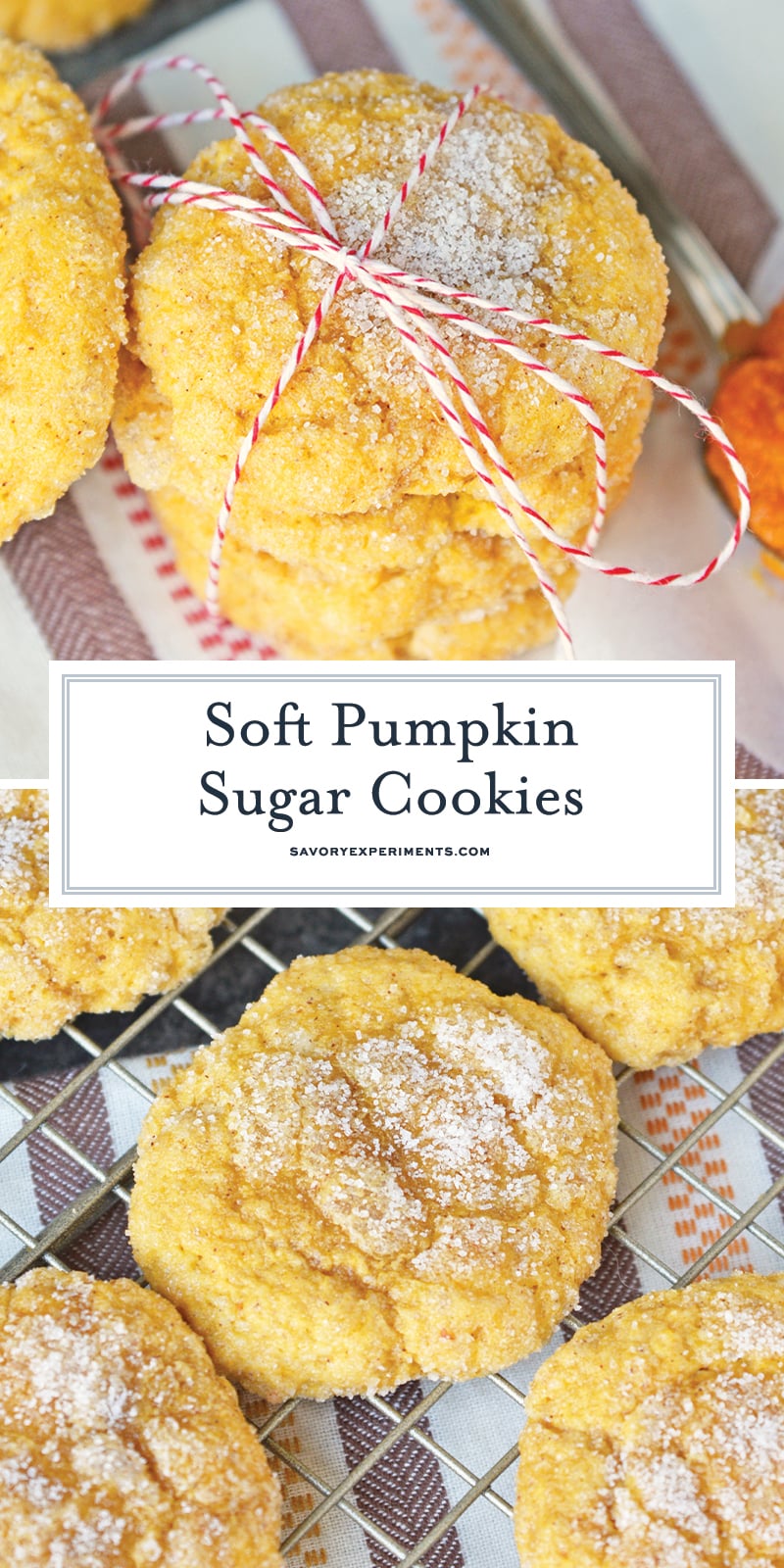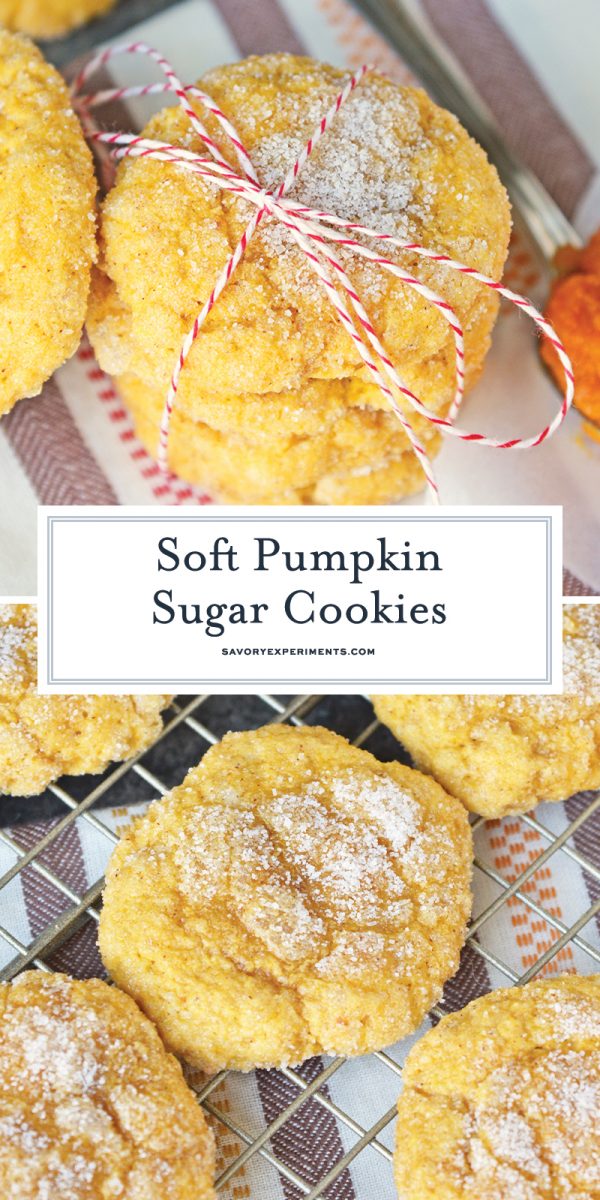 Tools:
Insulated Cookie Sheet– Insulated cookie sheets allow hot air to circulate around the entire cookie, resulting in even baking.
Stand Mixer- While this is an investment, I can guarantee you will use it more than you realize and will never regret the decision.
Measuring Utensils– While I like to eyeball it, most folks prefer to measure. Suit yourself 🙂