These Pumpkin Waffles are full of real pumpkin flavor and are so easy to make. Only 20 minutes from start to finish!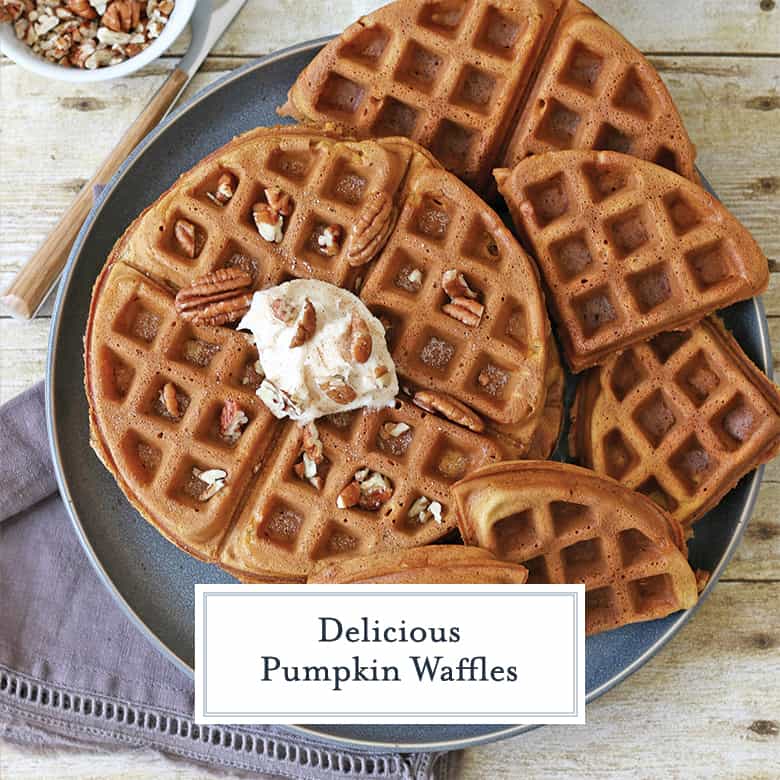 Pumpkin Waffle Recipe
Fall is here and that means we get to make our favorite pumpkin things and everything pumpkin spice. Although we have many, one of our absolute favorite pumpkin recipes are these Pumpkin Waffles!
You've heard of pumpkin spice, but have you ever had actual Pumpkin Waffles? These are different because they don't just use the famous spice mix, they use actual, REAL PUMPKIN!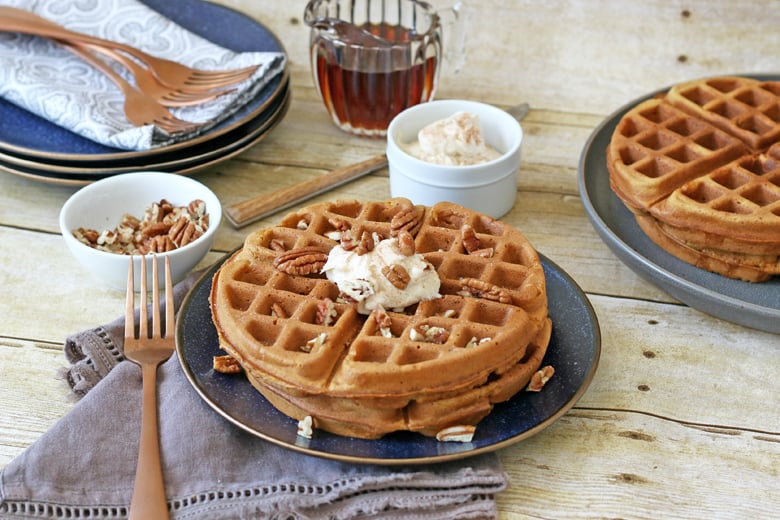 They are simple enough to make on a weekday, but I like to make them on the weekends. The whole kitchen fills with the aroma of fall spice, with soft and fluffy waffles on the table.
And I know you are all in the mood for all things pumpkin spice, like the rest of the world, right? Adding pumpkin is also a convenient way to add vegetables into your delicious breakfast.
Ingredients
The list of ingredients for pumpkin waffles is a little lengthy, but they are fairly standard with the exception of pumpkin and spice blend.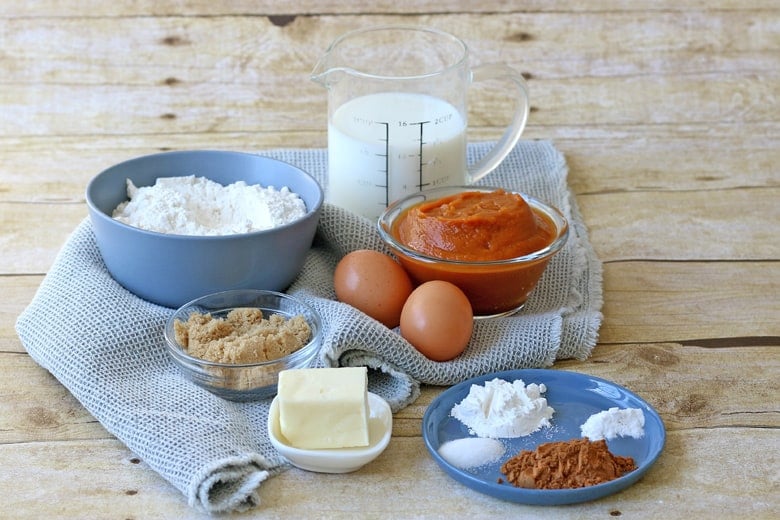 Flour– For structure and fluff.
Baking powder & baking soda– both leavening agents.
Pumpkin pie spice– make your own or use store bought. Apple pie spice works too.
Fine sea salt– don't use iodized, it can taste metallic.
Light brown sugar– for a molasses flavor.
Pumpkin puree– they are pumpkin flavor!
Whole milk– Whole works best because of the fat content, although skim or 2% can be used.
Eggs– gives structure and stabilizes the batter.
Unsalted butter– if you use salted, omit additional fine sea salt.
Toppings & Butter
How to Make
To make Pumpkin Waffles, you'll need to whisk together the dry ingredients, flour, baking powder, baking soda, pumpkin pie spice and salt, in a medium bowl.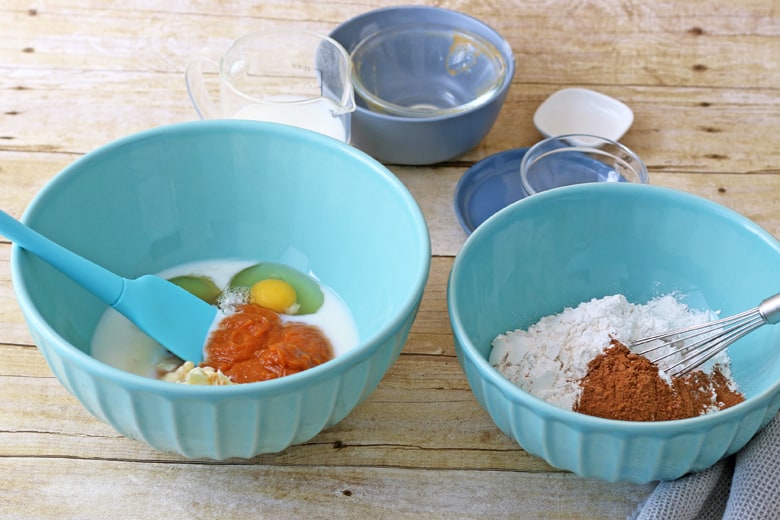 Then in a large bowl, we move on to the wet ingredients. Whisk together eggs, brown sugar, melted butter, pumpkin puree and milk. Beat until all of the ingredients are well combined.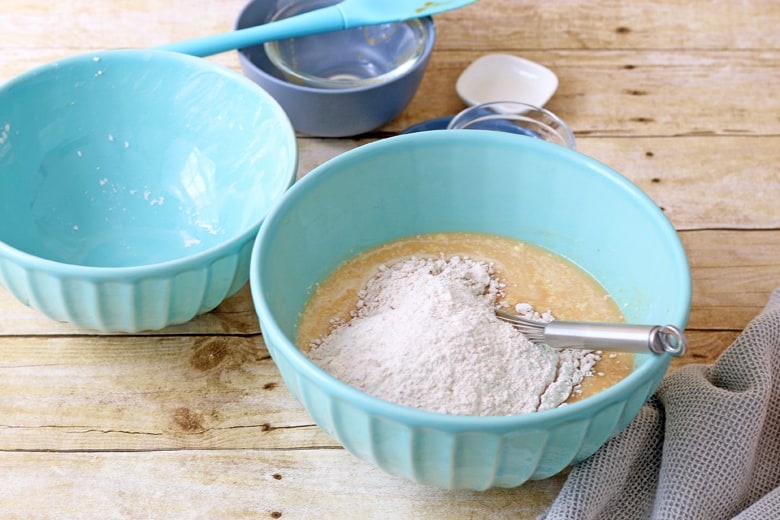 Slowly begin adding the dry mixture into the wet mixture. Fold gently and be sure not to over mix – no one wants tough waffles!
Once fully combined, heat your belgian waffle maker and spray generously with non stick cooking spray.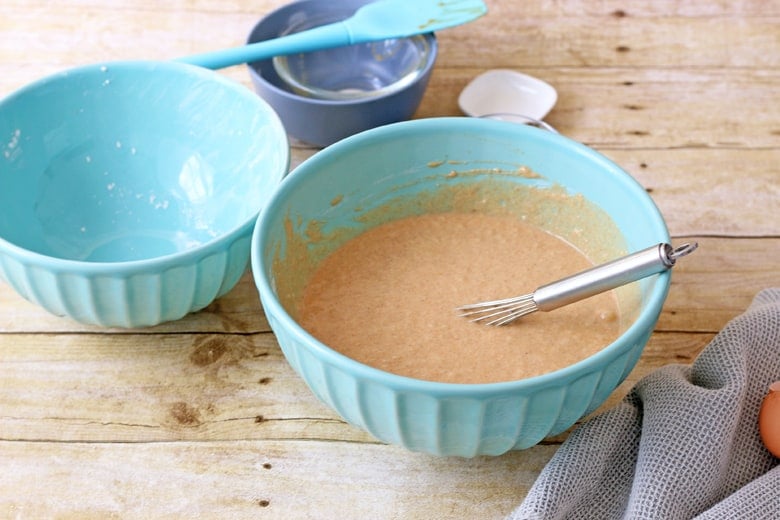 Be sure to read the instructions from your waffle maker to know exactly how long to cook each waffle. (All waffle makers are different!) It will take the same amount of time as it does to make regular waffles.
Pour the waffle batter into the waffle maker and cook fully. Once they come out, serve immediately so that they are nice and warm!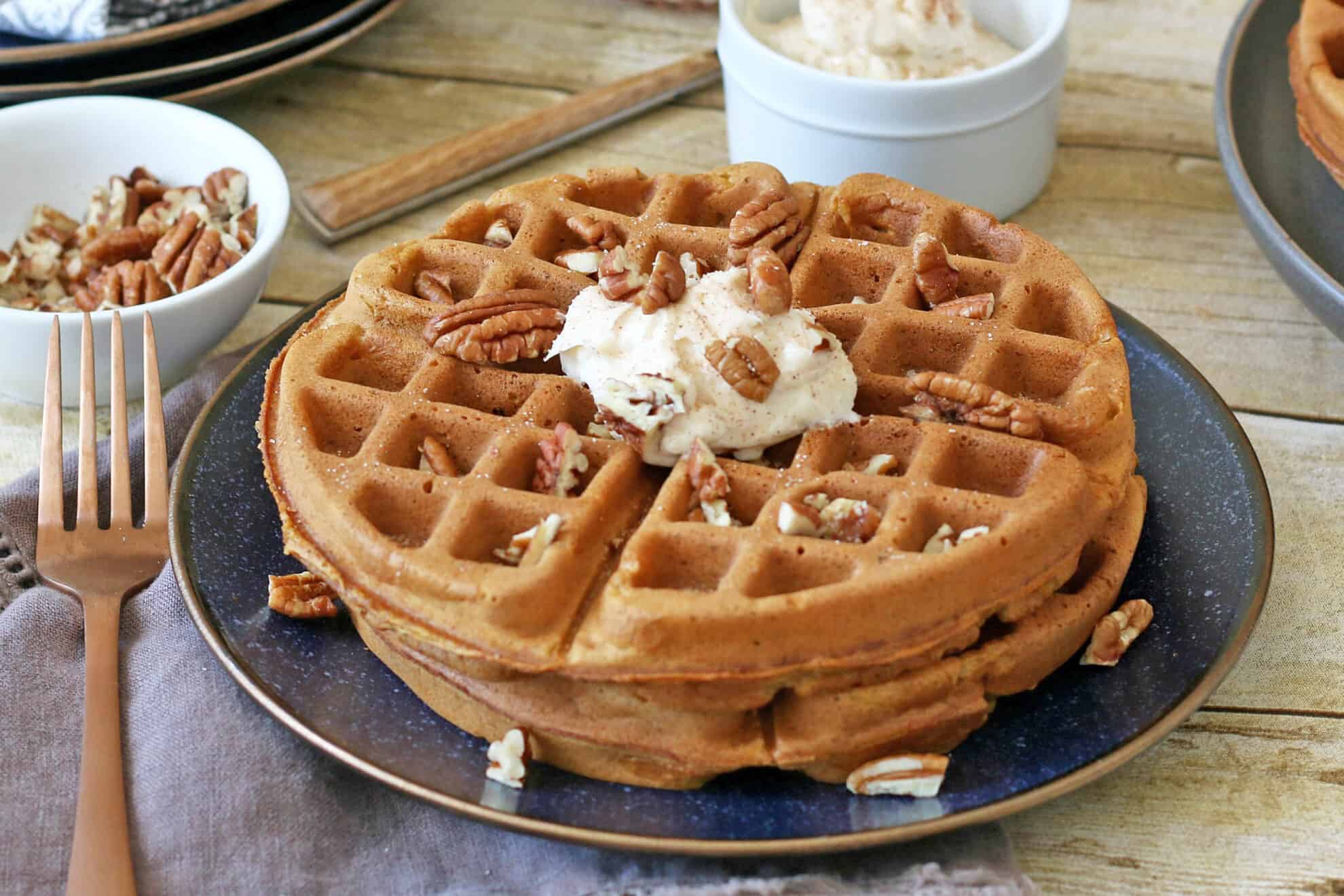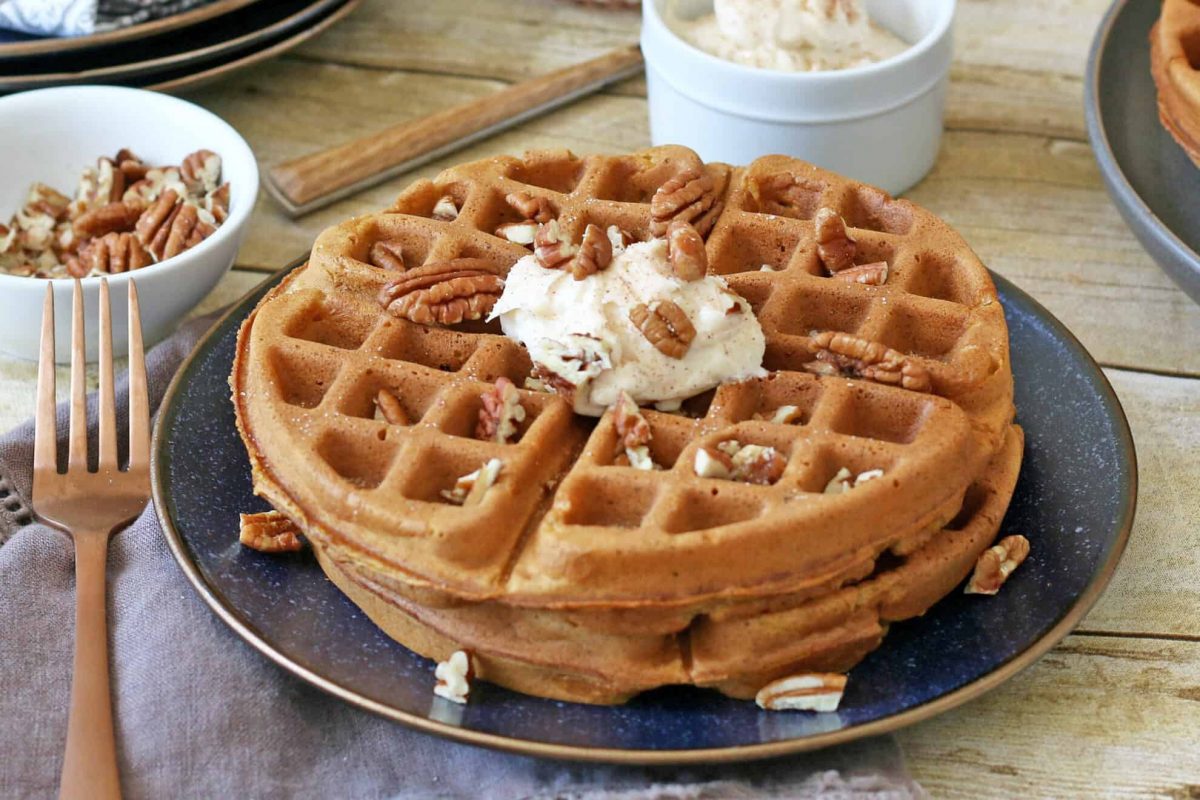 Waffle Toppings
You can serve these Pumpkin Waffles with maple syrup, which I think gives it that fall flavor that everyone loves. . Cinnamon Honey Butter or Molasses butter adds an extra layer of sugar, spice and everything nice, too.
PRO TIP: Make sure to use REAL maple syrup, not maple flavored syrup.
Don't forget the whipped cream and serve with a piping hot mug of Pumpkin Spice White Hot Chocolate. We also like to top ours with walnuts or pepitas (pumpkin seeds). Other syrups include: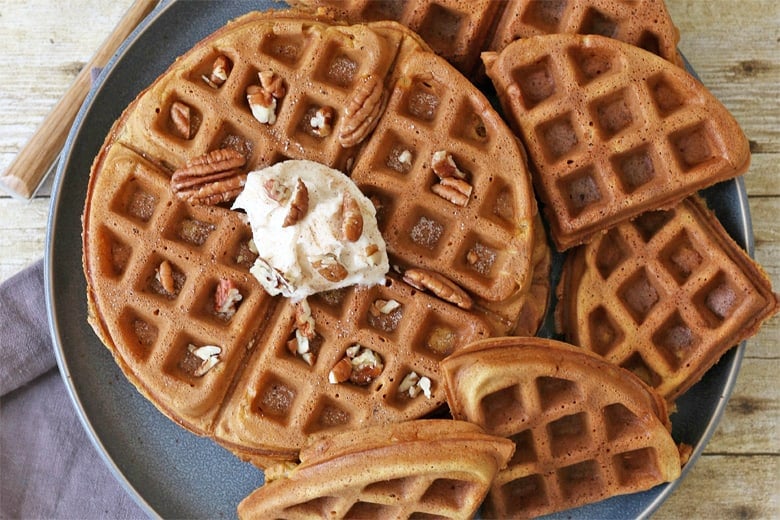 But you can top these Pumpkin Waffles with anything you desire. And of course, if you love this recipe, come back and let us know!
More fall breakfast recipes: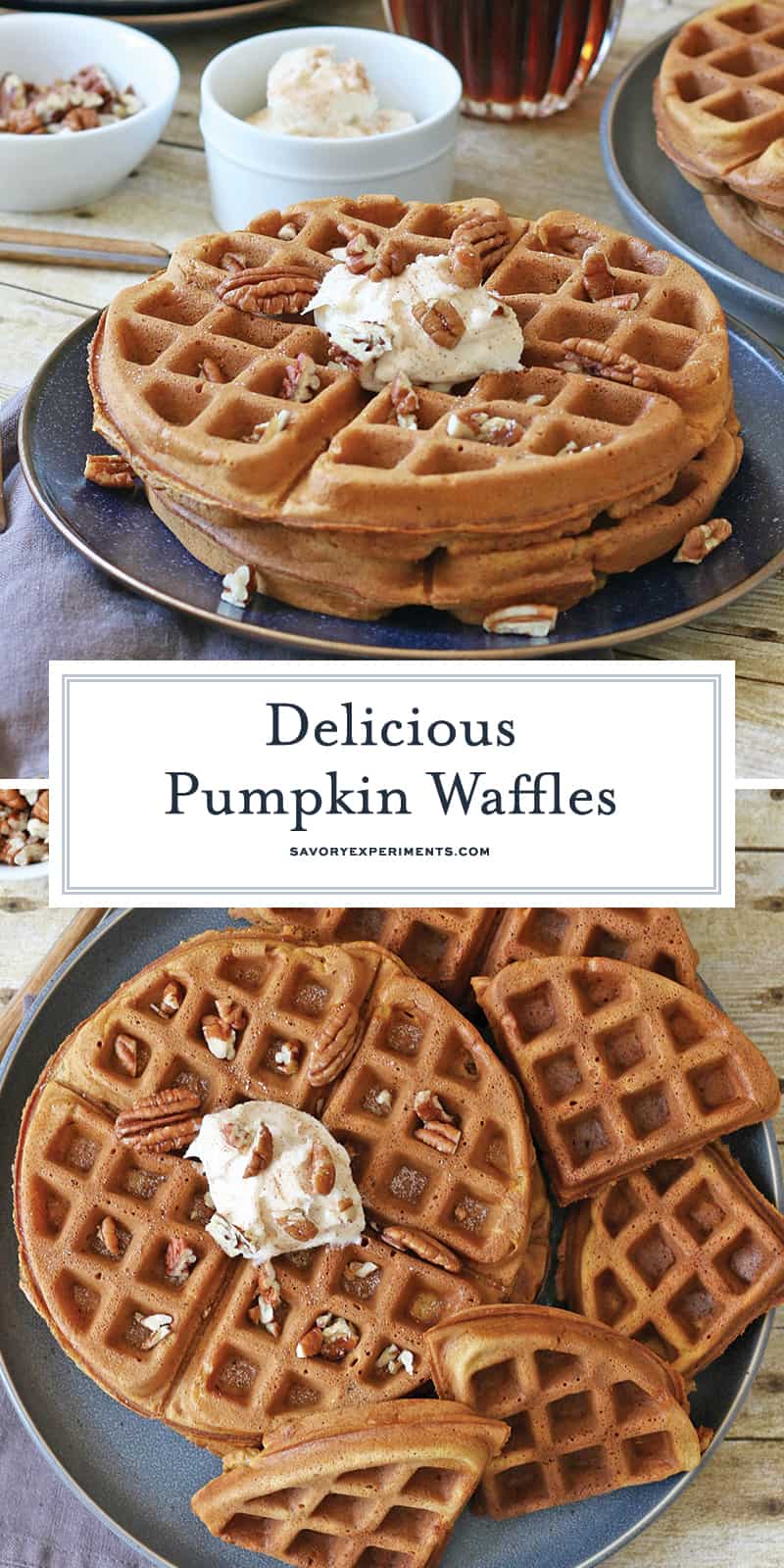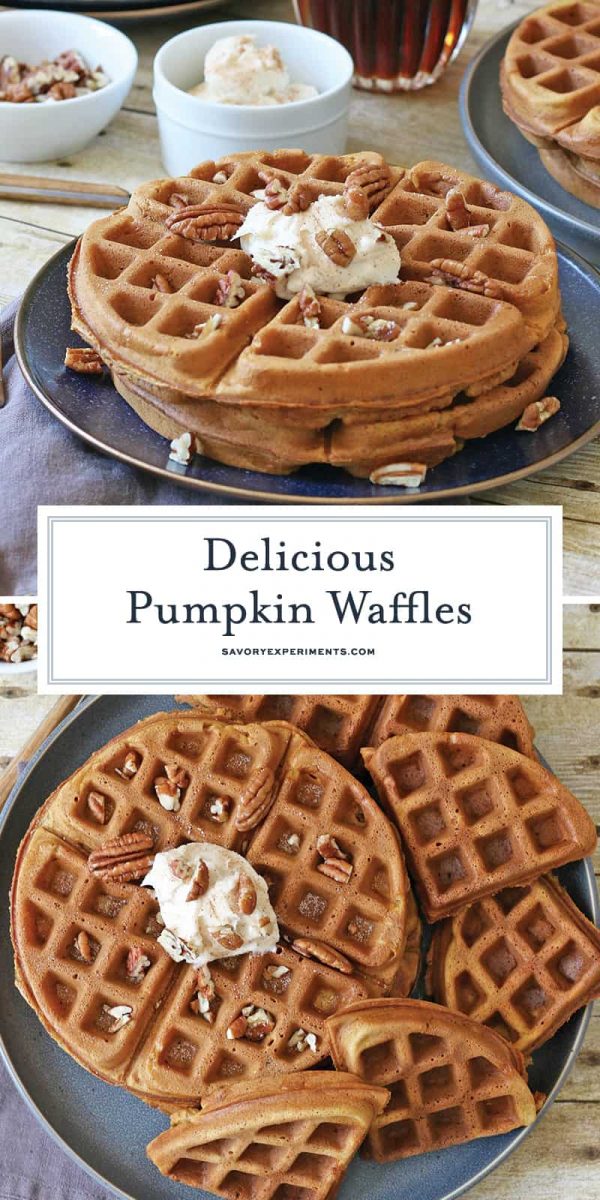 Questions you might have about how to make pumpkin waffles:
Do I have to use a waffle maker? You know I try my hardest to find work-arounds for special appliances, but for waffles there isn't one. You are going to need a waffle maker.
Do you have any tips for using a waffle maker? I have to tell you that it's hard to mess up waffles, but people do it all the time.
Make sure you let the waffle maker heat up all the way. Don't be impatient!
Cook until the edges are crispy. This ensures the inside batter is not still soupy.
Use plenty of cooking spray for an easy release.
Set your waffle maker on a kitchen towel to catch any loose batter.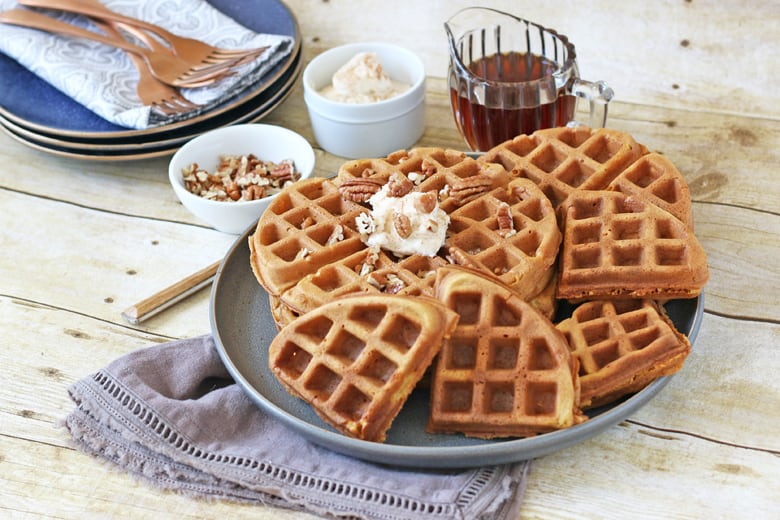 Is a waffle maker easy to clean? I think so! I make sure I clean my waffle maker after every use because I don't want anything sticking to it.
Here are some tips:
Make sure the waffle maker is unplugged and cooled down
Use a dry paper towel to remove any excess oil
Use a kitchen brush to get the crumbs off the waffle iron
Use a damp cloth to get any debris or crumbs off
Can I freeze waffles? Sure! Freeze already cooked waffles and then pop them in the toaster when you are ready to eat them. This works best with a standard size waffle opposed to Belgium waffles.
Belgium waffles can be reheat in a toaster oven or regular oven on low broil (watch closely).
Can I use a regular waffle maker instead of a Belgium waffle machine? Sure! Just follow the instructions on the machine for cooking.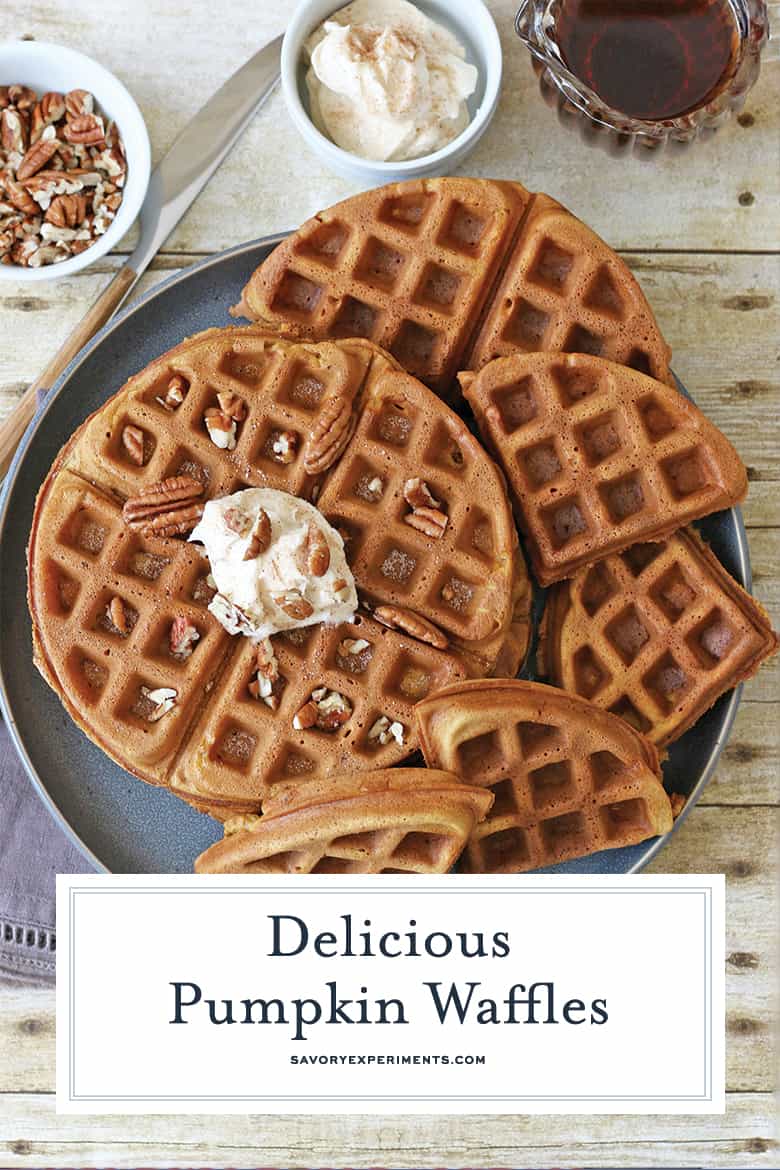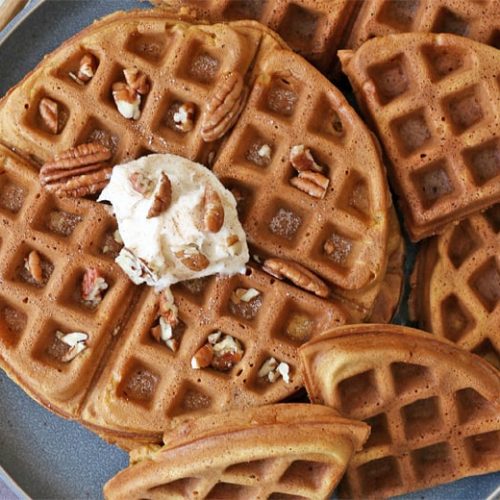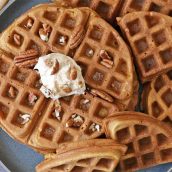 Pumpkin Waffles
Homemade waffles don't get much better than these Pumpkin Waffles! Full of fall flavor and perfect for breakfast or brunch! Homemade waffles don't get much better than these Pumpkin Waffles! Full of fall flavor and perfect for breakfast or brunch!
Servings:
standard waffles
Instructions
In a medium bowl, whisk together flour, baking powder, baking soda, pumpkin pie spice and salt.

In a large bowl, whisk together eggs, sugar, pumpkin puree, milk and butter, beat until well combined

Gradually add flour mixture into wet mixture, folding gently.

Heat waffle iron and coat generously with cooking spray.

Add waffle mix according to package directions. This will vary by waffle maker and brand.

Serve immediately with butter, syrup and desired garnishes.

If you've tried this recipe, come back and let us know how it was!
Notes
Waffles makers vary and therefore the size, cooking time and yield of this recipe will also vary.
Nutrition
Calories:
280
kcal
,
Carbohydrates:
41
g
,
Protein:
8
g
,
Fat:
10
g
,
Saturated Fat:
5
g
,
Cholesterol:
76
mg
,
Sodium:
392
mg
,
Potassium:
448
mg
,
Fiber:
2
g
,
Sugar:
14
g
,
Vitamin A:
6719
IU
,
Vitamin C:
2
mg
,
Calcium:
203
mg
,
Iron:
3
mg