If you're looking for an easy way to make the most delicious turkey, look no further than this slow cooker turkey breast. It's the perfect way to get turkey on the table without the hassle of making an entire turkey.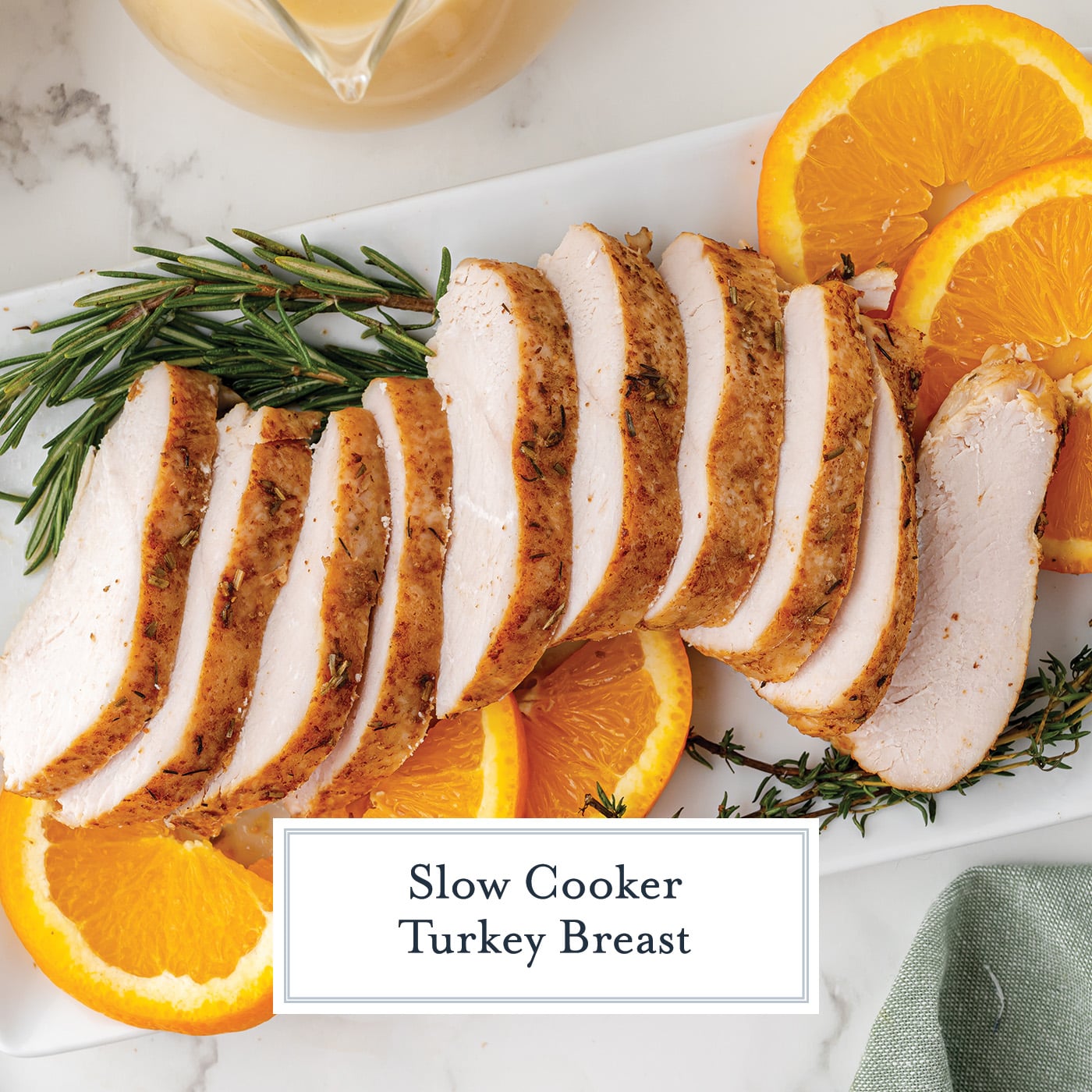 This tender turkey breast is perfect for a small gathering during the holiday season, from Thanksgiving or Friendsgiving to Christmas or holiday parties. But it can be great year-round for busy weeknights or meal prep.
If you're looking to impress your guests, or you just want to make a tender turkey breast that's full of great flavor, this simple recipe is the easiest way to do it!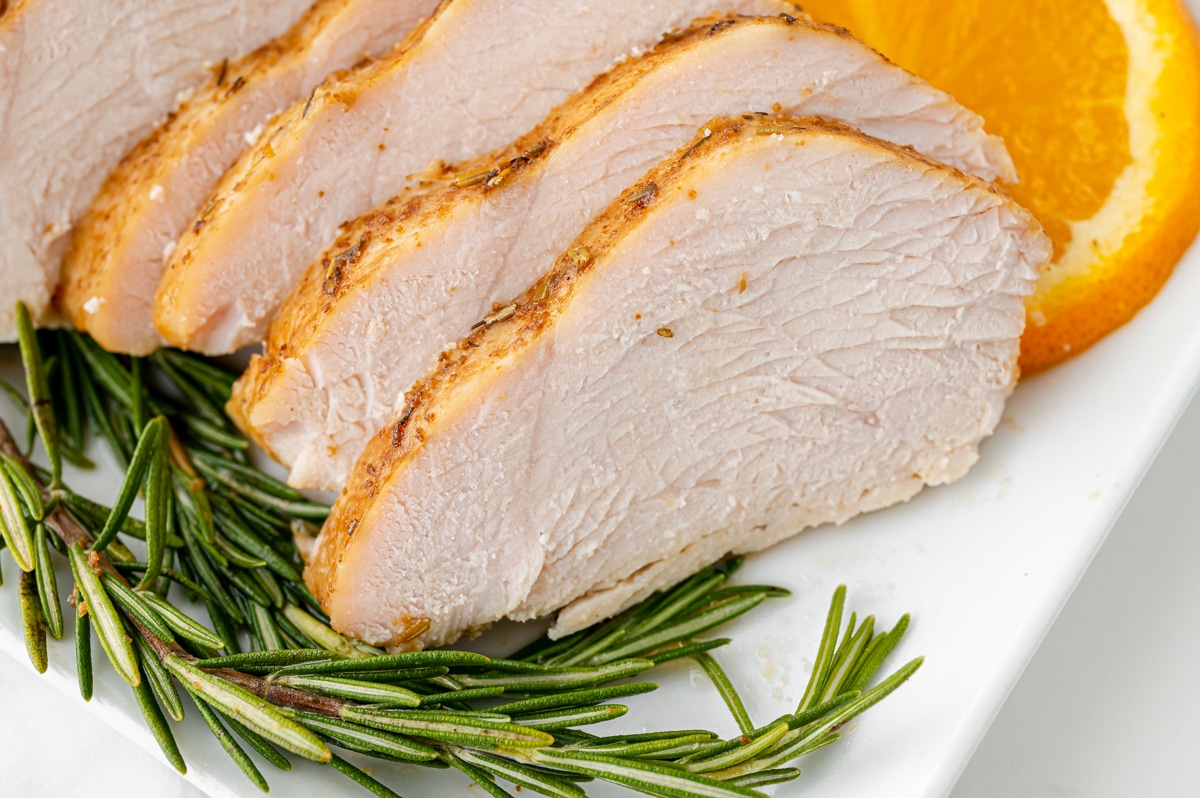 Why You'll Love Slow Cooker Turkey Breast
If you're a turkey lover, you may not find another recipe that can easily satisfy your turkey cravings like this one.
Easy – This recipe takes all the work (and guesswork!) out of making the most perfect, moist turkey. There's only a few minutes of prep and with a programmable slow cooker, there's very little attention needed to monitor the cooking. Plus, not making a whole turkey in the oven frees you up to spend less time on the main course and more of your time crafting the perfect side dishes.
Great for small gatherings – You can make this easy recipe for a smaller group for Thanksgiving dinner or on a busy weeknight. Plus, leftovers are easily transformed into a simple protein to throw over a salad, pile onto turkey sandwiches, or to make into a mayo-based turkey salad.
Change it up – Adjust the seasoning, change up the oil, or make any additions that your family will love.
Ingredients
These simple ingredients are all you need to make this juicy turkey breast in the slow cooker.
What You'll Need for Crock Pot Turkey Breast
Carrots – Chop carrots coarsely and in uniform-sized pieces.
Celery Ribs – To easily slice the celery, use a sharp knife to slice down the center lengthwise before chopping through both halves.
White Onion – I prefer the flavor and appearance of white onion in this recipe, but you can use any type of onion you prefer.
Garlic Cloves – Finely mince the garlic.
Rosemary – Be sure to use fresh rosemary for the most flavor.
Fresh Thyme – Thyme is a perfect flavor match for turkey.
Boneless Turkey Breast – The star of the show, this cut of turkey fits perfectly into a slow cooker so that you don't need to worry about taking up valuable oven space that you may need for other dishes. Be sure that if you purchased a frozen turkey breast at the grocery store, you have thawed it all the way before beginning the slow cooking process.
White Wine – Choose a wine that you enjoy drinking. A dry white wine works best.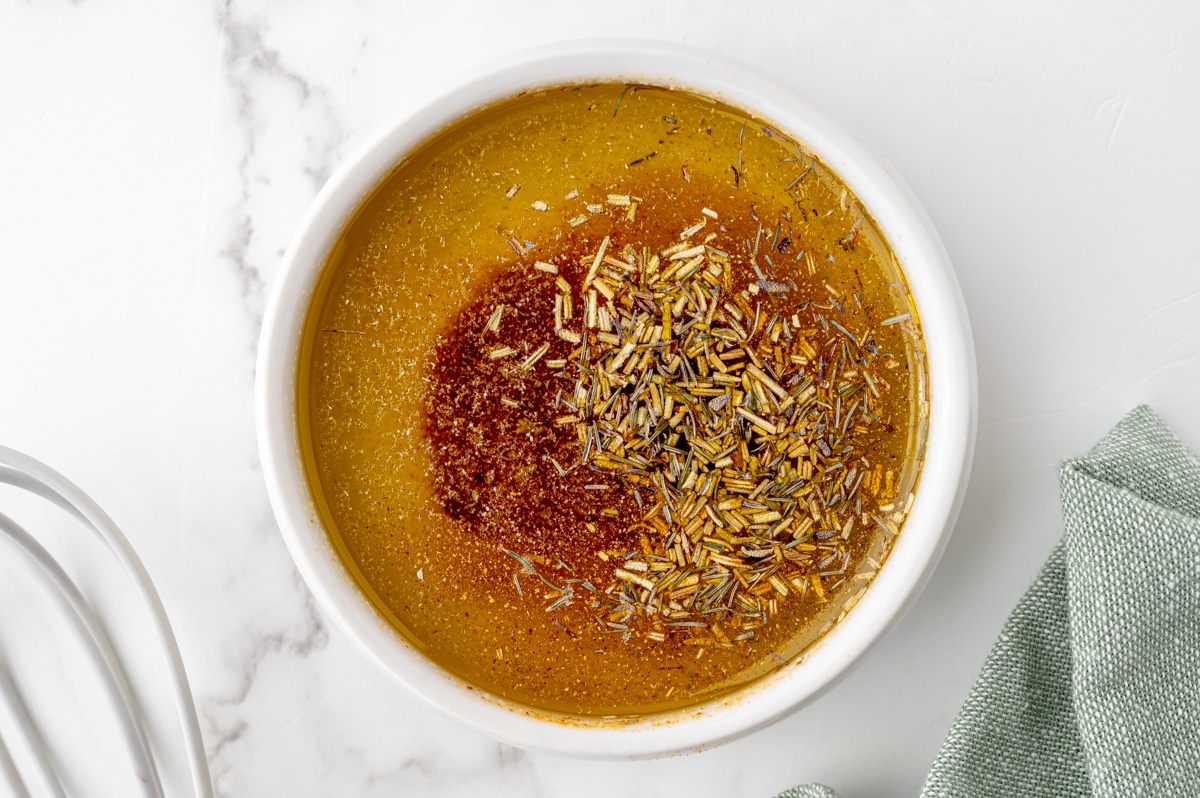 What You'll Need for the Turkey Rub
Garlic Powder – Using powder allows you to add more garlicky flavor directly to the bird.
Onion Powder – This gives the turkey a more aromatic flavor.
Smoked Paprika – This variety of paprika adds a smoky flavor, but you can use sweet paprika if you prefer.
Coarse Kosher Salt – Salt helps to bring out the flavors of the other spices.
Ground Black Pepper – Black pepper adds subtle, gentle heat.
Dried Rosemary – Rosemary complements the flavor of the turkey.
Dried Thyme – Thyme adds herbaceous flavor.
Extra Virgin Olive Oil – Keep the turkey moist by spreading olive oil over it. Mixing your seasonings into the olive oil first helps to spread them evenly.
How to Make Crock Pot Turkey Gravy
Low-Sodium Chicken Stock or Vegetable Broth – Chicken broth or stock helps to keep the turkey moist. Use low sodium so you'll be in control of the salt.
Unsalted Butter – Using unsalted butter allows you to control the saltiness of the gravy.
Flour – Flour helps to thicken the gravy. Cornstarch or arrowroot are great alternatives.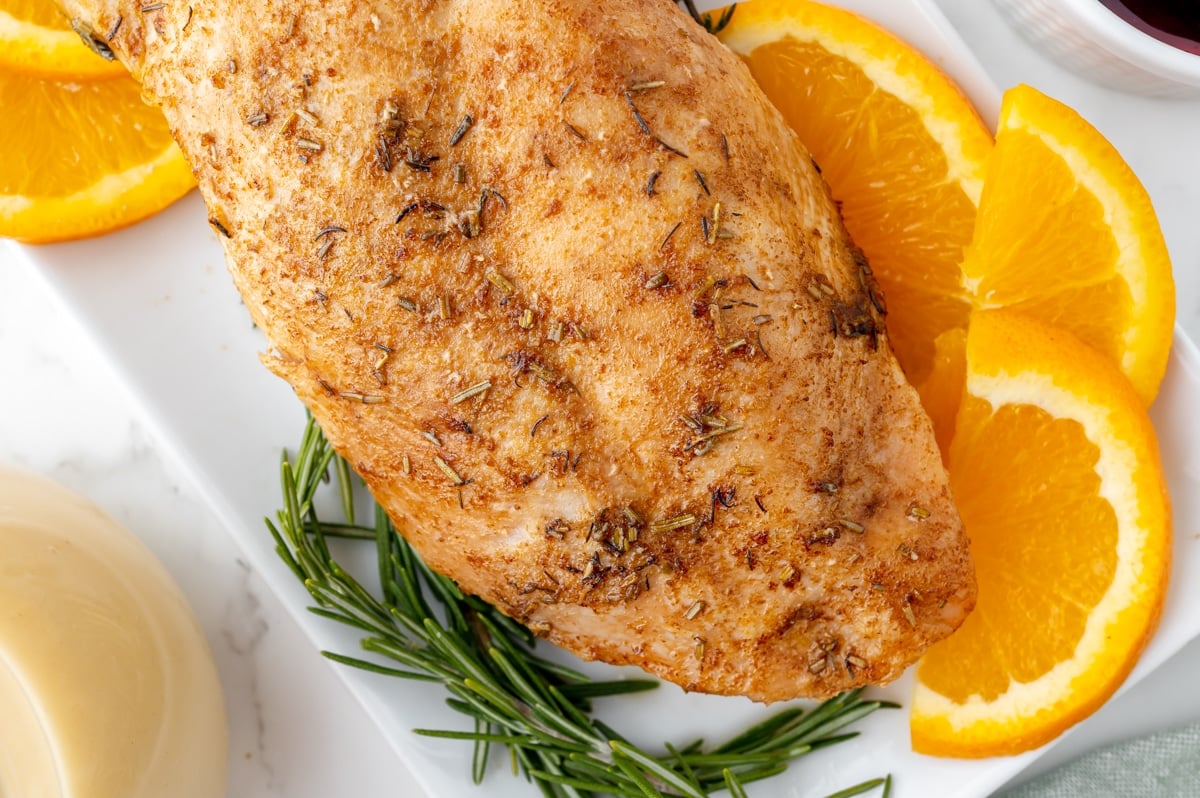 How to Make Slow Cooker Turkey Breast
It couldn't be easier to make this simple turkey breast — the slow cooker does nearly all of the work!
​Prepare slow cooker. Spraying slow cooker with non-stick cooking spray or lining it with a slow cooker liner.
Add veggies, herbs and white wine. Add the onion, garlic, chopped carrots, and celery to the bottom of the slow cooker before placing the fresh herbs on top. Then, add the white wine.
​Make rub. Place all of the ingredients for the rub in a small bowl and combine until it has a pasty consistency.
Coat turkey with rub. Coat the turkey breast with the rub and place it in the slow cooker.
Cook. Cook the turkey and vegetables on low until the internal temperature reaches 165 degrees Fahrenheit on an instant-read thermometer.
Allow to rest. Place the cooked turkey breast on a cutting board or plate and cover with tented foil.
​Make gravy. Pour the liquid from the slow cooker into a measuring cup, using a sieve to catch the solids. Add more broth if there is not enough liquid from the slow cooker.
Make roux. Melt the butter in a saucepan and combine it with flour.
Combine. Pour the liquid and drippings in the measuring cup into the butter and flour mixture.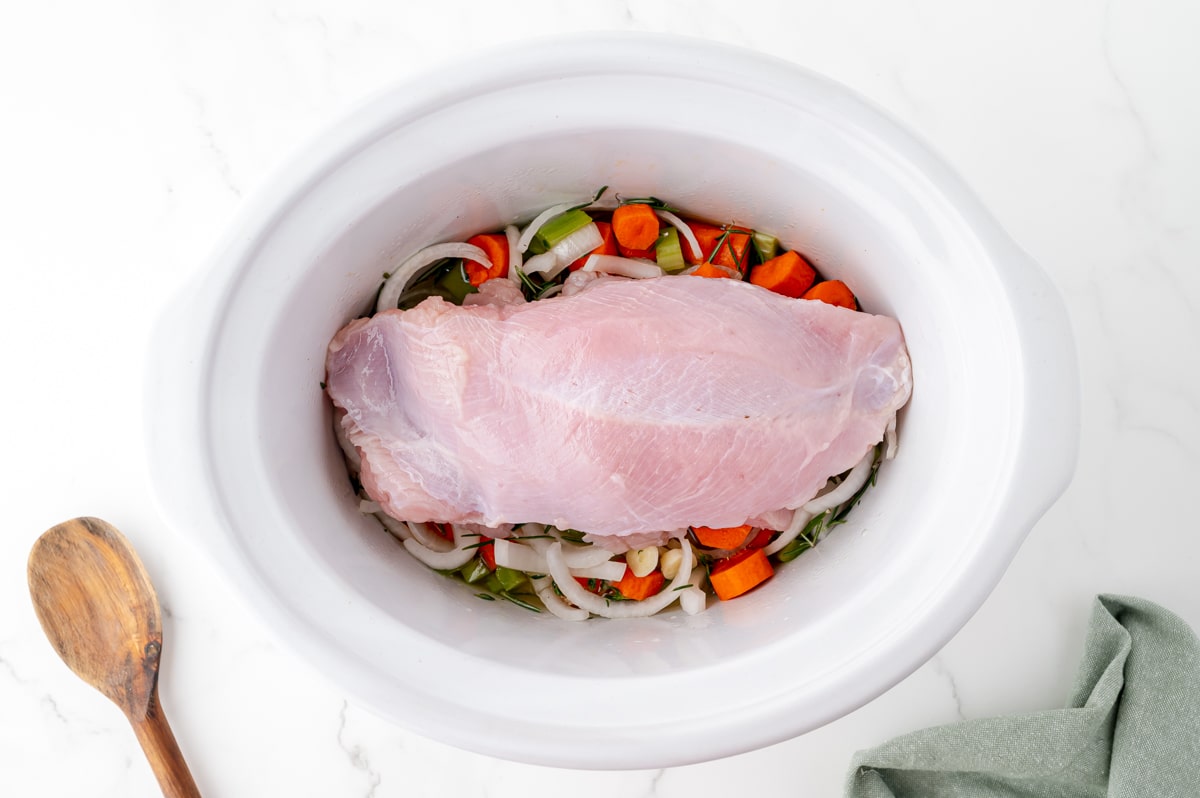 What to Serve with Slow Cooker Turkey Breast
There's nearly no end to the sides that you can serve with slow cooker turkey breast. Try any steamed or roasted veggies or salads like a classic wedge, Brussels sprouts salad, pear salad with candied walnuts, or beet goat cheese salad.
For starches, we like to serve cheesy au gratin potatoes, Instant Pot mashed potatoes, pan-fried sweet potatoes, or sausage stuffing. And you can never go wrong with creamy mac and cheese.
And, of course, don't forget the sauce! Use the gravy recipe we've included, make your own favorite turkey gravy recipe, or try drizzling creamy peppercorn sauce over the top for a twist on tradition. And for a tart complement, serve a spoonful of cranberry orange relish too.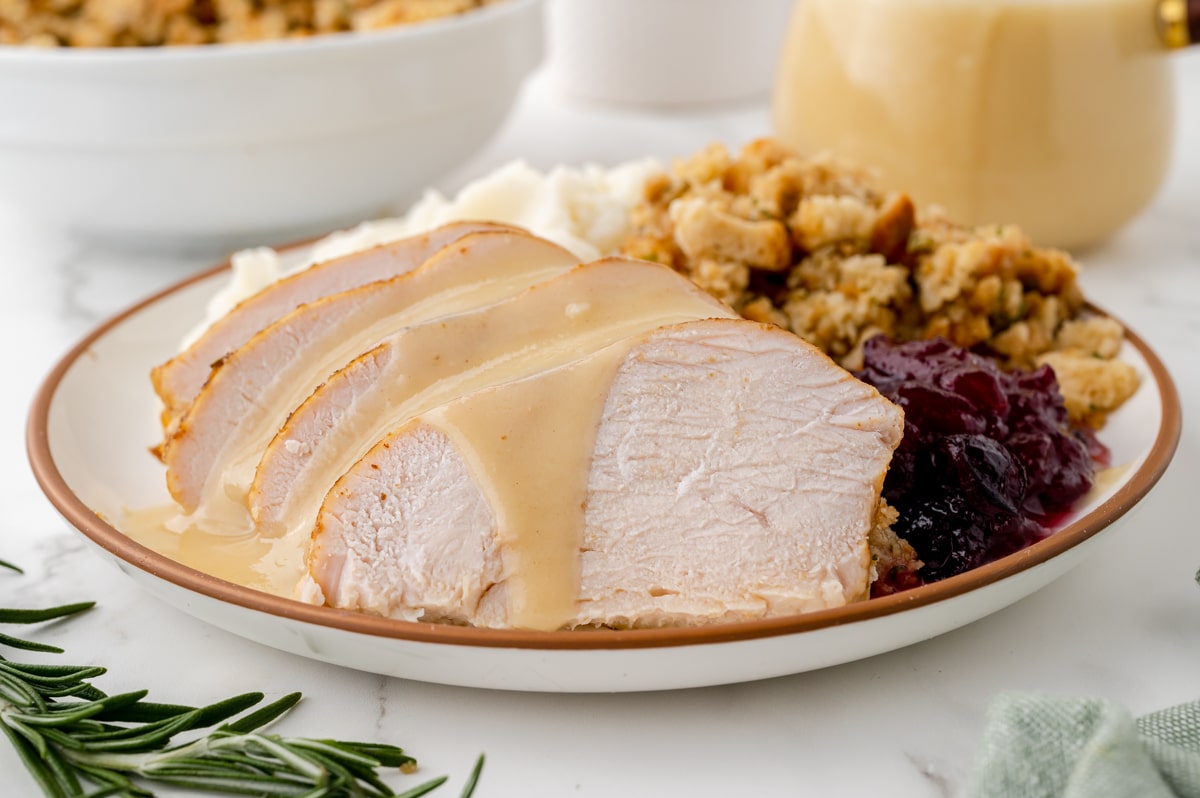 Variations
There are plenty of ways you can make this delicious slow cooker turkey breast your own!
Herbs – Use your own favorite blend of fresh herbs.
Turkey – You can use a bone-in turkey breast, but this can add to the cooking time.
Heat – If you like some spiciness on your turkey, add heat with cayenne pepper powder or roasted red pepper.
Injections – Experiment with a homemade turkey injection or inject your own favorite flavors.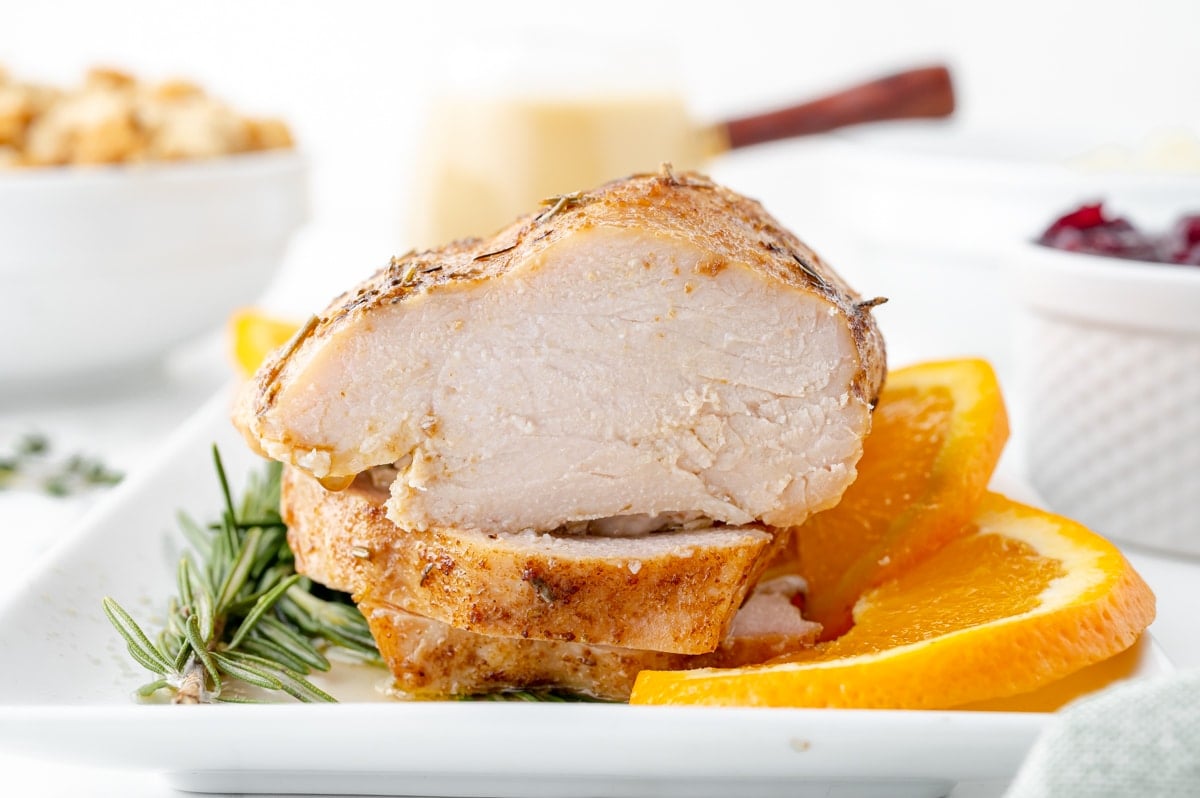 Storage and Freezing
You can enjoy leftover turkey for days by simply storing it in the fridge or freezer.
Make-Ahead: The beauty of this slow-cooked turkey recipe is that you can let it cook while you're heating your sides. But if you want to make it the day before, you can easily store the turkey in the slow cooker insert in the refrigerator, and pop it back into the slow cooker to warm it.
Refrigerator: Store cooked turkey breast for 3-4 days in the refrigerator in an airtight container.
Freezer: Place leftover turkey meat slices in resealable plastic bags or a freezer-safe container and store for up to 3 months.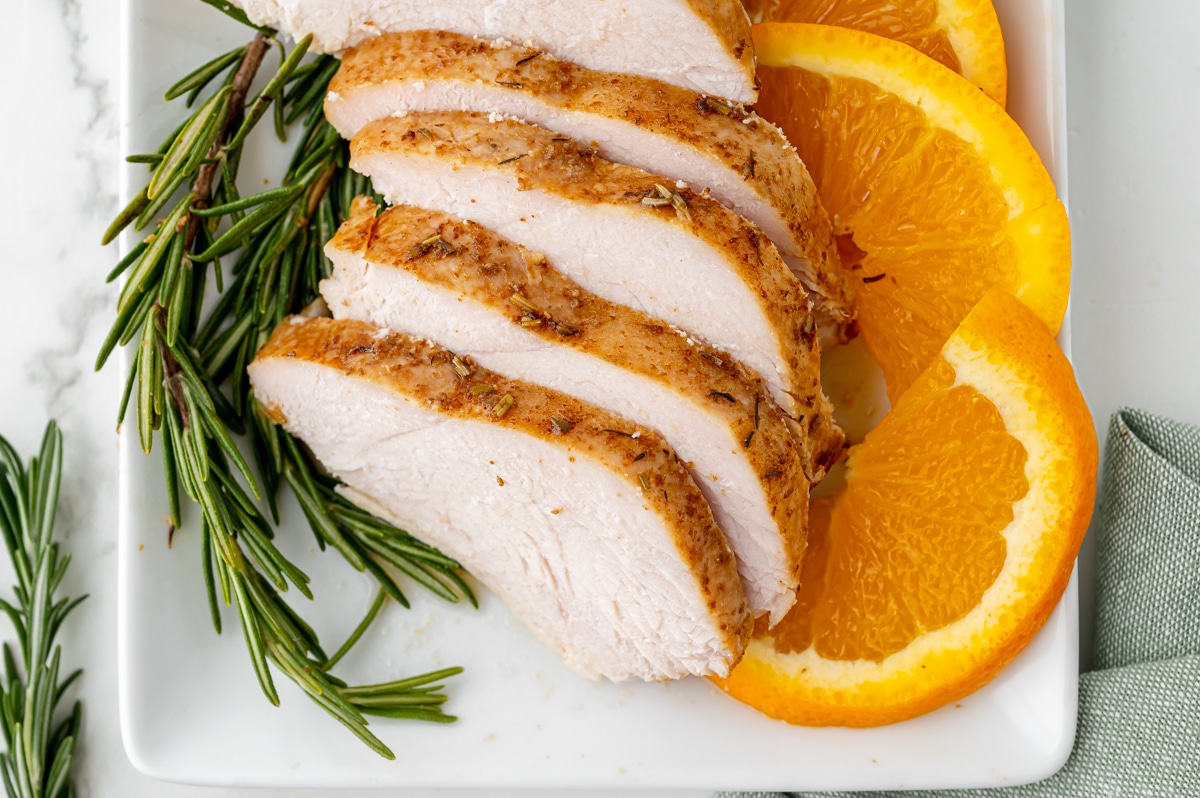 Common Questions About Slow Cooker Turkey Breast
Is it safe to cook turkey in a slow cooker?
While whole turkeys can be a challenge to cook in a slow cooker, turkey breast is definitely manageable and safe.
Is it better to cook a turkey fast or slow?
Like many meats, turkey is better cooked slowly. This will yield the juiciest results.
Why did my turkey breast turn out tough?
Turkey breast will dry out if it is overcooked. Even in a slow cooker, it's important to pay attention to the amount of time the turkey cooks.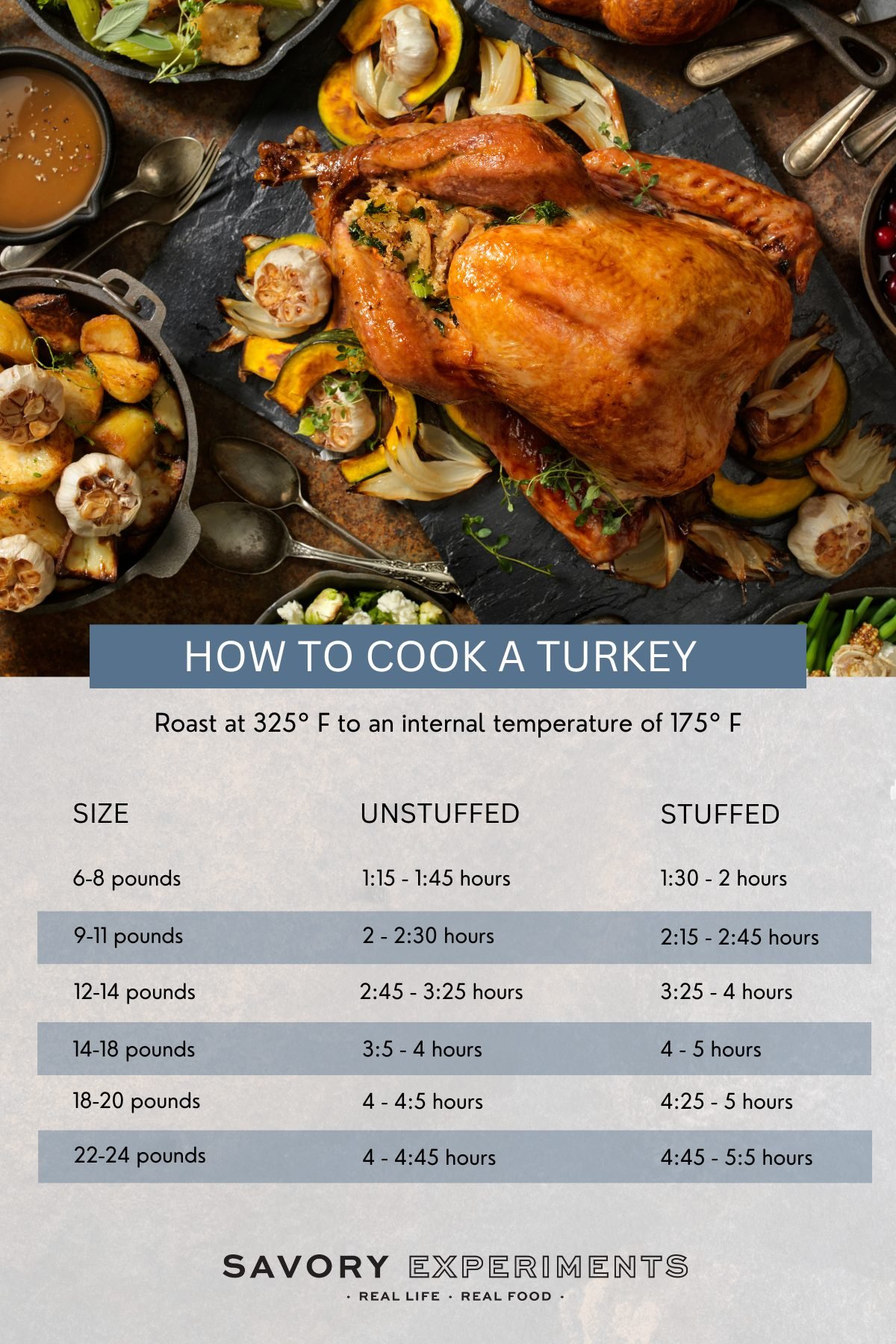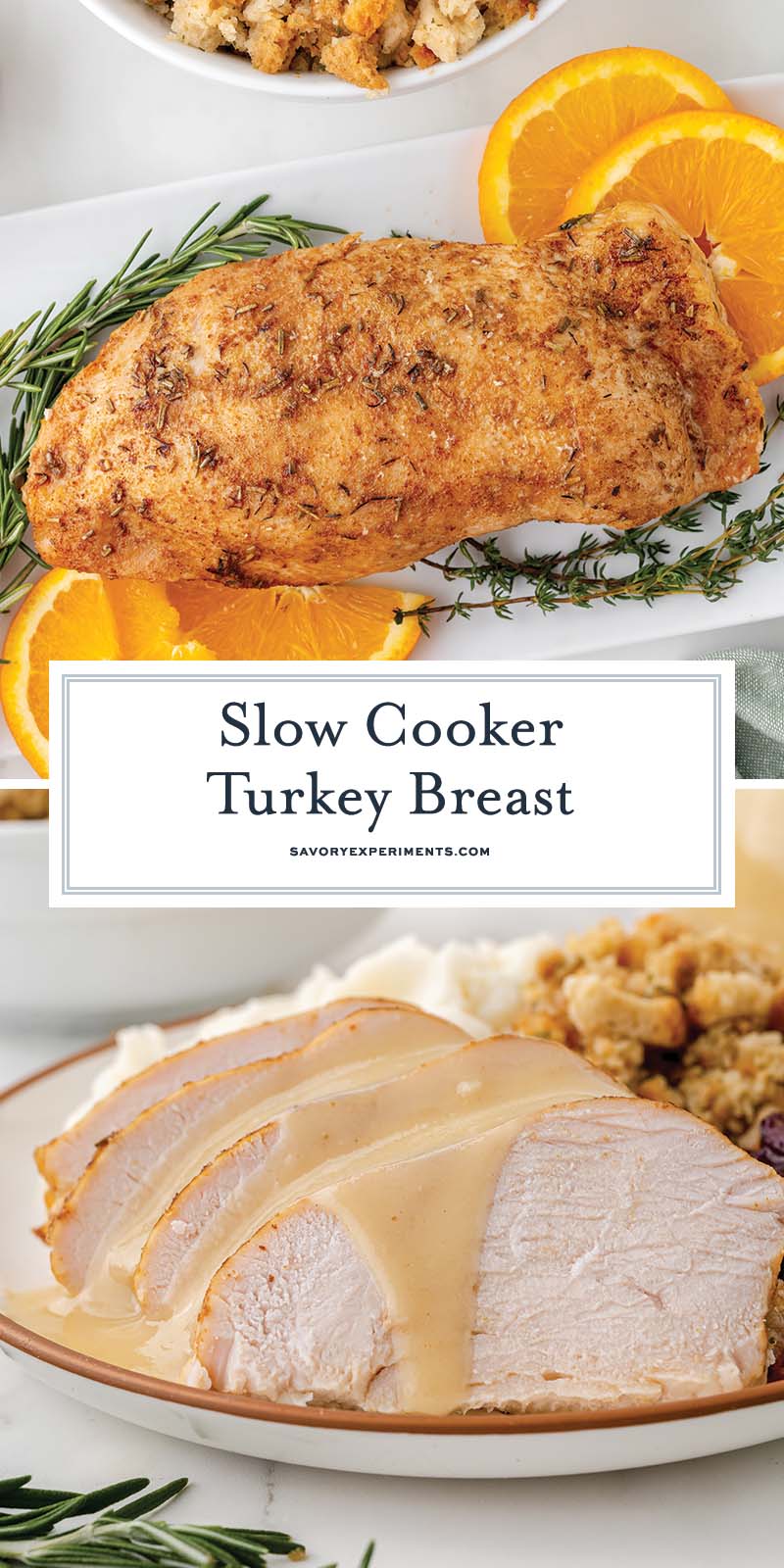 Other Easy Turkey Recipes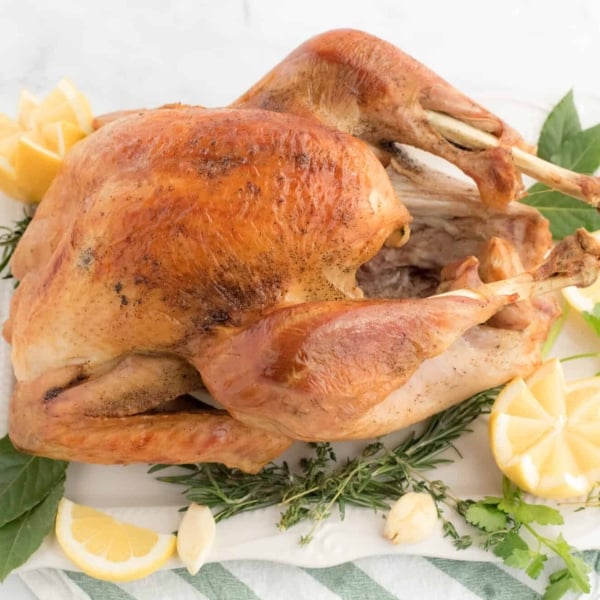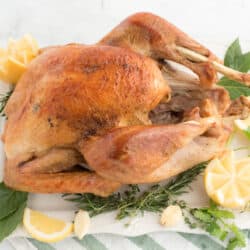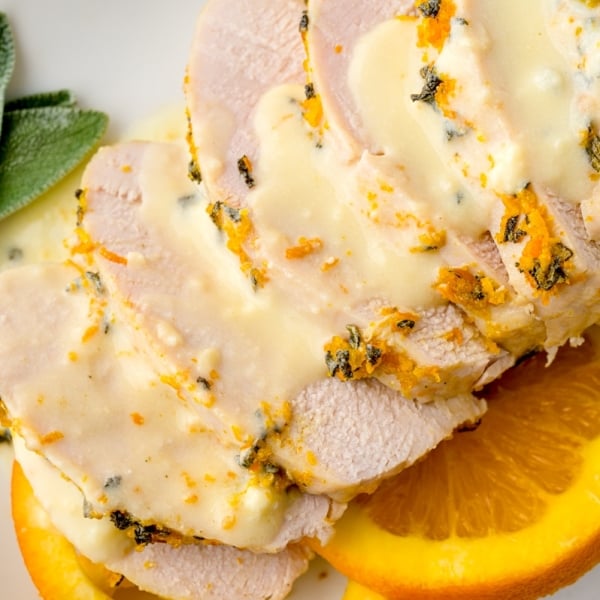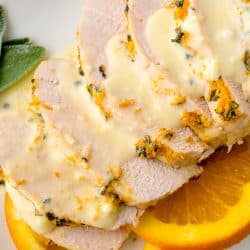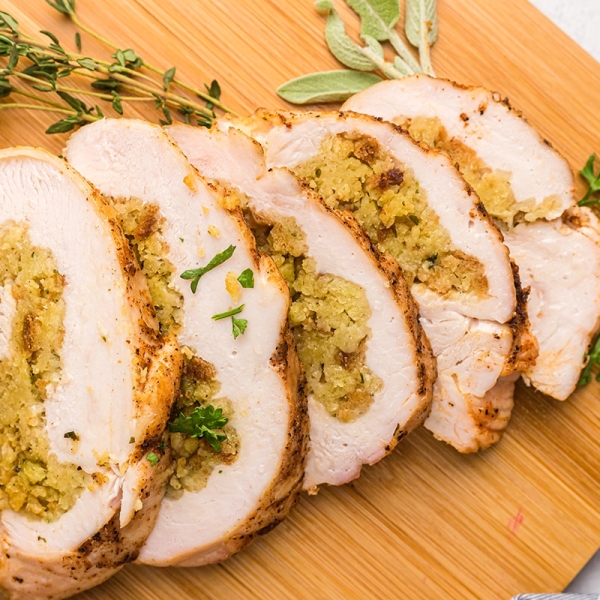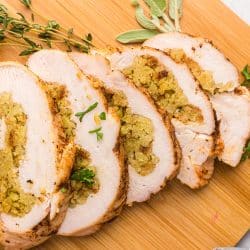 Turkey Breast with Stuffing
Oven roasted turkey breast doesn't get any better than this Stuffed Turkey Breast! Perfect for any weeknight, not just Thanksgiving!Oven roasted turkey breast doesn't get any better than this Stuffed Turkey Breast! Perfect for any weeknight, not just Thanksgiving!
See The Recipe!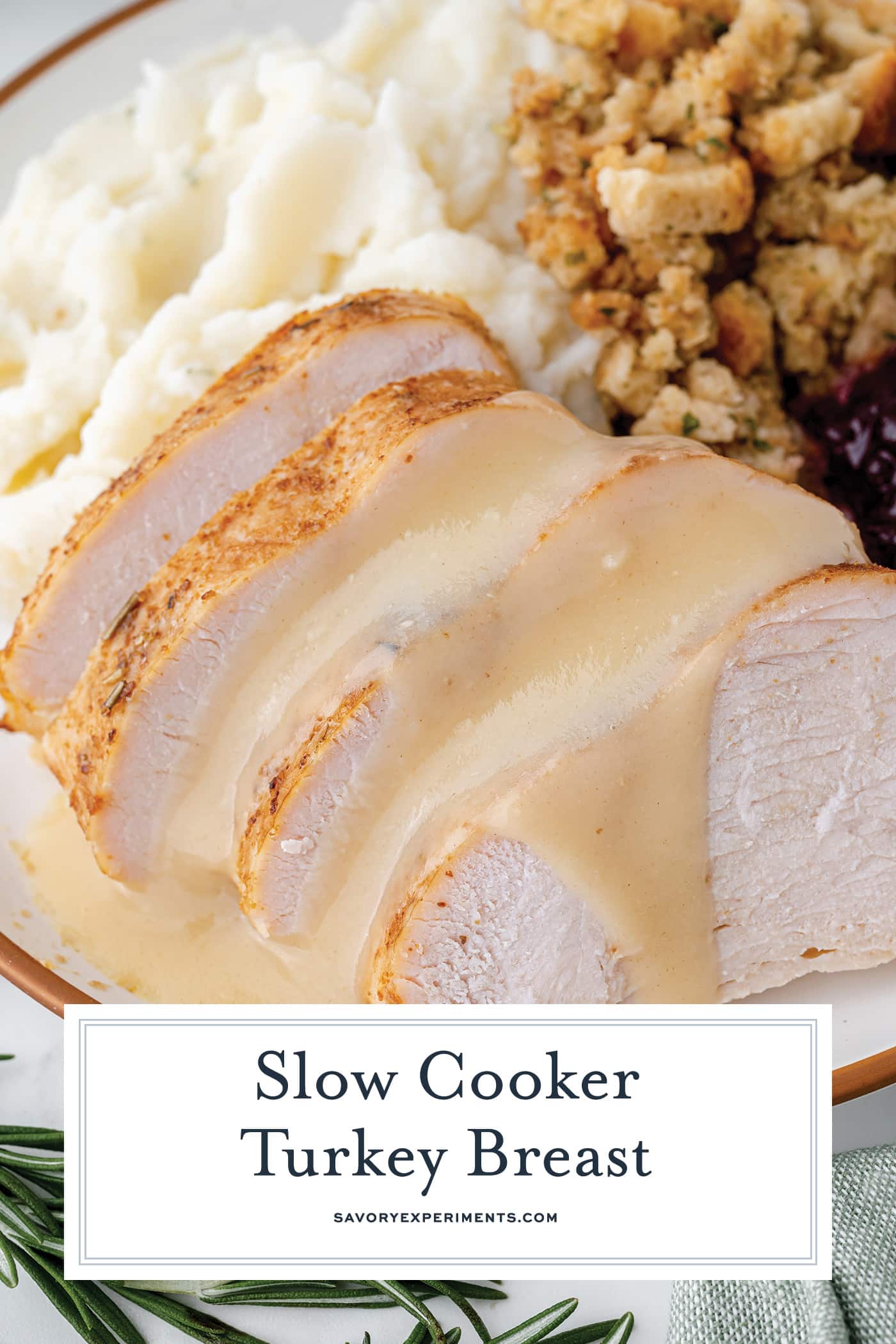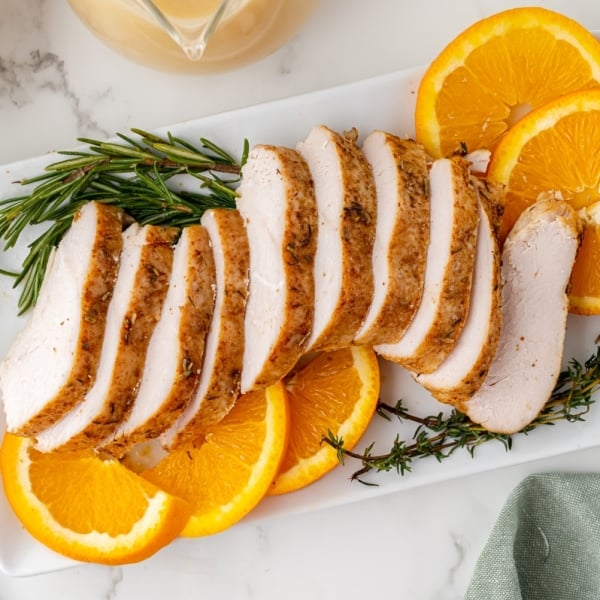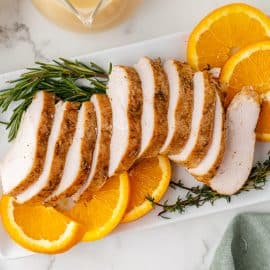 Slow Cooker Turkey Breast Recipe
This EASY Slow Cooker Turkey Breast is perfect during the holiday season for Thanksgiving, Friendsgiving, Christmas, or holiday parties!
Instructions
Coat the inner pot of a slow cooker with cooking spray or line with a slow cooker liner. Place the carrots, celery, onion, garlic in a layer on the bottom. Place the fresh herbs over the veggies and then pour in the white wine. Set aside.

In a small mixing bowl, combine the ingredients for the rub, including the garlic powder, onion powder, paprika, salt, pepper, rosemary, thyme and olive oil. Stir to make a paste. Rub this all over the top of the turkey breast in a thick lather.

Place the turkey breast on top of the veggies and herbs.

Cook on low for 6 hours or until the internal temperature reaches 165°F. Sizes of the turkey breast and exact temperature of "low" on slow cookers vary, so please double check using a digital meat thermometer.

Remove the turkey breast and set on a plate tented with aluminum foil to rest.

Using oven mitts, carefully pour the liquid and turkey drippings out of the slow cooker pot through a fine mesh sieve into a measuring cup. If liquids do not measure 2 cups, add additional chicken or vegetable broth. Discard solids. Set aside.

In a medium saucepan, melt the butter. Whisk in the flour to make a paste (roux).

When lightly browned, whisk in the turkey drippings liquid. Keep whisking until the mixture has thickened. Remove from the heat.

Slice the turkey breast and top with pan gravy.

If you've tried this recipe, come back and let us know how it was in the comments or star ratings.
Nutrition
Calories:
307
kcal
,
Carbohydrates:
7
g
,
Protein:
38
g
,
Fat:
12
g
,
Saturated Fat:
5
g
,
Polyunsaturated Fat:
1
g
,
Monounsaturated Fat:
5
g
,
Trans Fat:
0.3
g
,
Cholesterol:
107
mg
,
Sodium:
863
mg
,
Potassium:
529
mg
,
Fiber:
1
g
,
Sugar:
1
g
,
Vitamin A:
1762
IU
,
Vitamin C:
2
mg
,
Calcium:
45
mg
,
Iron:
2
mg