These aren't just any pan fried sweet potatoes… they are sauteed sweet potatoes tossed in honey and cinnamon. We aren't even sure if they are a side dish or dessert!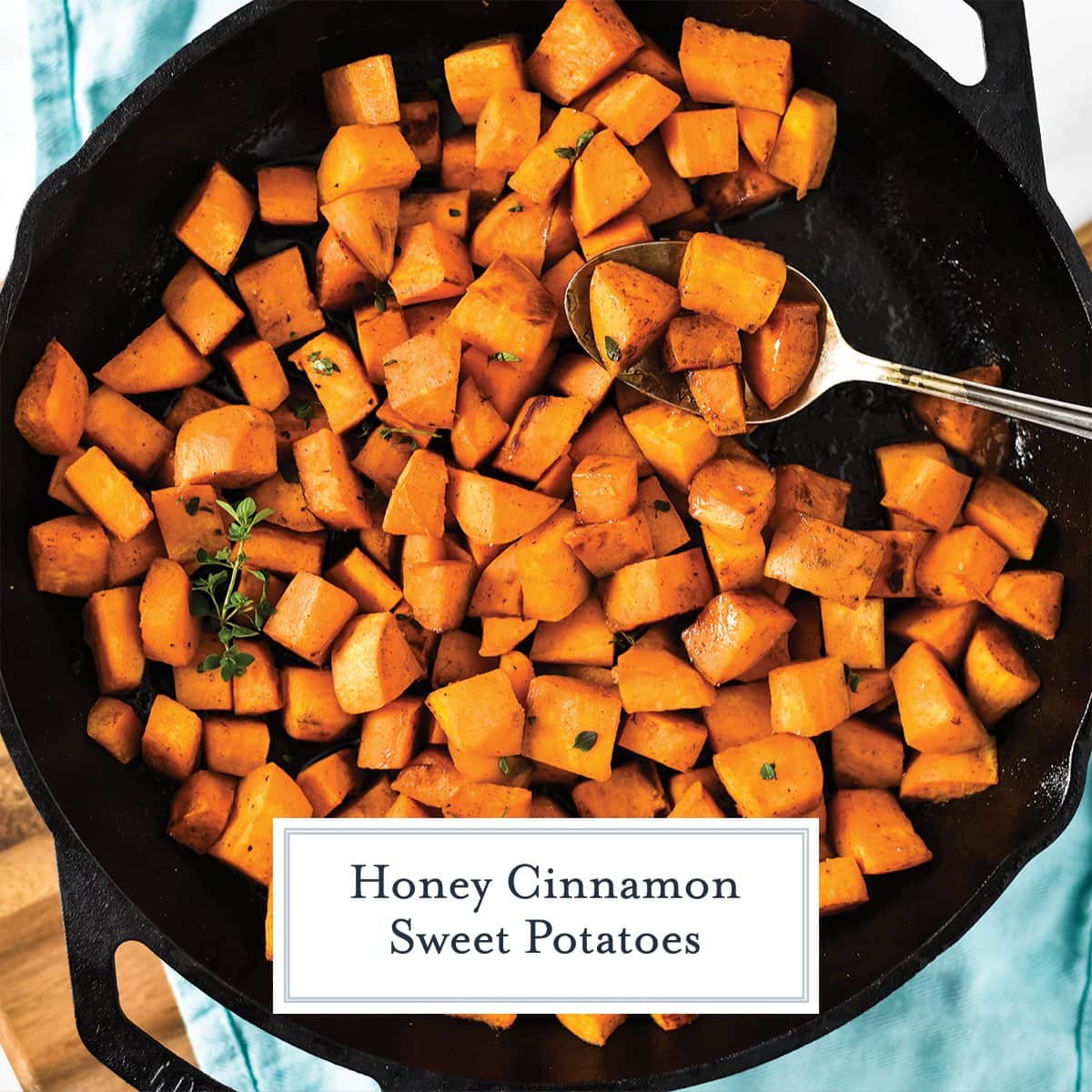 A few weeks back I asked a couple of neighborhood friends to bring over their favorite fall dishes in anticipation of Thanksgiving. Tiff hauled over her giant cast iron skillet filled with sticky and sweet, sweet potatoes tossed with honey and cinnamon. Such a verstile dish, I wasn't sure if they were dessert or a side.
How to Cook Sweet Potatoes on the Stove
Cast iron is perfect for this sweet side dish because it doesn't stick and the heavy, thick bottom prevents the sugars from burning too quickly. The result is a nice caramelization vs. a bitter char. Plus, cast iron cooking is just plain cool.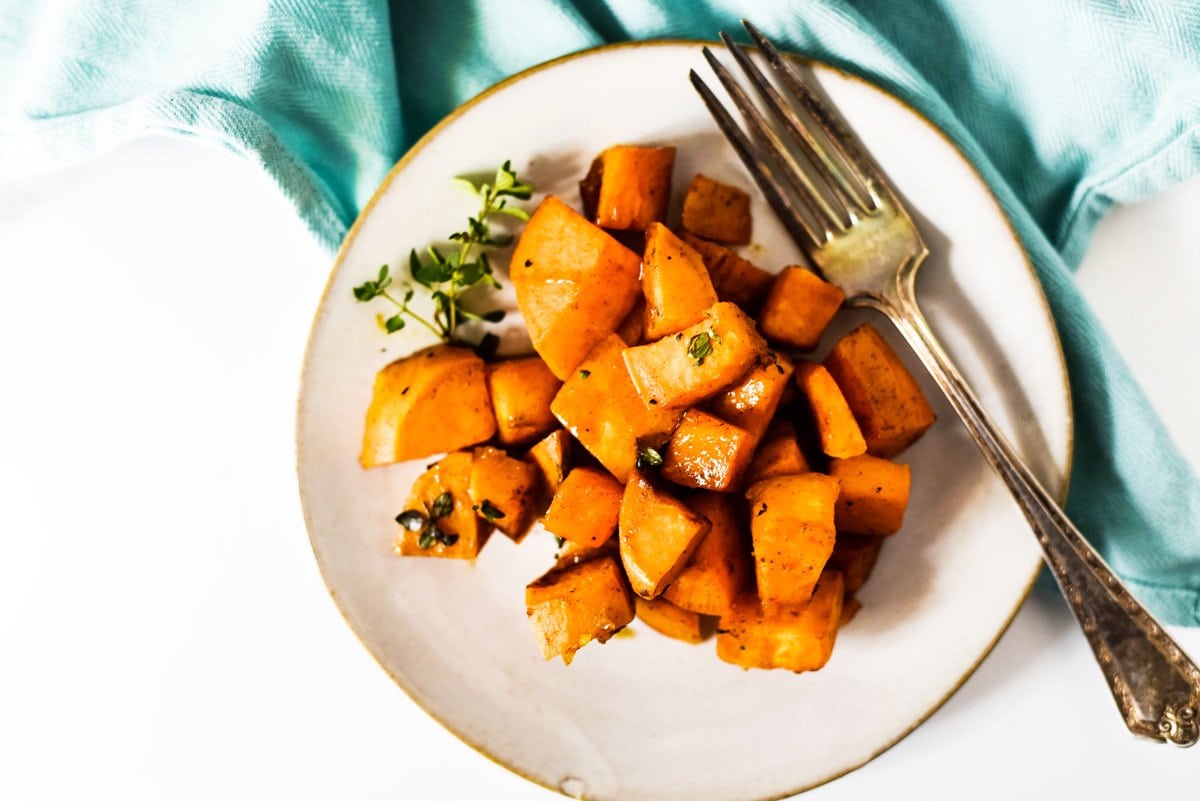 The key to that beautiful, stick-free cook is making sure your cast iron pan is well seasoned. Also, never wash your cast iron with soap and water. It takes the seasoning aka "the non-stick" right away.
Now how to make these bad boys…
Do your best to cut the potatoes roughly the same size. I made mine into cubes, but you can also do sweet potato slices. This goes for most dishes as it means that they will cook at roughly the same rate. Translation: beautiful, even color every time.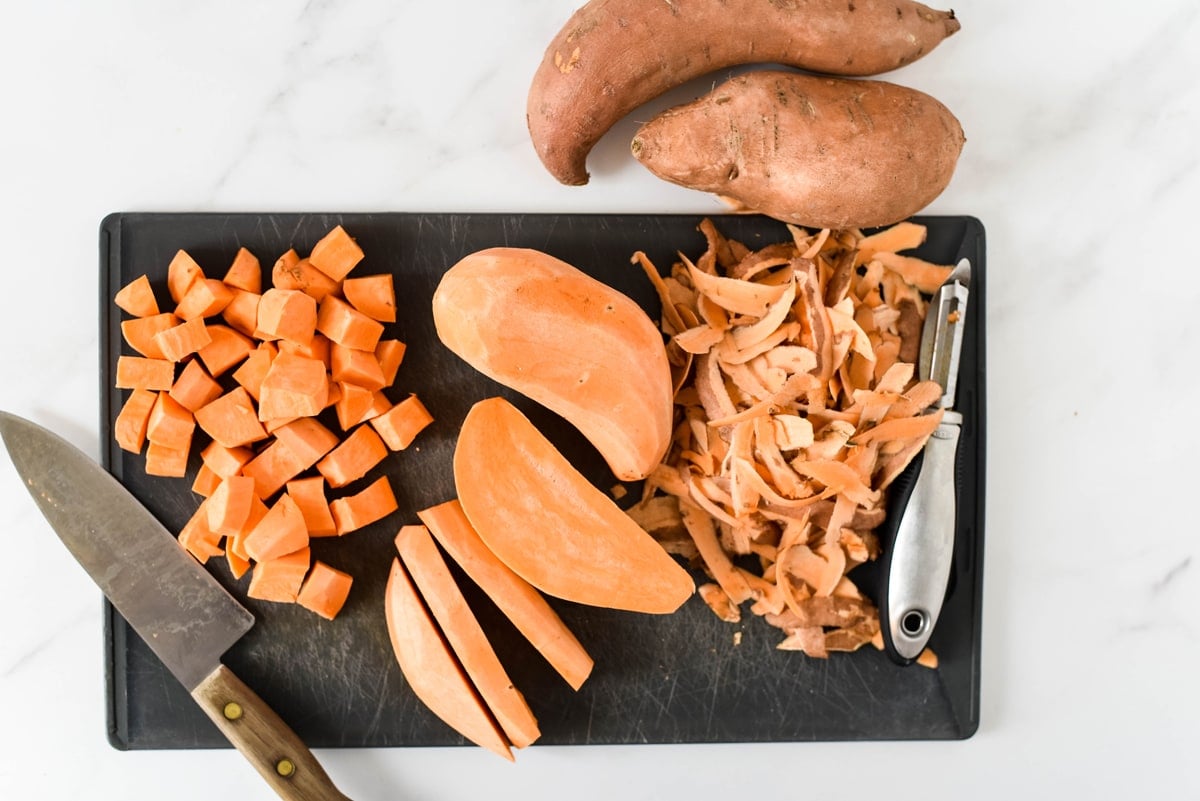 Heat the butter in a hot skillet.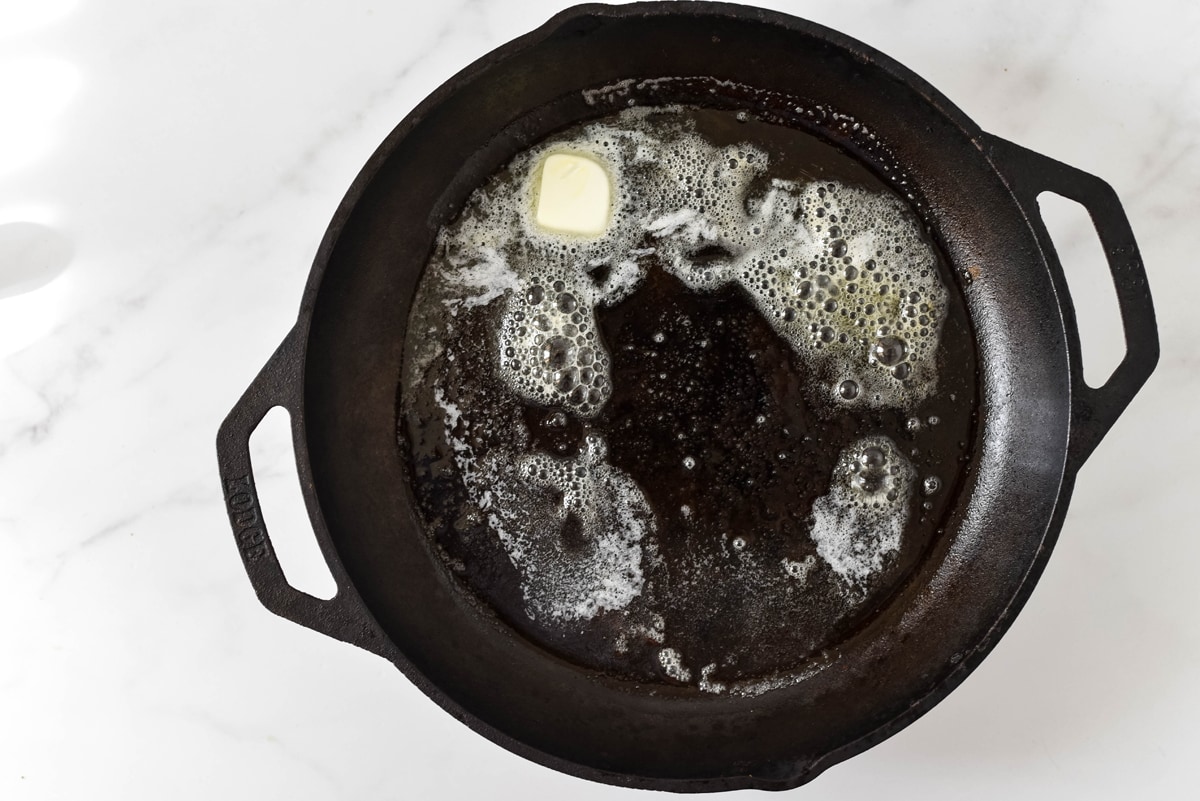 Add the potatoes to your cast iron pan and heat over high heat to sear the outside.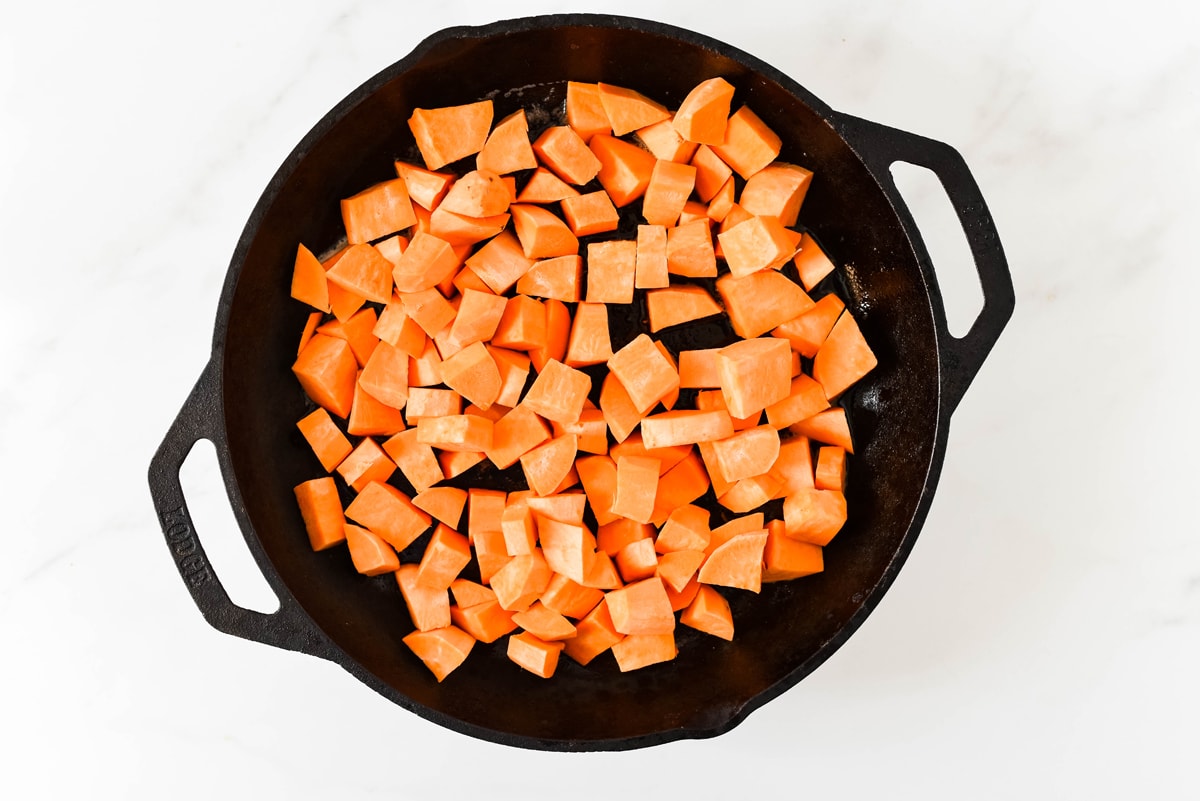 Toss with honey and seasonings and then transfer to the oven to finish it off. Since sweet potatoes aren't very starchy, you don't want to toss and stir them frequently or they will fall apart. Starting with a char and then baking is the best way to get a crunchy outside with a fluffy inside.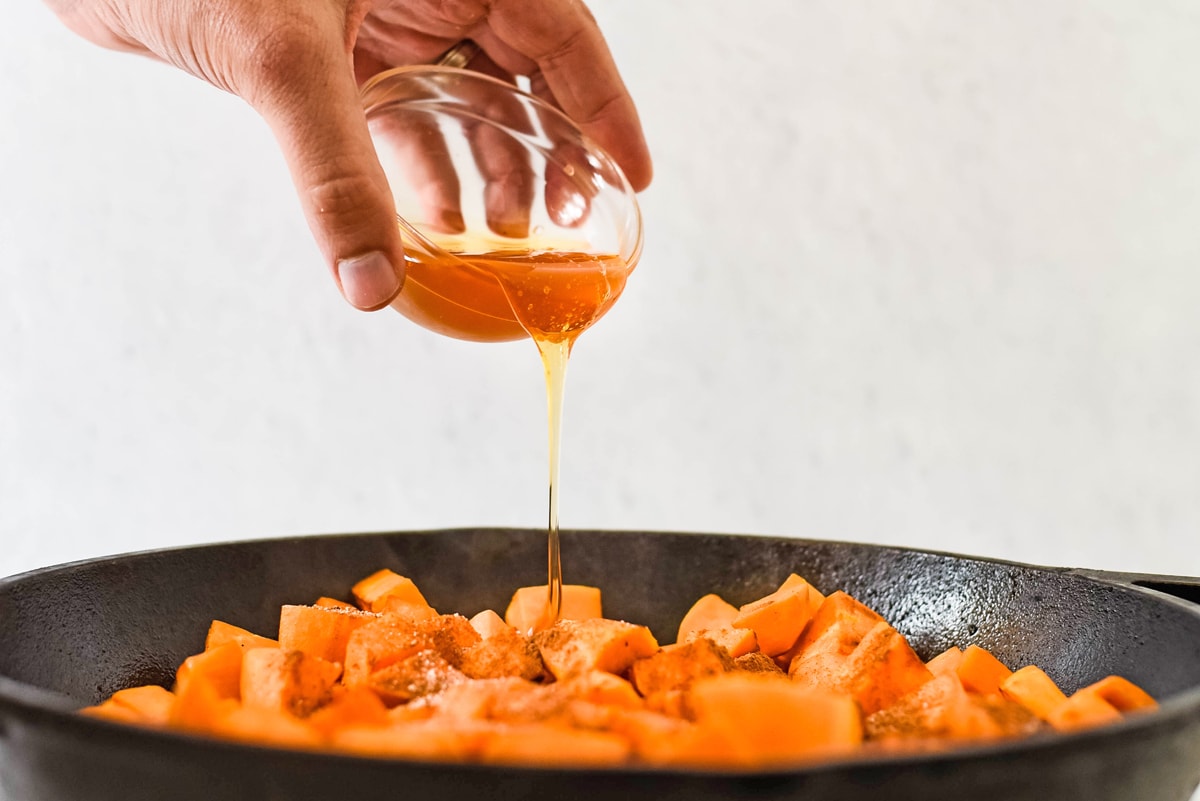 Once they are done, you can even serve your skillet sweet potatoes. Grab a mitt for the handle and a trivet and you are ready to go. Did someone say fewer dishes to wash? Don't have to ask me twice!
Sweet Potato Side Dish
Most people think of baked sweet potatoes or sweet potato casserole. Me included! So I've been working on more sweet potato side dish recipes. So far we've got this one and…
Even though we were serving these Cinnamon Sweet Potatoes as a side dish, they could have just as easily been a dessert, they were SO good. Everyone kept going back for more and more!
FACT: Baby sweet potato leaves and shoots are sometimes consumed instead of the actual potato!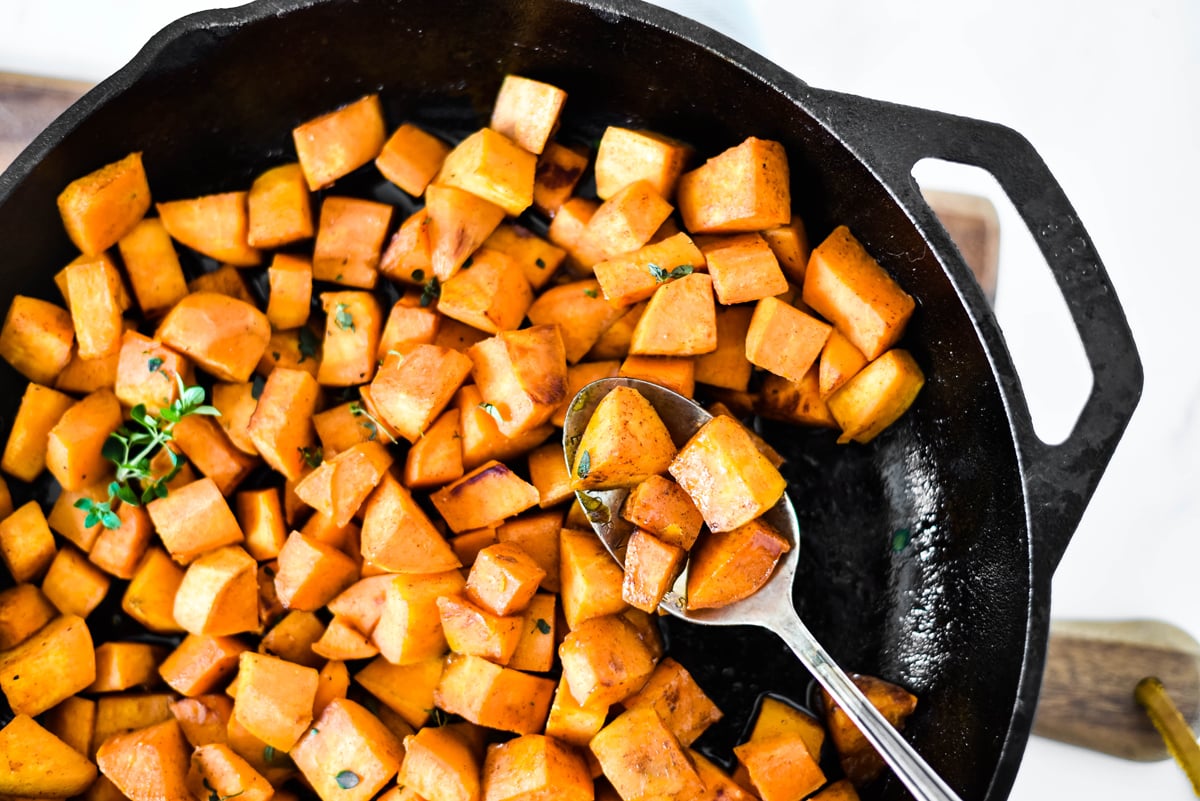 Variations
You know me- queen of the swaps and substitutes. I never did meet a recipe I followed exactly and I don't expect the same out of you either.
Olive Oil for Butter– You can swap out ghee or olive oil for the butter and your recipe will turn out just fine.
Can I use regular potatoes? You can- but the flavor balance won't be as good. This one is best left for the sweet potato variety.
Sugar Options– Honey is my first pick, but you can swap out equal volumes of brown sugar, agave nectar or even maple syrup if you'd prefer.
Sweet Potato Benefits
I almost forgot to mention. Sweet potatoes are great for you! Not only are they high in fiber, but they are packed with other great things like iron, calcium, Vitamins B & C and beta-carotene, an antioxidant.
One thing is for sure, if you need a winning side dish to feed friends and family, this is going to be at the top of the list in no time at all.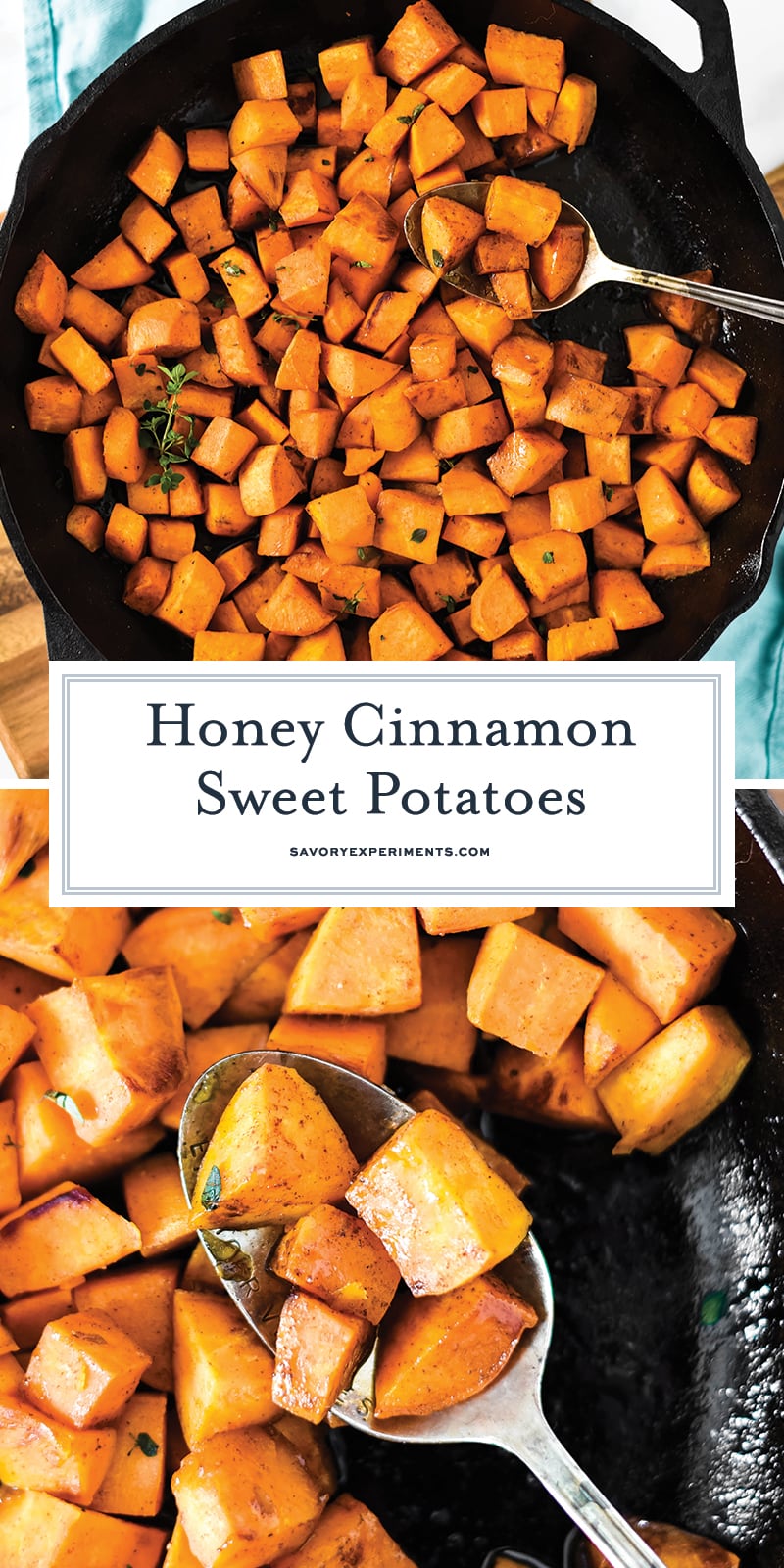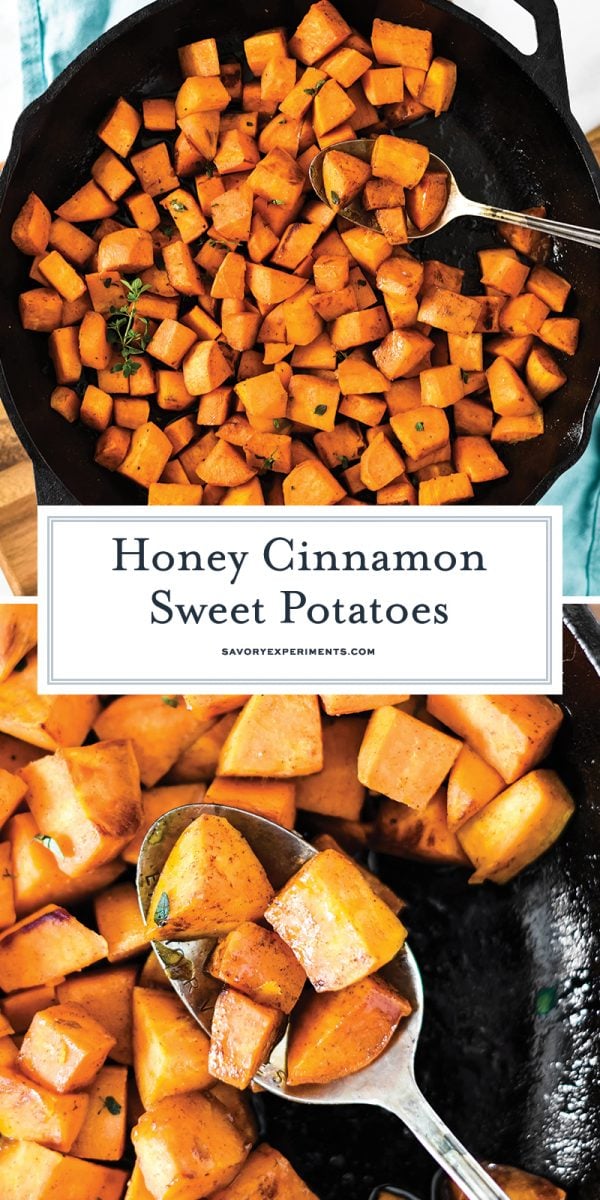 Check out more side dishes: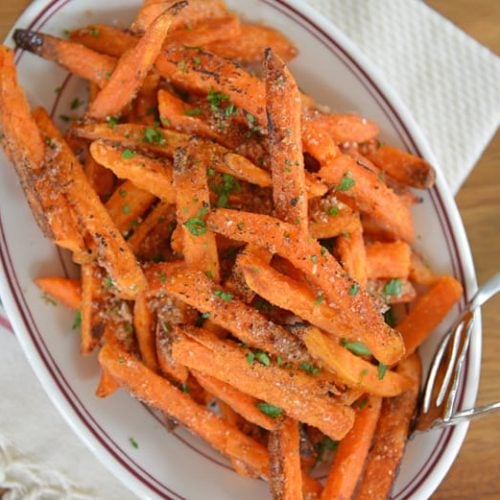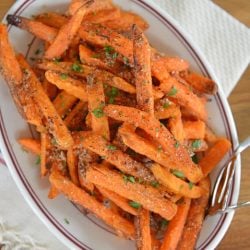 Brown Sugar Cinnamon Sweet Potato Fries
These Brown Sugar Cinnamon Sweet Potato Fries are the ultimate fall side dish! Perfect for serving with a burger, or as a delicious snack!
View this recipe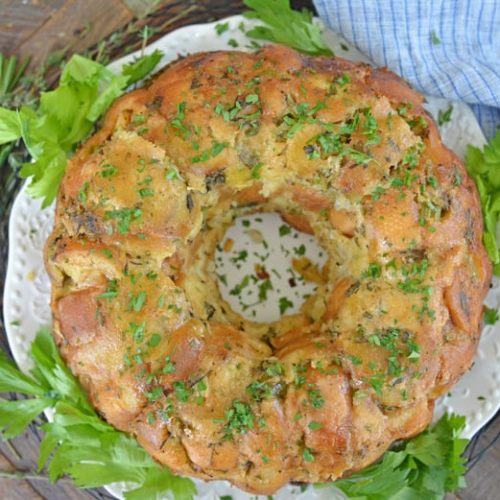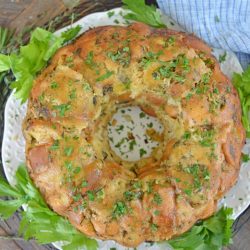 Herb Stuffing Wreath
Of all of the homemade stuffing recipes, this Herb Stuffing Wreath is the best! It will be the star of your Thanksgiving dinner!Of all of the homemade stuffing recipes, this Herb Stuffing Wreath is the best! It will be the star of your Thanksgiving dinner!
View this recipe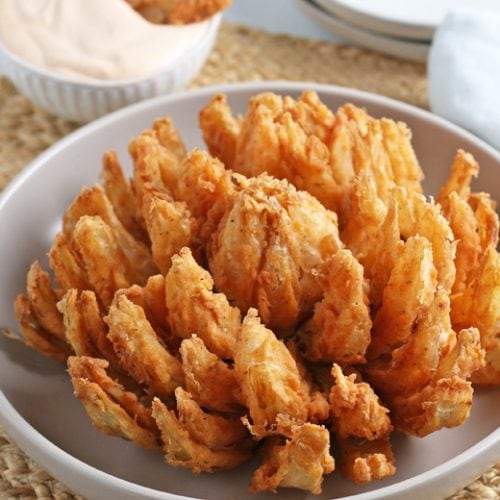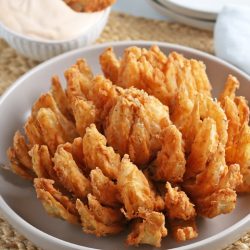 Blooming Onion Recipe
Coated with a crispy, flavorful breading, this EASY Blooming Onion recipe can't be beat- just like Outback! Complete with a Bloomin' Onion sauce, too!
View this recipe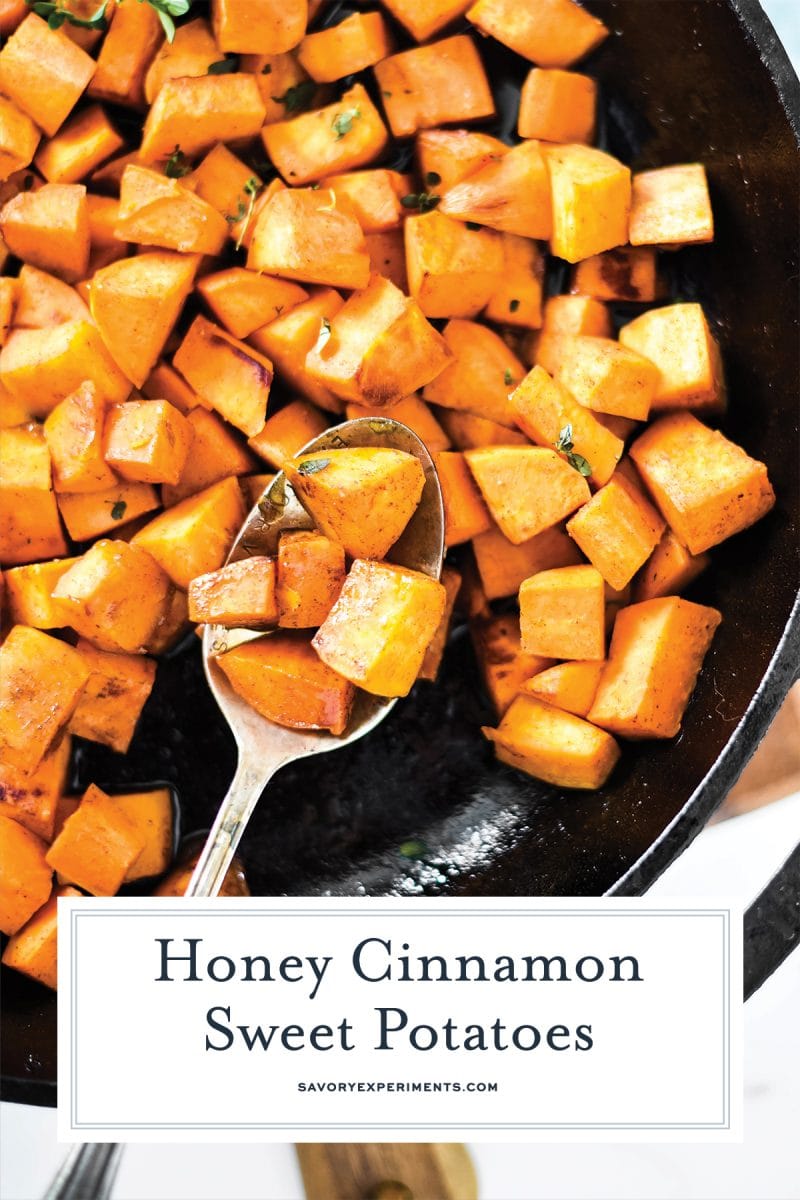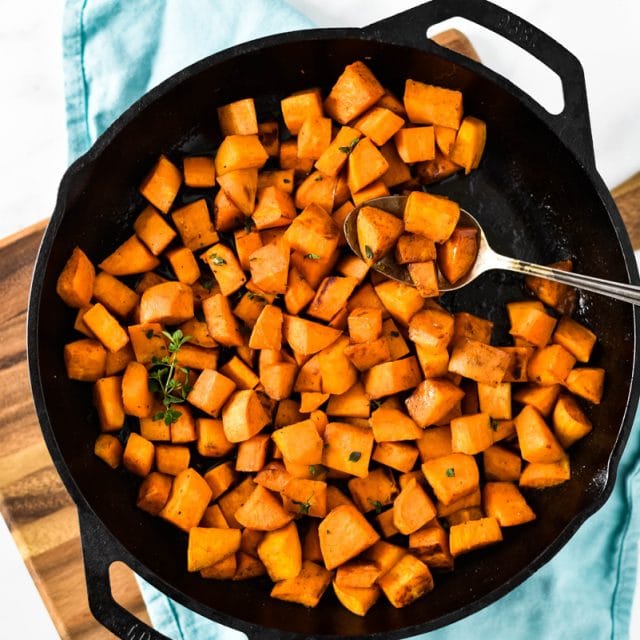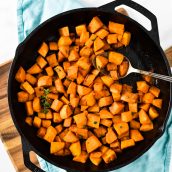 Pan Fried Sweet Potato Recipe
Honey Cinnamon Sweet Potatoes are a cast iron recipe that utilizes just a few simple ingredients. Sweet potatoes, honey, cinnamon and butter are all it takes for this verstile side dish recipe.
Instructions
Heat a large ovenproof skillet (I prefer cast iron) over medium-high heat.

Add the sweet potatoes and butter, allow to sear on all sides until lightly brown and crust develops. Potatoes will not be fully cooked, but fairly browned.

Toss with the honey, cinnamon, salt and pepper.

Transfer entire skillet to the oven to finish cooking. Bake for 15-20 minutes or until you can easily pierce a sweet potato cube.

If you've tried this recipe, come back and let us know how it was in the comments or ratings.
Nutrition
Calories:
117
kcal
,
Carbohydrates:
18
g
,
Fat:
5
g
,
Saturated Fat:
3
g
,
Cholesterol:
15
mg
,
Sodium:
343
mg
,
Potassium:
21
mg
,
Sugar:
17
g
,
Vitamin A:
625
IU
,
Iron:
0.1
mg