Velvety chestnuts, raisins, celery and apple with a crispy top layer. Oh, happy day, chestnut lovers! Chestnuts are an honored holiday tradition.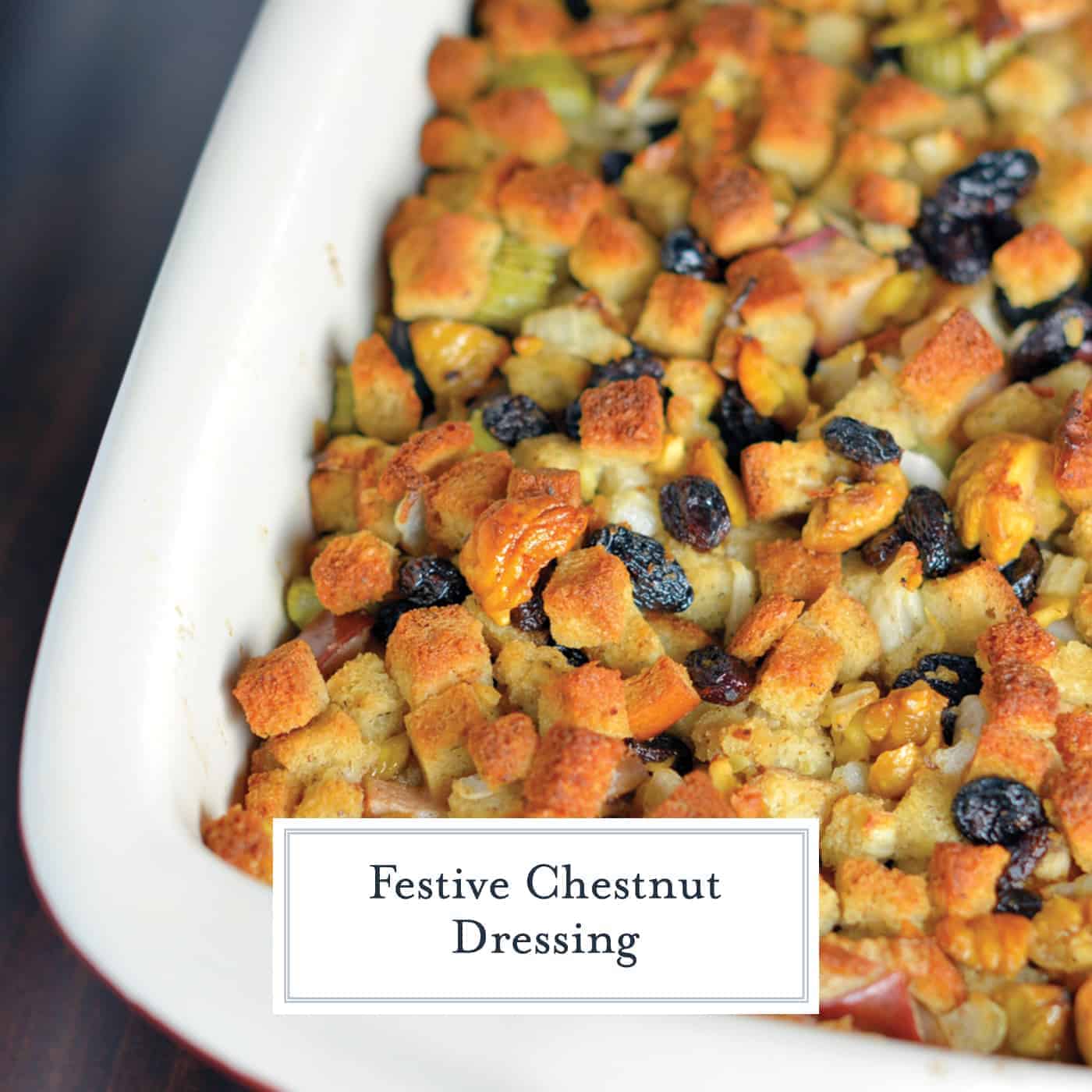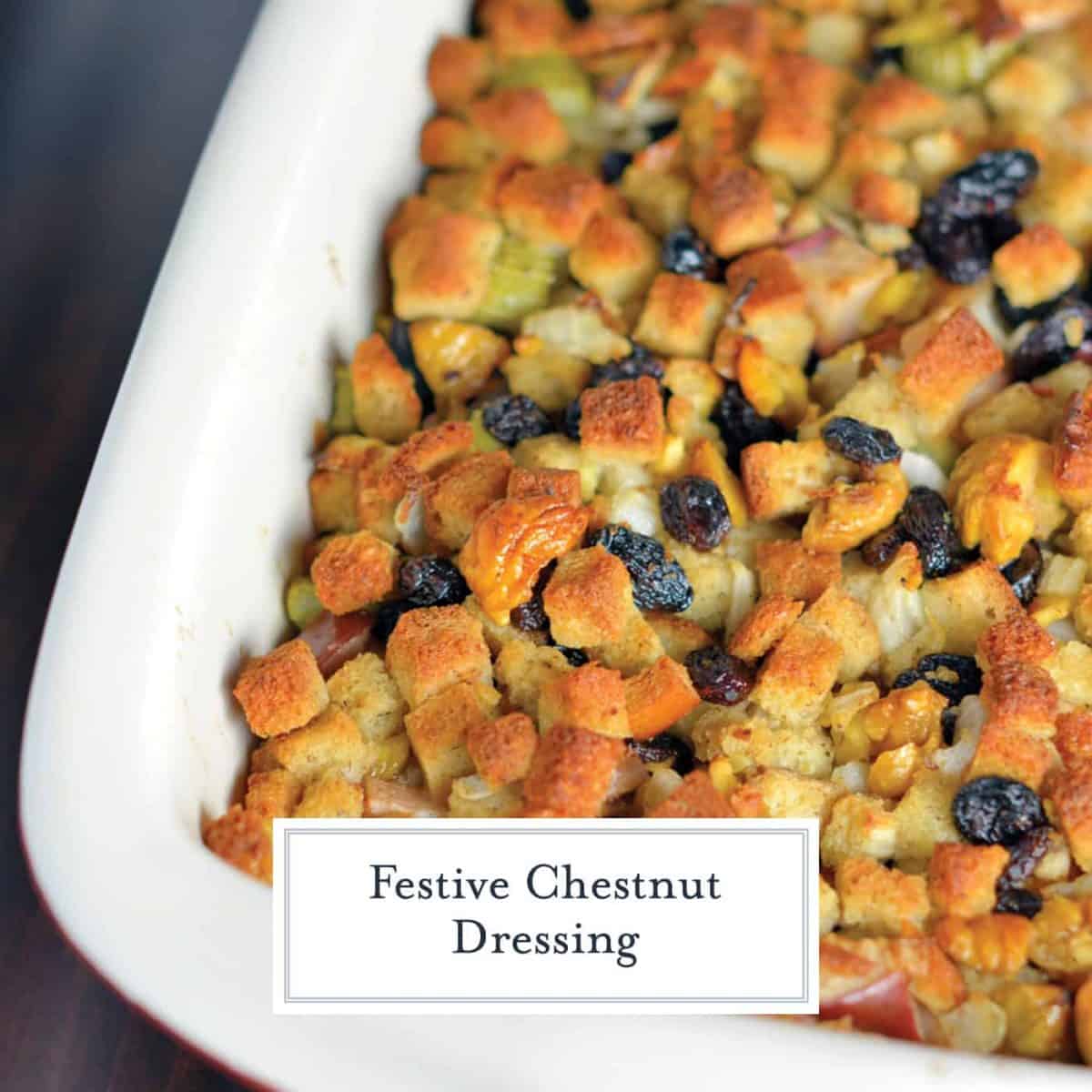 Some simply roast them, soak them in a candy coating or incorporate it into savory dishes, like Chestnut Stuffing.
Chestnut Dressing Recipe is a festive vegetarian side dish perfect for any holiday meal. The perfect holiday stuffing recipe!
Chestnuts seem to be a fading tradition. Unless you are on the streets of Manhattan and happen to catch a whiff of them roasting from a street vendor, they are rarely around. In fact, I had a pretty hard time finding them even during the holiday season.
What are chestnuts? Chestnuts have 9 different species and are indigenous to North America. In the states they are commonly roasted, but in Europe you will find them boiled and steamed.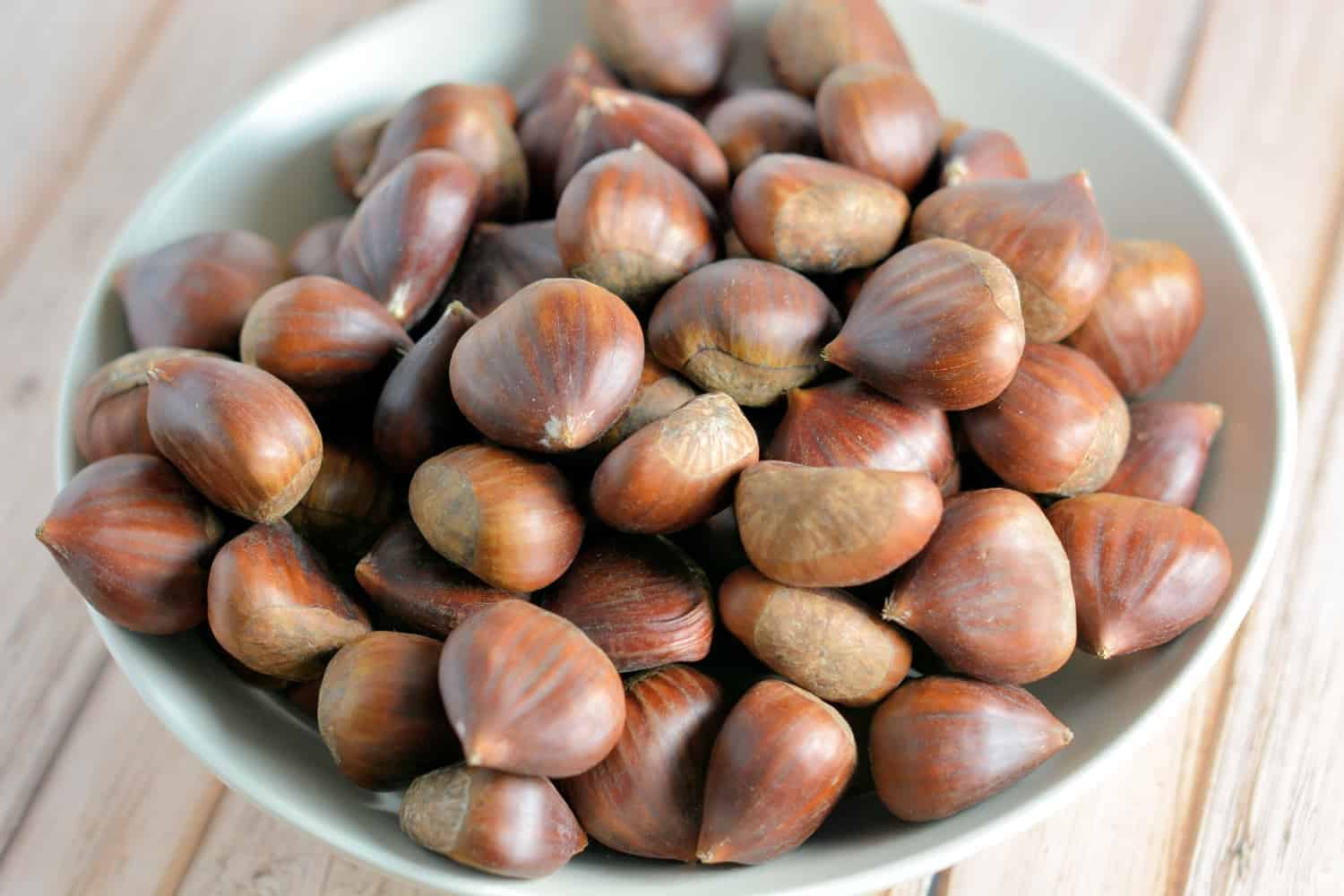 What do chestnuts taste like? They are sweet and earthy. The texture isn't hard like other nuts, in fact, it has a similar texture to a chickpea.
Other common questions about chestnuts:
Can chestnuts be eaten raw? They can, but they don't taste as good. You'll also find it difficult to get the woody exterior off to even get to the inside without cooking them.
Can chestnuts be microwaved? Yes! Score the bottom with an "X" just like you would if you were roasting them, place them on a microwave safe plate and nuke em for 3-4 minutes. Times may very given the power of your microwave and size of your nuts. The exterior will start to peel away when done.
Are chestnuts poisonous? There are 9 different types of chestnuts, those that are sweet and those known as "horse chestnuts," which are indeed poisonous. To avoid this, buy your chestnuts from a quality vendor or get expert foraging advice. I am not the foraging type…. I am the "buy at the store type".
Can chestnuts be frozen? Yes! Cooked or raw, in the shell or not.
What is a conker? A conker is a chestnut in the UK.
Do chestnuts keep spiders away? There is an old wives tale that the gases emitted from chestnuts will kill spiders, however there is no scientific evidence of this according to the internet and I am not about to give this a whirl at home. Spiders give me the creepy crawlies.
Why are chestnuts associate with Christmas? As far as I know, chestnuts were widely popular year round until the song "chestnuts roasting on an open fire" made them to be associated with Christmas. It is also a crop that can be harvested in the winter months and tastes delicious in stuffing and dressing recipes, making it ideal for Thanksgiving and Christmas.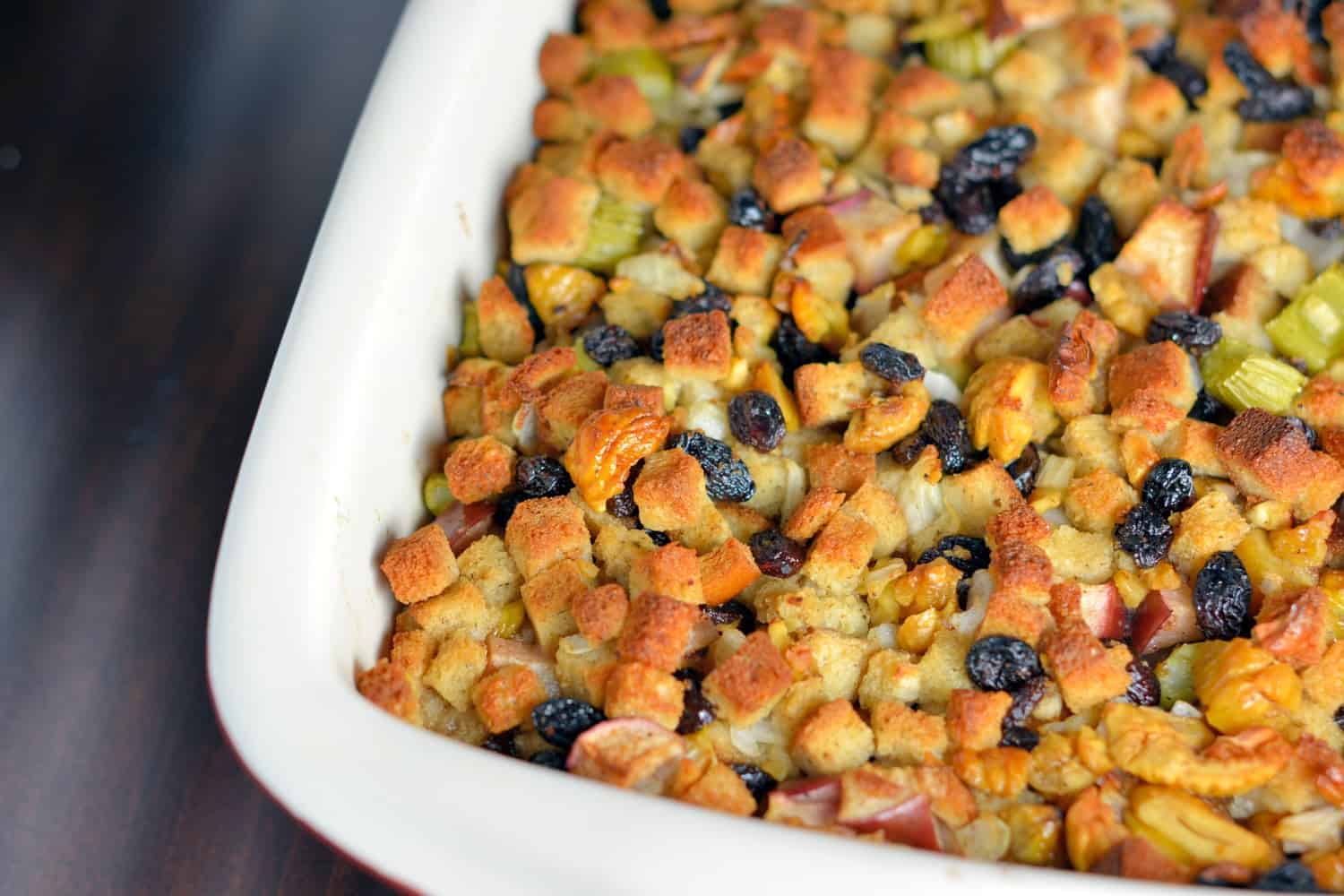 Chestnut stuffing can be served with a juicy turkey or even better, alongside a Sweet Roasted Goose with Cumberland Sauce! The most challenging part of this recipe is by far the roasting and peeling of chestnuts.
While in holiday songs, it sounds like a simple, even pleasurable task, I will tell you the truth. It is not.
But also not impossible and if you are like me, you actually enjoy the satisfaction knowing YOU did it. However, if you choose to buy them shelled, I totally understand.
Some stores will even roast them for you or sell them pre-roasted. You'll lose the aroma, but gain tons of time.
However you choose to get those silly little nuts out of the shell, Chestnut Dressing, filled with apples, raisins and celery, is the perfect holiday side dish!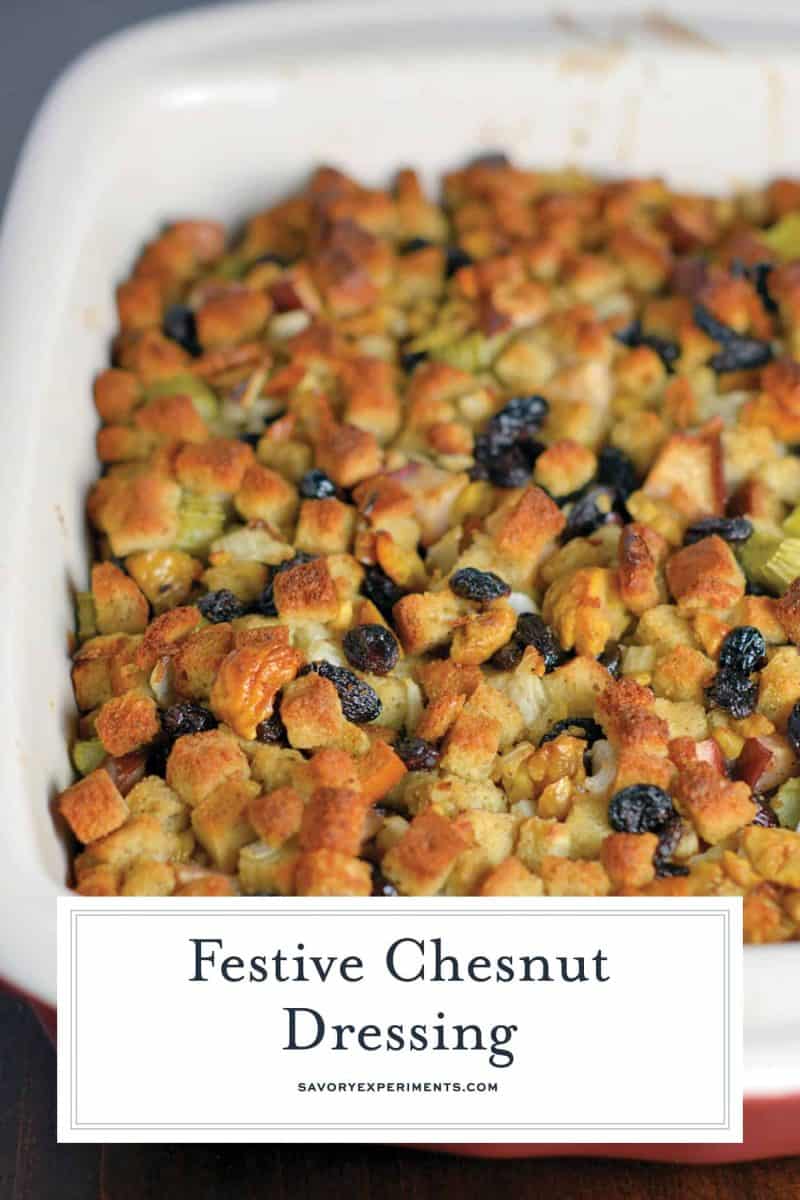 Check out some of these other holiday recipes: