Just because this recipe is easy, it doesn't mean it's not packed full of flavor and nutrition! This recipe will help you embrace all the sweet potato benefits it has to offer!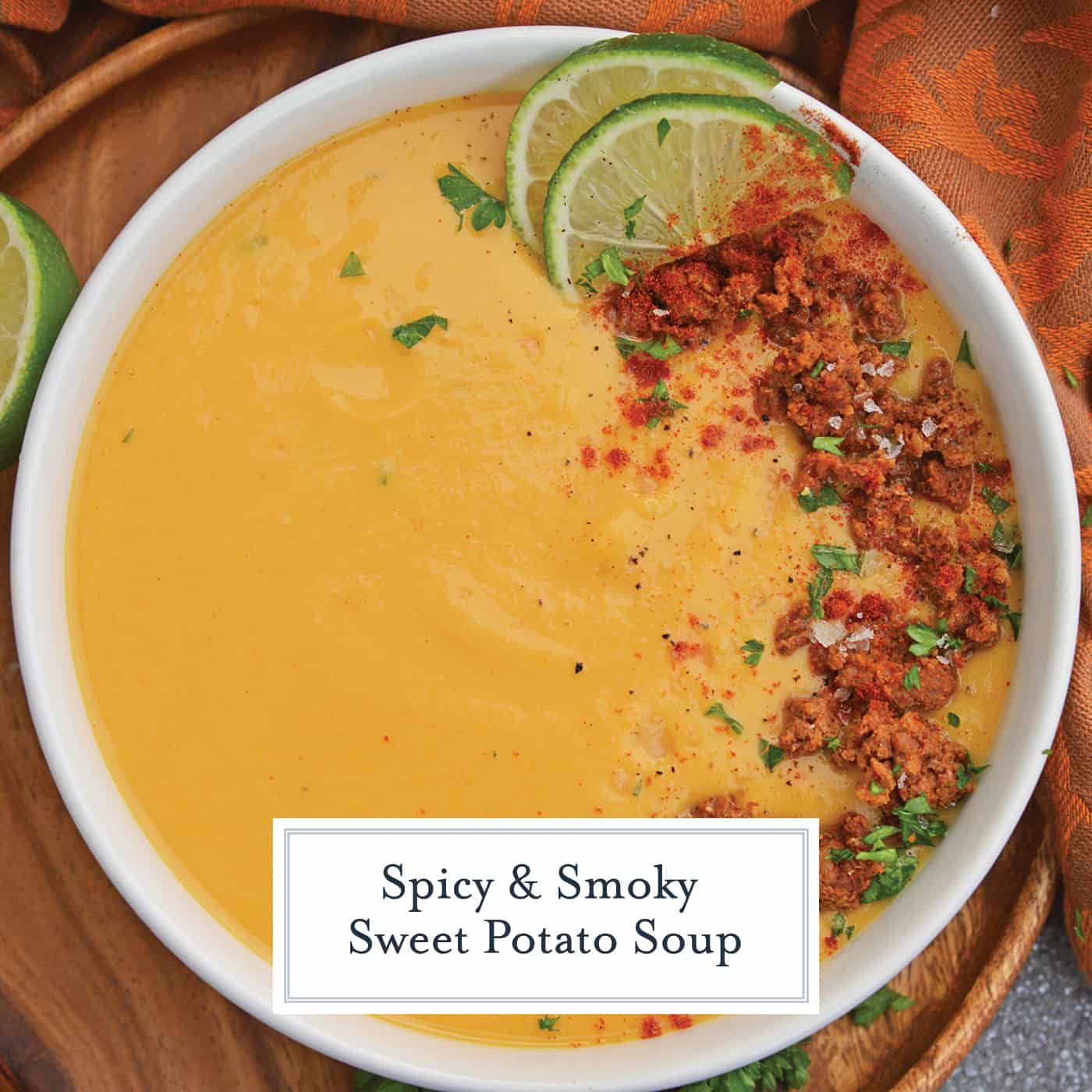 Spicy Sweet Potato soup is a healthy blend of vegetables with a sweet and spicy kick! This soup definitely falls under the category of easy soup recipes.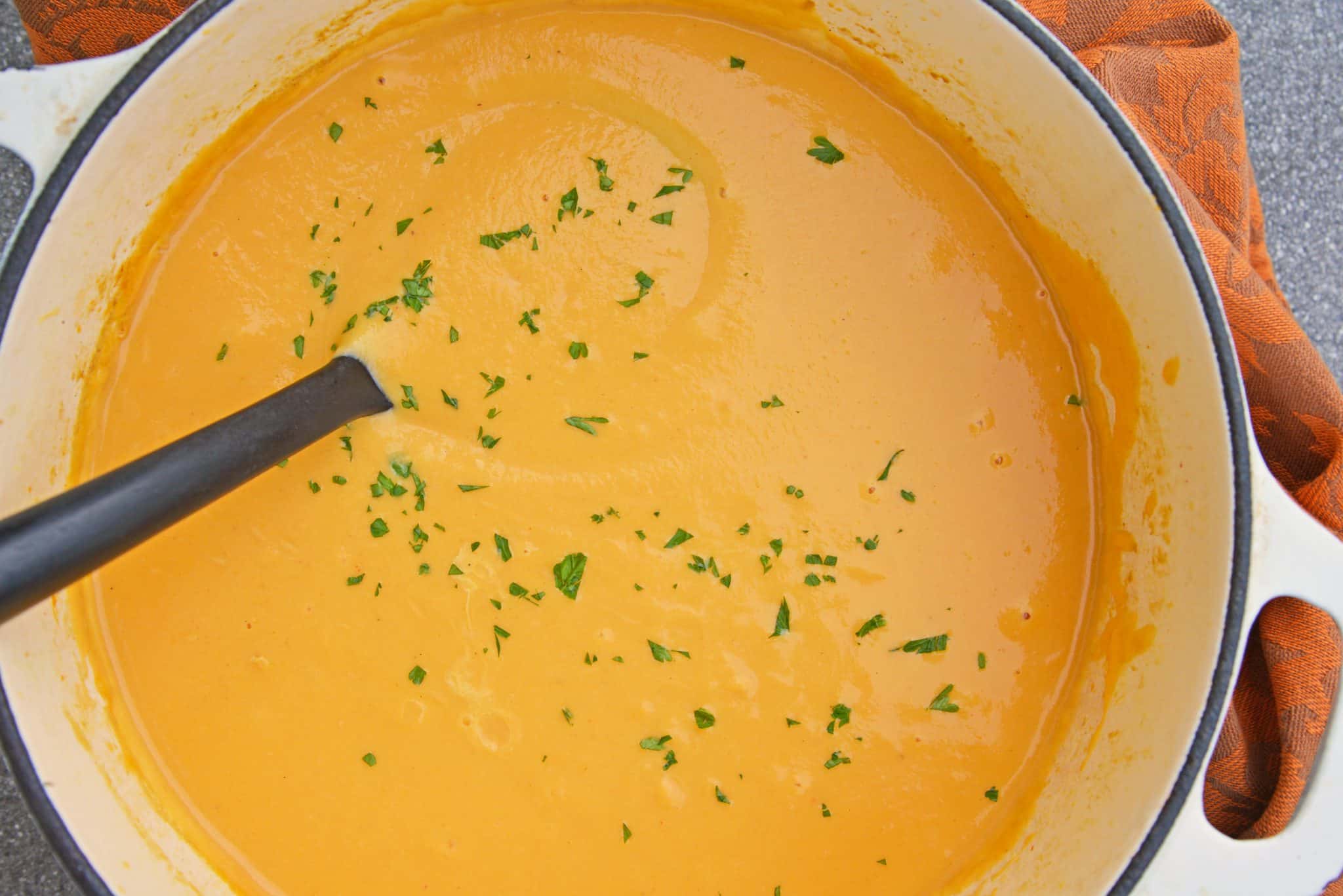 Hubby and I generally have very busy lives. Gym at 5:15am, office by 7, he sometimes travels, home by 5-6pm, house chores, etc. The one thing we bond over every single day (unless one of us is traveling of course) is food.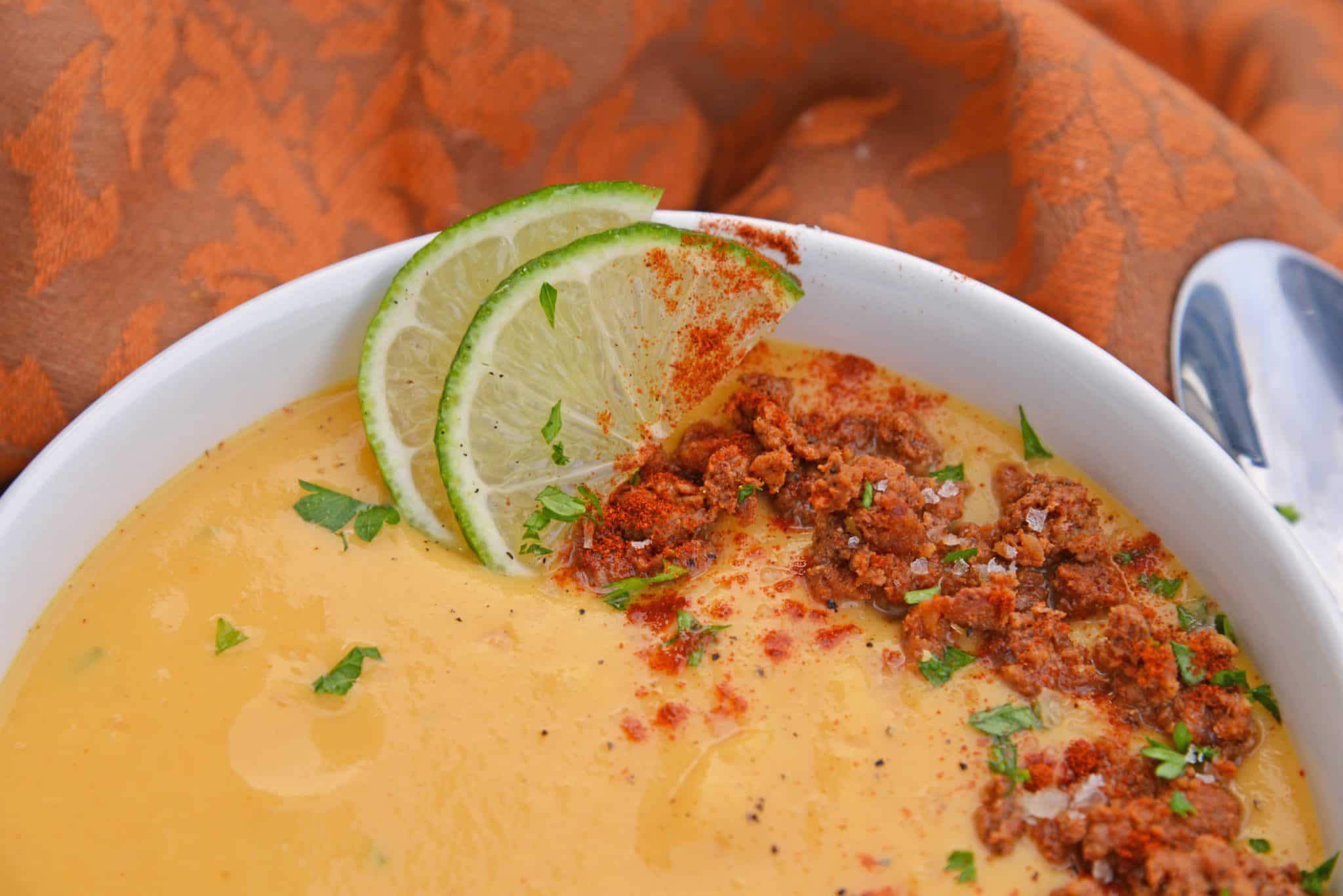 Most often it is dinner, but on one special day our schedules aligned and we realized that we were within 2 blocks of one another around lunch time.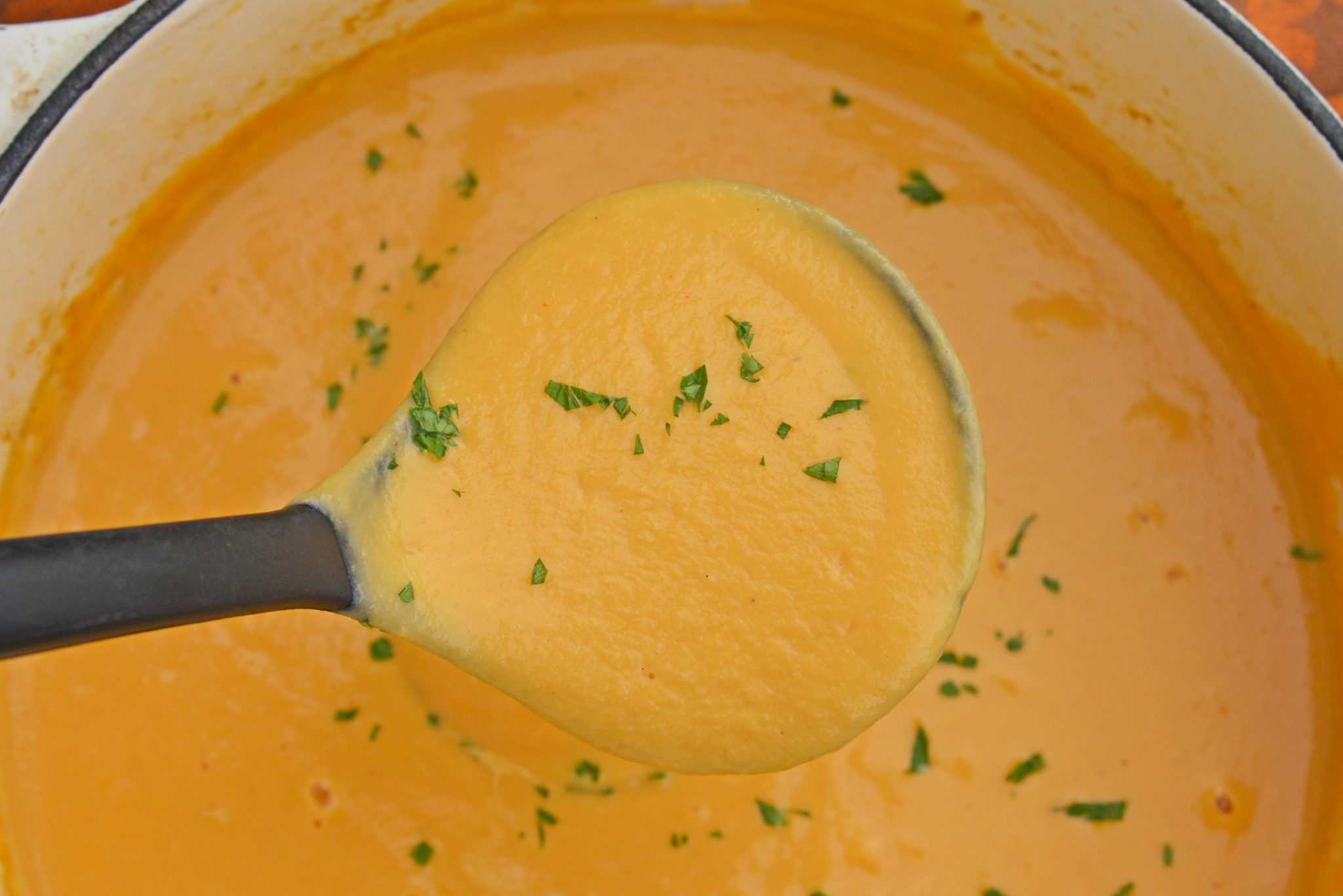 We met at a swanky hotel with a bistro decorated with overstuffed leather chairs and oil paintings of polo matches and fox trots where we shared a bowl of Spicy Sweet Potato Bisque.
We should have just ordered two because we were having an immature spoon fight over the last little bits.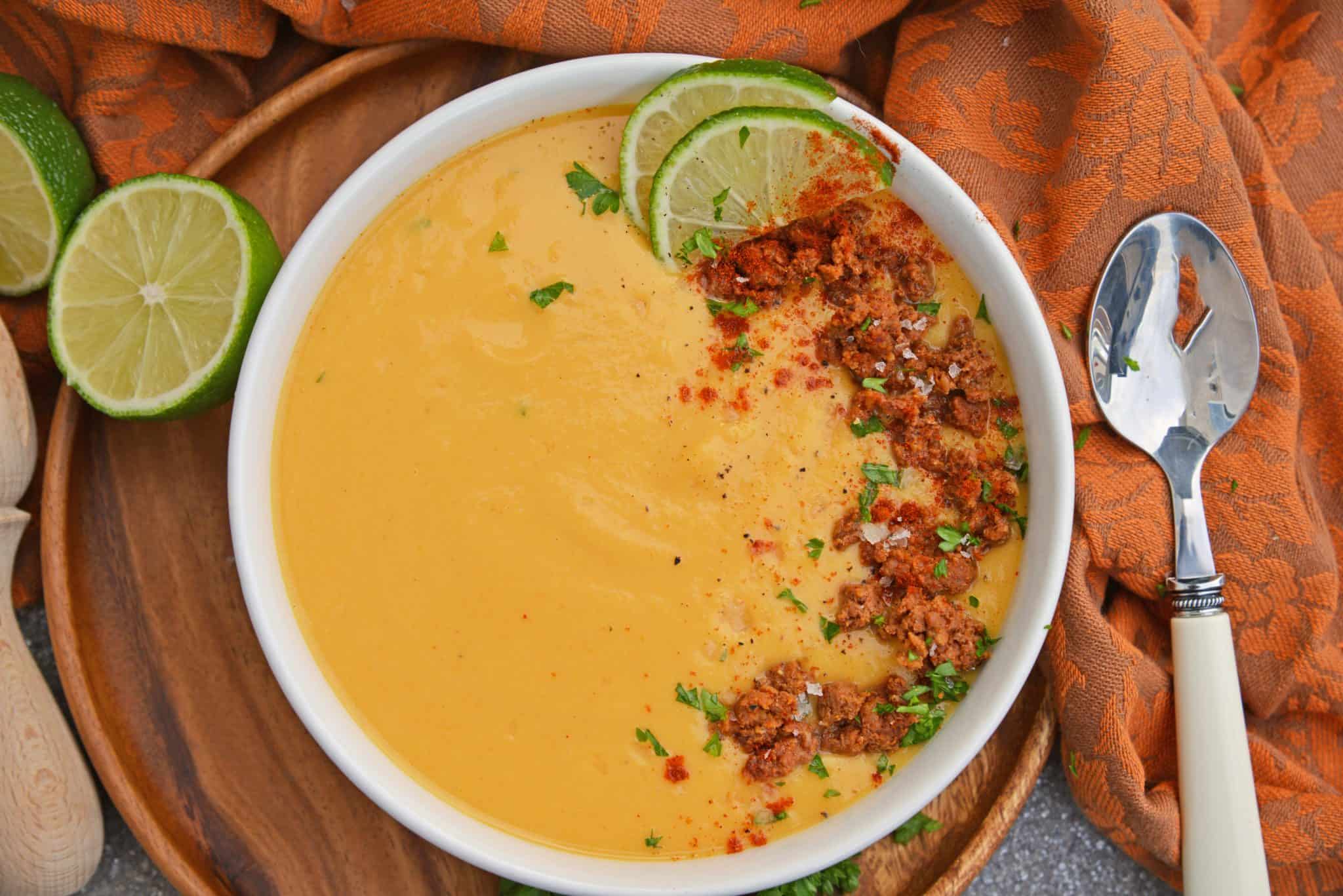 I obsessed over the taste for about a week before I decided to make my own Spicy Sweet Potato Soup, which has the lovely addition of chorizo for both texture and taste. My soup is actually a bisque, but somehow "soup" seems to be more approachable.
Below is the magic that happened. A spicy and sweet, stick-to-your-ribs bisque that you will crave again and again. This sweet potato soup also freezes well and is perfect for lunch.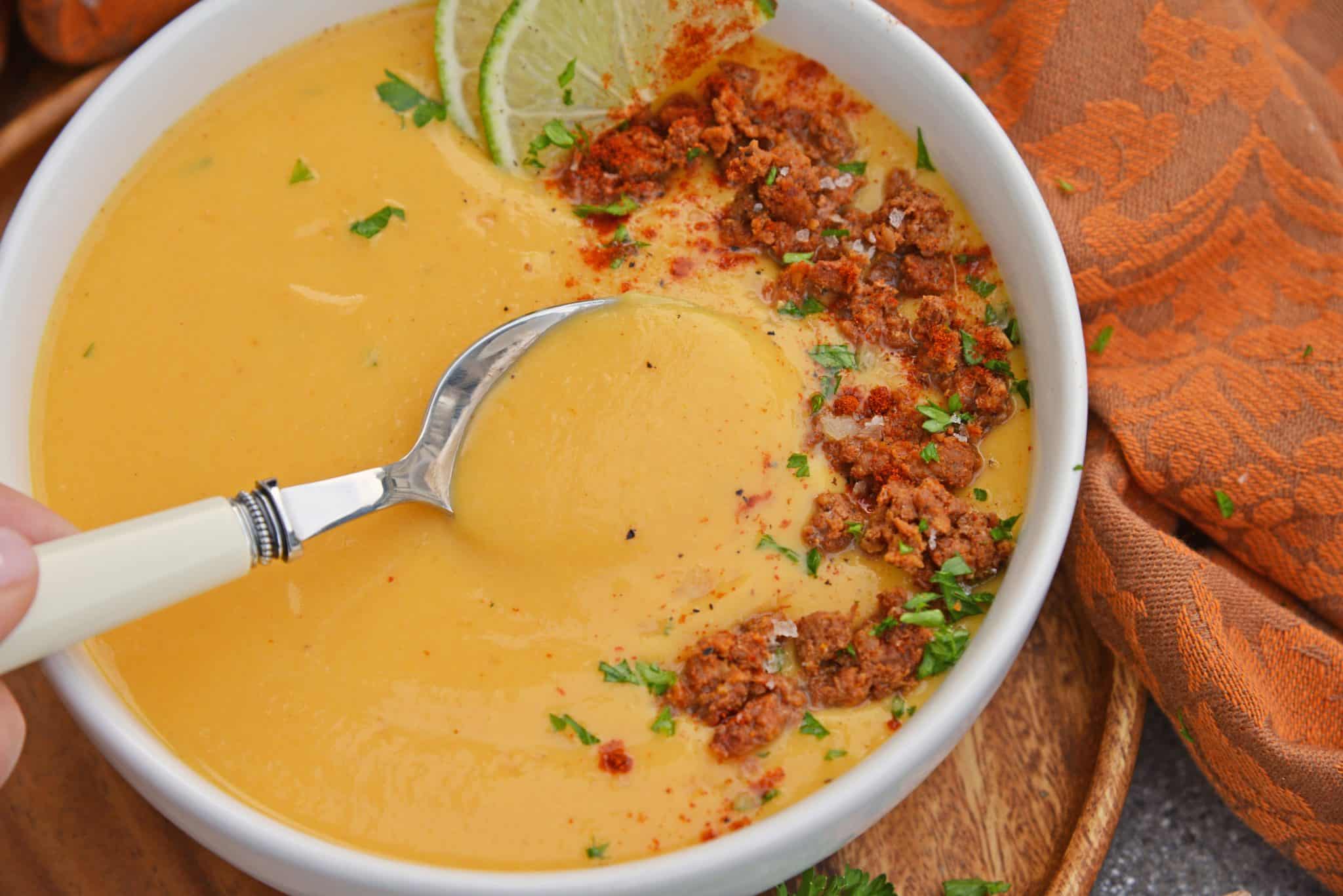 Make as an appetizer entree or side. Control the heat by reducing or increasing chili powders.
Did You Know SweetPotato is One Word?
Did you know that sweetpotato is actually one word? Most people still use two, so we do as well, but in 1989 this nun (not an adjective) was officially changed to one word to help standout against it's very commonly confused cousin the yam.
And as we know, sweet potatoes are not yams! You've likely never even had a yam in your lifetime because they aren't grown in the US. So bring up this little bit of trivia at your table tonight.
Make-Ahead & Freezing
Storage and Make-Ahead: This soup is excellent to make in large batches for meal prep or to serve the next day. Store in an airtight container for up to 5 days. Reheat on the stovetop over medium heat, or in the microwave at 50% power, stirring every 30 seconds, until hot. The total time will depend on your wattage and the volume of soup. Start with just 90 second for a single bowl.
Freezing: Sadly, soups with cream or dairy can be frozen, but do not thaw well. They seperate and this results in a grainy texture that can not be smoothed out after reheating. But you can make the soup without dairy and then add it in while reheating.
Store in an airtight container filled to the brim or a plastic freezer bag. Remember, air is the enemy so even in an airtight container, try to have as little air as possible (hence filling to the brim).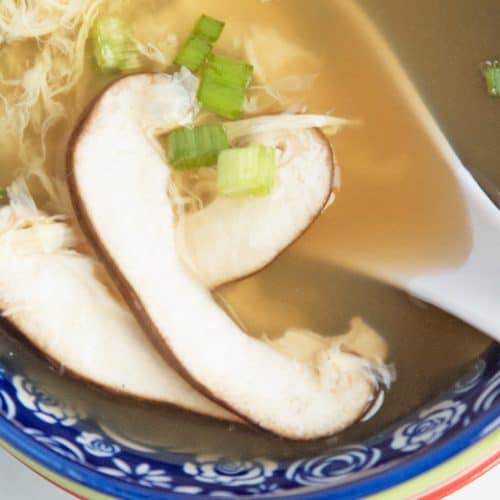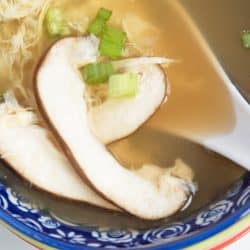 Egg Drop Soup
This Chinese Egg Drop Soup is the BEST! It's quick and easy to make, making it perfect for a quick lunch or starter for dinner. It's made in only 15 minutes!
View this recipe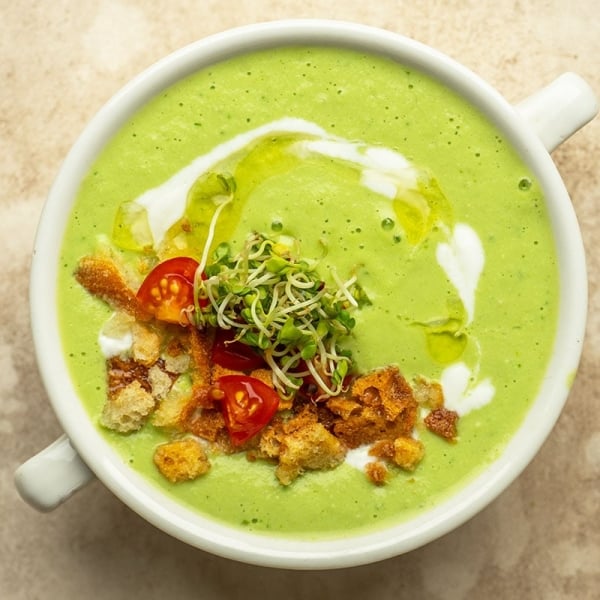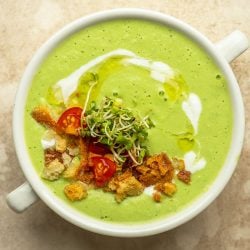 Green Gazpacho Recipe
Green Gazpacho is a chilled soup made from cucumber, tomatillos and jalapenos with a yogurt base. A perfect make ahead soup to serve on a hot summer day!
View this recipe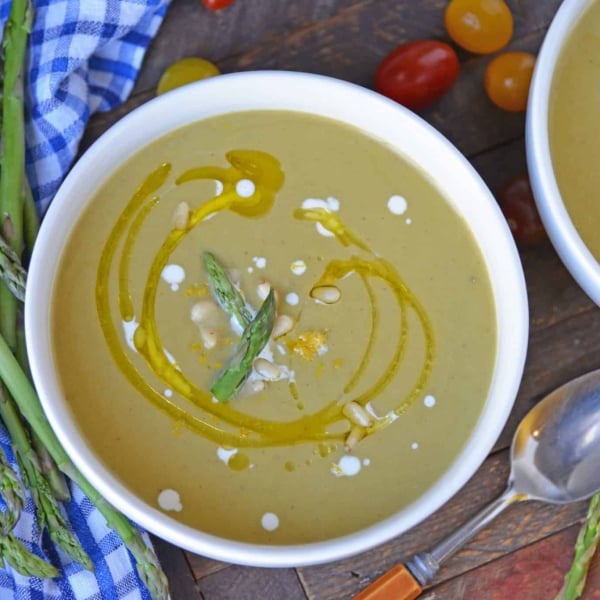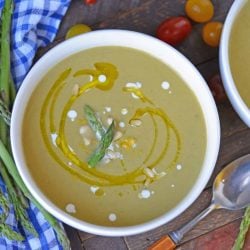 Asparagus Soup
Asparagus lovers will love this creamy asparagus soup! Deliciously smooth and flavored to perfection, this cream of asparagus soup makes the perfect appetizer!
View this recipe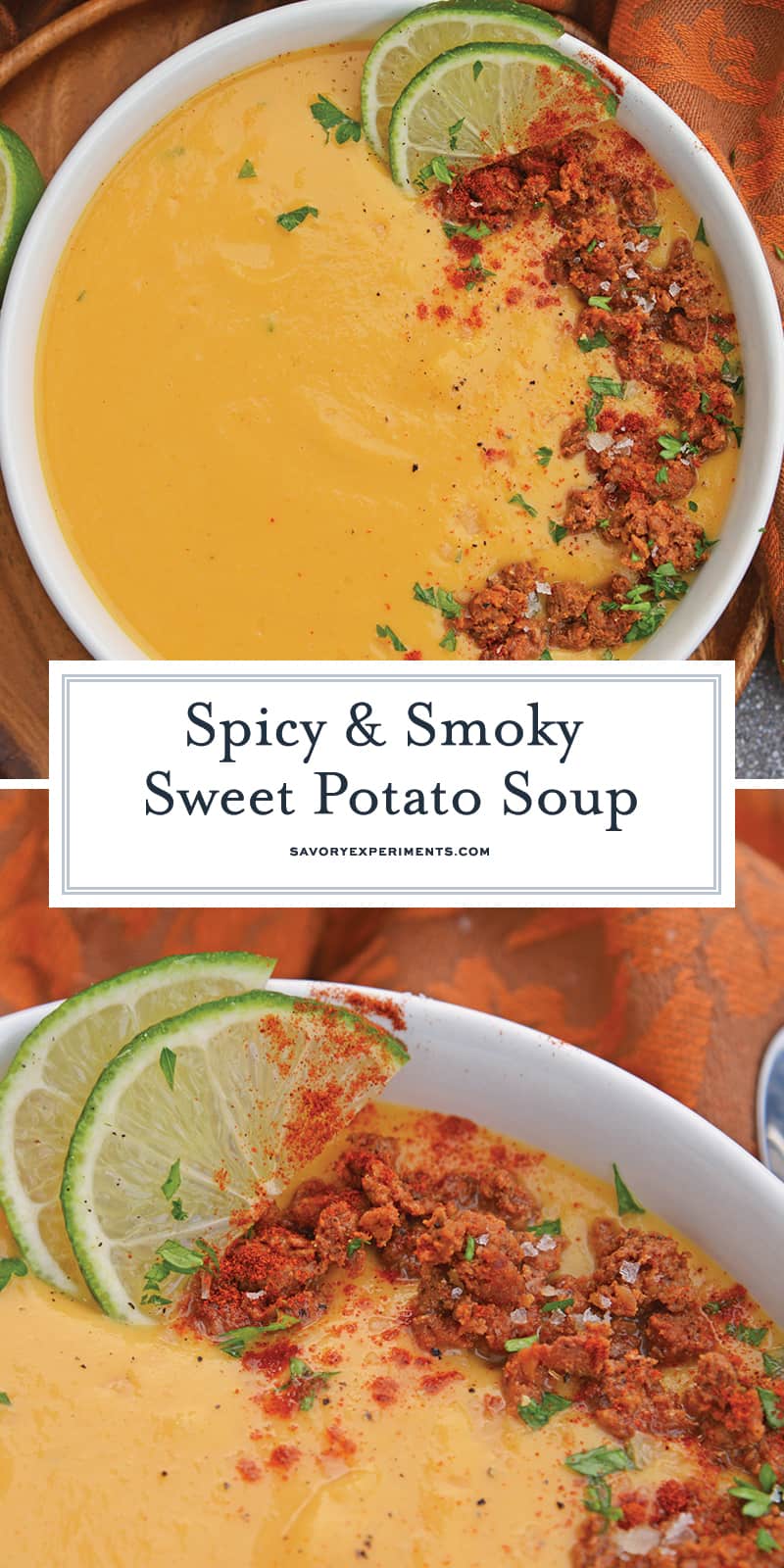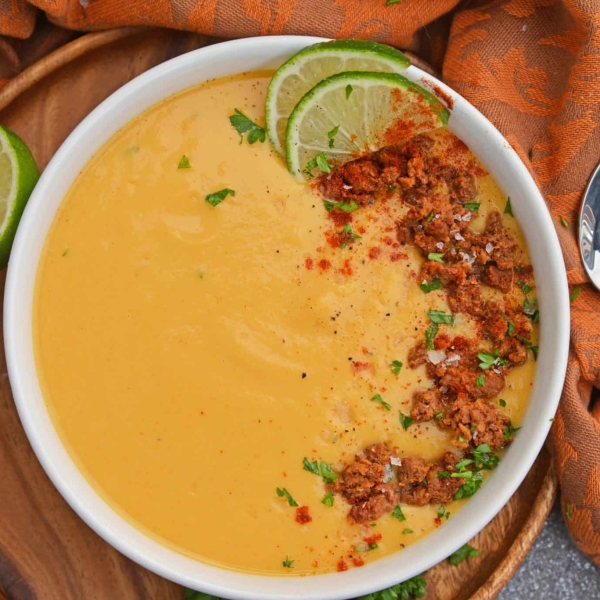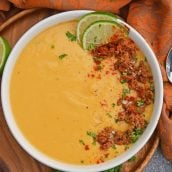 Spicy Sweet Potato Recipe
Spicy Sweet Potato and Chorizo Bisque is a delightful blend of vegetables with a sweet and spicy bite.
Instructions
Melt butter in a large Dutch oven over medium heat. Saute onions, garlic and ginger until soft and fragrant.

Add lime juice and sweet potatoes. Cook for 5 minutes to soften slightly. Stir in vegetable broth through chipotle chili powder. Bring to a boil. Continue to boil until sweet potatoes are soft and starting to fall apart (approximately 20 minutes, but times will vary depending on the size you cut your potatoes).

Meanwhile, in a medium skillet, cook chorizo over medium heat for approximately 10 minutes. Remove to a paper towel lined plate.

Using an immersion blender or a food processor, puree the sweet potato mixture, mixture will be the consistency of apple sauce.

In Dutch oven over low heat, stir in half & half. If you prefer to thin out your bisque, add additional vegetable broth or apple juice.

Ladle into serving bowls and top with chorizo, smoked paprika and a squeeze of fresh lime. Enjoy!

If you've tried this recipe, please come back to let us know how it was!
Notes
Looking for a healthier option? Omit chorizo or substitute soy chorizo.
Plain Greek yogurt can also be substituted for half & half.
Nutrition
Calories:
468
kcal
,
Carbohydrates:
33
g
,
Protein:
17
g
,
Fat:
29
g
,
Saturated Fat:
12
g
,
Cholesterol:
70
mg
,
Sodium:
1811
mg
,
Potassium:
626
mg
,
Fiber:
1
g
,
Sugar:
21
g
,
Vitamin A:
1030
IU
,
Vitamin C:
11.1
mg
,
Calcium:
98
mg
,
Iron:
1.7
mg