Peppermint Twist Macarons are the centerpiece of my Christmas cookie plates. Melt-in-your mouth macarons made with the flavor of the season: peppermint.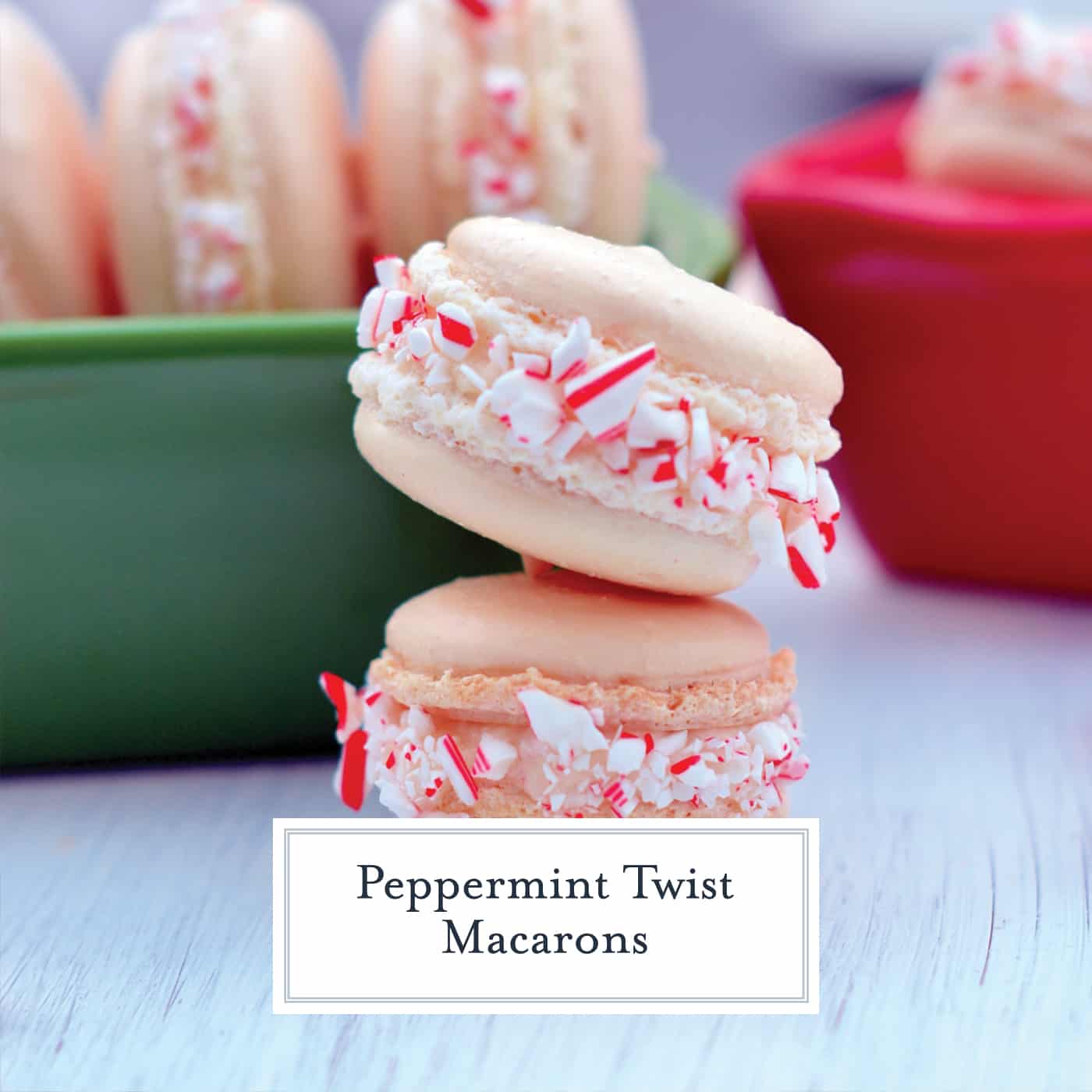 Peppermint Twist Macarons are an easy macaron recipe with a buttercream filling. Perfect recette macarons for Christmas cookies and holiday parties.
Holy macaron!!! Has anyone else noticed the macaron craze? High on the list of food trends, macarons!
They seem to be making a big comeback, seen in pastry shops, food blogs, gracing the dessert menus in the most exclusive restaurants, served in lieu of cake at weddings and now… in your home.
Often intimidating to prepare, the home cook tends to shy away from challenging their pastry skills.
The classic French cookie sandwich, recette macaron, isn't particularly difficult to make, however there aren't shortcuts for the tedious steps.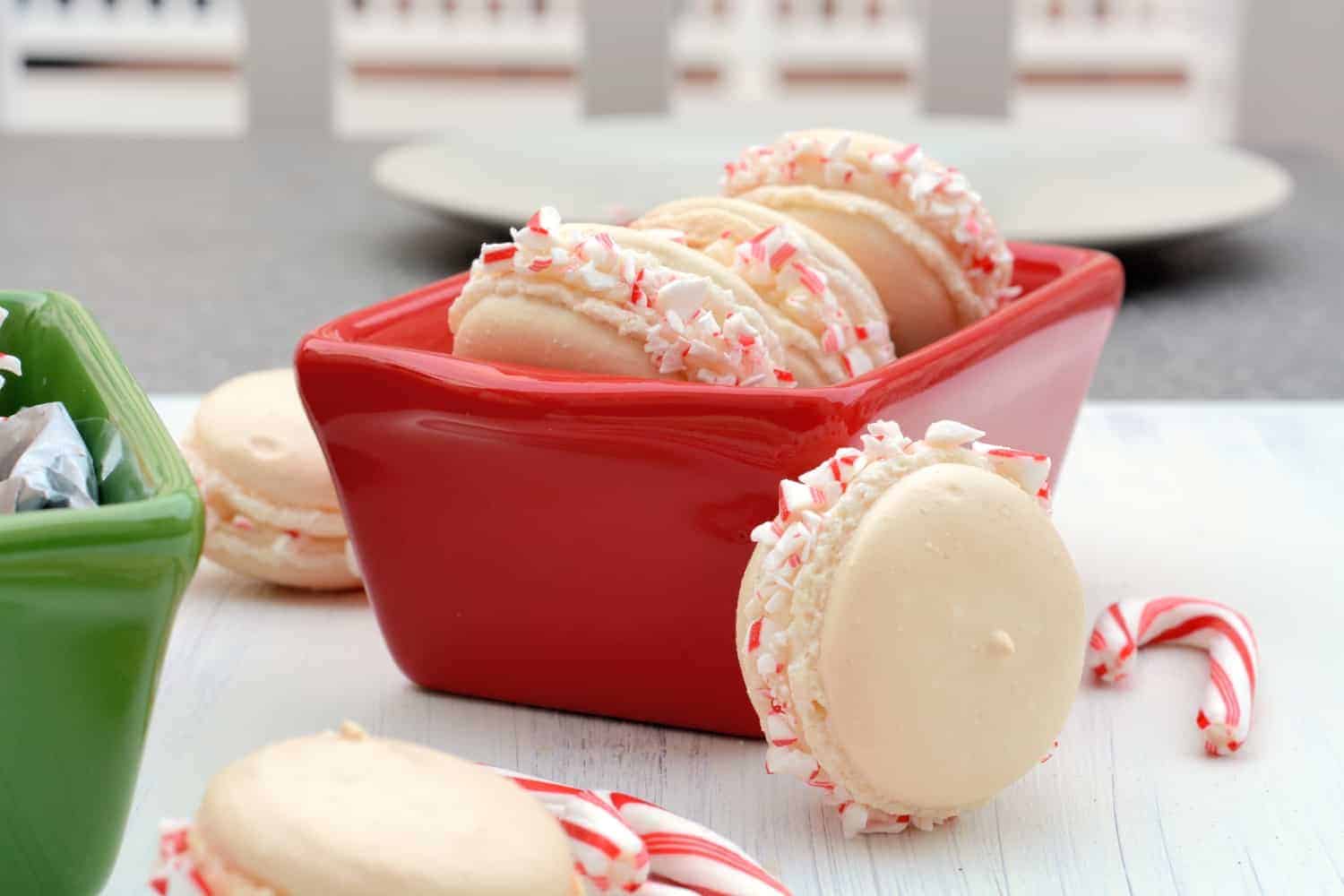 Understanding the basic anatomy of the perfect macaron helps. Here is some basic knowledge so you can make easy macarons.
First comes the ingredients. Originating in Europe, macarons call for caster sugar, a grain size somewhere in between US granulated sugar and powdered sugar.
You might be able to find it at your local grocery store, but you can also take regular white granulated sugar for a spin in the food processor to get the same effect or just use powdered sugar.
Skipping this step can lead to a grainy macaron. No one wants that!
Macarons also call for almond flour or almond meal. You can usually locate this in the baking section of your grocery store near the flour, but in a much smaller bag especially since gluten-free diets have become so popular.
The weight of the almond flour is necessary in achieving a light and slightly chewy peppermint cookies. It also makes these macarons a gluten-free cookie recipe. Double win!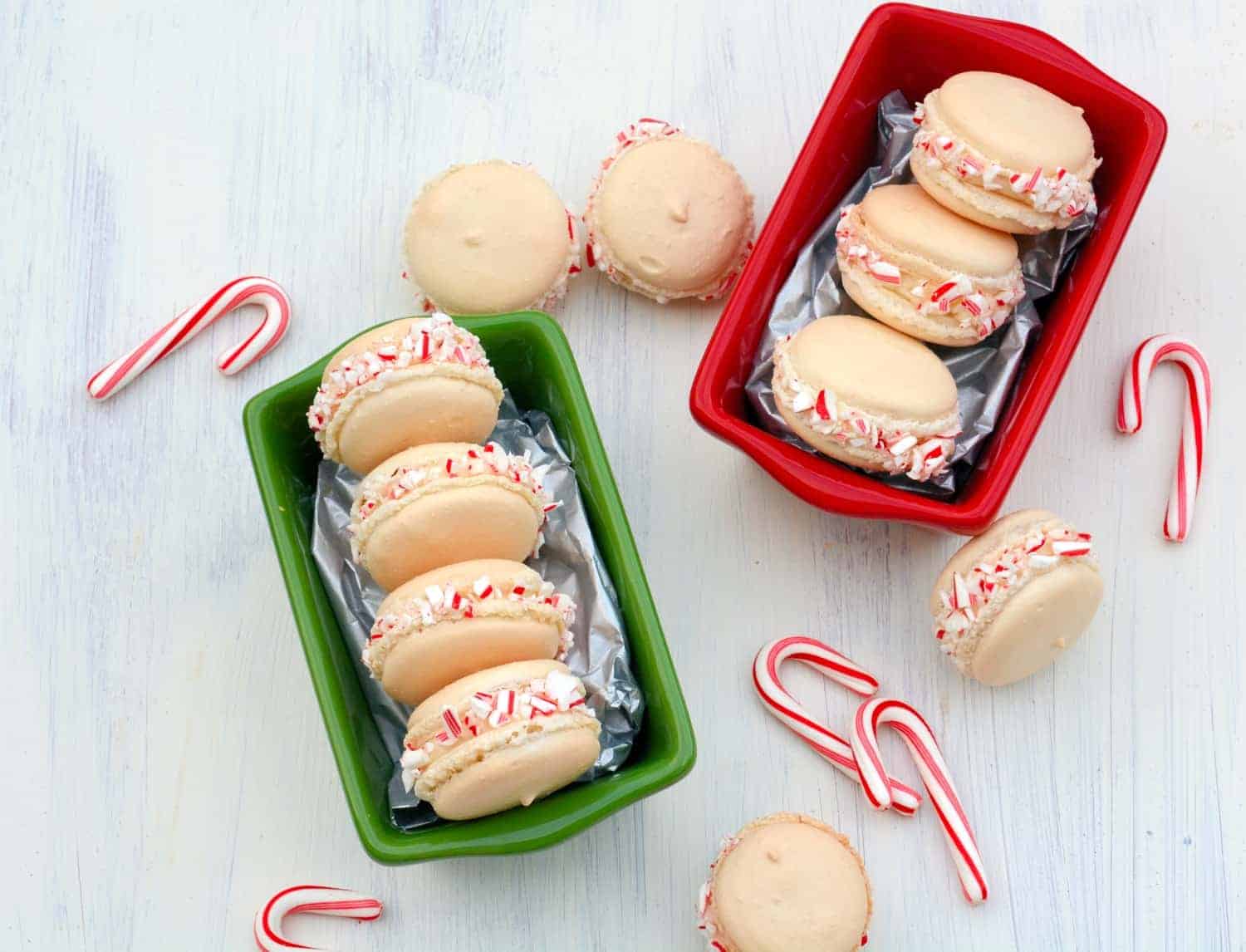 The cookie base is classic meringue, made from egg whites, cream of tartar to stabilize the mixture, caster sugar and then lightly folded with an almond flour and powdered sugar mixture. Perfectly light and fluffy.
Fresh eggs do the best job of creating soft, stiff peaks. Some macaron makers opt to use a slightly different recipe and use almond paste for the distinct macaron cookie flavor, but honestly, after you add peppermint, it would drown out anyhow.
Add colors to your macaron base, but wait to add flavor to the cream center. Use gel food colors to not disrupt the fragile weight of meringue. Using liquid food coloring might impact the consistency and effect baking properly.
Filling for macarons also vary from classic buttercreams, to jams and even frothy, meringue based icings. This largely depends on personal preference. I prefer a buttercream, as it literally melts in your mouth.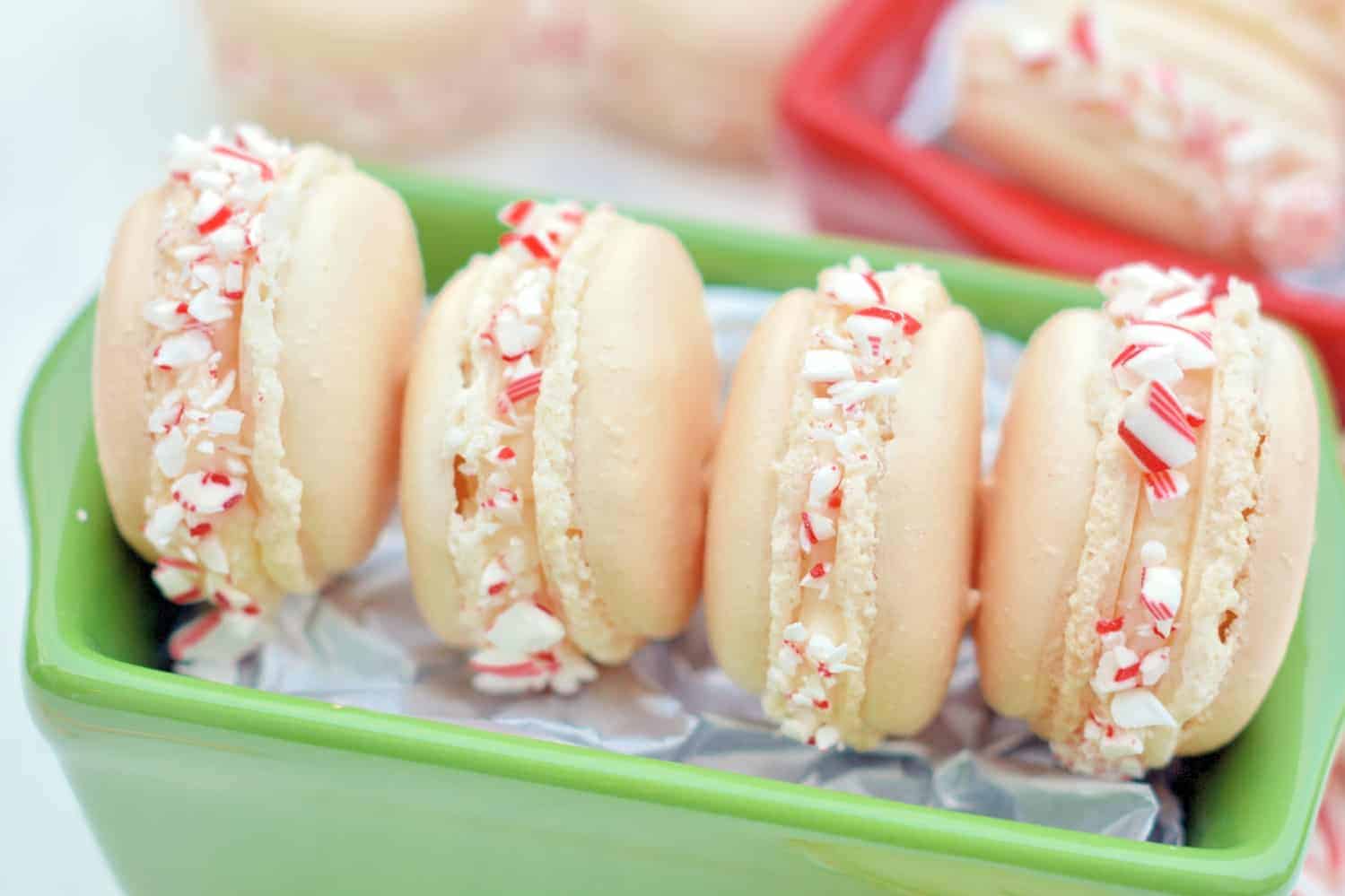 Here you can add flavoring and color to add that special pizzazz. For my peppermint macarons, I used only vanilla, knowing that a small amount of peppermint can go a long way and I didn't want to over flavor the sweet treat.
Just like meringue, macarons are super finicky about the oven and need to be at just the right temperature for an exact amount of time to allow it to crisp, but not dry out and crack.
What is the difference between a macaroon and a macaron? A macaroon is a coconut cookie while macaron is meringue based.
Because of this, avoid making macarons on overly humid, rainy or snowy days. The moisture will prevent them from baking and crispy, leading to chewy macarons.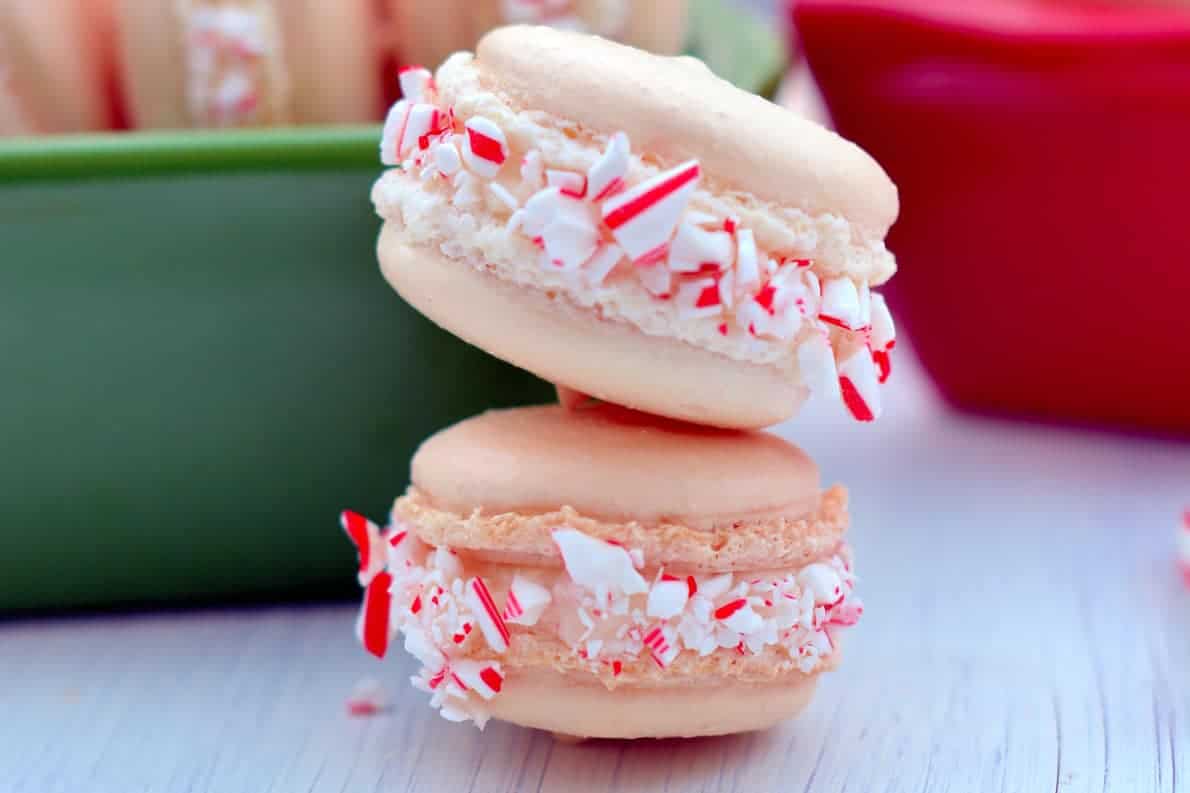 Lucky for you, I have foolproof, simple instructions to make the perfect macaron at home. Believe me, it has taken years for me to get to this point and now I plan to share this knowledge with you.
PRO TIP: Using parchment paper or a silicone mat will help your macarons release without breaking or cracking.
Remember, skipping steps and saving time will not help you in the long run.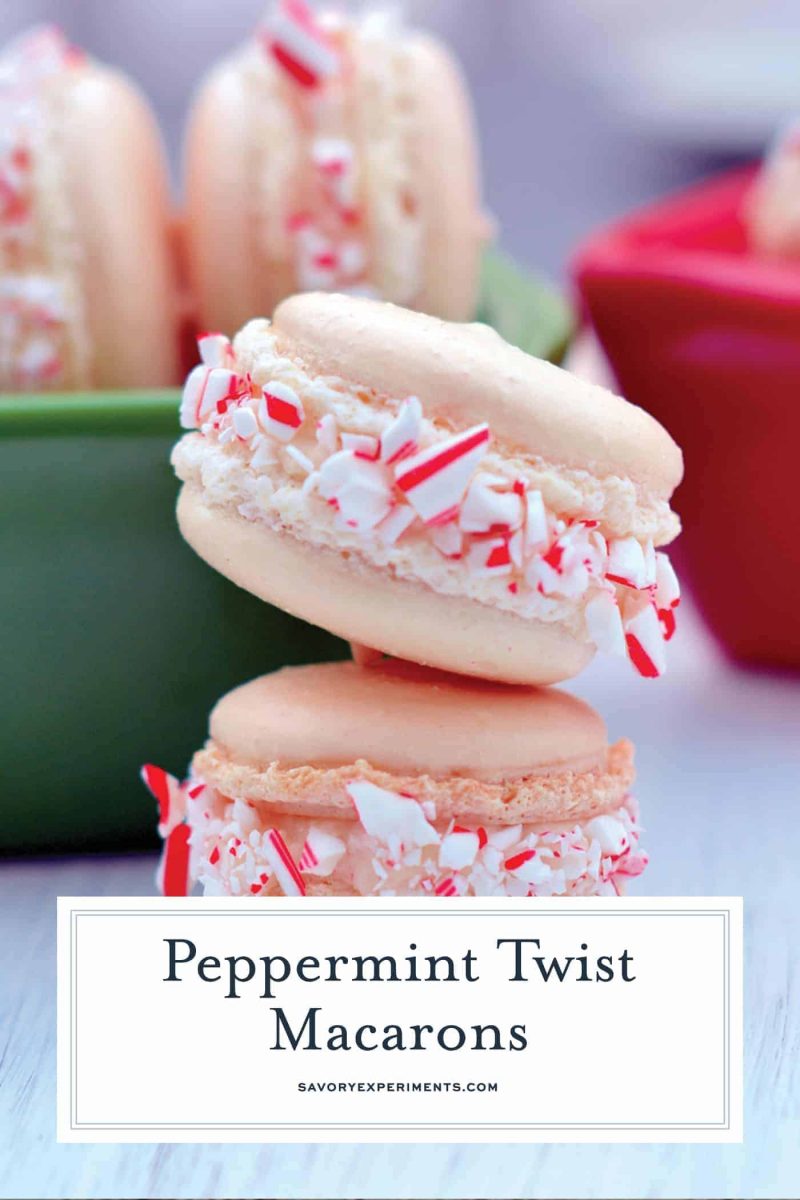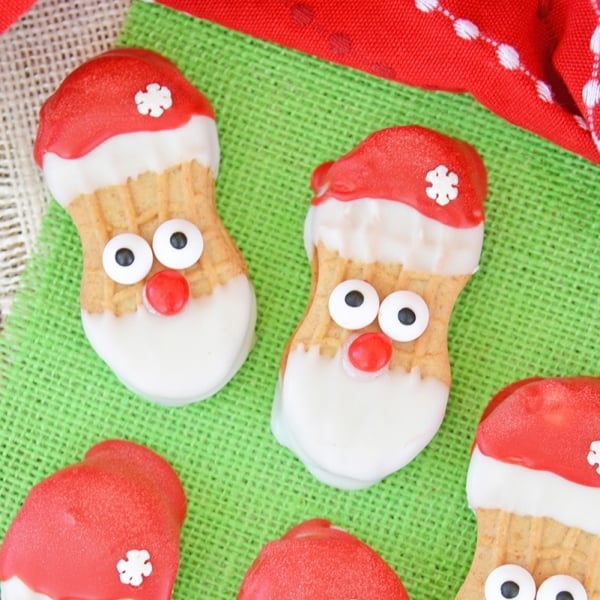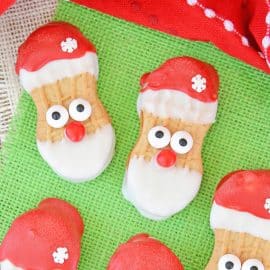 Santa Cookies
If you're looking an an easy, no-bake Christmas cookie, check out my Nutter Butter Santa Cookies! They're super festive, and simple to make.
View this recipe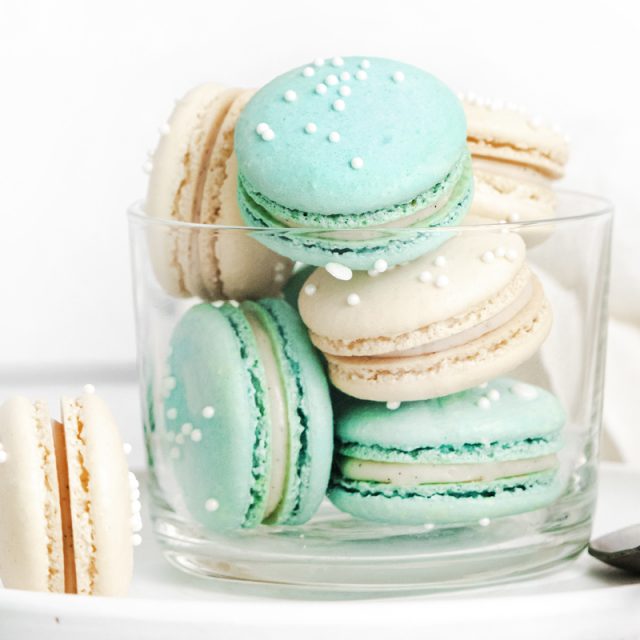 Vanilla Macarons
How to make French macarons, plus our favorite variations and tips and tricks for making homemade vanilla macarons foolproof!
View this recipe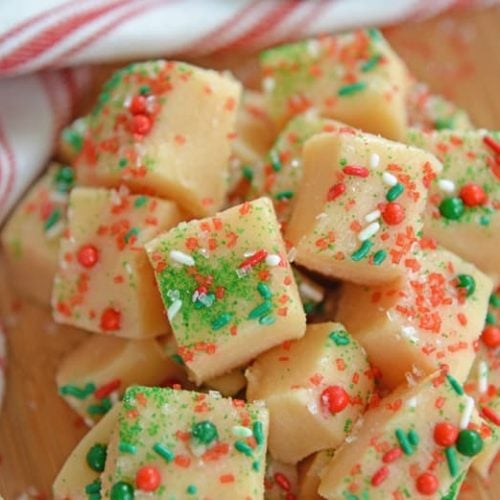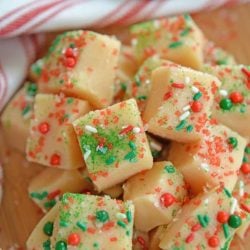 Christmas Fudge (Almond Fudge)
There is no better classic fudge recipe than this Christmas Fudge! Basically an almond fudge topped with festive sprinkles, it's perfect for cookies trays!
View this recipe
Tools for making Peppermint Twist Macarons: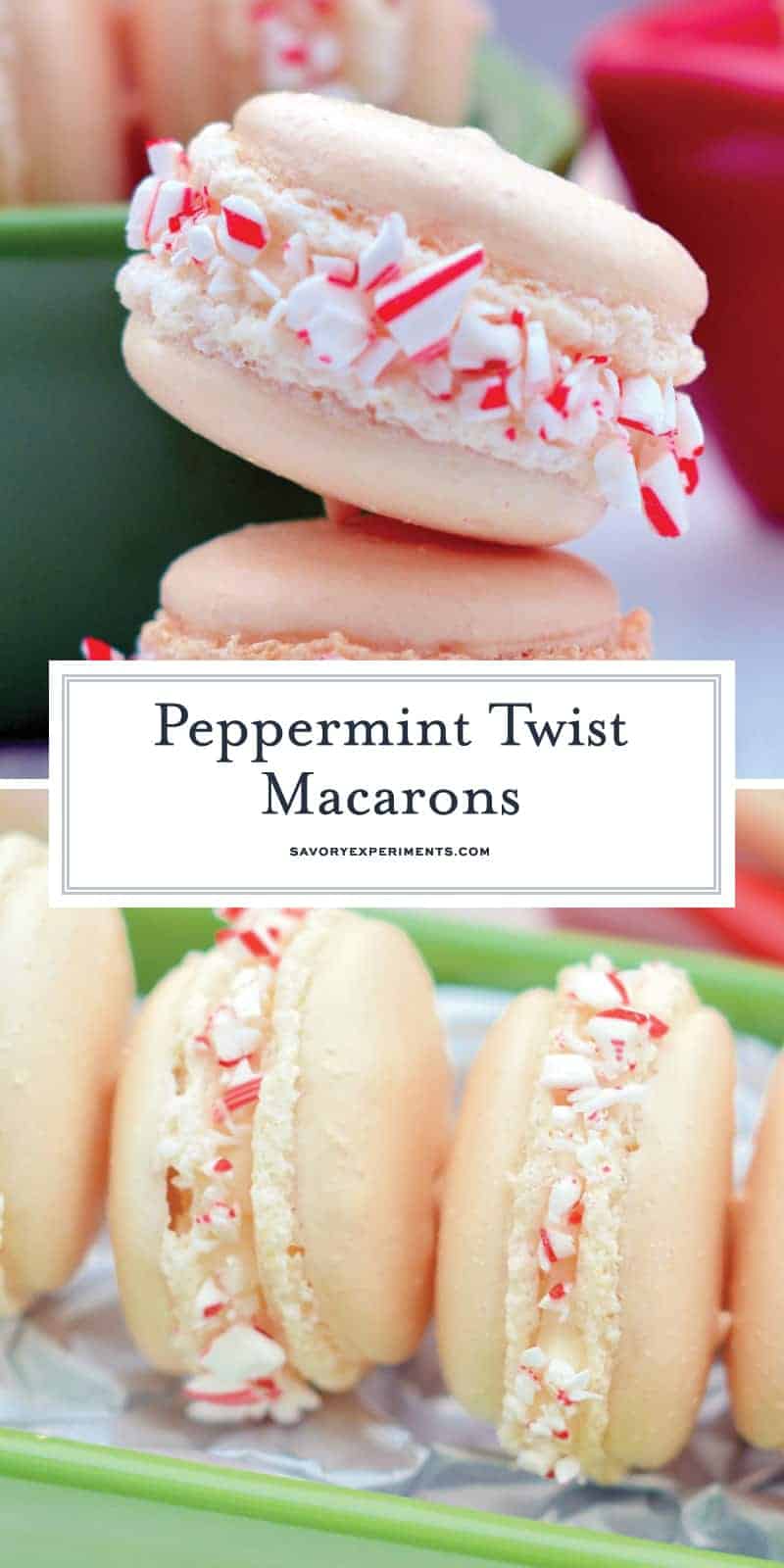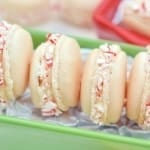 Peppermint Twist Macarons
Peppermint Twist Macarons are an easy macaron recipe with a buttercream filling. Perfect recette macarons for Christmas cookies and holiday parties.
Instructions
In food processor or blender, pulse powdered sugar and almond flour for one minute, scraping down sides, until well blended and mixture starts to cling together.

Transfer to a sifter, sift into a small bowl. Repeat again, set aside.

In the bowl of a stand mixer or a large metal mixing bowl, whip egg whites until white and frothy. Add pinch of cream of tartar and continue to whip until mixture has increased in size.

Continue to whip and add granulated sugar, continue whipping for 5 minutes or until mixture is stiff and peaks form and stand on their own without falling.

At this point, sift almond flour mixture for a third time directly into the meringue base. Fold by hand and gently. Do not use the electric mixer or you risk losing the air you created by whipping them.

Preheat oven to 375 degrees. Prepare a large pastry/frosting bag with a ¾ inch round tip and fill with meringue. Pipe 1 ½ rounds to a parchment paper lined baking sheet. Attempt to whip the tip around and prevent little nubs on the tops. I don't always do such a good job of this- but then again, they still look pretty!

Tap baking sheet several times on the counter to get air bubbles out. Allow to sit at room temperature for 5 minutes.

At the same time that you place your cookies into the oven, reduce heat to 325 degrees. Bake for 10-12 minutes or until meringues are crispy on the outside and baked into the classic meringue shape with a little ridge along the bottom.

Remove and allow to cool for 10 minutes before removing from baking sheet. Macarons should easily twist off parchment paper, but if not, spray water between parchment paper and baking sheet, the steam will release the cookies.

Allow to cool fully before attempting to sandwich.

Make frosting by combining softened butter, powdered sugar and vanilla extract. Add milk, 1 teaspoon at a time, until frosting is a spreadable consistency. Leave at room temperature until ready to assemble.

Pair cookies with a similar size with a heaping teaspoon of frosting between each. Make sure you have enough in the center that frosting oozes out the side; this will be what candy canes crumbles will stick to.

Spread crushed candy canes on a plate or in a shallow bowl. Roll sides of macarons in crumbles, allowing them to stick to center frosting.

Store peppermint twist macarons in refrigerator.

If you've tried this recipe, come back and let us know how it was!
Notes
Adapted from Martha Stewart.
Nutrition
Calories:
112
kcal
,
Carbohydrates:
18
g
,
Fat:
4
g
,
Saturated Fat:
1
g
,
Cholesterol:
6
mg
,
Sodium:
20
mg
,
Sugar:
16
g
,
Vitamin A:
70
IU
,
Calcium:
10
mg
,
Iron:
0.2
mg
Also check out some of the best holiday cookies of the season!
Caramel Macchiato Cookies from Home.Made.Interest.
Chocolate Crinkle Peppermint Blossoms from Real Housemoms
Chocolate Frosted Christmas Cookies from Real Housemoms
Chocolate Peppermint Cookies from Around My Family Table
Chocolate Peppermint Crunch Cookies from Real Housemoms
Christmas Crinkle Cool Whip Cookies from Bread Booze Bacon
Christmas Mint Cookies from Cooking on the Front Burner
Christmas Sugar Cookies from Liz on Call
Eggnog Biscotti from Real Housemoms
Loaded Christmas Cowboy Cookies from Flavor Mosaic
Melt in Your Mouth Shortbread Cookies from The Endless Meal
Mexican Hot Chocolate Shortbread from Bread Booze Bacon
Molasses Sugar Cookies from Real Housemoms
Monster Cookie Bars from Dinner at the Zoo
No Bake Peanut Butter Cookie Treats from Pink Cake Plate
Oreo Cake Ball Christmas Tree from The Cards We Drew
Penguin Cookies from Delightful E Made
Peppermint Candy Cane Cookies from Self Proclaimed Foodie
Peppermint Oreo Truffles from It Is a Keeper
Red Velvet Ooey Gooey Bars from A Night Owl
Salted Caramel & Pecan Thumbprint Cookies from Real Housemoms
Turtle Snickerdoodles from Garnish & Glaze
White Chocolate Dipped Cherry Shortbread Cookies from Frugal Foodie Mama