Salads are great for lunches or weeknight meals since they're so easy to throw together. This Crispy Chipotle Salmon Salad will leave you feeling satisfied and energized from salmon, spinach, avocados, tomatoes, red onion, and carrots all with a delicious chipotle sauce.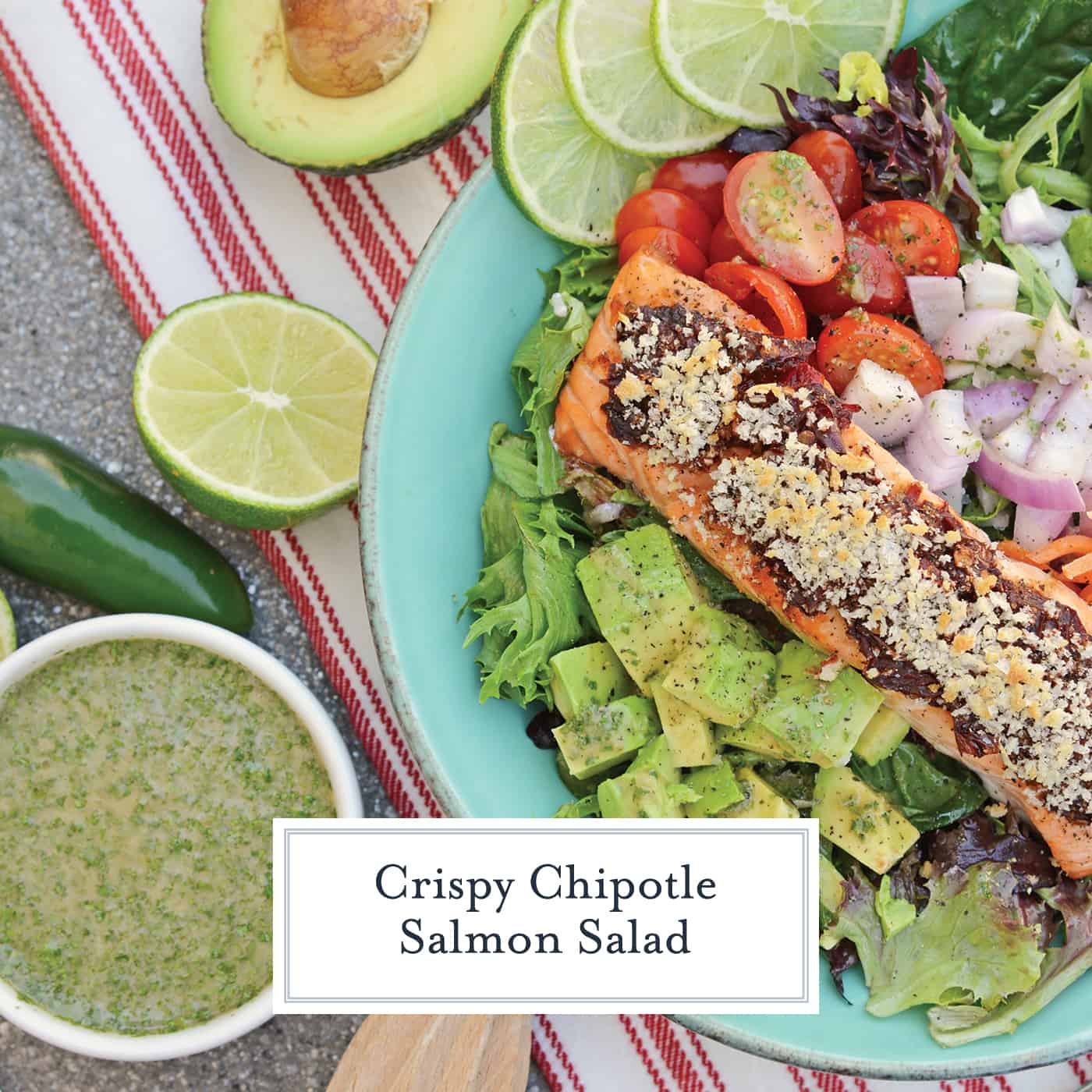 Crispy Chipotle Salmon Salad is a simple and healthy salad filled with a fun texture and spicy chipotle peppers. Top with Cilantro Lime Dressing.
Salads are best when they provide a variety of taste, texture and color. Crispy Chipotle Salmon Salad provides all of the above.
Panko bread crumbs for texture, flavor from salmon, avocado, spicy chipotle peppers in adobo sauce and of course tons of pretty colors from a variety of leafy greens and other veggies.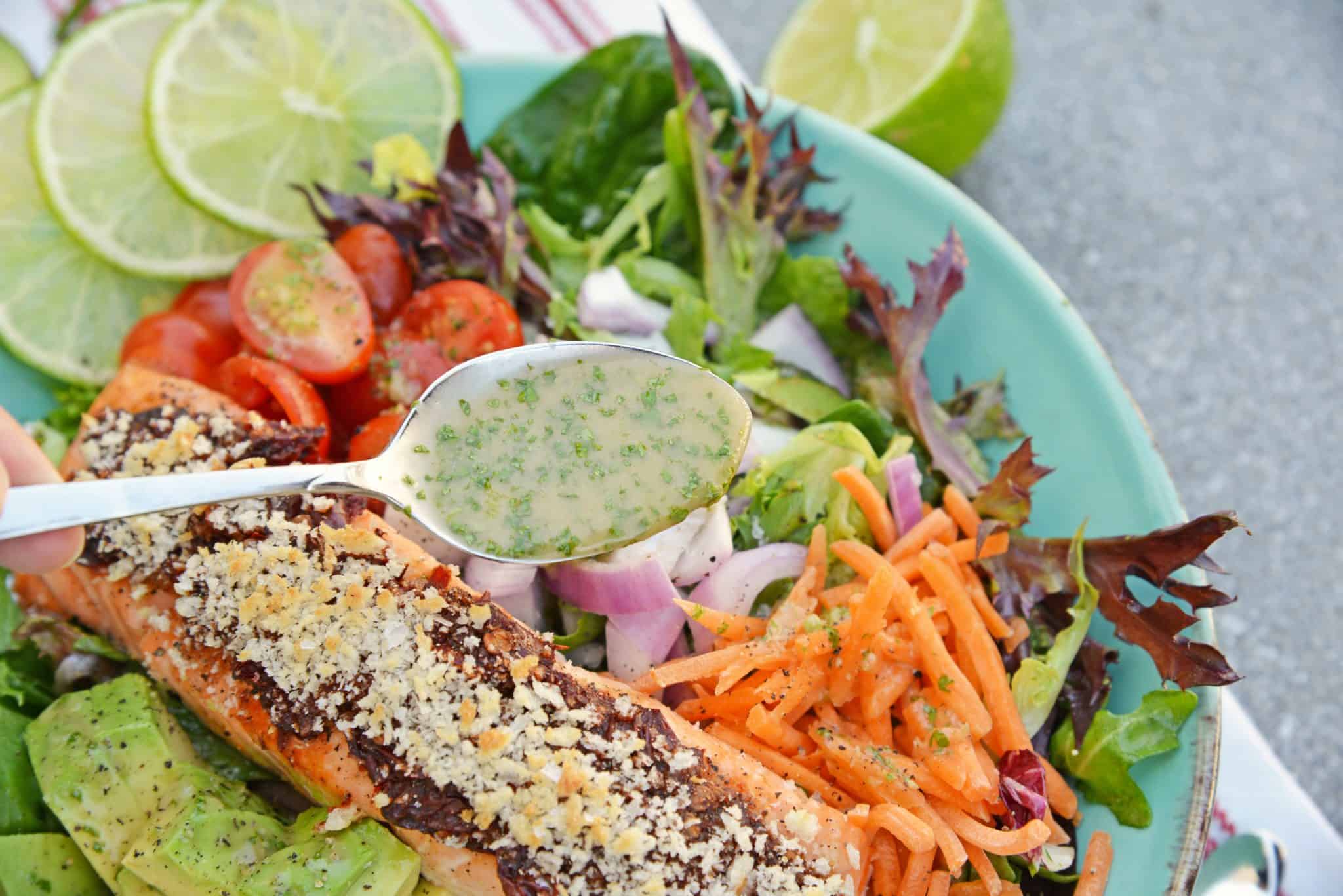 Recently I have been obsessed with a chipotle pepper, lime and cilantro mix. I used leftover chipotle peppers from Chipotle-Lime Buttered Prawns for the salmon but wanted something a little extra.
My solution?
Using panko for a crunch on the salmon and a sweet and tangy dressing to balance out the smoky spice, a trick I use in my Sheet Pan Crispy Salmon recipe. Cilantro Lime Dressing brightens all of the flavors and any additional dressing can be used as a marinade for chicken, fish or pork or drizzled on grilled vegetables.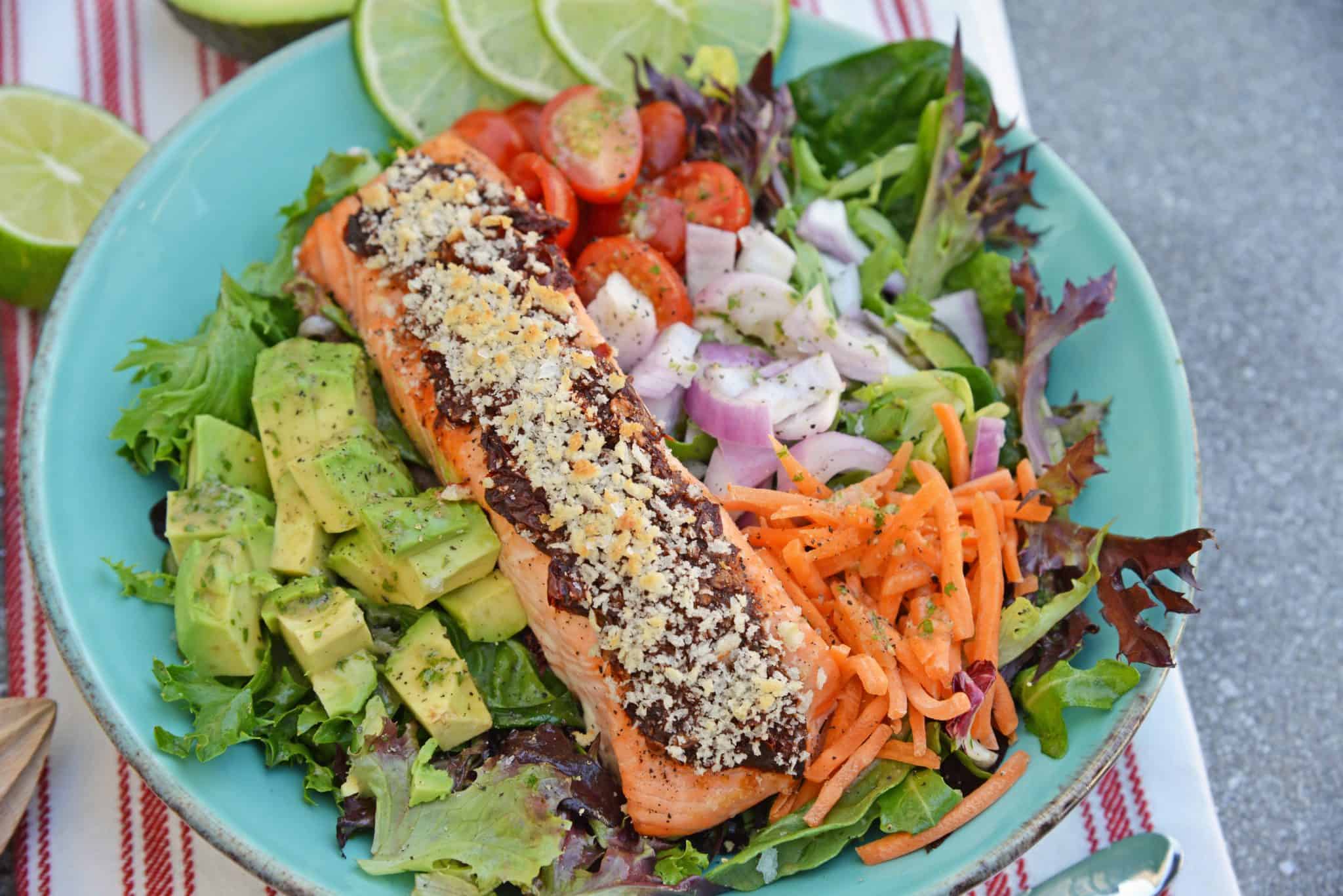 The best part of this recipe is the health benefits you'll be getting from everything! Salmon gives you protein, vitamin B, omega 3 fatty acids, and potassium, just to name a few things.
Spinach is low in cholesterol and fat, and full of good things for your body! There is some research that shows chile like chipotle chili speeds up metabolism.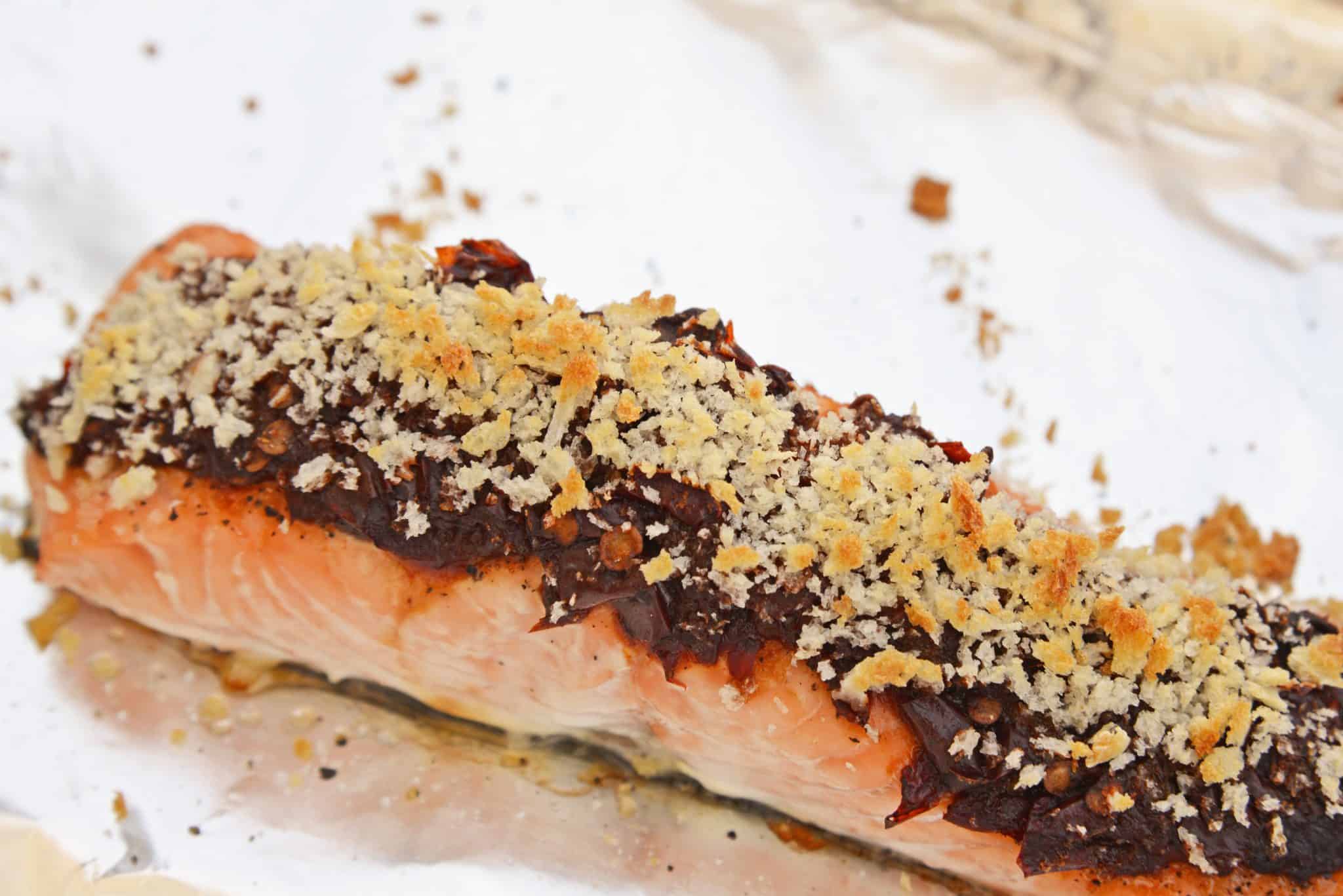 Avocados are full of nutrition, potassium, and fiber. Tomatoes are great for antioxidants and packed full of vitamins.
PRO TIP: If you don't like lime, feel free to use lemon juice and lemon zest.
Carrots are also a great source for antioxidants and high in vitamin A. Onions are good for iron, folate, and potassium as well as great for anti inflammatory reasons.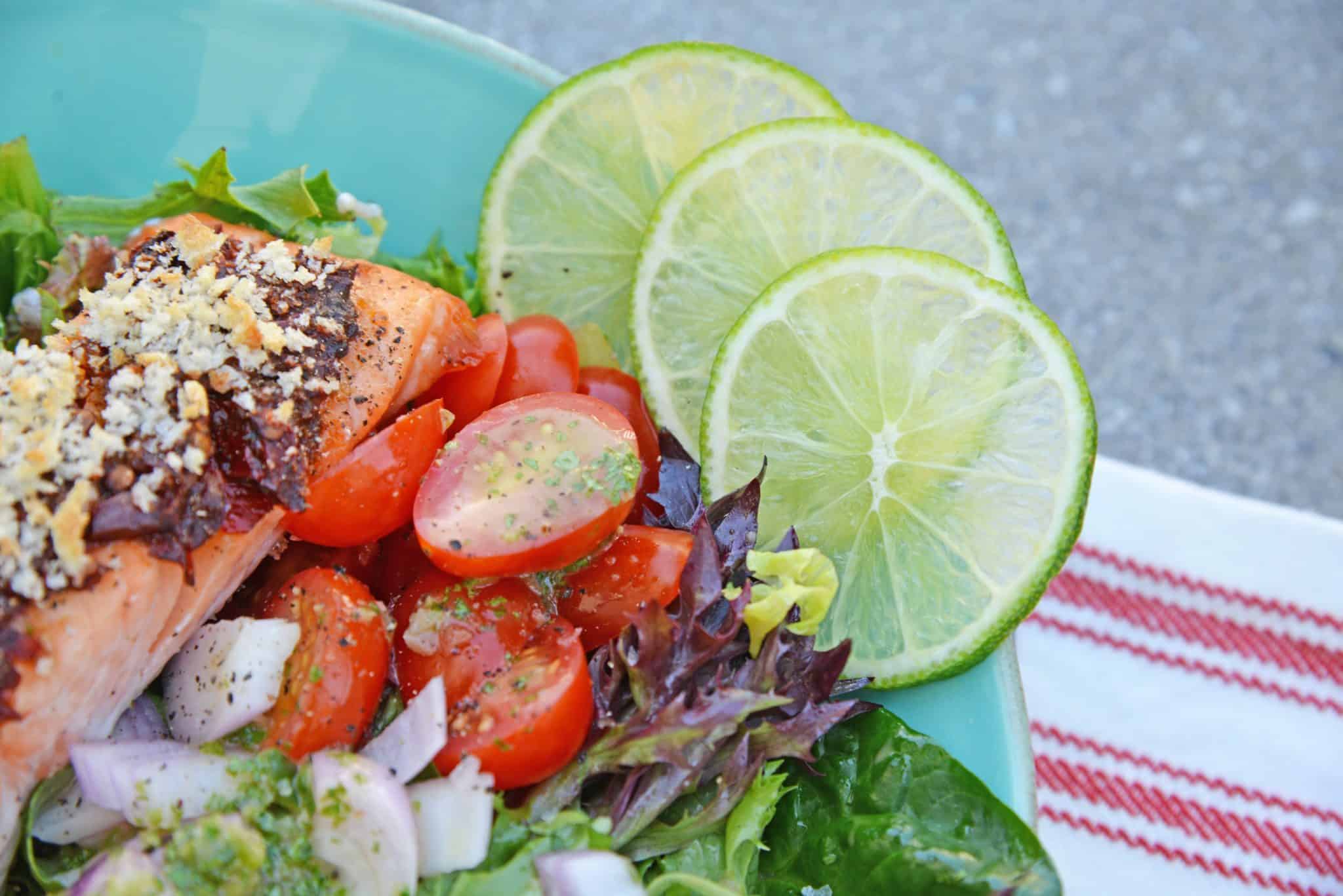 To sum it up, this salad is full of healthy and nutritious things for you to eat and enjoy all together.
Make sure you check out my 7 tips for more interesting salads for some great ideas before you start chopping…. you'll be making the best salmon salad recipes in no time at all!
If you aren't sure how long to bake salmon, then I'll give you a few tips:
Always make sure your salmon internal temperature is 145 degrees Fahrenheit at the thickest part of the fillet. Use a meat thermometer to check.
If it flakes easily with a fork that means it's ready!
There's no need to flip your salmon while it's cooking.
There are 3 things to look for to know if your salmon fillet is ready: firm, flaky, and non-transparent!

Check out these other easy salmon recipes: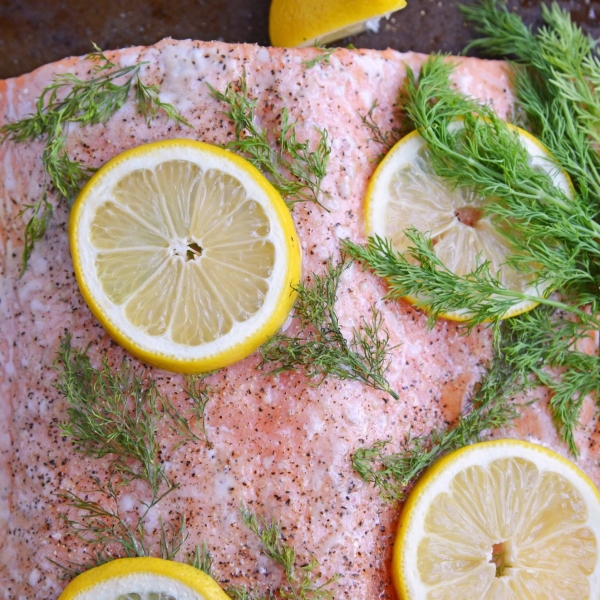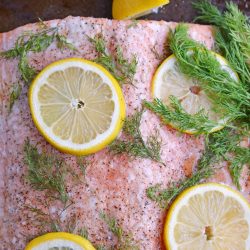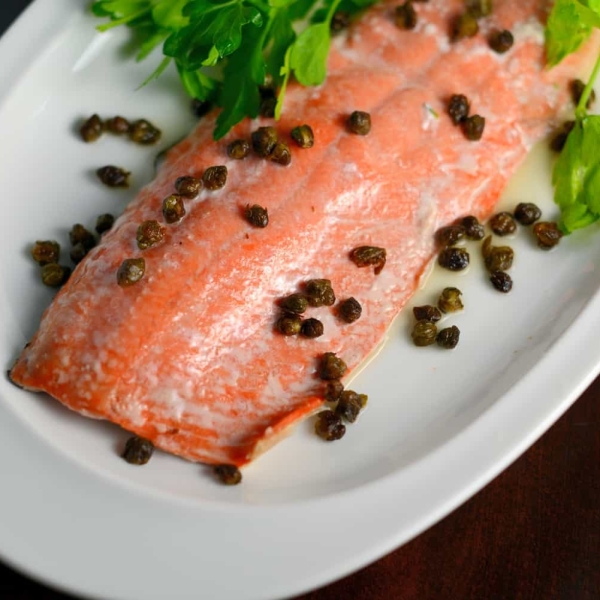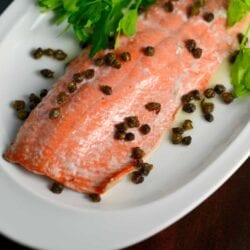 Crispy Caper Lemon Salmon
Crispy Caper Lemon Salmon is one of the best healthy salmon recipes. This lemon salmon is quick, easy and healthy! Crispy capers add texture sophistication to this easy weeknight meal.
See The Recipe!
Tools for making this recipe:
Wood cutting board – wood won't dull your knives like plastic and if treated properly, has natural antimicrobial properties.
Good knife – Global is my favorite! They are worth the price, I promise. I am kind of obsessed with them and store them tucked away so no one else can use them. Including hubby. Hands off my good stuff!
Rimmed Baking Sheet– another kitchen staple! You'll use this for prep work, roasting and much more. I have 7 at my house.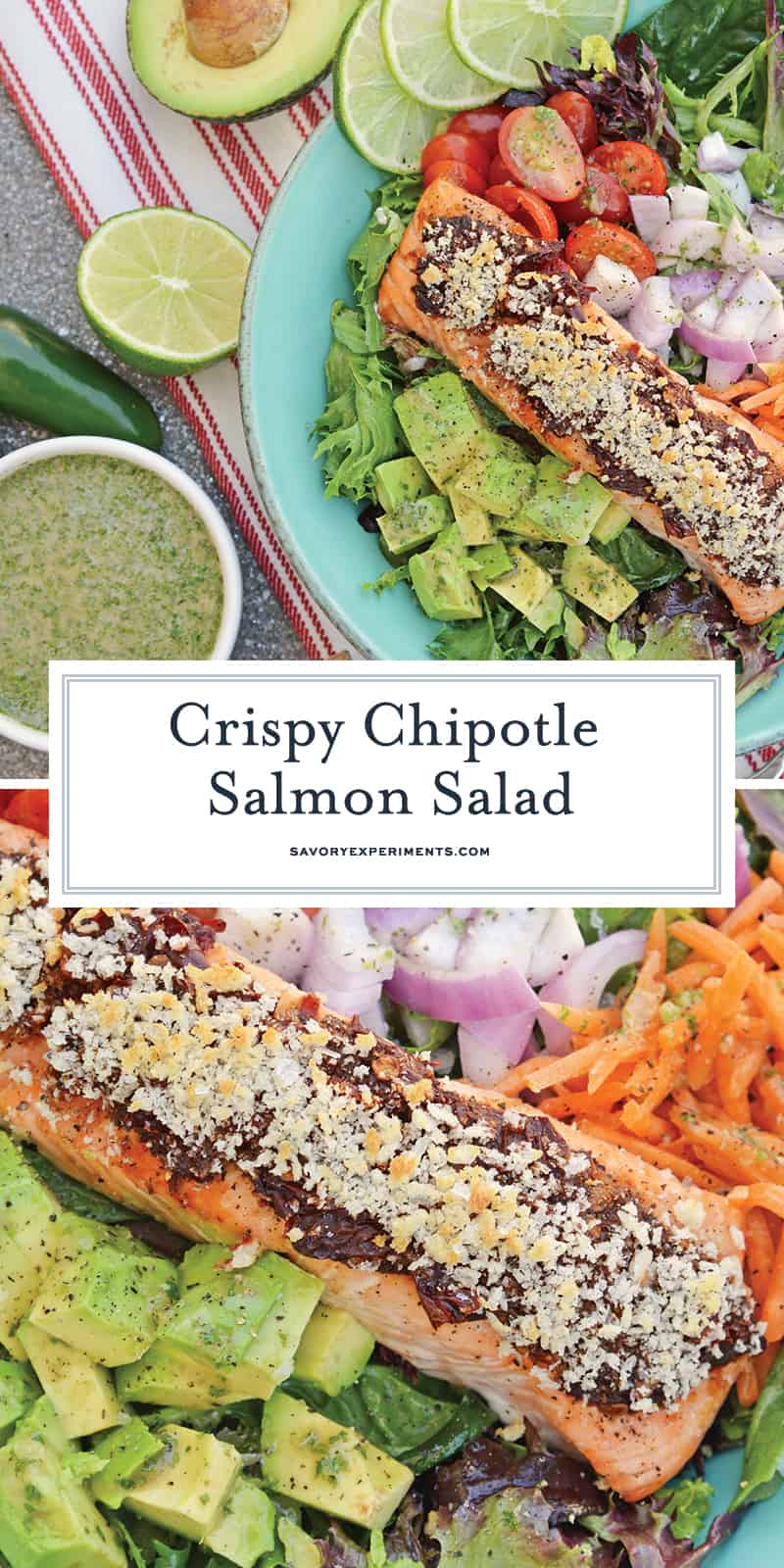 Questions you might have about how to bake salmon:
How do I buy salmon? Salmon should look moist and smell a little fishy (because it is fish) but not overly fishy. It should "smell like the sea". You'll know if it is overly fishy.
How long do I bake salmon? Experts recommend 8-10 minutes per pound at 350 degrees, but a whole fillet will take a little longer. If you are baking a whole fillet with a thinner end, prevent it from drying out and cooking too fast by seasoning it and then flipping it under so it is all about the same thickness.
For individual fillets that are less than 1 inch thickness at 350 degrees: Rare: 4 to 5 minutes. Medium-rare: 5 to 7 minutes. Medium: 6 to 8 minutes. Medium-well: 8 to 9 minutes. Well-done: 10 minutes.
Can salmon be eaten rare? Yes, it can. Salmon can be eaten raw as it is in many sushi rolls. You do need to make sure it was handled properly and kept at the right temperture before eating it below 145 degrees. Always be cautious of eating undercooked or raw meats.
How much salmon should I plan for per person? Four to 6 ounces per person is a good amount. While a whole fillet looks impressive, it is easier to get similar size pieces if you get individual fillets. It also cooks faster and more evenly.
Can I freeze salmon? Raw salmon can be frozen and in all honesty, has probably previously been frozen before you even bought it. Freezing fish isn't the worst thing, in fact it is known to kill some bacteria that could possibly be harmful. (Not all bacteria and you still need to make sure it is handled and cooked properly).
Can you bake frozen salmon? You can, I suppose, but I wouldn't recommend it. It will not cook evenly. I would let it thaw first. To thaw salmon fast, keep it in the packaging and let it run under cold water in the sink.
Is salmon gluten free? Salmon itself is gluten free, however the recipe you are using may not be. Lemon Dill Baked Salmon is indeed, gluten free.
Can I cook salmon in the microwave? Salmon will cook in the microwave… but it won't taste nearly as good. There is a also a good chance it will explode.
Even if you are just reheating leftovers, making sure to cover it with plastic wrap or a paper towel to prevent a salmon bomb going off in your microwave.
Can I cook salmon on a cedar plank in the oven? You can! You can even make Lemon Dill Salmon on a cedar plank. Buy one at the store and soak it for at least one hour. Set the cedar plank on a rimmed baking sheet and then the salmon on the cedar plank. Continue to cook it the same way.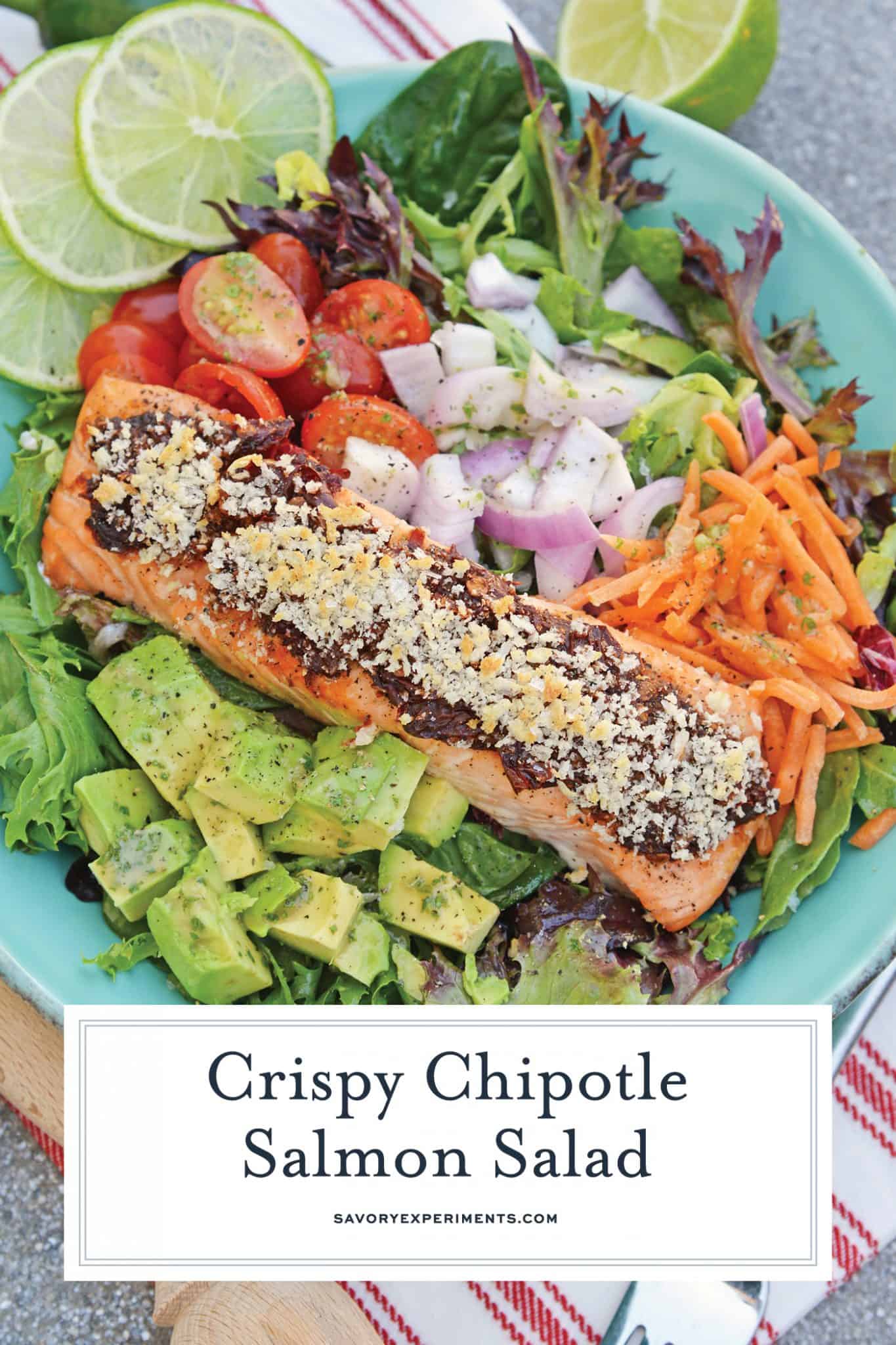 What is the difference between farm raised and wild caught salmon? Farm raised salmon is raised in a container and controlled environment while wild caught is caught out on the open sea.
Some feel that sustainable, farm raised salmon is the more responsible approach to eating seafood since it isn't depleting the natural population. Salmon consumption has increased significantly within the past two decades after the extreme health benefits were revealed.
Experts claim that the health benefits between farm raised and wild caught salmon are the same, however farm raised aren't nearly as active, as they kept in smaller aquariums and don't get as much daily exercise. Size, genetics and breeding practices vary from farm to farm.
Farm raised salmon with be rosey-orange, while wild caught salmon is a deeper pink or red. Some feel the flavor of wild caught is better and more flavorful. For those who don't care for fish as much or are new to salmon, farm raised might be a good gradual step to eating fish.
Wild caught tends to be a little more expensive and might look a little rougher.
What is the white stuff that comes out of salmon? The white stuff is called albumin and is harmless. In fact, it is a protein that is also found in eggs (the whites) and milk. It separates from the other molecules when heat is added to the food.
Every piece of salmon will have a different amount of the white stuff, but you can reduce how much comes out if it really bothers you. Simply cook your salmon less aggressively at a lower temperature for a longer amount of time.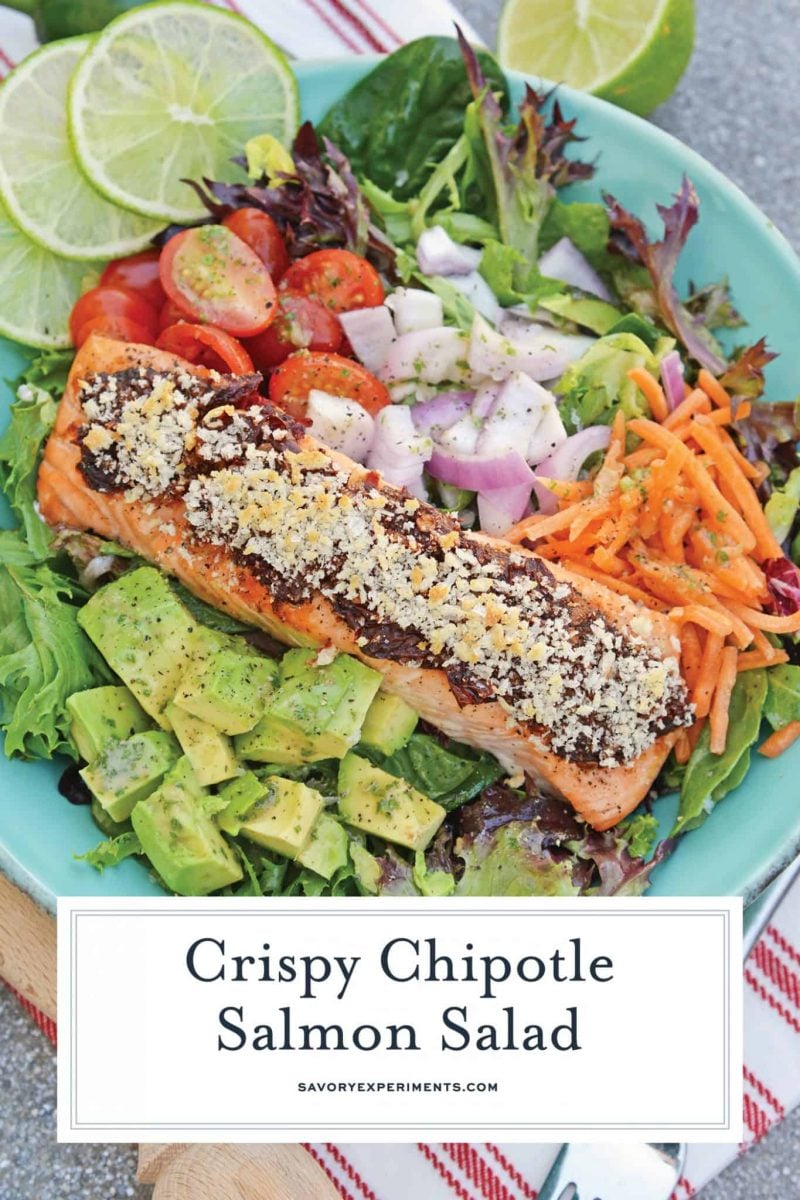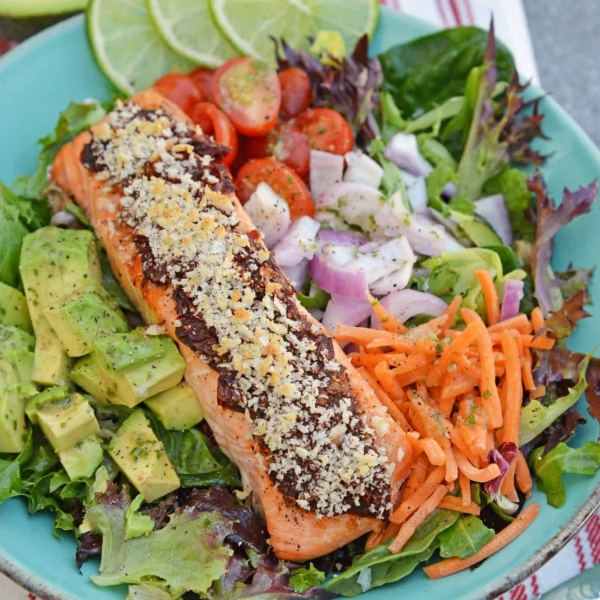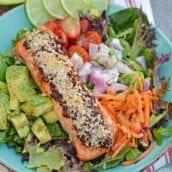 Crispy Chipotle Salmon Salad Recipe
Crispy Chipotle Salmon Salad is a simple and healthy salad filled with a fun texture and spicy chipotle peppers. Top with Cilantro Lime Dressing.
Instructions
Preheat oven to 350 degrees. Lightly coat baking dish with cooking spray and lay fillets, skin side down in dish.

Spread chipotle peppers evenly over all four salmon fillets. Top with panko bread crumbs.

Bake for 15 minutes, or until fish flakes easily with a fork. Meanwhile, prepare the salad; lettuce, carrots, tomatoes and sweet onion.

Divide salmon evenly over four salads. Drizzle Cilantro Lime Dressing over top. Enjoy your Crispy Chipotle Salmon Salad with Cilantro Lime Dressing.

If you've tried this recipe, come back and let us know how it was!
Nutrition
Calories:
188
kcal
,
Carbohydrates:
16
g
,
Protein:
18
g
,
Fat:
5
g
,
Cholesterol:
38
mg
,
Sodium:
475
mg
,
Potassium:
812
mg
,
Fiber:
2
g
,
Sugar:
3
g
,
Vitamin A:
6270
IU
,
Vitamin C:
22.1
mg
,
Calcium:
103
mg
,
Iron:
3.3
mg