This Ambrosia Fruit Salad recipe is a creamy salad bursting with fruit, marshmallows and fluffy cream. Added bonus: it comes together in minutes and can be served as a festival of colors as a side or dessert!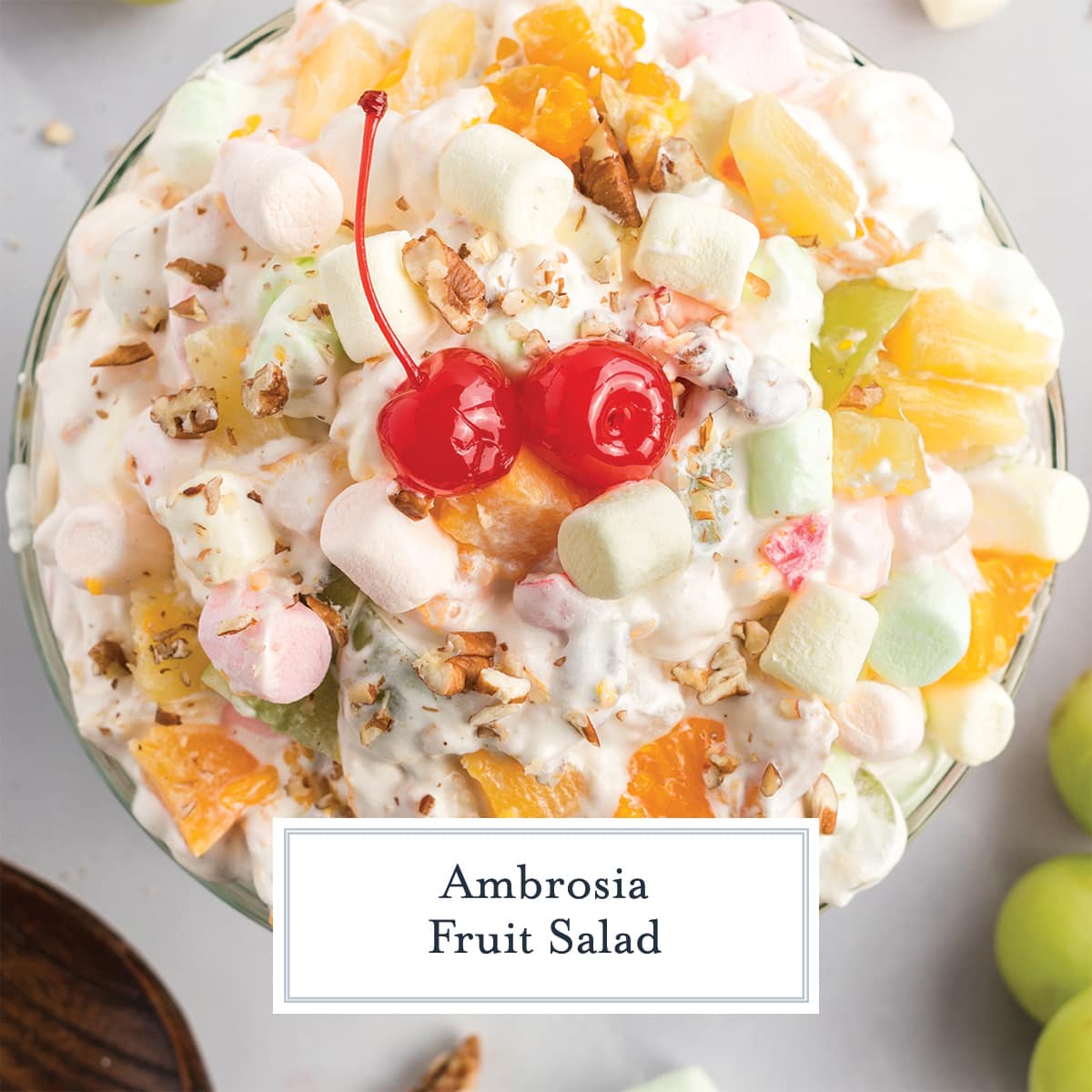 I remember the first time I had ambrosia salad. It was served as a side dish with Thanksgiving dinner and I couldn't believe this fluffy, marshmallowy bowl of heaven was part of the main meal.
It is a tradition in our family and is served with Thanksgiving and Christmas dinner as a side dish, but I usually steal an extra bowl for dessert and I've been known to eat it for breakfast the next morning too.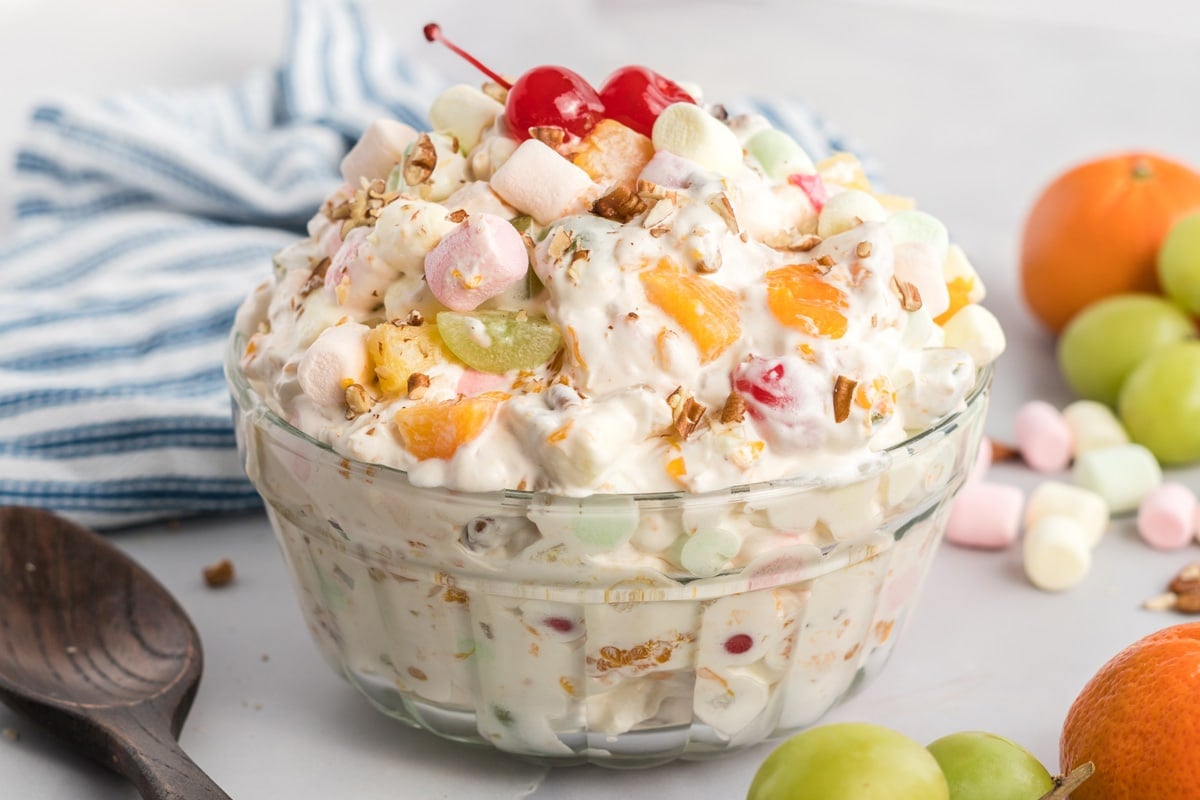 What is Ambrosia Salad?
Ambrosia salad is a mixed fruit salad with marshmallows and some sort of cream. It's commonly made with a combination of sour cream and whipped topping (not too be confused with real whipped cream), but can also contain yogurt or mayonnaise. Cool Whip is my go-to.
Sour cream adds a nice contrast of flavor between the sweet fruit and miniature marshmallows.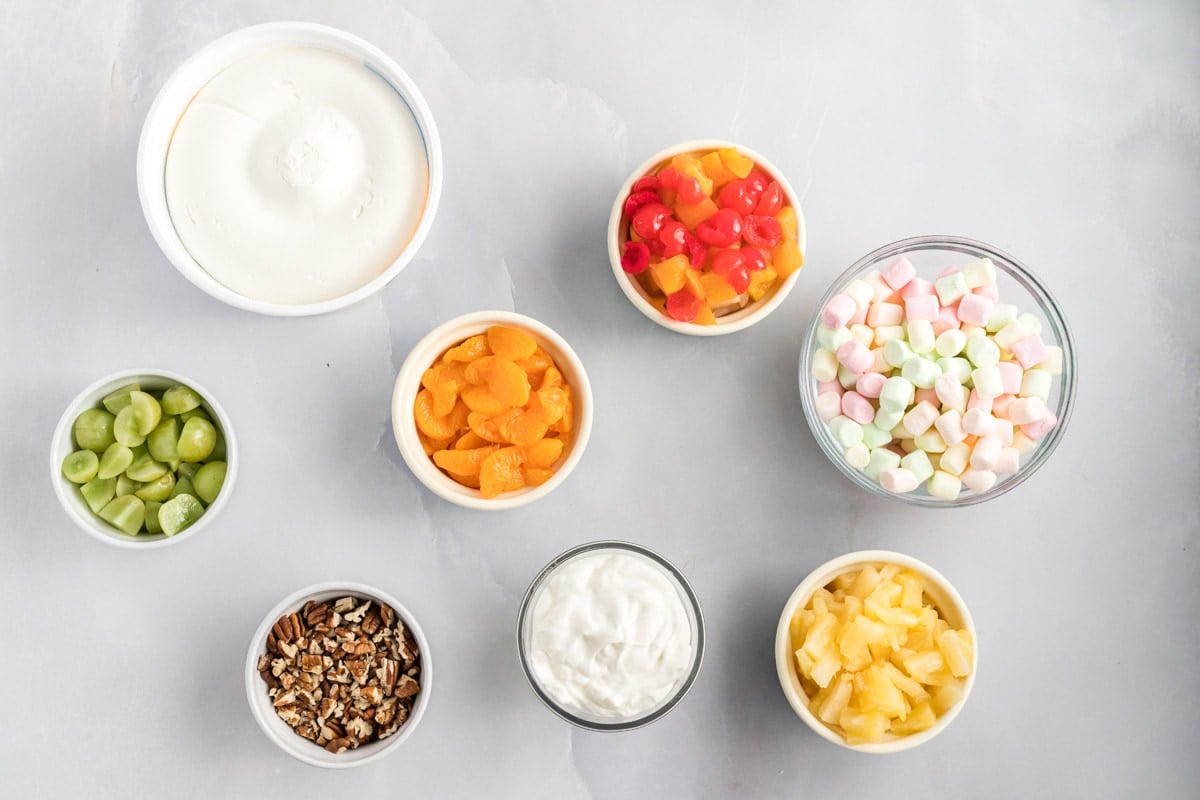 Ambrosia is technically considered a fruit salad and almost always contains pineapple tidbits (or crushed pineapple) and mandarin oranges, but you can add almost any fruit you like.
I always add a can of fruit cocktail and a handful of fresh grapes, but you could add chopped apple, pears, or even banana. Sometimes I even add extra maraschino cherries.
Fresh fruit is also an option, but requires a lot more chopping taking away from the time-saving advantages. Adding nuts is optional, but adds a bit of crunch and texture.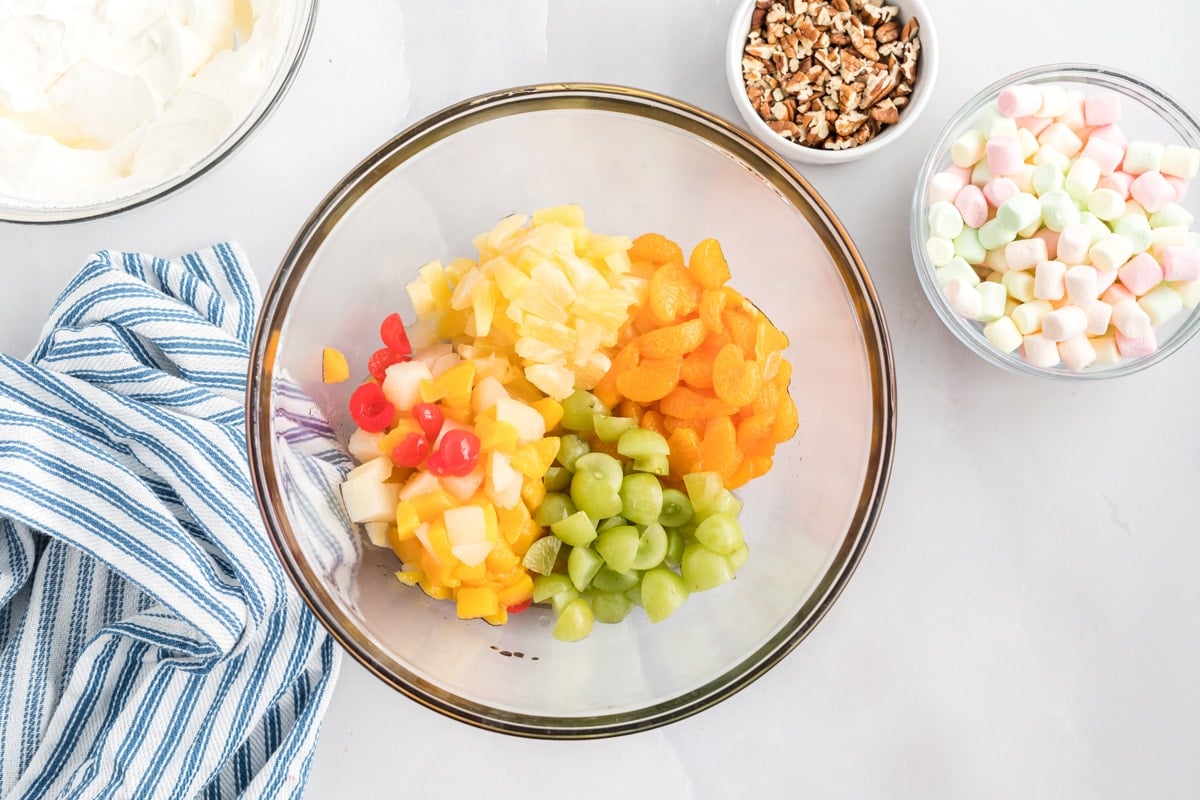 Common add-ins are:
Chopped pecans
Chopped walnuts
Shredded coconut
Vanilla extract
Sour cream
Why is it called Ambrosia Salad?
The name Ambrosia salad comes from the Greek word Ambrosia which translates to immortality.
In Greek mythology, only the Gods were permitted to eat Ambrosia, where it gets the definition "food of the Gods."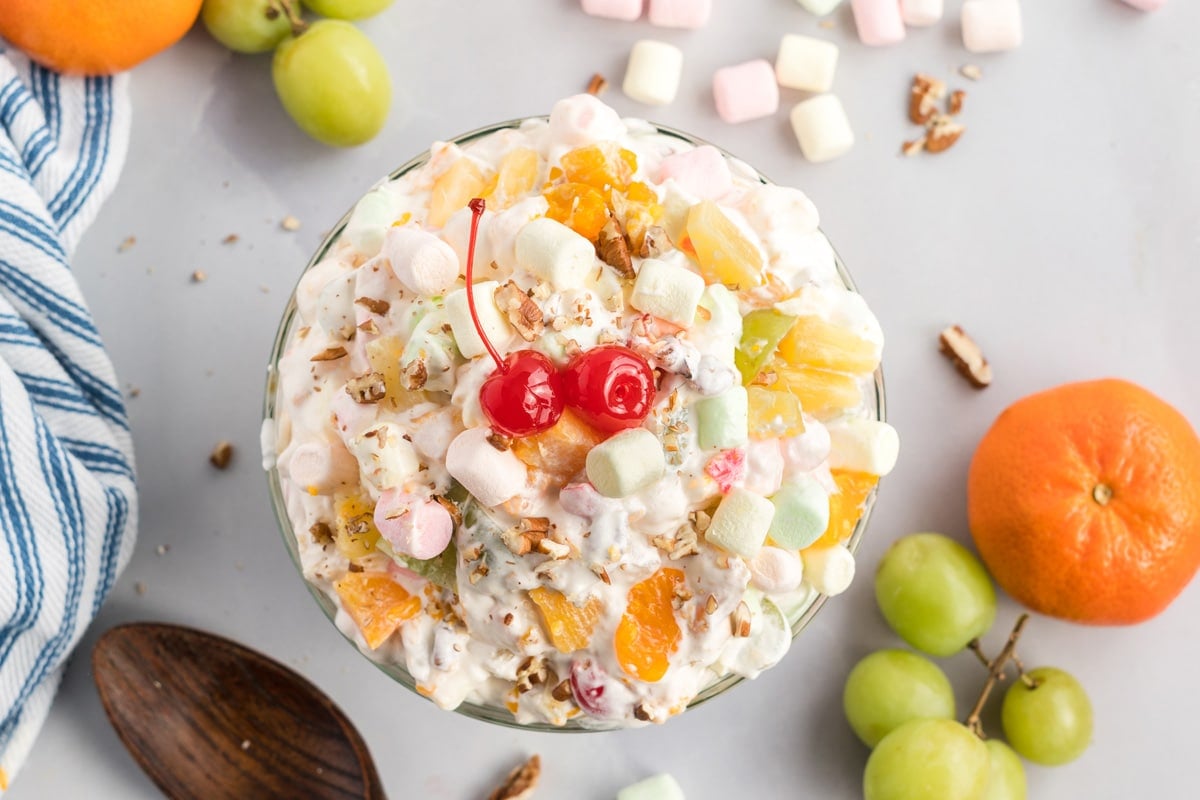 It is easy to see why this fluffy, fruit filled dish was given the name. Its cloud-like texture is like heaven in a bowl.
How to Make Ambrosia
Mixing in stages is the key to keepings your juicy ingredients whole and not juiced. Gently strokes with a spatula are best and do not over mix.
First, toss the fruits. Then add nuts, if using and mini marshmallows. I like these tri-colored ones because it just adds to the party.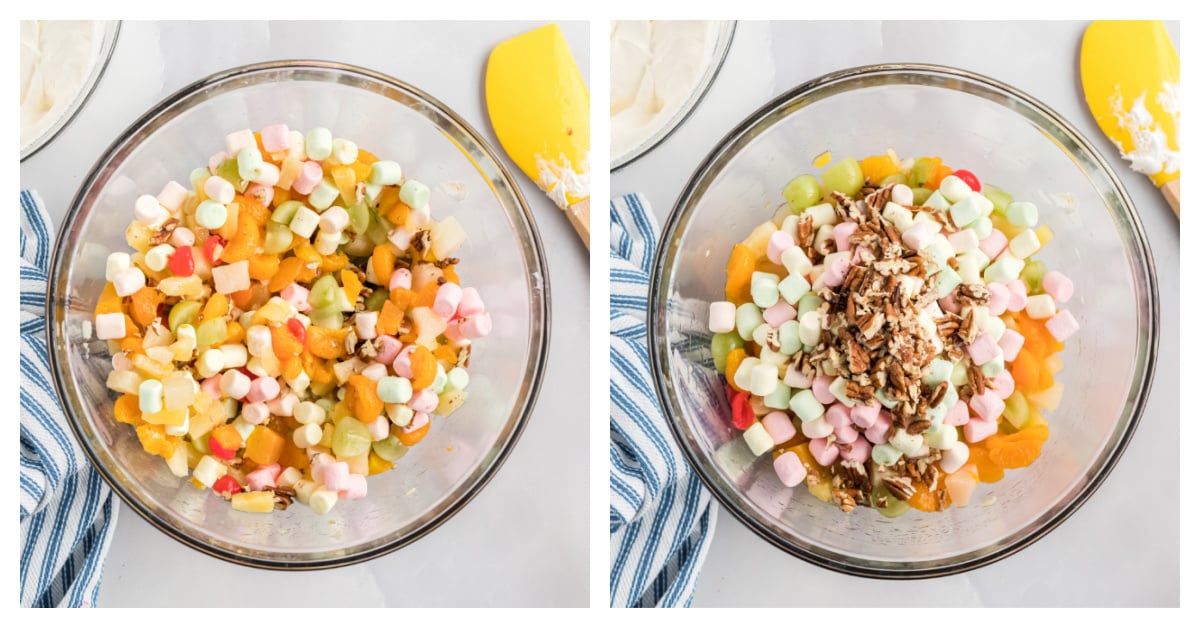 Fold together whipped topping and sour cream until fully combined, then fold into mixture and chilling.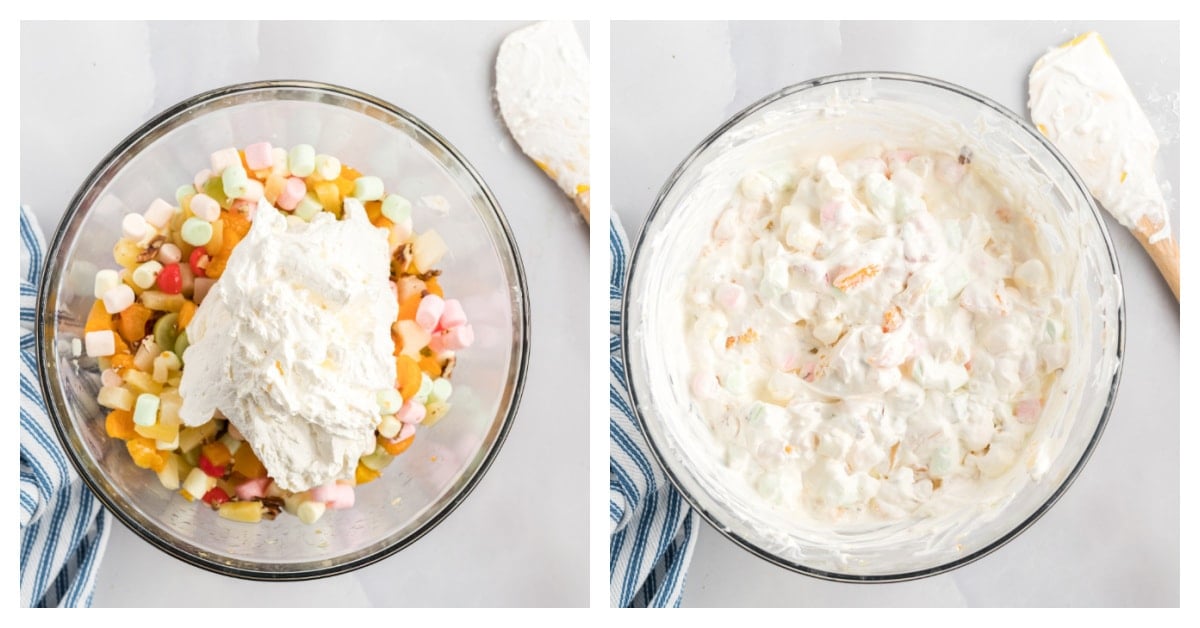 Making Ahead & Freezing
Yes! In fact, this salad is better when it is made ahead of time.
You can eat Ambrosia salad right away, and I have, but the longer it rests the fluffier it will become.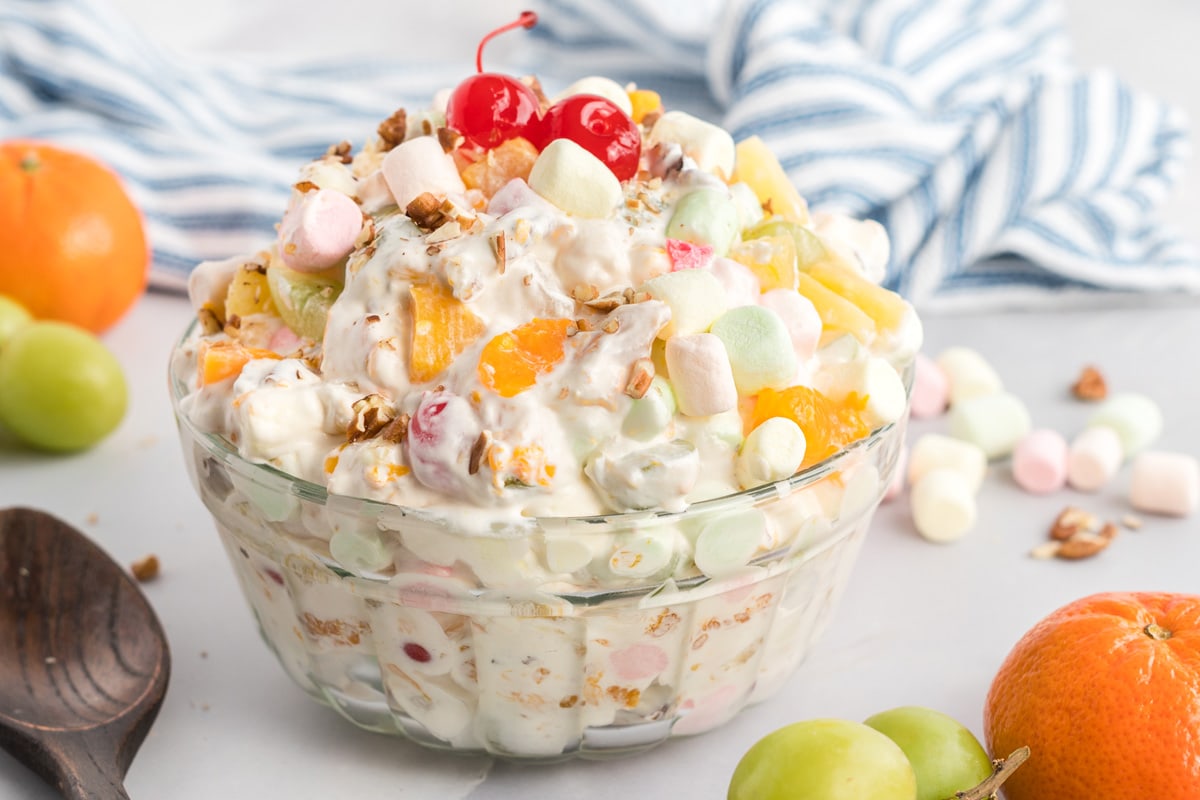 I recommend making this salad at least 4 hours ahead of time, but making it the day before you want to serve it is even better.
I'm sorry to tell you that this salad will not freeze well. Not at all, in fact.
If you try to put this in the freezer you will be left with nothing but a puddle of mushy fruit when it thaws. The best way to store this salad is in an airtight container in the refrigerator for about 3 days.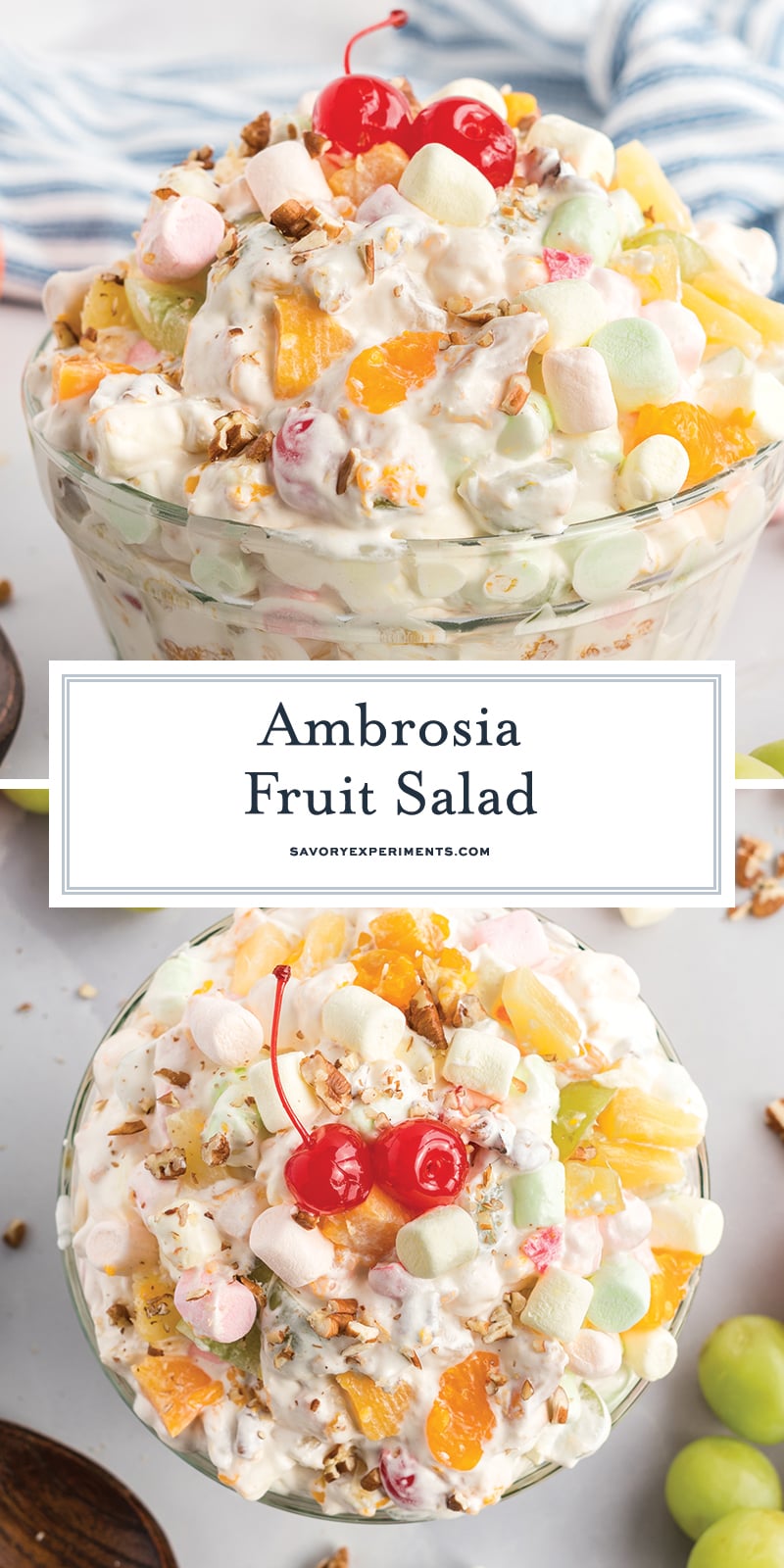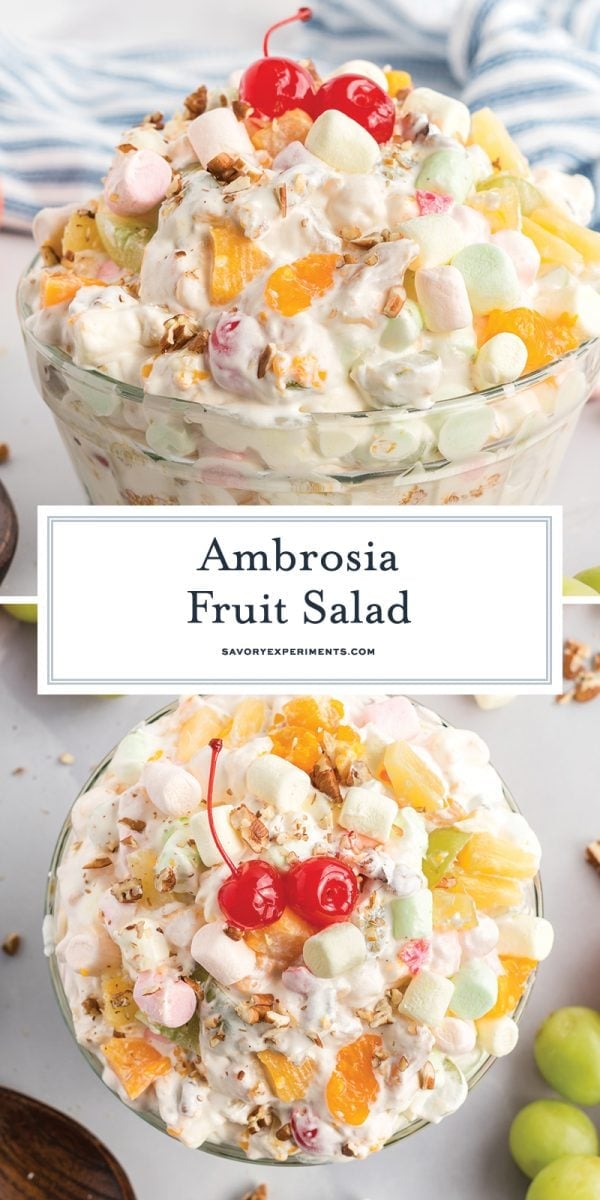 More Fruity Salads: