What could be better than a whole bowl of ooey, gooey, melty cheese topped with chorizo? Absolutely nothing! You'll be begging for more as soon as you have your first taste of my White Queso Dip.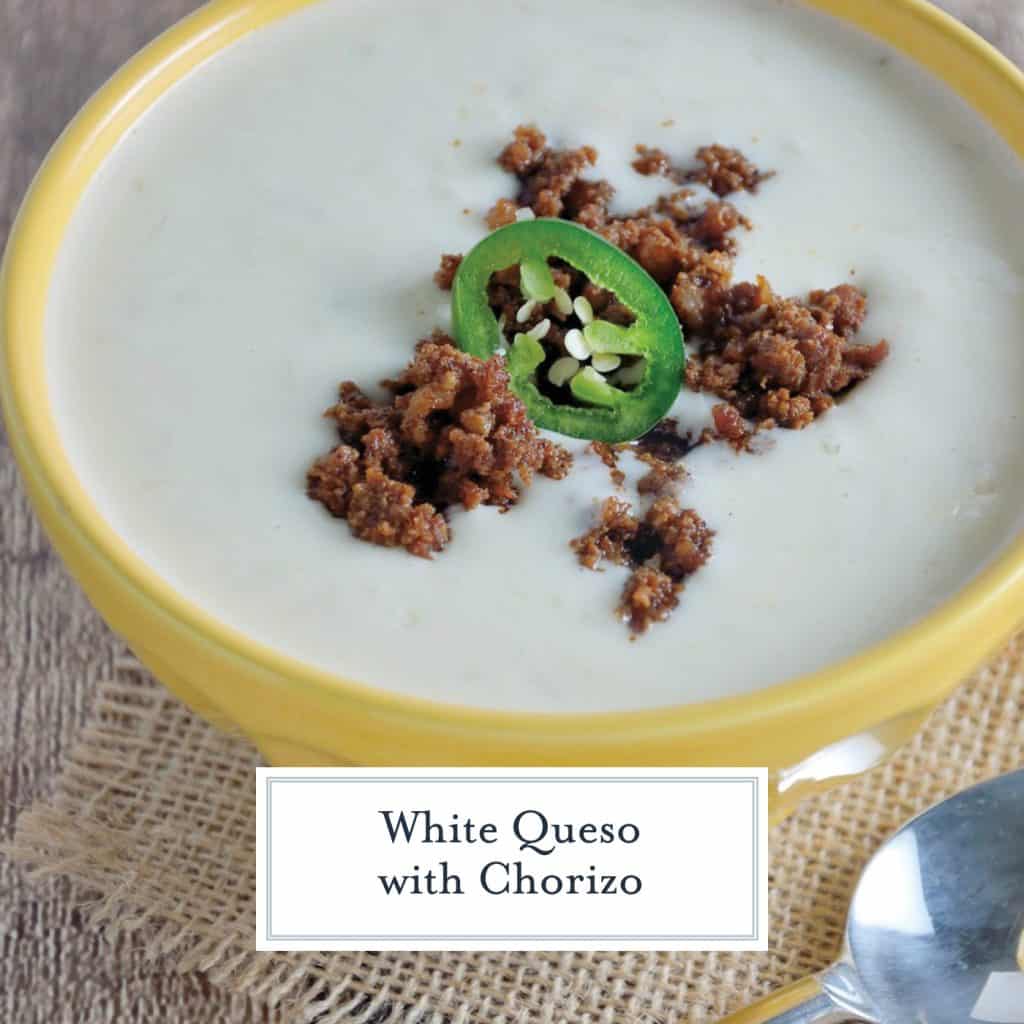 White Queso Dip is an easy appetizer that is perfect for parties or watching the big game! This Mexican cheese dip is the BEST cheese dip you will ever make!
A night out at El Salto (a local Mexican restaurant) began with three ladies finishing off an entire bowl of White Queso Dip with Chorizo and three baskets of freshly made tortilla chips. Needless to say, the white queso dip was delicious and needed to be replicated as soon as possible.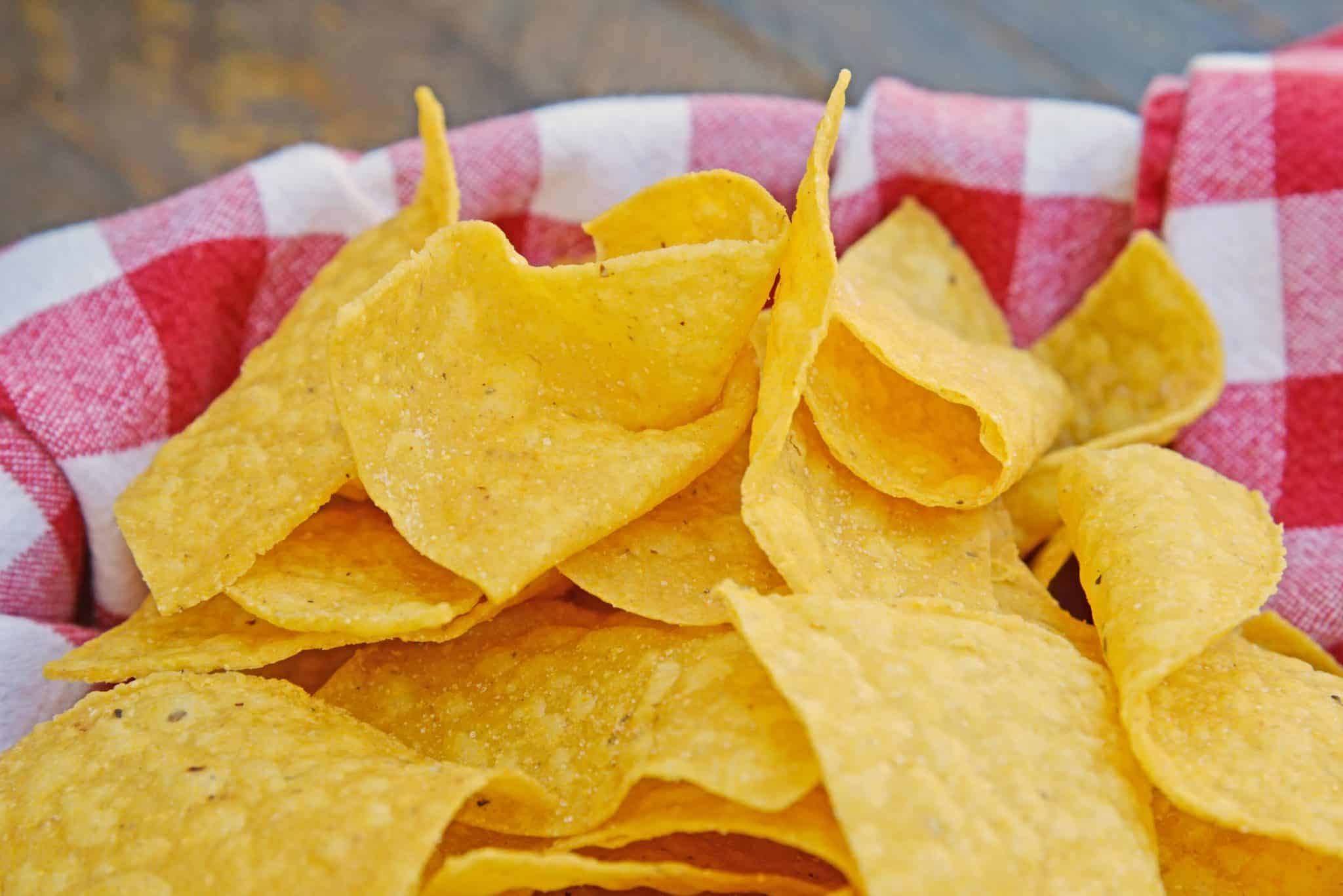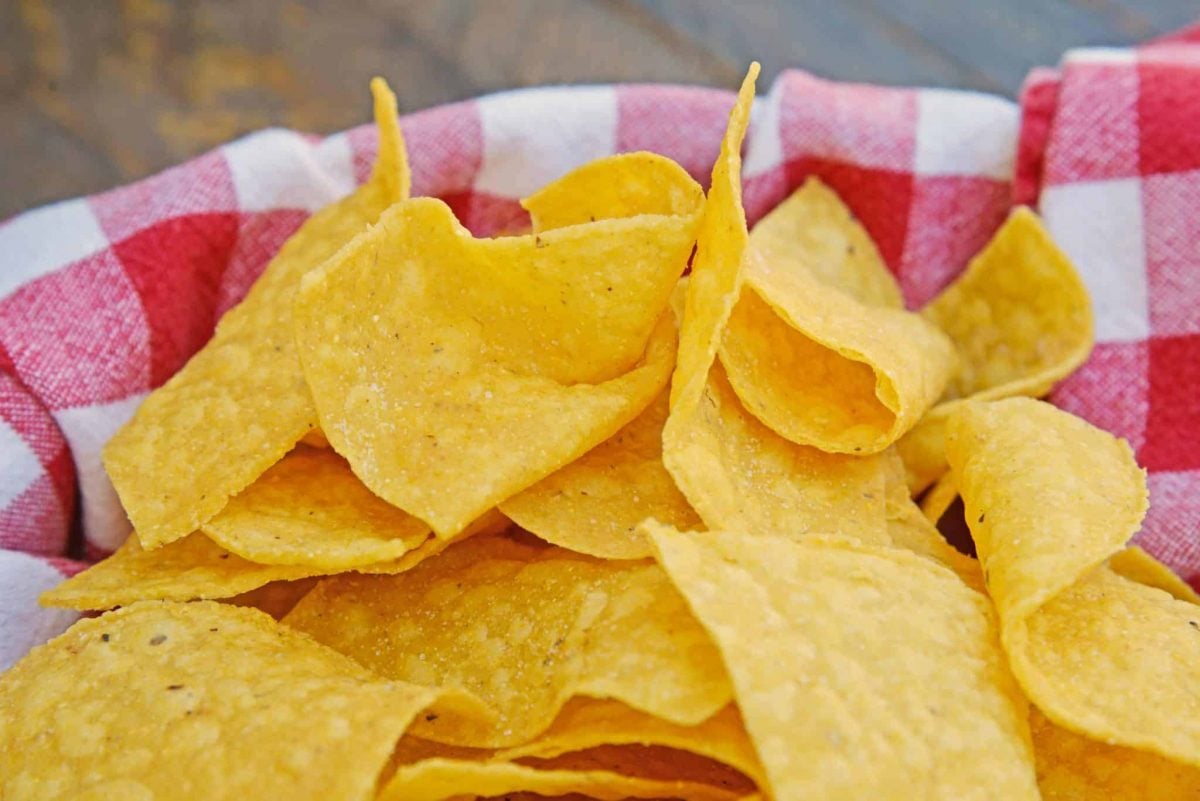 Why You'll Love White Queso Dip
It is safe to say that White Queso Dip with Chorizo will be the best cheese dip you will ever make.
Time: In just 20 minutes, you will have a tasty treat that no one will be able to resist.
Ultimate appetizer: While chips with salsa are great and guacamole with chips is outrageously good, chips and melted cheese really take the cake.
Easy: Before creating this recipe, it never even occurred to me to try making queso at home and it couldn't be easier to make a restaurant-quality dish at home.
What is White Queso Dip?
Simply put, queso is a dish of melted cheese with chili peppers served in a bowl with chips or fresh tortillas on the side. It can also be used to top dishes like nachos or as a filling for things like burritos.
While the origins of the dish and the history of the dish remain a little murky, it is thought to have been a Texas restaurant's invention. They specialized in Tex-Mex cuisine and Chile con Queso or simply, Queso, for short was one of their most popular dishes.
Today, you can find it on menus all over the country in the yellow or white varieties. The color depends on the types of cheese used to make it. White queso is often made with Monterey Jack, Pepper Jack, or White Cheddar cheese.
Using American cheese can sometimes be a contentious notion, but for me, it gives it that ultimate, coat your chip with love, melty, gooey quality.
Ingredients in White Queso Dip
White Onion – Slightly sweeter and lighter in flavor than their red or yellow counterparts. White onions are often used in both Tex-Mex and Mexican cuisines.
White American Cheese – Processed cheese with a mild flavor and amazing melting qualities.
Monterey Jack / Pepper Jack Cheese – These two cheeses are very similar in taste (mild and slightly tangy) but vary the most in that Pepper Jack cheese will give you a bit of heat with its addition of peppers throughout.
Unsalted Butter – Used here to give some richness to the dish and to help encourage the cheese to melt initially and stay melty.
Whole Milk – Whole milk is best here because it is providing the structure for the dip as well as fat and flavor. Using reduced-fat milk, will not give you the same velvety texture you want in a queso dip.
Sea Salt – We all know the importance of properly seasoning our food. Queso is no exception!
White Pepper – White pepper has a little more bite than black pepper and allows this dip to have a really gorgeous appearance. Black pepper can easily be subbed in.
Chorizo sausage – Highly seasoned and often spicy pork sausage in both fresh and dried and cured (think charcuterie board) varieties. It is also popular in both Mexico and Spain. For this recipe, try to find fresh Mexican chorizo for your topping. It generally has a high fat content so be sure to cook it separately and drain off the rendered fat.
Jalapeno – Fresh chile with a moderately spicy flavor.
Tortilla Chips – Pick your favorite variety here. I am partial to the yellow corn variety but you can also make your own tortilla chips if you are feeling spicy.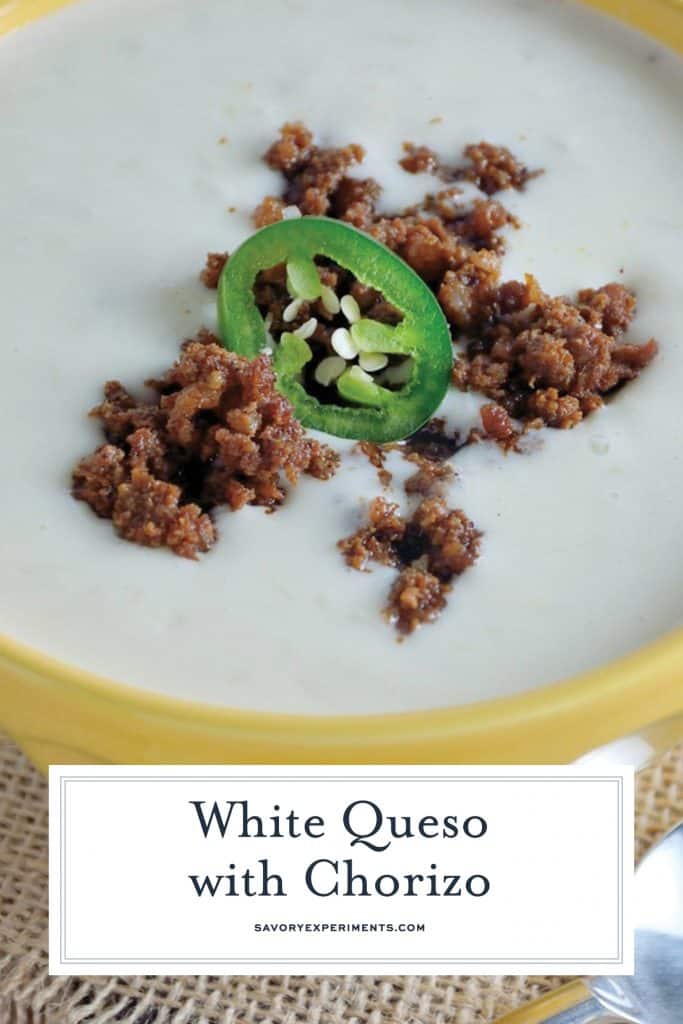 How to Make White Queso Dip with Chorizo
Brace yourself for how easily you can make queso at home.
Blitz! You could cut all of this up with a knife, but who has time for that when you have a food processor? By getting the main ingredients into smaller pieces, it will make for a cleaner and smoother melting process.
Get to melting. The butter, cheese, onion, and milk go into the pan. It is important to continuously whisk here so everything melts evenly. This helps to prevent lumps and bumps. It is important to not allow it to get too hot or continuously stay over heat because cheese can separate. This means when the oil comes out of the cheese and it makes for a less than ideal dip from both a look and a texture standpoint.
Season! Salt and pepper are best to be added here when the mix is ready to go.
Garnish and serve. Quickly move the hot cheese dip to your serving dish and top it with chorizo and fresh jalapeno if you are using it. Everyone is going to want to dig in so make sure the tortilla chips are at the ready.
What to Serve White Queso Dip With
Really and truly this dip is wildly good on its own and if given the opportunity, I would make this single dish my entire meal. But, if you feel obligated, serve it with whatever your heart desires. And given that it goes with everything, here area few occasions it seems perfect for:
It is a perfect side or appetizer on taco night.
If you are going to a potluck, get ready to be everyone's best friend.
Got a grill out happening? Go ahead and make a batch.
Book club or girls' night – you know what I am going to say!
Variations on Serving White Queso Dip
It's so creamy and delicious, you can literally put this stuff on everything your heart desires! You can use it as a chip dip or even dip veggies into it, yummy. You can use it to smother any one of your favorite Mexican dishes. I've used it for nachos or for extra cheesy goodness in quesadillas.
Storing and Freezing
Make-Ahead: This dish is best cooked up and served when you are going to eat it.
Storage: I sincerely doubt you will end up with any extra, but should you find yourself in that strange strange situation, put it in an airtight container in the fridge for 2-3 days.
Reheating: Heat gently in a pan on the stove until just melted or pop it in the microwave until just melted. Some of the cheese may separate and it might not be as velvety as the first time you made it, but it will still be delicious.
Freezing: I do not recommend freezing this dish.
Questions About White Queso Dip
What is white queso dip made of?
Generally speaking, it is white cheese(s), milk, and chilies. Mine features American cheese, Monterey Jack or Pepper Jack, white onion, chorizo, and jalapeno with tortilla chips on the side for dipping.
What kind of white cheese is used in Mexican restaurants?
Queso blanco is most likely the cheese you see on your plate at many Mexican restaurants. It is soft and crumbly with a bit of tang. And while it can melt a little, it cannot melt fully.
What is the white Mexican cheese used for tacos?
More often than not, a cheese called "cotija" is used for tacos. It has a similar flavor and texture as feta which cuts through fatty meats perfectly.
If you loved this chorizo dip, you'll love these other easy dip recipes:
Tools for making White Queso Dip with Chorizo:
Mini Food Processor– I use this thing daily! It is by far my most used kitchen appliance, it is small and I throw all the parts into the dishwasher, well except the base and cord, of course!
Heavy Bottom Sauce Pan– this will be one of your most used kitchen tools. Having something that is heavy bottom will distribute heat better and prevent burning whether you are using an electric or gas range.
Cast Iron Country Kettle- serving hot cheese dips in a cast iron kettle will help them keep in the heat and stay super creamy and gooey longer than a regular dish and prevents scalding and over cooking, like it would in a slow cooker.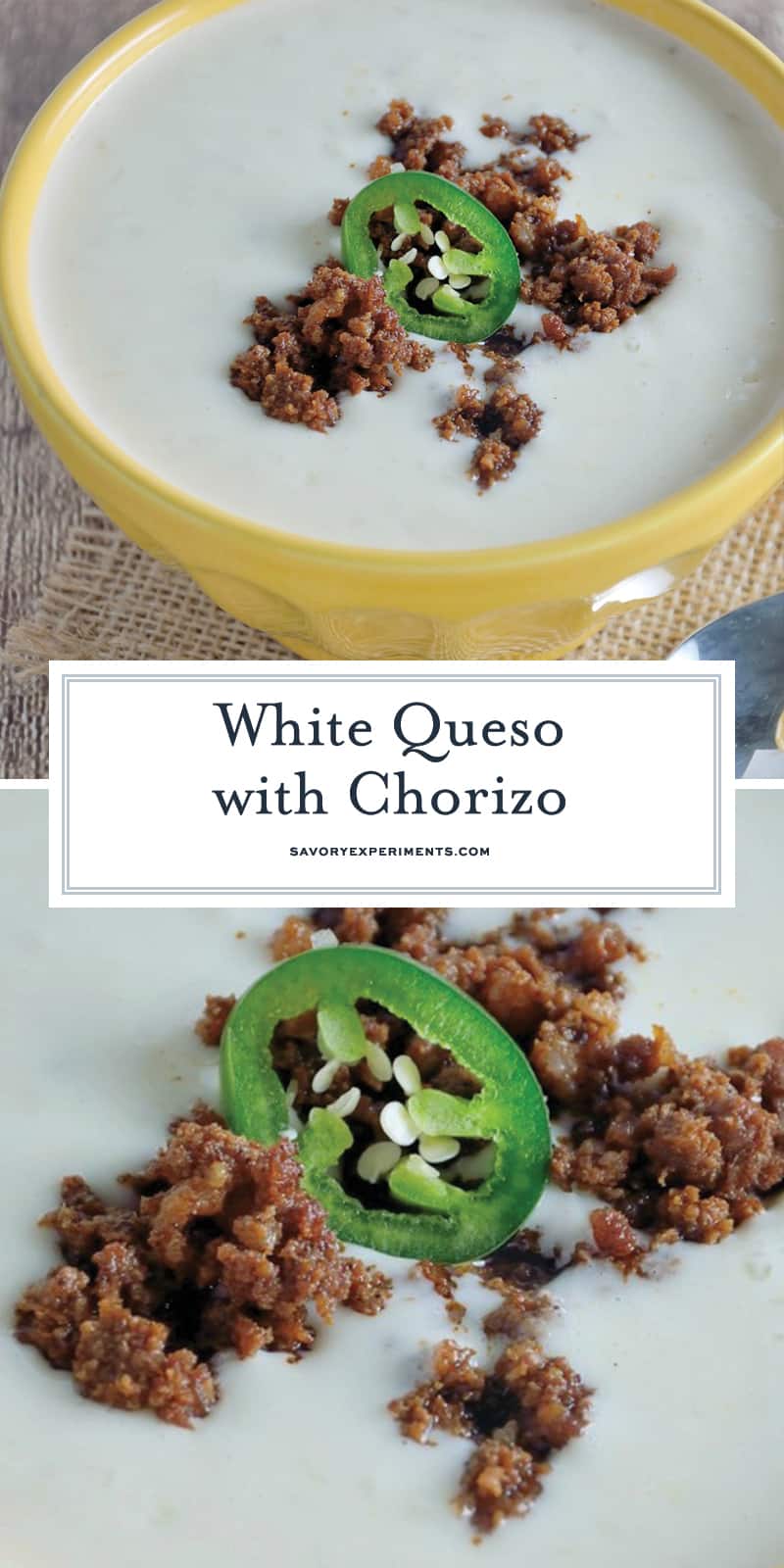 Check out our other popular recipes: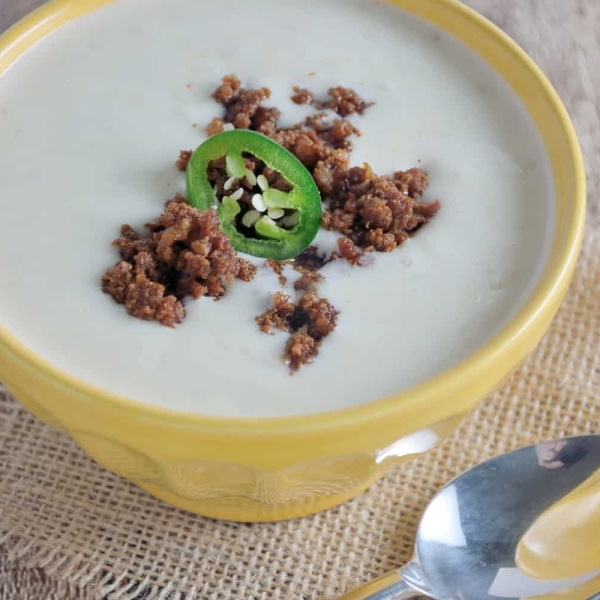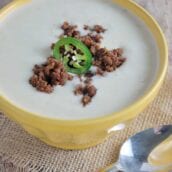 Chorizo White Queso Dip Recipe
White Queso Dip is the BEST cheese dip you will ever make!
Ingredients
1/4

cup

white onion

finely minced

3/4

pounds

white American cheese

torn into 1 inch pieces

4

ounces

Monterey Jack or Pepper Jack cheese

1

tablespoon

unsalted butter

3/4

cup

whole milk

1

teaspoon

sea salt

1/2

teaspoon

white pepper

2

links of Chorizo sausage

casings removed, cooked and chopped to resemble ground beef

1

slice

jalapeno

optional for garnish
Instructions
Place all cheeses and onion into a food processor and pulse several times to mix. The finer the mixture, the cleaner and smoother it will melt.

In a medium sauce pan, melt butter and then add the cheese mixture through whole milk over medium heat. Continuously whisk the mixture until it is fully melted and smooth (maybe a few small bumps from the onions). Do not heat too high or keep it over heat.

Whisk in salt and pepper.

While still hot, transfer cheese to a serving bowl, top with diced chorizo (some will sink). Garnish with jalapeno. You can stir in the sausage to combine. Serve with tortilla chips.
Nutrition
Calories:
414
kcal
,
Carbohydrates:
5
g
,
Protein:
20
g
,
Fat:
34
g
,
Saturated Fat:
18
g
,
Cholesterol:
99
mg
,
Sodium:
1697
mg
,
Potassium:
256
mg
,
Sugar:
3
g
,
Vitamin A:
950
IU
,
Vitamin C:
18.3
mg
,
Calcium:
770
mg
,
Iron:
0.8
mg