With tomatillos and green chiles, this Instant Pot Pork Pozole recipe is a traditional Mexican stew full of flavor and spices.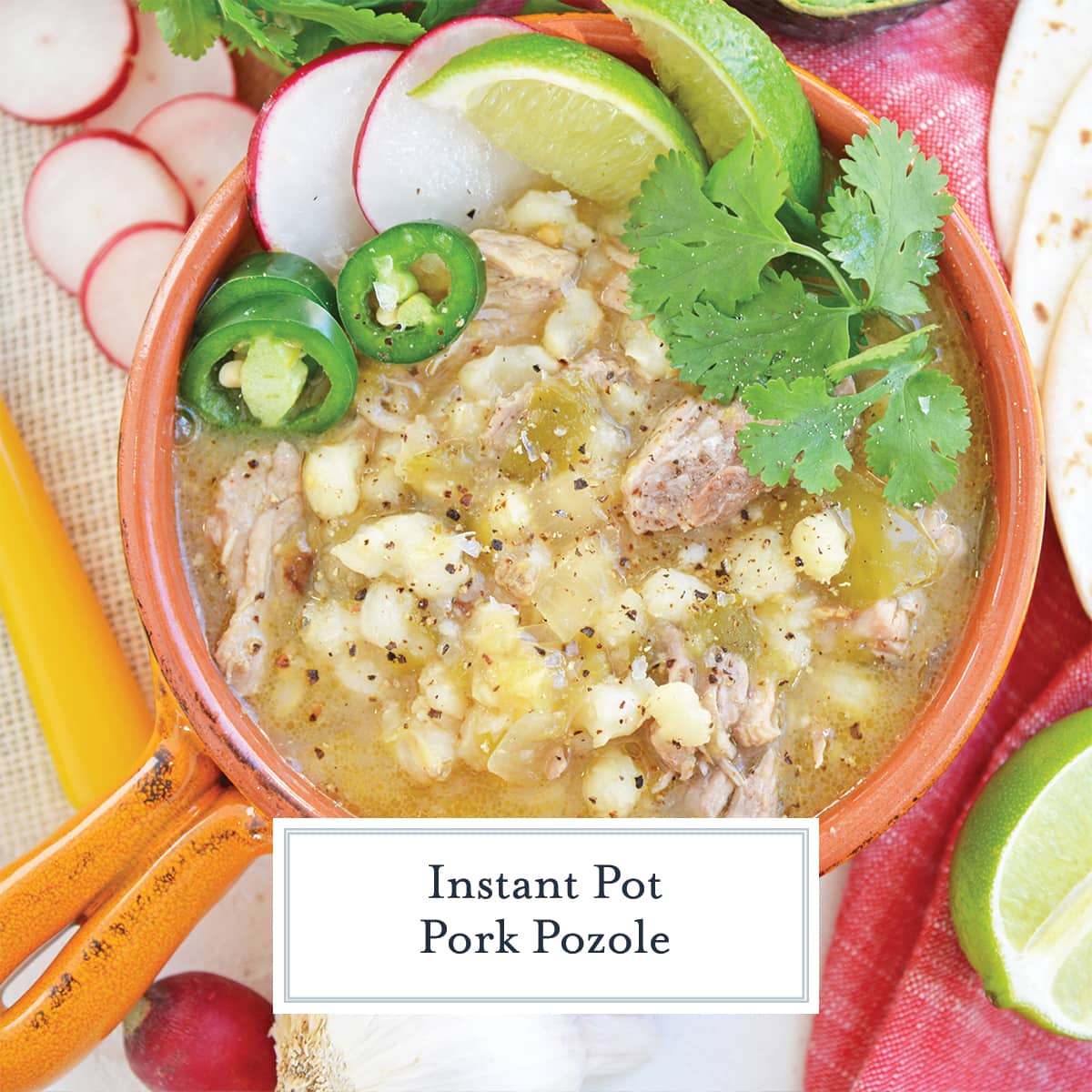 Pozole is a dish I've only ever had in the states, but when we are finally allowed to travel again will be first on my list for a trip to Mexico. It's high on my list along with Mexican Menudo.
After watching a few episodes of The Final Table and Salt Fat Acid Heat, I jotted it down as a recipe I wanted to try and play with a little.
Authentic Pozole
I will start by saying that I don't claim this to be an authentic recipe. What I will claim is that it is darn good. After many trials, taste testing and recommendations from chefs who specificalize in Latin and Mexican cuisine, this is the end result. It also sometimes spelled posole, with an "s".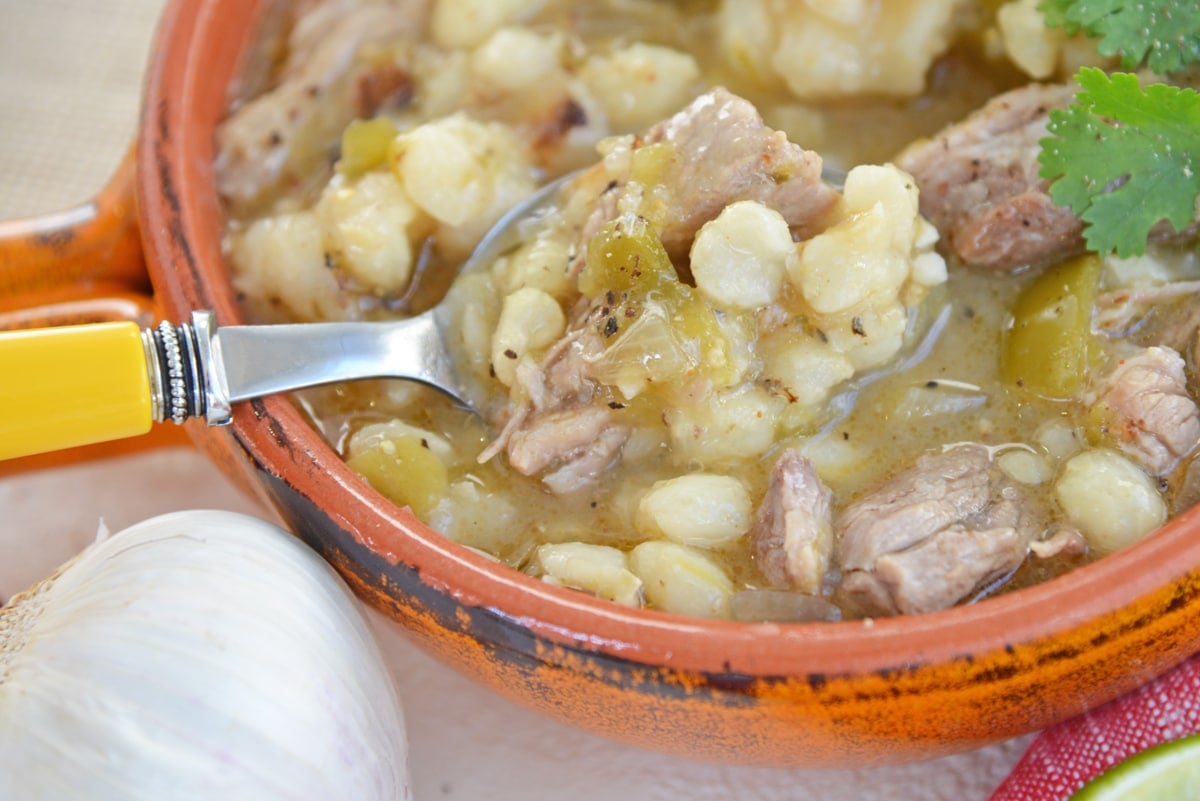 Pozole translates to "hominy" so while many beleive the most important ingredient is the protein, it is actually maize. It walks a fine line between being a soup or a stew with being more hominy and pork than broth. I even went a step further thickening mine a bit with flour.
Traditionally, it is made with either pork or chicken, but I find pork adds the most flavor so I used it in this pork pozole. It is also simmered for hours on end to get rich and well developed broth and fork tender meat.
The Instant Pot (or any electric pressure cooker) makes this a snap in a matter of just 25 minutes.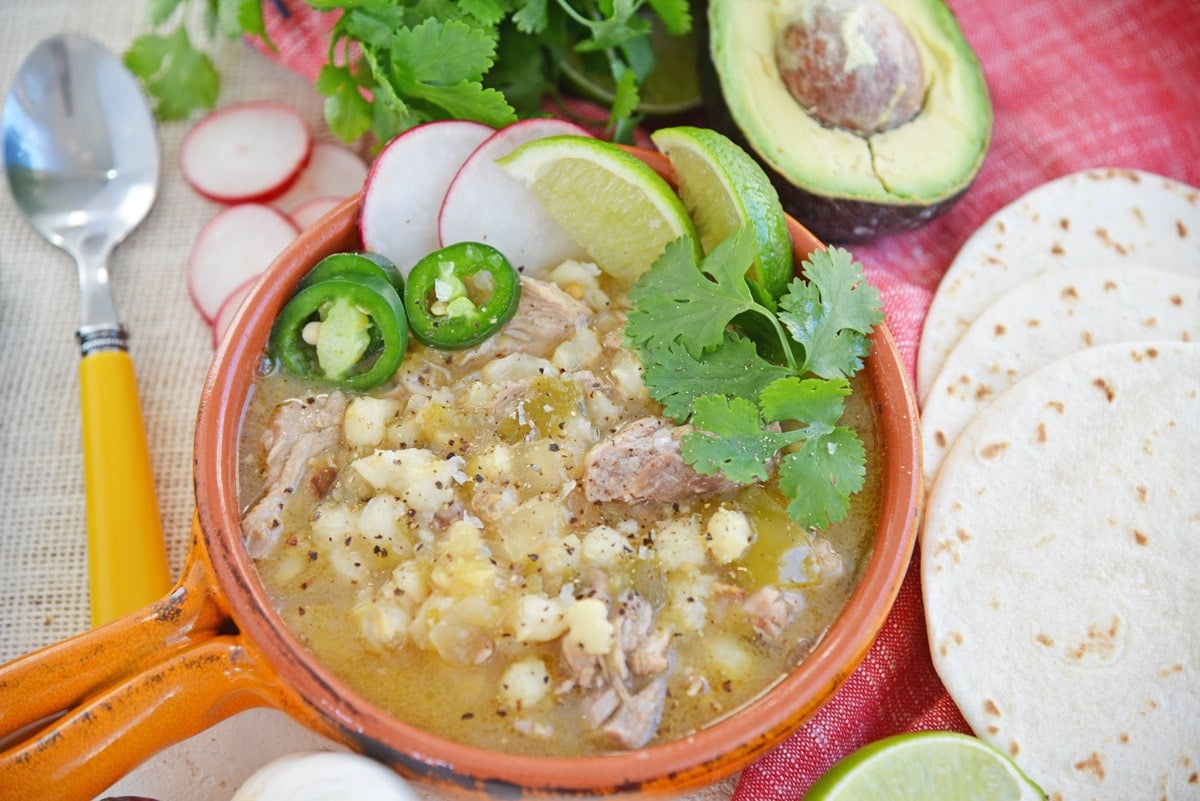 What is Hominy?
Loosely, hominy is corn. Most people call is giant corn because the kernels are so large, however it is actually just regular field corn that has been specially treated. It can become just slightly larger or up to two times bigger depending on the variety of corn you started with. You can get white or yellow hominy.
It undergoes a process called nixtamalization which involves soaking corn kernels in an alkali solution that removes the hull and germ of the corn. This also cause the kernel to bloat, giving it the appearance of being larger than the size of an average kernel.
Canned hominy often looks like corn kernels suspended in shortening. My daughter thought they were corn marshmallows. You'll get the distinct smell of opening a bag of corn tortilla chips when the can releases.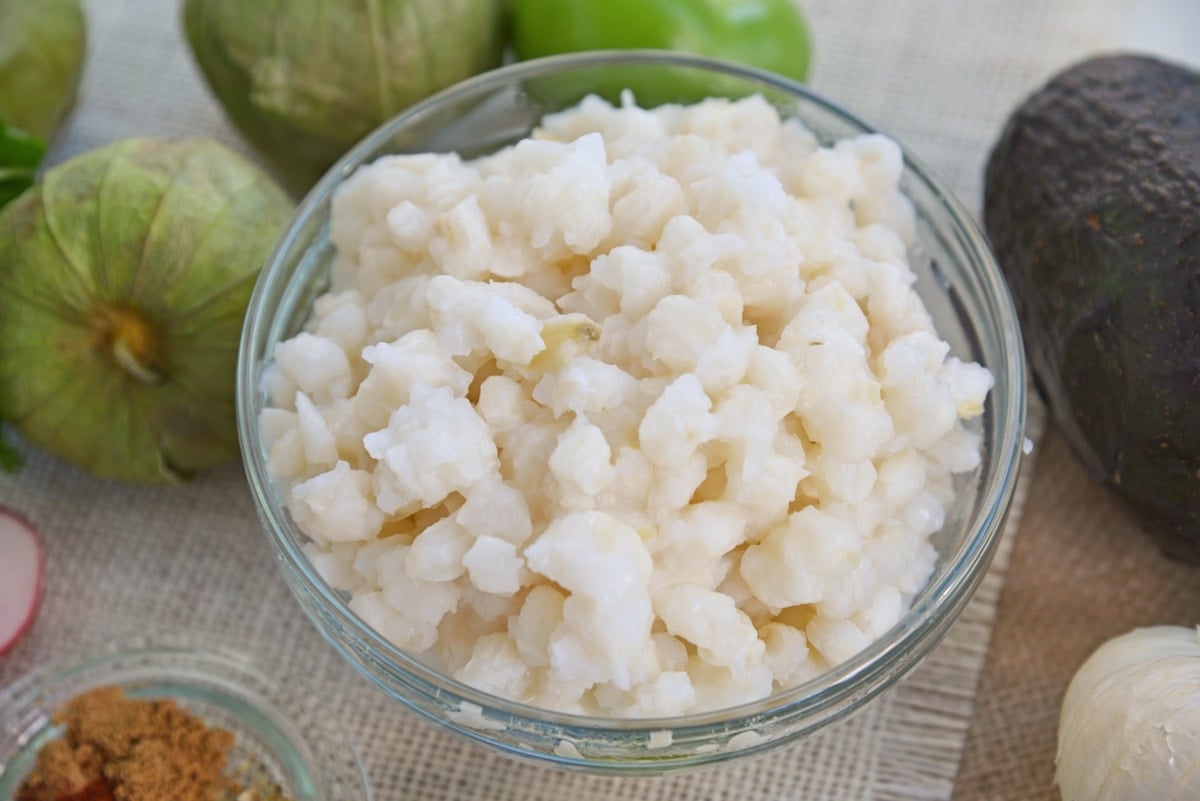 It is gelatinous, waxy and sometimes slides out in a single pieces instead of individuals kernels. You can strain and rinse it before breaking apart into pieces. In all honesty, it is a little odd if you've never worked with it before. But it is crucial to this pork pozole.
What does hominy taste like? Like other food made with corn and hominy, but the texture is near that of a cooked potato. Starchy with some texture and a little sweetness.
Hominy is the same product used to make other dried corn foods like masa (corn flour), corn meal, corn tortillas, grits and corn starch. It can be yellow or white.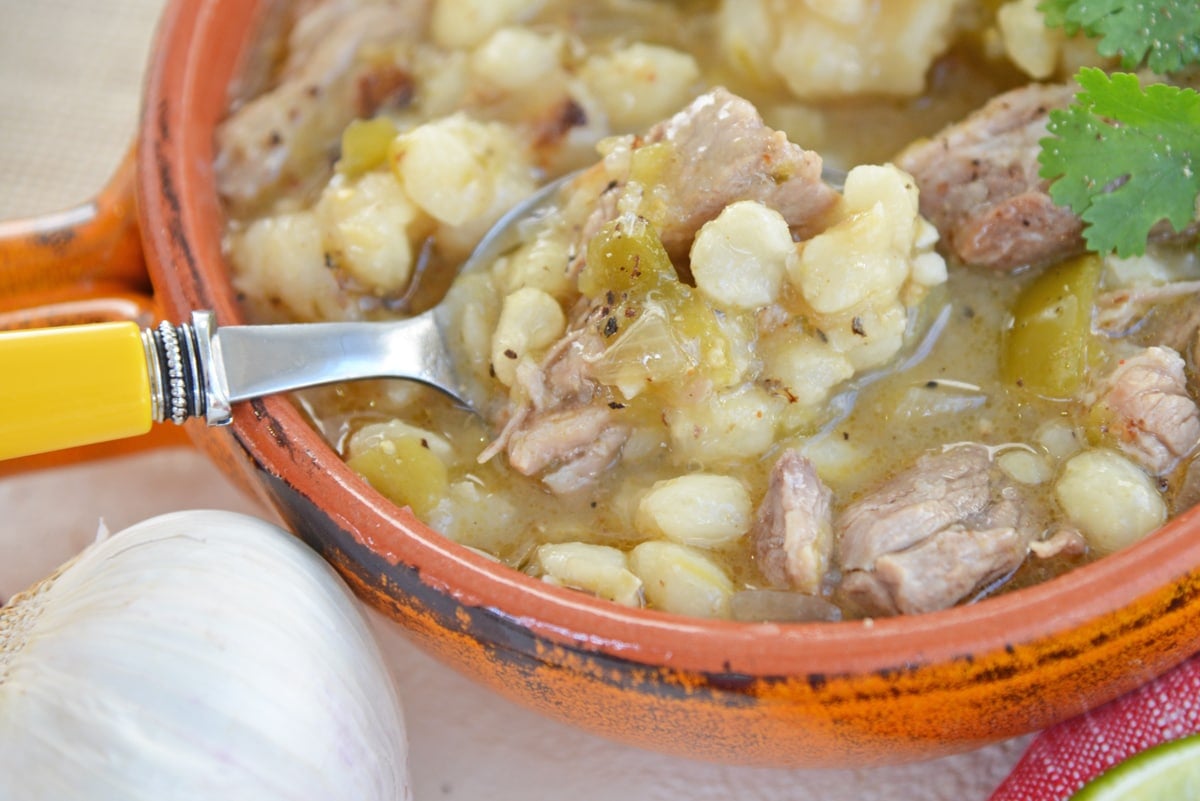 Red or Green Pozole
Pozole is either red or green and both are considered to be acceptable. I prefer green as it reminds me of pork chile verde, of which I can never get enough of.
Green Pozole uses tomatillos and green chiles to achieve its hue while red pozole has a base of ancho chiles and chiles de árbol. Due to this, I find red to be much spicer, which I like, but my kids, not so much.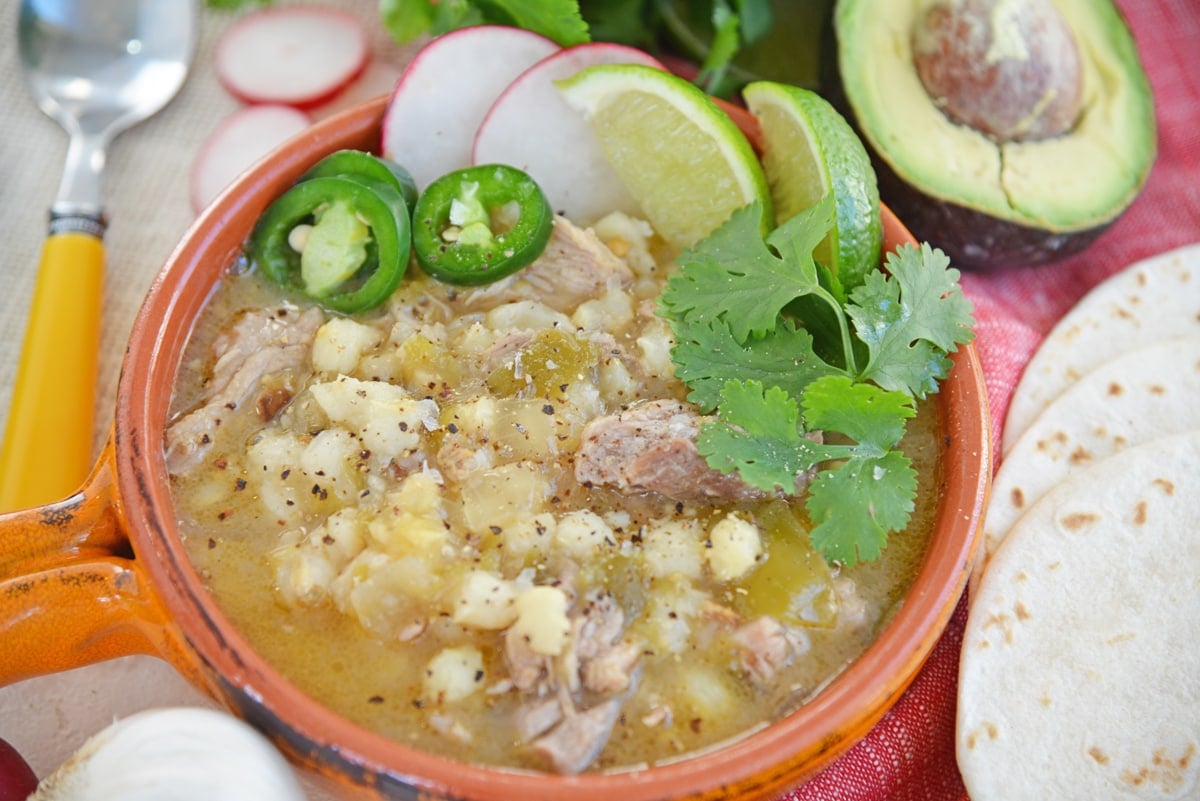 Pork Butt or Pork Shoulder?
Pork butt and pork shoulder are the same cut of meat. The term "butt" came from it being the butt of the joint, not its actual rear end.
You can find this piece of meat bone-in or boneless. I prefer boneless because it is easier to shred or cut. It is the same cut that is used for most shredded pork recipes like pulled pork or carnitas.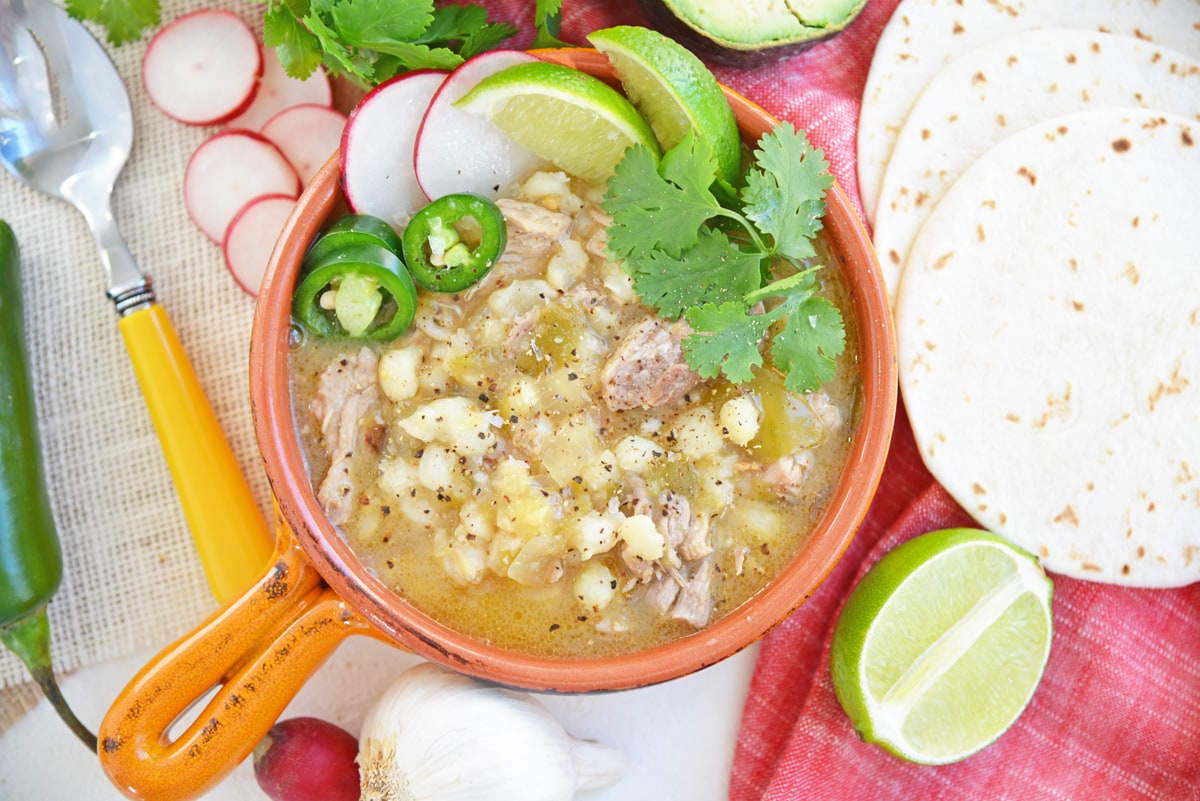 For this pork pozole recipe you can also use the same amount of chicken. As long as it is cut into similar size pieces, you won't need to adjust cooking times.
Chicken thighs will provide the most similar texture and robust taste, but chicken breasts can also be used to reduce calories and fat.
What to Serve with Pork Pozole
One of my favorite things about this dish is the variety of ways to customize each bowl. Whether I am making it for my family or for guests, I'll set out all of the potential toppings in small bowls so they can make their own.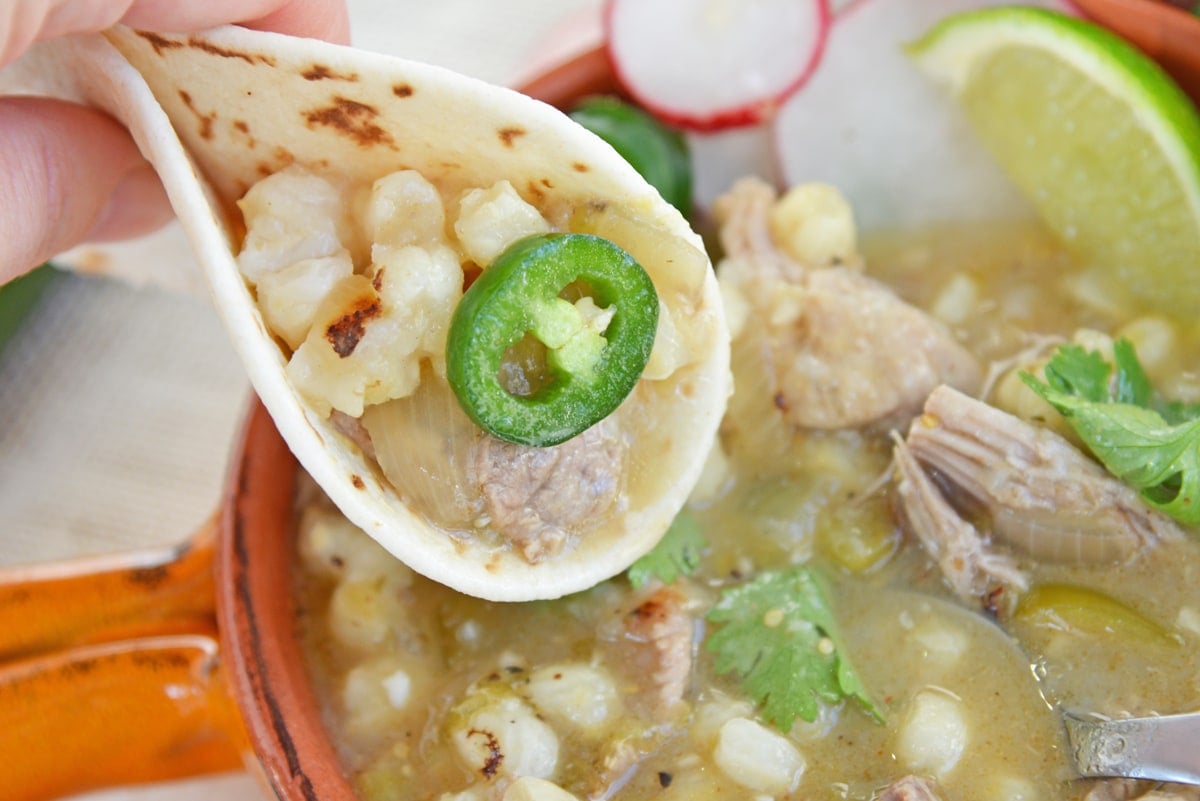 Here are the most common toppings for pozole:
Fresh lime wedges
Cilantro leaves
Thinly sliced radishes
Coarse salt such as Maldon Sea Salt
Fresh jalapeno slices
Avocado
Chipotle peppers
Shredded Cabbage
I also like to have flour or corn tortillas on hand to wipe the bowl clean when I am through and usually a salad. Although it is Guatemalan, I love this Chojín (Radish Salad with Chicharrón) as a starter or on the side.
Make Ahead & Freezing
Pork pozole is both make ahead and freezer friendly. Reheat in the microwave or in a saucepan. It can be stored in the refrigerator for up to 5 days. Like many soups, the flavors will continue to develop, so many beleive it is even better on the second and third days.
If freezing, place into an airtight container and freeze for up to 3 months. Allow to thaw or defrost in the fridge overnight or on the defrost cycle of the microwave.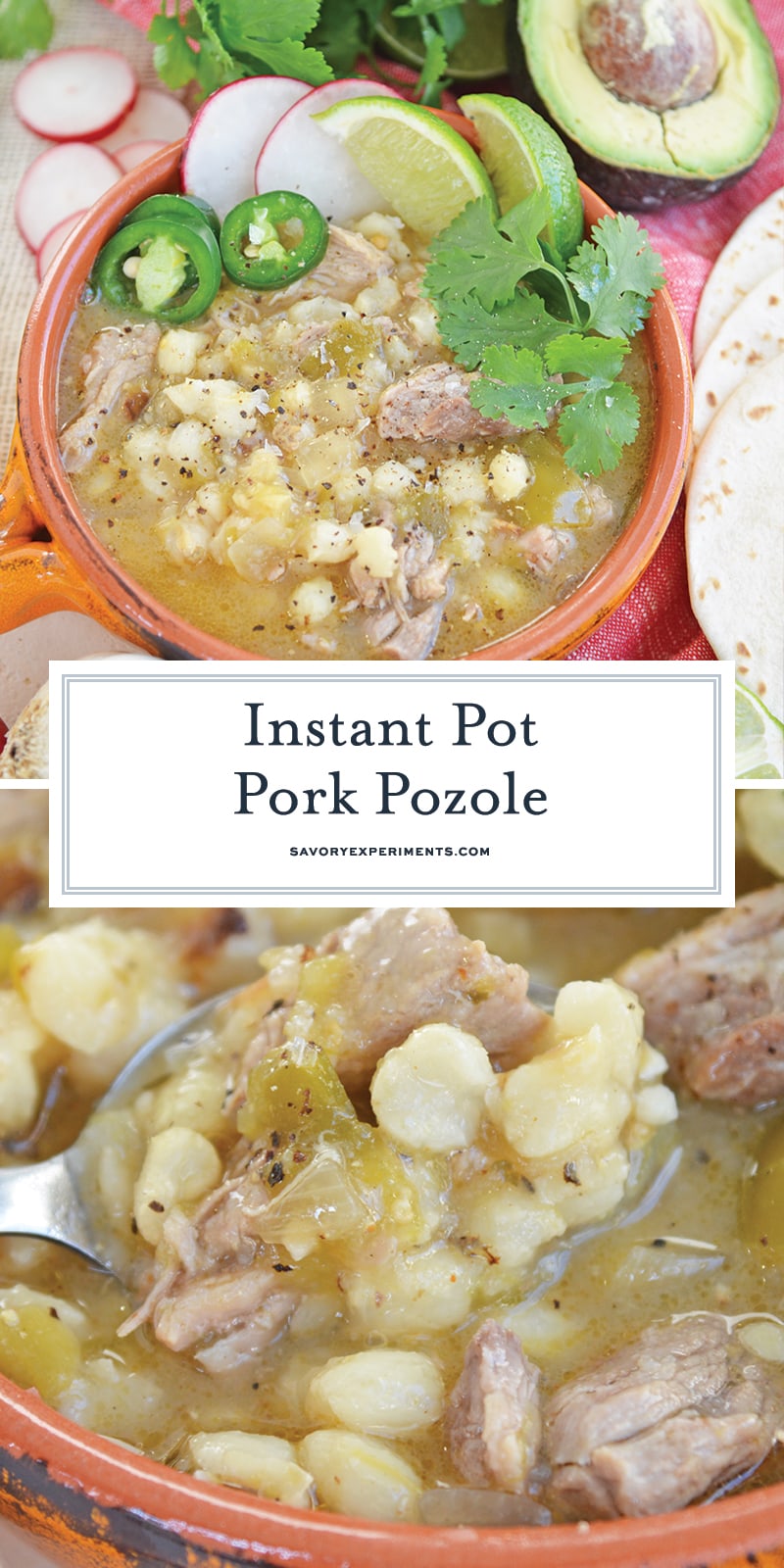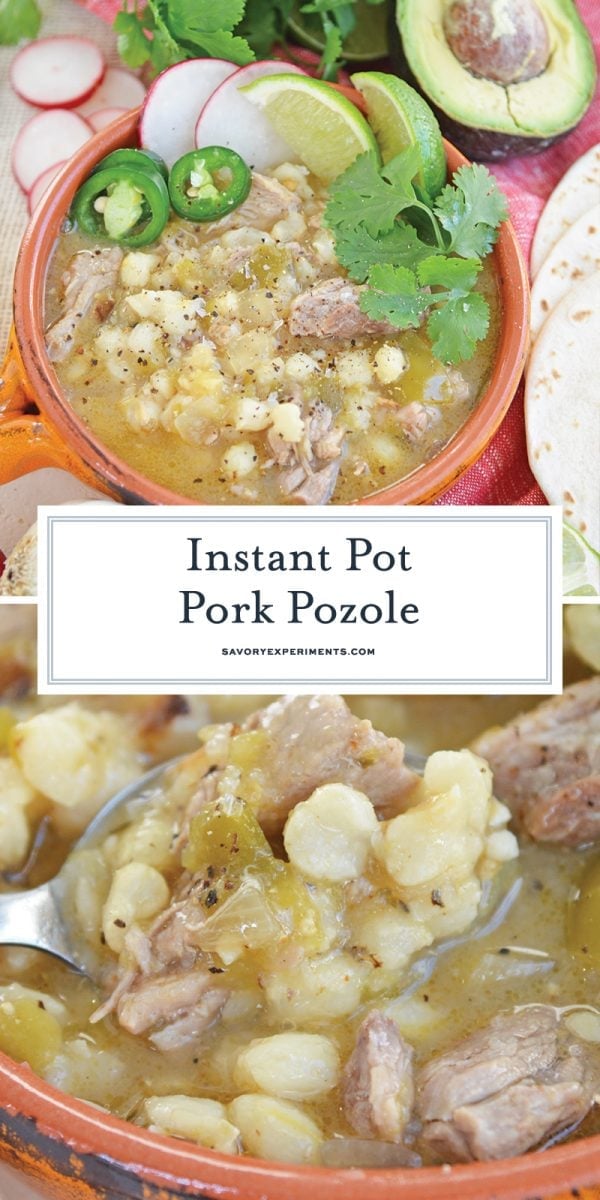 More pork recipes: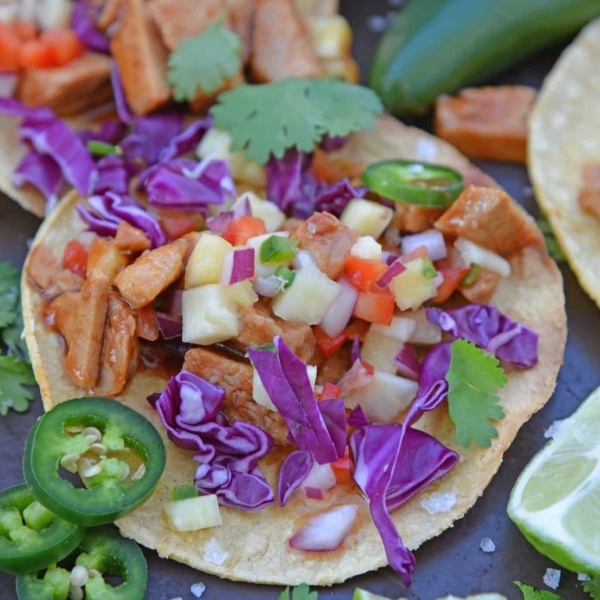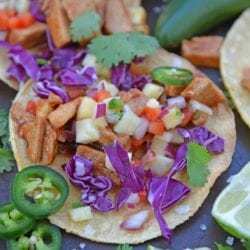 BBQ Pork Tacos
BBQ Pork Tacos are a colorful and easy weeknight dinner. Zesty BBQ sauce paired with sweet and spicy pineapple salsa and crunchy red cabbage.
View this recipe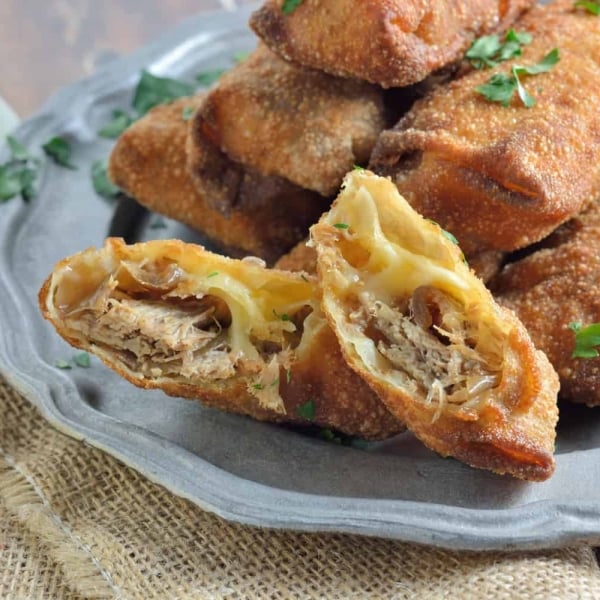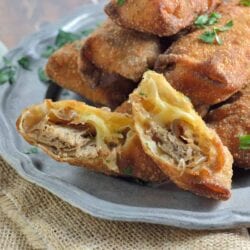 Pulled Pork and Smoked Gouda Egg Rolls
Succulent, sweet and zesty pulled pork wrapped in a crispy egg roll with silky smoked gouda cheese and served alongside Avocado Green Goddess Dressing.
View this recipe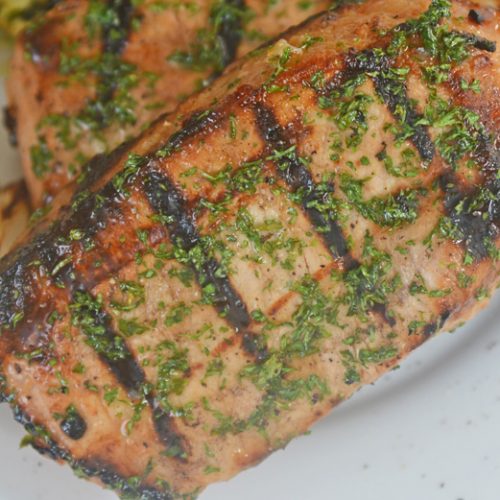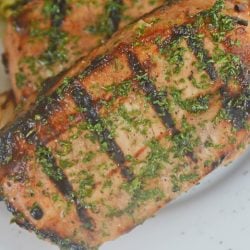 Onion Grilled Pork Chop Recipe
Use Onion Soup Mix and a few other key ingredients to make a tasty marinade for pork on the grill!
View this recipe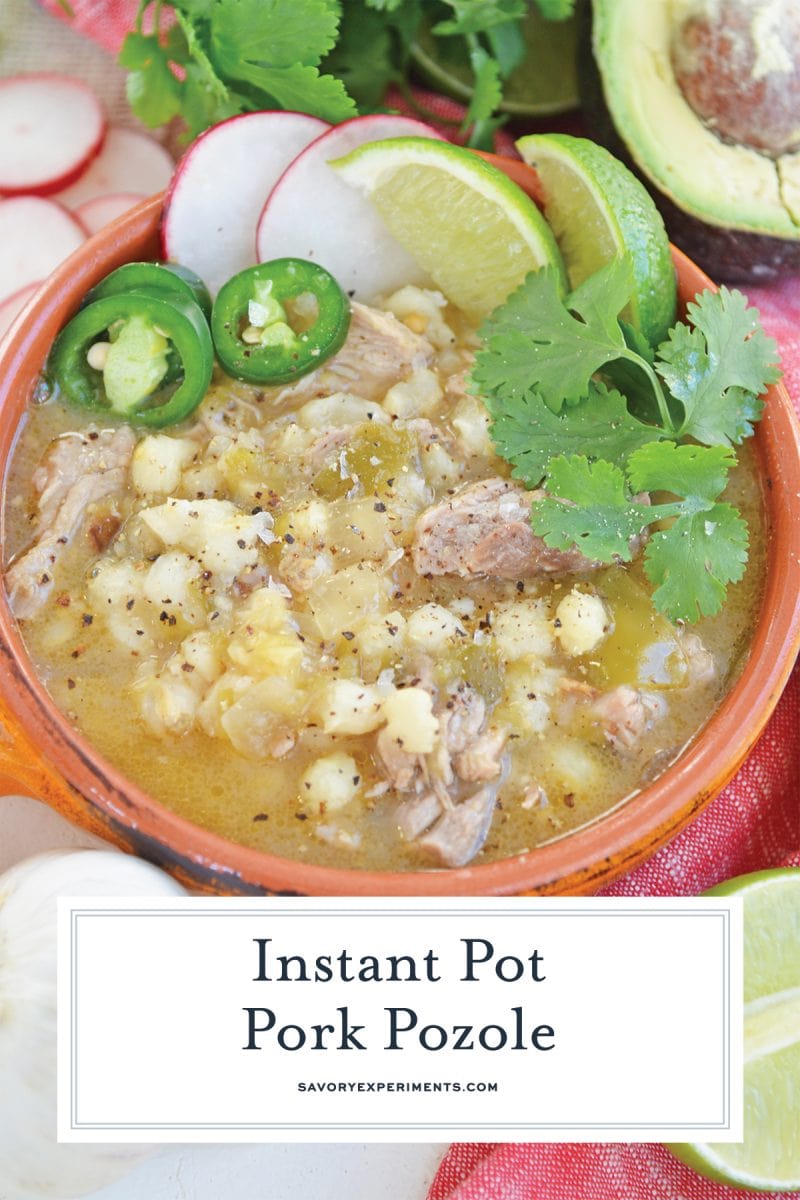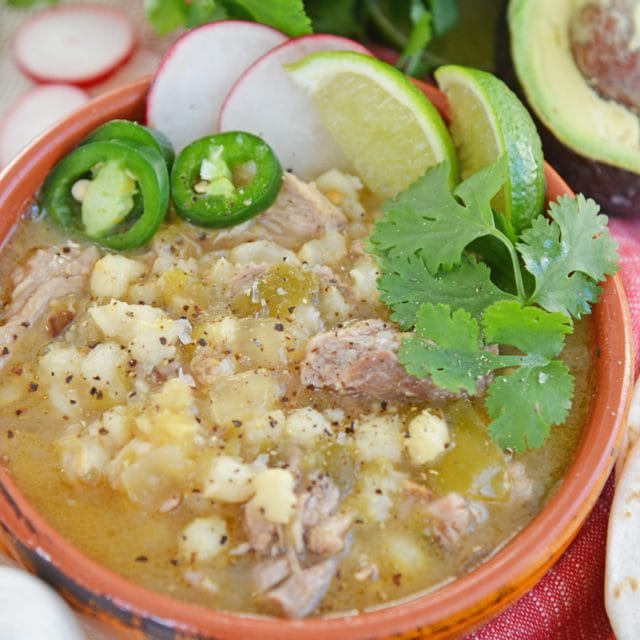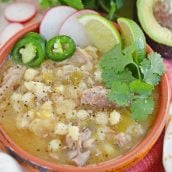 Instant Pot Pork Pozole
With tomatillos and green chiles, this Instant Pot Pork Pozole recipe is a traditional Mexican stew full of flavor and spices!
Instructions
In a large bowl, mix flour with Kosher salt and ground black pepper. Toss with pork pieces. Remove pork and discard seasoned flour.

Heat vegetable oil in an Instant Pot using saute function.

Add floured pork, working in batches to not crowd. Lightly brown on all sides. Remove to a plate and set aside.

Add chopped onion, cooking for 3-4 minutes or until it starts to brown and soften. You might need to add another teaspoon of vegetable oil if the pot is dry.

Add minced garlic, saute for another 2 minutes.

Stir in tomatillos, canned green chiles, oregano, cumin, chile powder, coriander, bay leaf, hominy, chicken broth and return browned pork to the pot.

Lock lid and seal vent. Cook on manual pressure for 30 minutes.

Use quick release. Fish out the bay leaf and pork pieces. Using two forks, shred pork and return to the soup.

Skim off any excess oil on the top.

Stir in fresh lime juice and correct seasoning for salt and pepper, if needed.

If you've tried this recipe, come back and let us know how it was in the comments or ratings!
Nutrition
Calories:
232
kcal
,
Carbohydrates:
15
g
,
Protein:
19
g
,
Fat:
11
g
,
Saturated Fat:
6
g
,
Cholesterol:
46
mg
,
Sodium:
495
mg
,
Potassium:
536
mg
,
Fiber:
2
g
,
Sugar:
2
g
,
Vitamin A:
158
IU
,
Vitamin C:
8
mg
,
Calcium:
40
mg
,
Iron:
2
mg
This recipe originally appeared on Mashed, where I was a contributor.