Eggs Benedict is one of the most iconic of breakfast meals. While the concept is simple, the execution can be challenging. Here I've outlined how to make eggs benedict!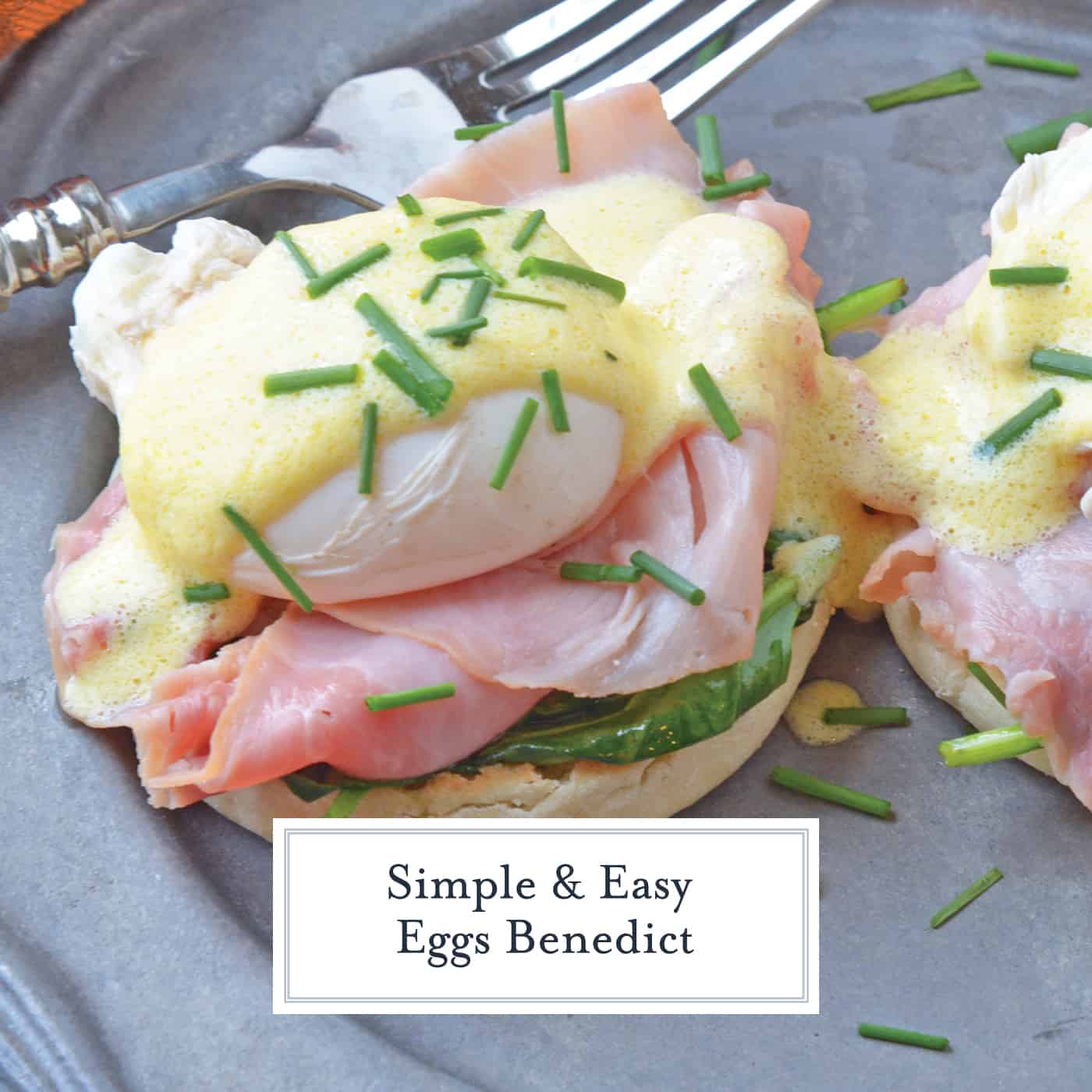 Simple Eggs Benedict tops toasted English muffins with wilted spinach, Canadian bacon, perfectly poached eggs and easy hollandaise sauce.
What is eggs benedict? There are several tales of how and who invented eggs benedict. I am not going to speculate which one is true.
What I do know is that traditional eggs benedict is made of buttered toasted bread, usually an English muffin, topped with a bulbous poached eggs with a runny yolk and a hefty dose of hollandaise sauce.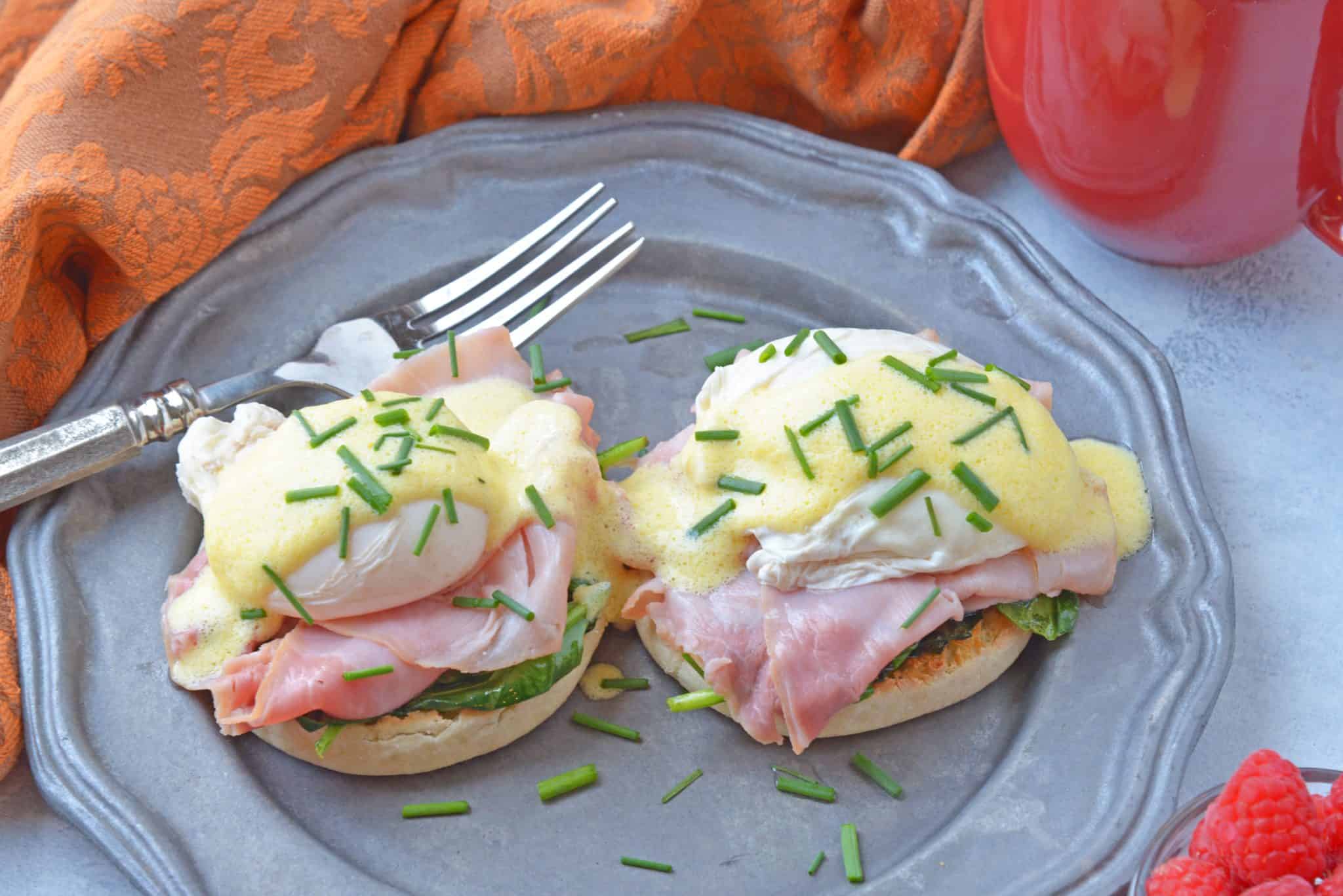 Hollandaise sauce, also known as "Dutch sauce", has an egg yolk base with melted butter and spiked with lemon juice. It is also one of the five French mother sauces and is served over many dishes, only one of which includes eggs benedict.
There are many eggs benedict recipes out there and so many variations. Canadian bacon, pulled pork, meatless, short ribs and more, the possibilities are endless.
My eggs benedict recipe is fairly traditional I add a layer of wilted spinach to hide my veggies and add color. I like my hollandaise sauce to be thinner and frothy versus heavy and thick, so I add white wine for flavor and texture. Chives finish the look.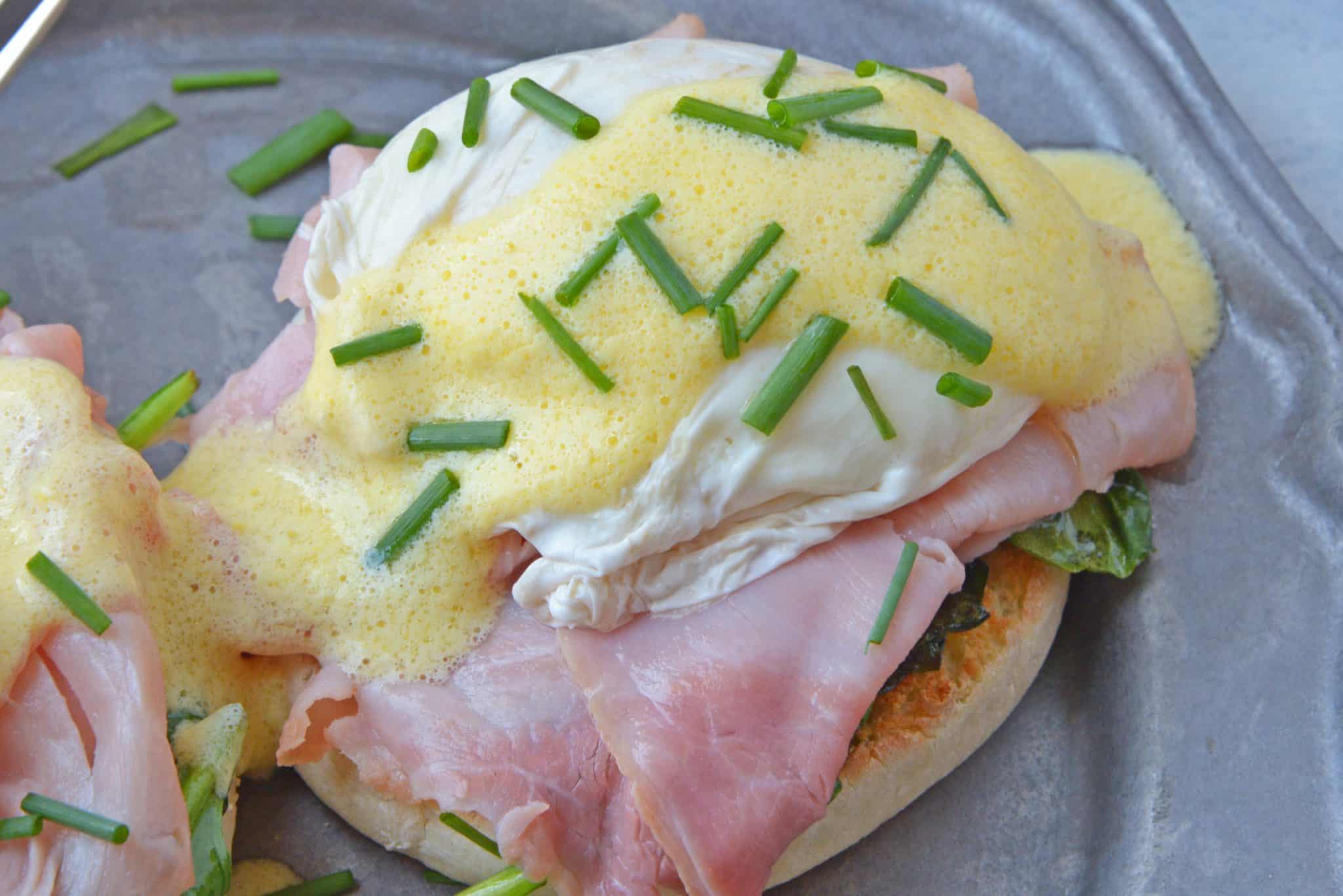 Poaching eggs seems like it should be easy. Boil water, crack egg into water, cook, remove. Oh contrary my friend. Egg poaching is a highly sophisticated technique that can take a long time to perfect and even the most accomplished of cooks can mess up.
This is why I like eggs Benedict. Because even if your poached egg comes out looking like egg drop soup, you can cover over it with sauce and no one will know the difference because it all tastes the same!
But just so you know what you should be doing, here is how to poach an egg…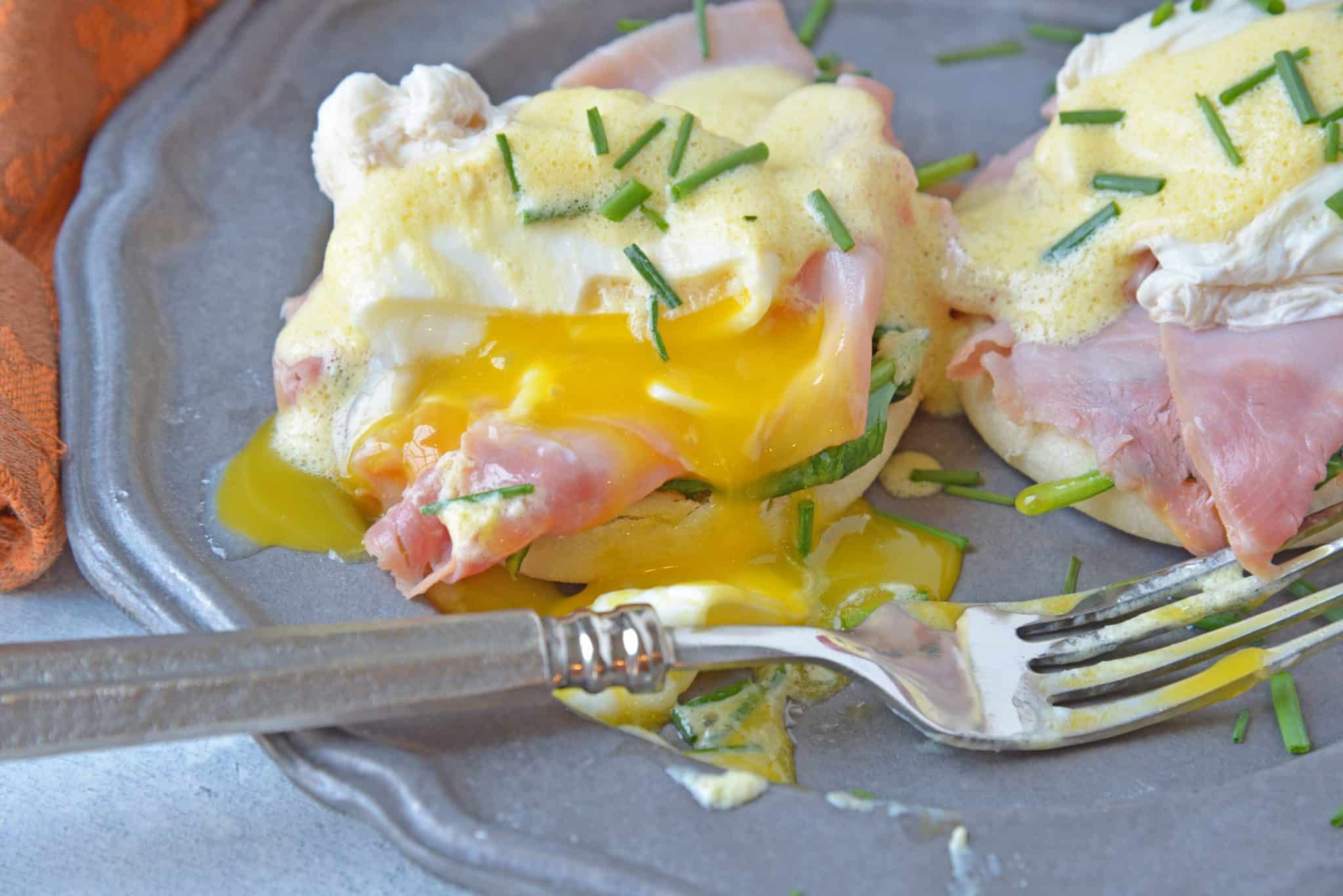 Tips for poaching eggs:
Always use the freshest eggs you can find. For us city dwellers is can be difficult to find farm fresh, chicken to table eggs. If you don't have a farmers market, etc, then look for the eggs at the back of the cooler with the latest expiration date. As an egg ages the whites thin, making it difficult for the whole thing to hold together when submerged in simmering water.
Use a non-stick pan that is deep, but not too deep. Minimum of 3 inches deep. The problem here is that if it is too shallow the egg can stick to the bottom. Too deep is just a waste of space.
Use cold eggs. Warm eggs spread more readily and the goal here is to keep them together!
Crack eggs into a ramekin or small dish before putting in water. You can slide them into the water evenly and closer to the surface than if you were to crack them directly into the water.
Use vinegar and touch of salt. This aids in the white of egg holding together better.
When all else fails, the egg will taste the same even if it looks ugly. You can also purchase poached egg cheater items like the silicone forms or special pans that work too!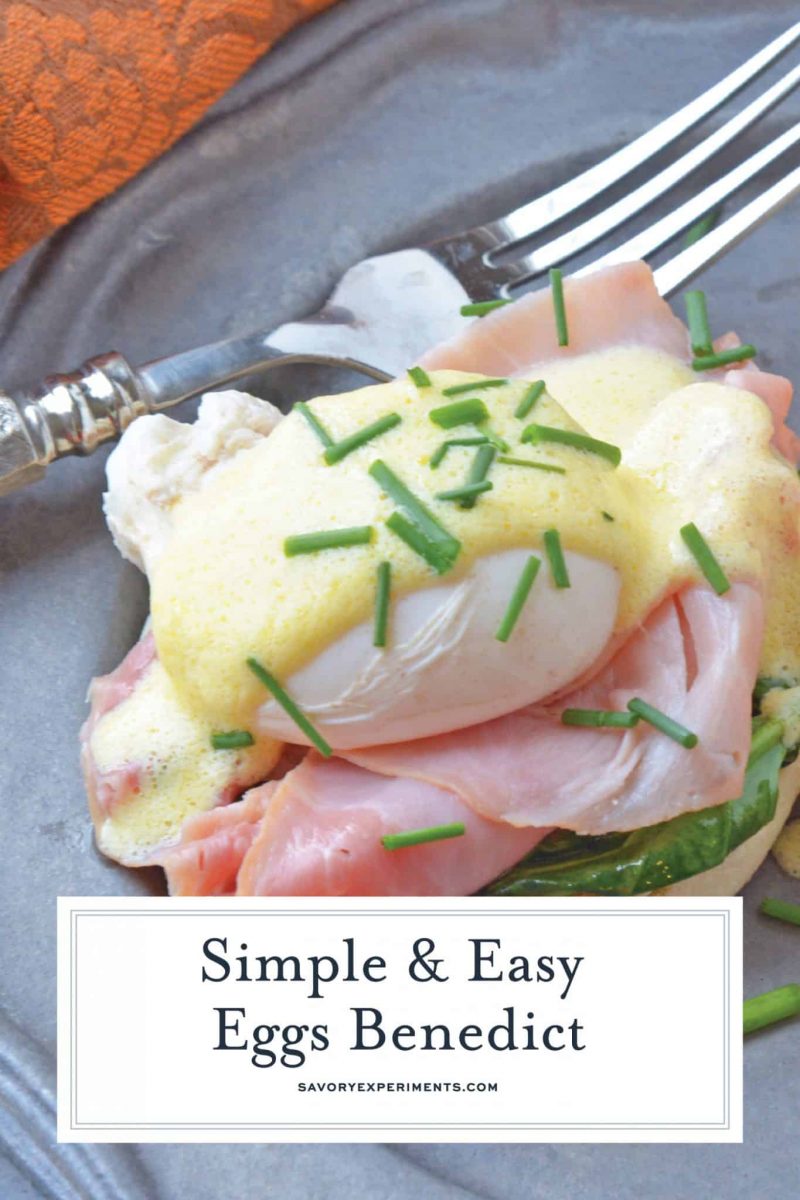 Benedict sauce (hollandaise) is a speedy sauce to make, but tricky because you need to work fast. If you let the egg yolks sit too long without moving them or adding other ingredients they will turn into plain old cooked egg yolks and make you sauce lumpy.
Also, be mindful of the heat, too hot will result in eggs cooking too fast, too low and it will take forever. Prepare all ingredients ahead to have them at your fingertips while cooking.
This will be your new favorite Eggs Benedict recipe. Just stick your fork in and scramble the sun!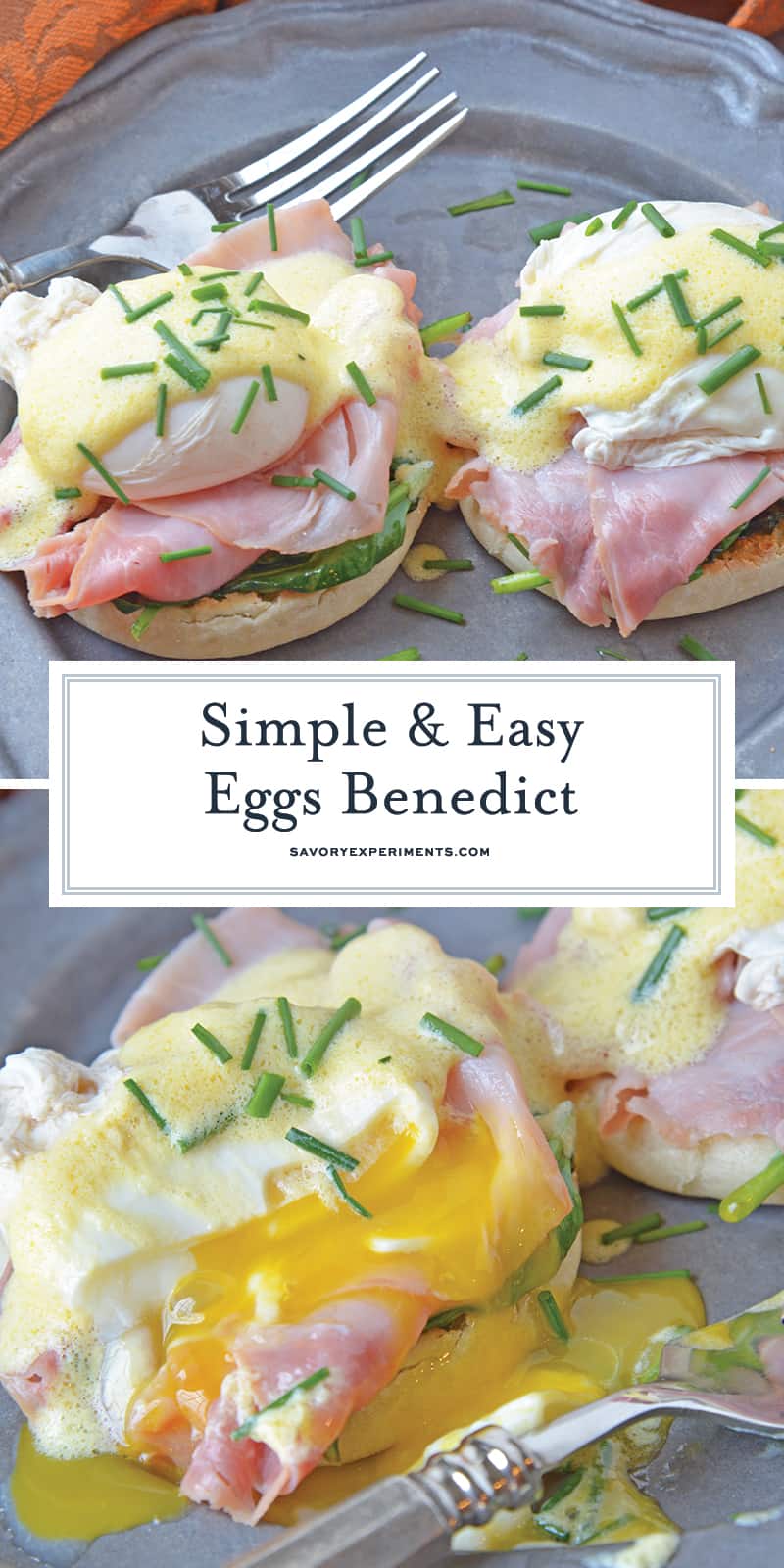 What to serve with eggs benedict:
Fresh Fruit Salad Recipe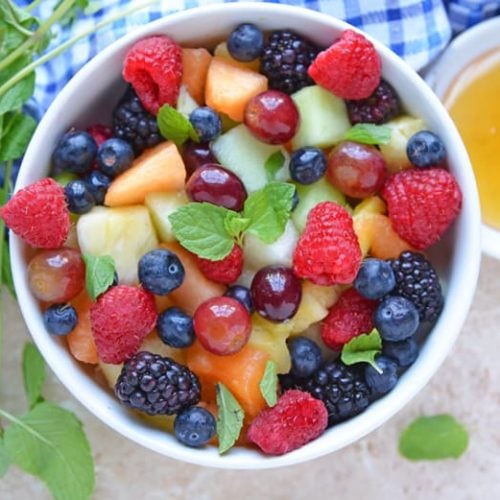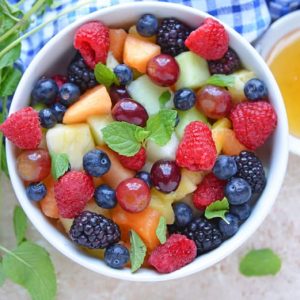 This is the best fruit salad recipe! With an easy fruit salad dressing of agave and fresh mint, it's the perfect refreshing salad recipe for summer!
EASY Fruit Pizza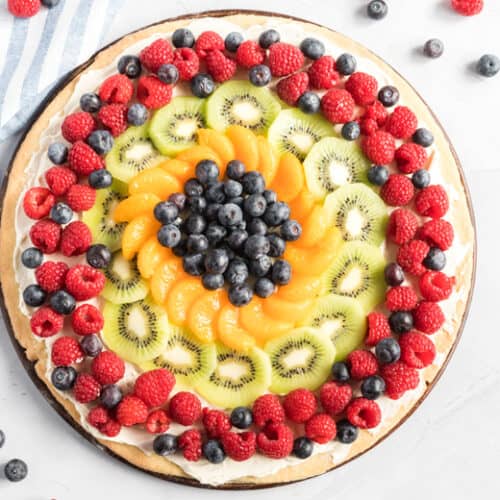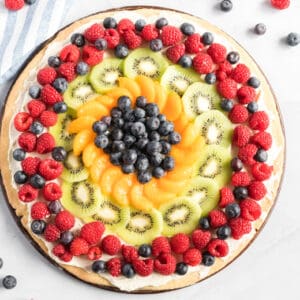 This Dessert Pizza with fresh fruit, cream cheese frosting and a crispy cookie base is a fun and tasty treat the whole family will go crazy for!
---
Get our FREE 8 Day E-Course on How to Be a Better Home Cook. Sign up HERE!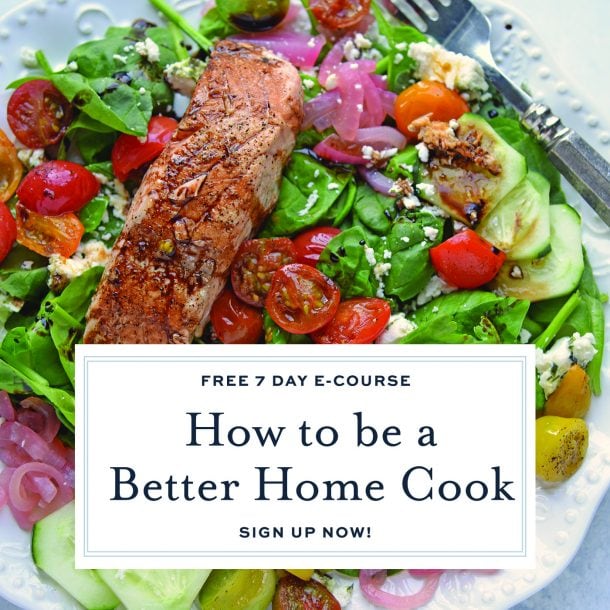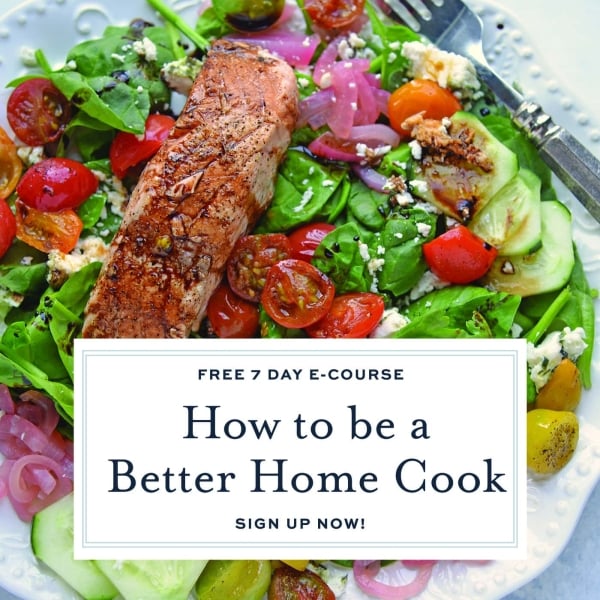 CONNECT WITH SAVORY EXPERIMENTS!

Be sure to follow me on social media, so you never miss a post!

Facebook | Twitter | Youtube 
 Pinterest | Instagram 
---
Eggs Benedict Recipe
Simple Eggs Benedict tops toasted English muffins with wilted spinach, Canadian bacon, perfectly poached eggs and easy hollandaise sauce.
Instructions
Using a double boiler or a medium saucepan fitted with a heat proof bowl, bring water to a gentle simmer. Separate 4 large egg yolks into a bowl.

Pour white cooking wine into the bowl, followed by four eggs yolks. Began whisking immediately. Continue to whisk for 1-2 minutes or until mixture becomes frothy and thick, giving you some resistance.

Quickly add melted butter and continue to whisk thinning out the mixture. When combined add lemon juice and zest, hot sauce and pepper.

Lower heat to the lowest possible setting, cover and allow to remain just warm while you prepare the remaining pieces of the benedict. Continue to whisk every couple of minutes.

Preheat oven to 200 degrees. Heat a medium skillet with a gentle coat of cooking spray to moderately hot heat. Add Canadian bacon. While Canadian bacon should be fully cooked you are aiming for a nice brown to each side. After this is complete, remove and keep warm wrapped in aluminum foil in the oven

Keep the skillet hot with rendered bacon grease. Add greens and cook until just wilted.

Cook and toss for 1-2 minutes or until just wilted, remove and set aside.

Fill a large skillet, minimum of 3 inches deep, with water and bring to a gentle simmer over medium-high heat. Add vinegar and punch of fine sea salt.

Crack 8 eggs into separate ramekins. When water is ready, slip each egg into the water. If needed, use a spatula to fold whites over onto themselves and not separate (too much). Cook for approximately 4 minutes. The whites will be entirely set with the yolk a little runny. Remove with a slotted spoon to a plate.

Toast English muffins. Assemble each with English muffin, Canadian bacon, poached eggs, wilted greens, a generous slathering of Benedict sauce and garnish with chives. Two per person and enjoy!
Nutrition
Calories:
621
kcal
|
Carbohydrates:
29
g
|
Protein:
30
g
|
Fat:
41
g
|
Saturated Fat:
20
g
|
Cholesterol:
612
mg
|
Sodium:
923
mg
|
Potassium:
453
mg
|
Fiber:
1
g
|
Vitamin A:
2210
IU
|
Vitamin C:
4.5
mg
|
Calcium:
121
mg
|
Iron:
3.1
mg