If you're familiar with, and love, monster cookies, you are going to adore love this super simple version. These monster cookie bars are the same as the cookies, just in bar form.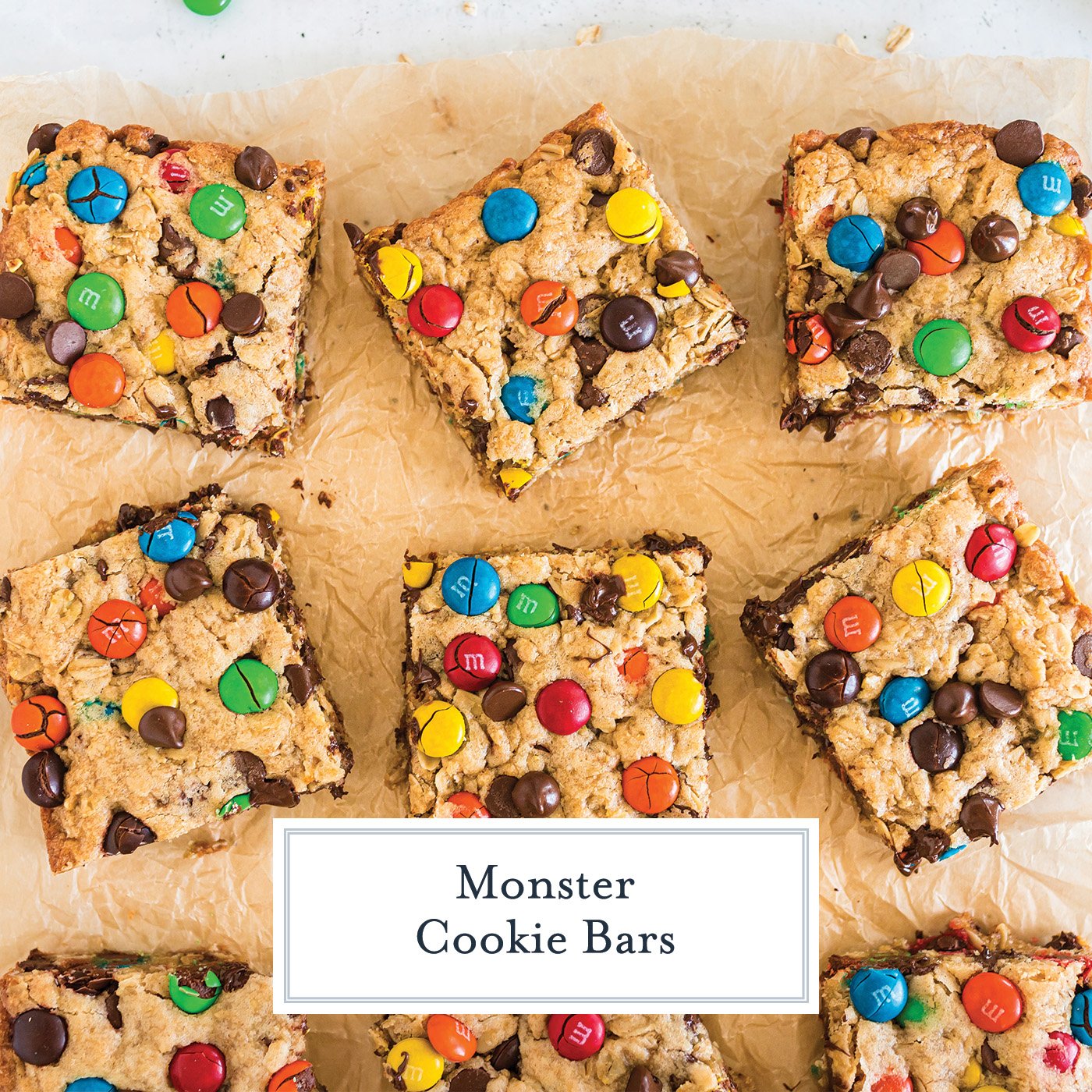 Instead of hand-forming dozens of individual cookies, all you need to do to make this monster cookie bar recipe is to make the batter, spread it in a pan, and bake. There's no need to put all of the work into making cookies when you can easily make these dreamy bars. And they have several ingredients to give them a unique and tasty flavor.
The next time you need the easiest recipe for a sweet treat full of color and sweetness, try making a big batch of these incredible cookie bars!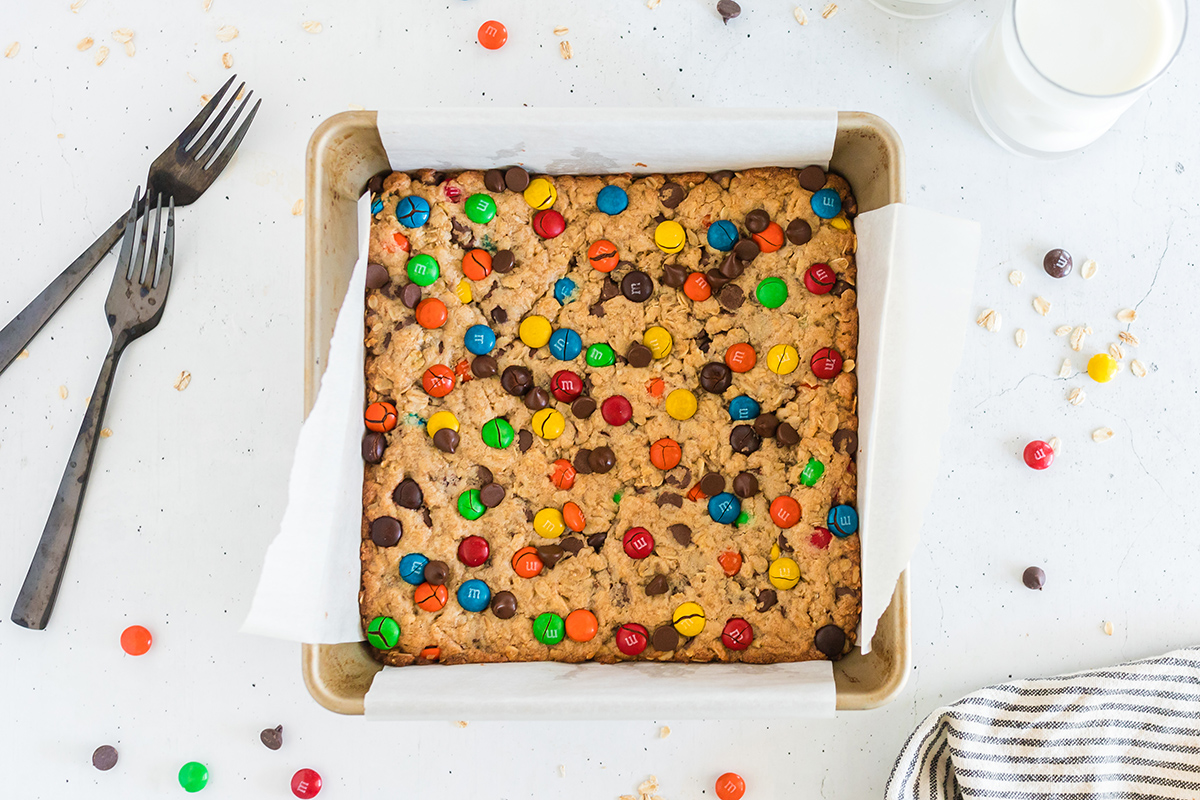 Why You'll Love Monster Cookie Bars
Soft, chewy and delicious, these bars are going to be a hit with everyone you share them with!
Irresistible Texture – Monster Cookie Bars are the perfect marriage of chewy oats, soft baked cookie goodness, and delightful crunch from M&M's. You'll love the contrast in every perfect bite.
Effortless and Efficient – Unlike traditional cookies, making bars is a breeze. There's no need to scoop and bake in batches; you can prepare these sweet treats super fast.
Customizable Creativity – These bars are a blank culinary canvas. Feel like adding nuts or different flavored chips? Go for it! It's the ideal way to make your cookie bars uniquely yours.
Unique Flavors– While most monster bars are a traditional chocolate chip cookie, these use cinnamon, nutmeg and maple to provide a unique and distinct flavor.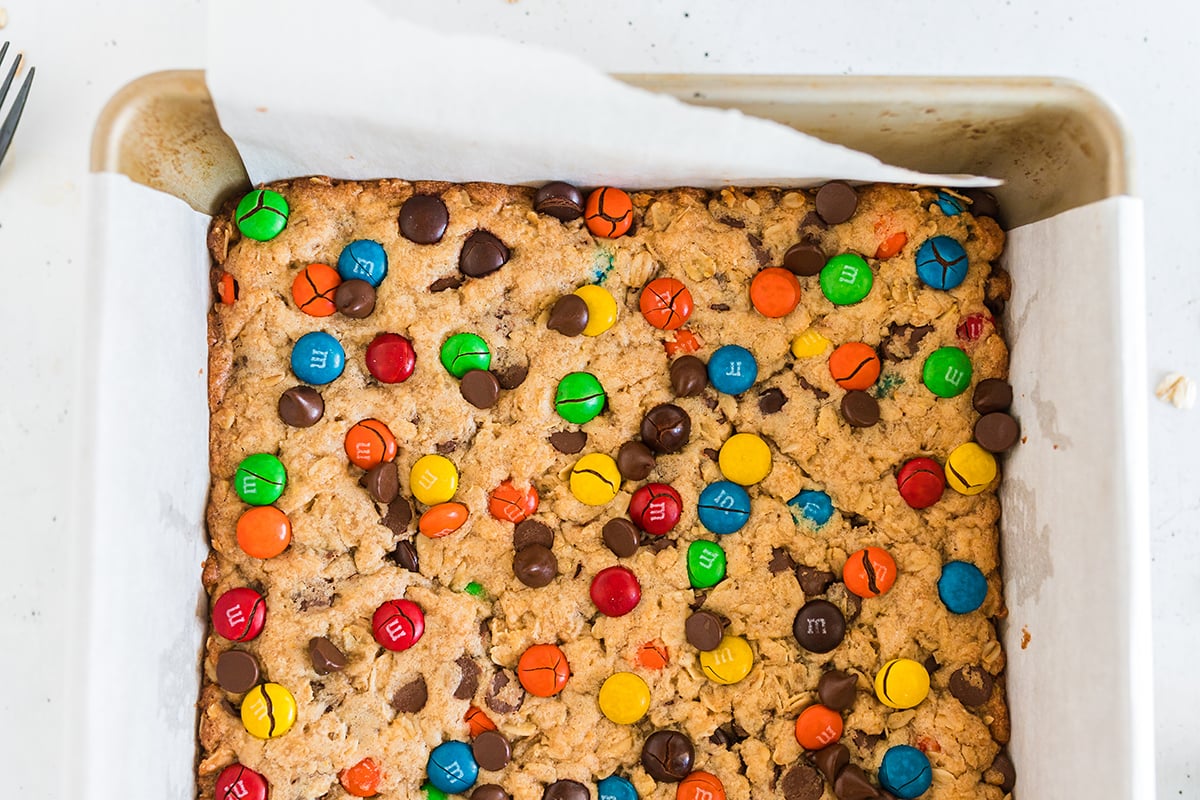 Ingredients
Just grab these simple ingredients at the grocery store and get to work on making this bar version of the classic cookies. Be sure to use room temperature ingredients so that they mix easily.
Rolled oats -These add a chewy and nutty texture. Rolled oats and quick cooking oats are different, see below to learn more.
All-purpose flour – Flour provides structure and helps the ingredients to bind together.
Vanilla extract – Vanilla adds a warm aroma and taste.
Maple extract – This sweet extract adds incredible maple flavor. You can also use maple syrup, but make sure it is a grade B syrup, which is richer in flavor.
Melted butter – Butter imparts moisture and gives the bars richness.
Baking powder – This leavening agent helps the cookies to rise.
Cinnamon and nutmeg – These warm spices infuse warmth into the bars. They are optional, so if you want more of a traditional chocolate chip cookie flavor, omit them.
Finely ground sea salt – Salt balances the bars.
Brown sugar – Brown sugar adds sweetness, moisture, and caramel-like flavor.
Large egg – Eggs help to bind the ingredients.
Milk chocolate chips – Chocolate chips add melty pockets of chocolatey goodness. Use milk chocolate, dark chocolate, white chocolate or even a blend. Butterscotch is also fun!
M&M's – These candies add color, crunch, and extra sweetness. Reeses are also a great option for peanut butter lovers.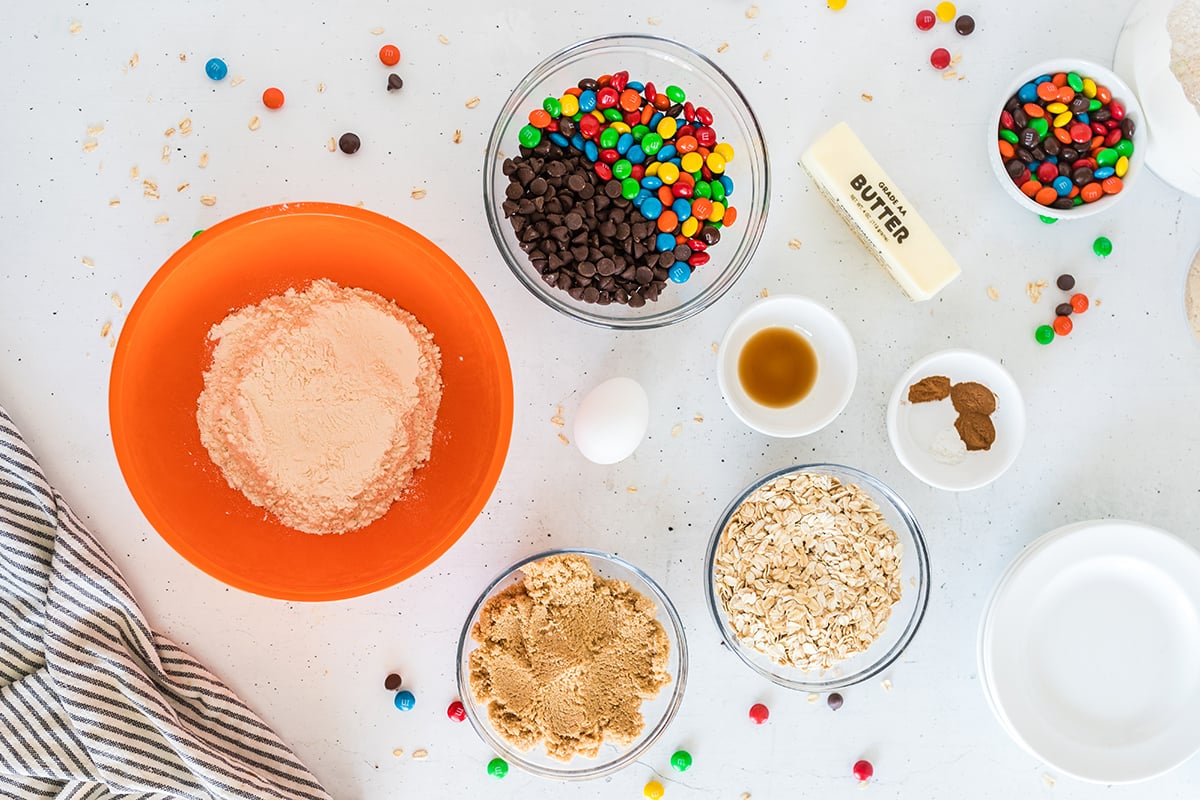 How to Make Chewy Monster Cookie Bars
To whip up these irresistible bars, follow these simple steps.
Dry ingredients. Whisk together the flour, baking powder, salt, cinnamon, and nutmeg in a medium mixing bowl.
Melt butter and brown sugar. In a separate bowl, melt the butter in increments in the microwave. Add the melted butter to a large mixing bowl with brown sugar and stir until smooth.
Add extracts and egg. Add the extracts and egg to the brown sugar mixture and stir until completely combined.
Combine dry and wet ingredients. Pour the mixture of dry ingredients, as well as the oats, into the wet ingredients.
Stir in M&Ms and chocolate chips. Using a rubber spatula, mix in the M&M candies and chocolate chips.
Add to pan and bake. Transfer the monster cookie dough to a prepared baking dish sprayed with non-stick cooking spray or lined with parchment paper. Bake for the recommended time.
Cool and slice. Once the cookie bars are golden brown, remove from the oven and allow to cool to room temperature in the baking pan. Be sure the monster bars are cool before slicing.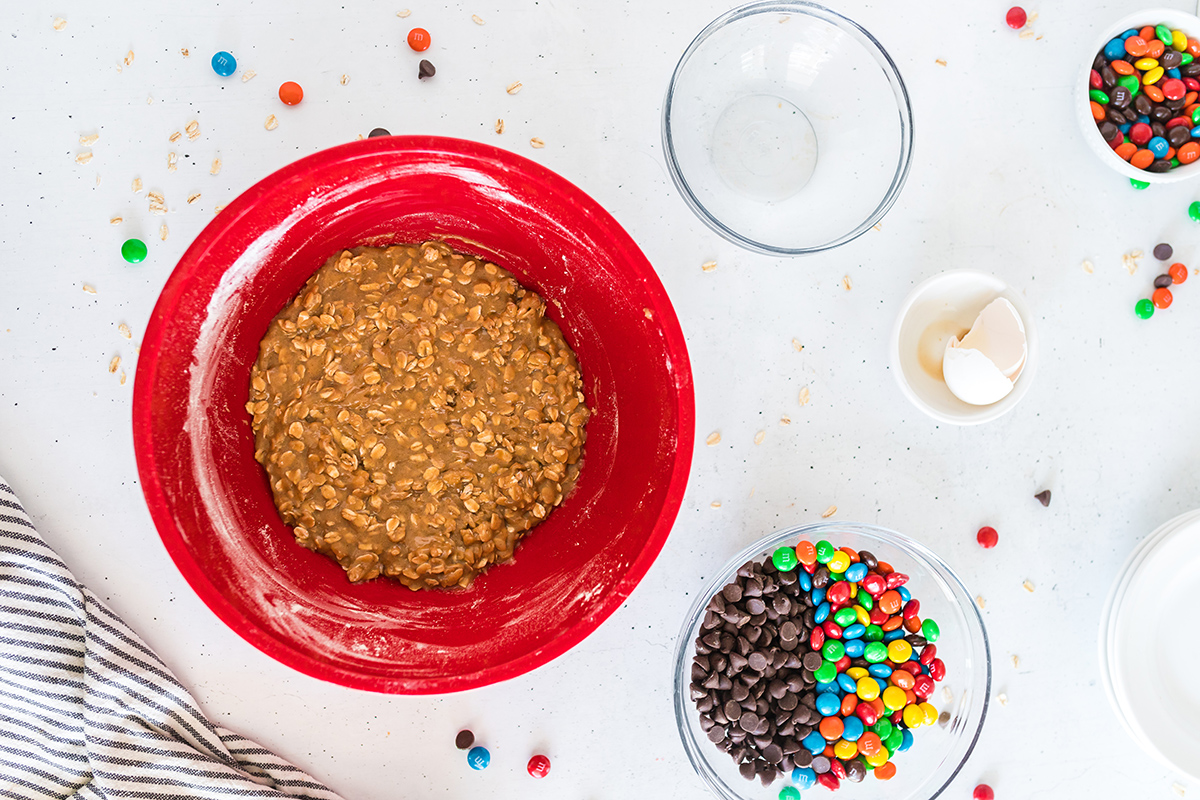 What is the Difference Between Quick Cooking Oats and Rolled Oats?
These are the same, but processed differently resulting in different cooking times and methods, as well as texture and mouthfeel.
Rolled Oats: Sometimes called old fashioned oat, these are steamed and rolled to make them flat, but it also partially cooks them. Oddly enough, even though they are pre-steamed, they take longer to cook because of the dense shape and texture. They are also chewier and denser.
Quick Cooking Oats: Also rolled, they are rolled much thinner, steamed and toasted, which results in a shorter cooking time. The are finer and this have a softer texture and can become creamy.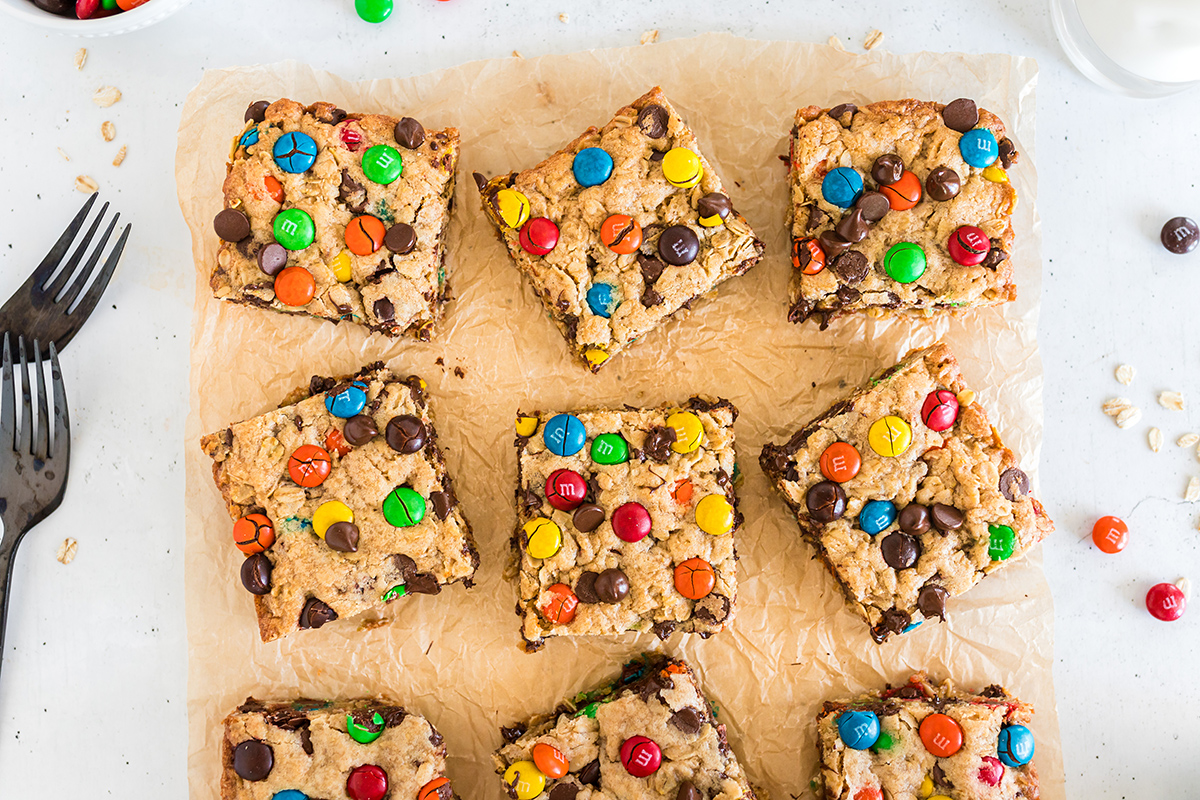 What to Serve with Monster Cookie Bars
You can create a classic combination by pairing your monster cookie bars with a glass of cold milk. These bars are also perfect for making ice cream sandwiches; sandwich a scoop of homemade ice cream between two bars for an indulgent treat.
Or, try topping these delicious monster cookie bars with some homemade whipped cream or drizzling a little fudge sauce over top.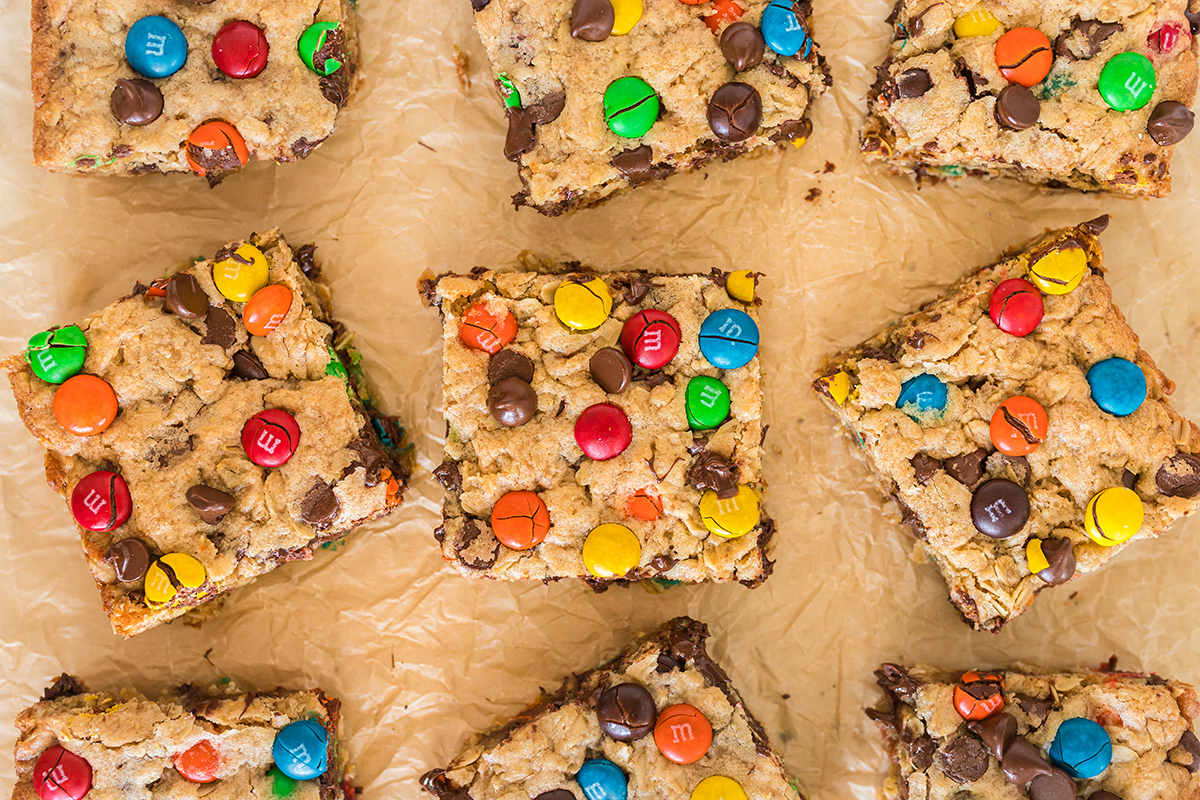 Variations on Monster Bar Cookies
These bars are the perfect sweet treat just as they are. But, you can customize these easy monster cookie bars to make them all your own.
Nuts – Add chopped nuts like pecans or walnuts for crunchiness.
Spices– These warm spices are unique to the recipe, but if you are looking for a more traditional cookie bar, omit them. If your aim is fall flavor, then use pumpkin pie or apple spice instead.
Extracts – Switch up the extracts to change the flavor. Almond and butter flavor are also popular.
Use different chips – Experiment with different flavored chips, like dark chocolate chips, semi-sweet chocolate chips, butterscotch chips, or peanut butter chips, to create different flavor profiles.
Candies – Use other candies — for lots of peanut butter flavor, use Reese's Pieces or peanut butter cups broken into small pieces, instead of M&M's. These bars are the perfect way to use up leftover Halloween candy!
Egg – To make these egg-free just replace with a flax egg.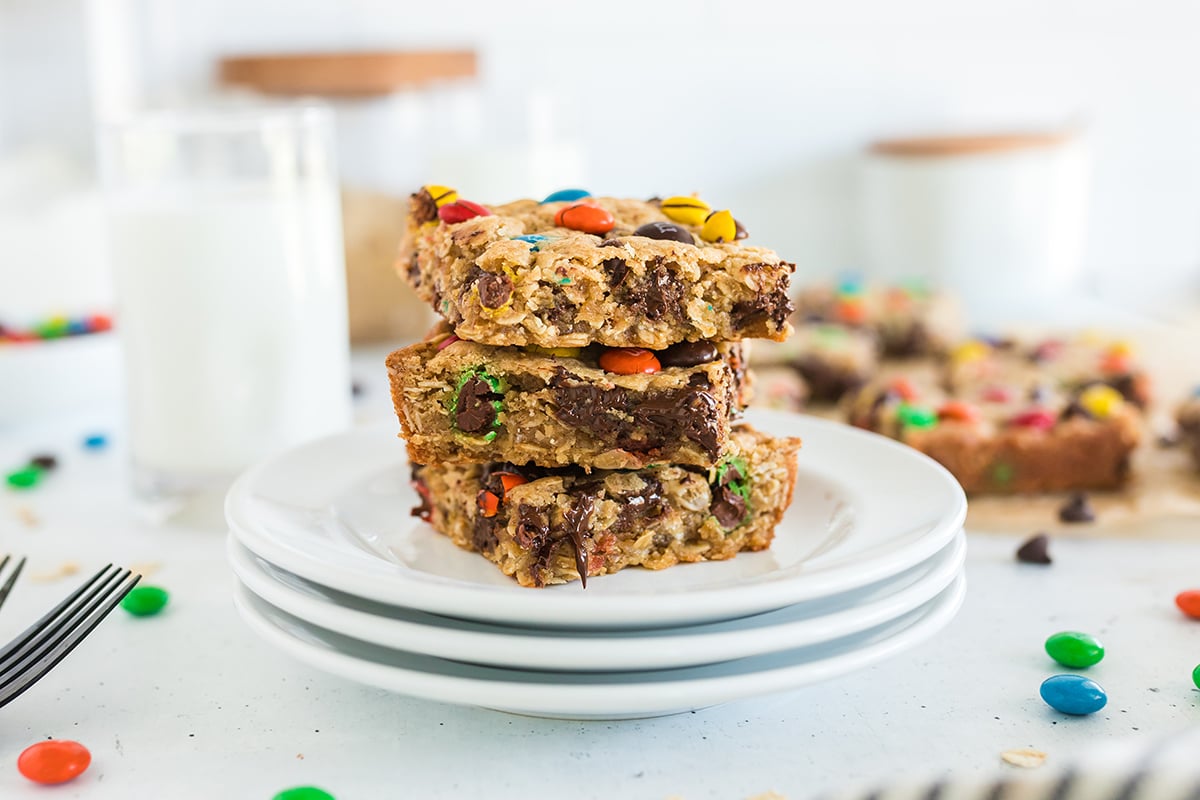 Storage and Freezing
You can easily store these bars at room temperature or refrigerate or freeze them.
Make-Ahead: Prepare the dough, shape it into bars, and refrigerate for up to 24 hours or freeze them for 2-3 months.
Refrigerator: Cookie bars can be stored in the fridge for up to a week in an airtight container.
Freezer: Freeze cookie bars for 2-3 months by wrapping them tightly in plastic wrap and aluminum foil.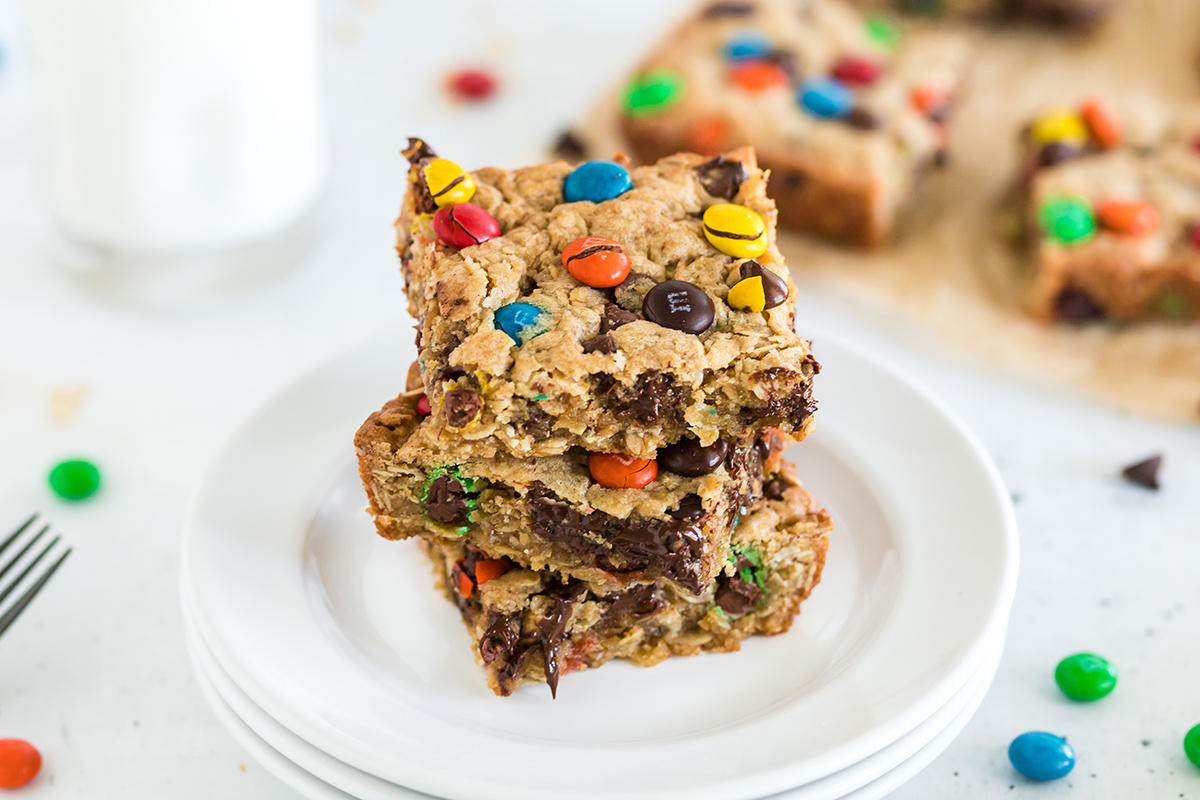 Common Questions About Monster Cookie Bars
Can I use quick oats instead of rolled oats?
Quick oats can be used, but they will result in a slightly different texture. Rolled oats give a chewier consistency.
Can I make monster cookie bars gluten-free?
Yes, you can substitute gluten-free flour for all-purpose flour to make gluten-free Monster Cookie Bars. Also, be sure to use certified gluten-free oats.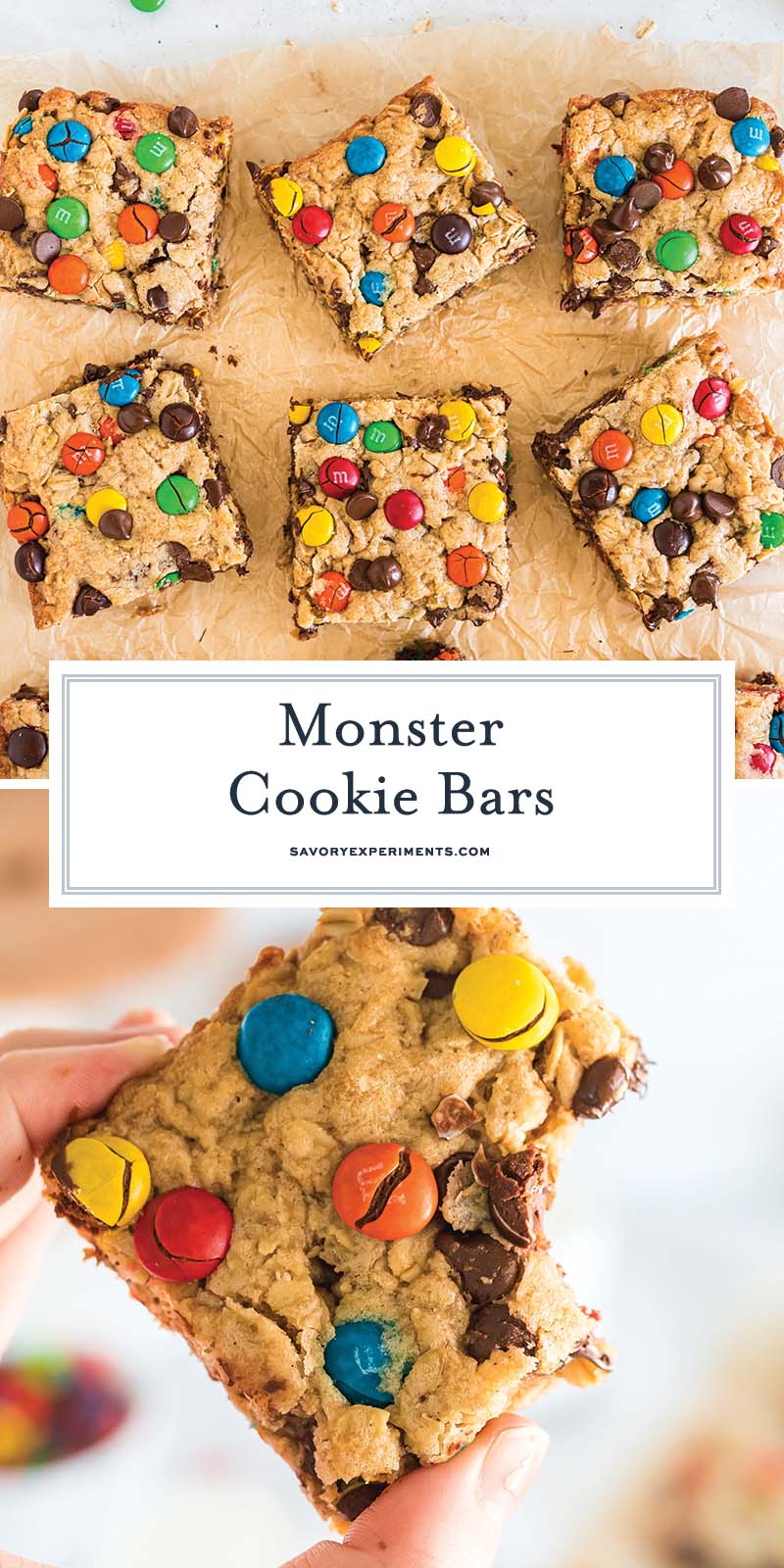 Other Delicious Dessert Bars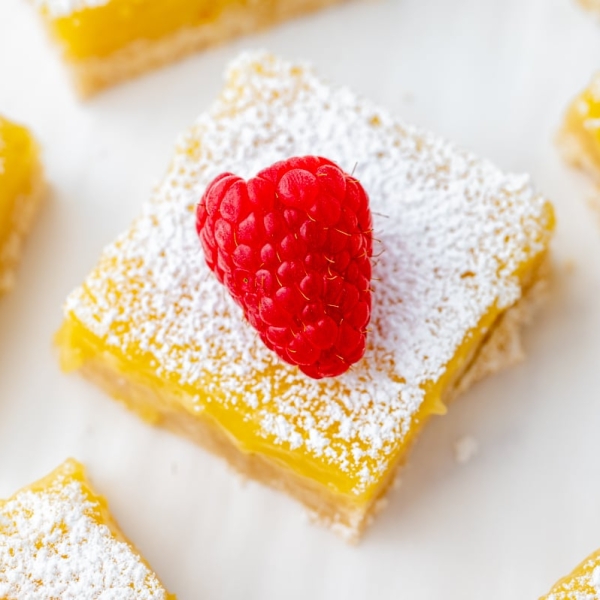 Lemon Bars
This homemade Lemon Bars recipe is the perfect way to channel warm-weather flavors. A citrusy filling paired & shortbread crust are perfect!
See The Recipe!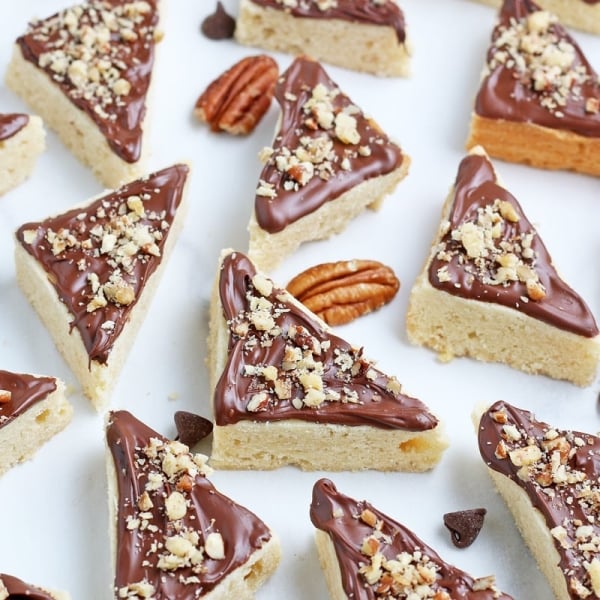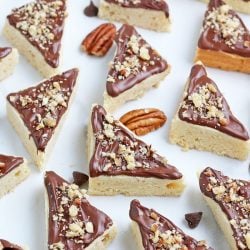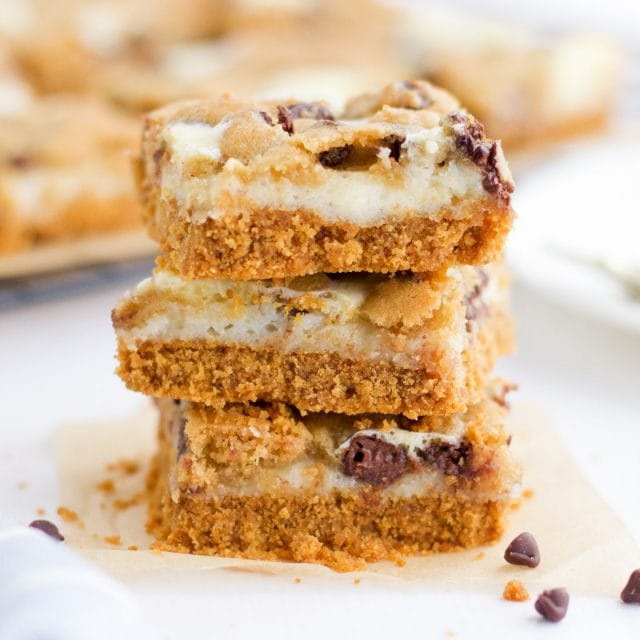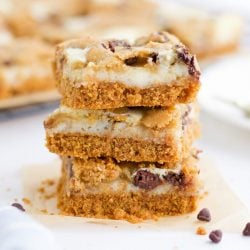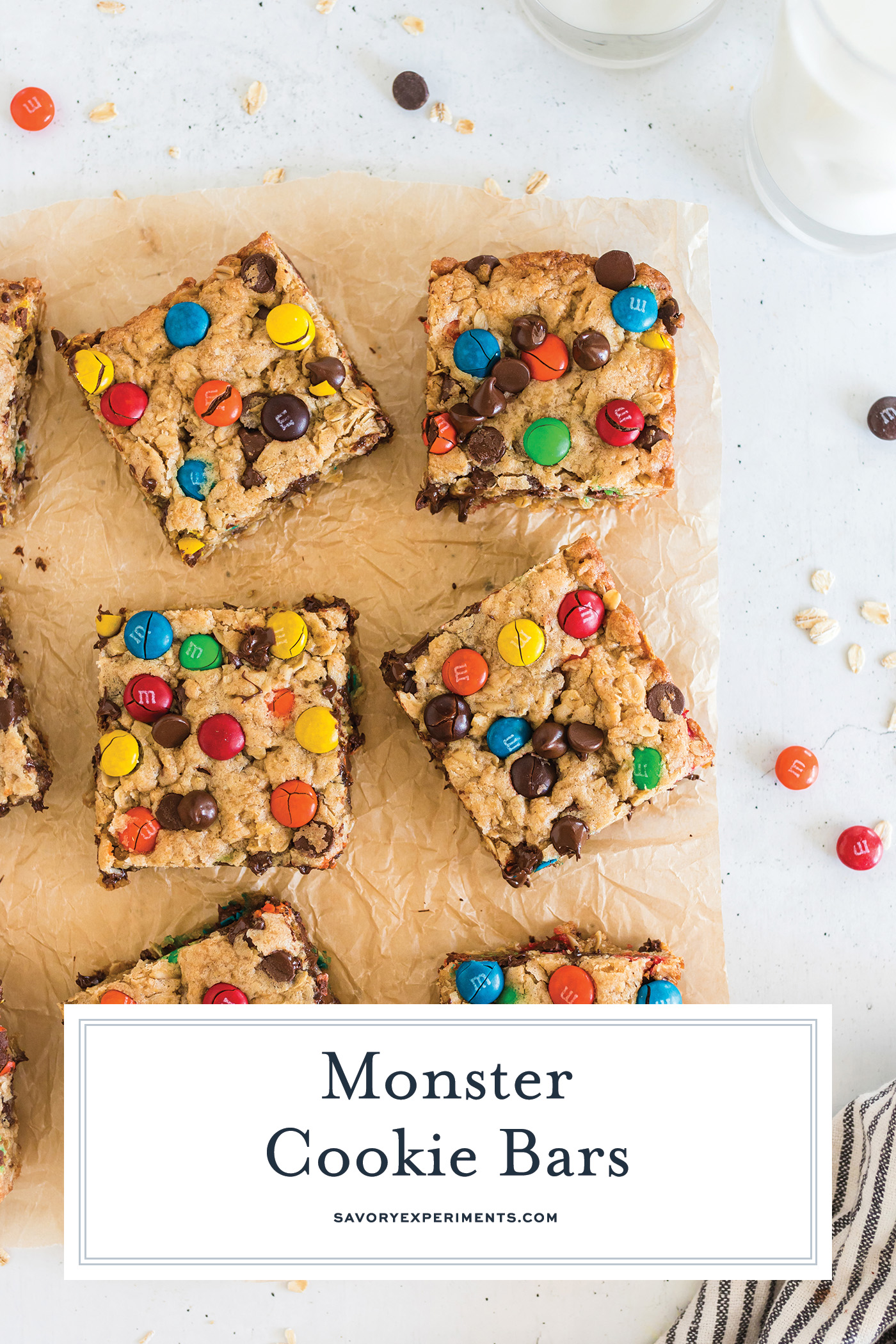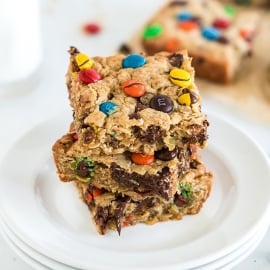 Monster Cookie Bar Recipe
This EASY Monster Cookie Bars recipe packs the same punch of sweet flavor and amazing texture as the classic monster cookie!
Instructions
Preheat the oven to 350° F and line an 8×8 inch pan with parchment paper. Set aside.

In a medium mixing bowl, whisk or soft together the flour, cinnamon, baking powder and salt. Set aside.

In a large mixing bowl, mix together the melted butter and brown sugar.

Add in the vanilla, maple and egg. Mix until incorporated.

Add the dry ingredients and the oats to the wet mixture and mix with a spatula until combined.

Stir in the M&Ms and chocolate chips.

Spoon the dough into the prepared baking dish, using an offset spatula to even out the top.

Bake on the center rack for 25 minutes or until it passses the toothpick test and appears golden brown and set.

Allow to cool in the pan, then remove using the parchment as a sling and cut into nine even squares.

If you've tried this recipe, come back and let us know how it was in the comments or star ratings.
Nutrition
Calories:
455
kcal
,
Carbohydrates:
65
g
,
Protein:
5
g
,
Fat:
20
g
,
Saturated Fat:
12
g
,
Polyunsaturated Fat:
1
g
,
Monounsaturated Fat:
3
g
,
Trans Fat:
0.5
g
,
Cholesterol:
51
mg
,
Sodium:
185
mg
,
Potassium:
102
mg
,
Fiber:
2
g
,
Sugar:
46
g
,
Vitamin A:
421
IU
,
Vitamin C:
0.2
mg
,
Calcium:
80
mg
,
Iron:
2
mg