These simple lemon bars are a bright, citrusy way to freshen up your dessert spread. A sweet yet tart treat, these are a hit at any spring or summer gathering.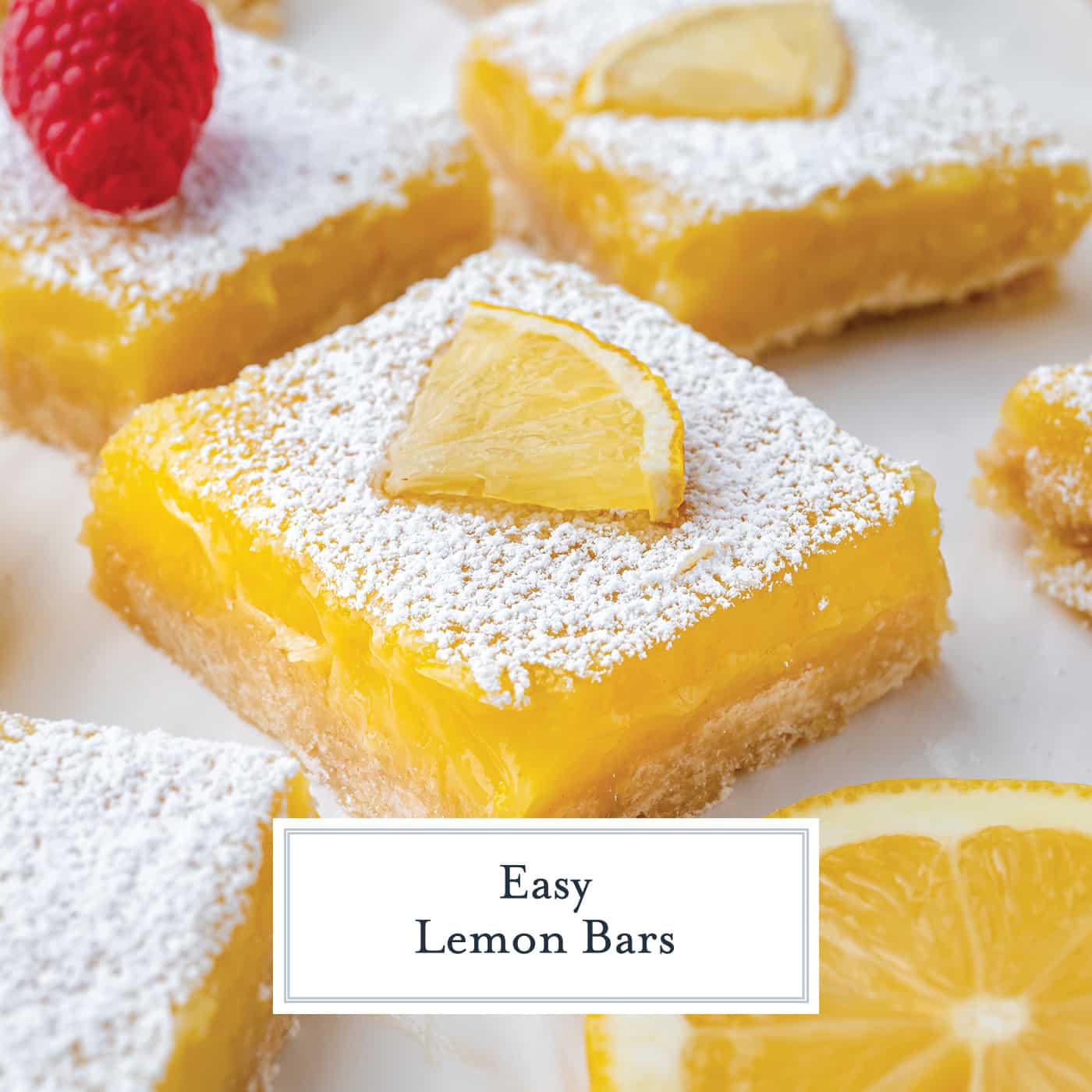 This lemon bar recipe combines a creamy lemon filling with a buttery shortbread crust — it has the perfect balance of both texture and flavor. If you love lemon desserts, you might need to make a double batch — you won't be able to keep your hands off these!
If you're looking for an easy recipe for delicious lemon bars, this one, with its simple shortbread crust and tart lemon filling, is sure to fit the bill.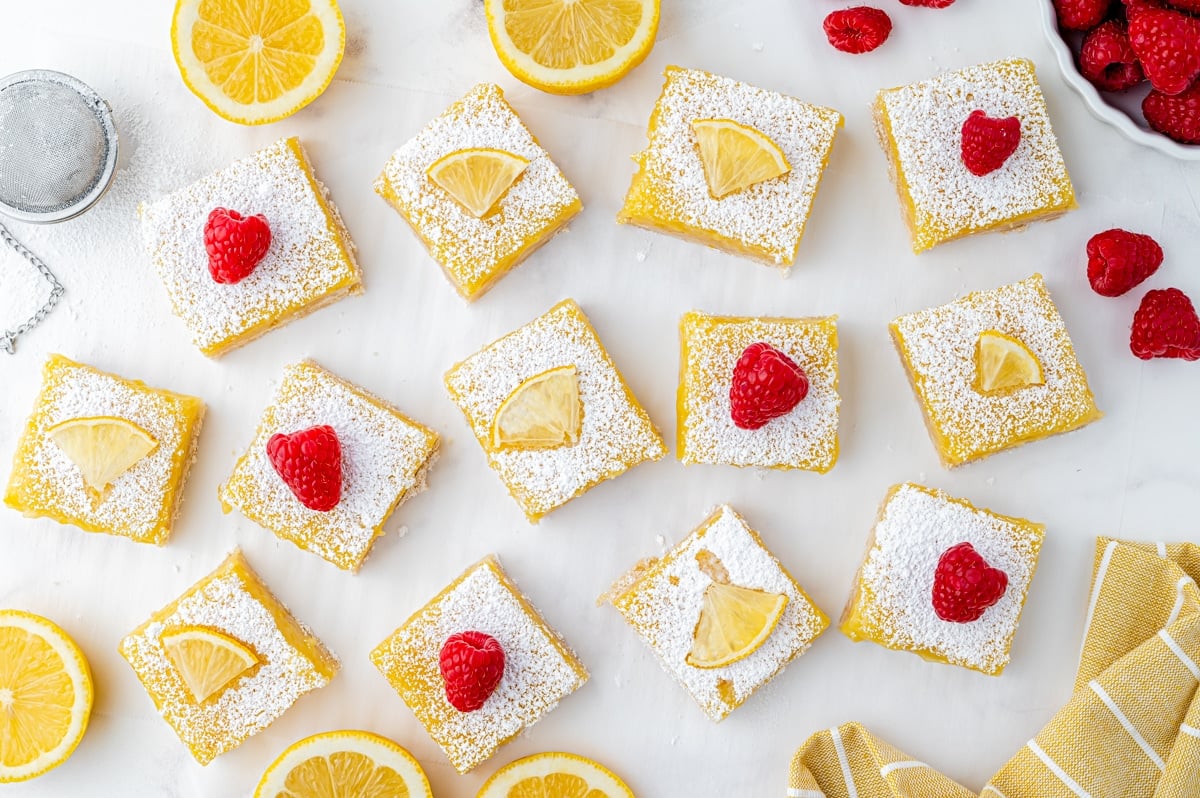 Why You'll Love Classic Lemon Bars
Citrus-lovers are going to fall head over heels for these lemony bars.
Easy – It couldn't be easier to whip up this brightly flavored dessert.
Delicious – The crunchy crust perfect balances the sweet, creamy feeling.
Affordable – Not only are most of the ingredients already relatively affordable, many are duplicated between the crust and the filling so you'll get a bang for your buck.
Versatile – Throw these bars into lunchboxes, snack on them after school or work, or serve them at special occasions like baby showers.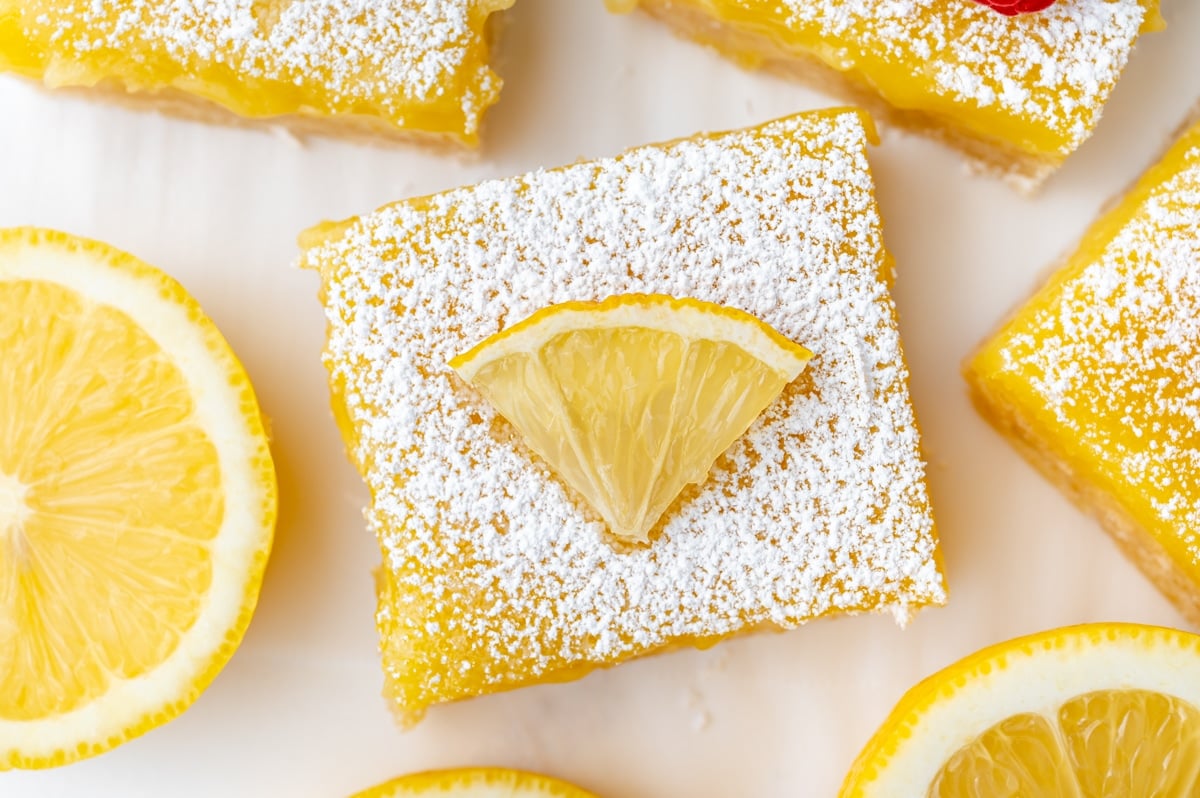 Ingredients
If you enjoy baking, many of these simple ingredients are likely already in your kitchen.
Crust
Sugar – Granulated sugar works best for these lemon bars — the granules are the perfect size to mix in easily.
Coarse kosher salt – Kosher salt helps to bring out the brightness of the lemon and the flavors of the other ingredients.
Vanilla or lemon extract – Vanilla balances out the flavors, but you can substitute some or all of it for lemon extract to impart even more lemon flavor.
Unsalted butter – Melting the butter will make it easier to combine it evenly with the other ingredients in the crust.
Flour – All-purpose flour is the best choice, but you can also experiment with using gluten-free varieties of flour, too.
Lemon Filling
Sugar – Use granulated sugar for the lemon bars filling, as well.
Flour – If you chose to use a gluten-free flour for the crust, you can experiment with using the same flour in the filling. Otherwise, stick with all-purpose flour.
Lemon zest – Make sure to use the zest from large, fresh lemons. Use a microplane or cheese grater to zest.
Vanilla extract – Make your own homemade vanilla extract or buy it from the grocery store.
Coarse kosher salt – While I prefer kosher salt for the recipe, you use any variety that you like.
Eggs – Eggs help to bind the ingredients together. Be sure to use large eggs.
Lemon juice – You can use a store-bought juice or use fresh lemon juice. You can use any type of lemon from your standard variety to Meyer lemons.
Whole milk – Using full-fat milk will help you achieve the best results.
Powdered sugar – Use this for dusting the tops of these bars to make them even prettier.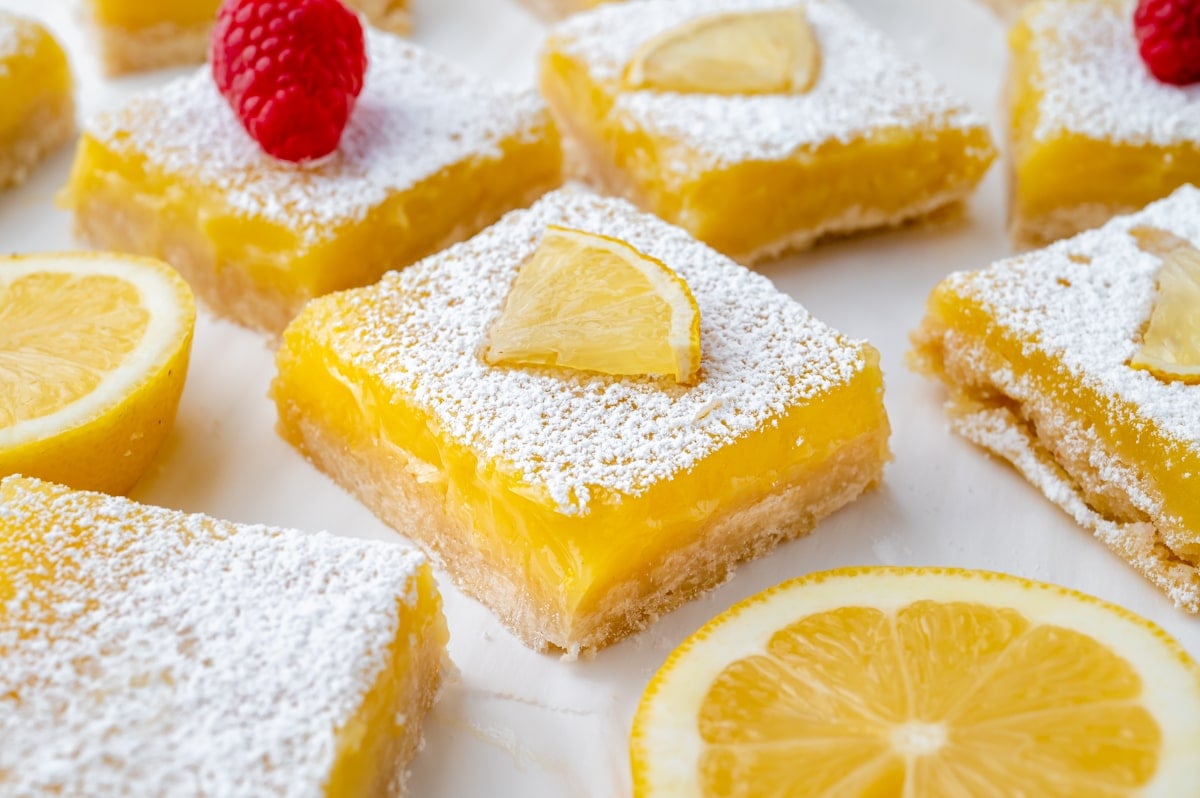 How To Make Lemon Dessert Bars
These lemon squares are so easy to make you might find yourself whipping them up on the regular.
Crust
Mix sugar, salt and extract. Pour the sugar, salt, and extract into a medium bowl. Stir together until all ingredients are completely combined.
Add flour and butter. Add the flour and melted butter. Completely combine — the mixture should become a crumbly dough.
Add dough to pan. Press the dough in the bottom of the prepared baking dish sprayed with cooking spray. Prick the dough with a fork. Then, refrigerate the dough.
Bake and cool. After the dough has been in the refrigerator for the recommended time, place it in the preheated oven to bake. Once browned, remove it from the oven and allow it to cool.
Lemon Filling
Combine sugar, flour, lemon, salt and vanilla. Add the sugar, flour, lemon zest, salt, and vanilla to a large bowl of a stand mixer. Mix until they are completely combined.
Add eggs, lemon juice and milk. Add the eggs, lemon juice, and milk. Using a whisk, mix the ingredients until they are completely combined.
Add to crust and bake. Pour the lemon bars mixture over top of the crust. Then, place in the preheated oven.
Cool and refrigerate. Allow the bars to cool to room temperature in the pan on a wire rack. Then, place the pan in the refrigerator.
Transfer to cutting board. When ready to slice, use the parchment paper sling to remove the bars from the baking pan. Transfer them to a cutting board.
Slice. Slice the bars using a sharp knife. Using a damp paper towel or a clean dish towel to wipe the knife after each slice.
Top with powdered sugar. When ready to serve, give the bars a generous dusting of confectioners' sugar.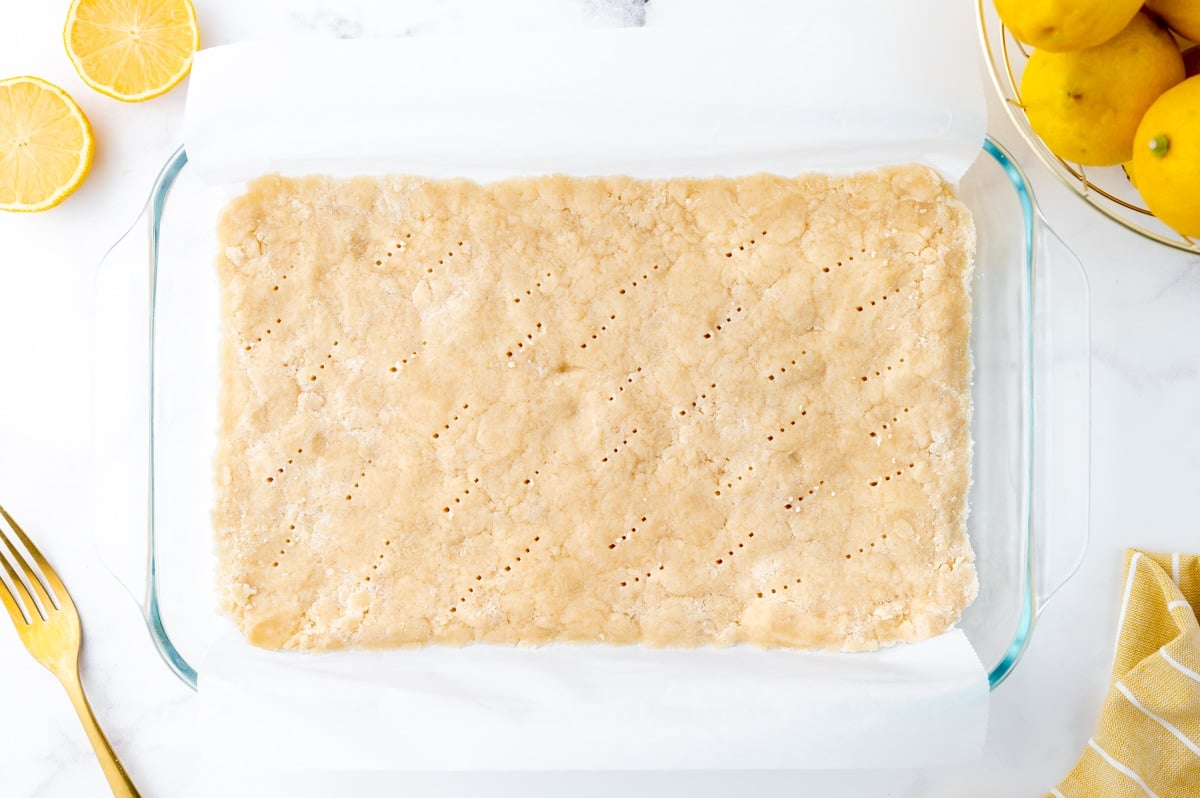 Variations on Traditional Lemon Bars
There are a bunch of ways to switch up these citrusy treats.
Fruit – Substitute lime, grapefruit, or orange for the lemon.
Chocolate – Drizzle melted white or dark chocolate over top.
Salt – If you like to mix salt and sweets, sprinkle a little bit of salt over top.
Extracts – For nutty flavor, try using almond extract.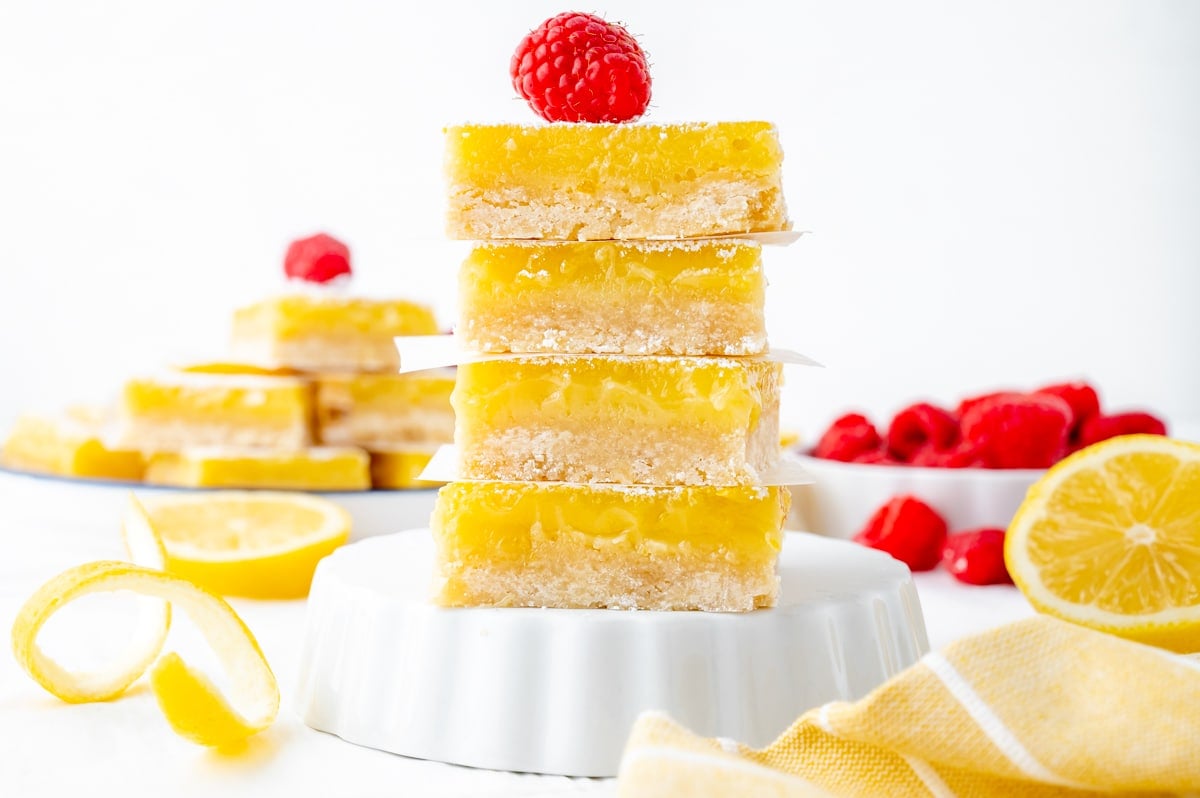 Storage, Make Ahead and Freezing
Lemon bars should be stored in the refrigerator or freezer.
Refrigerator: Wrap lemon bars tightly with plastic wrap or aluminum foil, or keep them in an airtight container for up to 1 week.
Make Ahead: Make the filling or the crust up to 24 hours ahead of time. Simply pour the filling over the crust when you're ready to bake.
Freezer: Freeze lemon bars for up to 3 months in a freezer-safe container or freezer bag.
Common Questions About Lemon Bars
How do you cut lemon bars without sticking to the knife?
To avoid the filling from sticking to the knife, dampen a paper towel or a clean kitchen towel with water and wipe the knife clean after each cut.
Do lemon bars need to be refrigerated?
The safest choice is to refrigerate lemon bars so that they stay fresh and do not harbor harmful bacteria. Additionally, lemon bars can be best enjoyed when slightly chilled.
How do you know when lemon bars are set?
Lemon bars are set when the filling is somewhat firm. The crust should also be a light golden brown color.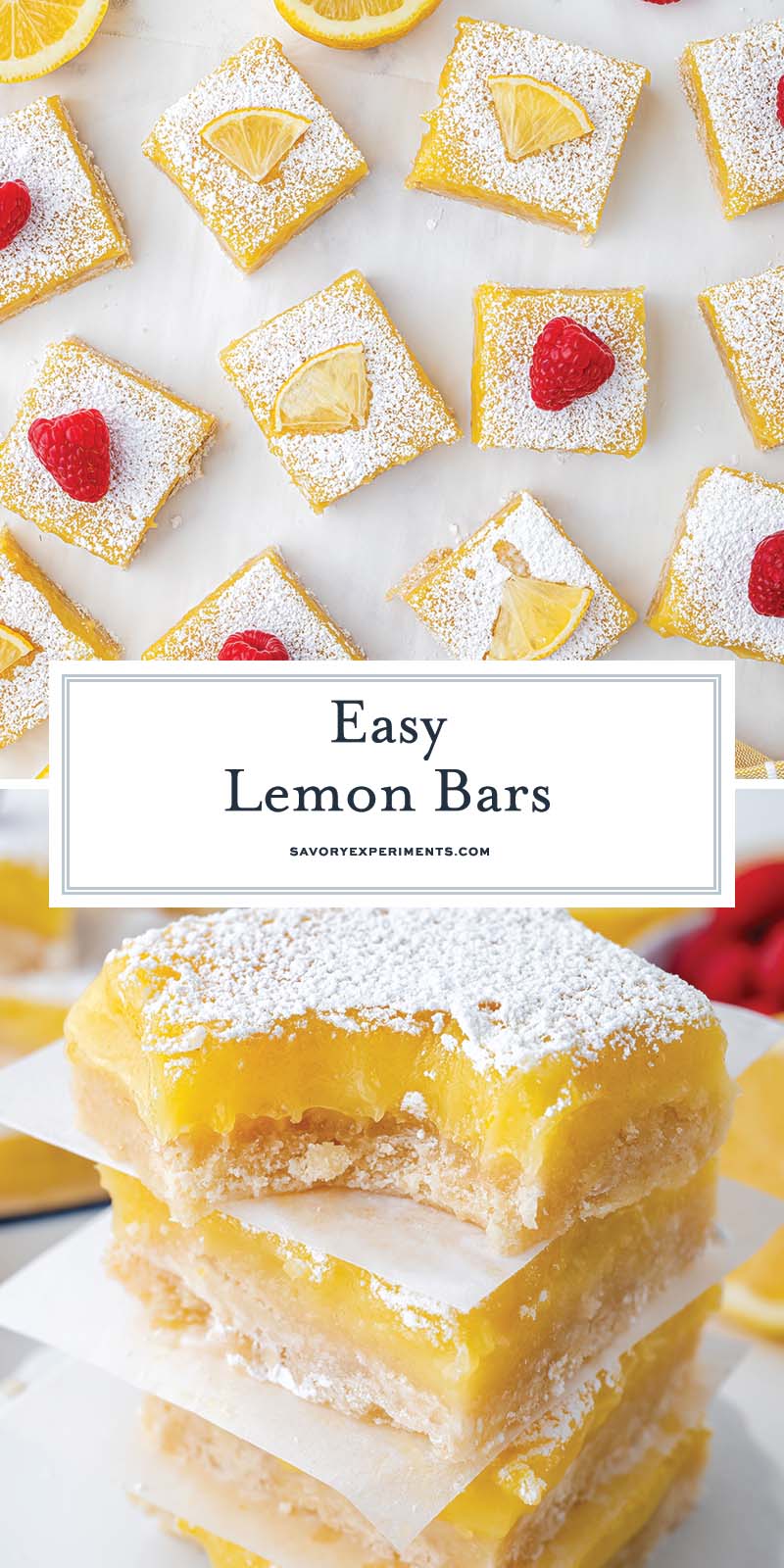 More Handheld Sweets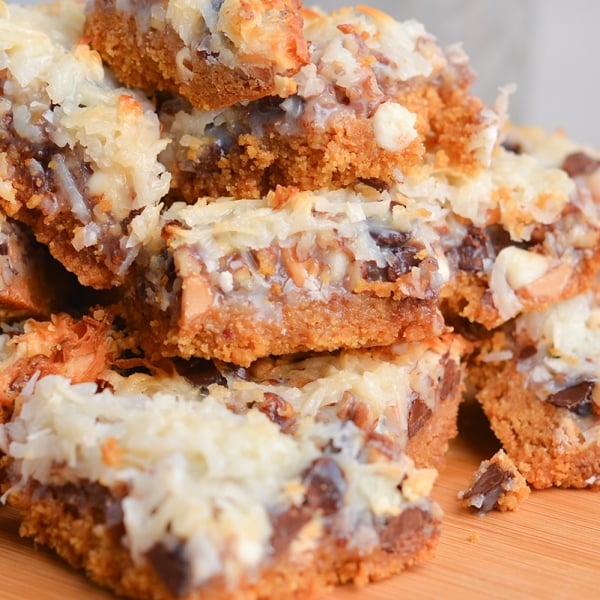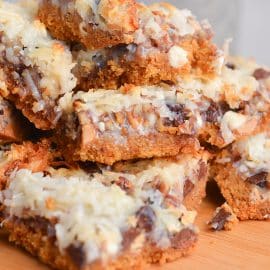 Magic Bar Recipe
Combining chocolate, coconut, pecans and graham crackers, these EASY Magic Bars are the ultimate decadent dessert for any occasion!
See The Recipe!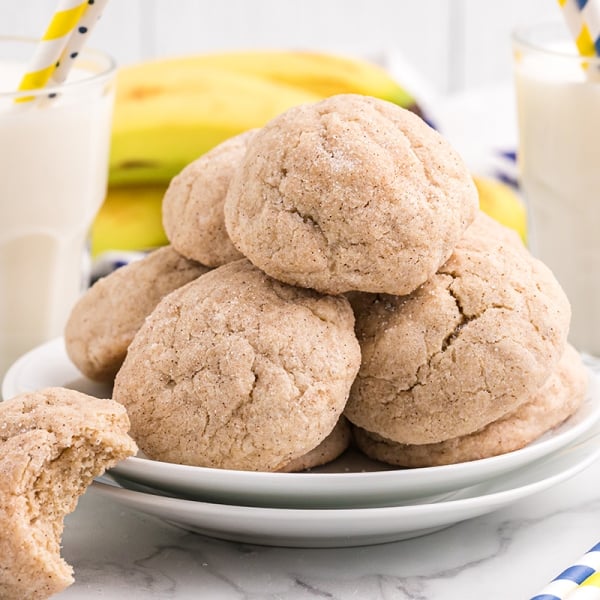 Banana Cookies
This soft banana cookie recipe is the perfect way to use up overripe bananas. Cinnamon and sugar crusted with a soft center.
See The Recipe!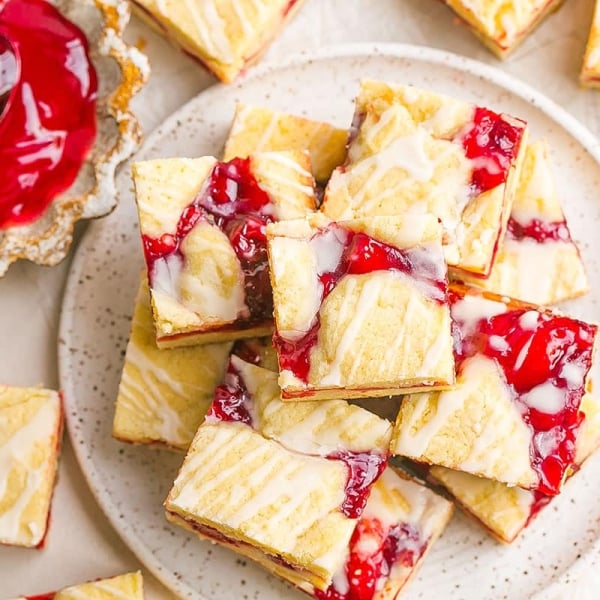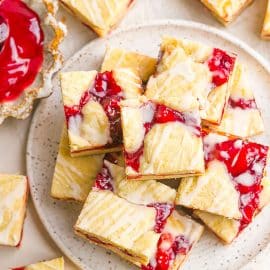 Cherry Bar Recipe
Cherry Pie Bars are the perfect summer dessert bar recipe! Tasty cookie-like crust with cherry filling and almond vanilla icing.
See The Recipe!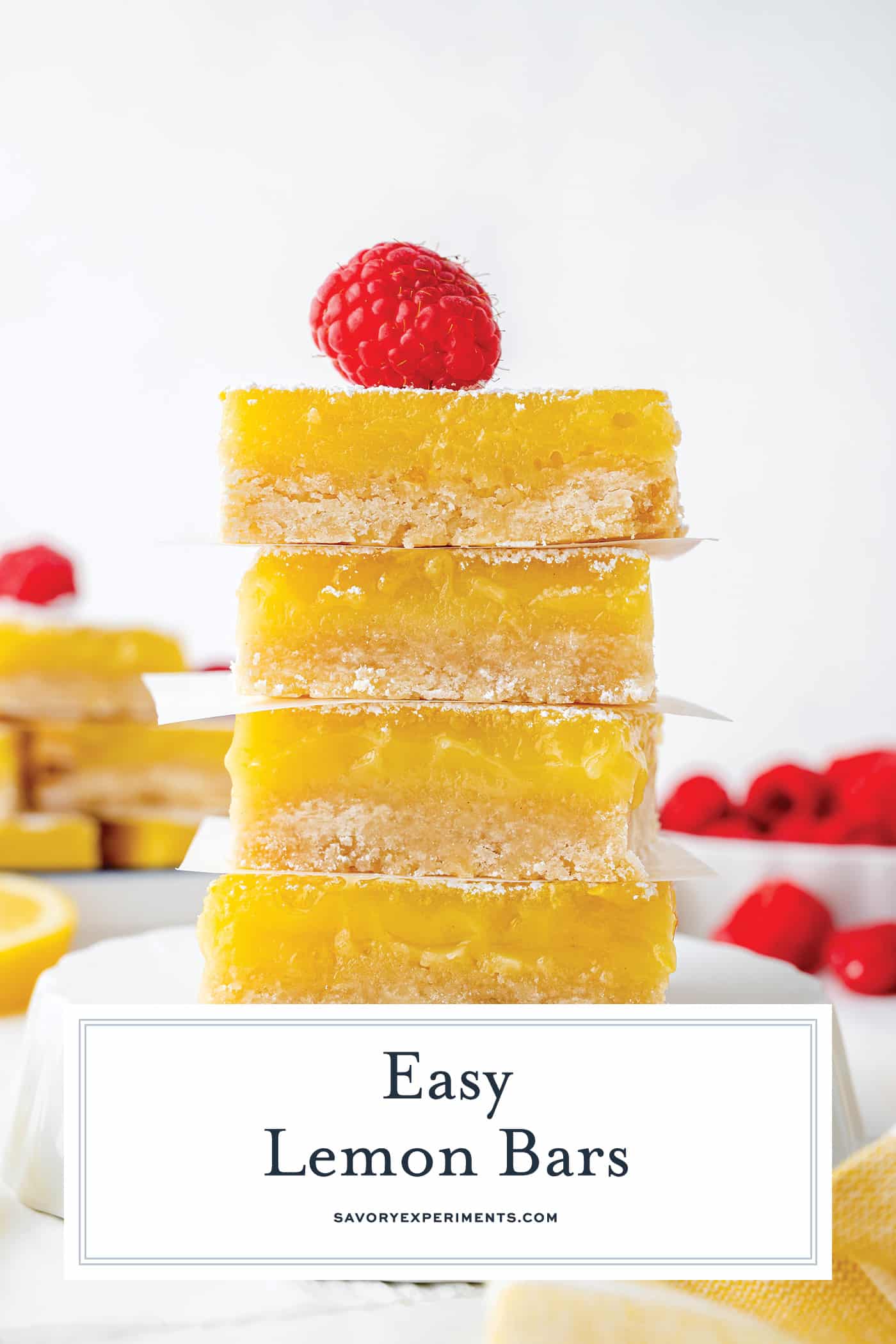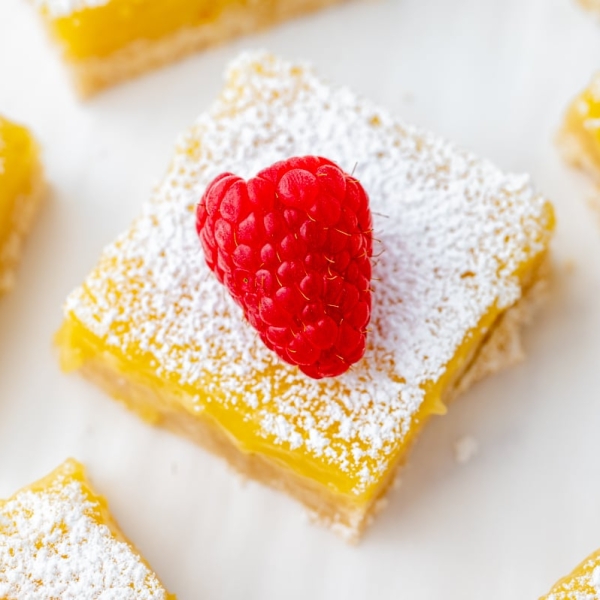 Lemon Bars
This homemade Lemon Bars recipe is the perfect way to channel warm-weather flavors. A citrusy filling paired & shortbread crust are perfect!
Instructions
Crust
Preheat the oven to 325°F. Line a 13 x 9-inch baking dish with parchment paper, leaving an overhang on two opposite sides to use as a sling.

In a medium mixing bowl, stir together the sugar, salt and vanilla extract. Stir in the flour and melted butter until a crumbly dough forms.

Press the dough evenly into the bottom of the prepared baking pan, crust will be thin. Generously prick with a fork and then refrigerate for 30-45 minutes.

Bake for 15-20 minutes or until crust is starting to brown. Remove and allow to cool while you make the filling.
Lemon Filling
Increase the oven temperature to 350°F.

In a large bowl, or the bowl of a stand mixer fitted with the paddle attachment, combine the sugar, flour, lemon zest, salt and vanilla. Whisk in the eggs, lemon juice and milk until fully blended.

Pour the lemon mixture over the crust.

Bake until the lemon filling is set in the center and it no longer wiggles when the pan is moved, about 30-35 minutes. Remove before the lemon bars are lightly browned.

Remove and cool on a wire rack until room temperature and then chill for 1-2 hours.

Carefully remove the bars using the parchment sling. Place onto a cutting board and slice into 16 bars, cleaning the knife between each slice.

Right before serving, dust with powdered sugar.

If you've tried this recipe, come back and let us know how they were in the comments or star ratings.
Nutrition
Calories:
453
kcal
,
Carbohydrates:
77
g
,
Protein:
6
g
,
Fat:
14
g
,
Saturated Fat:
8
g
,
Polyunsaturated Fat:
1
g
,
Monounsaturated Fat:
4
g
,
Trans Fat:
0.5
g
,
Cholesterol:
113
mg
,
Sodium:
320
mg
,
Potassium:
94
mg
,
Fiber:
1
g
,
Sugar:
52
g
,
Vitamin A:
486
IU
,
Vitamin C:
7
mg
,
Calcium:
32
mg
,
Iron:
2
mg