Few things in life bring about the same kind of joy that ice cream does and we all deserve a little treat every now and again. This recipe will come in handy for when you can't wait for your local ice cream truck to roll by or for when you feel like getting creative with customization.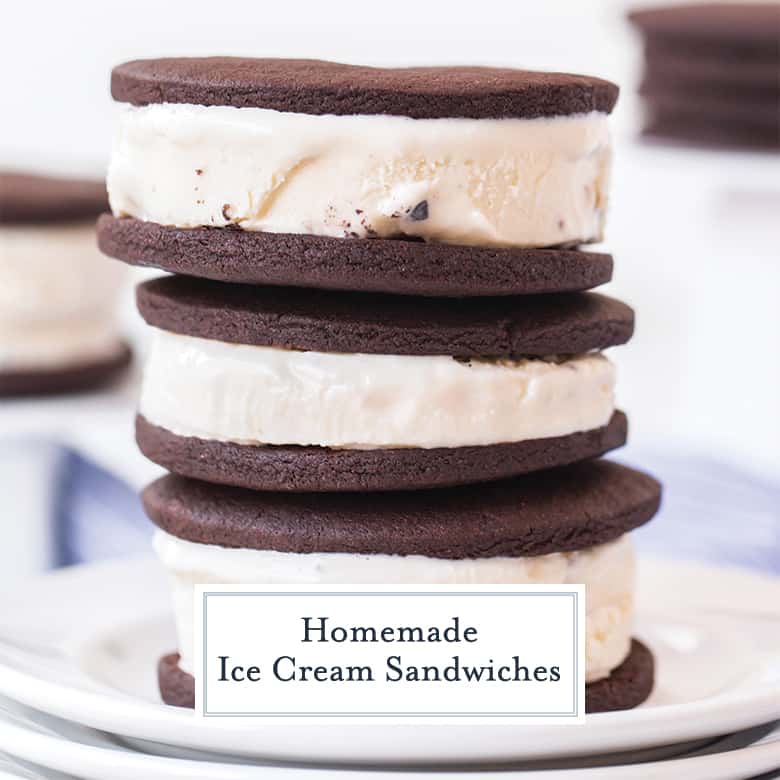 Ice Cream Sandwiches
If we are being honest here, ice cream sandwiches don't always float my boat. There is something about them coming in one general flavor that I have a hard time wrapping my head around.
Sure, chocolate and vanilla are classic, but where is the excitement? Where is the drama? Where are the options?! I decided to investigate and put something together.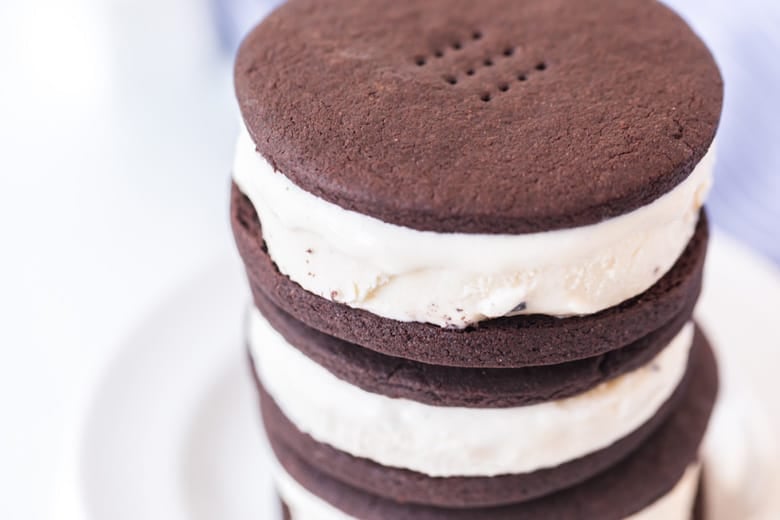 This recipe will give you super chocolatey cookies that you can pair with any ice cream (or gelato for that matter) your little heart desires. Choose one, two, or more depending on how many batches you make. 
Toppings
Decorate! Just because this is a sandwich doesn't mean it can't have ice cream sundae soul. Try rolling the edges in your favorite ice cream topping.
Nuts
Sprinkles
Crumbled cookies
Little candies
Chopped up candies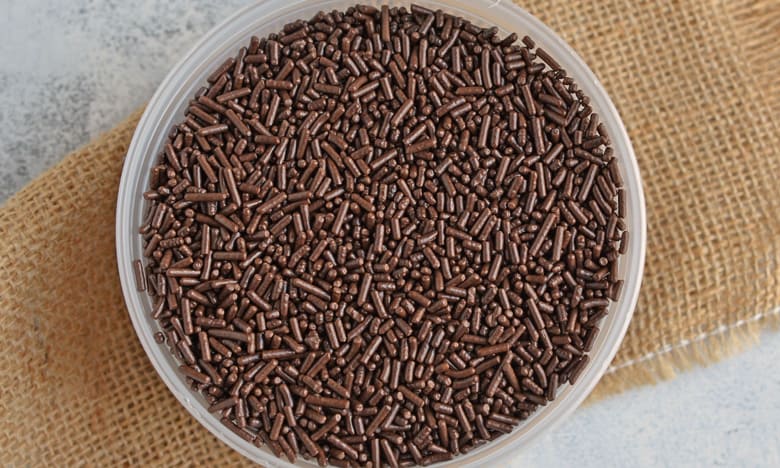 If you love a drizzle of caramel or fudge, don't fret! Give a quick drizzle to the inside of each cookie before you add your ice cream. This is a messier technique, but it does not disappoint. Put your cookie sandwich in a bowl and use a spoon instead!
Stuffed Ice Cream Sandwiches
Create a surprise in the middle. Those ice creams with "cores" are all the rage right now. If you can't find one at the store, make one yourself.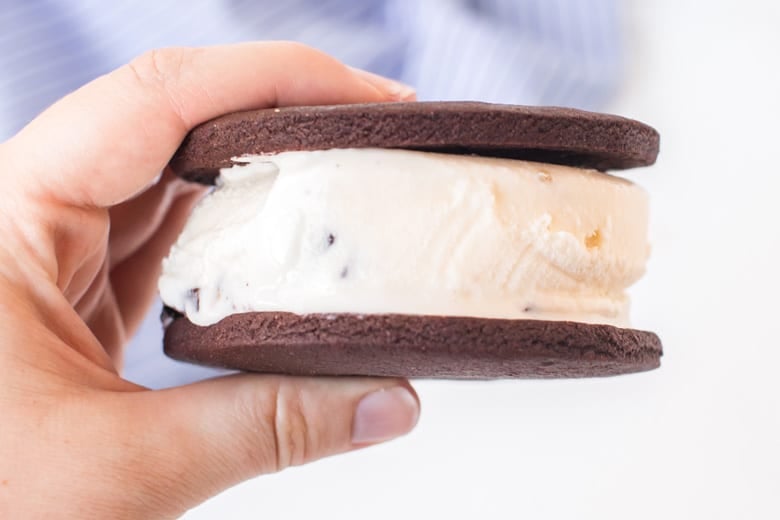 Grab a 1" cookie cutter or simply a spoon and scoop out the center of your ice cream before you put the top cookie on. Fill it with something delicious that would pair well with your ice cream flavor of choice. Two ideas that sound good to me are marshmallow fluff or peanut butter. Or both! 
Make Cookie Sandwiches
Using a hand mixer or stand mixer with the paddle attachment, cream together butter and sugar until light and fluffy, about 3 minutes. Scrape down the sides of the bowl and stir in egg and vanilla.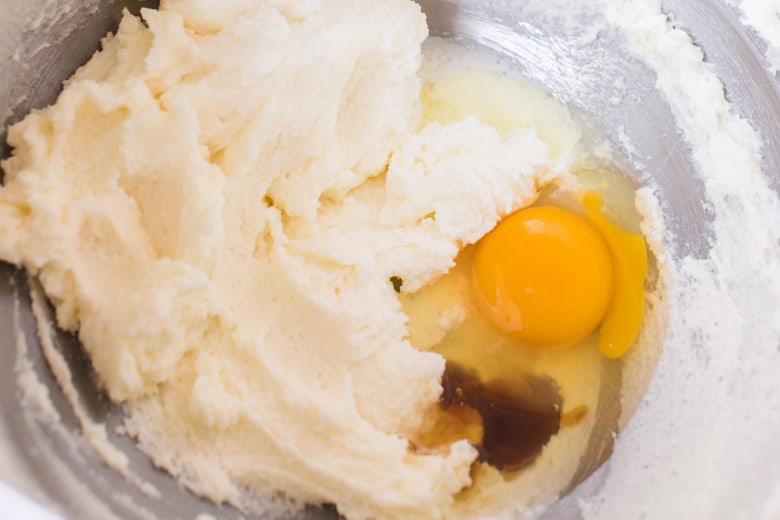 Sift together flour, cocoa powder, and baking powder then add to wet mixture. Mix until all the ingredients are incorporated.
Divide dough in half. Place each half between two pieces of parchment paper and roll until ¼ inch thick. I strongly recommend using parchment paper for the rolling out process. The cookie dough is tacky and would require the use of flour or cocoa powder to roll out if you omit the parchment paper.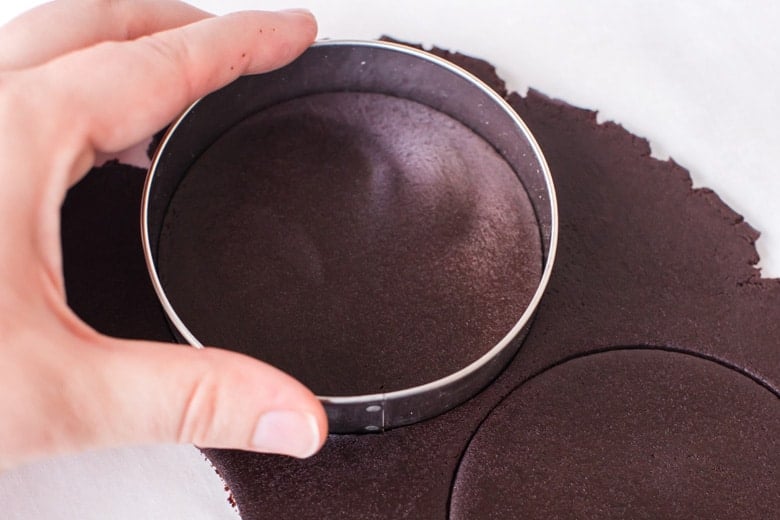 The addition of flour or cocoa powder, even just sprinkled over the top of the dough, will dry out the cookie and you are aiming for super soft, moist cookies, aren't you?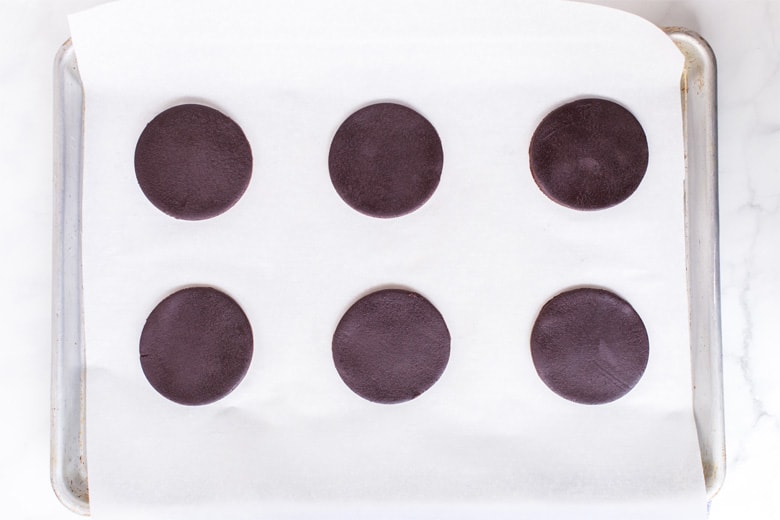 Cut dough with cookie cutter (I used a 3 ½ inch cookie cutter) or a wide mouth jar.
Poke holes into the dough with a fork. Don't forget to pierce the dough, this helps it bake evenly.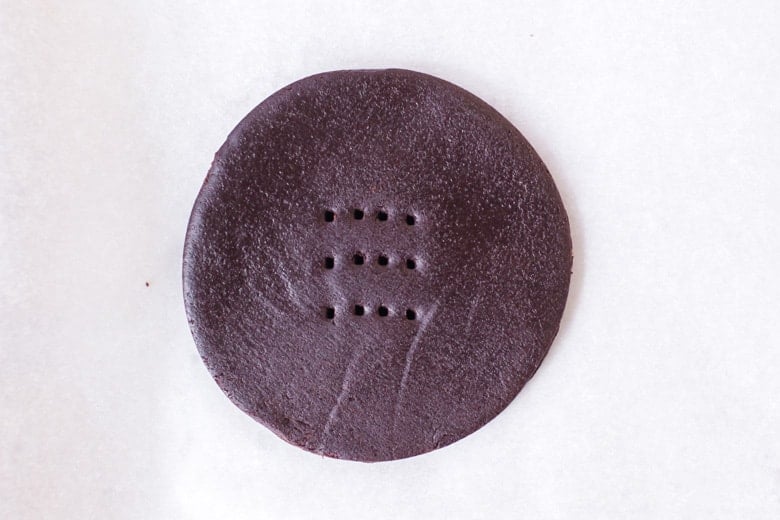 Place cookies on a parchment lined sheet pan and bake for 10-11 minutes or until they are no longer shiny on the top.
Cool cookies completely before filling.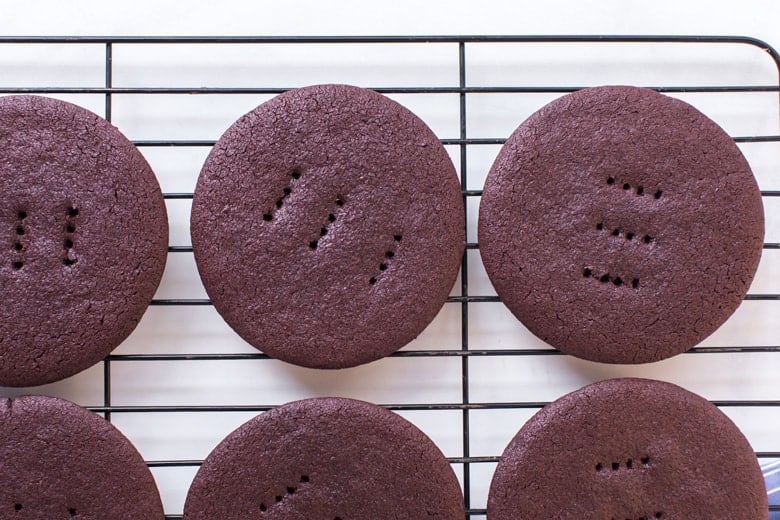 Using a sharp (preferably serrated) knife, cut ice cream (container and all!) into 4 sections.
Sandwich ice cream between two cookies and peel off ice cream paper. You can choose to leave the ice cream sandwich as is or you can roll each sandwich in the decoration of your choice.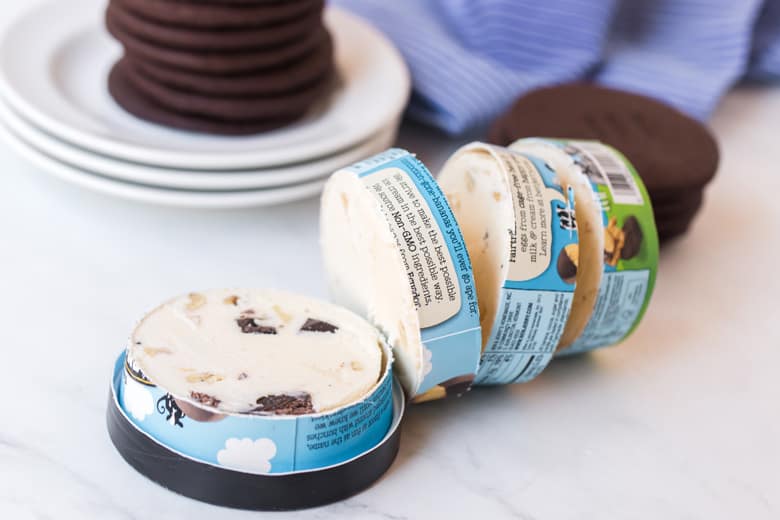 Even if I am going to be eating these the same day, I like to give them a bit of time in the freezer after they have been assembled. It gives you a fighting chance to eat them with some dignity. Wrap securely with plastic wrap and then a bit of freezer paper for the best results.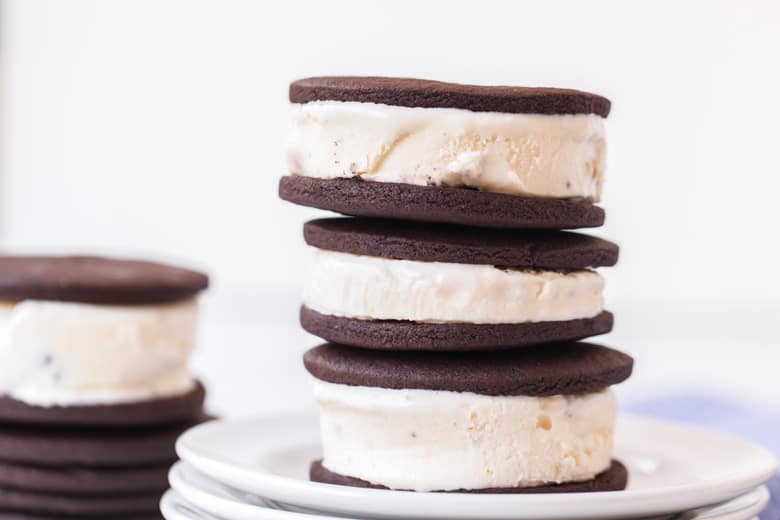 Fun Shapes
You can use different shapes of cookie cutters, round just happens to be the easiest because it fits the pints of ice cream perfectly. If you decide to use different shapes, depending on the size of the cookie cutter you are using, you may need to adjust baking time for the cookie.
If you want the ice cream to be the same shape, make sure the cutter is smaller than the pint diameter. Cut them into slabs and then use the cookie cutter to the ice cream into the same shape.
These will require freezing to hold their shape after assembled.
Tips & Tricks
While this recipe isn't complicated, here are a few tips to keep things as stress-free as possible:
Shine be gone. You will know these cookies are done when they lose that bit of shine they have on top. If you are still unsure, use the back of a spoon and gently press the top. If it holds firm, they are ready to come out of the oven.
Cool completely. Be sure to let your cookies cool completely before you even think about starting to assemble these. Ice cream is a fickle friend and the clock is ticking as soon as it is out of the freezer.
Prepare, prepare, prepare. Before that ice cream comes out of the freezer, create an assembly line of sorts with all the tools and ingredients you will need. This will prevent you from ended up with ice cream everywhere.
Enlist some help. Who doesn't love a helping hand! Assign someone the task of assembling sandwiches, decorating them (if you decide you want to,) and then packing them up to freeze.
Grab a Sharpie. If you are creating more than one flavor combination, it is always a great idea to label each individual sandwich accordingly especially if you are making these to enjoy later.
These Ice Cream Sandwiches are a breeze to make and are the perfect thing to have laying around in the freezer whenever you need them.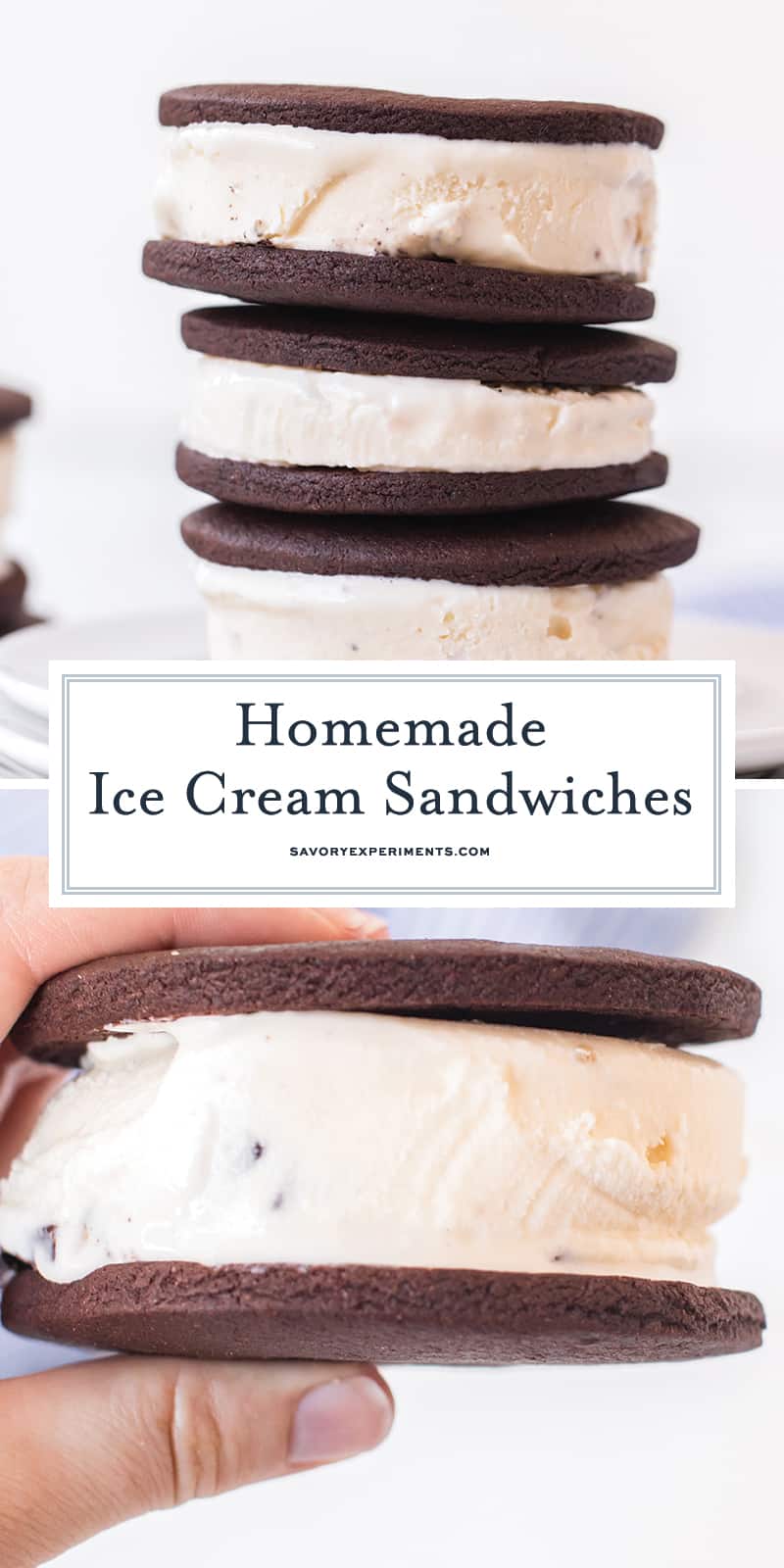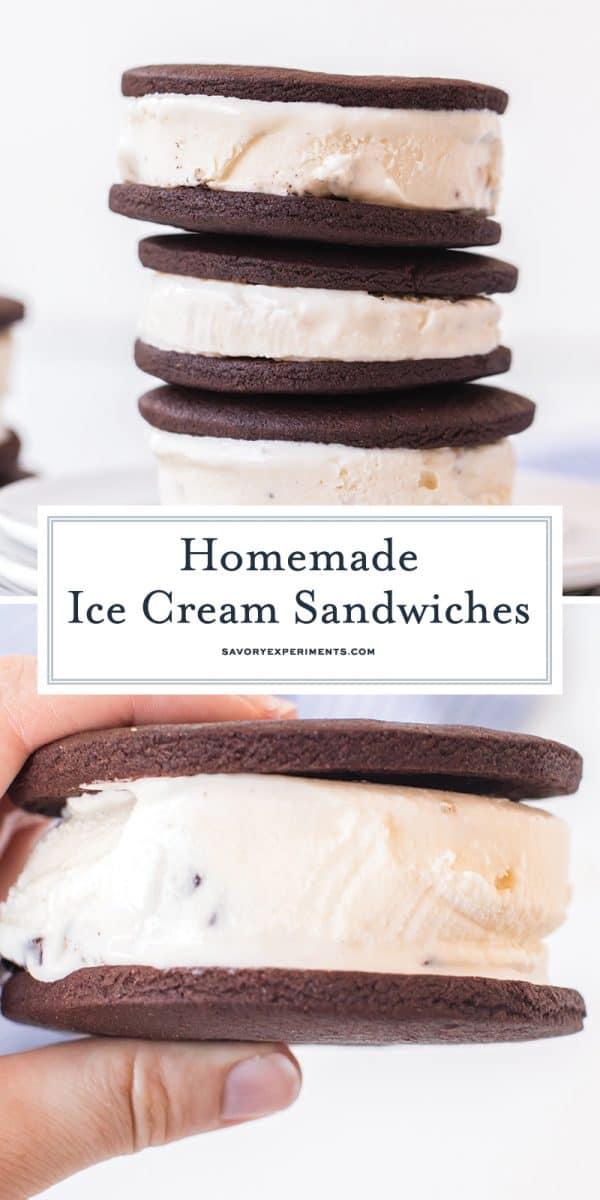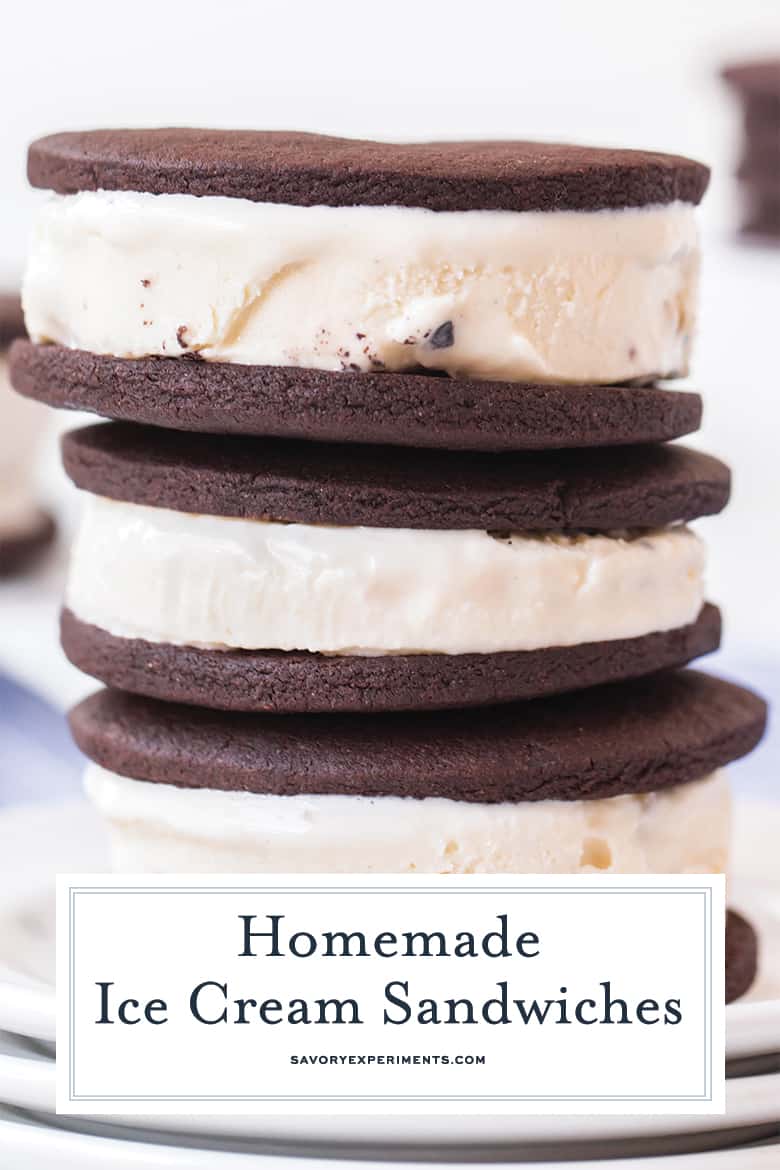 CONNECT WITH SAVORY EXPERIMENTS!

Be sure to follow me on social media, so you never miss a post!

Facebook | Twitter | Youtube
Pinterest | Instagram

Get our FREE 8 Day E-Course on How to Be a Better Home Cook. Sign up HERE!