Regardless of what you call them, Hello Dolly Bars, Magic Bars or 7-Layer Bars, combining chocolate, coconut, pecans and graham crackers is the ultimate decadent (easy) dessert for any occasion.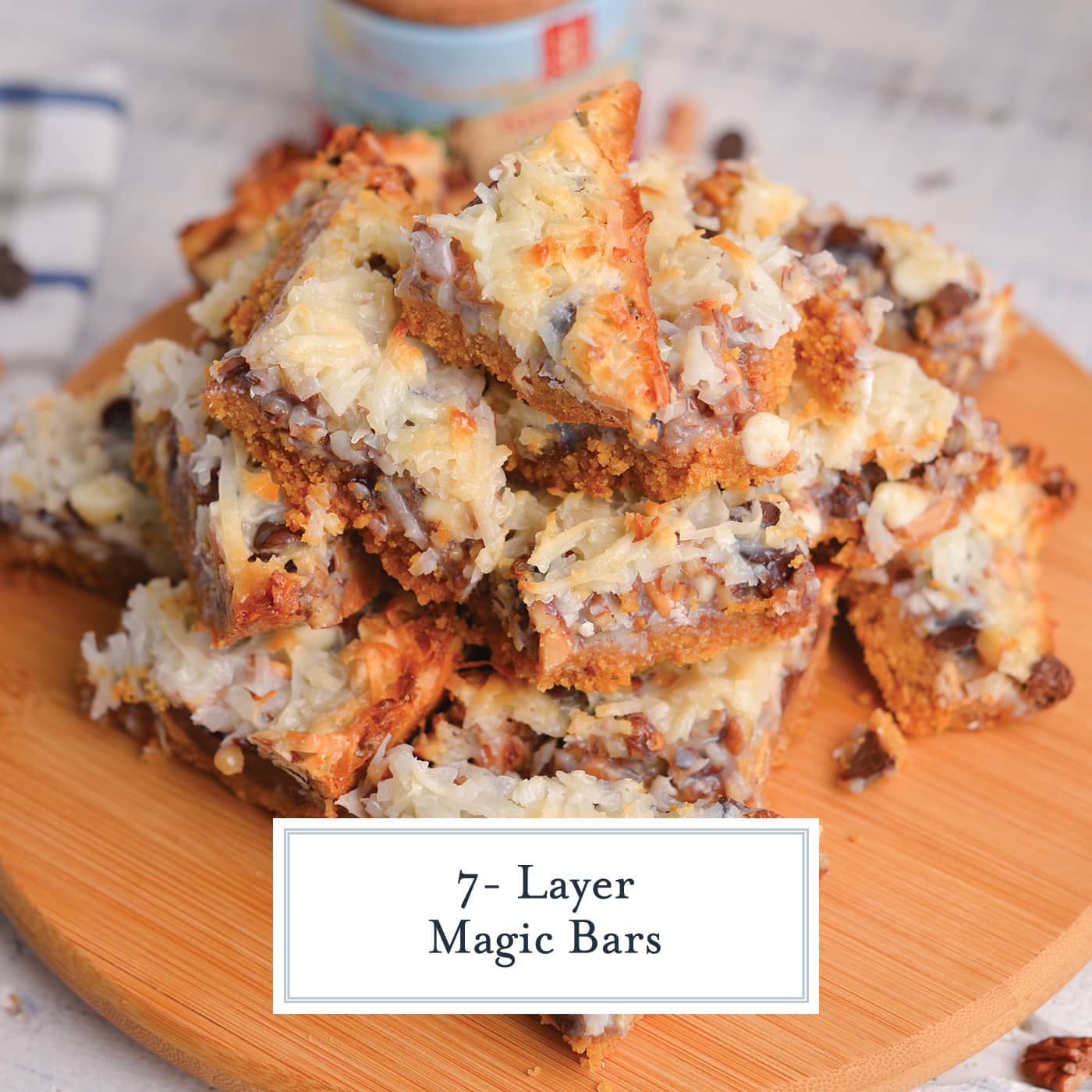 With even more names such as coconut dream bars, miracle bars or seven-layer bars, this sweet treat is what dreams are made of. A sugar-laced graham cracker crust is topped with a blend of sweet chips, chopped pecans, coconut flakes and lastly, sweetened condensed milk, the glue that holds it all together.
This easy dessert is one of my favorite recipes because of all the layers of deliciousness. The delicious layers of these seven layer magic bars are sure to satisfy your sweet tooth the first time you try them.
This classic treat is great for bake sales, dinner parties, the Christmas season or any other time you're craving sweet.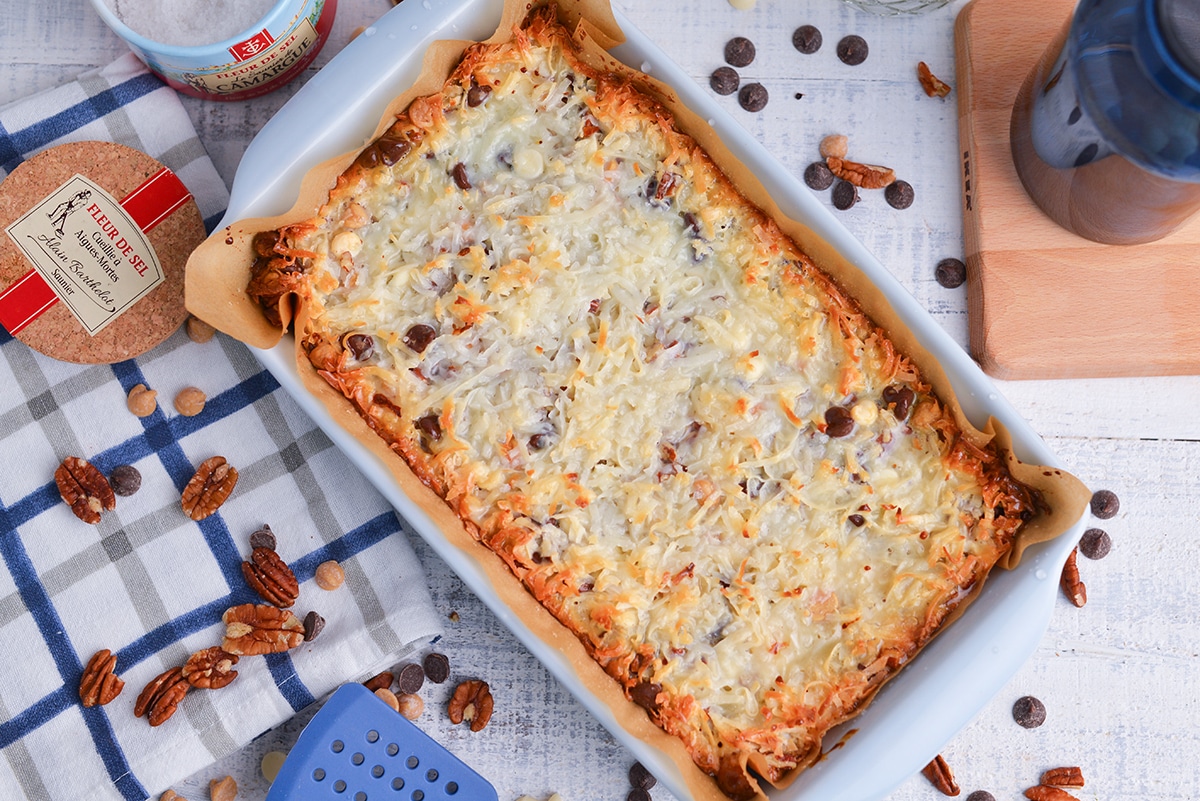 Why Are They Called Hello Dolly Bars?
The name of these dolly cookies is a reference to the Broadway musical "Hello, Dolly!" which was a popular musical when these bars were created. This recipe was used for publicity and in association with promoting the new show.
So what is the difference between Hello Dolly Bars and Magic Bars or 7-Layer Bars? Back then it was simply butterscotch chips. Magic Bars had them, Hello Dolly Bars used white chocolate chips or a blend of dark and milk chocolate.
Magic Bars were created by Eagle Brand sweetened condensed milk and play on the original, 7-layer bar. Their claim to fame being that they were magical because of the ease of making them, but also in flavor.
But today, all three generally use the same recipe and it is common practice to customize your own using whatever chip blend you like.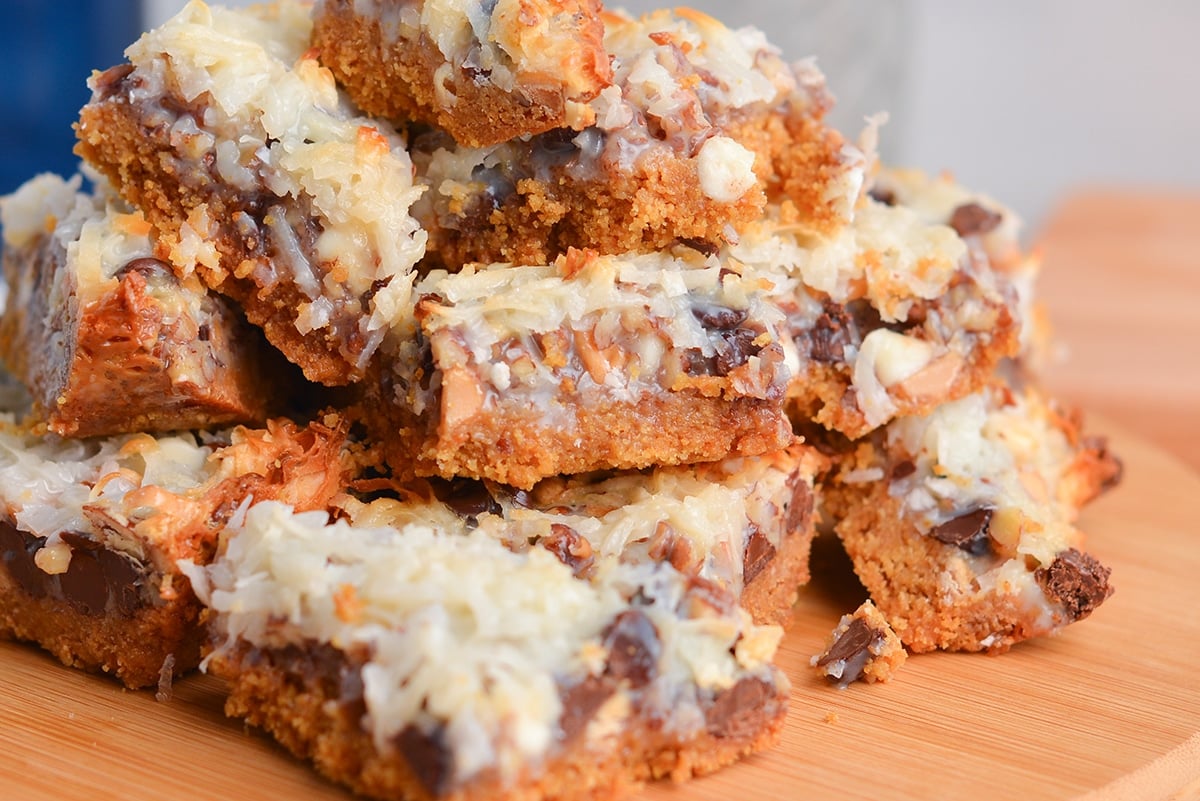 Magic Bars Ingredients
Simplicity is the beauty of this bar dessert recipe. You don't need to soften butter or even use a mixing bowl (you can literally just make the crust in the baking dish, if you want).
Salted Butter – This is one of the only times I will tell you to use salted butter. Since none of the other ingredients include salt (except some undertones from the pecans), it is welcome to balance the over-the-top sweet flavors.
Graham cracker crumbs – When mixed with the butter, these form the most delicious buttery graham cracker crust as the base layer for our magic bars. You can either crush your own full sheets of graham crackers in a food processor to make your own graham cracker crumbs, or use pre-crushed graham crackers.
Granulated sugar – Also known as regular white sugar, this helps to add a little sweetness to our graham cracker crust, but also caramelizes and melts to help it bind together and not simply crumble.
Sweetened condensed milk – One of the most delicious things about this dolly bars recipe is the creamy layer of sweetened condensed milk. Make your own or buy a can.
Vanilla Extract – Along with the sugar and flaky salt topping, this is another way we've elevated this classic dessert. Adding warmth and aroma, all you need is 1 teaspoon stirred directly into the can of condensed milk.
Sweetened coconut – The shredded coconut flakes add a nice tropical flavor and chewiness to these magic cookie bars.
Chips – I'm just going to say chips here because honestly, you can customize this based on what is in your pantry. I used a mix of semi-sweet chocolate chips, white chocolate chips and butterscotch chips.
Pecans – Adding nuts to these layers of ingredients adds a nice crunch to your Hello Dolly Bars. I like mine to be finely chopped, but this is up to personal preference.
Fleur de Sel – This is totally optional, but does take the recipe over-the-top in my opinion. Salt accentuates natural flavors, but also tempers down the overly sweet ones.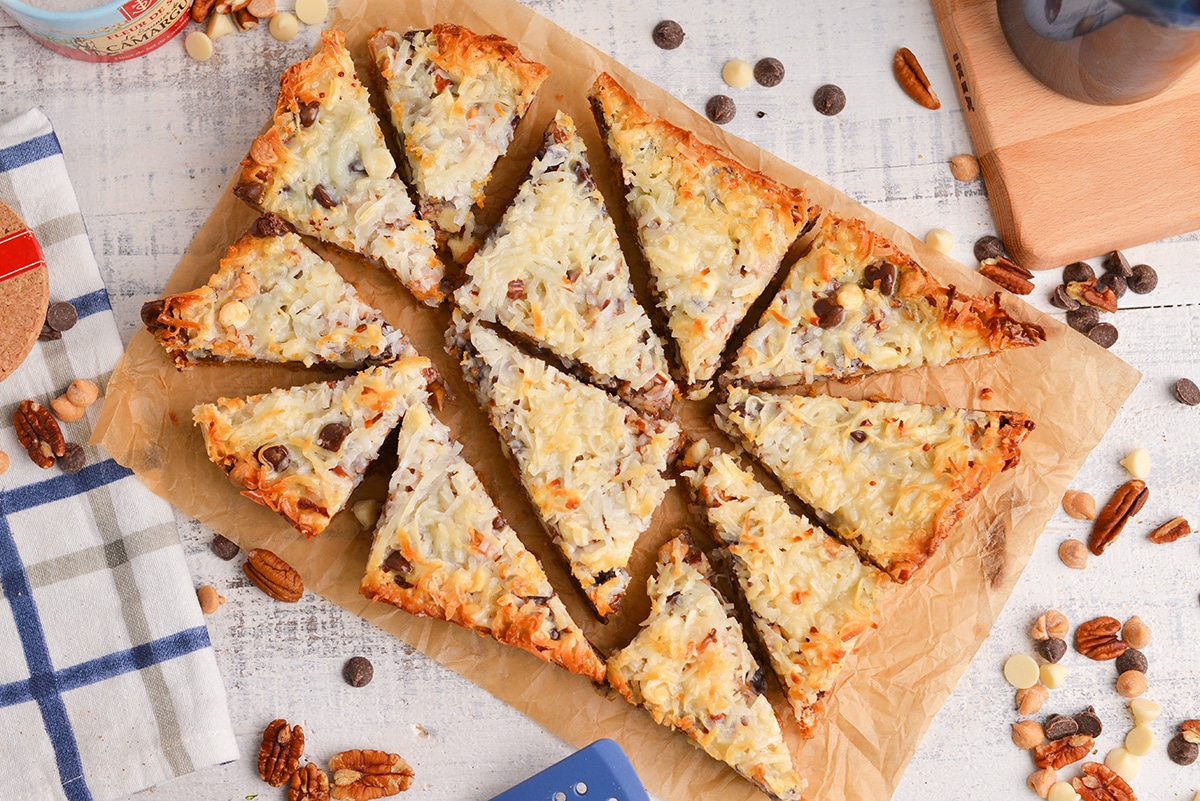 How to Make Magic Bars
Prepare oven and pan. Preheat the oven and line a baking dish with parchment paper. These bars are sticky, so anything you can do to help them release is welcome. Nothing is raw, so you don't have to worry about undercooking, only that everything heats well enough to meld.
Make crust. Mix the melted butter with the crushed graham crackers and sugar.
Press into pan. Press the graham cracker layer into bottom of the prepared baking dish.
Toppings. Layer the chocolate cups, pecans and then coconut evenly onto the bar base.
Sweetened condensed milk. In the can, stir in the vanilla extract and then pour evenly over the top. Tap gently on the counter and then allow it to sit for 5-10 minutes before placing into the oven. This lets the milk seep into the toppings so it can properly bind them together. You'll know it is ready when the coconut shreds start to peek back through the pool of milk.
Bake. Bake until edges are bubbly and golden brown. At this time, sprinkle with flaky sea salt, if desired.
Cool. Make sure to cool completely and even refrigerate, before removing the parchment paper, cutting and serving.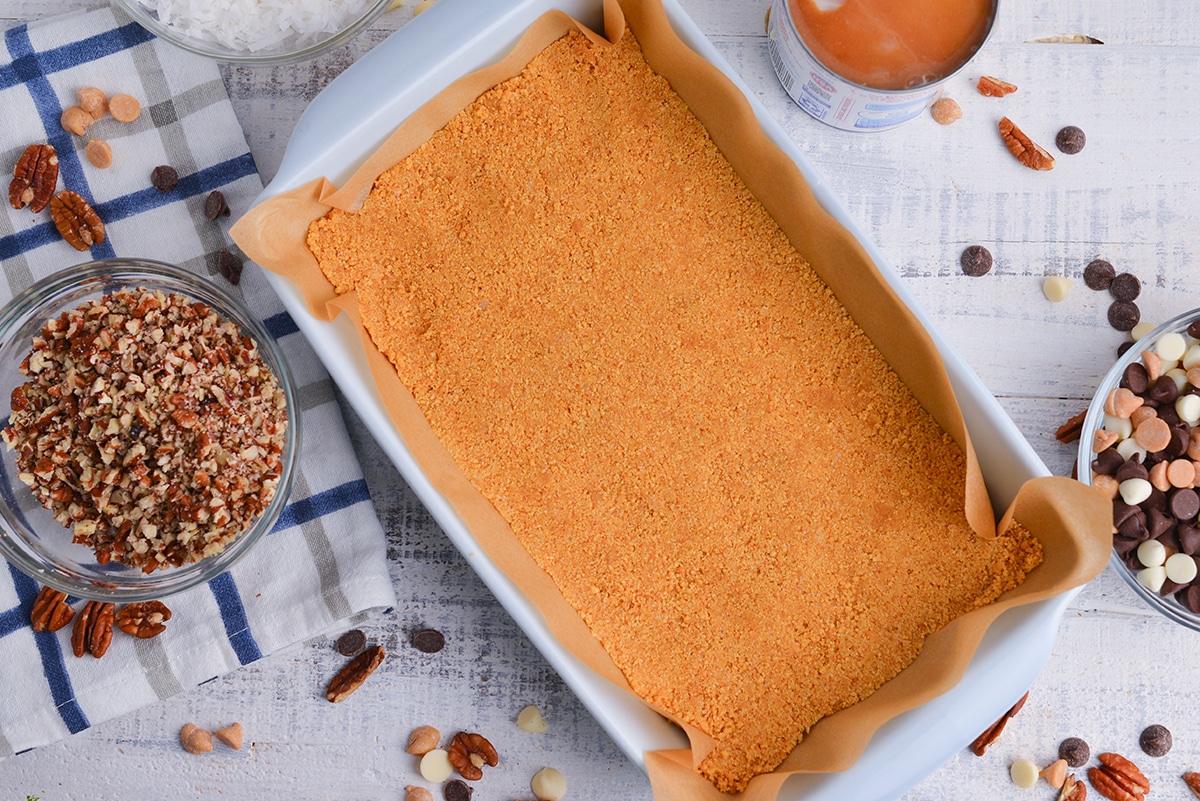 Magic Bars Variations
There are so many ways to customize this recipe and make it your own. You'll never make the same version twice!
Chocolate – Instead of milk, white and semi-sweet, feel free to mix up your chocolate chips. You could use peanut butter chips, dark chocolate chips, butterscotch morsels, or even toffee chips.
Crust – You don't have to use graham crackers for your crust. You could swap them out with vanilla wafers, shortbread cookies or even crumbs of your favorite cookie pressed into the bottom of the pan.
Nuts – Now I don't like to stray too far from the original recipe, but if you aren't a fan of pecans, you could swap them for macadamia nuts or walnuts if you prefer. Try toasting the nuts before using to really make these gourmet.
Pretzels– And if you are allergic or just don't care for nuts, swap them out with roughly chopped pretzels.
Extract- Adding extract is my own way to take these to new heights, but it can be omitted or swap for almond extract.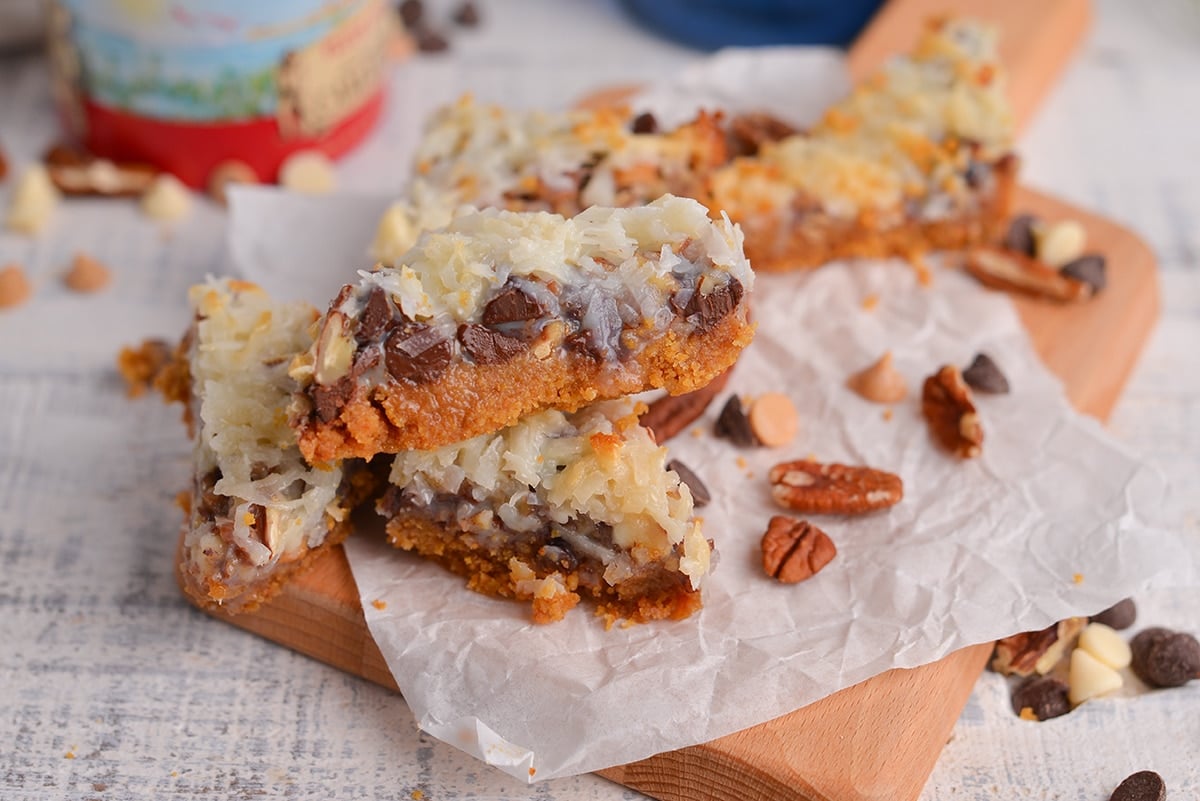 Storage and Freezing
Storage: You can store your magic bars in an airtight container at room temperature. To prevent the top layer from sticking, separate each of the layers with a sheet of parchment paper, wax paper or aluminum foil. They will keep for 3 – 5 days. They can also be refrigerated for up to a week in an airtight container.
Freezing: You can also freeze this classic recipe. Wrap them with plastic wrap or aluminum foil or keep in a freezer storage bag. Allow to thaw on the counter when ready to eat them.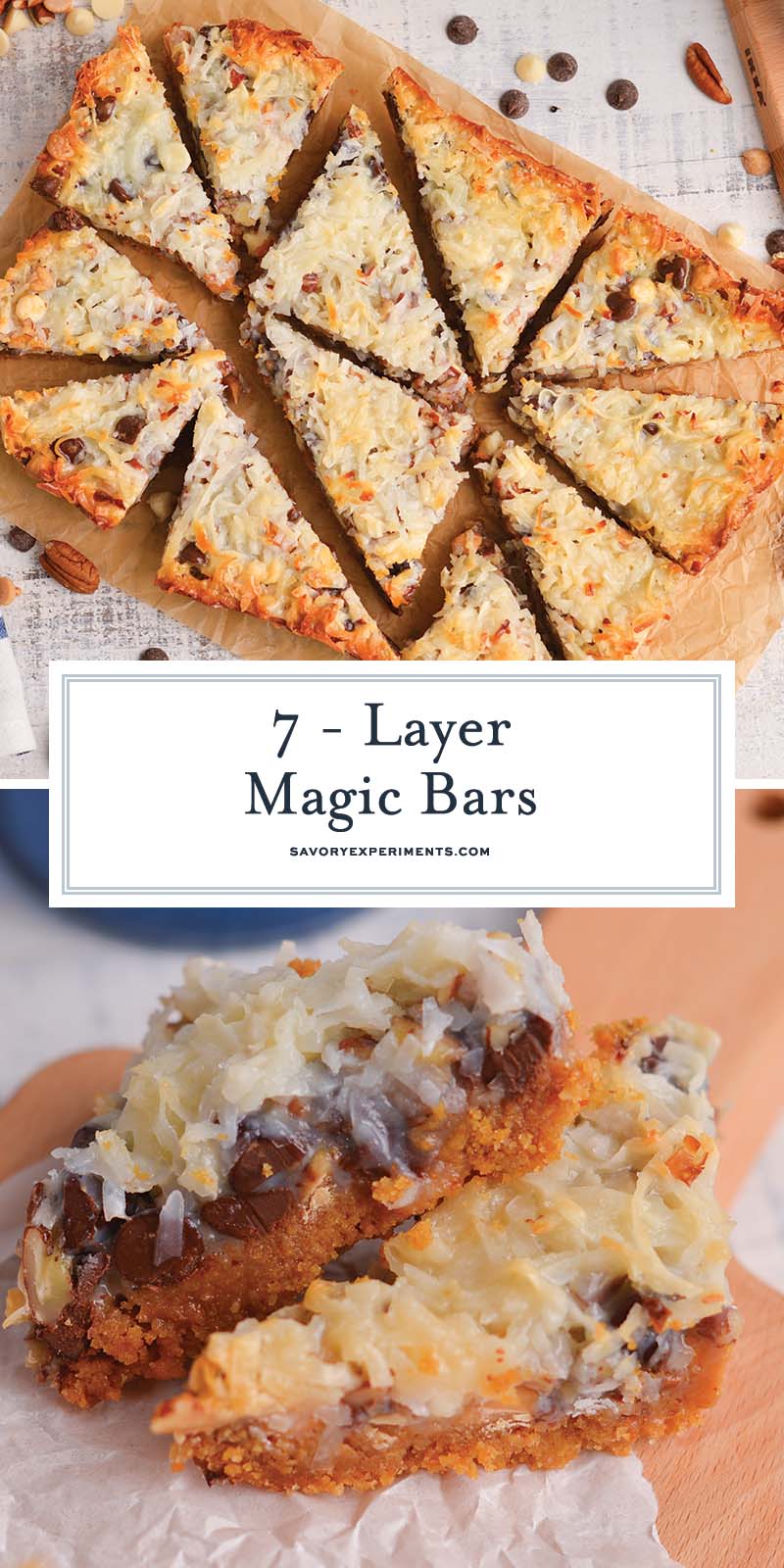 More Easy Dessert Recipes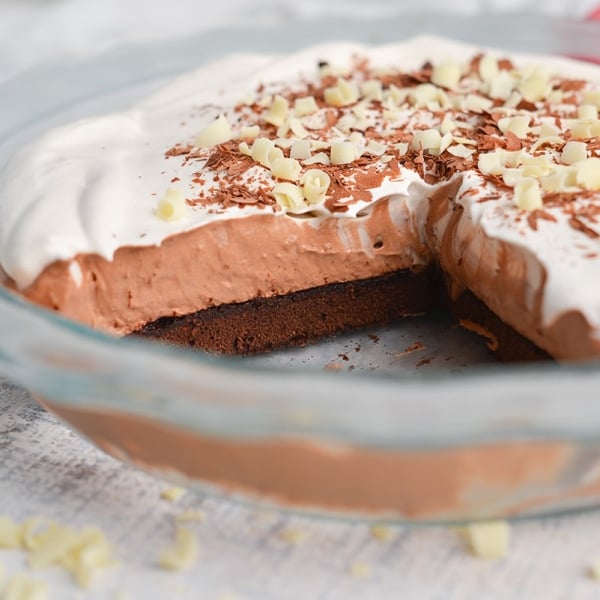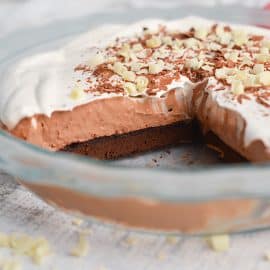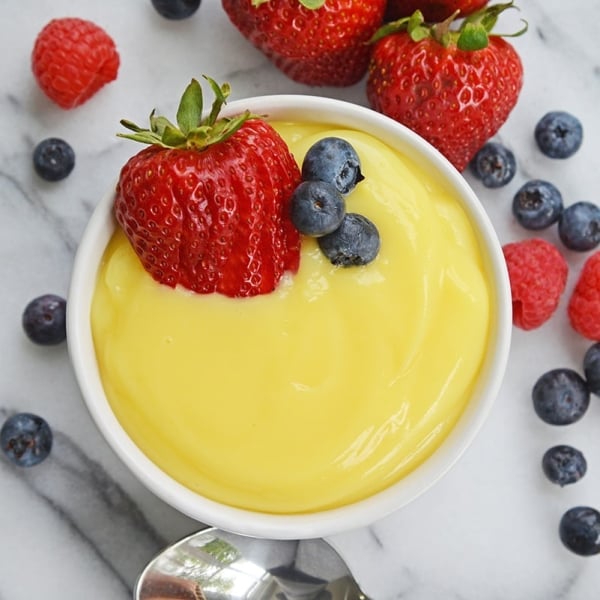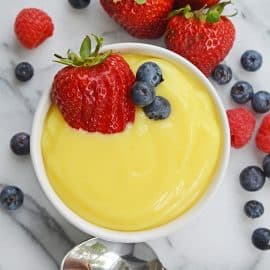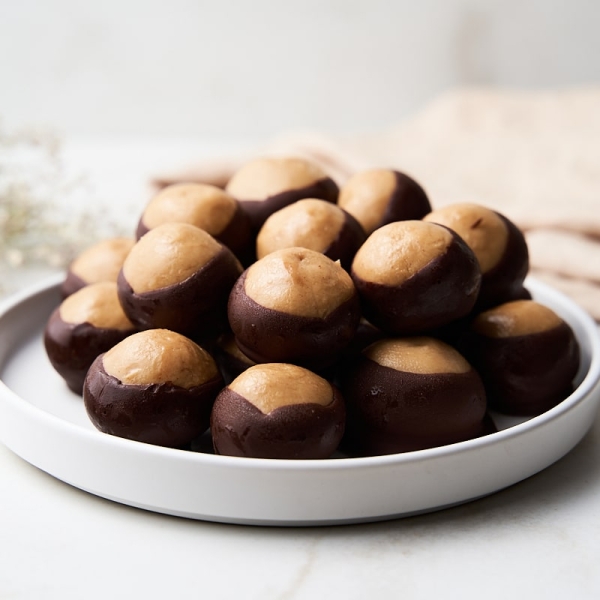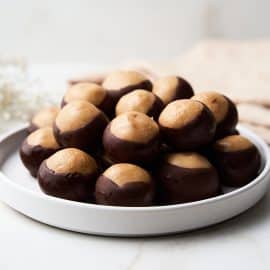 Buckeye Candy
If you love a dessert with peanut butter and chocolate you will adore this Classic Buckeye Candy recipe. Perfect for the holidays!
See The Recipe!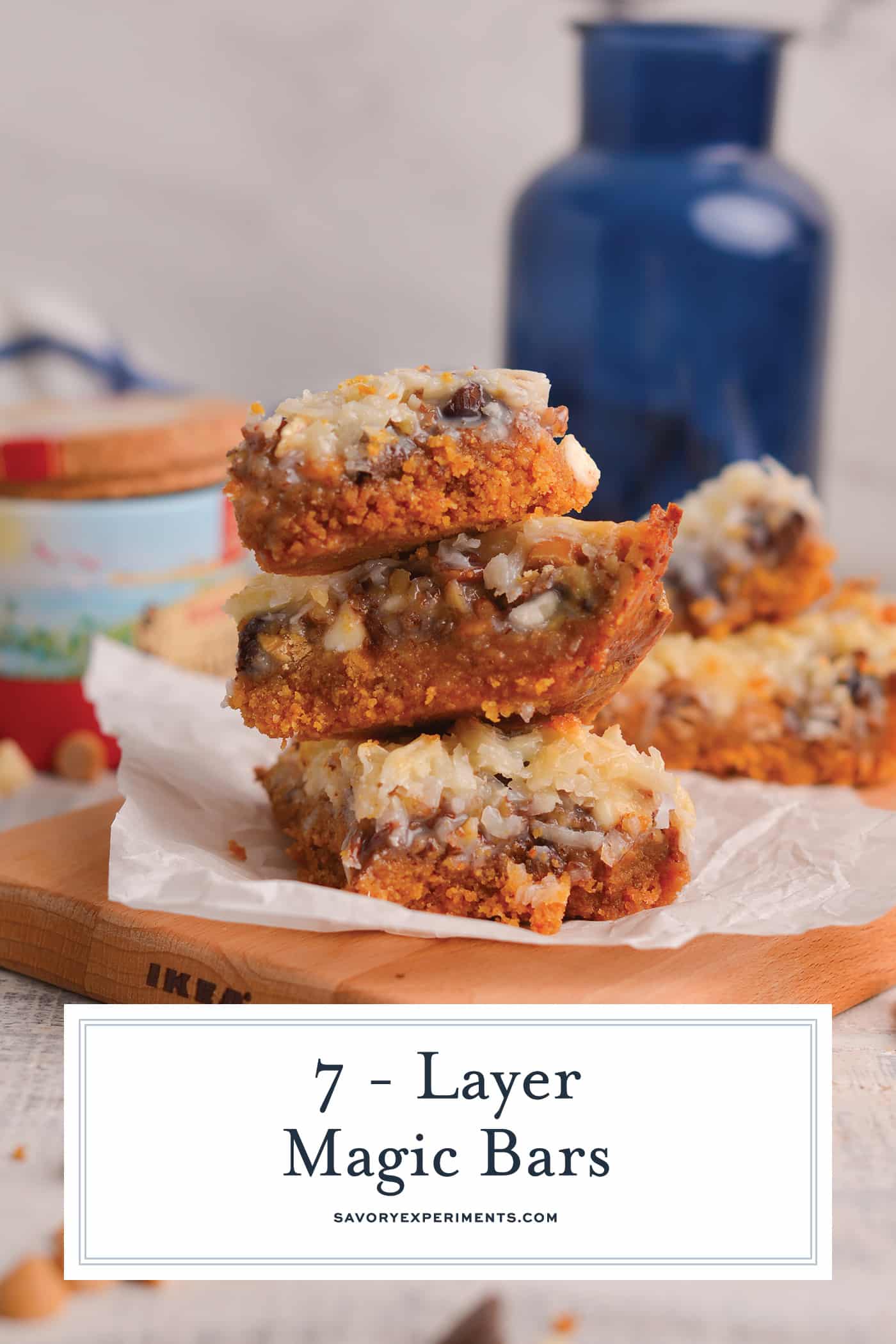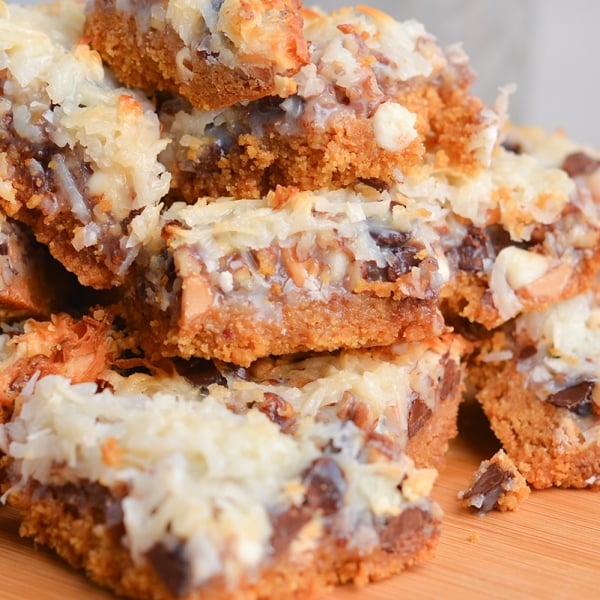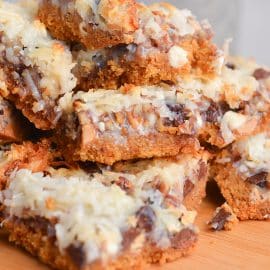 Magic Bar Recipe
Combining chocolate, coconut, pecans and graham crackers, these EASY Magic Bars are the ultimate decadent dessert for any occasion!
Equipment
Heat Resistant Rubber Spatula
Instructions
Preheat the oven to 350°F and line a 9x9in or 11x7in baking dish with parchment paper or aluminum foil.

In a medium mixing bowl (or directly in the baking dish), stir together the melted butter with the graham crackers and sugar. Press tightly and evenly into the bottom of the prepared baking dish.

Spread the chocolate chips evenly over the crust, followed by the pecans and then the shredded coconut.

Open the can of sweetened condensed milk and stir with vanilla extract using a small spoon, spatula or butter knife so it doesn't overflow. Drizzle evenly over the top of your bars.

Tap the whole dish gently on the counter and allow to sit for 5-10 minutes or until the coconut flakes start to emerge from the pool of milk.

Bake for 25-30 minutes or until the edges are bubbly and golden brown.

Remove from oven and cool for 30-40 minutes before placing into the refrigerator for 15-20 minutes.

Using the parchment as a sling, remove from the baking dish and evenly cut using a sharp knife.

If you've tried this recipe, come back and let us know in the comments or star ratings!
Notes
*If using unsalted butter, add 1/4 teaspoon coarse kosher salt to the graham cracker crust mixture.
Nutrition
Calories:
405
kcal
,
Carbohydrates:
46
g
,
Protein:
4
g
,
Fat:
24
g
,
Saturated Fat:
12
g
,
Polyunsaturated Fat:
2
g
,
Monounsaturated Fat:
7
g
,
Trans Fat:
0.3
g
,
Cholesterol:
32
mg
,
Sodium:
192
mg
,
Potassium:
246
mg
,
Fiber:
2
g
,
Sugar:
38
g
,
Vitamin A:
329
IU
,
Vitamin C:
1
mg
,
Calcium:
122
mg
,
Iron:
1
mg